10 Best Prawn Noodles in Singapore to Slurp On [2022]
Joanne, 2 years ago
13 min

read
5080
Prawn noodles in Singapore, otherwise known as Hae Mee in Hokkien, is well-loved because of their rich broth that is sweet, spicy, and packed with umami seafood flavour. Hot and steaming bowls of prawn noodles are unquestionably one of Singapore's unsung culinary heroes. Though prawn noodles are not as well-known to the international audience as local dishes such as chicken rice, nasi lemak, or even mee pok, every Singaporean has a favourite prawn noodles stall. In addition, it is certainly a childhood comfort food for many of us. Despite the sweltering heat of Singapore, no one can resist a hearty warm bowl of savoury prawn noodles!
Many people would argue that the key to a good bowl of prawn noodles is its soup. However, others would fight back, especially those who are on the dry noodle team. Whether you are on team prawn noodle soup or team prawn noodle dry, you'd definitely enjoy this article we have here for you today. We'd explore the best prawn noodles in Singapore for you to get your hae mee cravings satisfied.
Highlights:
Wide range of price options
Pork-based soup
Michelin Bib Gourmand
Listed in the Michelin Bib Gourmand, this prawn noodles stall at Zion Road Food Centre is one that is popular among many Singaporeans. For those who are confused, do note that this stall used to be known as "Noo Cheng Adam Road Big Prawn Mee". For first-timers who are looking at the stall's pricing list, you may be shocked. Bowls of piping hot prawn noodles from Fresh Taste Big Prawn Noodles are priced at $6, $8, $12, $16, $20, as well as $25. While $25 may seem like a hefty sum to pay at the hawker centre, you'd be shocked to learn that their $20 and $25 option are among the most popular options.
If you'd prefer to stick with the $6 option, you will still get a generous bowl of noodles with large banana prawns, slices of fish cake, pork belly, pork skin and pork ribs. Although, these toppings are merely side casts to the main star of the dish: its milky broth. The broth features more pork than prawn taste, though. So, if you are not a fan of pork-based soups, perhaps this is not the one for you!
If so, go for the dry version. You will definitely enjoy your spicy bowl of 'al dente' noodles addictively tasty with fragrant fried shallots as well as pork lard. Be prepared to queue for this one! But trust us, it'll be worth it.
| | |
| --- | --- |
| Address | Zion Road Food Centre #01-04, 70 Zion Road Singapore 247792 |
| Contact Details | +65 9006 4655 |
| Opening Hours | Tuesday to Sunday: 11.30 am to 10.30 pm |
Highlights:
Reasonably priced
No need to stand in line to wait for noodles
Fresh ingredients
As one of the more popular prawn noodle shophouses in Singapore, Beach Road Prawn Mee Eating House attracts customers from all over the world. In addition, you'd most definitely sport a queue at any time of the day that you visit the stall. However, thanks to their efficient staff and ordering system, you do not have to stand in line to wait for your bowl of noodles. You get to sit comfortably and head to collect your noodles when it is ready.
Its most popular menu item has got to be the Jumbo Prawn Mee ($12). Other choices include Prawn Noodles, Prawn with Pork Rib Mee, Pork Ribs Mee with Pig's Tail, and Prawn with Pig's Tail Mee, priced at $6, $9 or $12. While it looks simple and unassuming, do not be fooled. Ingredients are fresh, pork lard, as well as shallots, are made in house, and the soup is rich, tasty, and has a slight sweetness to it without being overpowering. People love that there is are slight herbal hints in the soup as well.
All in all, Beach Road Prawn Mee Eating House serves affordably priced and clean tasking prawn noodles soup that will definitely have you satisfied. So, do pay them a visit!
| | |
| --- | --- |
| Address | 370 East Coast Road, Singapore 428981 |
| Contact Details | +65 6345 7196 |
| Opening Hours | Wednesday to Sunday: 7.00 am to 4.00 pm |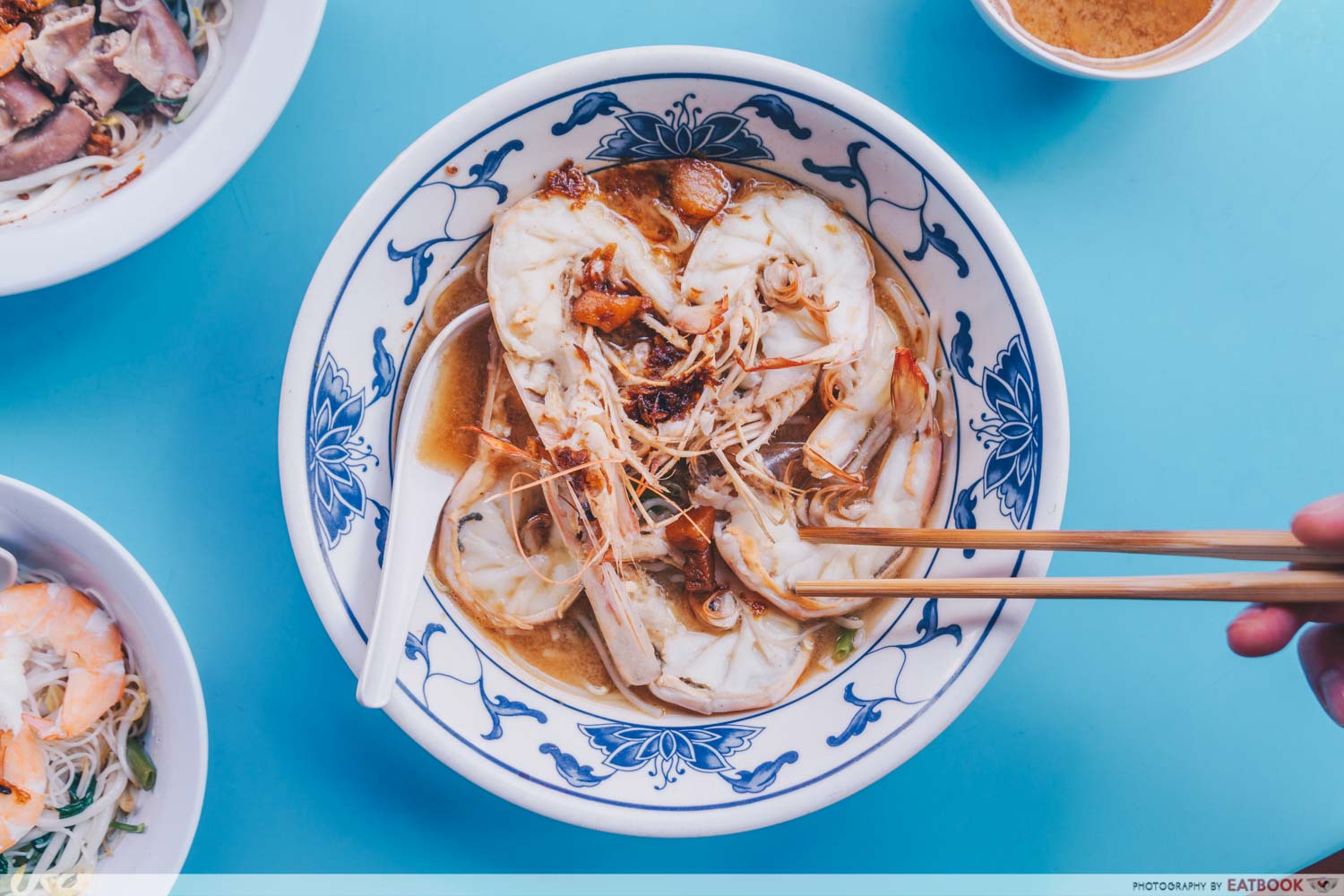 Highlights:
A rich and robust soup
Run by second-generation hawkerpreneur
Wide range of prices
Run and managed by young hawkerpreneur Watson Lim, Da Dong Prawn Noodles was founded by his father in 1966. Da Dong Prawn Noodle's Big Prawn Noodles ($15) comes with five huge prawns. If that generous portion is too much for you, you can go for the standard Pork Rib Prawn Noodles ($5).
The main star of the dish has got to be the broth. Extremely rich, you will taste the delicious prawn flavour and seafood accents. For people who love to get their soup refills mid-meal, you might be disappointed to know that Da Dong Prawn Noodles does not offer soup refills. This is part of their quality assurance to make sure that their soup will not be diluted by the end of the day. So, make sure to savour every sip or order more portions! You don't want to have to snatch that last mouthful of soup with your friend.
But for those of us who are stuck working till late afternoon, you're going to have to miss out on this one. The stall only opens from 7.30 am to 2.00 pm, so, go a bit earlier than the peak lunch hours if you want to avoid the snaking queue.
| | |
| --- | --- |
| Address | 354 Joo Chiat Rd, Singapore 427600 |
| Contact Details | +65 9817 1663 |
| Opening Hours | Wednesday to Monday: 7.30 am to 2.00 pm |
Highlights:
Open till late on weekends
Affordable prices
Fresh ingredients
Special homemade sauces
If you are on the lookout for a great weekend supper place to satisfy your hae mee cravings in the middle of the night, you've got to try River South (Hoe Nam) Prawn Noodles. On Fridays and Saturdays, the stall opens till 2.00 am!
With a broth that features a strong taste of pork and shellfish, River South (Hoe Nam) Prawn Noodles is a very popular option for those who prefer a great balance between the pork as well as seafood taste of prawn noodles soup. At this stall, $4.50 can get you a bowl of prawn mee. For those who want something more, opt for their Five-in-One Bowl ($10/$12/$15) that includes medium-sized prawns, abalone clams, pork ribs, pig's tail and pig's intestine.
If you are a lover of the dry version, their bowl comes with a special homemade sauce, chilli sauce as well as freshly fried shallots.
Address
31 Tai Thong Crescent, Singapore 347859
Contact Details
+65 62819293
Opening Hours
Sunday to Thursday: 7.00 am to 3.00 pm, 5.00 pm to 10.00 pm
Friday to Saturday: 7.00 am to 3.00 pm, 5.00 pm to 2.00 am
Highlights:
Customizable bowl of noodles
Fresh ingredients
Established since 1928
Opened in 1928, Blanco Court Prawn Mee has served generations of prawn mee lovers and is still going strong today. For $5.80, you'll get a medium bowl of prawn mee with three halved prawns, pork ribs as well as some fried shallot oil.
The broth is very thick, with a strong briny seafood flavour. Fresh prawns, of course, are a given, and they easily slip out of their shells. You can also order some pretty decent ngoh hiang from a nearby stall in the same shop and dip your fried ngoh hiang in the awesome broth!
The stall also offers you many chances to customize your bowl of noodles according to your own taste and preference. You can get bee hoon, yellow noodles, kway teow, or a mix of all the noodles! You can also choose to have a meal with prawns, tail and ribs all in one dish.
| | |
| --- | --- |
| Address | 243 Beach Road, Singapore 189754 |
| Contact Details | +65 6396 8464 |
| Opening Hours | Wednesday to Monday: 7.00 am to 4.00 pm |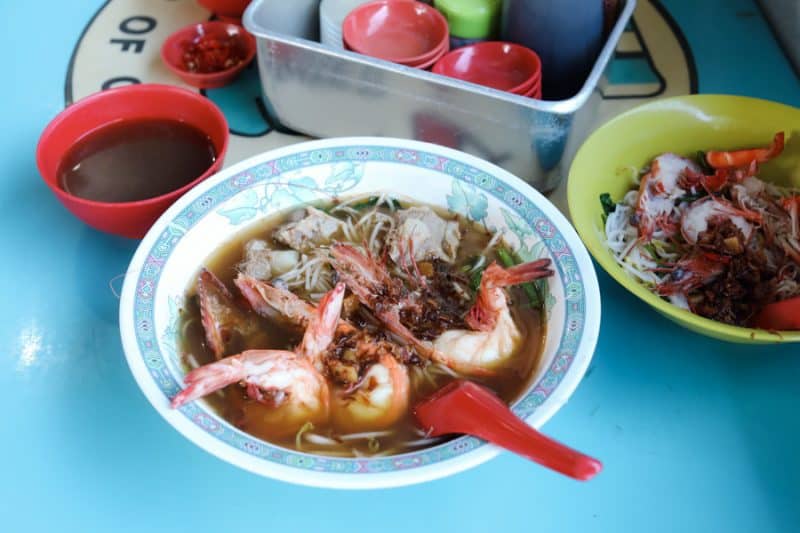 Highlights:
Michelin guide
Reasonable pricing
Sweet and light broth
Jalan Sultan Prawn Mee, another prawn mee that made it into the Michelin Guide, earned the Michelin Plate for its delectable signature dish. Since it is a branch of the same family that gave you Beach Road Prawn Mee, the flavours of both broths are somewhat similar. The soup here is thinner than at some of the other stalls, but it's still sweet from the prawns. A standard bowl of Pork Rib Prawn Mee costs $5, while their Sultan Prawn Mee costs $10 and comes with big prawns.
In addition, this store, like the other prawn noodles on this list, has a devoted following—and for good reason. The soup variant has a lightly sweet broth with large prawns, and you can add a textural twist by mixing yellow noodles and bee hoon. The bee hoon lightens up the meal for those who find yellow noodles too cloying. The broth, with its robust flavour, is what sets Jalan Sultan apart from the other stalls on this list. So, you have to give it a shot!
| | |
| --- | --- |
| Address | 2 Jalan Ayer, Singapore 389141 |
| Contact Details | +65 6748 2488 |
| Opening Hours | Wednesday to Monday: 8.00 am to 3.30 pm |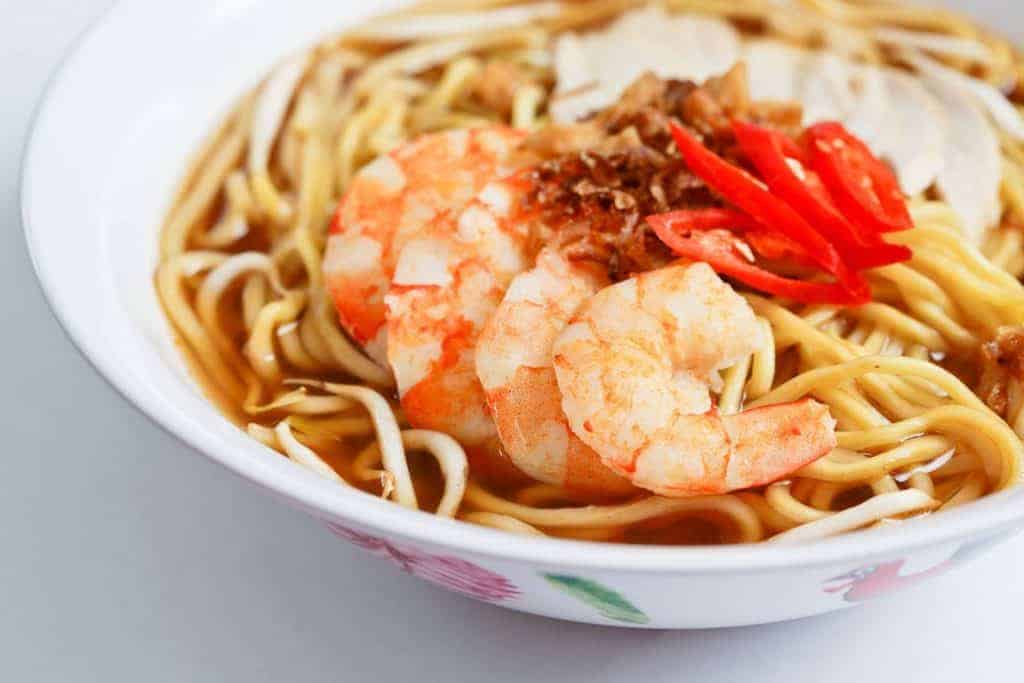 Highlights:
Visited by Michelin-star chefs Massimo Bottura and Julien Royer
Ran by third-generation hawkers
Affordable prices
This hawker stall is helmed by a young woman, Ruifang, spurred on by the need to carry her dad's prawn noodles recipe into a new generation. The roots of prawn noodles in Ruifang's family go as far back as the 1950s when her grandfather started selling it along the streets of Whampoa before it was even named so. In 1973, Whampoa Market was built. As her grandfather fell ill, Ruifang's dad and grandmother took the stall, and have been selling prawn noodles since then. The current stall at Whampoa Market is run by Ruifang's aunts. With the guidance of her dad, Ruifang is bringing bowls of tradition and history to Tekka Food Centre.
If you are looking for hipster or fusion prawn noodles, 545 Prawn Noodles is not for you. Here, there are no exotic ingredients in the prawn mee; it's all simple, old-school prawn mee done well and right. A bowl of noodles start from $4 and are topped with slices of blanched prawns, sliced pork and shallot oil. Their dry version with chilli is their most popular option.
The stall closes right after lunch time, though. So be sure to get there early to avoid disappointment!
| | |
| --- | --- |
| Address | 665 Buffalo Road, #01-326, Tekka Food Centre, Singapore 210665 |
| Contact Details | NA |
| Opening Hours | Monday to Friday: 6.30 am to 2.00 pm |
Highlights:
Homemade sauces
Special noodles
Fresh and large prawns
Known for its special soup with an extremely orange colour, Wah Kee Prawn Noodles' broth is completely made of prawns. No meat or pork is used in the making of the stall's delicious broth. In addition, the noodles served at this stall are specially made for Wah Kee, and all base sauces such as the sambal chilli sauce and special spicy sauce are made in-house daily, using Wah Kee's 65-year recipe. So, it is safe to say that you'll not be able to get another bowl of noodles just like how Wah Kee does it.
Prices start at $5 for a small bowl, but most people get the $10 dry mee kia bowl (thin yellow noodles). With each bowl, you get prawns that are large and fresh and will have you coming back for more.
Its noodles are not the only thing that Wah Kee is famous for. The stall owners are also infamously known for their tempers. Just do a quick Google search and you'll be able to find tons of articles focusing on that. But get through that and we promise you it will be worth it!
| | |
| --- | --- |
| Address | 41A Cambridge Road, #01-15, Pek Kio Market and Food Centre, Singapore 210041 |
| Contact Details | NA |
| Opening Hours | Wednesday to Sunday: 8.30 am to 2.00 pm |
Highlights:
Fresh ingredients
Tender pork ribs
Affordable price
Convenient location
Prawn & Mee is owned by Gladwin Yap and Raphael Sim, both Culinary Institute of America graduates. The prawn broth here is comparable to the ramen soup at Lobster King Keisuke's, with a stronger shrimpy flavour thanks to the higher prawn-to-pork ratio than at other stalls. The stall features a simple menu of a total of four options to choose from. Most people choose the Prawn Noodle Dry ($4-$8), which comes with an even richer broth that isn't mixed with other ingredients and is dangerously addictive.
Another must-try item from Prawn & Mee is their pork ribs. It is so tender that its meat will fall right off the bone. Even for people who usually do not like pork ribs, these pork ribs might just change your mind!\
Conveniently located right next to Bedok North Market, the stall has a great supply of fresh prawns and ingredients, which translate really well to the dish. So, you'll be able to taste this freshness with every bite.
| | |
| --- | --- |
| Address | 01-45 216 Bedok North Street 1 Singapore, Singapore 460216 |
| Contact Details | prawnandmee@gmail.com |
| Opening Hours | Tuesday to Sunday: 8.00 am to 2.00 pm |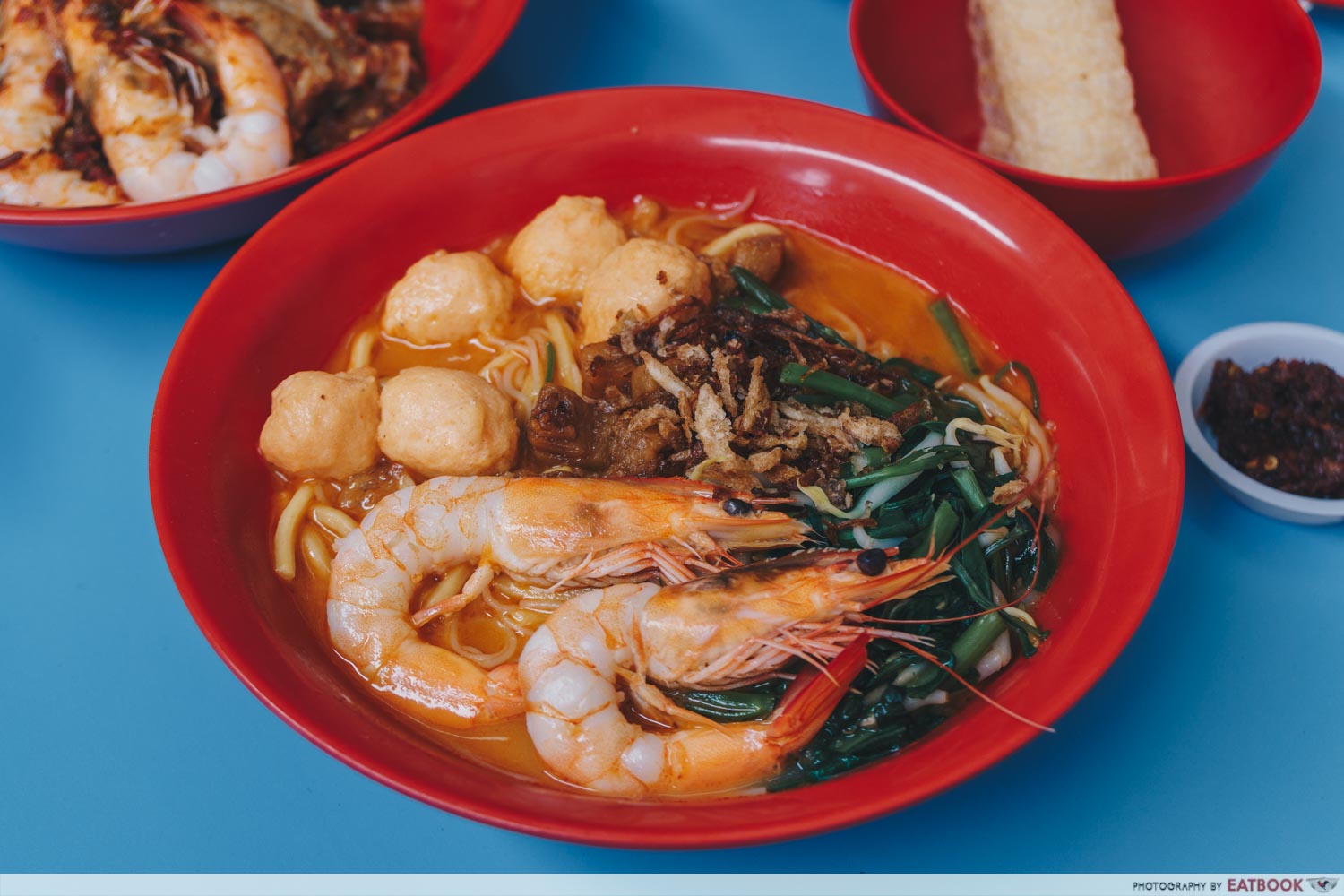 Highlights:
Headed by a chef with lots of experience
Run by young hawkers
Penang style prawn noodles
One Prawn Noodle is headed by Gwyneth Ang, with more than 10 years under her belt working in established restaurants like Burnt Ends, Tong Le Private Dining, and Forlino. Her experience has also enabled her to implement great techniques across different cuisines, resulting in every bowl of prawn noodle packed with mouth-watering goodness.
The band of young hawkers is determined to keep the hawker culture alive. Inspired by the flavours of Penang prawn noodles and Japanese ramen broth, they offer a simple menu of elaborate flavours. Treat yourself to a generous bowl of their signature Penang Style Prawn Noodle. As a result of the hours they spend boiling the soup, their broth is richer and more full-bodied compared to the usual local fare. So, prepare your tastebuds for the subtle sweetness that comes through!
In addition, all ingredients are handpicked by the team to ensure that only the best quality is given to customers. Also, every bowl of soup is painstakingly made daily by first simmering pork bones over long hours, achieving a creamy and collagen-rich soup. Sautéed fresh prawn shells are then added in, resulting in a delightful tangerine-orange broth that simply leaves you wanting more.
| | |
| --- | --- |
| Address | 505 Beach Road, #01-93, Golden Mile Food Centre, Singapore 199583 |
| Contact Details | +65 9639 8668 |
| Opening Hours | 11.00 am to 8.00 pm, daily |
So, there you have it. The best prawn noodle stalls in Singapore. We are not trying to start a war here! Everyone has their favourite prawn noodle stall and it is understandable if you are confused or annoyed that yours did not make the list. Let us know down below if you feel that a particular stall should be featured and why!
In addition, if you are looking for more local hawker food to binge on, check out our guide to the best chicken rice in Singapore or the best sliced fish soup in Singapore here.
Related posts
Subscribe for newsletter
* You will receive the latest news and updates on Singapore's best trends!
Trending Posts
May 30, 2023

What is Matcha? Matcha...

May 31, 2023

TLDR: In this article,...

May 31, 2023

TLDR: As an audio...