15 Best Poke Bowls in Singapore For Your Budget [2022]
Joanne, 3 years ago
13 min

read
5689
Singapore is widely known for its delicious food. While there are many amazing local delicacies, the food scene in Singapore has expanded greatly. As a cultural hub, you can find food that originates from all over the world here. Poke bowls are one such example of this. Originating from Hawaii, the main ingredient for poke bowls is raw marinated fish. A large appeal of the poke bowls is the amount of customisability. The type of fish, vegetable and sauce are among the many different options that you'll experience when ordering poke bowls. Using this list, you'll know just where to go in Singapore for the best poke bowl experience.
Highlights:
Environmentally conscious brand
Fresh ingredients
Catering services available
Halal-certified
Since raw fish is the main ingredient, using fresh ingredients is crucial for a good poke bowl. Poke Theory has this down on lock, preparing their ingredients in small batches to ensure optimum freshness when served.
At Poke Theory, the poke bowls taste as amazing as they look. One reason why poke bowls have become so popular is due to their aesthetic appeal and the ones you will find a Poke Theory definitely check this box. Colourful, healthy and delicious, these poke bowls are definitely worth the try. Furthermore, apart from serving amazing food, Poke Theory makes environmentally conscious decisions as well. In an attempt to reduce food wastage, unused parts of their pineapples, cucumbers and kale are made into juices every single day.
In addition, for our Muslim readers out there, you would be glad to know that the brand is Halal certified! If you have an event coming up, you can also consider calling on Poke Theory's catering services.
Highlights:
Fresh ingredients
Extensive menu
Rice or noodle option available
While tuna is often used in poke bowls, using salmon is an amazing alternative. Many sashimi lovers have salmon as their go-to, making salmon poke bowls highly popular. If you absolutely love salmon and want to give poke bowls a try, Salmon Samurai has got you covered.
Salmon Samurai is a haven for salmon lovers everywhere. Not only is their salmon poke bowls amazing, but they are also highly affordable. A huge selling point for Salmon Samurai is their extensive menu. Whether you prefer your salmon cooked or raw, with rice or noodles, you will be able to enjoy your preferred style of poke bowl here. If you swear by salmon, Salmon Samurai should definitely be on your list of eateries to visit.
Highlights:
Fresh ingredients
Healthy alternative available
Unique flavours
Up next on our list is Sweetfish. Driven by excellence, the team at Sweetfish aims to give an awesomely sweet experience from start to finish.
Sourcing for fresh ingredients is among the top priorities at Sweetfish. On top of a commitment to freshness, they also have a larger commitment to quality for every single part of their process. They even offer brown rice as a healthier alternative to white rice. Furthermore, Sweetfish does unique fun takes on poke bowls. Some of their more interesting flavors include Wasabi Mayo as well as Sweet Yuzu Cream.
| | |
| --- | --- |
| Address | 13 Stamford Road, #B2-30 Capitol Piazza, Singapore 178905 |
| Contact Information | N.A. |
| Business Hours | 11 AM to 8 PM, Daily |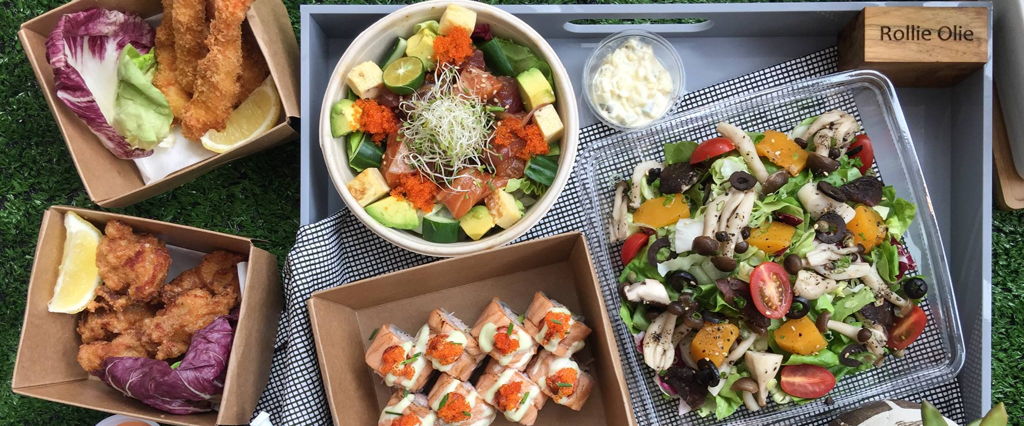 Highlights:
Preservative and additive free
Affordable
Unique sauces
At Rollie Olie, a lot of work has been put into ensuring perfect harmony in their poke bowls. The filings and toppings have been intricately matched together, resulting in an outstanding poke bowl.
Not only is Rollie Olie meticulous in creating their menu, but they also pay a lot of attention to sourcing fresh ingredients as well. Sourced from SuperFrozen fishing vessels, their tuna is preservative and additive-free. Another thing that is awesome about Rollie Olie is their extensive menu. If tuna isn't for you, there are poke bowls featuring chicken, salmon, white fish, unagi and even steak. There's even a 'Green Goddess' for veggie lovers out there. Of course, their toppings and sauces are also unique, making each poke bowl excitingly different from the other.
Highlights:
High level of customization
Wide range of premium add ons
Multiple locations
Taken by the amazing Poke they had in Hawaii; 2 couples decided to open Aloha Poke to share the love of Poke with Singapore.
Aloha Poke features 3 flagship flavours: Original, Wasabi Mayo and Spicy. Apart from these flavours, a huge plus point for Aloha Poke is the level of customisation that is offered. If sashimi is not your thing, you can choose between a variety of other cooked items for your poke bowl. These include tofu, King Oyster Mushroom and Shrimp. There is also a wide range of premium add ons like jellyfish and avocado to level up your dish.
Highlights:
Wide selection of options to choose from
Build your own bowl
Different flavored meat cuts
Tucked right in the heart of Singapore, Poke Doke first open its doors at Millenia Walk in 2017. They have since been serving up quick hearty fixes of the most authentic flavors from the shores of Hawaii.
From quality fresh fish that are sourced every day, to fusing the best flavors in our seasonings and endless dedication, Poke Doke prides itself in crafting the bona fide poke experience for you.
The team at Poke Doke believes that freedom is important. So, here, you will be free to choose from their wide selection of poké, base, toppings and even superfood to build your own original poké bowl! You can start by picking from our 4 different flavored cuts in either Norwegian Salmon or Ahi Tuna!
| | |
| --- | --- |
| Address | 9 raffles boulevard, millenia walk #01-95, 039596 |
| Contact Information | +65 91819140 |
| Business Hours | 11 AM to 8.30 PM, Daily |
Highlights:
Affordable
Fresh ingredients
Wide variety of add-ons
Poké Lulu first opened in May 2017, and till date, it is a great place to enjoy a good bowl of Poke. The brand takes its ingredients seriously. Freshness is key for the team at Poke Lulu. Their bowls come in 3 sizes; small, medium, large. With each bowl, you have a variety of add-ons to choose from.
With 3 types of bases, 7 types of poké, 15 types of add-ons, and 4 types of superfood, you will be spoilt for choice! In addition, portions are sized for individuals, and are nutritious and filling. Prices are also affordable and very comparable to other similar places.
Service at Poké Lulu is completely self-service, with ordering, payment, and collection of orders over the counter. However, staff are still friendly and warm!
| | |
| --- | --- |
| Address | United Square, #01-K13 308591, 101 Thomson Rd, Singapore 307591 |
| Contact Information | +65 8342 6384 |
| Business Hours | 11 AM to 8.30 PM, Daily |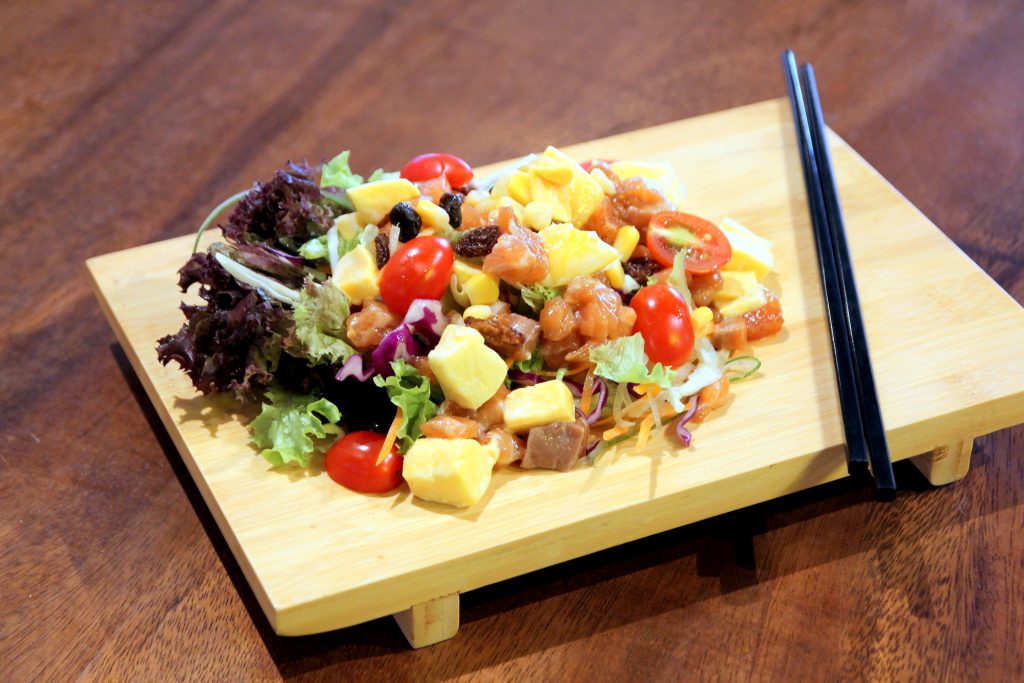 Highlights:
Japanese cuisine with a local twist
Extensive menu
Fresh ingredients
Hokey Poki is an eatery that brings casual Japanese cuisine to the table. Here, you will be surprised with local taste infused with Japanese-styled culinary. Their poke bowl comes in the form of a refreshing Salmon Poke Salad. The colorful salad features super fresh ingredients including healthy crunchy vegetables, cherry tomatoes, corn kernels as well as some mango.
There are many other Poke Salad options such as Wasabi Mayo Chicken Salad, Aburi Salmon Mentai and a Tofu Salad. If you have a friend who does not enjoy poke bowls, you can still visit Hokey Poki with him or her. This is because Hokey Poki has an extensive menu that includes favourites such as Sushi, Sashimi, Aburi, Grilled items and even Sushi Tacos!
Whether you choose to have the poke salad or something else on their menu, you will definitely enjoy your meal, especially with the fresh and high quality ingredients that Hokey Poki uses!
| | |
| --- | --- |
| Address | 10 Paya Lebar Rd, #B2-26 PLQ Mall, Singapore 409507 |
| Contact Information | +65 6908 5205 |
| Business Hours | 11 AM to 9.45 PM, Daily |
Highlights:
Generous portions
Affordable
Wide variety of ingredients
Makai Poke is a place that serves up healthy, delicious, and affordable Poke bowls. With a good mix of ingredients, Maki Poke's Poke bowls are generously portioned. The shop is very popular among those who work around the area of Guoco Tower!
For just $9.90, you get to pick your base, which include options like sushi rice, red and brown rice, trio rice mix or salad, and one of the five types of protein available. Choose from proteins like original shoyu salmon, spicy salmon, yuzu soy ahi tuna, roasted sesame ahi tuna as well as vegetarian tofu sesame. You can also choose to have an additional portion of protein at just $3.
Superfood add-ons like pomegranate, chia seeds, edamame as well as goji berries) are also available at just a dollar per serving. So, for affordable poke bowls, be sure to keep Makai Poke in mind!
Address
Guoco Tower, 7 Wallich Street, #B1-08 Singapore, Singapore 078884
Contact Information
+65 6386 9313
Business Hours
Monday to Friday: 11 AM to 8.30 PM
Saturday to Sunday: 10.30 AM to 3.30 PM
Highlights:
Beautiful ambience
Casual concept
Fresh ingredients
Pink Fish is a new fast–casual seafood concept with Norwegian salmon the star of the show. Their award-winning chef and Bocuse d'Or winner Geir Skeie had a dream: to bring fresh Norwegian salmon to people all over the world. He imagined a vibrant menu of salmon dishes, packed with delicious international flavours and served to order—fast.
Pink Fish Singapore can be found in the basement of the Jewel Changi Shopping section. At the restaurant, you will even have a beautiful view of the HSBC waterfall when you are eating!
For those who love brands who are environmentally conscious, you would be glad to know that everything used in the restaurant is traceable and biodegradable, including its compostable crockery.
| | |
| --- | --- |
| Address | 78 Airport Blvd., #B1-261, Singapore 819666 |
| Contact Information | +65 6909 9771 |
| Business Hours | 11.30 AM to 9 PM, Daily |
Highlights:
Affordable
Great selection of salad and food
Generous portion
Oh Some Bowls is an establishment that serves a fusion of Japanese and Singapore Culture. Dishes served by Oh Some Bowls are healthy and filling, perfect for your busy days!
With fresh ingredients that are imported directly from Japan, you can be sure that you will be enjoying a bowl of poke bowl that comprises of high quality ingredients. In addition, the brand offers a great selection of salad and food, with portions that are generous and sure to fill you up.
Oh Some Bowl's loyal customers also often pride the brand in its friendly and warm customer service. So, for a hearty and filling meal that is served to you by a friendly team, keep Oh Some Bowls in mind!
Address
8 Wilkie Rd, #01-04, Singapore 228095
Contact Information
+65 6509 6066
Business Hours
Monday to Friday: 8 AM to 9 PM
Saturday: 9 AM to 3 PM
Highlights:
Set lunch option available
Affordable
Special spicy sesame marinade
Alter Ego is a restaurant that serves up a menu of poke bowls and smoothie bowls from the day till 8.30 PM at night. After that, the restaurant transforms into a restaurant that serves booze and deep fried burgers!
Back to its poke bowls: Alter Ego's poke bowls are affordably priced from $13 to $16. Their salmon salmon is marinated with their spicy sesame sauce, which makes the dish so much more appetizing and delicious.
Alter Ego also has set lunches on weekdays that cost just $13.90. Each set includes any poke bowl in their menu and comes with a choice of either hot or cold coffee, juice, T2 tea jugs, or soft drinks.
Address
#01-13D, Esplanade Mall, 8 Raffles Avenue, 039802
Contact Information
+65 6327 9301
Business Hours
Monday to Friday: 12 PM to 11 PM
Saturday to Sunday: 11 AM to 11 PM
Highlights:
Affordable
Multiple locations
Extensive menu selection
Started in 2007, Umi Sushi is definitely no stranger to most of us. The brand serves one of the freshest sushi in town at affordable prices. Besides sushi, they offer sashimi, bentos, udons and Japanese salads, enjoyed by customers of all ages and walks of life.
Today, Umi Sushi even serves up poke bowls! For their poke bowls, you can choose from their standard list of Mini or Regular bowls that are loaded with healthy proteins ranging from Norwegian Salmon, Tuna to Signature Mix (both Norwegian Salmon and Tuna), along with brown rice, healthy soba or salad.
Their sauces are the main highlight of Umi Sushi's poke bowls. You can choose from Original Shoyu, Signature Pesto or Spicy Asian Chilli!
At just $8.90 per bowl, this is a great option for those who are looking to satisfy their poke bowl craving without breaking the banks!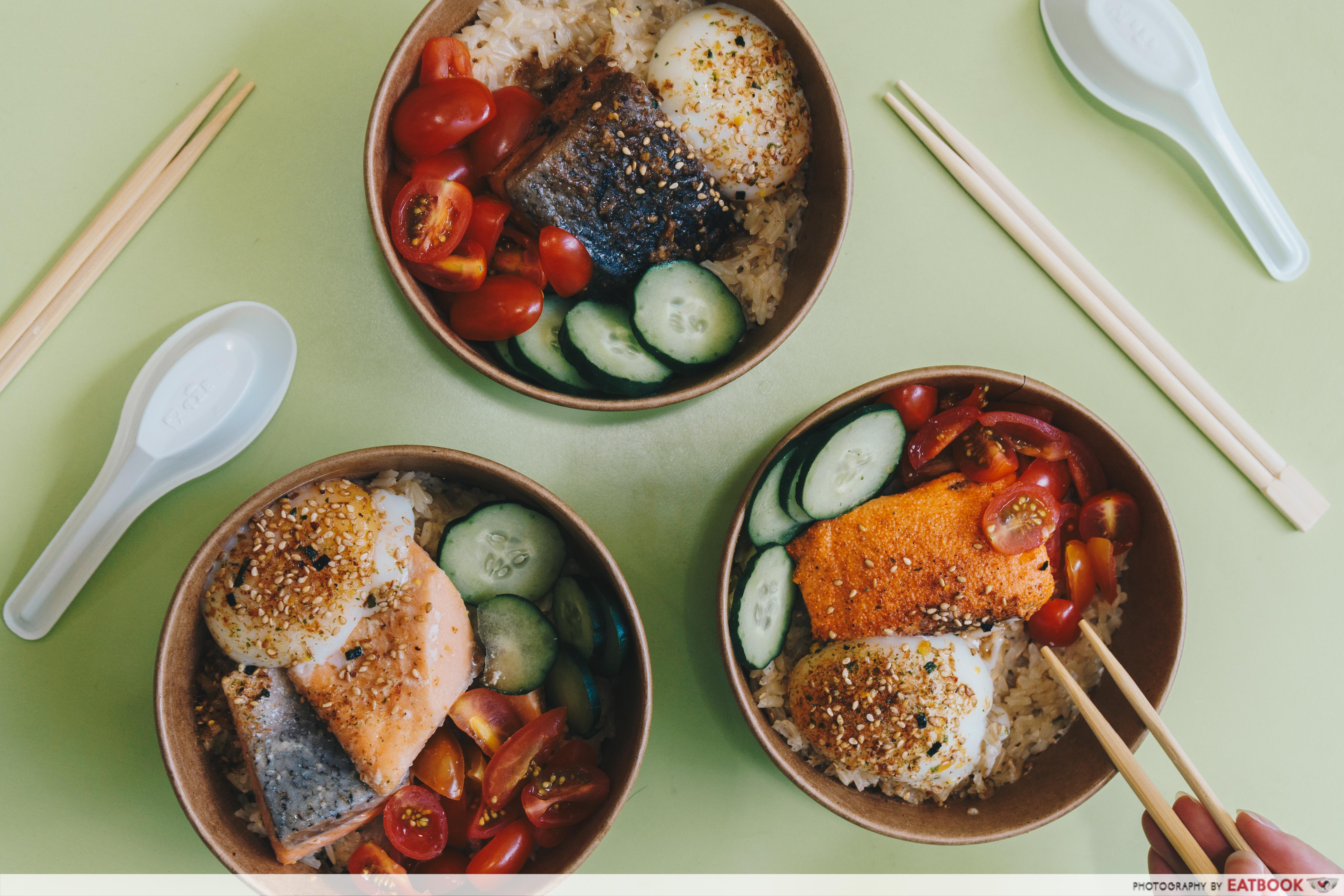 Highlights:
Affordable prices
Friendly team
Fresh ingredients
Big Bowls Project is a hawker stall at Amoy Food Center. Run by a young, passionate team of cooks, the 100% Muslim-owned stall serves up healthy and hearty salmon rice bowls at affordable prices.
Adopting a rice bowl concept, you can choose from options such as Black Pepper Salmon Don, Tom Yum Salmon Don, Hoisin Salmon Don, Sze Chuan Black Bean Salmon Don, Mentaiko Salmon Don, as well as Truffle Salmon Don
Be sure to note that the stall is only opened on weekdays from 11.30 AM to 2.30 PM. So, for a quick lunch fix, Big Bowls Project is a good place to consider!
| | |
| --- | --- |
| Address | 7 Maxwell Road, #02-90, Amoy Street Food Centre, Singapore 069111 |
| Contact Information | _65 8183 0250 |
| Business Hours | Monday to Friday: 11.30 AM to 2.30 PM |
Highlights:
Fresh and natural ingredients
Extensive menu
Designed for all diets
HAAKON is a brand that serves nourishing and delicious food with only the freshest, natural ingredients. Their mission is to help everyone feel empowered, strong and properly nourished through serving unique, incredibly delicious & healthy food while providing a warm & welcoming environment to enjoy it in. Its menu is designed to be inclusive for all diets, with an incredible selection of vegan options, and even gluten free and paleo friendly dishes; no one is excluded at HAAKON.
HAAKON offers 5 kinds of poke bowls for you to choose from. This includes Spicy Salmon, Mentaiko Salmon, Shoyu Citrus Salmon, Ginger Ponzu, as well as Spicy Tuna. So, whether you are craving something sweet, salty, or sour, HAAKON has an option for you!
| | |
| --- | --- |
| Address | 11 Tanjong Katong Road, KINEX #02-K3, 437157 |
| Contact Information | +65 6282 5408 |
| Business Hours | 11 AM to 8.30 PM, Daily |
If you are bored of local cuisine, we urge you to give poke bowls a try. Hearty, healthy and refreshing, poke, this Hawaiian delicacy is famous for a good reason. Using this list, you will know just where to go for an amazing poke bowl experience.
Related topic: Best 7 Vegan Dessert Places in Singapore
Related posts
Subscribe for newsletter
* You will receive the latest news and updates on Singapore's best trends!
Trending Posts
May 30, 2023

What is Matcha? Matcha...

May 31, 2023

TLDR: As an audio...

May 31, 2023

TLDR: In this article,...