10 Best Picnic Spots in Singapore | Secret Spots [2022]
Emily Hopkins, 3 years ago
9 min

read
4705
Singapore is renowned for its numerous outdoor activities whenever you need quiet time and interact with one another. It has gardens and parks where you can relax with your family, loved ones or friends. Picnic spots will offer you quality time to chat, enjoy fast foods, and watch the island's unique scenery.
When planning picnics, you don't need to limit yourself to laying out in the sunlight. Other areas like railway stations, waterfronts, and piers could be perfect places for picnics as well. Here are the best ten picnic spots in Singapore which you should try out.
At woodland fronts, you will have a variety of spots to enjoy in a leisurely manner. You can dine as you watch the sea, green grass fields, or lounge on the lush green field. Since its opening in 2011, the waterfront park is hidden from many residents. You are assured of a cool and less crowded park.
Woodlands gives you a perfect view of the causeway where you can enjoy the perfect scenery of the straits of Johor. Your picnic will be a fun-filled event with a chance to view beautiful sites.
Here are other attractions at the woodlands waterfront park:
Offers the recreational jetty to Singaporeans.
It offers extensive playgrounds for adventure.
The park has crow nets and meshes brides that are ideal for adults and older kids.
| | |
| --- | --- |
| Address | 6A Admiralty Road, 757445 |
| Facilities | Restrooms and shelters are available. Rasa Istimewa Waterfront Restaurant is found on the jetty. |
| Directions | Bus 856 from Woodlands Regional Interchange and alight at Bef R.M.N Barracks. |
| Opening Hours | 24hrs |
Upper peirce reservoir park provides a serene picnic experience. It has a total of five hectares and a variety of outdoor activities that will make your picnic memorable.
With long-tailed monkeys roaming the park, you get the fun of watching and playing cheeky with them. Its secluded space gives the quietness and stillness that picnics need to give you.
Other attractions at Upper Reservoir park include:
Offers a variety of guided walks and workshops for organized groups.
A variety of recreational and fun activities are available.
The park offers many gardening activities such as community, allotment gardens, and gardening with edibles.
| | |
| --- | --- |
| Address | Upper Thomson District |
| Facilities | Shelters and restrooms are available |
| Directions | Bus nos. 163, 167, 169, 855, 980. Alight at the bus stop nearest to the Sembawang Hill Food Court and walk along Old Upper Thomson Road towards Lower Peirce Boardwalk. |
| Opening Hours | Open 24hrs |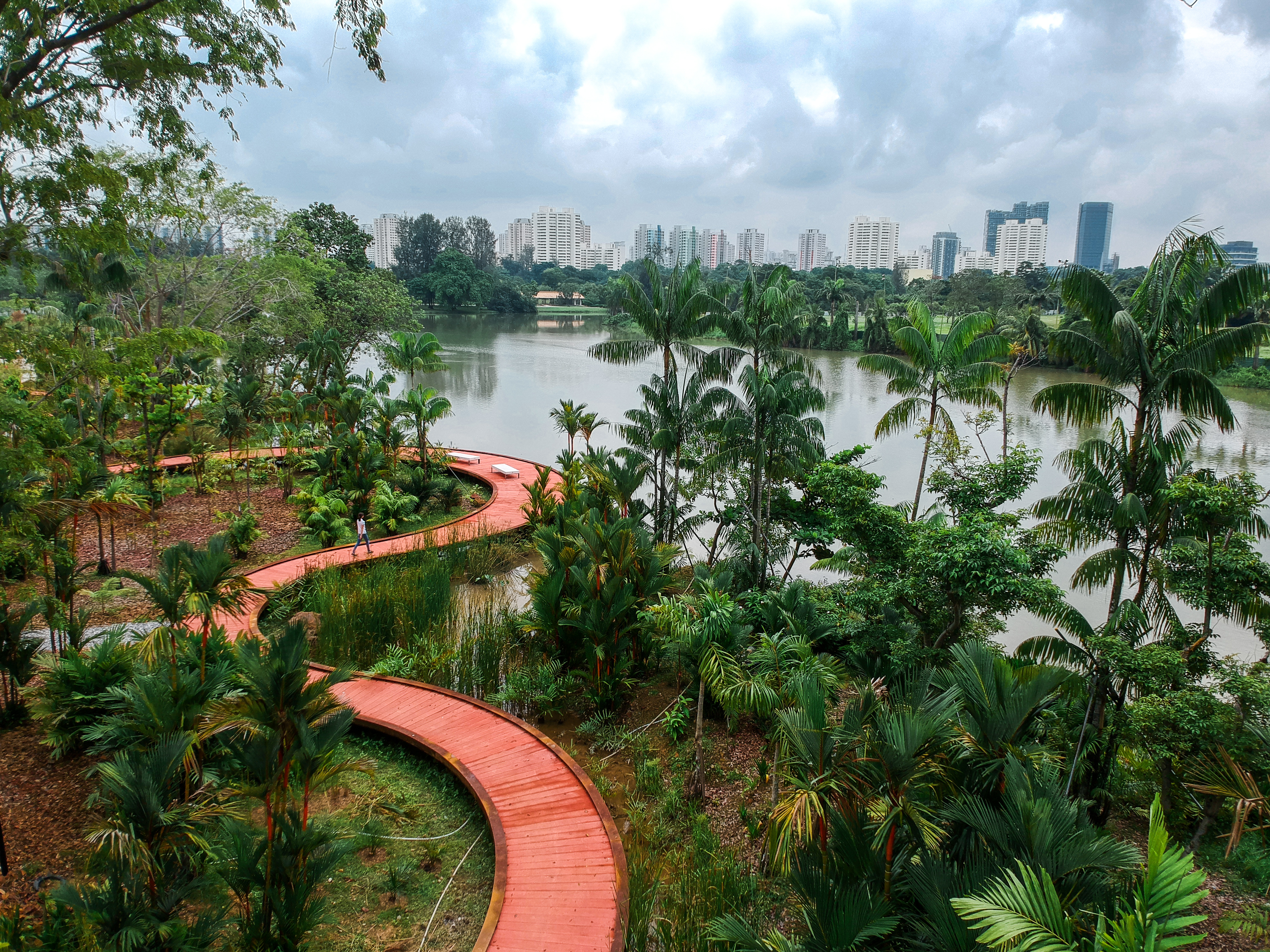 The Jurong Lake Gardens offers one of the best picnic spots in Singapore. It is a good place away from the city's busy hustle and noises. You enjoy the serenity and fresh air with loved ones and friends.
Jurong Lake Gardens is situated in a 90- hectare garden. With its vastness, you enjoy a less congested picnic setting. The grasslands and trees in the garden are perfect spots for photoshoots. With a Lakeside garden, there are fun-filled outdoor water activities to enjoy at the park.
With an overwhelming review of 4.3 stars, the park offers great customer satisfaction.
Other attractions at Jurong Lake Garden include:
They have a variety of water activities.
It has many streams offering nature spots.
Children's playgrounds are available.
Dog runs are also available.
| | |
| --- | --- |
| Address | Yuan Ching Rd (near South Car Park) |
| Facilities | A swimming pool, gym facilities, and various workout classes |
| Directions | Reachable from Lakeside MRT station, and also by bus services 49 and 154 from Jurong East or Boon Lay Interchanges. |
| Opening hours | 24hrs |
The Changi Beach park is Singapore's long-standing parks. With a total of twenty-eight hectares, there are a variety of activities to enjoy in the park. You experience the quietness and idyllic scenery with your friends and family. Besides, you can enjoy plane spotting at the beach park. At Changi beach park, there are winding tracks where fitness enthusiasts can cycle and jog. You can also dine as you view the expansive seafront. The cool breeze from the sea accompanied by rolling waves will make your dining experience one which you'll live to remember.
Other attractions at Changi Beach Park include:
The playground is available for outdoor activities.
The park has restaurants where you can dine.
Fitness sports and wellness activities are available at the park.
You enjoy therapeutic gardens at the park.
| | |
| --- | --- |
| Address | Nicoll Dr, Singapore 498991 |
| Facilities | Barbecue pits, Fitness corner/ stations & Fitness equipment/ exercise station, Playground, Restroom / Toilets with or without shower facilities |
| Directions | Bus stop ID: 99171 (Changi Beach CP 2), 99161 (Bef Changi Beach CP 3), 95071 (Changi Beach CP 4), 95081 (Changi Beach CP 5), 95091 (SAF Ferry Ter) |
| Opening hours | 24hrs |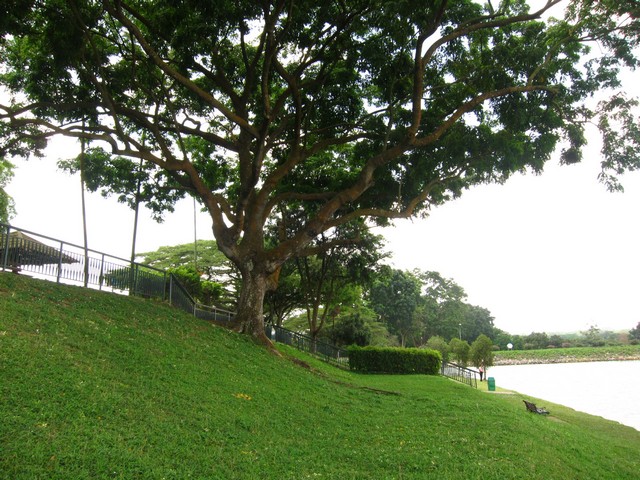 Upper seletar reservoir park is one of the best picnic spots away from the city crowd. It offers placidity and tranquillity that only open spaces provide.
At the upper Seletar reservoir, there's lush greenery and awesome lakeside views. You can jog around the park and breath in the fresh air. Alternatively, you can stroll as you admire the serenity at the park, which includes the rocket-shaped tower. For fitness enthusiasts, you can climb tower and marvel at the beauty of the park.
Other attractions at Upper Seletar include:
The park offers a variety of tenant activities promotions.
You can walk to the top of the tower and enjoy the view of the park.
You can take a tour of the old colonial houses.
There is a clear view of the Yishun dam and the Seletar reserve.
| | |
| --- | --- |
| Address | Along Mandai Road Track 7, off Mandai Road |
| Facilities | Playground; Carpark; Shelters; Lookout Point; Restrooms. |
| Directions | Bus: 138, 169, 980. Underground: NORTH SOUTH LINE |
| Opening hours | 24hrs |
East coast park is your best take for a green landscape view of the vast sea and a sun busk. It has a long coastline of about 15 km. Families get to enjoy a nice beach picnic. You will also revel in how the beach is calm, therapeutic, and gives you a chance to bond with your loved ones.
Other activities you can enjoy at the beach include:
A variety of water sports.
You can enjoy clean sandy beaches
There are a variety of water ski sports.
An expansive children's playground is available.
A Skate park is available at the park.
| | |
| --- | --- |
| Address | Area F, East Coast Park |
| Facilities | Parking area, restrooms, and shower amenities. |
| Directions | Board bus 36, 48, or 196 to Marine Parade Rd, then walk south one block to East Coast Parkway (ECP) |
| Opening hours | 24hrs |
Gardens by the Bay is an amazing picnic spot in Singapore. It offers cloud forests with lots of flowers and vast open spaces. Your family will have a good time enjoying the open spaces, which guarantee fresh air, bird views, and a perfect place to enjoy outdoor activities.
Inspired by the Japanese Zen Garden, there is a perfect view of fountains, ponds, and trees' breeze swaying in the garden.
Other activities to enjoy at Garden by the bay include:
You can visit the cloud forest.
Supertree Grove is one of the attractions at the park.
Flower domes are also available at the park.
| | |
| --- | --- |
| Address: | 8 Marina Gardens Dr, Singapore 018951 |
| Facilities | Outdoor recreational space, outdoor pool, outdoor tennis courts, and a swimming pool |
| Directions | Check out here |
| Opening hours | Daily, 8.00AM – 9.00PM |
Strategically situated in Singapore's western region, Pandan Reservoir is one of Singapore's best picnic spots. It gives you a chance to see the sunsets, the expansive waters as you enjoy time with family and friends.
The park offers a minimalistic environment made up of gravel footpaths without trees. At the Pandan reservoir, you can gaze at the skies as the sun sets on the horizon.
Other activities you can enjoy at Pandan Reservoirs include:
It offers a perfect spot for walks and jogging.
The dam offers fishing activities
The reservoir offers playgrounds for children.
| | |
| --- | --- |
| Address | 14A Penjuru Rd, Singapore 609153 |
| Facilities | Recreational cycling routes, toilets, car parks. |
| Directions | Bus services 78, 78A, 143 from Opp Sanmina-Sl (2-minute walk from Jurong East MRT Station). |
| Opening Hours | 24hrs |
Sembawang Park is a naturally sandy beach in Singapore. It is near the North enabling the North residents to travel with ease to enjoy the sun and clean beach.
With the beach's colonial-inspired playground, you have a perfect venue for your kid's fun activities.
Other activities at Sembawang park include:
Has colossal contraptions that are popular with kids.
It provides a variety of fishing jetty.
It offers clean and relaxing beach activities.
| | |
| --- | --- |
| Address | 117 Beaulieu Road, Sembawang Park, Singapore 759837 |
| Facilities | Restrooms with showers, barbeque pits, dining area (there's a restaurant offering seafood, children's playground, foot reflexology path, and walking trails. |
| Directions | By bus 167, 167e, 800, 811(A), 856, 858(A), 859, 969, 980. Alight at Sembawang Road (Blk 114 Yishun Ring Road, Bus stop |
| Opening Hours | 24hrs |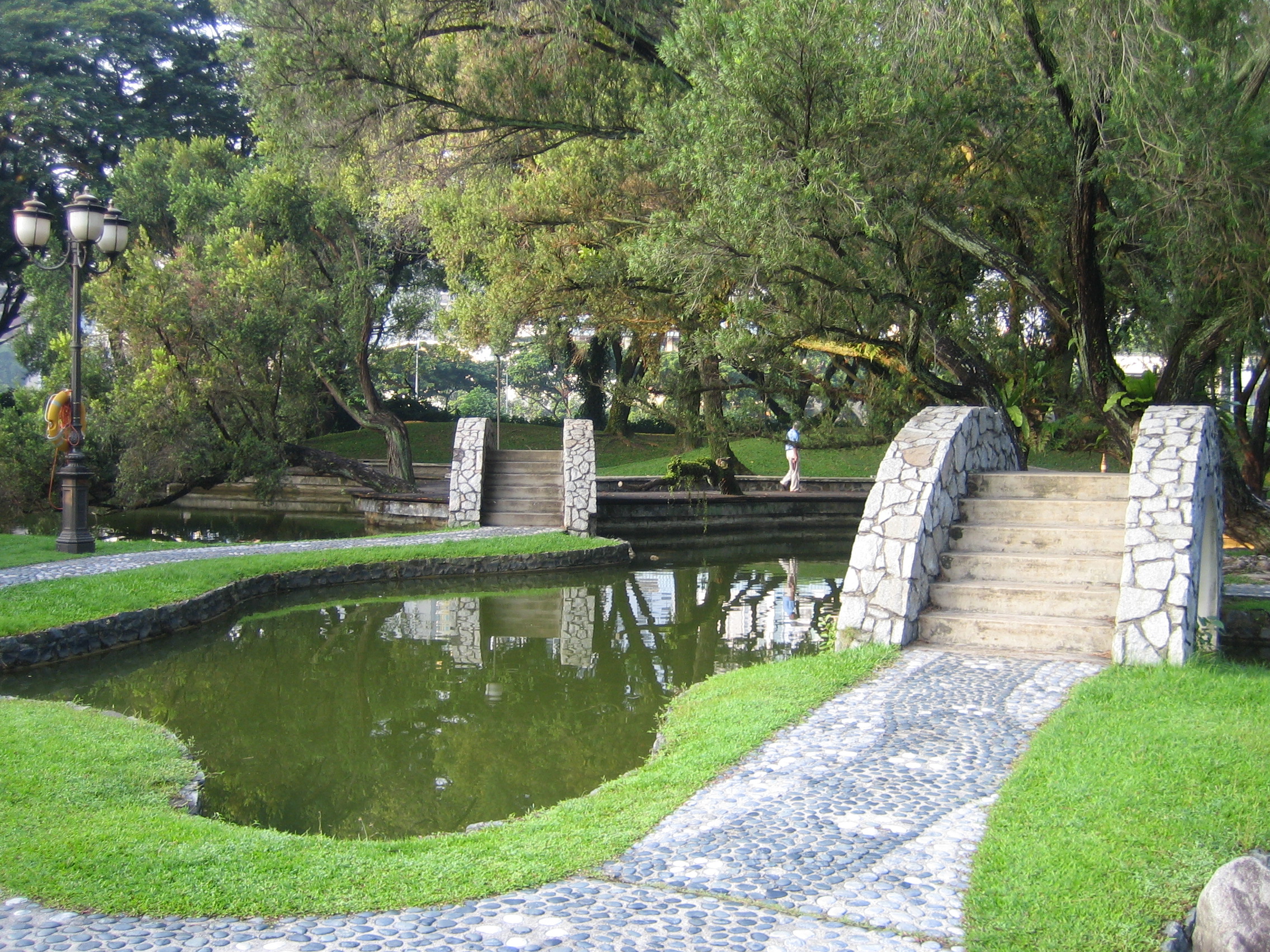 Toa Payoh Town Park is situated in the heart landers. At the park, you'll enjoy the serene environment that resembles a Zen garden. Besides, you get the chance to revel in a meal in this quiet and serene environment. With many picturesque venues like the hexagonal bridge, you will have lots of picture taking activities as you enjoy your picnic.
Toa Payoh town park also offers you a chance to enjoy water activities like fishing at the landscaped pond. There is an observation pond where you can have a view of the whole park.
Other activities at Toa Payoh Town Park include:
The park offers room for jogging and long walks.
It has a variety of trees, such as the beautiful regia trees.
The artificial islands form wonderful attractions.
| | |
| --- | --- |
| Address | Lor 6 Toa Payoh, Singapore |
| Facilities | Playground, restrooms, a remodeled pond, and an expansive pavilion perfect for picnics |
| Directions | An overhead bridge away from Toa Payoh MRT Station |
| Opening Hours | Open 24 hours |
With the above best ten picnic spots in Singapore, you can pick one that interests you and plan activities with your loved ones with less hustle away from the city noises. The green spaces will help you relax, connect with nature, and bond as you enjoy a variety of outdoor activities.
While enjoying the activities, it is important to abide by the laid down rules and regulations at the picnic spots. For example, you should not feed any animals in parks, take photographs in forbidden areas, or throw litter. With that in mind, we hope your picnic will be enjoyable.
Emily Hopkins
I'm an accomplished and detail-driven content writer with copious experience in producing compelling, engaging and flawless content for a variety of blogs and websites for several years.
Related posts
Subscribe for newsletter
* You will receive the latest news and updates on Singapore's best trends!