12 Best Photo Booth Rental Services in Singapore [2022]
Emily Hopkins, 2 years ago
10 min

read
6717
Finding the perfect photo booth rental services for any event is a new craze in Singapore. People are accustomed to taking photographs of any event they attend; whether at the dinner dates, weddings, or weekend getaways. Photos are a better way to keep memories alive days after the event.
Choosing the best photo booth can be overwhelming. You need one that brings out your personality, is within your budget, well decorated, and also portable. With the right photo booth, you can rest and enjoy your event.
Here is our list of the best photo booth rental services that will make your event memorable.
Cloud booth offers one of the most sophisticated and classy photo booth rental services with a keen eye for detail. It is ideal for hosts who want to impress their guests with a big reception. You get to enjoy photos that offer clarity and with a personalized feel.
Cloud Booth gives you studio-style photos that are fine tuned and ideal for weddings, corporate events, community events and also parties. Their rates for their main line of premium photo booths start from $899 for 2 hours.
They also offer a no-frills line of Delite photo booths that start from as low as ~$400 for 2h.
Other service highlights include:
Various instant sharing options like live feed in ballrooms, live facebook updates, instant emailing of photos and QR code download links
Photo booths come with instant Instagram hashtag printing service
Multiple photo templates and print sizes for guests to choose from
A large variety of creative party props suitable for all events
Offers the best onsite support.
Contact: +65 8127 1500
Email: hello@cloudbooth.com.sg
Working Hours: Mon – Sun, 8.30AM – 11.30PM
Capche photo booth rental designs every event in a meticulous and well-planned manner. It assures a high level of enjoyment to your guests as you enjoy photo sessions. Capche not only offers you photo booths, but it also provides on-site music as well as studio lighting. The lighting ensures that photos are of high quality.
At Capche, you have a choice of customizing your photo sessions. The photo booth price is $600 for the first 2 hours and $150 for the subsequent additional hours.
Other service highlights include:
It gives clients on-site music to make the venue enjoyable.
It provides a live view display for guests to pose perfectly.
A variety of unique props are offered.
Contact Details: +65 9753 4260
Email: ask@capche.com
Working Hours: Mon – Sun, 9AM – 11PM.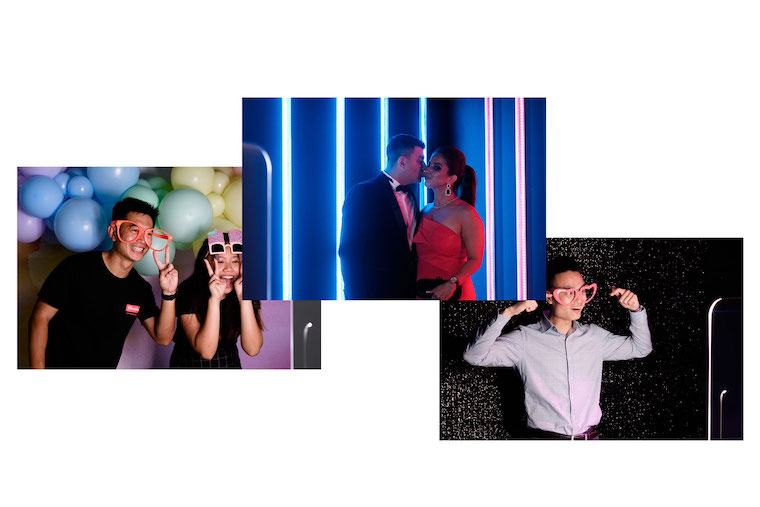 Ubersnap allows you to create a memorable event. You get an enjoyable, innovative, and also a creative memory for all your events. When your events are all planned out, you enjoy an advanced photo booth in the world.
This photo booth rental offers you a sleek design and aluminium casing photo booth for any retail or family event. Its service is well customized to meet corporate events as well as casual parties. All your photography needs are fully integrated into a compact photo booth that will perfectly fit into any flat space.
Other service highlights include:
It has a sophisticated aura which is the ultimate feature of any photo booth hence you can enjoy the photo booth, Gif booth, and video booth. Besides, it's well designed and fits in any venue.
You get the best hand-selected photographers who offer the ultimate revolving photography, videography, in addition to event photography.
Virtual photo booths for online events are also available.
Online streaming is available.
Address: LTC Building B12 Arumugam Road #03-08 Singapore 409958
Contact Details: +65 9012 8537
Email: hello@ubersnap.com
Working Hours: Mon – Fri, 9.00AM – 6.00PM, Sat and Sun, Closed
Mirror me photo booth rental offers a unique photo-generating booth with the use of new technology in photography. Its full-length mirrors also have a sleek design and user-friendly interface which allow your guests to communicate. The colourful animations are ideal for party events as well as corporate events.
With a dedicated team of professionals and friendly staff, you will enjoy nice setups for your event. Besides, the team works to ensure your personality and style are incorporated into the photography set up. With a rental starting fee of $599, you get your dream photos for any event.
Other service highlights include:
A variety of fun and creative props are available.
Photoprotective sleeves are also available.
Transport and setups are provided.
There are various prints to choose from, such as 4R, polaroid, wallet, double-sided, and wallet.
Address: 1 Yishun Industrial Street 1 #05-34 Singapore 768160
Contact: + 65 8223 0592
Email: hello@mirrormesg.com
Working Hours: Open 24 hours.
One eye click live allows you to interact with robots. With over twenty years of experience in the field, you are guaranteed perfect shots. It has a brilliantly engineered robot photographer that is all portable, fun-looking, and self-contained. You have the advantage of setting it anywhere.
Those who love outdoors or indoor activities will not experience mobility issues once there is a flat surface. The team of professionals is trained to make you feel at ease when taking photos.
With numerous awards such as the best photo booth rental service provider in 2018, you are assured of quality photos.
Other service highlights include:
Offers fast print at 8 seconds.
Personalized backdrops that suit your theme are also available.
It has an automated machine that prints besides shooting photos.
Address: 7 Mandai Link, #05-10, Mandai Connection, Singapore 728653
Contact Detail: +65 6493 2121
Email: info@oneeyeclick.com
Working Hours: Mon – Fri, 10AM – 6PM. Sat and Sun, Closed.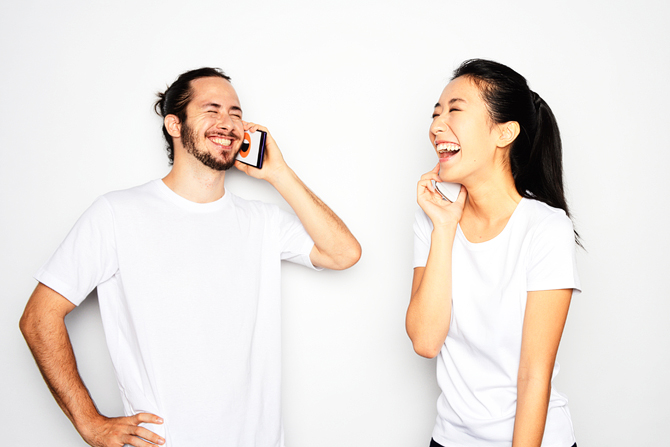 Hello stranger is ideal for those who wish to have fun and engaging events. It offers instaprints that are fuss-free and also easy to use. Every member of the event gets an opportunity to print Instagram photos. They need to take a good photo, put a hashtag then print it.
Their photo booth rental service gives your event the engagements you wish. It will have many photos of various members. With high corporate clients and also retailers, social engagements assure you of quality photos at affordable rates. Their packages start from $990.
Other service highlights include:
Offers instant 4R memento prints in less than 7 seconds.
It offers an online gallery, hence allowing download of all photos taken in the photo booth.
It provides hello stranger ambassadors who are supportive of the photo-taking sessions.
Address: 8 JALAN GAJUS SINGAPORE 438496
Contact Detail: +65 9193 6221
Email: hello@hellostranger.com.sg
Working Hours: Mon – Sun, 8.30AM – 11.30PM
Cheese effects offer an adventurous, more fun, and exciting photo session instead of an ordinary photo booth. It has a video installation that works perfectly for any event. The video installation is of kinds such as the boomerang video, GIF animation, and kaleidoscope filter. All the video installations have special effects with an array of 9 cameras.
Your guests have the perfect opportunity to showcase their creativity while creating amazing videos. With a team of professional and skilled photographers, your videos and photos are of high quality.
Other service highlights include:
It offers live streaming at events.
Offers green screen postproduction with cheese effects.
Besides, it offers instant photo booth event photography.
It customizes any photography needs you may have.
It has a dedicated wedding photo booth for the groom and bride.
Commercial photography also has instant print and email sharing function.
Address: Perfect one building 1 Genting Link #08-03C Perfect One Singapore 349518
Contact: +65 8401 1760
Email: info@cheeseeffects.sg
Working Hours: Mon-Sat: 10.30 am- 5.30 pm
Printiculous offers unique photo printing services for events in Singapore. Its vision is to create a fun photo-taking experience by capturing candid shots for your events, thus making everything memorable.
Customers can post photos on Instagram and have them printed on customised prints. It is the perfect opportunity to have your store opening, festivals, carnivals weddings, and also product launches captured and printed.
Other service highlights include:
Instagram roving photography with instant prints.
Customised design
Customised photo props.
Instagram live feeds
Address: 72 Upper Serangoon View Singapore (533882)
Contact: +65 98460307
Email: chat@printiculous.com
Working Hours: Always Open
Instaprints offers self-service photography of its kind. It takes the photo booth culture to your social media. You need to shoot the best photos for your social media. Like other photo booths, you can add filters, post with hashtags then your photos will be shown and printouts can be done instantly.
Your guests have an opportunity to instantly print out photos they are tagged in within seconds. It, therefore, creates an interactive platform for your event. You will also enjoy the professional touch of many event photographers you can choose from.
Other service Highlights include:
Events and wedding services at affordable rates.
A patented live feed used in the event hashtag.
Customization templates can be designed for all kind of events
Different photo printouts are available.
Provides event analytics for corporate clients.
Address: Blk 713 Ang Mo Kio Avenue 6 # 01-4048, Singapore 560713
Contact Details: +65 9180 8631
Email: hello@instaprint.sg
Working Hours: Open 24hours
Fourstops give you a chance to play a rock star, pirate, or superhero in their big collections of the zany props. A professional photographer snaps a high-quality printable photo that can be printed instantly. The printouts can also be shared on social media. There is a full resolution photo that you can store for many years to come.
At four stops, you get to enjoy great discounts once you book four stops photo booths with roving photographers.
Other service highlights include
High-quality print outs are available.
They can configure set-ups to encourage high social media sharing and also interactions
Customized branding with a backdrop, props, and photo printouts for corporate branding is available.
You can also get a live feed on big screens.
A variety of props are available.
Address:
Contact: +65 8718 1895
Email: hello@fourstops.sg
Working Hours: Open 24 hours
Party Mojo offers you a perfect opportunity to light up your wedding, birthday, and corporate event. You enjoy a variety of photo booth services such as props, high-quality DSLR, professional cameras that can be printed into a customized design with templates. Your home will be a gallery of amazing photos
Other service highlights of the photo booth rental include
Offers a variety of photography services and also virtual events
Customized corporate events are available
They have generous support for props at all events
Address: 2 Jurong East Street 21 #04-33V, Singapore 609601
Contact: +65 8160 6622
Email: sales@partymojo.com.sg
Working Hours: Mon – Sat, 9.00AM – 6.00PM | Sun, Closed
Live moments strive to create beautiful memories through unique and quality photography. It offers the best products to all clients and guests. With an utmost commitment to excellence, providing reliable service, and being consistent in the industry, you are assured of quality services.
It has set itself apart as a leader in the photography industry due to its high reliability thus giving you peace of mind. You get instant photos printed for all your guests on premium quality photo papers. Live moments capture your memorable moments through the use of 3D lighting.
Other service highlights include:
It offers perfect pictures that capture every moment.
Flipbooks are available and can be customized according to your needs.
Portraits and group photographs are also available.
Event coverage and live streaming services can be provided.
| | |
| --- | --- |
| Address | 18 Boon Lay Way, Tradehub 21, #04-141 Singapore 609966 |
| Contact Details | (+65) 96-888-654 |
| Email | hello@livemoments.com.sg |
| Working Hours | By Appointment Only |
While choosing the best Photo booths rental services in Singapore, always inquire about any additional costs. Some photo booth rentals offer free set-up for props. Other rentals may have it priced differently. If you have difficulties using photo booths, look for rental services that offer support on the ground. The props should be well-grounded on flat surfaces to have the perfect photos of your event.
For corporate events, have a team that will enhance more engagements on your shared posts with their photoshoot ideas. Pick a photo booth rental that has Gifs, customization, and more photographers who will make live streaming easy and fun.
Emily Hopkins
I'm an accomplished and detail-driven content writer with copious experience in producing compelling, engaging and flawless content for a variety of blogs and websites for several years.
Related posts
Subscribe for newsletter
* You will receive the latest news and updates on Singapore's best trends!
Trending Posts
May 30, 2023

What is Matcha? Matcha...

May 31, 2023

TLDR: In this article,...

May 31, 2023

TLDR: As an audio...