15 Best Party Planners in Singapore You Should Hire [2023]
Joanne, 3 years ago
15 min

read
5221
While parties are extremely fun and exciting, party planning may not be. Most of us find planning for a party hassle and stressful as well. From coordinating to logistics to venue rentals, there are just too many things to consider! Fortunately, there are professional party planners who use their expertise to take up the planning and organizing process of your party.
So, if you are looking to plan a party soon, leave it to the pros! Check out this comprehensive list of the Best Party Planners in Singapore.
Highlights:
Last-minute bookings are accepted
Competitive pricing
Planned more than 100 corporate parties and family day events in Singapore
Party People specializes in party planning as well as carnival event planning in Singapore. The company is founded by a group of individuals who are passionate about creating a fun, exciting and above all, unforgettable party experience.
They have a wide range of party packages as well as party equipment rental. Your fully customized party can be filled with party services such as magic shows, balloon decorations, fringe activities, carnival snacks, carnival games, arcade machines, bouncy castle and many more.
Party People also offers a wide variety of live food stations. With more than 40 different carnivals live food stations to choose from, you can be assured to find the best party snacks to suit your guest's tastes and preferences!
Furthermore, for hygiene purposes, Party People even rents out disinfectant machines so that you can party in peace!
If you are interested to engage them for your next party, you may even request for a free party catalogue so that you can get information of their party equipment and pricing to plan for your upcoming party or events.
| | |
| --- | --- |
| Contact Information | 8699 6438 |
| Address | MEGA@WOODLANDS, 39 Woodlands Close, #06-66 Singapore 737856 |
| Business Hours | Monday – Friday: 10 AM – 6 PM |
Highlights:
Over 10 years of party planning experience
Wide variety of entertainment options
Multiple package options
Jellybean Party is a company that provides quality Kids Party Entertainment Since 2010. In addition, they offer convenient and fuss-free birthday party packages as well as fun-filled event services to celebrate any occasion.
The party company also provides you with access to a wide variety of fun, vibrant, quality entertainment and equipment. For example, you can even rent a bouncy castle! Jellybean Party's party packages are also very excitingly themed. Whether you want a corporate package, a pool party package, a toddler party package, or even a NERF gun package, Jellybean Party has got you covered from start to end.
In addition, Jellybean Party conducts workshops that can keep your guests busy at work. They can pick up magic, slime-making, as well as juggling!
Above all, with many returning customers who come back time and again, you can be sure of their professional party entertainers and attention to customer service!
| | |
| --- | --- |
| Contact Information | 9230 5911 |
| Business Hours | Monday – Friday: 10 AM – 6 PM |
Highlights:
Leading party and event planning firm based in Singapore
Free consultation
Multiple packages and entertainment options
Party Allo is an events management company that is based in Singapore. As a one-stop party planner, the team at Party Allo will plan, execute, as well as create the perfect celebration for your special occasion.
The events management company offers a wide range of entertainment services such as henna, face painting, caricature, balloon sculpting, as well as interactive games. In addition, you can request for live food stations and dessert stations. Unique and interesting selection of food such as milk mochi, ice ball, and spam fries are available for your choosing.
As a one-stop events management company, Party Allo also provides affordable and fuss-free party packages for you. Furthermore, they are extremely upfront with their pricing, which you can see on their website!
If you are tasked to plan a party at the very last minute, rest assured that Party Allo caters to last-minute orders & ensures that their customers receive the best customer service!
| | |
| --- | --- |
| Contact Information | 9025 1902 |
| Address | 80, #05-13 Playfair Rd, Singapore 367998 |
| Business Hours | Monday – Friday: 10 AM – 6 PM |
Highlights:
Wedding specialist
Focuses on customized decor, styling as well as planning management
More than a decade of experience
Wedding Diary is a wedding planner in Singapore that specializes in customized decor, styling as well as planning management. The team also believes that every single wedding is a wonderful story to be remembered and shared.
Therefore, Wedding Diary plans your wedding in the form of chapters. In chapter 1, the wedding planners will help you to carry out the ideas and suggestions for the decor of your wedding as well as a mood board to fully capture your preferred style and theme. This includes wedding consultation, creative direction, wedding design and conceptualization, styling preparation, decorations, as well as logistics and execution.
Chapter 2 includes everything in chapter 1 but takes it one step further to include a team of coordinators running the show for you while you're fully focused on enjoying every moment of your big day. They will also orchestrate your wedding rehearsal and brief the wedding Party. In addition, a wedding management team will be on-site and available all the time.
For a full wedding planning experience, you can opt for chapter 3, because this covers every topic related to your wedding. In sum, this chapter is specially designed to cater to your unique requirements and covers every single aspect of your wedding preparation all the way to your wedding day. Therefore, you do not have to worry about vendor sourcing, conceptualization, detailed task checklist, reception consultation, and entertainment!
With more than 10 years of experience in wedding planning, you can be sure that the most important day of your life is in good hands!
| | |
| --- | --- |
| Contact Information | 9720 9069 |
| Address | 420 North Bridge Road North Bridge Centre |
| Business Hours | By appointment only |
Highlights:
Virtual event planning
Wide range of events services
Indoor and outdoor events
JNR Entertainment proudly touts itself as the best kids party planner as well as corporate event management company in Singapore. In terms of event management, JNR Entertainment offers events planning in areas of corporate as well as individual events. They also provide a wide range of events services such as balloon decorations, photo booth rental, karaoke rental as well as casino table rental.
Additionally, they offer a wide range of event equipment rental to provide support for your party. You also do not have to worry about feeding your party guests because JNR Entertainment provides live food stations that serve a wide variety of food.
Furthermore, because of the current pandemic situation, JNR Entertainment also offers virtual party planning! Therefore, you and your guests can party through live streaming services, and you may even participate in a virtual escape room together!
With a plethora of entertainers and party packages, you will surely be able to find one that suits your needs and preferences!
| | |
| --- | --- |
| Contact Information | 8363 6136 |
| Address | NorthStar@AMK – 7030, Ang Mo Kio Avenue 5 #01-25 S569880 |
| Business Hours | Monday – Friday: 10 AM – 7 PM |
Highlights:
Fantasy games and shows
Virtual parties
Many party packages
Fantasy Parties is founded by Caroline Cornelius-Jones. She is dedicated to bring smiles to children's faces through the parties that she organizes. With close to 20 years of experience, the team oversees the setup, organization and supervision of parties, with fun, engaging and age-appropriate games.
They offer a wide range of party packages that include fantasy games, fantasy shows, and fantasy bubbles. In addition, Kid's Fantasy Parties offers virtual parties where you and your kids can have an exciting virtual birthday celebration. You can also receive a personalized birthday greeting from a character of your choosing.
In addition, the brand offers a deluxe dessert table set up that comes with a themed moveable backdrop so you can have the perfect setting to capture the birthday cake moment! You can choose from their available themes, or customize one that suits your needs.
Party add-ons such as mascots, helium balloons, furniture, carnival games, goodie bags as well as artists are also available for you to create a fun and wonderful party for you and your guests.
| | |
| --- | --- |
| Contact Information | 8180 0240 |
| Address | 4D Green Lane, Singapore 438903 |
| Business Hours | 10 AM – 7 PM, Daily |
Highlights:
Affordable
Dessert table styling
Advanced balloon art
The director of Eclipse Party Sg is a professional magician & balloon artist Party Singapore has 10 years of experience performing magic.He also has a vast experience in doing advanced balloon sculptures as well as customized balloon decorations.
The brand also sells customized balloon bouquets as well as customized balloons that make great gifts. You may check out their instagram to look at the designs and to check for more details.
On top of balloon art, the company also specializes in party and carnival events. If you engage them you do not need to worry about food, because they are impressive at dessert table styling! They also have a wide range of food and snack live stations.
Other services include fringe activities, performances, talents, carnival equipment rentals, bouncy castles, self fabricated carnival games stations, arcade machines and more!
Furthermore, Eclipse Party Sg rents exclusive equipment such as portable aircons, Queue poles as well as red carpets. These equipment are hardly rented out or provided by other companies.
Above all, all of their premium quality equipment and services come at extremely affordable rates.
| | |
| --- | --- |
| Contact Information | 9698 1304 |
| Address | – |
| Business Hours | Monday – Friday: 9 AM – 9 PM |
Highlights:
Plans a wide range of events and parties
Homemade recipes
Customized dessert tables
ABite is a party-planning company that specializes in quirky as well as classy themed parties. The company is widely known and featured on many platforms such as Young Parents, 8 Days, Style Weddings, and Prestige Singapore.
The company is also confident that they can create magical and unforgettable experiences tailored to your desires. So, whether you have a birthday, wedding, graduation, baby shower, anniversary, or a business event coming up, ABite will be able to plan an unforgettable event for you. If you can dream it, ABite can probably plan it!
ABite also prides itself in their delicious mouth-watering homemade recipes. Unlike other party planners who cater their food, ABite provides customizable dessert tables and cakes for their events.
In addition, you can conveniently request a quote from them on their website before you make any decision.
| | |
| --- | --- |
| Contact Information | 8499 3463 |
| Address | 46 Owen Rd, Singapore 210046 |
| Business Hours | – |
Highlights:
Dessert tables
Party in a box kit
Bespoke decor
The Party Curators is an online party boutique for stylish, handcrafted as well as curated party supplies and inspiration. It is a one-stop-shop for all your party planning needs. The company also offers a party in a box kit, which includes handcrafted decorations as well as curated party and decorating supplies which will make your party planning a lot easier.
With cake toppers, printables, framed prints, garlands, as well as baby stationeries, the Party Curators provides a large range of party supplies, props, as well as gifts. Props and supplies are themed, and you can also get them to customize your party's decor.
In addition, the Party Curators also offers dessert tables for your parties so your guests will not go home hungry!
| | |
| --- | --- |
| Contact Information | 9782 9342 |
| Address | 46 Owen Rd, Singapore 210046 |
| Business Hours | – |
Highlights
Easy to use
Wide range of unique venues in Singapore
Venues at the most affordable rate
Looking for a venue for your party, try Venuerific!
Venuerific is Southeast Asia's largest event venue marketplace, and the perfect one-stop solution for any party planner. Founded in 2013, the company gives you wide access to a range of unique venues in Singapore, allowing you to host your party at any place or time!
Some venues on their page include 'Warehouse 16' – a warehouse-turned-event-space that has become a popular wedding/solemnisation destination; 'HAPPEN.SG' – a happening venue with a wide-range of amenities and suitable for any party type; 'Luna' – a beautifully furnished event space and great for hosting family-friendly occasions.
Plan your party with Venuerific and find your ideal venue soon!
| | |
| --- | --- |
| Contact Information | 6955 8770 |
| Address | 1 Paya Lebar Link #04-01 Paya Lebar Quarter, 408533 |
| Business Hours | 9.30 AM – 6.30 PM |
Highlights
One stop kids' party service with absolutely free consultation
Highly entertaining, children (or adults alike!) are kept occupied throughout the duration of the party
Play (100% pun intended!) a part by customizing a unique party for your child, together with their highly experienced "Joy-Planners"
A one-stop kids' party planner and entertainment service, Party Heart has everything imaginable under the sun to put a wide smile on your child's face. The dedicated team strives to be the heart of your individualized party with entertaining options such as magic shows, balloon sculpting and face-painting, plus, a ton of high-energy activities and games to keep every guest occupied throughout the party.
Need a little help getting the ball rolling for an enjoyable party? Fret not, as Party Heart can help curate the right entertainment according to your child's interests. And for added touches, they even supply items such as popcorn, candy floss, piñatas, and wondrous decorations to liven up the occasion! A photographer can even be arranged with them, to capture those unexpected hilarious moments!
| | |
| --- | --- |
| Contact Information | 97368494 | Email: enquiry@partyheart.com.sg |
| Address | Contact |
| Business Hours | By appointment only |
Highlights:
Unique party venue
Open 24 hours
Best limo party experience
Party Van Singapore offers an extremely unique party experience for you and your guests. The company prides itself in providing the best limo party bus in Singapore. With Party Van, you can be safely driven while you and your guests can enjoy and have fun with a quality entertainment system. They help you to celebrate your special occasions with a unique and unforgettable journey.
In addition, they have a Karaoke party bus option with a Karaoke System installed on the bus. You can sing all night with your friends while enjoying the sights of the city.
Party Van Singapore is 24 hours, so you can party at any time of the day! For a unique party experience, check them out for your next party.
| | |
| --- | --- |
| Contact Information | 9336 4142 |
| Address | – |
| Business Hours | 24 hours |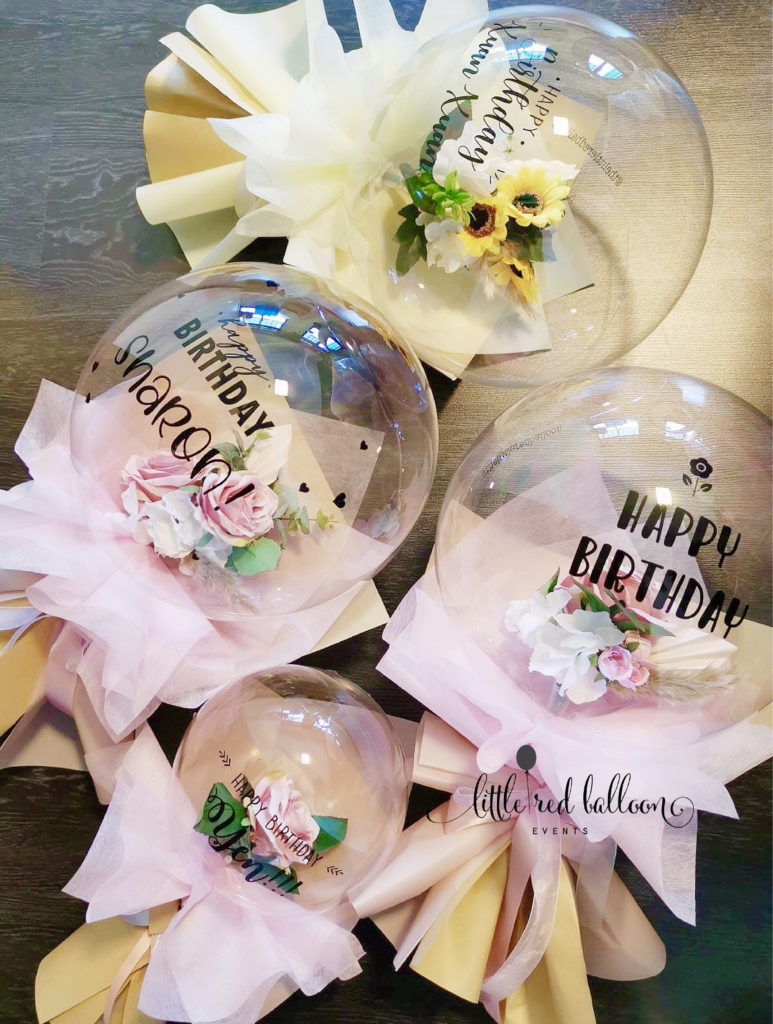 Highlights:
Customizable gifts
Customized decor
Parties, weddings, and events
Little Red Balloon is a party planner that is known for its highly instagrammable parties. From their online shop, you can also purchase balloon bouquets, balloon sculptures, as well as various gift baskets.
The company was established in 2014, and since then, they have created whimsical parties decorations and has received lots of good reviews from their clients, both corporates as well as individuals.
Little Red Balloon is also able to create customized designs that you are not able to find elsewhere. In addition, the company also provides dessert table setups, event styling, and conceptualization for events small or large scale.
If you require other event services, Little Red Balloon can host activities like balloon sculpting, face painting, game hosting, magic shows as well as performances. They also have food stall rentals to give that extra oomph to jazz up your party or event.
| | |
| --- | --- |
| Contact Information | sales@littleredballoon.com.sg |
| Address | 7030 Ang Mo Kio Ave 5 #03-23 Singapore 569880 |
| Business Hours | Tuesday – Sunday: 10 AM – 7 PM |
Highlights:
Wide collection of props
Dessert table styling
Furniture rental
Dreams and Doodle is founded by Rubina Tiyu, who has 13 years of wedding planning experience. They offer party services such as event conceptualization and dessert table styling. On top of that, they also provide furniture and party prop rental so that your party can look fabulous.
The company also uniquely provides DIY Party Packages where you can tell them what you envision and the team will advise the best way to execute your event. In addition, all their party packages can be customized to a chosen theme or colours to suit your tastes and preferences.
With the vast experiences that Dreams and Doodle has, you can be sure that your party will be great!
| | |
| --- | --- |
| Contact Information | 8799 0300 |
| Address | 11 Kallang Place, #05-12 Singapore 339155 |
| Business Hours | By appointment only |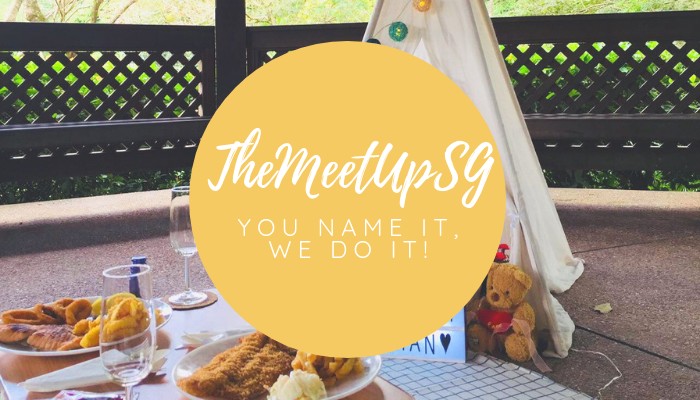 The MeetUp SG is an event planning company established in Singapore in 2017. The company is formed by young endeavouring entrepreneurs who want to make the most important events in their clients' lives as memorable and enjoyable as possible.
Through strategic partnerships that have been formed over the years, The MeetUp SG is versatile and adaptable to each client's unique needs and preferences. The team at The MeetUp SH is made up of a group of professional event planning executives who specialize in organizing events to best cater to the needs and requirements of their clients.
From creative directors to event managers, the team is pleased to take charge of your event, ensuring satisfactory results. With customizable themes, decorations, food catering, photography, as well as videography, this is the place to go to if you have a specific and unique plan in mind that you wish to execute.
Some brands that The MeetUp SG has worked with include Hilton Singapore, nEbO, as well as The Codette Project among many others. With their large base of clients (just look at their event gallery!), you can be sure that your party planning needs are in great hands! So, let the professional team at The MeetUp SG plan your next memorable event! You name it, and they will do it.
| | |
| --- | --- |
| Contact Information | 8605 1933|enquiries@themeetupsg.com |
| Address | 73 Ubi Rd 1, #07-49, Singapore 408733 |
| Business Hours | Monday – Sunday: 9 AM – 6 PM |
Whether you are organizing your child's birthday party, company dinner and dance, or a wedding, this comprehensive list of the Best Party Planners in Singapore will have you covered! If you are looking for a photo booth rental for your upcoming party, check out our guide to the 10 Best Photo Booth Rental Services in Singapore!
Related posts
Subscribe for newsletter
* You will receive the latest news and updates on Singapore's best trends!