10 Best Baby Pampers in Singapore [2021]
Puneeta, 3 years ago
7 min

read
4822
Your baby's body needs to be completely dry, and free to move freely and comfortably without the worry of rashes. Thus, wearing the wrong diaper can be a big problem for your child. He deserves a comfortable experience throughout the day without leakage, and hence, we have listed the top 10 best Baby Diapers available in Singapore below.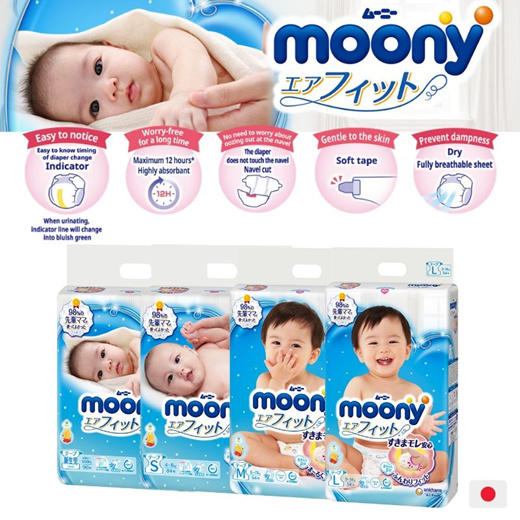 These XL sized diapers comfortably fit any stage of a child's growth and are the most comfortable fit diapers out of all its competitors. Also, the diaper is made of layers of good liquid-absorbing materials to prevent leakage. There is no need for you to adjust your baby's diaper from time to time throughout the day.
Additionally, this diaper is best suited for delicate, sensitive skin as it provides a soothing touch to the body. There is one pocket attached at the back of the diaper to prevent leakage.
This diaper can easily fit a growing child aged 6 to 24 months, and is indeed the best diaper in Singapore.
Key features:
Snugly fits the baby's bottom
Your child will feel pure delight when wearing Merries Walker Pants. These diapers are very comfortable to the touch and extremely soft on the waist without causing any rashes. Thus, there will be no restriction on the child to move freely and comfortably. Airy design and holes at the back of the diaper add extra softness to the diaper, to prevent infection to the child.
Moreover, it has an ultra-soft fit to ensure active baby movements without causing leakage or red marks. Every part of the diaper release heat and moisture after the baby pees or perspire.
Key features:
Ensures active baby movement without leakage

Let your baby enjoy a superb all-rounder diaper in the form of Bambo Eco-Friendly Diapers. The pack is available in different sizes; you may purchase either a 72 pieces/pack or 200 pieces/pack depending on your requirement.
These diapers not only provide protection from leakage but also guarantees a snug experience and comfortable movement. You will definitely not have to worry about your baby crying as a result of discomfort. Above all, these diapers are made from 100% breathable fabric.
Key features:
Eco-friendly product for easy dispose
It is essential to keep your baby's skin dry and free from rashes. The breathable fabric GOO.N Japanese Version Diapers are made of will ensure just that.
These diapers provide great protection from leakage and will keep your baby's skin all day. Your precious one's delicate and sensitive skin will be completely protected as a result of the 3D Super Soft sheet fabric this diaper is uniquely made of.
A kit contains 64 pieces of the diaper and includes a wetness indicator. The fabric of these baby diapers contains natural Vitamin E Plus to keep your baby dry all day and all night. These diapers are among the most comfortable and overall best baby diapers in Singapore!
Key features:
Excellent wet absorption for 12 hours
Does not tear very easily
If you are searching for maximum benefits of baby diapers for your child, Lucky Baby Nappy is the one for you.
Each pack contains 12 sheets of 76 x 76 cm diapers that are made from 100% cotton to provide a cushy soft and comfortable experience. These diapers take into consideration the impact of disposable diapers on the environment and are easy to dispose of. Thus, you can guarantee complete comfort for your baby at a reasonable cost.
Above all, with these diapers, your baby will learn Potty Training extremely quickly. These diapers are also eco-friendly, and easy to fold regardless of the technique you prefer.
Key features:
Breathable fabric to prevent rashes
Airy Design to adjust with the weather
Your baby skin needs appropriate care, and Huggies has introduced a diaper made of the best premium quality that utilize ZeroFeel Core Technology.
Your child will definitely enjoy an ultra-light experience as a result of the high absorbency power of Huggies diapers. This diaper also features extra-absorbent material that has a 360 super flexible core so that your baby will not experience any feelings of bulkiness even after multiple wettings. In addition, the liner has over 7000 micro funnels that lock wetness and will keep your baby's skin dry all day. The five ultra-absorbent features of these diapers can work effectively for up to 12 hours. Rest assured that these diapers are one of the best baby diapers in Singapore!
Key features
Super flexible fabric for active movements
Keeps baby skin dry and rashes free
Pampers Baby Dry Diapers are outstanding diapers that provide leakage protection for up to a 12-hour period. It is made of soft layered fabric which absorbs wetness so as to keep your baby's skin dry. Also, it absorbs a sizeable amount of liquid extremely quickly. Hence, rest assured that your baby will feel extremely fresh and relax all day.
A magic gel that lines the diaper boost the diaper's effectiveness, such that they can absorb up to seven wettings while keeping the baby dry throughout. The tape sides have a very comfortable and stretchy fit and the breathable fabric that contains micro holes prevents stuffiness and skin irritation. Moreover, it comes in many playful designs that are pleasing to the eye!
Key features
Keeps wholly fresh and cool skin
Magic gel to absorb seven wettings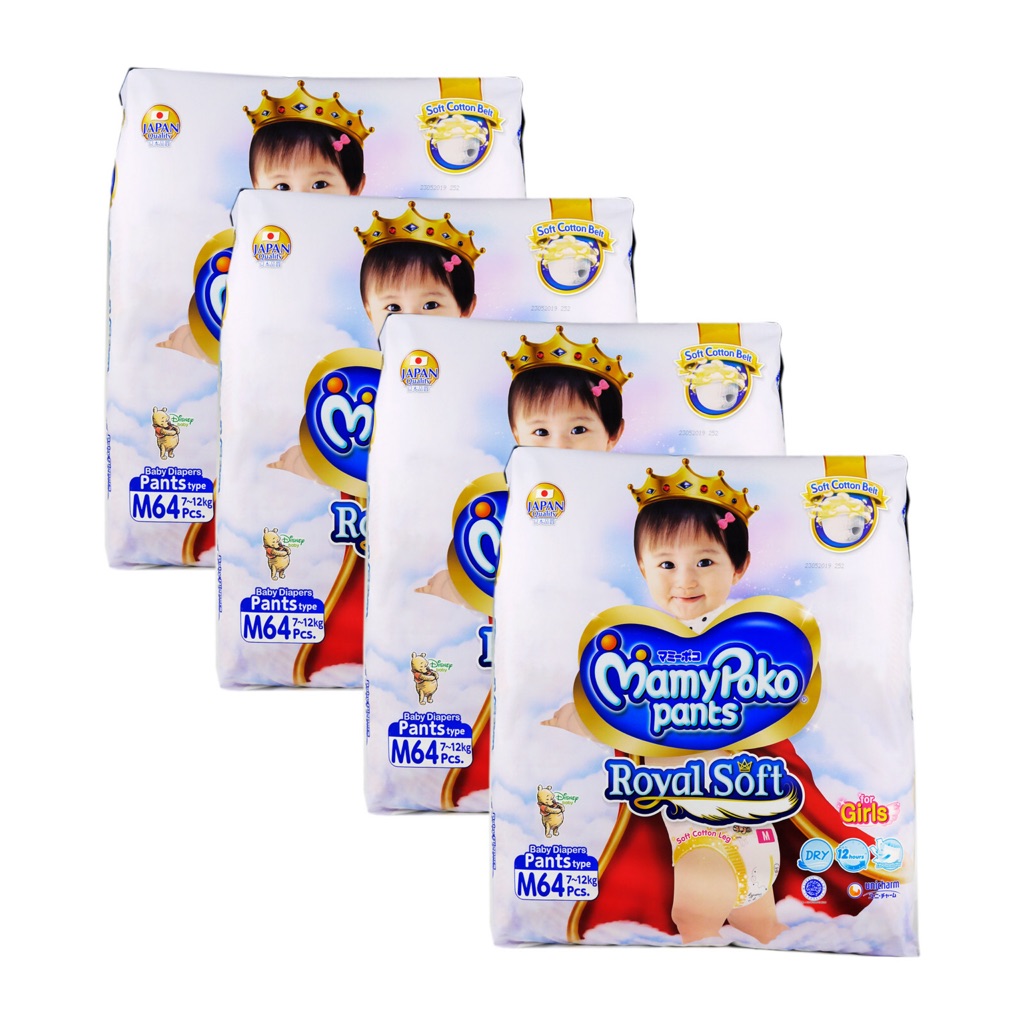 Do you want to keep your baby smiling and free to play and move comfortably all day as a result of dry skin? MamyPoko Pants provides luxury comfort to your child and features a power slim Absorbency core that can absorb wetness for long periods of time.
Additionally, it has a new roll up tape feature that ensures comfortable use. Disposal of this diaper is also hassle-free.
Most of all, these diapers are made of super soft and stretchable material that will not irritate your baby's skin as it will allow your baby's skin to breathe comfortably all day. The Many Poko Royal Soft Pants are truly one of the best baby diapers in Singapore!
Key features:
Luxurious comfort and snug experience
Super soft and stretchable wet absorbing material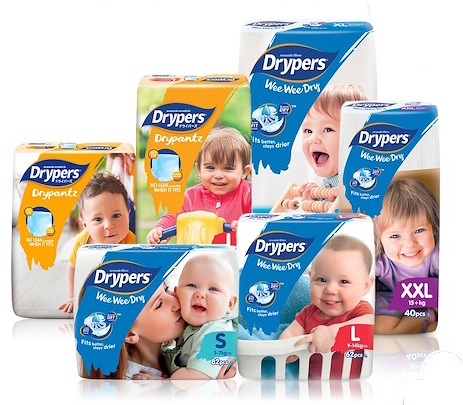 Drypers Wee Wee Dry-Touch Pants have received over 700 positive reviews from customers. There are numerous fans of these diapers in Singapore as a result of the diapers' three attractive functions, which makes it a top choice in the eyes of many parents.
The presence of Activ-Core technology sucks moisture entirely, so rest assured that there is no chance for leakage. Your baby will feel comfortable every time they wear this diaper as it's fabric contains Aloe-Vera, Olive, and Vitamin E goodness. Your baby's skin will be healthier and dry when wearing these pants.
Key features:
Acti-core Present to suck moisture
No leakage and provides a comfortable experience
Parents usually gravitate towards these diapers due to its double leakage guard which prevents messy overflow. These diapers are guaranteed to provide you with a free piece of mind as your baby's skin will be kept healthy and dry all day.
Other important features of this diaper are its provision of long-lasting comfort, great air circulation, and its ability to lock fluid so as to ensure a dry and soft surface.
These diapers are available in packs of different sizes – small, medium, and large. Choose according to your baby's age and stage of growth.
Overall, the Sensi Baby Pant Diapers are fitting to round off the list of the best diapers in Singapore.
Key features:
Natural plant extract used for better skin
—
Throughout their first few years of life, a baby has to practically live in their diapers. Thus, choose the best brand for your baby so that they can enjoy their childhood healthily and happily.
Related posts
Subscribe for newsletter
* You will receive the latest news and updates on Singapore's best trends!