10 Best Okonomiyaki That You'll Ever Taste in Singapore [2022]
Zoya, 2 years ago
11 min

read
7944
Over the years Japanese cuisine has become one of the most trending cuisines in the world. Although ramen is perhaps the most well-known offering of Japanese cuisine, one can simply not resist the crispy flavour bomb snack of the Japanese archipelago- Okonomiyaki. Known for its complexity of flavours and its simplicity in preparation, okonomiyaki is one of the toughest Japanese dishes to master.
Below is a list of the best Okonomiyakis in all of Singapore so you can taste for yourself this crown jewel of Japanese cuisine.
Seiwaa is a Teppanyaki restaurant that serves authentic Japanese cuisine with a lot of love and attention. Here you are given your own hot plate where you can either cook your own food or have one of their extremely professional Teppanyaki chefs cook in front of you giving you an entertaining dining experience. They are known for the freshness of their ingredients which are carefully sourced and delicately prepared to ensure that taste is not compromised at all.
The okonomiyaki here is made in the authentic Osaka style. Here they give you a wide choice of vegetables and other ingredients to go with your Japanese omelette- pancake, justifying its name which literally means 'grilled as you like it'. They top off their okonomiyaki with their signature otafuku sauce, luxurious Japanese mayo, seaweed, and bonito flakes to give you that typical Japanese taste that lingers on your taste buds reminding you of the comfort of Japanese soul food. You can also choose to cook yourself in this establishment controlling the various ingredients. This will effectively personalise and modifying your okonomiyaki to better suit your taste.
| | |
| --- | --- |
| Address | 72 Dunlop Street, Singapore 209400 |
| Contact | 65 8828 8931 |
| Timings | Monday to Saturday from 11:00 am to 03:00 pm, 05:00 pm to 11:00 pm |
| Social Pages | Facebook | Instagram |
This restaurant specialises in okonomiyaki and has but one motto which is to bring the flavour and feeling of a traditional Japanese eatery to Singapore. They serve a wide variety of Japanese dishes and a wide variety of okonomiyaki at that. They are particularly known for their gyoza and their Japanese mayo is simply out of this world. Besides all this, they also provide island-wide delivery services so you can always enjoy their food at the comfort of your own house.
They also have veggie okonomiyaki which is great news for all the vegetarians who want to enjoy some Japanese flavours. Furthermore, they bring to you some of the best authentic sake which pairs superbly with their food. Their sake is of high quality and they take great pride in what they offer to their customers so there are rarely any complaints about this establishment.
Tsuruhashi Fugetsu does traditional Osaka cuisine and here it is done well. Okonomiyaki is their signature dish and they offer a wide variety of okonomiyaki in their establishment. They also do modanyaki which is your okonomiyaki with the addition of fresh-made egg noodles that give it extra volume. The contrast of texture that egg noodles bring is simply marvellous. They also offer island-wide delivery for any order above 50 dollars so you can also enjoy their mouth-watering dishes at home.
Their cheese pork Tama and beef tendon Tama okonomiyaki are particularly popular amongst patrons however their pork kimchi Tama, seafood cheese Tama and cheese mix variants are equally marvellous. They also pay close attention to the presentation of their dishes. In fact, every okonomiyaki topped with their signature sauce becomes a literal piece of art. They are also well known for their yakisoba which is equally flavourful and complex and their cheese tonpeiyaki is simply breathtaking.
Address
3 Temasek Boulevard, Suntec City Mall Singapore, Tower 1 North Wing, Eat at Seven, #03-316, Singapore, 038983
Contact
+65 6560 0290
Timings
Tuesday to Sunday from 11:30 am to 03:00 pm, 05:00 pm to 08:30 pm (Pick-up)
Monday to Sunday from 12:00 pm to 03:30 pm, 05:30 pm to 09:00 pm (Delivery)
Social Pages
Facebook
Established in 2003, Nanjya Monjya waterfront is a Japanese restaurant that is so particular about the quality of their food and services that they can impress even the toughest of Japanese businessmen. Nanjya Monjya specialises particularly in their okonomiyaki and has been made part of various top ten lists for this reason. They enjoy a steady stream of great reviews and flattering comments however they never slack off and simply continue to excel. They serve a wide variety of okonomiyaki and even give you a self-cooking and personalisation option using which you can make your own special okonomiyaki that is made by you for your taste.
Monjayaki or pan-fried butter is another Japanese dish that they excel in and their ika wata yaki is also wildly popular. They also offer a wide assortment of sashimi and their ingredients both locally sourced and imported from Japan are always of the highest quality. Their setting is sleek and elegant with a very fine dining kind of flare. However, they still maintain a very casual and cosy ambience as such this establishment is ideal for both family and business dinners. They are proud of what they do and they don't cut corners and maintain a very high standard of service.
| | |
| --- | --- |
| Address | 390A Havelock Road #01-03 169664 Singapore, Singapore |
| Contact | +65 6738 7177 |
| Social Pages | Facebook | Instagram |
This is a very stylish and bold contemporary Japanese restaurant that doesn't shy away from innovations and brings to you the traditional flavours of Japan with a modern and stylish twist. The founder of Misato himself is quite a colourful personality, he is a cover artist and has done covers of several well-known songs which can be enjoyed on their official Facebook page. The restaurant as such does take up a lot of funk from their owner and his playful personality can be seen in their innovative dishes and mind-blowing preparations.
Misato believes in looking forward and striving to improve all the time. Their menu is full of elegant and bold dishes which both stick to tradition and modernity at the same time. Their choice of okonomiyaki as such is wide and full of bold flavours. Every item in the Misato menu is a work of art and they also offer delivery services so if you want to taste some great modern Japanese cuisine then you should try out some of their offerings.
| | |
| --- | --- |
| Address | Misato, 176 Orchard Road #01-33E The Centrepoint (Gastro+, Orchard Rd, Singapore 238843) |
| Contact | +65 6235 2822 |
| Social Pages | Facebook |
From sushi to many varieties of noodles this small, family-friendly and downright cute Japanese establishment has all your Japanese cuisine cravings covered. They are a very well-known establishment and they enjoy a steady stream of customers who are always happy to talk about how great they are. It won't be an understatement to say that they have built up quite a reputation for themselves over the years and with their excellent service and the chilliest ambience it isn't hard to see how they earned this reputation for themselves. They also have a lot of veggie items on their menu along with the extremely delicate preparations of sushi so you can understand the kind of variety they offer.
What we are interested in however is their okonomiyaki which is by far one of the most popular dishes in their extremely extensive menu. Known for its unique flavours and extremely inviting crunchy textures their okonomiyaki is in every way one of the word. Well, if we are to believe their countless reviews then it's one of the best okonomiyaki in all of Singapore. They also do island-wide delivery and you can also choose to pick up your food so they do take care of your comfort in every way possible.
| | |
| --- | --- |
| Address | 787 North Bridge Road 198755 Singapore, Singapore |
| Contact | +65 6655 0800 |
| Timings | |
| Social Pages | Facebook | Instagram |
Tamako meal is a casual yet stylish traditional Japanese eatery that serves some of the best Japanese food in all of Singapore. They are known for being very chill and there is almost a certain romantic nostalgia that takes you back to your childhood for some reason. They serve the classic Japanese dishes that are well known across the world. From grilled squid to sushi, sukiyaki, and of course okonomiyaki, they are a very popular establishment and are always packed full of happy customers.
Okonomiyaki is the highlight of their menu and a big chunk of their patrons regularly visit them for their okonomiyaki. They carefully prepare each dish with close attention paid to the traditional recipes and techniques of the Japanese archipelago. And as such, the food they produce in this establishment is simply out of this world. They enjoy a high rating and a lot of people leave their establishment showering then with happy remarks and positive reviews. They also have a good choice of drinks. So, if you want to enjoy a nice chill afternoon with friends or family and maybe gulp down some good sake with the best okonomiyaki in town, then this establishment deserves your attention.
| | |
| --- | --- |
| Address | 128 Casuarina Rd, Singapore 5795 |
| Contact | +65 6553 4128 |
| Social Pages | Facebook |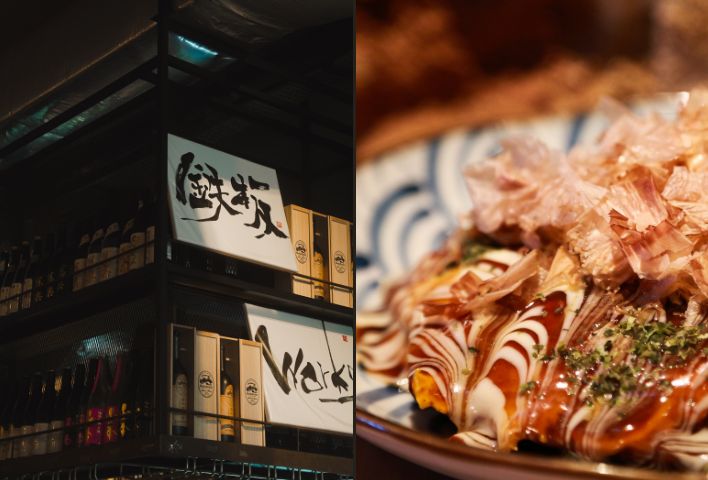 The chef of this establishment, chef Keita was born in Tokyo and is an absolute master in Japanese cuisine. As such it is easily understandable why this establishment is one of the most popular Japanese eateries in all of Singapore. They pay particular attention to the high quality of their ingredients and serve only the best, freshest and choicest ingredients both locally sourced and imported from Japan directly. The chef believes that a good dining experience should involve the stimulation of all five senses using the textures, aromas and flavours of the food and that is the inspiration behind this establishment which is executed perfectly.
Their wagyu is extremely popular, but what is equally popular is their special okonomiyaki which is cooked with great affection and an eagle eye for details. With sauces that are so flavourful, even the gods would fly down for a taste and the texture so divine, nothing else can compare to it the okonomiyaki here is definitely worth a try.
Although this establishment specialises in sushi one of the unmistakable stars of their menu is their famous okonomiyaki which has been attracting customers for a long time. They serve traditional Japanese cuisine with a wide variety of appetizers and sushi along with great drinks and an ambience many establishments dream of having. Their traditional preparations simply outdo any other name in the business. And their love for detail and fresh ingredients simply transforms every dish that leaves their kitchens into one which is beyond comparison.
What makes their okonomiyaki special is the beauty of their sauces and the quality of their toppings. This adds a unique flavour to this dish making it a true highlight of their already extensive menu. If you are looking for a traditional Japanese sushi bar experience then this establishment is strongly recommended.
| | |
| --- | --- |
| Address | You can check out their outlets right here. |
| Contact | enquiry@sushitei.com |
| Timings | Monday to Sunday from 11:30 am to 09.30 pm |
| Social Pages | Facebook | Instagram |
Izayaki in Japanese means a sit-in sake shop and these establishments are popular across Japan for being casual places to enjoy some drinks with friends while indulging in traditional snacks and tapas. Tomo Izayaki brings the traditional Japanese Izayaki experience to Singapore. They serve some of the best snacks along with other drinks and some of the best Japanese drinking food. Their okonomiyaki is one of the most popular items on their menu. The complex yet comforting textures and flavours make it a perfect companion for some sake.
Tomo Izayaki is highly rated and regularly recommended by their patrons who particularly enjoy their stylish settings and comfy ambience. It is the perfect hangout joint. The fact that they serve some of the best Japanese food in town makes this joint a must-visit.
| | |
| --- | --- |
| Address | You can check out their outlet addresses here. |
| Contact | You can check out the contact details of their outlets here. |
| Social Pages | Facebook | Instagram |
With this, we conclude this list of the top okonomiyaki stores in all of Singapore. This traditional Japanese dish is unique in many ways and deserves to be relished with love and attention. So, you really need to look for a good place before ordering one. This list however is going to save you a lot of that work so do check out these fantastic establishments.
Related Articles:
Zoya
Queen of Obscure References and occasional writer. When not exercising my thumbs on Instagram, you can find me looking for good author bios on Google.
Related posts
Subscribe for newsletter
* You will receive the latest news and updates on Singapore's best trends!