11 Best Ladies Office Wear In Singapore [2022]
Joanne, 3 years ago
9 min

read
12272
The late fashion maestro Yves Saint Laurent once said, "Fashion fades, while style is eternal." Technically, this saying is quite the truth when it comes to picking out office wear. Given that most ladies are stuck in the same uniform routine ala shirt and pencil skirt combo every day.
It's not wrong going to work wearing your usual workwear, after all, it's the most comfortable and stylish clothes that stick with you. But it can get quite dull as the days passed by while you watch others parade the latest office workwear.
Get a look you will feel confident in the office with our top ladies workwear picks in Singapore. Let's kill it, ladies!
Does the brand Osmose ring a bell? After all, the label is a one-stop-solution for the best clothing essentials that money can buy. Think of uniquely designed tops, skirts, blouses, and matching accessories. Their range of workwear has got to be the most stylish and flattering fashion finds.
Osmose's office wear is extremely comfortable. Their designs, although limited, are modern and fun. If you are looking for Executive workwear, this is the place to visit!
With its soft, breathable material, this outfit can easily take you from work to even a casual outing in the mall during the weekends.
Since 2010, the LBR label has been bringing the hippest and most trendy clothing to women of all ages. Regardless it is casual wear, wild party dresses, or even corporate wear. With a large fan base of following on social media, this apparel brand is the bees' knees for cutting edge fashion. But what makes them stand out is their range of workwear.
The LBR label redefines office workwear and brings it to another level. The brand puts a different spin on the usual classic workwear by putting in a touch of Viviene Westwood vibe. One of LBR label bestsellers is their shoulder-baring toga tops. Perfect to be worn underneath a jacket, these off the shoulder shirts help exude a hint of sexiness in a conservative office environment. If not, you can even wear it on its own for a glitzy night out in town.
This popular online store has been selling stylish but affordable work clothes to trendy Singaporean ladies since 2008. As the nation's top homegrown blog shops, this brand is featured in many fashion magazines like Cleo, Her World..etc. This is due to the company's being a one-stop clothing haven – selling everything from tops, dresses, bottoms, accessories, kids to even bridesmaid wear.
Think stylish and versatile dresses that can transform your drab office outfit into elegantly chic pieces. With due credit thanks to its clean silhouette, impeccable tailoring, and innovative designs. For a splash of hue, you can go for their bold floral prints that scream "Look At Me!". It is a "must-have" statement piece for those with an adventurous fashion palate.
The Stage Walk is one of the friendlier options when it comes to offering pain and discomfort free office clothes. As comfort is their middle name -albeit without forsaking style, of course. With them, you get the latest fashion twice a weekly basis. Whether it is Alexander Mcqueen inspired tops imprinted with adorable hearts or quirky multi-striped shift dresses, they have it all. We reckon each piece will make you the queen of style at the office.
Otherwise, their comfortable offerings can also be worn as a casual outfit anytime. Here, each office wear is carefully designed to meet the lifestyle needs of the modern working women. Especially, go-getters who want the best of both worlds when it comes to fashion.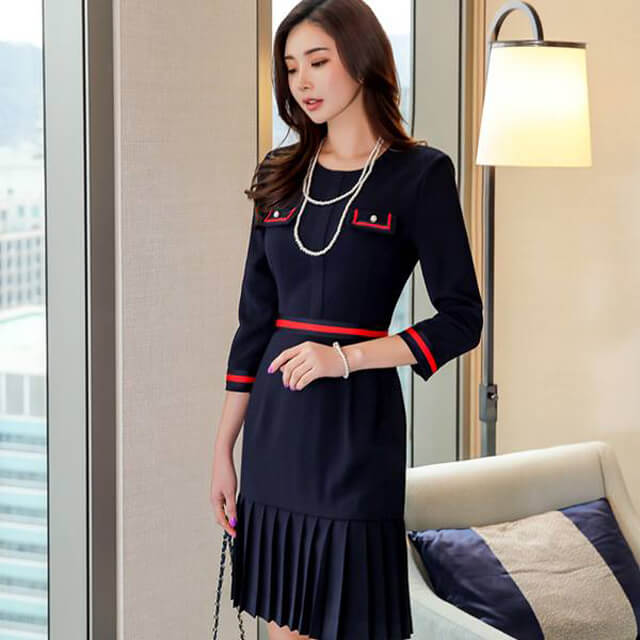 If the Hallyu wave is driving you nuts, then you gotta head to the Ministry Of Retail. For starters, they offer Korean inspired office wear that is straight out from the runway. The company is the official distributor for Korean brands such as StyleOnMe, Rozley, and Mor Label. At there, you can take your pick from their range of statement designs like classic jumpsuits, feminine dresses to even relaxed fit blouses with a special twist.
One of their best-sellers, the Pearl Button Tweed Line Knit Cardigan is a refreshing take on the classic sweatshirt. Available in both black and ivory, this unique cardigan is accentuated with gorgeous trimmings and its signature pearl buttons. When worn, the cardigan hugs the body beautifully due to its stretchable fabric. Thus, giving you that slim silhouette that will make you the envy of all your female office mates.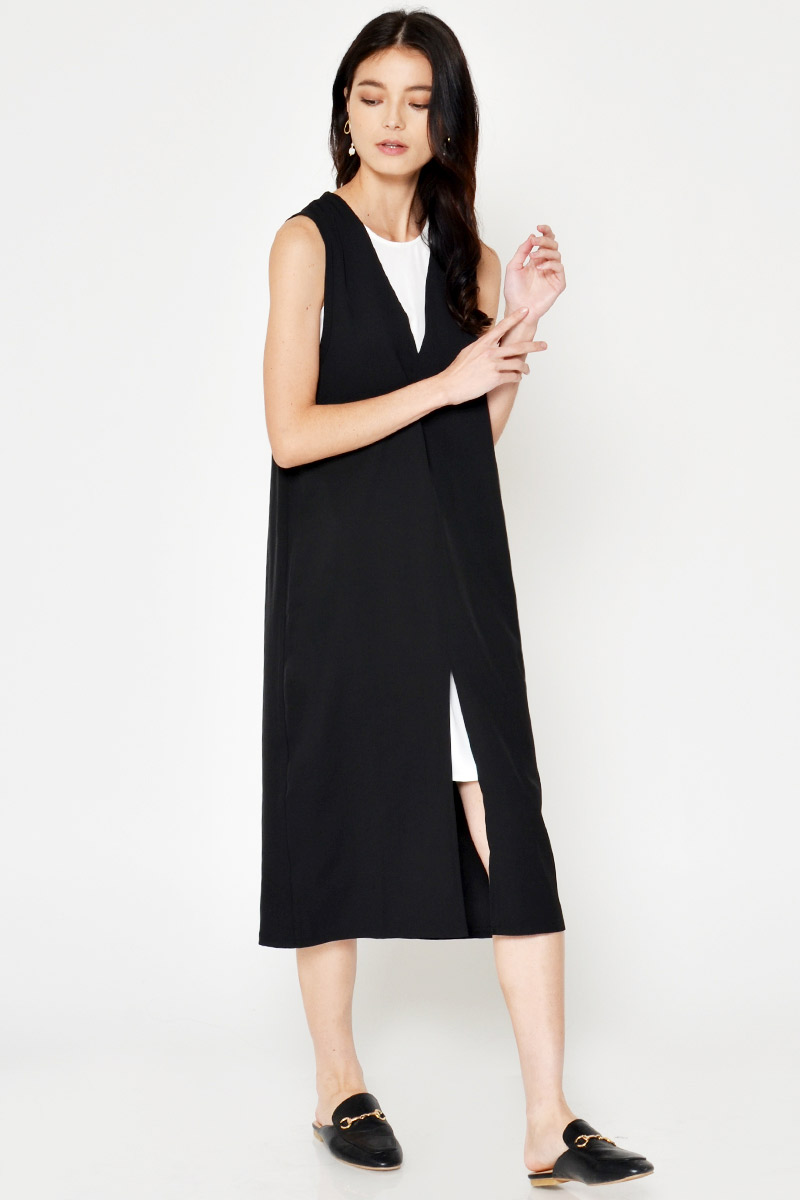 Since 2005, homegrown brand Love & Bravery has been making waves in the local fashion scene for its timeless and quality pieces. For starters, they produce some of the most stunning dresses that can rival any designer brand. Their dresses are always of impeccable quality – no cheap chiffon, full lined with functional zips. With its affordable price range, this makes the brand a cult favourite among budget-conscious fashionistas.
The designs at Love & Bravery lean towards a more girly and feminine style, but with a fun twist. You get pretty floral prints, boho-chic off shouldered dresses, and sweet ruffles that will brighten up a dull day at the office. Moreover, each outfit is self-manufactured which means that you can't find similar designs elsewhere. With Love & Bravery, you can now bid goodbye to your boring office-wear for good!
ModParade is all about making fashion accessible and affordable, without compromising on quality. Since 2007, this popular online brand has grown into becoming the biggest one-stop-shop for today's modern working woman. But what makes ModParade different from others is due to its line of fashionably versatile pieces. Always the innovator, the company does not stick to your usual boring and plain styles. Instead, you are bedazzled with quirky prints and unique patterns imprinted gorgeously all over its tops, dresses, and skirts. One of their best-sellers, the Sarah dress screams of "flower power".
Reminiscent of the 1960s, wearing it is akin to taking a trip down memory lane. But, with a modern upgrade to suit the current fashion runway trends. For a pop of bright sunshine, you can opt for their Harris dress available in Buttercup. Strikingly gorgeous, this dress can take you to a tea party with your buddies or even a casual romantic date.
When your wardrobe's a mess and you can't find anything to wear, who do you call? Fret not, as here comes Wardrobeness to the rescue. Founded in 2012, the company has been providing women with unique, "one-of-a-kind" pieces, albeit at a reasonable price tag. At there, you find everyday pieces like spaghetti strap tops, knits, pieces of denim aka jeans to even outerwear. Every outfit is designed for practicality so that it can be matched accordingly to your desire. For that, you can say goodbye to the pieces you only wear once.
The company also specializes in creating chic but business-liked office wear. For example, their signature linen blazers. Chic but leaning on borderline semi-formal, this outfit is your best fashion choice to replace a boring business suit. Versatile yet fashion-forward, it can be worn for office meetings or as a modest cover-up.
A product of Singapore, The Closet Lover is all about bringing the latest fashion to women – albeit at a reasonable price tag. The brand believes that every woman can look confident by dressing stylishly. Therefore, each outfit is specially designed with panache. At there, fashion fanatics can expect to find the best fashion buys.
From elegant tops to stylish pants, they have everything under the sun. But there is one piece that makes the office wear cut. It is none other than their best-seller, the Maleia textured dress. The feminine textured details will make you fall in love with it at first sight. Available in dusty pink and cream, this figure-hugging outfit is an attention grabber that can turn heads. Just like magic, we bet even the office hunk will be in awed with you!
When it comes to quality but affordable women's wear, you gotta hand it to BYSI. With its tagline "A New Woman Every Day", the company offers the latest styles, inspired directly from the international runways. From chic dresses, tops, pants, skirts, jumpsuits to outerwear, the brand has got you covered.
The company aims to give women the luxury to alternate between different styles at an affordable price. Their office wear is a flamboyant upgrade to the classics. Hence, you get eye-catching prints complete with blooms and juxtapose stripes. If not, you can opt for their signature earth-toned collared blouses for a more demure and modest look. But as a final touch, don't forget to pair it together with the company's super comfy but slim cutting office slacks.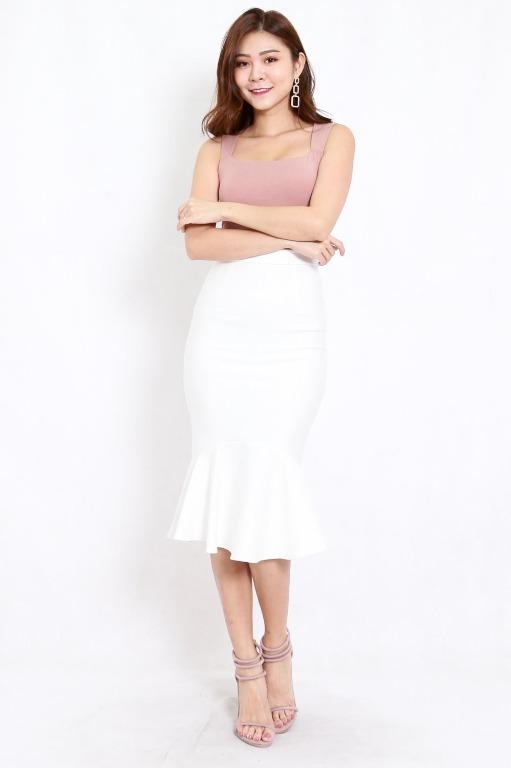 Carrislabelle is a young, cheerful and sophisticated brand that caters to young ladies and adults. The idea of the brand Carrislabelle came from its owner named "Carris" and a French word La Belle which means "beautiful or lovely woman" in English. Every woman deserves clothing that best represents their style, and Carislabelle is a brand that makes sure that you can achieve just that.
With a wide range of tops, dresses, bottoms, and playsuits, you will definitely be able to find something in the style that you are looking for. Moreover, with new arrivals weekly, you'd be spoilt for choice with the brand's selections. Pieces are affordable too. You can snag up quite a deal under their Sales section. Be sure to be fast though, because the best deals go quick!
In short, your traditional ladies workwear has fashionably evolved extensively through passing time here. Now in the fast-paced corporate world, dressing properly matters a lot regardless you are a fresh NUS college graduate or a high flying executive. As the first impression counts; so that you can rock that career ladder successfully, and "oops.." did we not mention "oh-so-fashionably" as well?
On the other hand, if you are gonna dress to kill as a "maid-of-honour" in your best friend's wedding, do check out our list of Best 10 Bridesmaid Dresses.
Written By: Lim Su Yee
Related posts
Subscribe for newsletter
* You will receive the latest news and updates on Singapore's best trends!