10 Best Office Cleaning Services in Singapore [2022]
Joanne, 3 years ago
10 min

read
2732
Prior to working from home, many of us spent the bulk of our time working in an office. When the Circuit Breaker was put in place, we got used to working from home. However, now that restrictions are easing, many of us are back at our offices, spending time with our colleagues! To make sure that you and your colleagues are kept safe, it is important that you take the necessary steps to make sure that your office is clean as well as free from germs or bacteria. Engaging a professional to keep your office clean is one way that is convenient and efficient! We have put together this list of the best office cleaning services in Singapore for you to choose from! Check them out!
Highlights:
Island-wide services
Cleaners are covered by insurance
Professional cleaners
Office Cleanz is a cleaning company that prepares its own pool of replacement cleaners who are deployed to clients whenever necessary. Their clients do not worry about their fixed cleaner going on annual or medical leave, because they know that they are well-covered. These replacements are deployed island-wide from the Downtown Core to Changi. So, there is no cause for concern regardless of office location.
The cleaners at Office Cleanz are put through at least two office cleaning courses under the Workforce Skill Qualification's Professional and Environmental cleaning framework, to equip them with the appropriate skills, experience, and knowledge to serve their clients better.
Apart from ensuring professional office cleaning services to their clients, the company also makes sure that their cleaners are covered by both public liability insurance, and workman injury compensation insurance.
Accidents do happen and claims may get expensive, but with their cleaners covered by insurance from Tokio Marine, clients like you will know that they are always protected if something goes wrong!
| | |
| --- | --- |
| Address | 10 Anson Road, International Plaza, #16-16, 079903 |
| Contact Information | +65 6872 1224 |
| Business Hours | Monday to Friday: 8 AM to 6 PM |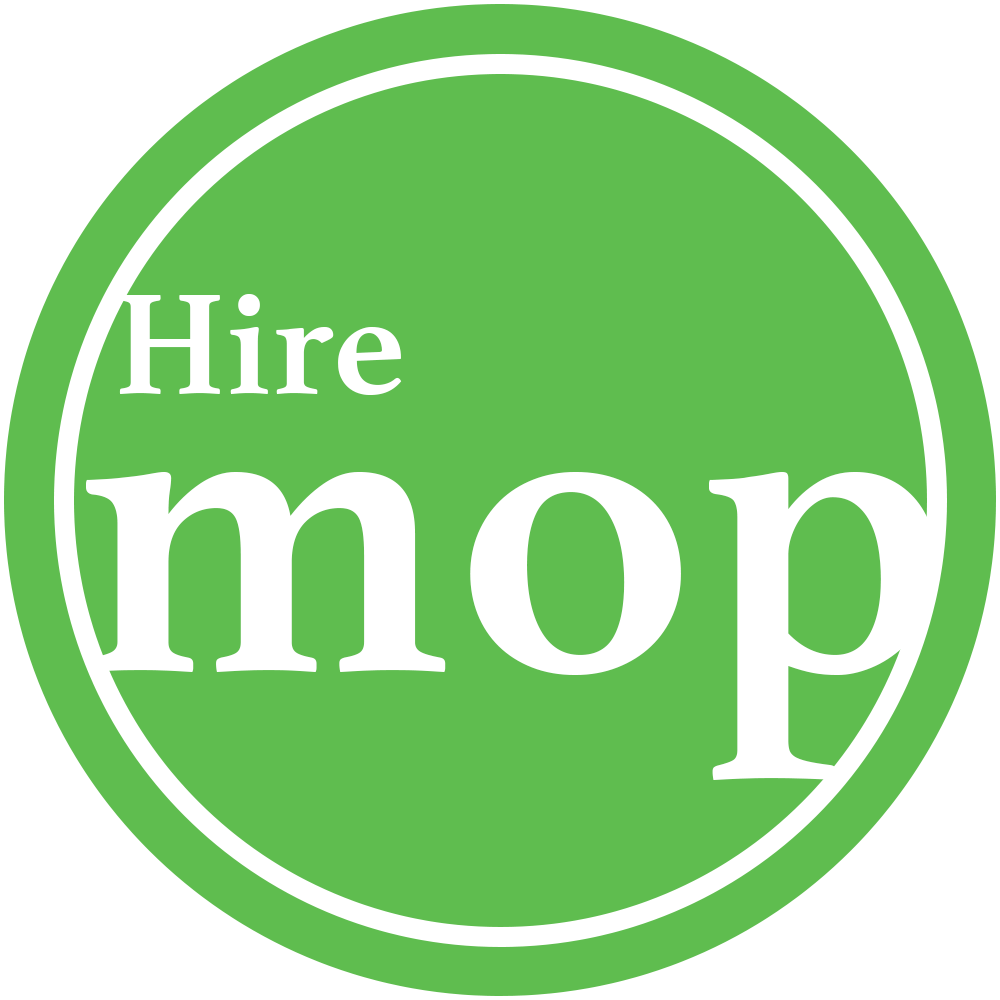 Highlights:
Experienced cleaners
Reliable customer support
Adheres to Workplace Safety and Health Standard
Hiremop is a professional office cleaning service company. At Hireomop, you get to enjoy dedicated full-time or part-time commercial office cleaning service from a ready pool of trained cleaners in the district.
The cleaning service company understands that a normal cleaning service will not be able to eliminate the germs and bacteria that are present in your office. Therefore, their sanitisation service will help you to kill 99.5% of the germs from your environment.
Apart from its specialty in office cleaning, Hiremop also delivers disinfection, carpet shampooing, mattress cleaning, and sofa cleaning. This NEA approved company is dedicated to promoting environmentally friendly workplaces through its cleaning services. The company also provides insurance of up to $500,000 and accepts payment through credit cards. To get more details about pricing, you can contact the company for a quotation.
Address
28 Kallang Place #07-02 Singapore 339158
Contact Information
6656 5180 | inquiry@hiremop.com
Business Hours
Monday to Friday: 9 AM to 6 PM
Saturday: 8 AM to 12 PM
Highlights:
Large pool of cleaners
Certified cleaners
Offers a variety of services
Operational since 2014, 6 Days is an established company that provides cleaning services for both homes and corporations. This company is certified by the National Environment Agency (NEA) and its workers are certified by Singapore Work Skills Qualifications (WSQ).
6 Days makes sure to understand all their customer requirements and have sketched out a wide array of services to meet every need. Their large pool of certified cleaners are committed to giving you services of the highest quality and value.
As such, it is considered to be one of the most trustworthy cleaning companies out there. With rates starting from $19/hr, this company is a good option for those on a tight budget. It provides services like spring cleaning, regular cleaning, and deep carpet cleaning. To book an appointment or make inquiries, drop them a call!
| | |
| --- | --- |
| Address | 55 Serangoon North Avenue 4, #04-06, Singapore, 555859, Singapore |
| Contact Information | +65 9841 2939 |
| Business Hours | 24 hours, daily |
Highlights:
Large pool of cleaners
Professionally certified cleaners
24/7
Luce Maintenance Group is a cleaning company that has a large pool of cleaners deployed around the island. In fact, their cleaners are in every other building in Singapore's central business district. With such a high density and wide coverage of cleaners from Queenstown to Yishun, you don't have to worry about your cleaner falling sick because they probably have someone in the next building over ready to stand in!
In addition, all of Luce Maintenance Group's office cleaners are put through rigorous training under Singapore's Work Skill Qualifications framework. Given the emphasis of the company on training, it was awarded NEA's Cleanmark Silver award. This is only given out to companies who have a strong commitment to training, and send every single cleaner to at least 2 training courses!
So, with Luce Maintenance Group, you can rest assured that you will be engaging professional and certified cleaners.
| | |
| --- | --- |
| Address | 75A Killiney Rd, #02-03, Singapore 239529 |
| Contact Information | +65 6734 4974 | sales@lucemg.com |
| Business Hours | 24 hours daily |
Highlights:
Easy booking
Supportive customer service
Great follow-up after service
Cleanworthy services company has been in the industry for more than a decade providing exceptional cleaning services to offices, schools, apartments, retail, shopping malls, and many more to have an appealing, cleaner and safer environment. It is one of the best in providing a unique and contemporary cleaning solution that rejuvenates your office and brings a new look.
The team at Cleanworthy understands that getting the budget for an office cleaning service may be a process that is long. You will probably also need the prices of each of their services to put up a request for engaging cleaners. That is why the company provides transparent pricing and a comprehensive price list of their services can be readily found on their website! So, for those of you who require a clear-cut pricing list, Cleanworthy is great for you.
In addition, if you need to look for a company that offers more services, you would want to know that Cleanworthy not only cleans offices, houses and carpets, they also do marble polishing and painting!
| | |
| --- | --- |
| Address | NA |
| Contact Information | +65 9194 0123 | hello@cleanworthy.com. |
| Business Hours | Monday to Friday: 9 AM to 6 PM |
Highlights:
Affordable Pricing
Receptive to customer feedback
High-quality control
SGcleanXpert.com offers all types of cleaning services for homes, offices, and other commercial premises. The mission of SGcleanXpert.com is to provide quality cleaning services at affordable prices, for any type of cleaning that customers need help with. This company was started when the founders realised that there was a clear lack of good cleaning companies in Singapore.
With their holistic cleaning solutions, SGcleanXpert aims to fill the gap between the market and customer and become the best cleaning solution in the whole of Singapore. For them, customer satisfaction is a must and they take their customer feedback very seriously. This is so that they can maintain their credibility and the trust that their client has in them.
As a one-stop cleaning service portal, SGcleanXpert will take the extra step to do all the quality control for you and they strive to provide you with the most reliable cleaners, best suited for your cleaning needs.
Address
7500A Beach Road, The Plaza #05-319 Singapore 199591
Contact Information
+65 84171368 | admin@sgcleanxpert.com
Business Hours
Monday to Friday: 9 AM to 6 PM
Saturday: 9 AM to 1 PM
Highlights:
Provide services to more than 100 companies
Uninterrupted cleaning schedule
Professionally certified and insured
Lukis offer a wide range of bespoke services to help you empower your people and get the most out of your workplace. Lukis has been working with hundreds of companies in Singapore from SME to MNC, to ensure their offices are always clean and conducive for their employees.
Lukis premium service standard is achieved through unparalleled supervision support with their designated account manager, who will be conducting site inspections and continuously improving the procedures to achieve service quality and personalised service experience.
With a strong operational team and a group of reserve office cleaners, Lukis can ensure that there will be no interruption to your cleaning schedule. Moreover, Lukis is certified by NEA and covered by public liability insurance of up to S$1,000,000 and workman compensation, so that you will always be safeguarded and covered.
| | |
| --- | --- |
| Address | 8 Burn Road #15-13, Trivex, Singapore 369977. |
| Contact Information | +65 67419968 | info@lukisclean.com |
| Business Hours | 8 AM to 10 PM, Daily |
Highlights:
Rating system
Affordable
24-hour hotline
Operating in both Malaysia and Singapore, HelpToClean helpers have been known to be polite and highly professional. This popular cleaning platform matches you with a cleaner. They are indeed one of the best affordable cleaning services in Singapore. HelpToClean also has a rating system that lets you pick the best cleaners.
In addition, if for some reason you have to cancel a booking or make any amendments, you would be glad to know that you have the power to change your bookings 24 hours before the scheduled session.
HelpToClean is also extremely easy to reach. They even have a 24-hour hotline to answer your queries at any time of the day!
Address
Paya Lebar Square | 60, Paya Lebar Rd, #04-39B, 409051
Contact Information
+65 9005 7764
Business Hours
Monday to Friday: 9 AM to 6 PM
Saturday: 9 AM to 1 PM
Highlights:
Trusted Professional Cleaners
Dedicated 24/7 Account Managers
Rated 4.7 Stars On Google By 1500+ Clients
Helpling is a one-stop marketplace where you can book a cleaner quickly and conveniently. On their website, you can view the profiles of cleaners and choose the one you like best. Each cleaner has their names, profile picture, and client reviews indicated on their profiles. So, if you loved the services of a particular cleaner, you can easily choose him or her again for your next appointment! This transparency makes the selection process easier.
On top of trusted professional cleaners, Helpling also offers extremely competitive rates. The fee for a one-off cleaning session is $25/hr from Monday to Thursday and $35/hr for Friday to Sunday. For recurring services, you have to commit to a duration of 3 months at a charge of $20/hr for monthly/bimonthly cleaning services. This price increases to $30 over the weekend (Friday – Sunday).
With a dedicated team of Account Managers who work round the clock, you can be sure that your questions and queries will be promptly taken care of. It is no wonder they have a high rating of 4.7 stars on Google from more than 1500 of their clients!
| | |
| --- | --- |
| Address | 120 Robinson Rd, 09-01, Singapore 068913 |
| Contact Information | +65 8598 4399 |contact@helpling.sg |
| Business Hours | 24 hours, daily |
Highlights:
No agency fees
Reliable and highly trained cleaners
High cleaning standards
MEIDE is a cleaning company that specializes in arranging cleaning services for homes and offices. The cleaning company not only accommodates your helper preference but also lets you alter the frequency of cleaning as you wish.
At a net rate of $20 per hour for an ad hoc cleaner, and $28 per hour for a trained professional cleaner, Meide is hands down one of the best affordable cleaning services in Singapore.
MEIDE offers a variety of services like regular cleaning, post-party cleaning, spring cleaning, and post-renovation cleaning. You will also love that further discounts can be given for longer and more regular work schedule and cleaning contracts!
| | |
| --- | --- |
| Address | 682A Jurong West Central 1, Singapore 641682 |
| Contact Information | +65 8595 8579 |
| Business Hours | 24 hours, daily |
Keeping your surroundings clean in a workplace can be a time-consuming and complicated process. However, professionalism and efficiency will be compromised if workplaces are not cleaned on a regular basis. That is where this list of commercial and office cleaning services comes in.
If you are looking for other services that are aimed to keep your office safe and clean, check out our article on the best pest control services in Singapore here!
Related posts
Subscribe for newsletter
* You will receive the latest news and updates on Singapore's best trends!