20 Best Office Chairs in Singapore [2021]
Hopkins, 6 months ago
13 min

read
3234
Whether you work from home or the office, it is important to have a good office chair. After all, using the wrong one has been known to cause back pain and posture issues. Trust me, you don't want to be in pain because of your own wrong decisions. However, we understand that with so many options, choosing the right office chair can be difficult. To help you out, we came up with a list of the best office chairs in Singapore right now. If you were worried about your posture, worry no more, we have got you covered!
Martian Gear creates office chairs made from vegan leather, fabric, and mesh. The premium mesh office chair is one of the most comfortable and durable office chairs you can find. It is made from a breathable mesh material. Besides, it's comfortable, sturdy, and durable for your comfort. It has a hard frame with a strong mesh, which offers firm support for your spine hence avoiding back pain while studying or working.
The seat has a heavy base with wheel casters and silver accents, giving your office and home a sleek and stylish look. With adjustable parts such as its full height from 84.5cms to 93.5cms, you rest easy. Another great feature of the chair is its dual-wheel casters, which helps the seat move quickly. With a 360-degree swivel, you get more convenience since you can rotate with ease.
Highlights
✓ The chair has a twelve-year warranty
✓ It's sturdy and sophisticated
✓ The chair has adjustable parts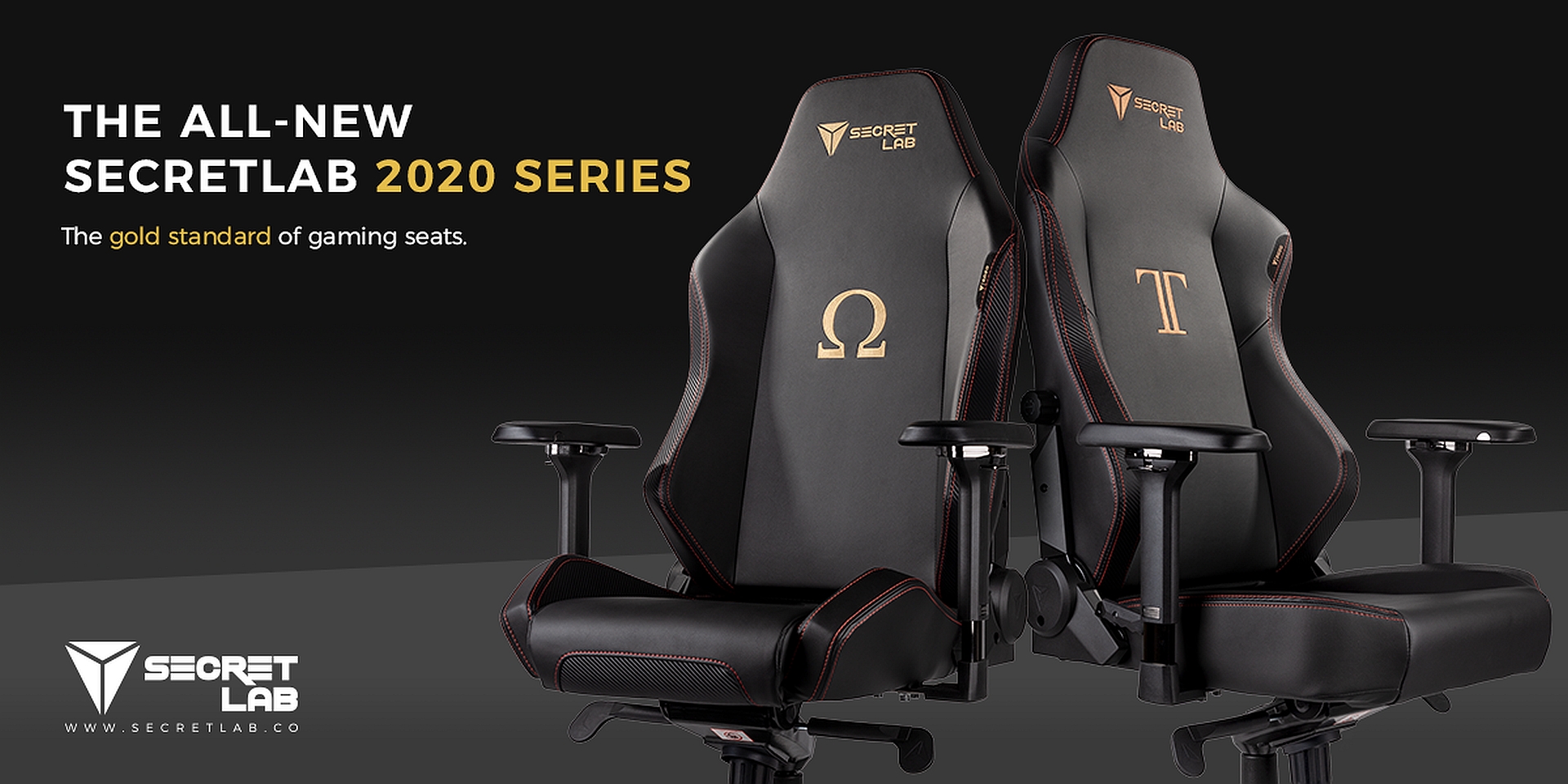 Created with gamers in mind, the Secretlab Omega is both comfortable and highly flexible. Covered with plush yet durable 2.0 PU leather, this chair is a thing of beauty. Its metallic armrests and cold cure foam mix ensure that it properly supports your body, maintaining posture and reducing fatigue.
Moreover, the armrest, backrest, and chair height can all be adjusted to allow for maximum comfort. To ensure stability, the Secretlab Omega features 4 heavy-duty gas pistons. On the other hand, its caster wheels help you move seamlessly around.
Ultimately, this is a good option for those who spend a lot of time sitting in the office. For more information on this and other Secretlab chairs, follow them on Facebook and Instagram.
Highlights
✓ Adjustable parts
✓ Comfortable and durable
With its PostureFit SL technology, the Herman Miller Aeron offers crucial lumbar support by mimicking the natural shape of the human spine. For more comfort, this office chair also features an adjustable seat angle and armrests.
We also love that it's made of Pellicle, a material known to minimize heat build-up and pressure points. And if that doesn't convince you to buy it, you should know that it comes with a 12-year warranty.
For more about this and other Herman Miller office chairs, send them a message on Facebook.
Highlights
✓ Relieves pressure
✓ 12-year warranty
✓ Adjustable parts
If there is one thing Born in Color is known for, it is providing Singaporeans with affordable high-quality furniture. This Polo office chair is the perfect example of this. With its adjustable foam headrest, breathable mesh, adjustable armrests, and lumbar support, this chair ensures maximum comfort at all times
Additionally, this chair is made of high-quality materials and will serve you for years to come. It doesn't stop there, check out their office chairs collection at their website. For inquiries, call Born in Color at 6988-3308 or 6257-2501. Alternatively, you can send them a message on Facebook or Instagram.
Highlights
✓ Affordable yet high quality
✓ Full of convenient features
If you are looking for one of those luxurious executive chairs, the UMD A335 is right up your alley. In addition to being made of genuine cow leather, this chair is as comfortable as it is durable. Moreover, it features an ergonomic S-shaped back that can recline by up to 150 degrees.
When it comes to aesthetics, this chair doesn't disappoint either. Its chrome coated steel leg base is a stunning contrast to the black colour of the chair body. The UMD A335 is truly class embodied. For inquiries on this and other UMD Life chairs, call them at +65 6250 7462.
Highlights
✓ 1-year warranty
✓ Classy sophisticated chair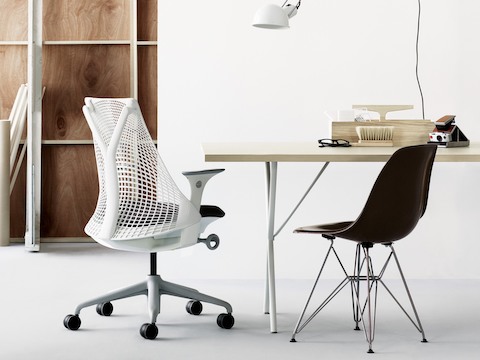 Yet another impressive office chair from Herman Miller is the Sayl. This seat not only has a cute minimalist design but it also boasts of a back that adapts to the shape of your spine, providing much-needed support.
However, if you feel like you need more support, you can choose one which comes with the optional lumbar support that can be adjusted by up to 10cm. For added comfort, the Herman Miller Sayl features adjustable height, seat depth, and seat angle. To learn more about this and other Herman Miller chairs, follow them on Facebook.
Highlights
✓ 12-year warranty
✓ You can pay for it in 12 monthly installments
✓ Optional lumbar support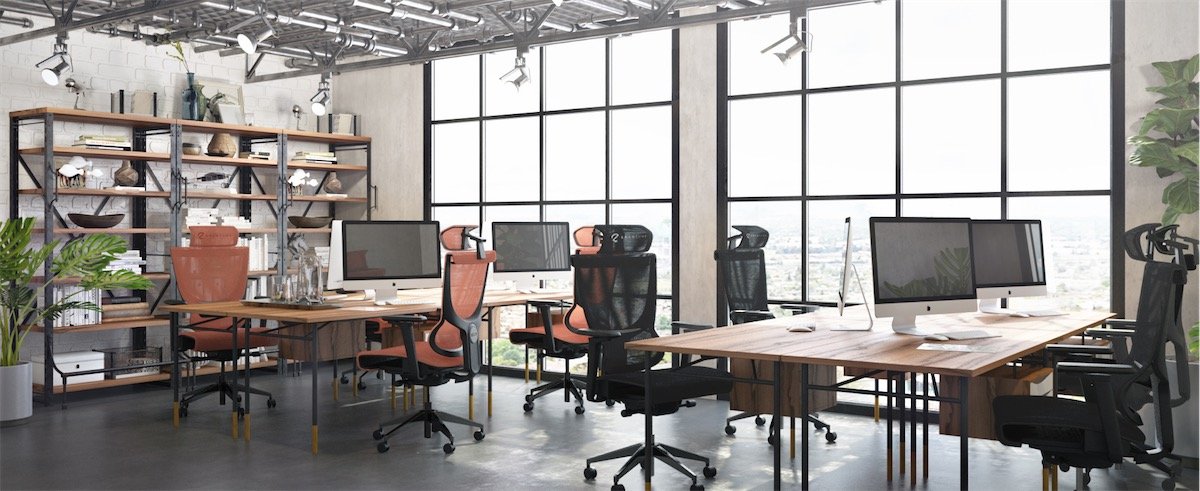 For years now, Ergoedge has been producing some of the most ergonomic chairs in the Singaporean market. Their Ergotune SUpreme is not so different. With its self adjusting lumbar support, it quickly adjusts to your unique spinal shape and gives your back the support that it needs.
Another cool feature of this office chair is its premium German mesh that is as comfortable as it is durable. Moreover, this office chair's armrests, headrests, height, and seat depth are all highly adjustable. We also don't mind that it comes with a 10-year warranty.
To learn more about the Ergotune Supreme or other Ergoedge chairs, call them at +65 3138 4385 or send them a message on Facebook.
Highlights
✓ Highly adaptable
✓ Features self-adjusting lumbar support
✓ Comes with 10-year warranty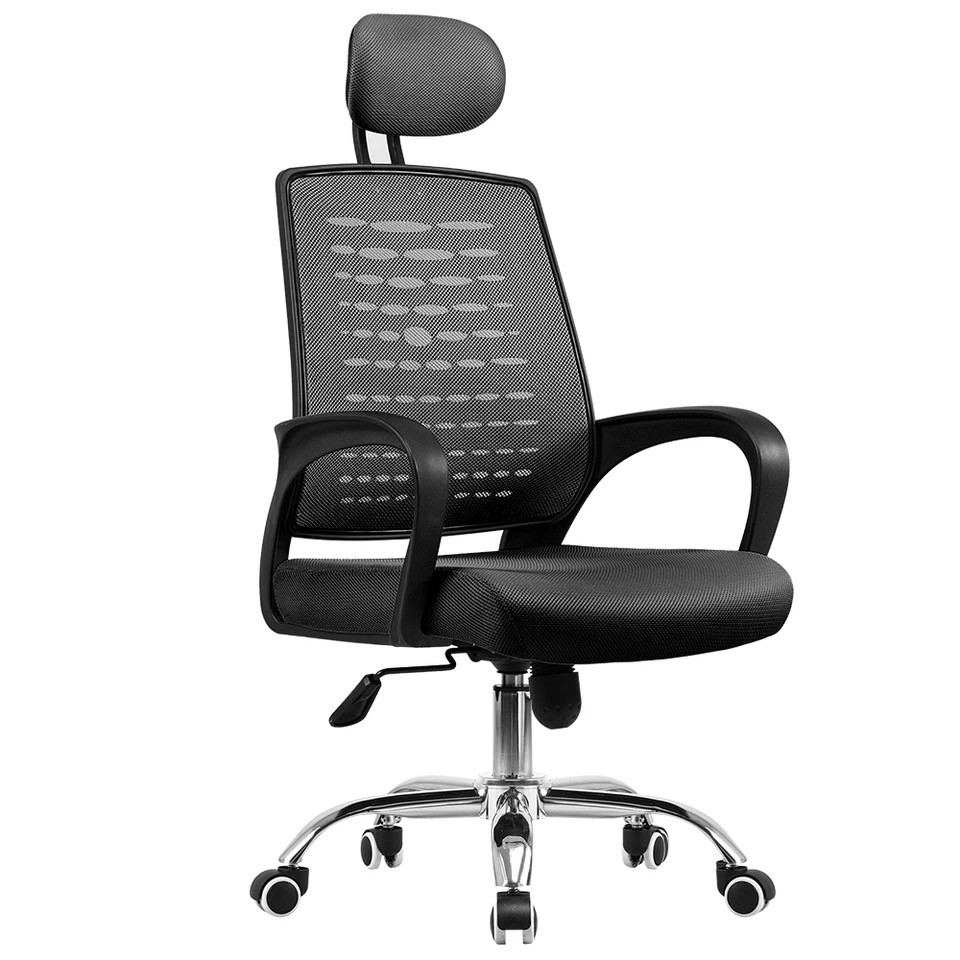 If you are looking for a great chair that offers good value for money, you should go with the UMD Ergonomic Mesh Office Chair. At less than $100, this chair features an adjustable backrest, height, armrests, and headrests.
It is also quite sturdy and has a curved back for good lumbar support. You will also appreciate that its mesh back ensures good air circulation. For inquiries, call UMD Life at +65 6250 7462.
Highlights
✓ 1-year warranty
✓ Good value for money
✓ Has mesh for good air circulation
The Kliig Large Dual Back Chair is made of premium wear, tear, and water stain-resistant fabric. As such, it is easy to clean and maintain. When buying this chair, you even have the option of getting it in premium leather instead. Due to its dual back and additional lumbar support, this chair is quite comfy.
Also, we like that its designers went above and beyond to ensure that it is aesthetically pleasing as well. It comes in 4 different colours, giving you the power to choose which one goes best with your office's colour scheme. To learn more about this chair, call Kliig at +65 81830555.
Highlights
✓ Very comfortable chair
✓ Cute design and color options
If you are looking for an office chair that can double up as a gaming chair, this V Hive one is right up your alley. The V Hive Top Gaming Chair features an adjustable height and cool safety brake castors.
These castors lock the wheels when you stand up or sit down to keep them from moving around freely and causing accidents. For inquiries, email V Hive at [email protected] or send them a message on Facebook.
Highlights
✓ Doubles up as a gaming chair
✓ Has safety castor brakes
The one thing that sets the Yoke YOE A8 apart is its moulded foam dual backrest. Because of this feature, this chair offers great support and eliminates backaches and muscle tension. Another thing to love is the Yoke YOE A8's adjustable headrest that soothes your neck for maximum comfort.
Also, the Yoke YOE A8 features pneumatic height adjustment and a convenient stabilizing lock-in function. What can we say? This office chair is as comfortable as they get. For inquiries call Yoke at +65 6570-9590 or send them an email at [email protected].
Highlights
✓ High-quality seat and armrests
✓ Heavy-duty caster wheels
✓ Adjustable parts
Comfort Furniture's Yoriko Office Chair well deserves a spot on this list. The Yoriko chair comes in both mid-back and high-back versions. This means that you are able to choose the one that fits your needs and preferences more.
The Yoriko Office Chair features a striking curved backrest design that is matched with quality mesh upholstery. This provides good back support to users even in the absence of a lumbar support.
To achieve all these features, the Yoriko Office Chair sees quality parts and materials that are also environmentally friendly. On top of that, you are able to customize the colour that you want your chair to be in! The brand offers 5 years warranty on your purchase of this office chair, so you can be sure that they are confident about their product!
Highlights
✓ Mid-back and high-back versions
✓ Curved backrest design
✓ Quality mesh upholstery
Highlights
✓ Flexible lumbar support
✓ Award-winning ergonomic chair
✓ Adjustable parts
The boss chair is very relaxed and comfortable, and perfect for anyone who is working at home or at the office. You can work for long hours on this chair because it consists of a comfortable 'S' shape backrest.
This backrest helps in providing breathable support to your back. Moreover, this chair offers a 155-degree adjustable mode for resting. It also consists of an adjustable headrest and removable neck rest. You can pull and flip the extra adjustable seat of the chair. Overall, this chair is the definition of comfort and hands down deserving of topping our list of the most comfortable office chairs to buy in Singapore.
Highlights
✓ Metallic frame with best back support
✓ Sturdy support for hip
✓ Rotatable with adjustable height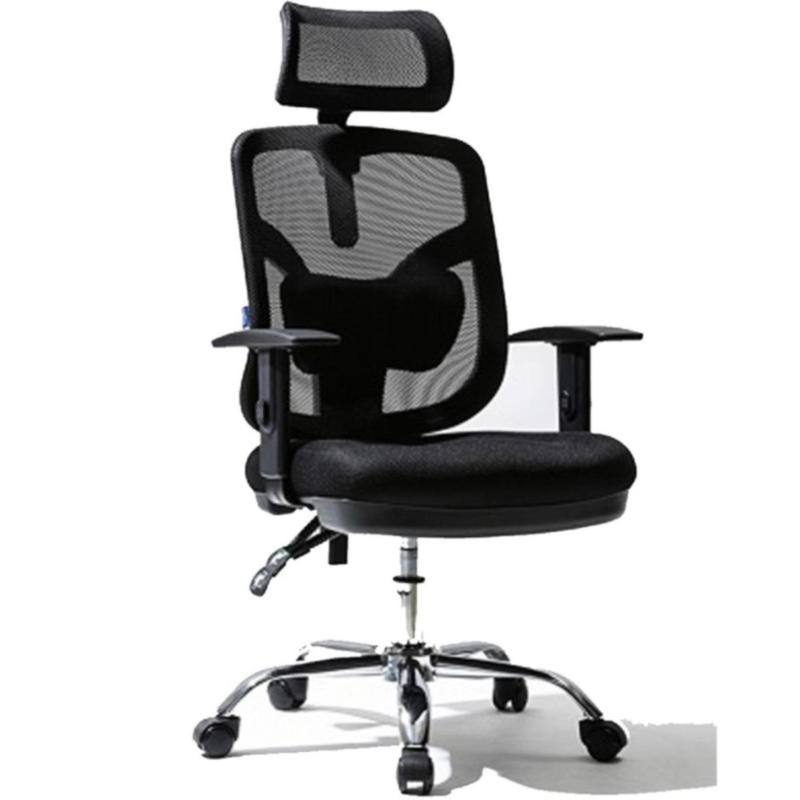 The Exclusive Ergonomic Office Chair is a floor-friendly wheely chair with chrome legs. This chair is comfortable to lean on with an adjustable armrest and headrest. Additionally, the bottom of the office chair consists of nylon material.
This chair comes in two different colors; black and blue. Thus, rest assured that this chair is both comfortable and aesthetic!
Highlights
✓ Adjustable armrest and headrest
✓ Ergonomic backrest with new S-Shape
✓ Comfortable for your waist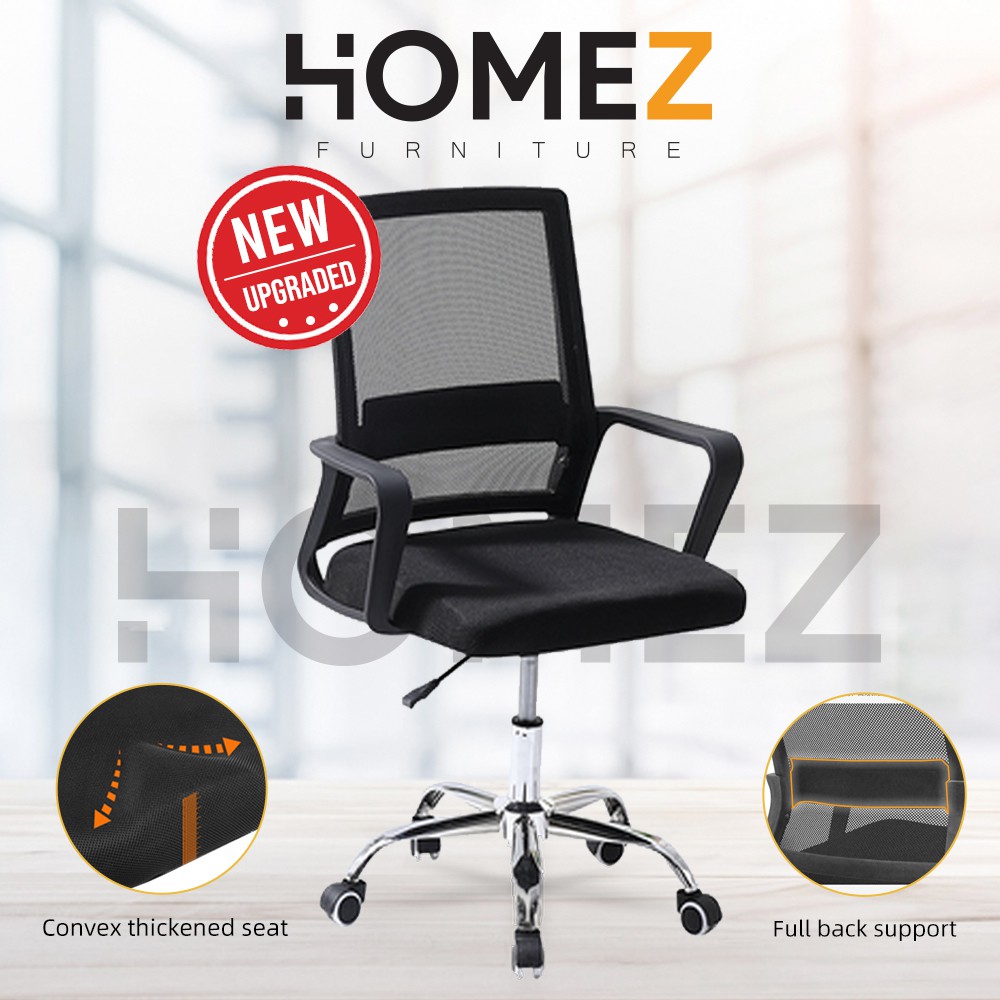 Homez's Mesh Office Chair is a super friendly and high-quality office chair for you. This chair is straightforward to assemble and is perfect as an office chair because of its compact size.
This comfortable office chair is also effortless to adjust. The cushion of the chair's seat consists of high-density sponge, which helps in making the sitting mode relaxable.
The armrest of this office chair comes in a 'L' shape, which helps keep the arm sturdy and curved. Overall, definitely one of the most comfortable office chairs you can find in Singapore.
Highlights
✓ Adjustable height with breathable mesh
✓ High dense sponge seat for cushion-like feel
✓ Chrome steel to withstand the weight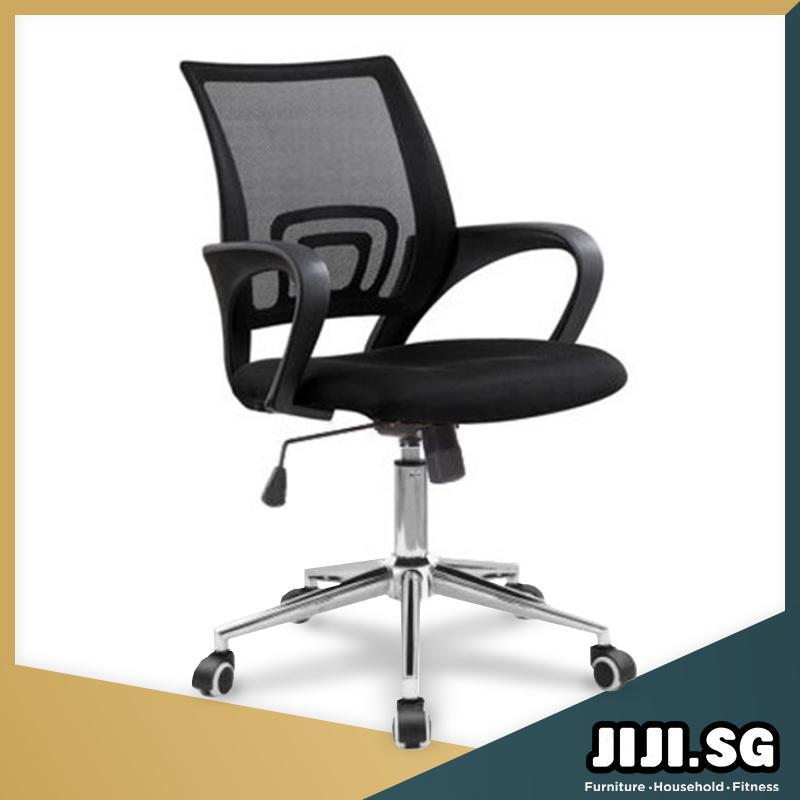 The high-quality nylon and aluminum material makes this chair extremely sturdy. The chair weighs around 10 kilograms, and is easy and straightforward to move around in the office setting.
Jiji home and office chair features a streamlined armrest. The form of the chair's cushion is very safe and additionally, the classy shape of the backrest helps in protecting the waist from the worse pains.
You can also use this chair for gaming and other fun activities. One additional wow factor of this chair is its aesthetic look. Overall, this is truly one of the best and most comfortable office chairs you can find in Singapore.
Highlights
✓ Simple and elegantly designed
✓ S-type backrest with breathable mesh
✓ High-density memory foam like cushion feel
This adjustable office chair consists of rollerblade wheels that makes it easy to move around in an office setting. The seat of the Duramont Ergonomic office chair is very thick, helping to support the back and waist.
Also, you can quickly resize the angle and height of the headset part of this office chair. The cover of this chair consists of small holes that support the fresh air circulation too.
You will undoubtedly remain sweat-free and pain-free, even after sitting for an extended period. Now you can work for a long time sitting on the chair without pain.
Highlights
✓ High-quality breathable mesh
✓ Easy to install and handle good weight
✓ Adjustable and long-lasting chair
This essentials executive office chair is an excellent addition to both the office and the home. The design of this chair is unique and also aesthetic; that is why it is a favourite amongst many office workers.
Moreover, the quality of the essential office chair is very durable and superfine. This office chair is well-customized, and also, you can adjust the armrest area under four-dimensional ergonomic solutions. Ergonomic design with the comfortable seating of this office chair helps in improving your posture.
Highlights
✓ SoftThread Leather seating
✓ Swivel chair with a comfortable sitting
✓ Durable furniture
This chair has proven to be best for studying candidates because they can comfortably perform their writing while using this chair. Their back remains entirely flexible when they sit on this chair.
Also, the texture of the Simple mesh home study chair's material is screen cloth. This seat also consists of the armrest area, and also, this chair is effortless to rotate on the required position.
The simple mesh chair is very reliable for technical and internship students. Definitely you need a chair with a sturdy frame to hold on your weight for a long time.
Highlights
✓ Sturdy plastic cement frame
✓ Sponge with good memory foam
✓ Ergonomic sitting
The Sail Basic Ergonomic Chair by Take a Seat features flexible lumbar support that is specifically designed to fit your spine and ease the pressure off your back. It conforms to your body shape, giving you comfortable support to your lower back. The mesh of the chair is made of a combination of Polyester and Polyelastomer, which makes it comfortable for long hours of sitting as well as its durability.
The chair also features several adjustable parts. It's the headrest, armrests, seat depth, as well as backrest, are all adjustable to suit your needs and preferences. On top of that, the chair sports an aluminium leg frame and a Class 3 hydraulic gas lift that work to provide stability and durability. With these features in place, the chair can carry a maximum weight load up to 120 Kg. Your purchase of this chair comes with a 2-year warranty so you can buy with ease!
So it is important to invest in a good chair with maximum benefits. We have listed the most comfortable office chairs in Singapore for you. Thus, see which one is most suitable for you and buy one today! It will truly be worth the investment. No matter what your tastes are, there is something for you here.
Related topic: 9 Best Study & Desk Lamps in Singapore for your Eyes
Hopkins
I'm an accomplished and detail-driven content writer with copious experience in producing compelling, engaging and flawless content for a variety of blogs and websites for several years.
Related posts