5 Best Nasi Lemak in Singapore [2022]
Norazim Azami, 3 years ago
5 min

read
6813
Nasi Lemak is indeed a classic Singapore dish. This plate of piping hot coconut rice with sambal will never be out of style (get that Taylor Swift pun). Lucky for you! We have gathered our take on where to find the best nasi lemak in Singapore. Simply read on to know where to go the next time you crave for it.
1. Ponggol Nasi Lemak
Established and operating since 1979, Ponggol Nasi Lemak is definitely ahead of the race.
Freshly made with love:
Firstly, everything here is made with the best and freshest ingredients. Their freshly fried and chicken drumsticks are super addictive! Coupled with its iconic sweet chilli that is not too overpowering, this brand has truly captured the essence of a Nasi Lemak.
Hitting all the right spots:
Most importantly, let us not forget about the special ingredient of all – their fried egg. This simple sunny side up is more than what meets the eye. In fact, as soon as you bite the egg, the egg yolk explosion in your mouth is the best feeling ever. Also, the aroma of their fluffy rice is more shiok due to the coconut and pandan flavours. Together with the sweet sambal, they guarantee you nothing but the best.
Be sure to add an extra portion of rice with some crispy ikan bilis too! Their Nasi Lemak is worth all those calories. Hands down the best nasi lemak in Singapore!
Address: 322 Hougang Ave 5, Singapore 530322
2. Old School Canteen (Halal Certified)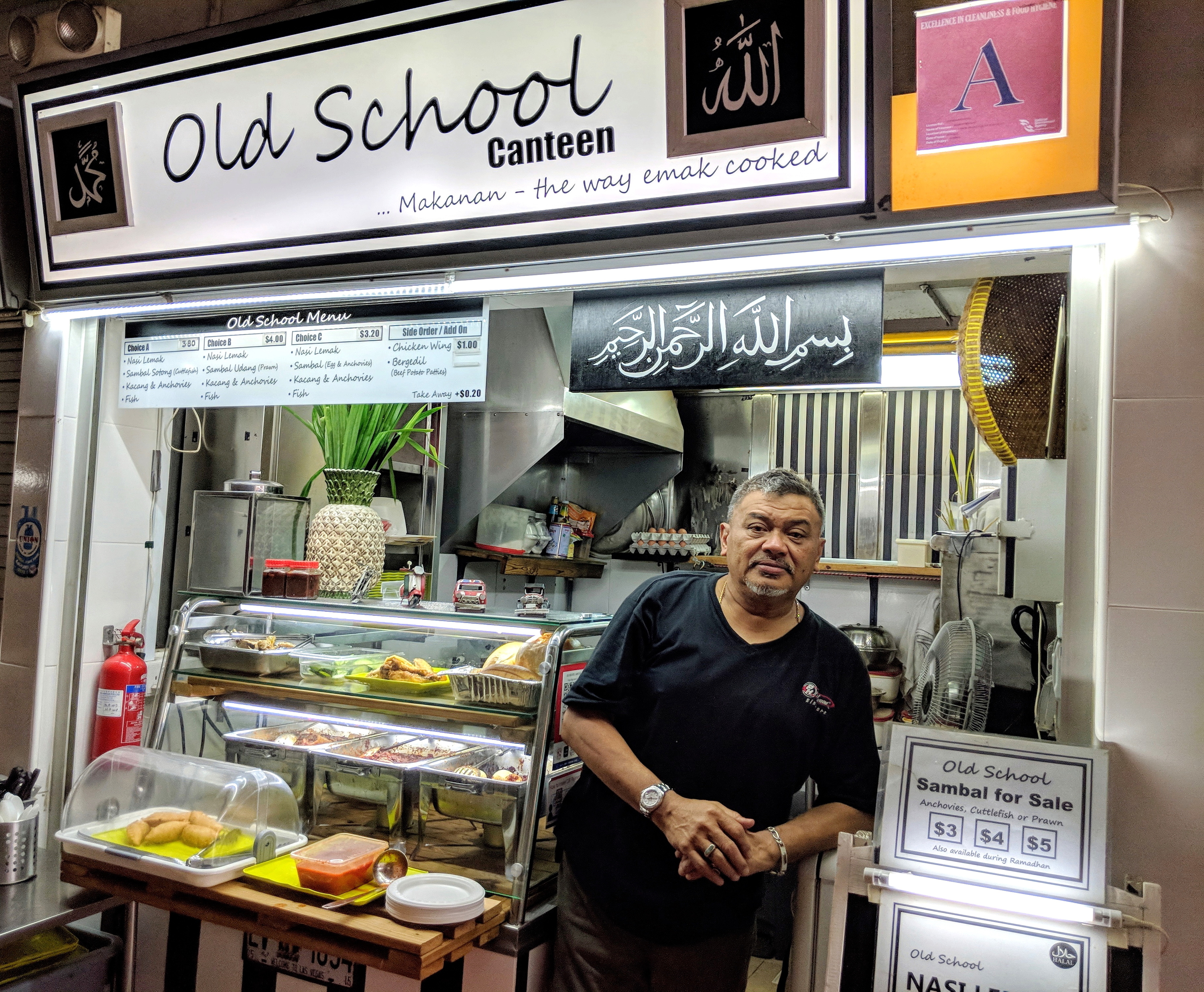 Authentic is the best word to describe our next favourite on this list.
Blast from the past:
Situated in heart of Changi Village, Old School Canteen is committed to staying true to their traditional recipe. Similarly, high quality does not need to burn a hole in your wallet. With a combination of fluffy coconut rice, fried fish, anchovies and peanuts, their Nasi Lemak is one of the most affordable and delicious on the island. This dish totally fits the nostalgic backdrop, blasting old tunes and peppered with vintage memorabilia.
Amazing homemade sambal:
Likewise, be sure to check out their 3 different types of sambal – sambal with boiled egg, cuttlefish, or prawn. Their homemade sambal is made to perfection. Similarly, if you fear to eat spicy food, think twice. It is a sin to skip their thick and crunchy sambal.
Address: Blk 3 Changi Village Road, #01-85, Singapore 500003
3. Selera Rasa Nasi Lemak (Halal Certified)
The next stall on our list is easily my personal favourite since school days.
Unique use of basmati rice:
A trait that sets them apart from others would be their use of basmati rice. Instead of the typical jasmine rice, their Nasi Lemak is undeniably fluffier for you to chew on. Likewise, it is also healthier! This is perfect for those who are health-conscious but still want to have your precious cheat days ?. Additionally, the strategic use of basmati rice allows the piquant and sweet sambal to be fully absorbed. In other words, the taste becomes more shiok!
Approved by the Sultan of Brunei:
Most importantly, do you know that the Sultan of Brunei likes to drop by here whenever he visits Singapore? How awesome is that! That speaks a lot about how popular Selera Rasa Nasi Lemak is in offering the best Nasi Lemak in town.
Address: 2 Adam Road, #01-02 Food Centre, Singapore 289876
4. Boon Lay Power Nasi Lemak (Halal Certified)
It's impossible to talk about Nasi Lemak without including Boon Lay Power Nasi Lemak.
Powerful player in this business:
As the name suggests, they are the powerhouse in this business. This highly craved coconut rice is something to look forward to when you are in the West. This popular supper time haunt sells seriously good nasi lemak. Their preparation starts as early as 3.30 am. To clarify, you are getting nothing but the freshest nasi lemak that is perfect for consumption throughout the day. For avid fans of this iconic dish, this is probably among one of the few worth exploring to in the middle of the night.
Fresh off the stove:
All of their ingredients are fresh, and their food is always kept sizzling hot. Additionally, the well-marinated chicken has a crispy interior while still maintaining tenderness on the inside. For an affordable price of $3.50, this plate of goodness is a deal that you cannot skip!
Address: 10 Sinaran Dr, Singapore 307506
5. Chai Chee Nasi Lemak (Halal Certified)
Classy yet delicious:
Founded in 1978, Chai Chee Nasi Lemak is an expert in preparing this dish. Their chicken wings are always ferried out freshly in small batches. They are crispy on the outside and super juicy on the inside. Its fragrant rice is very sumptuous such that each coconut-y grain stood perfectly unique from one another. Coupled with Ikan Bilis, cucumber and sweet dark red sambal, this dish is perfect to start off your day.
Address: 322 Hougang Ave 5, Singapore 520322
Trying out new stalls and supporting hawkers during this 'COVID-19'.
Your favourite nasi lemak may not be on this list of the 5 best nasi lemak in Singapore. Nevertheless, there is no harm in trying something new. You never know. You may just find your new ride-or-die Nasi Lemak here. Buying from hawker stalls is necessary. As a matter of fact, many small independent businesses depend on our support for their entire livelihood. Together, we can do our part to help out by ordering this dish just a few times a week.
Check out our other related articles:
Written by Norazim
Related posts
Subscribe for newsletter
* You will receive the latest news and updates on Singapore's best trends!