10 Best Mold Removal Services in Singapore [2022]
Emily Hopkins, 2 years ago
11 min

read
7067
All of us want to have Instagram or Pinterest worthy bathrooms and homes that we can show off to our family, friends, as well as loved ones. However, Singapore's humid climate makes our dreams a little harder to achieve. Mould, is often a result of condensation. When warm moist air comes into contact with a surface at a lower temperature, the moisture condenses onto it. After a while, the mould will start to grow on the surface. Therefore, in hot and humid Singapore, it is very common to see mould forming on our walls. Not only is it unsightly, but mould can also produce a musty smell in the air which could trigger respiratory illness and allergies. Therefore, it is best to remove them as soon as possible. So, to make your lives easier, we have put together this list of the best mould removal services in Singapore.
Highlights:
Advanced research and technology
Custom-engineered machines to cater to Singapore market
Quality assurance
Professional and knowledgeable team
Lumiair is a local decontamination company that offers specialized deep-cleaning services. Their major areas of expertise are in mold and disinfection, with access to state-of-the-art machines and NEA-approved disinfectants. Lumiair guarantees their massive clientele an improved state of living by fighting bacteria and viruses in an economically feasible way.
Having gained a reputation in the decontamination niche market which entails deep cleaning services, this professional disinfection company is unmatched in terms of experience. Unrivalled by their revolutionary decontamination technology, developed and built by their specialized R&D team, Lumiair is at the lead of innovation, providing quality deep cleaning services to clients in Singapore.
Lumiair has vast experience in environmental valuation, source control identity, and eradication of mold, mildew, and fungus. It is vital to identify the source and ensure that the recurrence of mold is minimized. Whether it's on the ceiling, furniture, and any other areas of dampness and high humidity, Lumiair will undertake all the necessary inspections of the location and extent of the mold contamination and do all the necessary measures to eradicate the mold completely.
Address
25 Kaki Bukit Pl, Singapore 416203
Contact Information
+65 6741 3777 | +65 8877 3311
sales@lumiair.com.sg
Business Hours
Open 24 hours
Highlights:
Easy booking
Supportive customer service
Great follow-up after service
Cleanworthy services company has been in the industry for more than a decade providing exceptional cleaning services to offices, schools, apartments, retail, shopping malls, and many more to have an appealing, cleaner and safer environment. It is one of the best in providing a unique and contemporary cleaning solution that rejuvenates your office as well as brings a new look.
Removing mould is not a challenge for the team at Cleanworthy. With world-class equipment to capture the microscopic spores of mould in the air so that it doesn't spread to other areas and become hazardous, they are experts in mould cleaning providing you with the most unique and contemporary cleaning solutions for mould cleaning.
The company also provides transparent pricing and a comprehensive price list of their services can be readily found on their website! So, for those of you who require a clear-cut pricing list, Cleanworthy is great for you.
In addition, if you need to look for a company that offers more services, you would want to know that Cleanworthy not only cleans offices, houses and carpets, they also do marble polishing and painting!
| | |
| --- | --- |
| Address | N.A |
| Contact Information | +65 9194 0123 | hello@cleanworthy.com. |
| Business Hours | Monday to Friday: 9 AM to 6 PM |
Highlights:
Large pool of cleaners
Professionally certified cleaners
24/7
Luce Maintenance Group is a cleaning company that has a large pool of cleaners deployed around the island. Their mould removal services are quick, efficient as well as thorough. The team at Luce Maintenance Group will do a complete cleaning of mould-infested areas as well as dry the area post-service to prevent regrowth. Through the identification as well as the elimination of the mould source, you do not have to worry about battling mould again!
In addition, all of Luce Maintenance Group's cleaners are put through rigorous training under Singapore's Work Skill Qualifications framework. Given the emphasis of the company on training, it was awarded NEA's Cleanmark Silver award. This is only given out to companies who have a strong commitment to training, and send every single cleaner to at least 2 training courses! So, with Luce Maintenance Group, you can rest assured that you will be engaging professional and certified cleaners.
| | |
| --- | --- |
| Address | 75A Killiney Rd, #02-03, Singapore 239529 |
| Contact Information | +65 6734 4974 | sales@lucemg.com |
| Business Hours | 24 hours, daily |
Highlights:
Non-toxic chemicals
Wide range of products and services for mould removal
Affordable rates
Mouldgone's mould removal services include mould remediation, which is a structured and detailed process to remove both the source and mould spread. Mouldgone will eliminate the cause where possible, removing the mould and killing the spores. They will then treat the affected area to prevent further spread in the workplace or home.
This is a complicated and structured process and must be done professionally with the right equipment and chemicals in order to prevent further exposure to potentially harmful mould spores.
At Mouldgone, they will also take the guesswork out of the process by treating and remediating your mould problem for you. They use only NON-TOXIC as well as FDA approved chemicals. In addition, the team at Mouldgone will be upfront and honest with you. So, if your mould problem is minor, they will recommend that you attempt to treat the mould yourself. They will also help you to ensure that you use the right products to kill the mould!
| | |
| --- | --- |
| Address | 140 Coronation Rd, #02-01, Singapore 269526 |
| Contact Information | +65 8515 8223 |
| Business Hours | Monday to Saturday: 8 AM to 6 PM |
Highlights:
Affordable Pricing
Receptive to customer feedback
High-quality control
SGcleanXpert.com offers all types of cleaning services for homes, offices, as well as other commercial premises. The mission of SGcleanXpert.com is to provide quality cleaning services at affordable prices, for any type of cleaning that customers need help with. This company was started when the founders realized that there was a clear lack of good cleaning companies in Singapore.
With their holistic cleaning solutions, SGcleanXpert aims to fill the gap between the market and customer as well as become the best cleaning solution in the whole of Singapore. For them, customer satisfaction is a must. So, they take their customer feedback very seriously. This is so that they can maintain their credibility and the trust that their client has in them.
In addition, as a one-stop cleaning service portal, SGcleanXpert will take the extra step to do all the quality control for you and they strive to provide you with the most reliable cleaners, best suited for your cleaning needs.
You may request to just clean your bedrooms and kitchen, or the entire apartment. Or you may just want to get rid of the mould in your toilet ceiling as well as living walls!
Address
7500A Beach Road, The Plaza #05-319 Singapore 199591
Contact Information
+65 84171368 | admin@sgcleanxpert.com
Business Hours
Monday to Friday: 9 AM to 6 PM
Saturday: 9 AM to 1 PM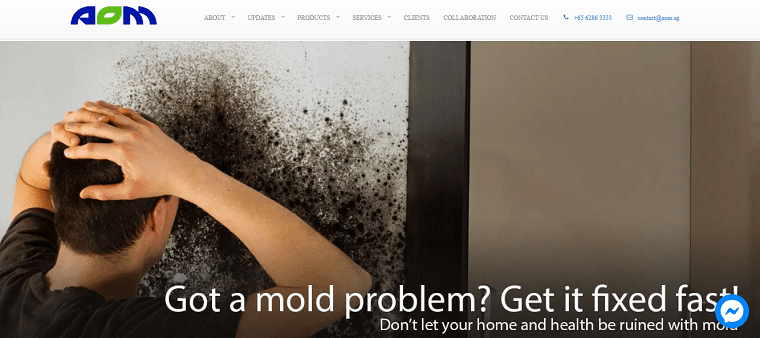 Highlights:
Large clientele
Fully integrated air solutions company
Team of experts
Eco-friendly products used
Air & Odor Management is a fully integrated air solutions company headquartered in Singapore. Their services promote and encompass all aspects of clean air living, from diagnostic assessment and odour control, to air purifying, bacteria and mould remediation, as well as ambient scenting.
However severe your mould issues are, the consultants at Air & Odor Management will work to meet your specific needs. Their client list includes offices, shopping malls, hotels, restaurants, factories, and many other residential, commercial as well as industrial facilities.
Air & Odor Management's expertise and tools allow them to investigate the origin as well as the cause for mould, test for species' toxicities, and guarantee satisfactory results in mould removal. In addition, the team will apply top-grade Australian tea tree oil for fumigation and wipe-down works to ensure that their remediation is both environmentally friendly to almost any surface and effective in reducing mould counts.
| | |
| --- | --- |
| Address | 60, #01-04 Ubi Cres, Ubi Techpark, Singapore 408569 |
| Contact Information | +65 6286 3333 | contact@aom.sg |
| Business Hours | Monday to Friday: 8.30 AM to 5.30 PM |
Highlights:
Large client base
Established since 2005
Expert team
Established in 2005, Mold Busters is a decontamination expert that uses the top technology and only hires the most experienced mould technicians in all of Singapore to give you the confidence that your mould problems are absolutely gone.
Because some equipment from lesser-known brands only searches for 98% of mould strands, your home is left vulnerable to the other 2% if you don't know what you are doing! The team at Mold Busters also knows exactly how important it is to eradicate mould in your flooring, walls, and ceiling and they have all the tools necessary to do it. They will also offer tips on how to stop the growth of mould inside your home.
The company has a large pool of loyal clients who continually help them to gain more customers through recommendations and reviews. So, you can be sure that their services are top-notch and high-quality!
| | |
| --- | --- |
| Address | 60 Ubi Cres, #01-04 Ubi Techpark, Singapore 408569 |
| Contact Information | +65 6286 3333 |
| Business Hours | Monday to Friday: 8.30 AM to 5.30 PM |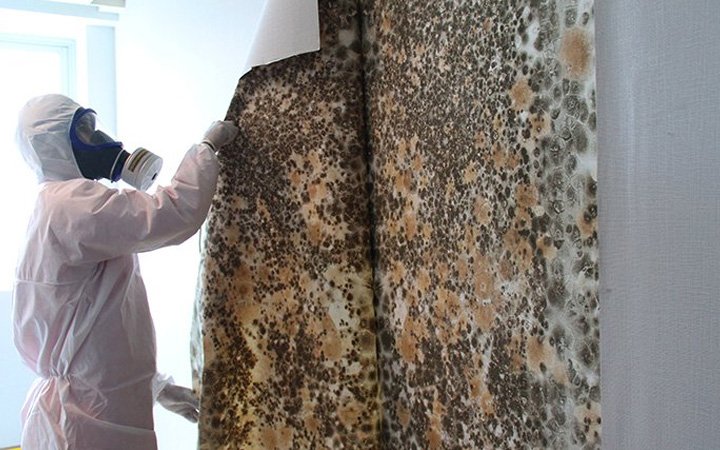 Highlights:
Commercial and residential mould removal services
Wide range of services
The team is on standby 24/7
Disaster Restoration Singapore's mould removal services include Treating Mould on Walls, Black Mould Removal, Mould Removal from Furniture and Home Fixtures, Mould Decontamination of Residential and Commercial Spaces, Kitchen Mould Decontamination, Treating Mould on Walls, as well as Bathroom Mould Removal.
The brand has vast experiences, expert resources, as well as an unrivalled track record in this complex area, bringing you all the advantages of a comprehensive solution. In addition, their team of subject matter experts and highly-trained technicians are on standby 24/7 to remove and remediate mould and fungus problems.
They also provide cutting-edge solutions to technology. Having taken on many commercial and residential mould removal projects, Disaster Restoration Singapore is definitely a company you should keep in mind when you are looking for mould removal services!
| | |
| --- | --- |
| Address | 3018 Bedok North Street 5, #01-15 Eastlink Building, Singapore 486132 |
| Contact Information | +65 6241 9894 |
| Business Hours | 24 hours, daily |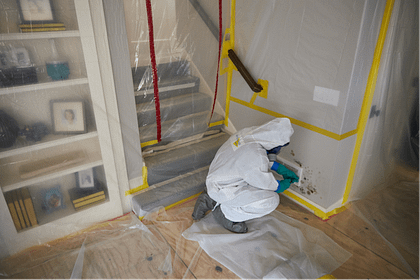 Highlights:
High quality as well as consistent services
Environmental-friendly products
Residential and commercial
Trained and experienced specialists
Prompt response time
EcoSense is a global Professional Decontamination and Pest Control Company. The brand is committed to providing quality remediation of Pests and Pathogens with their comprehensive procedure, management programs, as well as solutions, providing the best option for each individual client.
As a Leading Eco-Friendly establishment, EcoSense only uses environmentally friendly solutions and equipment in their daily operations and incorporates business practices that reduce energy consumption, air as well as noise pollution.
The brand provides its mould removal services to residential as well as commercial areas and will only send down trained and experienced specialists who will do the job efficiently and thoroughly. Their high-quality and consistent services are also often praised by their clients. In addition, they are also known to be very prompt in their responses! So, if you are in need of urgent mould removal services, check EcoSense out!
Address
531A Upper Cross Street #04-95, Hong Lim Complex, Singapore 051531
Contact Information
+65 9819 8432 | sales@ecosense.sg
Business Hours
Monday to Friday: 8.30 AM to 6 PM
Saturday: 8.30 AM to 2 PM
Highlights:
Team of professional cleaners
Residential and commercial services
Free quotation
HVAC Engineering is a professional cleaning company that offers a wide range of services that include disinfection, ACMV testing, mould treatment, and more. Their professional team of experts helps in Mould Removal, Mould Treatment and Mould cleaning, as well as remediation in Singapore.
The treatment process will include steps like mould inspection, containment, air containment, mould remediation, and lastly, post-remediation inspection. Because the treatment process provided by HVAC Engineering is thorough and precise, you do not have to worry about them missing a spot!
So, for a thorough treatment that will prevent mould regrowth, be sure to check out HVAC Engineering. In addition, the brand even provides a free quotation for you! So, wait for no further and contact them!
| | |
| --- | --- |
| Address | 28 Senang Cres, Singapore 416601 Senang Cres, Singapore 416601 |
| Contact Information | 6246 1107| Sales@Hvacengineering.Com.Sg |
| Business Hours | Monday to Friday: 7 AM to 6 PM |
Moulds produce allergens, irritants, and sometimes, toxic substances. Inhaling or touching mould spores may cause an allergic reaction such as sneezing, runny nose, red eyes, as well as a skin rash. Moulds can also cause asthma attacks. So, it is best that you engage a team of experts who specialize in mould removal services to help you get rid of the mould that is plaguing your space. Just pick any one of the best mould removal services in Singapore listed above and they will get the job done well!
If you are in need of other services like pest control services, check out our article here!
Emily Hopkins
I'm an accomplished and detail-driven content writer with copious experience in producing compelling, engaging and flawless content for a variety of blogs and websites for several years.
Related posts
Subscribe for newsletter
* You will receive the latest news and updates on Singapore's best trends!