11 Best Mother's Day Gift Ideas To Make Her Feel Loved [2022]
Joanne, 3 years ago
13 min

read
3567
Mother's Day is a celebration honouring the mother of the family, as well as motherhood, maternal bonds, and the influence of mothers in society. It is a day where people thank their mothers for their efforts and indispensable hard work. Typically, people make this day special for their mothers by preparing gifts, flower bouquets, as well as food for them in order to express respect, honour, and love towards mothers. As mother's day slowly approaches, some of you might be scrambling to find a perfect gift for your mother! Fret not! We're here to help. Check out these Mother's Day Gift Ideas that you can get inspiration from to make your mother feel special and loved!
Highlights:
Wide variety of gifts
Unique and special gifts
Practical gift ideas available
If you're looking for more than one gift for your mum, you should definitely head down to Klosh one of these days! The team at Klosh believes that gifting is an art of giving. The brand is born out of a love for sharing all things good and beautiful in life. They offer an inspiring range of: stationery, home decor, gifts and lifestyle products that would make perfect gifts this mother's day.
For something extra special, ditch the generic mother's day cards that you can get anywhere. Instead, get Klosh's customized portrait where you can get custom sketches of your mum. Simply attach any photo of your wonderful mum and leave it to the people at Klosh to do the job! These customized portraits can easily go onto cards or photo frames. Your mum will surely be moved by this thoughtful gift.
For practical mums…
If you prefer a more practical gift for your mum, consider getting Klosh's Touch Warmer. This luxurious but affordable touch lamp can be found especially at Klosh. After a long day, mums deserve a well-deserved rest. These touch lamps create a warm, tranquil ambience around the room. As its name, these touch lamps are simply activated with a touch, where the brightness of the lamp can be adjusted with multiple touches, as simple as that! Pair it up with Klosh's "Luxury Wax Melts", which melts from the heat of the touch lamp, allowing the sweet-smelling fragrance to roam around.
To add to the sweet fragrances of the Luxury Wax Melts, check out Klosh's Scentchips or Aromatherapy Roll-on. Let your mum know how much you care for her with unique aromatherapy essential oil blends! These oils come in a variety of blends specifically targeting a problem area. For instance, "Energy Boost", "Sleep Brain" or even "Ache Pain", which soothes and relaxes. Not only that, but these oils are also roll-ons that are extremely convenient and can be used wherever, at home, at work, travelling, and more.
With so many different gifts to choose from, you'll be spoilt for choice for ways to spoil your mum! Head down to Klosh today!
2. Aleyda Mobile Spa — for ergonomic & aromatic treatments
Highlights:
Award-winning home massage service
Therapeutic massage
Gift vouchers available
What better way to thank your mum than a relaxing and therapeutic massage? Aleyda Mobile Spa is a well-established and award-winning home massage service for both local and ex-pat communities in Singapore since 2020. This mother's day, thank your mother with the gift of rejuvenation from Aleyda. We recommend the Aleyda's Signature Body Massage, which is touted for its therapeutic benefits, especially for easing neck, shoulder, as well as back tension. Great for tired mummies.
Aleyda Mobile Spa's massage team meets mom at her convenience by bringing the treatment to her doorstep. She doesn't have to leave the home! This luxurious home massage comes complete with a plush treatment table, fresh linen, spa music, as well as the expert care of a highly qualified massage therapist. Ideal for that busy mother who never makes time for herself.
In addition, gift vouchers can be purchased for $165 for a 90-minute treatment. So, redemption can be made at mommy's convenience!
| | |
| --- | --- |
| Address | 81 Ave 4, #08-13 UB.One (Office) |
| Contact Information | +65 8668 7652 | +65 66047567 | hello@aleyda.com.sg |
| Opening Hours | 2.00 pm to 11.00 pm, daily |
Highlights:
Free same-day delivery with no minimum order
Affordable prices
Curated and customizable gifts
Surprise the amazing moms in your life this 9 May and make Mother's Day 2021 an unforgettable one for them with beautiful gifts from Happy Bunch. The brand provides thoughtful and affordable mother's day flower delivery and gift delivery service in Singapore. With their convenient website and free delivery, you can send love easily this mother's day in just a few clicks.
Specially designed Mother's Day 2021 flower bunches are hand-bunched just for her and affordably priced at $49. The more good news? Happy Bunch is currently running an Early bird promo. Send out mother's day flower bunches at $45 (U.P. $49)! This promo ends on 30 April 2021.
If you'd like to take your mother's day surprise to the next level, bundle your flower bunch with a customizable gift box for $15+. Curate your own gift box with high-quality items from renowned local and international brands like Handmade Heroes, Maison 21G, To Be Calm, Brass Lion Distillery, Amazin' Graze, Fossa Chocolate, and more. From curated gift boxes to customised ones, take your pick from Happy Bunch's range of gift boxes.
Whether you are sending a Mother's Day gift to mommy dearest, your darling wife, mother-in-law, grandma, or friend (who just became a new mom), there's a gift box for everyone!
| | |
| --- | --- |
| Address | 201 Henderson Rd, #07-08 Apex @ Henderson, Singapore 159545 |
| Contact Information | hi@happybunch.com.sg |
| Opening Hours | Monday to Friday: 9.00 am to 6.00 pm |
Highlights:
A wide range of gift sets available
Various price options
Convenient doorstep delivery
If you only want to give your mum the best, Bon Deli is the brand to head to. A brainchild of veteran Chinese and Western chefs, Bon Deli is a brand that specializes in artisanal creations. The team combines passion with purpose, and all creations go through three months of rigorous recipe testing and focus group sessions to develop the ultimate savoury tarts.
Based on the cooking philosophy of using simple, fine elements, Bon Deli's tarts only incorporate fresh premium ingredients with time-honoured cooking techniques, allowing the flavours to shine naturally.
This mother's day, Bon Deli is offering convenient and beautiful gift bundles that combine all 4 of their signature flavours in a box. In it, you will find delectable flavours like Kampung Satay Chicken Deli, Salted Egg Chicken Deli, Chili Crab Sauce Otah Deli, as well as Black Pepper Smoked Duck Deli.
Along with the Deli Box, you can choose to beautify your gift with multiple gift sets that come in different designs. Choose among different Korean-style hand bouquets and have them paired with your Deli Box. you can even craft a custom message for your mum to make the gift extra special.
With thoughtfully designed packaging and convenient doorstep delivery, surprising your mum has never been easier!
No walk in. Pre order 1 day in advance and you can place your order via online here
| | |
| --- | --- |
| Address | 171 Kampong Ampat, KA Foodlink Singapore 368330 |
| Contact Information | +65 8787 8310 |
| Opening Hours | Monday to Sunay: 11.30 am to 8.30 pm |
Highlights:
Organically farmed honey
Anti-bacterial
Low sugar
Wide range of options
Honey is well-known for its irresistibly delectable taste as well as a range of health benefits such as acting as an anti-inflammatory and having anti-bacterial properties. It is thus a popular option for you to gift to your mum this mother's day!
Anaya is a true blue Singaporean brand that offers organically farmed honey with several benefits including high activity levels, anti-bacterial properties, as well as lower sugar levels of 17%. This makes the honey suited for people who wish to enjoy the benefits of medicinal honey while reducing their sugar intake.
In addition, this organically farmed honey from this Singaporean brand has several benefits including high activity levels, anti-bacterial properties, as well as lower sugar levels. They say the best gift is the gift of health. This mother's day, gift your mum the gift of health with Anaya's wide range of honey!
| | |
| --- | --- |
| Address | NA |
| Contact Information | +65 9632 9646 | hello@gtclife.com |
| Opening Hours | 24 hours, daily |
Highlights:
Relives pain from tired ankles
Powerful airbag massage
Effortless adjustment to the speed
If your mum is often complaining about tired legs and feet, perhaps it is time for you to take her hint. Get her a foot massager this mother's day!
OSIM's uStiletto provides a pampering leg massage with its 'S-Tone Airbags' and 'S-Care Rollers. The auto-massage programs featured by uStiletto allow you to put on your favourite stilettos effortlessly. The perfect combination of relaxing and gentle massage technique helps in soothing any discomfort.
This product relieves the tension accrued on tired ankles and legs after a day of working and walking. Additionally, powerful airbag massage enhances circulation in the legs so that your mum can achieve healthier and beautiful legs conveniently. She can easily and effortlessly adjust the speed of the leg massager and select the intensity of the airbags according to her preference. So, you do not have to worry even if your mum is not confident in using technology!
| | |
| --- | --- |
| Address | Multiple locations: Check it here |
| Contact Information | +65 9011 1902 | customerservice@osim.com.sg |
| Opening Hours | Check it here |
Highlights:
Bird's Nest with Marine Collagen
Strengthens immunity
Supports healthy aging
Once again, we have to say this! The best gift that you can give to your mum is the gift of health. This is where Kinohimitsu's Bird's Nest with Collagen has got you covered! This Bird's Nest combines the goodness of 100% genuine deluxe quality Bird's Nest, Marine Collagen, and Seaweed. It is carefully prepared to retain its nutrients, allowing you to enjoy the optimal benefits in one bottle.
This product also promotes healthy aging by relieving fatigue and supporting respiratory health. It is also a convenient gift as it is ready-to-drink and can be taken chilled or warmed. The decadent packaging also makes for a perfect gift!
| | |
| --- | --- |
| Address | Multiple locations: Check it here |
| Contact Information | info@kinobiotech.com |
| Opening Hours | Check it here |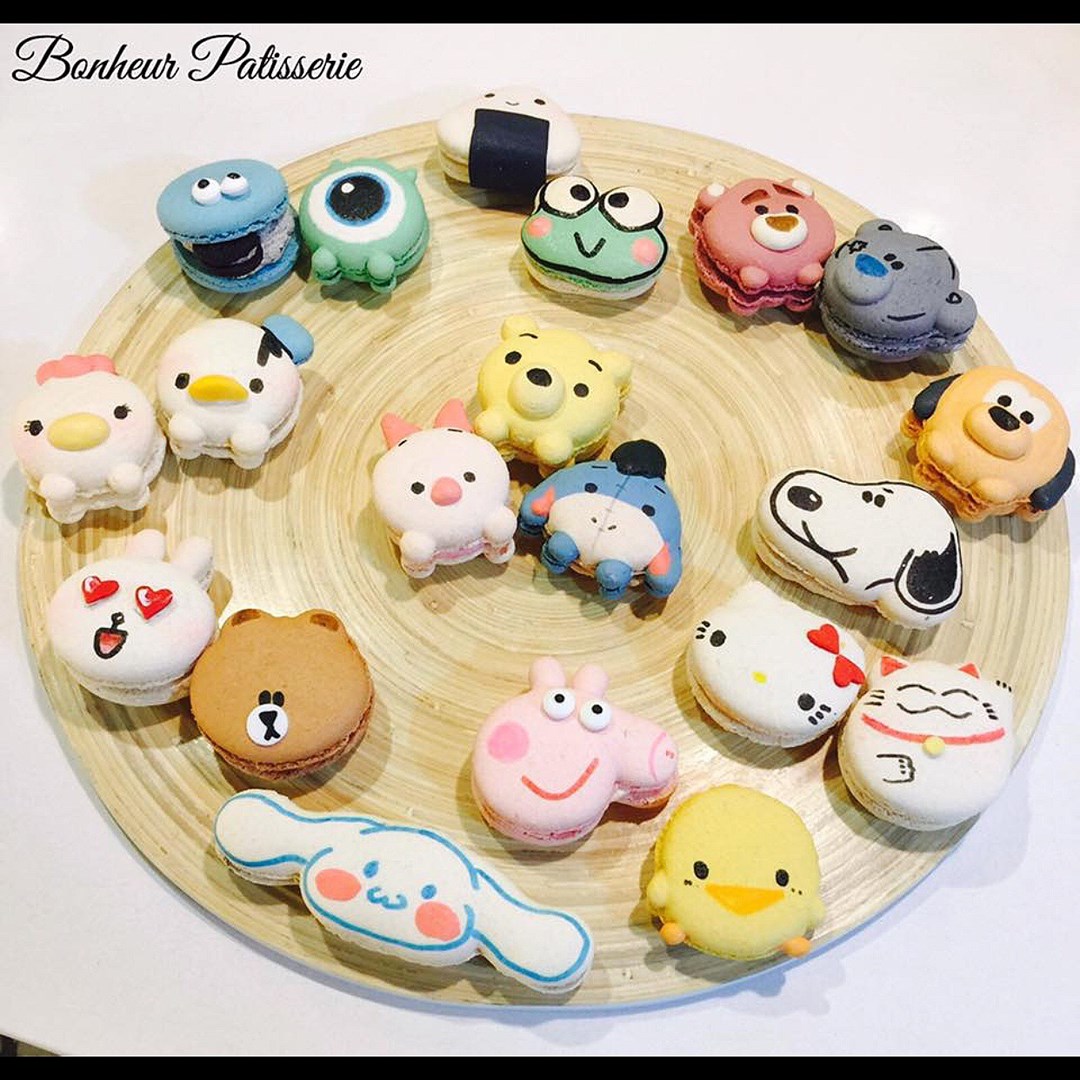 Highlights:
Customized character macarons
Singaporean flavours such as Chendol, Milo Dinosaur, Kopi O Gao and Chilli Padi infused-macaron
Handmade macarons made with all-natural flavourings
If your mum has a sweet tooth, consider getting some adorable macarons for her this mother's day. Tucked away in Upper Serangoon is Bonheur Patisserie, a local store best-known for its handmade macarons. The brand believes in using all-natural flavourings for all of their macarons. Lim Wei Xian, Bonheur Patisseries' founder, and head pastry chef is a two-time Pastry Chef of the Year finalist at the World Gourmet Summit Awards of Excellence.
The brand also specializes in creating adorable character macarons that are sure to put a smile on your face. These character macarons make great mother's day gifts! Simply tell them your mum's favourite cartoon character and they would turn it into macaron that is too cute to be eaten!
| | |
| --- | --- |
| Address | 767 Upper Serangoon Road, Spazio@Kovan, #B1-04 Singapore 534635 |
| Contact Information | +65 9221 6636 |
| Opening Hours | Monday to Friday: 12.00 pm to 6.00 pm |
Highlights:
Wide variety of gift boxes to choose from
Practical and useful gifts
Beautiful packaging
For over 20 years, Bath & Body Works have been creating scents that make people around the world smile. Whether you're looking for fragrant body care or a 3-wick candle, the brand has hundreds of quality products perfect for treating yourself or someone else.
Bath & Body Works has always been known as the perfect gifting destination. The brand has tons of different gift sets to choose from. All of them are packed beautifully, so you do not have to worry about getting gift wrappers or gift boxes separately!
Besides, with the COVID-19 pandemic playing out right before our eyes, gifts such as soaps and sanitisers are practical and useful. Not only that, they smell SO good! Prices start from just $10. So, if you are on a budget this year, Bath & Body Works is the place to go!
Highlights:
Bee Hive mesh design
Good circulation
Helps to prevent Deep Vein Thrombosis
If your mum's job requires her to stand for long hours, this next listing will be perfect for a mother's day gift! So pay attention! Ebene Bio-Ray Compression Socks helps prevent Deep Vein Thrombosis (DVT), helps to minimize pain, swelling, and leg ache due to long hours of standing and sitting, and relieve tired achy legs and feet.
The compression socks help stimulate blood and oxygen circulation, which decreases the risk of blood clots. It is thus able to help to relieve tired, achy legs and feet. These socks by Ebene also feature a Bee Hive mesh design which allows great air circulation. Your mum will never have to worry about stinky feet with this pair of socks!
These socks are usually priced at $59.90. However, the brand often runs promotions where you can get them at almost half the price at $29.90. So do keep a lookout!
| | |
| --- | --- |
| Address | L.D. Waxson Singapore (A unit of Wipro Consumer Care) No 29, Defu Lane 9 Singapore 539269 |
| Contact Information | +65 6283 3822 | enquiries@ebene.com.sg |
| Opening Hours | NA |
Highlights:
Premium Mao Shan Wang Durian used
Island-wide delivery in only 90 minutes
Great rewards program
Imagine the most delicious durian cake ever created. Now imagine something that is ten times better, and that's exactly what the durian cakes from Golden Moments taste like. But it's not just us who think so; famous celebrity and patisserie chef, Jeanette Aw endorses them too! We're pretty sure your mum will love this gift!
They have some flavour profiles that you could never imagine going well together, but they do and they do so gorgeously. Their Signature Galaxy Mao Shan Wang Durian Cake has to be one of the best durian cakes we've ever tasted, and the combination of cheese mousse, premium MSW durians, and the layers of coconut will leave you wanting for more!
If you'd like something mother's day themed, get their Super Mama Rosette Mao Shan Wang Cake. The 6″ Rosette Cake is soft and creamy, delicately layered with charcoal buttercream, floral earl grey sponge, and 100% pure Mao Shan Wang durian puree.
You may also choose to go for their Endless Love Bundle. The bundle includes a pink box that contains preserved carnation, preserved hydrangeas, Ruscus, and other preserved floral elements. The everlasting flowers have been treated to last up to a year if kept in dry and cool conditions, away from sunlight!
If you can't decide which flavour to get, how about get multiple cakes for this mother's day?
| | |
| --- | --- |
| Address | 110 Lor 23 Geylang, Victory Centre, #07-13, S388410 |
| Contact Information | +65 8766 8960 |
| Opening Hours | 10:00 am to 9:00 pm, daily |
There you have it, some of the best gift ideas out there for you to draw inspiration from this mother's day. This mother's day, make your mum feel extra special by getting them any one of these gifts featured here! Better still, get her more than one! Your mum definitely deserves the gifts! Because you literally will not be here without her!
If you are looking for more ways to add to your mother's day celebration, check out the best cakes in Singapore that you can get for her to celebrate this special day.
Related posts
Subscribe for newsletter
* You will receive the latest news and updates on Singapore's best trends!