12 Best Mooncakes in Singapore [2022]
Gee, 3 years ago
10 min

read
19133
It's the Mid-Autumn Festival once again! Mooncakes in Singapore are best known for their creative artistry. You don't want to miss some of this year's refreshing combinations. Enjoy the best mooncakes in Singapore as you reunite with family and friends.
Are you ready to relish in new and reimagined creations? Here's our pick of Mid-Autumn Festival 2020's most decadent treats.
With Ding Mooncake, you no longer have to decide between nostalgic traditional flavours and modern ones. Their assortment of traditional and snow skin mooncakes will leave you spoilt for choice.
Handmade with premium quality ingredients and no preservatives or additives, you'll definitely get your money's worth! We definitely recommend their Assortment of Premium Baked Mooncakes which includes 4 delectable flavours: Pandan Double Yolk, Traditional Mixed Nuts, Organic Matcha, and award-winning White Lotus Double Yolk.
A modern twist on this traditional dessert may be suitable for your young chaps at home. The Assortment Snowskin Mooncake includes 4 new flavours: Korean Yuzu, Authentic Gula Melaka, French Earl Grey Lavender, and Treviso Tiramisu.
Looking for durian mooncakes? They've got you covered! At just $89.90 for a box of 8, Ding Mooncake's Highland Mao Shan Wang Snowskin Mooncake uses only GRADE AAA premium Mao Shan Wang from Pahang Highlands to give you the most authentic durian experience with real durian flesh.
With beautiful and exquisite packaging, Ding Mooncake makes for the perfect gift. What's more, they're offering a 30% early bird discount, limited time only! Grab your share of Ding Mooncake now before they sell out again!
Are you looking for something that is special and premium? We recommend The Durian Bakery's newest edition – The Black Thorn Durian Mooncake.
Collaborating with the first place winner of the World Durian Championship Malaysia 2018, The Durian Bakery has managed to find the perfect durian flesh to be used in the mooncakes. The Black Thorn Durian flesh, which is uniquely rich, creamy with a slight sweetness and alcoholic aftertaste is wrapped in soft charcoal snow skin.
After trying these mooncakes, the editing team at The Durian Bakery all agreed that it was hands-down the best durian mooncake they ever tasted.
Each piece of mooncake uses 48g of pure Black Thorn flesh, the highest ratio content in the market. With only a limited stock of 200 boxes available in Singapore, this mooncake is the perfect gift to make a special impression! Take advantage of the 5% Early Bird discount and grab a box of these premium 6 mooncakes at only $190!
What we love:
Using rare and highly sought-after durian from Penang
Limited edition – only 200 boxes available in Singapore
Uniquely flavorful, creamy, sweet with a slight tinge of alcoholic taste
Perfect gift for your loved ones
Website: https://thedurianbakery.com.sg/durian-mooncake/
Are you a durian lover? This year, you can look forward to a returning favourite from JW Marriott Singapore South Beach; the Mao Shan Wang Mini Snowskin Mooncake!
To your close group of friends and family, we strongly recommend to indulge in their luxurious Bird's Nest Mini Snowskin Mooncake. We heard it's voted as the best mooncake in Singapore!
Traditionalists who prefer handcrafted baked pastries are also in for a surprise. This year, Madame Fan unveils a new mooncake flavor – the Single Yolk Lychee Lotus Paste. The wildly imaginative mooncake features a delightful sweet flavours of lychee and has some zesty kick to it.
Can't decide between single yolk, double yolk, mixed nuts, or pu-er flavor? Opt for the Baked Mooncake Medley which comes with one flavor each at $78.00 nett.
Mid-autumn festival enthusiasts who love going over the top can indulge in Goodwood Park Hotel's limited edition 120th Anniversary Mooncake – one of the largest mooncakes in Singapore. The 120th Anniversary Mooncake is a 16.5cm-diameter masterpiece featuring 12 egg yolks. In addition, standard-sized bakes are also available in one, two, or four yolk variations.
Secondly, explore Goodwood Park Hotel's famed fruit-based combination of snow skin mooncake flavours such as Orange with Grape and Mango with Pomelo. For a taste of locally-inspired flavours, select from the D24 Durian, Cempedak, as well as the Blue Pea Flower with White Lotus Seed Paste and Melon Seeds. Interesting combination, isn't it?
Such rich confectionery can only be found at Goodwood Park Hotel. To place your order, visit Goodwood Park Hotel's online store.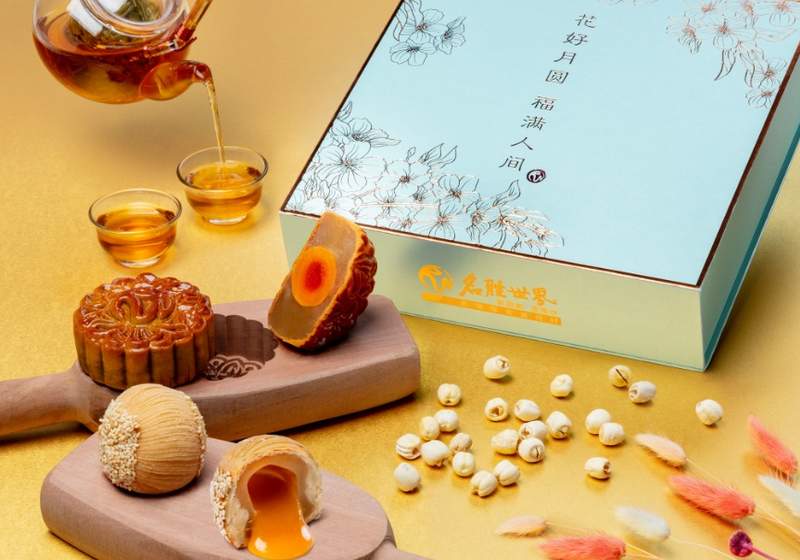 Resort World Sentosa ushers the festival with Fengshui Inn's delightful, contemporary twists! For $98, go on a culinary adventure with nutritious, decadent flavors. Besides the Rose Lingzhi Spots with Longan, indulge in the Purple Sweet Potato with Manuka Honey.
Yet, there is nothing like our favorite timeworn flavors and recipes. Your classic traditional low-sugar double-yolk mooncake is still up for grab this year. For a change, try some of Fengshui Inn's best new flavors such as Baked Egg Custard with Melon Seeds or Pandan with Yam Coconut.
To experience guilt-free eating this Mid-Autumn Festival, download the order form available at this link and email it to fengshuiinn@rwsentosa.com.
Available for sale at all Crystal Jade's outlets till 1 October 2020, this pleasing range of mooncakes comprise snowskin and signature based renditions that are handcrafted with premium ingredients and less sugar.
The assorted petite snow skin mooncakes appeal to both young and old and are available in popular flavours such as Sea Salt Caramel and Lychee Martini. This year, the Michelin-Starred Chinese culinary group will feature two new smashing flavours – the Taro and the Coconut.
Crystal Jade's traditional baked selections are available in boxes of two or four, which are priced at $40.70 to $72.80. This year, Crystal Jade is going 'back to basics' with two signature offerings – single or double yolk. For packaging, choose from an eco-friendly, recyclable minimalist box, a classic turquoise gift box or an exquisite two-tier gift box.
Head over to any participating Crystal Jade outlets by 1 October 2020 or make your purchase online at their estore. Key in the promo code <CJMID10> to take an additional 10% off purchases made on the Crystal Jade estore.

This year, InterContinental Singapore's repertoire of snowskin mooncakes are crafted around classic Peranakan flavours such as Chendol (Gula Melaka with Red Bean, Coconut, and Pandan Jelly) and Pulut Hitam (Dark Glutinous Rice with Candied Longan).
The brand's traditional favourites feature its signature thin, golden-brown pastry skin that encapsulates red or white lotus paste with single or double yolks, as well as macadamia and assorted nuts.
A highlight of InterContinental Singapore's offerings this year is the "tingkat" carrier that is designed with pastel pinks and turquoise with familiar Peranakan motifs.
Step into the vibrant world of Peranakan flavours today – purchase your favourite flavours off the shelf at the Man Fu Yuan Shoppe at InterContinental Hotel or order online at its estore.
Shangri-La Hotel's selection of mooncakes promises happy reunions of warmth and joy. This year, its mooncakes feature familiar flavours such as bak kwa, pork floss and nuts.
The Yuzu Sake Mini Snowskin Mooncake, a hot favourite from previous years, has made its comeback this year, along with a smashing new flavour – the Hennessy X.O. Chocolate.
Shangri-La Hotel's limited edition gift box set is designed by internationally-acclaimed artist Benny Ong, who has given it a Peranakan-inspired spin. Alternatively, pick a classic gift box that is available in a nostalgic red or elegant turquoise, both of which feature floral blooms that represent the bountiful harvest that the festival celebrates.
Order online at its estore to enjoy 20% off classic baked skin mooncakes, or collect your orders at the hotel between 10am and 9pm daily.
Regent Singapore has dreamed up masterpieces reflecting each of the hotel group's dining destinations. New snowskin creations this year include the Pistachio, Fig with Amarena Cherry flavour, a uniquely Italian creation by the Basilico culinary team. This mooncake features the Amarena, a dark red cherry variety from the northern Italian city of Bologna that is highly treasured for its bitter notes.
Fancy a tinge of alcohol? Check out the Macapuno snowskin mooncake which features a delectable fusion of coconut, dark rum and refreshing citrus.
Looking to redefine tradition with a distinctive Italian flavour? Regent Singapore's Parma Ham and Pork Floss with Assorted Nuts is one to beat, which delivers a savoury and crunchy bite along with great texture and taste.
Regent Singapore's elegant packaging also transforms into a Chinese lantern, adding a twist to your mooncake fiesta and paying homage to the traditions of the Mid-Autumn Festival. Order online here.
Delight your senses this Mid-Autumn Festival with artisanal mooncakes from Cherry Garden, a cantonese restaurant at Mandarin Oriental Singapore.
This year, Cherry Garden has crafted decadent tea-infused mooncakes featuring Osmanthus and Lugu Oolong teas. Whether it's the Osmanthus and Walnut snowskin variation or its Lugu Oolong Tea with Melon Seeds baked variation, indulge in natural, aromatic, earthy flavours with each bite.
Other than tea-infused pastries, don't miss the matcha red bean baked mooncake, which is one of the best mooncake combinations out there. This flavour combination, which follows the Japanese philosophy of keeping desserts light, is highly popular in Japan.
To place an order, visit the Mandarin Oriental online store here or download the order form here. Get ready to indulge in some of the airier and lighter mooncakes in Singapore!
This festive season, Michelin-starred Cantonese restaurant Jiang Nan Chun from Four Seasons Hotel Singapore brings back a selection of traditional classics and new, locally-inspired snowskin mooncakes.
Back by popular demand, the Smoked Duck with Assorted Nuts and Lime headlines Jiang Nan Chun's baked collection, alongside perennial favourites featuring silver lotus, which uses less oil and sugar.
Bask in blissful reunion with the Bird's Nest with Custard Snowskin Mooncake, which features a smooth and creamy nourishing centre. Don't miss the Hazelnut Royaltine Chocolate Snowskin Mooncake, which takes after Four Seasons Hotel's signature cake of the same name.
For something new, try Jiang Nan Chun's latest culinary creation – the Litchi with Raspberry and Rose, which delivers a light, refreshing yet sweet and tangy experience.
To place your order for some of the best mooncakes in Singapore, visit Four Seasons Hotel's online store. Self-collection, drive-through pick-up and delivery options are available for your every need.
12. Marina Bay Sands – Featuring some of the Best Mooncakes in Singapore!
Marina Bay Sands has outdone itself this year with playful reinterpretations of the traditional mooncake. Created by Executive Pastry Chef Antonio Benites, an ensemble of flavours such as cempedak, azuki, chocolate-covered sweet potato and chocolate-covered black sesame awaits you at Singapore's architectural icon.
This season debuts indulgent, multi-layered flavours and textures encased in chocolate shells. Check out the Japanese sweet potato lotus paste, a Japanese sweet potato roll biscuit and pandan coconut ganache combination! Alternatively, choose the creamy black sesame mousse and hōjicha crémeux.
Order now on Marina Bay Sands' online store and go green too with its minimalist, lightweight box that is designed with sustainability in mind.
For an unforgettable evening of merriment, pair your favourite mooncakes with some of the best wines in Singapore.
Related posts
Subscribe for newsletter
* You will receive the latest news and updates on Singapore's best trends!