10 Best Monitor Arm in Singapore for Your Comfort [2022]
Joanne, 2 years ago
8 min

read
4647
Whether it is a business premise or a home office, a good monitor arm will help you conserve room on your desk while still improving the comfort and ergonomics of your workspace.
If you want to keep your back in good shape, you need to get the computer at the right height and distance, and a monitor arm gives you complete control over that. As a general rule, you should sit far enough away from the screen so that your fingers will nearly brush it and your eyes are level with the display's top.
To help you to improve your workspace, we have gathered the best monitor arms in Singapore in this article! Read on to choose one that will fit your needs best.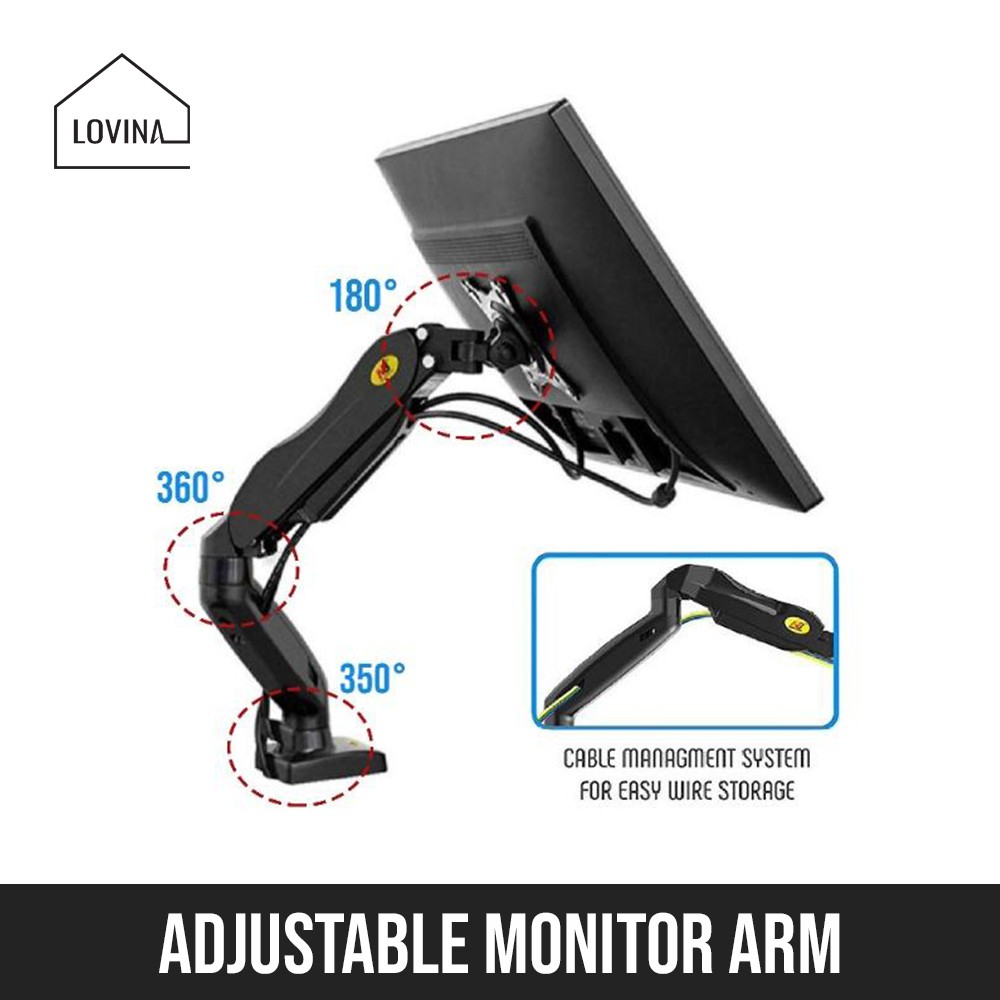 Highlights:
Durable, reliable and long-lasting
Good for business or personal use
Slim and sleek design
The F80 Monitor Arm Mount enables you to tilt your monitor according to your eye level, whether you are sitting or standing. You will be able to adjust your monitor according to your height when sitting or standing. You can also rotate your monitor to horizontal or vertical alignment as you need it.
This monitor arm also features an inner gas spring to allow you to freely adjust your monitor and stop it at whatever position you want. You can even hide your cables inside the arm for a clean and tidy workstation.
The monitor arm is suitable for business or personal use. It comes in a slim design that is powder-coated in a black finish that blends well with your display. Rubber thin pads also prevent scratches and slipping.
Easy to assemble and install, you do not have to worry about spending too much time putting your workspace together. For below $40 you get a durable, reliable, and sturdy monitor arm that will be able to meet your needs perfectly!
Get yours here!
Highlights:
5-year warranty
High quality
2 colours available
This monitor arm from Officehub comes in two available colours, white and black. It can carry up to a weight of 9 KG and fits up to a 34-inch monitor. Unlike other monitor arms that you will find on the market, this one by office hub will come with a grommet and clamp provided free with your purchase. You do not have to fuss over getting the components from different shops!
The single monitor support comes with double arms and a cable management system that will keep your desk neat and tidy. With this monitor arm, your monitor can rotate 180 degrees. Your screen can even be flat if you need it to be!
With a 5 year warranty, you can be sure that the monitor arm will be of high quality! Installation is rather easy, but if you wish to have someone else do it for you, this Officehub offers installation upon delivery.
Get yours here!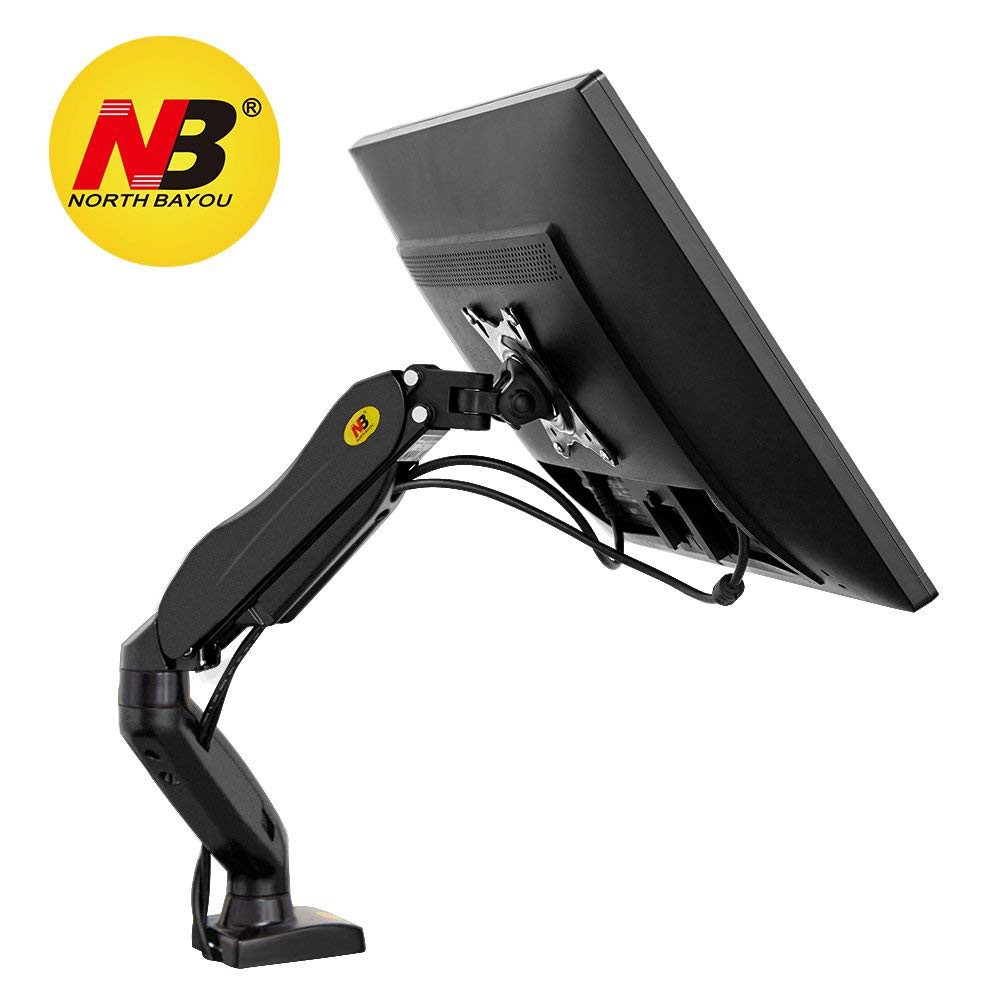 Highlights:
Durable
Affordable
Ergonomic design
This Rotatable Desktop Mount Holder for Flat Panel TVs and Monitors from Vesa is suitable for monitors that are 17" to 30". The compact and retractable design increases your workspace and its ergonomic design will help you to improve your posture.
The monitor arm offers full-motion flexibility with all directional and effortless adjustments without the use of tools. Its durable gas-strut cylinder and conical joints are also constructed for smooth and stable operation.
If you are looking to tidy up your space, this monitor arm features integrated cable management that conceals inside to provide the clean, neat and clutter-free appearance that you yearn for! All in all, this monitor arm is a value for money option that is durable and sturdy!
Get yours here!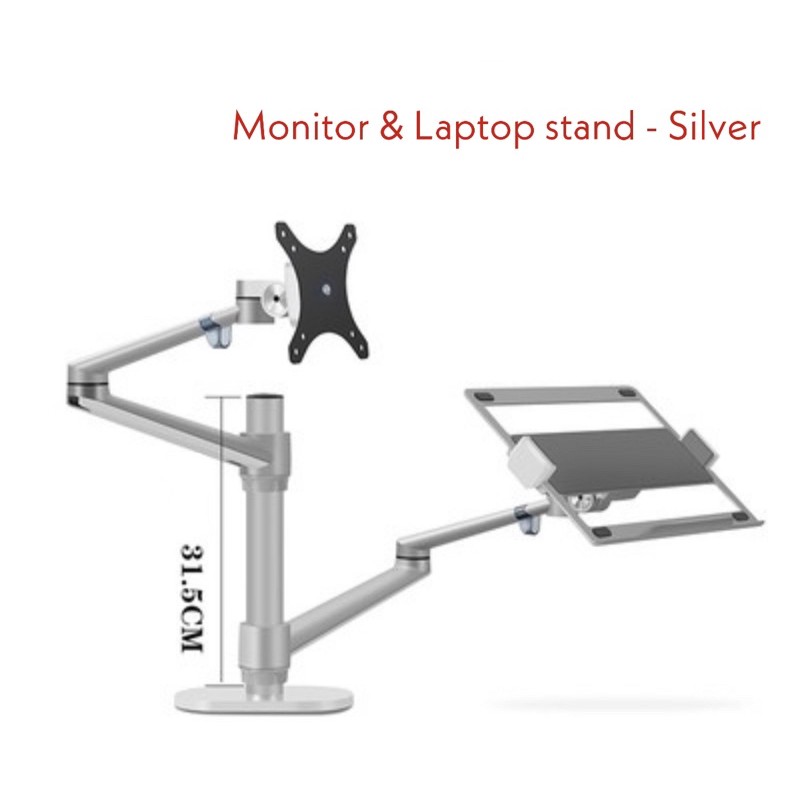 Highlights:
Durable design
Cable management system
Compact and retractable design
Techcool is a product discovery seller that dedicated to "make people life easier" by simplifying people living experience with cool and useful gadgets. This monitor arm offers full-motion flexibility with all directional effortless adjustments without tools used.
In addition, it features a durable gas-strut cylinder and conical joints that are constructed for smooth and stable operation. It also has a cable management system for you to tidy up your workspace. On top of that, this monitor arm has a compact and retractable design that can greatly increase your workspace.
So, go ahead and get Techcool's monitor arm to elevate the laptop screen to eye level, fix your posture, as well as effectively ease the health concerns caused by long hours sitting in the workplace!
Get yours here!
Highlights:
Lightweight design
Durable
Cable management system
The KALOC monitor arm is a modern, lightweight yet durable monitor mount built with the latest technology that is capable to hold up to 9kg of monitor panel. The sophisticated black colour blends into a vast variety of working environments or interior furniture.
It is available with multiple arm movements such as moves up, down, stretch forward, and backward which comes at ease for the most ergonomic setup. You will be able to access a 360° monitor rotation, -50°~ +35° tilt angle, 180° swivel, as well as vertically height adjustments. All cables could be aligned in the compartment to keep your desk tidy and for safety reasons!
In addition, the clamp and grommet parts are supplied together when you make your purchase so you do not have to make multiple purchases and wait for each one to come separately.
Get yours here!
Highlights:
Great aftersales support
Provides on-site servicing
Heavy-duty and durable
Flight is a brand that has over 10 years of specialized experience in Ergonomic products. They provide a local warranty, offer quick delivery, aftersales support, as well as on-site servicing. Their heavy-duty monitor arm is great for curved gaming monitors.
Available with both 75mm and 100mm VESA brackets, this monitor arm even comes with an anti-theft locking screw as an option. This means that you can lock your monitor screen to this monitor arm to prevent theft. Therefore, this is a great option if you have a shared office space.
The single monitor support with double arms linked features a 360° monitor rotation, tilting ± 180° (screen can be tilted to flat), as well as a base Pan with 150° rotation stop-screw to prevent over-rotation.
Get yours here!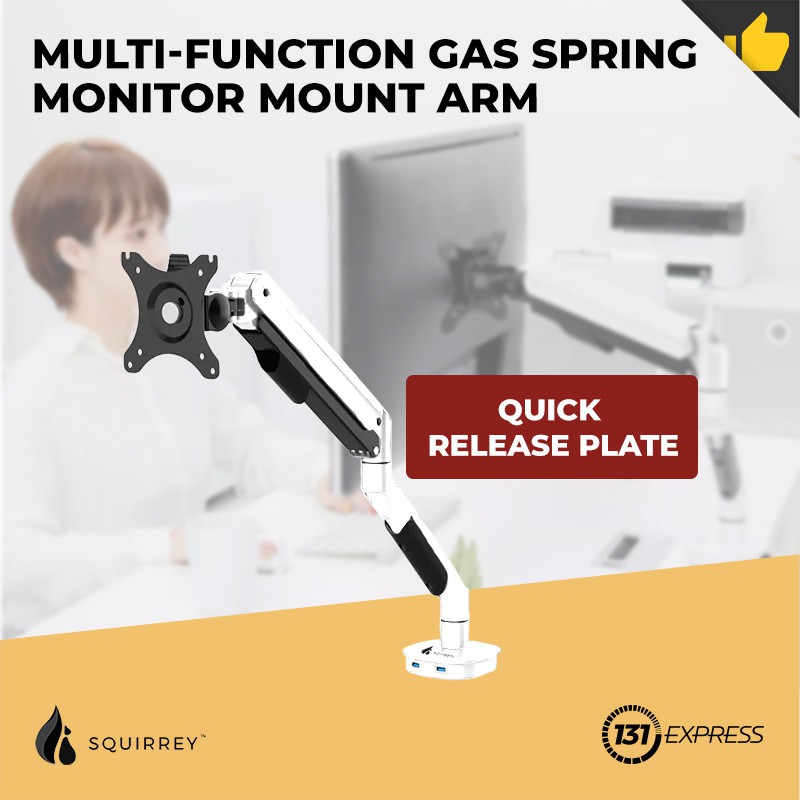 Highlights:
One month warranty
Compact and portable
Ergonomic design
This Xiaomi monitor arm features a Dual USB Charging Port and is suitable for 17 to 32-inch displays. Compact and portable, this monitor is easy to install and is made of aluminium, making it durable and sturdy.
With multiple adjustment systems, this monitor arm allows you to swivel the monitor 360 degrees. The ergonomic design also makes it good for those who have to sit at their desk for long hours. In addition, the monitor arm also features a quick-release plate that makes it easy to operate and install.
With a warranty period of one month, you can rest assured that you will be getting a product of good quality!
Get yours here!
Highlights:
Ergonomic design
Universal monitor arm
Heavy-duty
Monitor and Laptop Mount is a 2-in-1 adjustable dual monitor arm desk mount. The Single Desk Arm Stand/Holder is great for 17 to 32 Inch LCD Computer Screens. It also features an extra tray that fits 12 to 17-inch laptops.
The universal monitor arm offers a universal design that is suitable for Dell, Samsung, HP, BenQ, AOC, Acer, LG, ASUS, and various other brands.
Made of heavy-duty and premium aluminium, the monitor arm is both sturdy and stable. It is also highly adjustable the screen can freely swivel 360 degrees, and easily adjust the monitor and laptop to the most comfortable position.
With a simple and advanced design, the silver appearance can fit into any modern home or office. The arm also has a cable management feature to organize wires and cables fit neatly behind. Most importantly, this arm's ergonomic design is great for helping reduce strains on your neck and shoulder, organize your workspace and improve your work efficiency!
Get yours here!
Highlights:
3-month warranty
Easy to install
Sleek design
This desktop monitor mount can be installed at the table edge or grommet installation anywhere on your worktable. It is a perfect office accessory that enables you to swivel your monitor horizontally 180°+. With it, you will be able to share information with your nearby colleagues or rotate 90° for showing upside-down images.
The monitor arm is constructed in aluminium alloy material with a plastic appearance. The sleek design is coupled with integrated cable management designed to provide a clean and clutter-free look!
Your purchase comes with a three month warranty that you can easily register online.
Get yours here!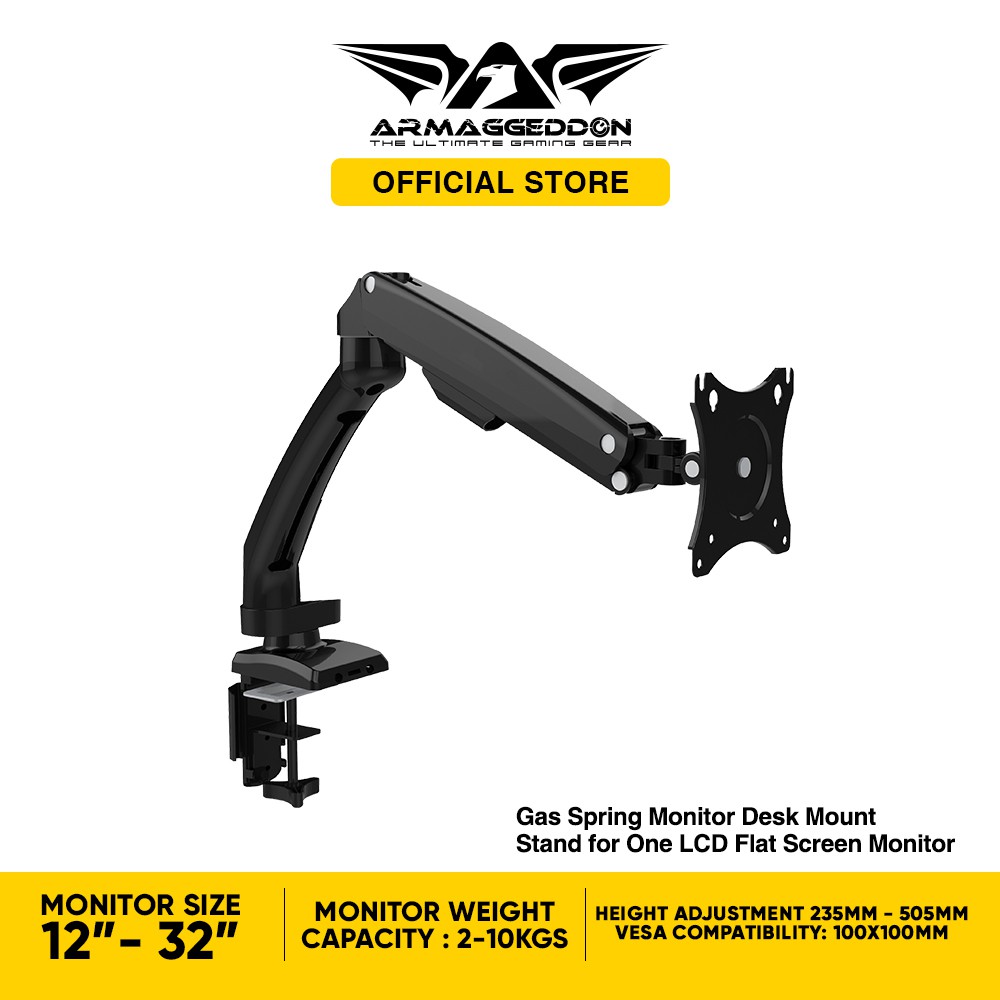 Highlights:
Durable material
High quality
Highly adjustable
The Armaggeddon Mechanic M1 Articulating Gas Spring Monitor Arm is a great monitor arm for LCD Monitors. Your package will come with a mechanic M1 monitor arm, a set of screws, accessories, as well as a user manual.
Made of alloy, steel, and plastic, the monitor arm is extremely durable and can be used for many years to come. At $79, the monitor arm is one of the more expensive options available on this list. However, you will definitely get your money' worth with this high-quality monitor arm.
Get yours here!
There you have it, some of the best monitor arms that you can find here in Singapore to zhng up your work from home situation or your office space! You are going to love how adjustable your screen is! If you are getting the monitor arm for your gaming needs, perhaps you want to look at the best gaming monitors in Singapore here! Complete your desk set up and you will be well on your way to a more comfortable 2021!
Related posts
Subscribe for newsletter
* You will receive the latest news and updates on Singapore's best trends!
Trending Posts
May 30, 2023

What is Matcha? Matcha...

May 31, 2023

TLDR: In this article,...

May 31, 2023

TLDR: As an audio...