20 Best Michelin Star Restaurants in Singapore [2022]
Zoya, 3 years ago
17 min

read
13562
Michelin Star Restaurants – the peak of culinary excellence, the industry standard, the crème de la crème of all restaurants, the description goes on… Lucky for you, we have quite a number of Michelin Guide restaurants in Singapore for you to check out.
For those who don't know who or what the Michelin guide is, yes, this is the same Michelin that makes tyres. The Guide Michelin ranks these restaurants based on their quality. Here are a few symbols that you should look out for, stated in the guide:
Beginning in 1933, this guide was developed originally to direct French drivers where local amenities such as restaurants and mechanics were, especially in foreign seas. Now, this guide has been used by many serious foodies where prestigious restaurant establishments are located all over the world.
Whilst Singapore might be a young country, our culture boasts a rich and loyal food-seeking habit that many of you probably have. In this list, we present you with the best 20 Michelin Star restaurants in Singapore.
Carnivores here in Singapore, look no further! Burnt Ends is here! At Burnt Ends, you get those crispy, delicious, mouth-watering pieces when you grill great meat. With Blackmore beef (advertised to be full-blooded Wagyu from cattle not diluted with other breeds) from Victoria, Australia, 65-day dry-aged Aussie beef, king crabs and sweet marrons, this restaurant has the hearts of meat-lovers in the palm of their hands.
Choose to eat at their counter and bar seats for a shared dining experience with others or in seclusion in their private dining room. This restaurant provides an interesting social experience like no other with the main conversation being how awesome their meats are.
This restaurant is one of the five 2 Michelin Star restaurants in Singapore, and one of the eight successful restaurants run by the Frantzen group. According to the Michelin guide,
"Diners are offered an aperitif and amuse-bouche on the first floor before the neo-Nordic, eight-course tasting menu with Japanese influences is presented on the second floor. Petit fours and coffee are served in the living room on the top floor."
Located at a colonial house (designated as a Conserved Building in 2008) at the Singapore Botanic Gardens, immerse yourselves in the dynamic food and nature scene here at Corner House. The restaurant has a history that runs across the detailed discovery of botany here on our land.
Named after E J H Corner, a British botanist specialising in mycology, who helped establish the Bukit Timah Nature Reserve in the 1930s, Corner House celebrates his achievements by crafting a gustatory experience as magnificent as the building's owner.
Immerse yourself in innovative dishes, and feast your eyes and palates in a French-Asian menu designed by David Thien.
4. Jaan by Kirk Westaway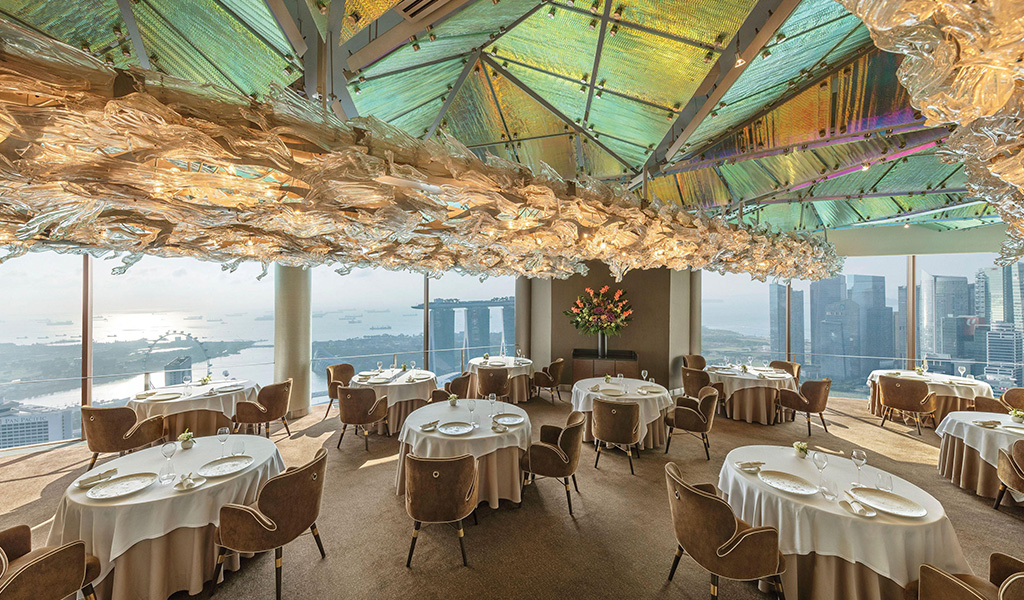 Ranked 21st on Asia's Best Restaurant, Jaan (ចាន which translates to bowl in Khmer) is an internationally lauded restaurant in Singapore that food mavens are sure to have under their radar. Located at Hotel Swissôtel The Stamford, this internationally celebrated restaurant allows you to enjoy Kirk Westaway's reinvention of his native British cuisine whilst basking in the natural Singapore light and the cityscape especially on the 70th floor. If you're planning to propose or spend a romantic night out, this is the place you should visit.
5. béni by Kenji Yamanaka
Japanese reinterpretation of authentic French cuisine with Chef's Table Experience
For those who are wanting to taste Ozaki A5 Wagyu Beef, originating from the Miyazaki Prefecture, this is the place for you! While the Japanese inspiration is rather obvious with the way the restaurant is physically designed, be surprised by their French Contemporary menu. Despite having only one on the comfort and quality score, it is strategically done so for guests to fully focus and be enamoured by their superior standard of dishes.
6. Alma by Juan Amador
From their official website:
"Alma, which is Spanish for soul, brings to the table an unforgettable experience with outstanding dishes shared over great conversations and ambience – the true soul of eating."
Located in the historic Goodwood Park Hotel in Orchard Road, Juan Amador's menu combines Spanish temperament with German precision. Led by Chef Haikal Johari, he introduces an Asian twist into European cuisine and has brought the establishment a Michelin Star for three consecutive years. This venue is also famous for wedding events so if you're tying the knot, consider bringing your guests here!
One of the best Michelin Star restaurants in Singapore, Rhubarb Le Restaurant opened in 2014, by Ched Paul Longworth, Jerome Desfonds & Alice Low-Ang. This is their third year being awarded one Michelin star since 2016. In an intimate setting of only 7 tables, guests are given special attention as they are able to communicate directly with the chefs as they prepare in the open plan kitchen. With a menu that changes based on the season and the freshest ingredients, you can almost definitely experience a new French gustatory adventure here in Singapore.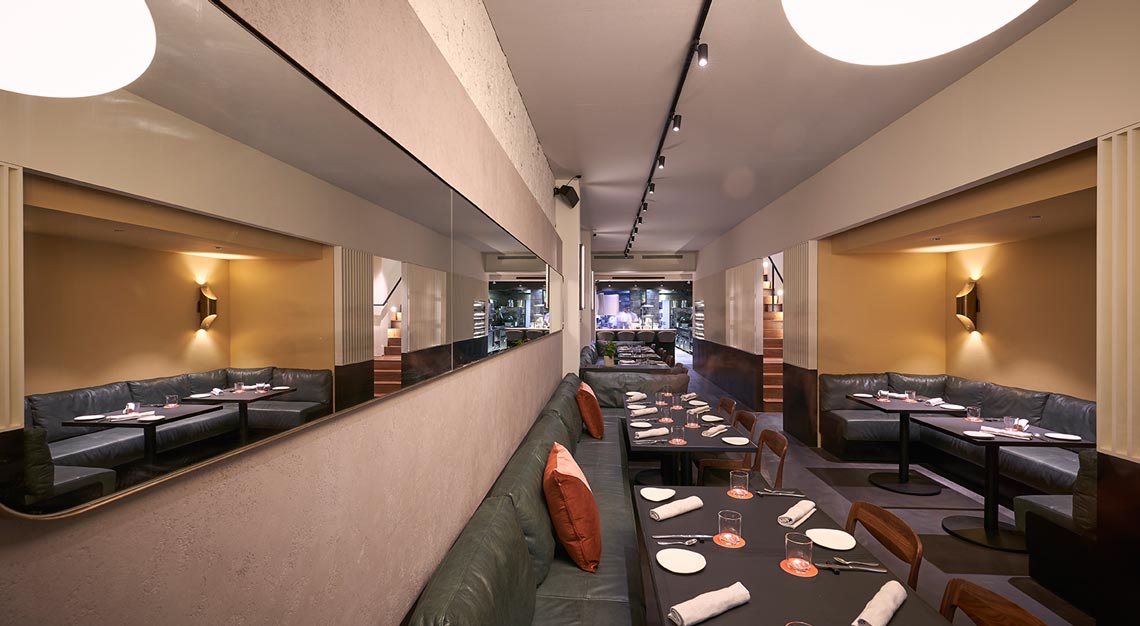 Basque Kitchen is sure to impress those who love seafood. With ingredients mainly sourced from Japan and Basque Country, Chef Aitor utilises his diverse background and culinary achievements to cook up a menu that introduces a slice of his heritage in every dish.
GAIG has a few restaurants in Barcelona. In Singapore, Gaig serves the best Catalan cuisine, inherited from a long tradition of chefs. Inspired by fresh produce and passionate cooking, the menu at GAIG promises a decadent experience. If you're planning to have a try, consider their tapas menu to share for two. With their Squid Ink and Seafood paella and their Jamon (Iberic acorn 5 year cured ham) croquette amongst other delights on their tapas menu, you are sure to experience one of the best Spanish delicacies you can find here in Singapore.
At this establishment, you get the finest yakiniku (焼き肉 translated to be "grilled meat" in Japanese) that you can find on our little island without having to get on a plane to do so. Have a taste of the finest cuts of beef here where you're guaranteed to always have an amazing time.
A visit to Restaurant JAG will surely astonish you with their unique no menu approach. Valuing every customer's dining preference, they seek to provide them with the perfect dining experience of their life. And to achieve this, they use only the finest and freshest of ingredients. In fact, Restaurant JAG gained its fame for its innovative use of wild foraged French herbs from the region of Savoie (They use over 44 varieties in their dishes).
The dining room is a modern, cosy and intimate seating area with a maximum capacity of 25 people at once with provision for the guests to see their food getting cooked by the chefs first-hand. The menu changes on a quarterly basis to include the season's best dishes with each dish layered with awesome flavours and textures. In addition to the delicious menu items, the guests are offered to choose from a collection of 200 wine labels, most of them being from France, the USA, Italy, and Lebanon, and 30 types of sake exclusively from Japan.
You'll find Restaurant Zen on the adjacent of the much-praised Stockholm restaurant Frantzen, which is a three-time Michelin starred restaurant of Sweden, and hence the name. This fine-dining restaurant restaurant offers some of the best French cuisine, and we won't be lying if we say that it might have changed the way Singaporeans view French food forever. The irony is that, this restaurant often tries to keep our palate in consideration too!
Your unique and luxurious dining experience begins from the moment you take your first step into Zen. Choose to experience dinner, drinks, and snacks in their living room, counter-style dining room for your main course, and dessert either on the rooftop or in the living room in front of the fire-place. Their fixed menu price of $450 has all kinds of delectable dishes. Add another $250, and you can pair up your meal with some of the finest wines from their enormous collection.
Some of the menu items include the Hokkaido Scallop with Creamy Vin Juame Miso Beurre Blanc, the Myazawa Beef, and the Frantzen signature dish French Toast. Zen makes no compromise in ensuring that every penny you spend here at the restaurant is worth it and you get the greatest and wholesome experience without any regrets.
Who says that Michelin restaurants need to be expensive and fine-dining? Chef Kang's Noodle House is a one-star Michelin private kitchen that serves some of the most affordable and scrumptious wanton mee with toppings of their famous char siew. You can find this non-descript canteen stall in Tao Payoh Industrial Estate, and it is run by two apprentices of Chef Ang Song, the Michelin-starred owner of Mackenzie Road Chef Kang's.
Both proteges work hard to keep up the name of the Michelin-starred Chef, and we must say that their efforts are more than successful. The combination of their fine-dining experience and the signature char siew-pork belly is a killer. They marinate the pork belly overnight and then roast it in a charcoal oven to a charred, and lacquered finish. This is cut into slices and voila! You get them sizzling hot on your plate.
Another one of their famous delicacies has to be their Jook Sing Noodles or Bamboo Pole Noodles. Imported directly from Hong Kong, these noodles are prepared with eggs, flour, and a dash of alkaline water. The result? A perfect blend of lightness and springiness without a strong alkaline taste. The crispy pieces of lard are the icing on the cake and give it a fragrant crunch. The noodles are served with delicious, milky rich soup with bouncy wontons filled with shrimps, minced meat, water chestnut, and dried flounder.
The world's first Michelin-starred Peranakan restaurant astonishes foodies with their contemporary yet authentic take on the traditional Straits-Chinese cuisine. You get traditional Peranakan cuisine with subtle refinements, and even creative twists to elevate the taste and experience of the dish to the next level. Committed to creating these inspired, and elevated Peranakan dishes, they use only the freshest seasonal produce to create these dishes.
The high ceiling, spacious rooms, bamboo lampshades, and wooden tables make the dining experience wholesome along with the food served by warm and friendly staff. The Head Chef is inspired by his mother and grandmother's experiences in preparing the cuisine with an inventive Indonesian touch. The menu is developed in such a way that every customer gets the satisfaction and wholesome experience they want.
From bite-sized dishes with up to 100 combinations to the 20-course tasting menu, the restaurant ensures that every one of their valued customers is fully satisfied and gets to eat whatever dish they want to without having the regret of not ordering the other ones.
An ode to the Italian love affairs with food and dining, Buona Terra literally translates to 'Good Earth' in Italian. The brain-child of Chef Denis Lucchi, only the finest ingredients from the soil of the Earth are used for creating their contemporary, well-crafted, and creative menu. Some of their noteworthy signature dishes include the Uni Cold Capellini, which is tossed in Piennolo tomato water from Mount Vesuvius in Naples, chives and olive oil from Lake Garda, anchovies 'Colatura', and toppings of ribbons of uni.
Luchhi likes to experiment with childhood Italian recipes with his trademark culinary style and adventures around to create dishes that you never would have tasted anywhere else. Located in a charming colonial bungalow on Scoots Road, Buona Terra gives the best fine-dining experience. The sophisticated interiors evoke the history-steeped colonial beauty of the main black and white bungalow yet fetchingly casual. Glass wine cabinets, quirky paintings on walls and elegant dining space leave the guests with beautiful memories and delicious food.
Are you a fan of steak? Then a visit to CUT should be a must on your list. CUT is a famous Michelin-starred restaurant that specialises in steak and offers a wide selection of beef. They grill this over charcoal, and apple-wood to give it a unique and subtle char. The menu is designed in a way to give you a contemporary twist on your classic steaks. They offer you the world's finest meats, poultry, and seafood. Pair it up with their home-made sauces and delicious sides, and you're in for a treat!
The extensive choices of wine with more than 500 outstanding options to choose from make every wine lover's dreams come true. Besides steak, you absolutely need to try out their bone-marrow flan with mushroom marmalade, Maryland blue crab-cake, and the Kaluga Caviar. Coming to steaks, you can't miss out on their famous prime sirloin 'Steak Tartare'. They even offer a selection of wagyu beef from the USA, Japan, and even true Japanese A5 Wagyu from Sendai Prefecture.
From cashless payments, proximate parking, wheelchair accessibility to the pre-show dinner menu and bar bites, lavish dining rooms, scrumptious food, and even customer safety, CUT takes care of even the tiniest details to give you the ultimate experience.
Coming from humble beginnings, The Famous Kitchen started out as a zichar eatery over 40 years ago, and now they're a famous Michelin-starred restaurant. Truly the heart-warming story of the underdog, and their food speaks to your soul! This restaurant was started by a brother-sister duo, Jeff and Jenny Foo. In fact, many of the dishes in the menu are inspired by their travels around China, Taiwan, Vietnam, Japan and even Korea.
Officially they are a fully Cantonese restaurant, they serve tons of Teochaew, Sichuan, Thai and Singaporean food. Some of their signature dishes include the Lobster Braised Bee Hoon, Steamed Fish with plenty of vegetable preserve, and Salt-Baked Swimmer Crabs. The food is so good that it has won the heart of many, with even local celebrities rating to be their favourite Chinese restaurant in the whole of Singapore. Be sure to visit this place for the food of your life.
Nothing beats enjoying good food while looking at the pretty skies, and Braci understands this perfectly. This charming Michelin-starred restaurant is an exclusive Italian hideway located in the heart of the stunning Boat Quay. Lead by Michelin-Star Chef Restaurateur Beppe De Vito and Chef de cuisine Mirko Febbrile, this restaurant is as modern as the word. Featuring an modern-luxe open kitchen, you get to enjoy authentic Italian cuisine, and the Braci rooftop bar has some of the best views.
Even the interior is beautifully decorated with stylish interiors which create a warm and cosy feeling. Perfect for enjoying those moments with friends and family, we say! You need to try out their cocktails which are unique and crafted to perfection. The open kitchen concept lets guests interact with Chef Beppe De Vito while he prepares the scrumptious dishes using traditional Italian cooking techniques, including josper oven and shichirin grill.
Do remember to reserve a table before you visit them though. They have less guest occupancy and there are many who wish to end their day enjoying the charming vibes and delicious food.
Every foodie has to know about Roti Prata. It is after all, one of the best hawker foods ever. Now this popular hawker-food has made the transition to Michelin-starred restaurants. Springleaf Prata Place offers this famous dish while bringing their own creative and innovative twists to the dish. Traditionally this dish is influenced by Indian flat-bread and comes with curry or dal. Imagine this with both sweet and savoury combinations of cheese, bananas, chocolate and so much more.
The prat is perfectly crispy on the outside, and super doughy inside which is perfect. They're even halal-certified and cater various locations. You can even get your prats made on the spot and fresh! Springleaf has many branches spread across various location making everyone's loved prata within reach. Some of the other delicacies offered by the place include murtabak, thosai, and goreng dishes such as Nasi Goreng, Mee Goreng, Prata Goreng.
Pair them with the sides, and get the perfect Prata dish. Their best-sellers are, the Murta-burger is a combination between the lamb filled murtabak and Ramly burger, Prata Alfredo which combines chunky rosemary smoked chicken breast tossed in a prata filled with creamy alfredo sauce with fresh button mushrooms and mozzarella cheese.
A popular Michelin Bib Gourmand, this is the perfect place for all steamed fish-lovers. This popular restaurant tends to get extremely busy during lunch-hours but the food served here is more than worth the wait! Their speciality, the Cantonese-style steamed fish is a winner and one of the best steamed fish you'll ever come across. The meat is perfectly firm but still soft. Add to that the sweetness and freshness of the fish and voila!
Some of the other signature dishes of this stall include minced meat with salted egg, bitter gourd fried egg, prawn paste chicken, braised pig trotters, meat patties with salted fish, handmade fish cake, braised pork belly and herbal chicken. No need to say that each dish fills your mouth with tremendous flavour. Cooked to perfection, each dish brings you happiness.
At all these named restaurants, it is extremely encouraged to make reservations beforehand since they're very popular (they're on the Michelin list for a reason). Making reservations also helps you manage your expectations since their menus change often. Also, this is the best opportunity for the chefs to take note if you have any special considerations and allergies you may have before serving you the best of what they can offer.
We hope this list of the best Michelin Star restaurants in Singapore was of help to you, or if at the very least, whetted your appetite! If you're feeling something more Japanese, check out our list of the best Omakase Restaurants. Or if you're particularly ravenous today, how about a buffet to satisfy that belly? Happy eating!
Zoya
Queen of Obscure References and occasional writer. When not exercising my thumbs on Instagram, you can find me looking for good author bios on Google.
Related posts
Subscribe for newsletter
* You will receive the latest news and updates on Singapore's best trends!