20 Best Restaurants For Mexican Food In Singapore [2022]
Emily Hopkins, 2 years ago
16 min

read
4603
Fragrant rice, fluffy tortillas, and a flutter of spices: Mexican food has made its way to the top of many a foodie's lists in Singapore. Personally, it is the ultimate comfort food, more so than the most exquisite of desserts!
In celebration of the National Taco Day earlier this month on October 4th, we have identified the twenty best Mexican food here in Singapore. Treat yourself to the cuisines of our amigos from the other side of the globe!
Whether you are planning a dinner date with your fiancée or want some midnight snacks, Papi's Tacos is the perfect place to visit. On your visit, you'll fall in love with the kitchen view which gives you a warm welcome that will completely amaze you. You'll also love the chefs who cooperate and have an in-depth knowledge of Mexican cuisine.
Papi's Tacos offers different types of foods, which gives you the option of selecting your favourite meal from the menu list. If you love vegan tacos, their cooking will surely bring delight to your appetite. Other dishes they offer include Ensalada, Burritos, Torta, Grilled mushrooms, and other plant-based Mexican food in Singapore. Don't forget to also take your much-loved beverage on the menu including; tequila, frozen margaritas, and many other party shots. All in all, a worthy contender for the best Mexican food in Singapore.
Highlights
Catering
Conference and private events service
Food delivery services
Address
39 Seah Stree Singapore 188395
Contact
+65 6258 0701
Business Hours
Sunday – Thursday: 12pm – 2:30pm, 5pm – 9:30pm
Friday- Saturday: 12pm – 2:30pm, 5pm – 10:30pm
Last orders 15 minutes before closing time
Life is never short of dilemmas. Sometimes, you are required to choose. But sometimes, you get to have the best of both worlds. For instance, never again pick between equally-appealing Korean and Mexican fares. Have them both at Vatos Urban Tacos, a Korean-Mexican fusion restaurant.
Vatos Urban Tacos doesn't shy away from the character. The three founders are true-blue Mexican eaters with a special interest in the Land of Morning Calm. They masterfully extract the strength of both cuisines and combine them into innovative dishes like Kimchi Galbi Grilled Cheese.
Slices of sourdough bread flanks marinated Galbi short ribs atop a bed of Mexican cheese and fried kimchi. Attributes of either influencer shine through without eclipsing each other in an explosion of flavours.
Highlights
Korean-Mexican fusion restaurant
3-for-2 on Taco Tuesdays
Innovative fusion dishes
| | |
| --- | --- |
| Address | 36 Beach Rd. #01-03, Singapore 189766 |
| Contact | +65 6385 6010 |
| Business Hours | Check their Facebook for more details. |
Situated on the banks of Singapore River, Café Iguana is a delight to visit at sundown. Accompany the breathtaking sunset view with the delectable Mexican fares.
A good choice would be the Puerco en Chile Verde, a spicy pork stew served with tortillas and sour cream, or the sumptuous Mulato rib-eye. Given the fact that beautiful views are made better with the company, the food comes in generous portions intended for sharing with friends and family.
Chase the flaming food down with a mind-boggling selection of 100% blue agave tequila and Mezcal – more than 100 different labels, to be exact. Otherwise, tap into the Iguana Lager, a beer of Mexican flair brewed specifically for Café Iguana by Brewerkz.
Highlights
Beautiful riverside view
More than 100 labels of tequila and Mezcal
House-special Iguana Lager
Address
36 Beach Rd, #01-03 South Beach Quarter, Singapore 189766
Contact
+65 6385 6010
Business Hours
5 PM – 10.30 PM (Mon – Fri)
12 PM – 10.30 PM (Sat – Sun)
Margarita's aims to please with its food, starting from the entree. Not a single dish disappoints, from the unassuming corn chips to the lavish crabmeat enchiladas. Besides, Margarita's has an extensive alcohol menu, comprising of cocktails, beers, spirits, wines and of course – tequilas and Mezcals.
There are certain gluten-free as well as vegetarian options available. Furthermore, don't hesitate to inform the servers of your dietary restrictions – they are equipped with the relevant knowledge to dole out suggestions accordingly and inform the kitchen of your requirements.
Order for take-out or self pick-up to get 10% off! Simply contact Margarita's via the designated phone number. You can either pay by PayNow or upon pick-up.
Highlights
Enchiladas with swimmer crab meat
Accommodative to dietary restrictions
10% off takeaway and self pick-up orders
Address
Dempsey Hill, 11 Dempsey Rd, Singapore 249673
Contact
+65 6471 3228
+65 9243 0172 (for takeaway and self pick-up orders)
Business Hours
11.30 AM – 10.30 PM daily
At Lucha Loco, the only 'crazy struggle' you will face – the meaning of the name – is picking out a grub to stuff your face with. Fret not, you can get the botanas: small sharing plates of traditional eats, perfect for the fickle-minded who wants to sample a little bit of everything.
The Duxton Hill joint has varying lunch and dinner menus. During the day, customers can opt for the Express Lunch Deals, which include elotes, a main of choice and a drink. At night, the affable servers will gladly cater to large groups, though one should reserve a table at the crowded cocina to avoid disappointment.
Highlights
Islandwide delivery available
Vegetarian options available
Great food and service
Address
15 Duxton Hill, Singapore 089598
Contact
+65 6226 3938
Business Hours
11.30 AM – 10.30 PM (Mon – Fri)
5 PM – 10.30 PM (Sat)
Closed on Sunday
By the same brains behind the wildly popular Lucha Loco, Super Loco is a part of The Loco Group. The outlet has a small collection of tacos and Mexican-inspired main courses.
Among them, the Baja Fish taco employs ingredients sourced from Kulhbarra, a local farm that practices sustainable and ethical barramundi farming. The pescatarian dish highlights crispy crumbed barramundi, mint and cabbage drenched in chilli mango salsa and chipotle mayo.
In addition, you could pay its sister restaurant a visit at the Collyer Quay. There, you can feast upon various appetizing Mexican eats, as well as a panoramic view of the Marina Bay waterfront.
Highlights
Islandwide delivery available
Vegetarian and gluten-free options available
Ethical and sustainable food ingredients
Address
The Quayside, 60 Robertson Quay, #01-13 Singapore 238252
Contact
+65 6235 8900
Business Hours
11.30 AM – 10.30 PM (Mon – Fri)
9 AM – 10.30 PM (Sat – Sun)
Baja Fresh Mexican Grill is a franchise group offering fast-casual Tex Mex cuisines, with an emphasis on fresh. It prides itself on the use of natural, handmade ingredients. The food can cost upwards of $10 but is known to be of shareable portions.
True to its name, the grill bar serves up dishes that bear influences from the Mexican state of Baja, which borders the US state of California. It has a wide range of tacos, as well as burrito bowls accented with fire-grilled proteins. Try the taquitos if you prefer the gratifying crunch of a deep-fried tortilla oozing with fillings. Help yourself to a heap of moreishing salsa at the salsa bar, too.
Note that the outlet at The Sail is temporarily closed.
Highlights
Shareable portions
Vegetarian options available
Order for delivery, takeaway or curbside pickup
Address
Rendezvous Hotel: Rendezvous Gallery, 9 Bras Basah Rd, Singapore 189559
Marina One East Tower: 5 Straits View #B2-37 Singapore 018935
The Sail: 4 Marina Blvd, #01-31A, Singapore 018986
Contact
Rendezvous Hotel: +65 6337 7300
Marina One East Tower: +65 6909 2739
The Sail: +65 6509 6579
Business Hours
Rendezvous Hotel: 9.30 AM – 11 PM daily
Marina One East Tower: 9 AM – 9.30 PM (Mon – Fri)
Closed on Saturday and Sunday
The Sail: Temporarily closed
10 years ago, Alejandro Blanco left his legal profession to address the lack of authentic Mexican grub in Singapore. Rightfully the pioneer in bringing Mexican food to Singapore, Blanco was a dedicated ambassador of the then little-known fare: he imported chillies straight from the source and even set up a tortilla factory to ensure authenticity.
Being one of only two Mexican-owned establishments in Singapore (another being Los Jefes at NEWest mal), feel free to close your eyes and point at a random taco on the menu: it'll be a good one anyway. While there, try the innocent-looking Mezcal. It is a limited-quantity organic alcoholic beverage produced traditionally in the mountains of Oaxaca.
Blanco is also the proud owner of El Mero Mero and the La Mexicana at Chijmes. The former showcases dishes from different parts of Mexico. Meanwhile, the latter is a Mexican grocery store, where you can shop "Margarita Lah!", a take-home party kit of 20 margaritas, freshly squeezed lime and 100% premium agave.
Highlights
One of only two Mexican-owned establishments in Singapore
First taqueria in Singapore
In-house tortilla factory and imported ingredients for authenticity
Address
Clarke Quay: 3A River Valley Road, #01-07 Block A Singapore 179020
Orchard Towers: 1 Claymore Drive, Tower 2 #08-12 Singapore 229594
Contact
+65 6337 6376
Business Hours
5.30 PM – 2 AM (Mon, Tue, Thu & Sun)
5.30 PM – 3 AM (Wed, Fri & Sat)
Guzman y Gomez is a go-to for many Mexican food lovers. Its presence can be found at a multitude of locations, providing the island's residents with easy access to the mouthwatering dishes. The ordering process is akin to that of a streamlined fast food joint, with add-ons of sides and drinks available.
The Australian chain encompasses a standard range of comfort food, among which the burritos are the crowd favourite. Pearly grains and succulent meats are mixed with house-blend salsa and wrapped in a sheet of a flour tortilla, making for a satisfying meal. For those looking for an extra kick, go for enchilada – essentially burrito decorated with chillies.
Highlights
Delivery available on Deliveroo and Grab
Crowd-favourite burrito, upgradable to fajita, enchilada or burrito bowl
Streamlined ordering process
Address
Northpoint City: 1 Northpoint Drive #01-176/177/178 Singapore 769019
The Star Vista: 1 Vista Exchange Green, #01-32 Singapore 138617
Contact
Northpoint City: +65 6254 4979
The Star Vista: +65 6694 2044
Business Hours
Northpoint City: 11 AM – 10 PM daily
The Star Vista: 10.30 AM – 9.30 PM (Mon – Thu)
10.30 AM – 10 PM (Fri – Sun)
As a Californian-style Mexican restaurant, Muchachos has won the seal of approval from multiple American patrons for authenticity. The atmosphere is inviting and amicable, with speedy and friendly services.
Muchachos is an expert at handling meats, which are properly juicy and tender. In particular, they have carnitas burrito and lengua burrito, both of which are hard to come by in Singapore. Respectively, they are a zesty wrap with pulled pork and onion- and garlic-braised beef tongue topped with avocado, the latter of which fitting for more adventurous gourmets.
Highlights
Delivery available via Deliveroo
Friendly, speedy services
Rare finds like carnitas burrito and lengua burrito
Address
Frasers Tower, 182 Cecil St, #01-01 Singapore 069547
Contact
+65 6513 0215
Business Hours
11 AM – 9 PM daily
Closed on Sunday
Mexican food joint Piedra Negra is a lively sight to behold, with outdoor seating set against a backdrop of vividly-painted wall murals on Haji Lane. The ambience echoes the exterior – a symphony of chatter and live music form the soundtrack of Piedra Negra.
Patrons commend the chunky guacamole, served in a stone mortar with a side of tortilla chips. Alternatively, indulge in the Mango Madness Ceviche, a zesty combination of red snapper, fresh mango chunks and serrano chilli. Pair these with a glass of frozen margarita, made of Hornitos Reposado tequila with a dash of Cointreau and lime juice.
Highlights
Chunky, freshly-made guacamole
Delicious frozen margarita
Lively ambience and exterior
Address
241 Beach Rd, Singapore 189753
Contact
+65 6291 1297
Business Hours
12 PM – 11 PM daily
Closed on Monday
Cha Cha Cha is one of the oldest restaurants around locals been visiting for Mexican food in Singapore. Located within Holland Village, it is well known for its complimentary chips, homemade stews, and salsa upon arrival. Cha Cha Cha is a family-friendly hotel with more than 20 years of experience when it comes to Mexican food.
Cha Cha Cha offers various types of meals on their menu list. Some of the dishes that you can enjoy here include meat tacos, Fajitas, beef, Flauta, and many more. Remember to fill your meal with Frozen margarita, especially if you want to make it special.
You'll also notice the friendly staff, quick service, and a superb atmosphere. Bring your friends and enjoy a happy hour!
Highlights
Ample environment
Low-cost food
Great stuff
Decades of experience
Food delivery services
Address
32 Lorong Mambong, Holland Village, S'pore 277690
Contact
+65 6462 1650
Business Hours
11.30 AM – 10.30 PM (Mon – Thu, Sun)
11.30 AM – 10.30 PM (Fri & Sat)
This restaurant focuses on quality food and excellent customer care. El Mero Mero allows you to enjoy Mexican food in a fun and more relaxed setting. The restaurant partners with Comcrop; one of Singapore's rooftop gardens that grows the finest herbs and ingredients used in their meals. So, you can be sure to enjoy some great Mexican food-all at an affordable rate. Besides, you can save up to 30% dining at El Mero Mero.
Some of the foods served here include tacos, nachos alongside frozen margaritas. El Mero Mero is a perfect weekend spot for both family and friends. It is also an ideal place while looking for delicious Mexican food to eat before hitting up major shops in Singapore.
Highlights
Quality food
Great staff
Affordable rate
| | |
| --- | --- |
| Address | 30 Victoria Street, CHIJMES, #01-20, S'pore 187996 |
| Contact | +65 9722 8171 |
| Business Hours | 12.00 PM – 10.30 PM (Mon – Sun) |
Superitto prides itself on yummy, contemporary, and fresh Mexican food here in Singapore. You will get obsessed with their tacos. From braised beef brisket to pork belly, there are plenty of dishes it offers.
Get yourself a favourite bowl of rice served with healthy ingredients such as sweet corn, sweet potatoes, and others, and delight in their tantalizing meal. You will also love their churros and nachos available on their menu in case you are craving a special treat!
Highlights
Quality food
Delivery services
Affordable rate
| | |
| --- | --- |
| Address | Paragon, 290 Orchard Road, B1-K25, Singapore 238859 |
| Contact | +65 9658 0769 |
| Business Hours | 10.00AM – 9.00 PM (Mon – Sun) |
Chicanos is an amazing restaurant where you can turn to the famous yet special west creations such as fried mantou, grilled chicken, sriracha mayo, and more. Their menu boasts mouth-watering dishes, so you can come for a family-style dinner menu for sharing.
At Chicanos, you can be sure to get yourself Mexican food stuffed with yummy tacos and burritos. Their beef chilli fries are another reason you need to reserve a table here.
Besides being the crowd-pleaser, their breakfast also features scrambled eggs and other great dishes. Visit them for Tokyo iced tea and get to refresh your long day.
Highlights
Quality food
Food delivery services via Foodpanda
Fast services
Address
33 Bali Lane, Singapore 189869
Contact
+65 9131 8355
Business Hours
5 PM – 10.30 PM (Mon – Sat)
Closed(Sun)
El Patio is one of the best restaurants in Singapore for an amazing happy-hour lunch deal.
The restaurant is completely a beauty! Their dining tables are impressive while its interior and exterior decorations are extremely attractive and welcoming. Although prices are a bit high than the adjacent neighbour Cha Cha Cha, be sure to expect quality food.
The hotel offers a wide selection of menu, including your favourite beef tacos, which comes on a tender tortilla bed. Their fresh juices, fajitas, and smoothies are another reason why you should visit El Patio.
Highlights
Quality food
Attractive with good ambience
Friendly staff
Address
34 Lorong Mambong, Holland Village, S'pore 277691
Contact
+65 6468 1520
Business Hours
1 PM – 11 PM (Mon)
12 PM – 11 PM (Tue – Sun)
Hombre Cantina is a Mexican hotspot with a great ambiance and delicious menu, including tacos and divine cocktails. If you love Mexican burgers, then this is your to-go restaurant.
Hombre Cantine offers quick service, and their food is good. No lengthy waiting hours; all you need to do is order your Mexican favourite and burrito, choose your meat, and select your salsa and additions.
Hombre Cantana is one of the much-loved restaurants for working individuals lunch, especially for a few drinks and some delectable Mexican cuisines. But what makes this restaurant a season winner is the stylish interior that is quite alluring. For couples who prefer a relaxed dining experience, this might be a perfect place to enjoy.
Highlights
Free Wi-Fi
Fast service
Delicious meals
Address
53 Boat Quay, Singapore 049842
Contact
+65 6438 6708
Business Hours
12 PM – 00.00 PM (Mon – Sat)
Closed (Sun)
Imagine sitting on the 45th floor in Singapore Land Tower, overlooking the sunset at Marina Bay, some churros and Margaritas rightly in your hand. Make that scene a reality by visiting Les45.
The restaurant offers a variety of dishes in their menu option. You will love their cooking. Everything tastes delicious and fresh. From chipotle to taco to guacamole, you won't miss something here. You can also have your favourite drinks served in Mexican style. Definitely, the best Mexican food with a view in Singapore.
Contact them if you want to host a seminar or a private event. You will get impressed by how Les45 will bring the Mexican feeling into your event place.
Highlights
Ample environment
Order Online
Great staff
Delicious meals
Address
50 Raffles Place Level 45-03 Singapore, Singapore 048623
Contact
+65 6221 9555
Business Hours
11 AM – 11 PM (Mon – Fri)
Closed (Sat – Sun)
El Cocinero is one of the most noteworthy restaurants in Singapore providing delicious dishes and drinks that brings oomph to any celebration. Well known for serving customers with the best burritos, the restaurant also includes some tacos, quesadillas, and nachos in their menu list served along with guacamole for the best flavour.
El Cocinero is an affordable restaurant known to offer Mexican-inspired cuisine. A vibrant yet casual eatery thanks to its conducive environment, which can allow intimate gatherings. Contact or visit their website and reserve your table.
Highlights
Food delivery
A wide selection of dishes and flavours
Order online
| | |
| --- | --- |
| Address | Novena Regency 275 Thomson Road, #01-45 Singapore 307645 |
| Contact | +65 8307 5163 |
| Business Hours | 11 AM – 2.30 PM & 4.30PM – 9.30 PM(Mon – Sun) |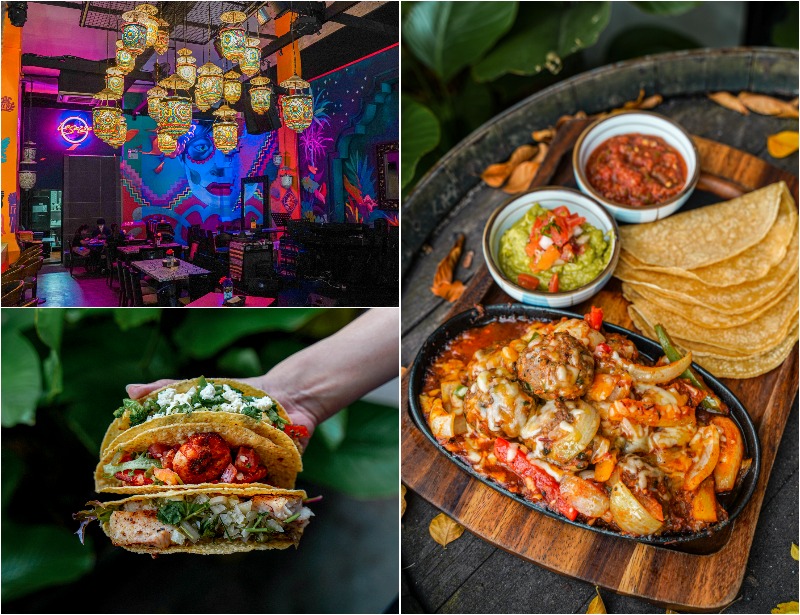 Are you looking for cocktail party ideas? Look no further than this fine contender. The hotel features vibrant accommodation that can surely make your dining experience more fun and a little bit relaxed.
Featuring live entertainment, La Salsa bar-restaurant also offers a variety of dishes on their menu list. The hotel hosts a lot of chefs ready to serve you discreetly. All their main dishes are prepared using exquisite flavours from different Latin regions to ensure customers get the taste they deserve.
You can also expect discounted meals like Tacos, Tortillas, Burritos, and all kinds of special dishes on their menu offerings. To make it more special, they serve their homemade sauces along with your favourite meal. So, bring your family and friends and enjoy some party platters.
Highlights
Daily promotions
Private bookings
Event hosting
Live entertainment
Address
11 Dempsey Road #01-17 Singapore 249673
Contact
+65 6475 6976
Business Hours
11.30 AM – 10.00 PM (Sun – Thu)
11.30 PM – 10.00 PM (Fri & Sat)
So, there you have it: our top picks for the best food in Singapore to quench your Mexican appetite. Be it the traditional cooks or the creative experimentalists, it's ultimately a matter of personal preference who rises to the top. Guess there's only one way to find out 🙂
Emily Hopkins
I'm an accomplished and detail-driven content writer with copious experience in producing compelling, engaging and flawless content for a variety of blogs and websites for several years.
Related posts
Subscribe for newsletter
* You will receive the latest news and updates on Singapore's best trends!
Trending Posts
May 30, 2023

What is Matcha? Matcha...

May 31, 2023

TLDR: In this article,...

May 31, 2023

TLDR: As an audio...