15 Best Mentaiko Pasta Places in Singapore [2022]
Joanne, 3 years ago
12 min

read
6957
Mentaiko Pasta is a simple Japanese-style pasta sauced with olive oil and spicy cod roe. The dish is creamy, salty, and savoury all at the same time, and because of that, it has slowly become a classic in many Japanese-Italian restaurants in Singapore. Over the years, talented chefs in Singapore have experimented with the ingredient, and as a result, created a plethora of mentaiko dishes such as mentaiko fries and mentaiko sushi roll. Today, we go back to the classic Mentaiko Pasta that we all love to indulge in. Read on to find out about the Best Mentaiko Pasta Restaurants in Singapore for you to satisfy that pasta craving of yours!
Highlights:
Great place for late-night gathering
Authentic Japanese cuisine
Affordable
Located conveniently at Cuppage Plaza, Keria Japanese Restaurant is the place to go if you are craving for authentic Japanese cuisine. A dish that is popular in the restaurant is their version of mentaiko pasta. The dish looks deceptively plain and simple looking, but when you taste it, it is a mouthful of flavours! The dish even comes at a very affordable price.
If you look at Keria Japanese Restaurant's website, you would see that it is wholly in Japanese. Furthermore, the restaurant is usually crowded with its Japanese customers! You can be sure that you are getting the true Japanese and mentaiko experience here!
So, if you wake up at midnight and have a sudden craving for mentaiko pasta, head to Keria Japanese Restaurant!
Address
no. 5 koek road #B 01-28, Cuppage Rd, 228796
Contact Number
6733 0654
Business Hours
Monday – Saturday 6 AM – 1 AM
Sunday 6 AM – 10.30 PM
Highlights:
Classic Japanese cuisine
Fresh and high-quality ingredients
Fine dining ambience
Torio Japanese restaurant offers affordable Japanese fine dining and is just a short walk away from Telok Ayer MRT Station. The restaurant is headed by a chef with 20 years of culinary experience and promises to deliver the freshest food coupled with the best service, all at an affordable price that will not break the bank.
Torio's take of mentaiko pasta is their popular Sakura Ebi Pasta. The dish is a unique combination of fragrant truffle oil with the sharp, slightly salty crispiness of Sakura Ebi, as well as the crunchiness of Tobiko Roe. This decadent dish is a feast for the eyes and the taste buds. You are sure to come back for more!
| | |
| --- | --- |
| Address | 50 Tiong Bahru Rd, #01-01 Link Hotel, Singapore 168733 |
| Contact Number | 6514 0115 |
| Business Hours | Tuesday to Sunday 11.45 AM – 2.30 PM, 6 PM – 10 PM |
Highlights:
Convenient location
Homemade mentaiko sauce
Beautiful café setting
This specialty coffee café is located right next to Pasir Panjang MRT. The minimalistic café offers both indoor and outdoor seating and is a great place for a date. The Kin's Specialty Coffee offers brunch food as well as pastries and dessert, and many people flock there for their sumptuous mains as well!
Their mentaiko pasta is served with their homemade creamy mentaiko sauce. While it looks like a simple looking dish, it packs a punch.
Furthermore, it doesn't hurt that the dish as well as the café itself is highly instagrammable!
| | |
| --- | --- |
| Address | 2 Jln Mat Jambol, #01-08/09, Singapore 119554 |
| Contact Number | 8286 2230 |
| Business Hours | 9 AM – 7 PM, Closed Wednesdays |
Highlights:
Unique Mala Mentaiko Mayo sauce
Multiple locations
Free islandwide delivery for orders above $50
If you are looking for something different instead of the usual spaghetti, Salmon Samurai has just the option for you. Their Mala Mentaiko Salmon & Udon Noodles features fresh sashimi slices topped with mala mentaiko mayo sauce that are seared to perfection. The Mala mentaiko mayo sauce gives you that slightly numbing spicy twist! The dish is uniquely paired with udon noodles that are cooked perfectly al dente.
The dish, priced at $9.90 is also extremely affordable. You do not have to empty your pockets to get that Mentaiko craving satisfied. Salmon Samurai offers free island-wide delivery for orders above $50. So what are you waiting for? Gather your friends for a dinner date now!
Address
100 Tras St #01-11
Singapore 079027

10 Collyer Quay #B1-08
Singapore 049315
Contact Number
6543 6823/ 6634 8593
Business Hours
See website
Highlights:
Multiple branches
Affordable dining
No GST & Service charge
Because most of us are familiar with Saizeriya, the restaurant almost needs no introduction. Saizeriya first established in Singapore in 2008 with the philosophy to provide value for money Italian style meals for all. With an extensive menu, you would surely find something that is to your liking.
Saizeriya's Mentaiko Flavor Shrimp & Broccoli is one of the brand's most popular items. The classic dish of pasta with shrimp & broccoli served in mentaiko flavoured sauce only costs $6.90. Furthermore, the brand does not charge GST or service charge. It is a great place for the budget-conscious.
Highlights:
Ingredients are directly imported from Italy
Popular brand across Japan, Korea, and Singapore
Pasta is their signature dish
With over 198 outlets across the world, Yomenya Goemon is not a stranger to most of us. Its menu consists of 50% Japanese-style spaghetti and 50% authentic Italian spaghetti. Interestingly, all of their dishes are served with chopsticks. The brand uses only selected produce, such as pasta, olive oil and Parmigiano- reggiano ordered directly from the factories in Italy daily.
The restaurant offers two mentaiko pasta options to cater to both seafood lovers and meat lovers. One is topped with shrimp and mushroom, while the other is served with pork, bacon, and Japanese pickles. With pasta as their signature dish, you are sure to be satisfied with this dish!
| | |
| --- | --- |
| Address | 1 Vista Exchange Green, #02-04 The Star Vista, Singapore 138617 |
| Contact Number | 6694 3570 |
| Business Hours | 11.30 AM – 9.30 PM Daily |
Highlights:
Served with handmade Tagliolini flavoured with squid ink
Affordable Italian food
Multiple branches
PocoLoco serves authentic Italian food at an affordable price. Their Tagliolini Neri caserecci in salsa Mentaiko is a new variant of the original Japanese recipe. The dish has both the sea flavours of mentaiko and squid ink and the hot fragrances of paprika, the main ingredient of mentaiko. Their Tagliolini is also handmade daily in the store to assure freshness and quality.
If you are feeling it, pair the dish with a glass of their white wine for a perfect Italian experience.
Address
215f Upper Thomson Rd, Singapore 574349

103 Irrawaddy Rd, #02-08, Singapore 329566
Contact Number
8866 4646/ 8699 6664
Business Hours
See website
Highlights:
Tonkatsu specialty restaurant
Headed by Japanese chefs
Traditional Japanese ambience
Imakatsu is popularly known for its authentic Japanese Katsu. Not many people know that they serve a range of cold and hot udon that those who have tried really love. For mentaiko lovers, the restaurant offers Mentaiko Hot Udon and Mentaiko Cold Udon at an affordable price of $13.80. The special soup is boiled with bonito stock and their mentaiko is from the Fukuoka prefecture in Japan. After trying their chewy noodles, you will be tempted to order a second bowl!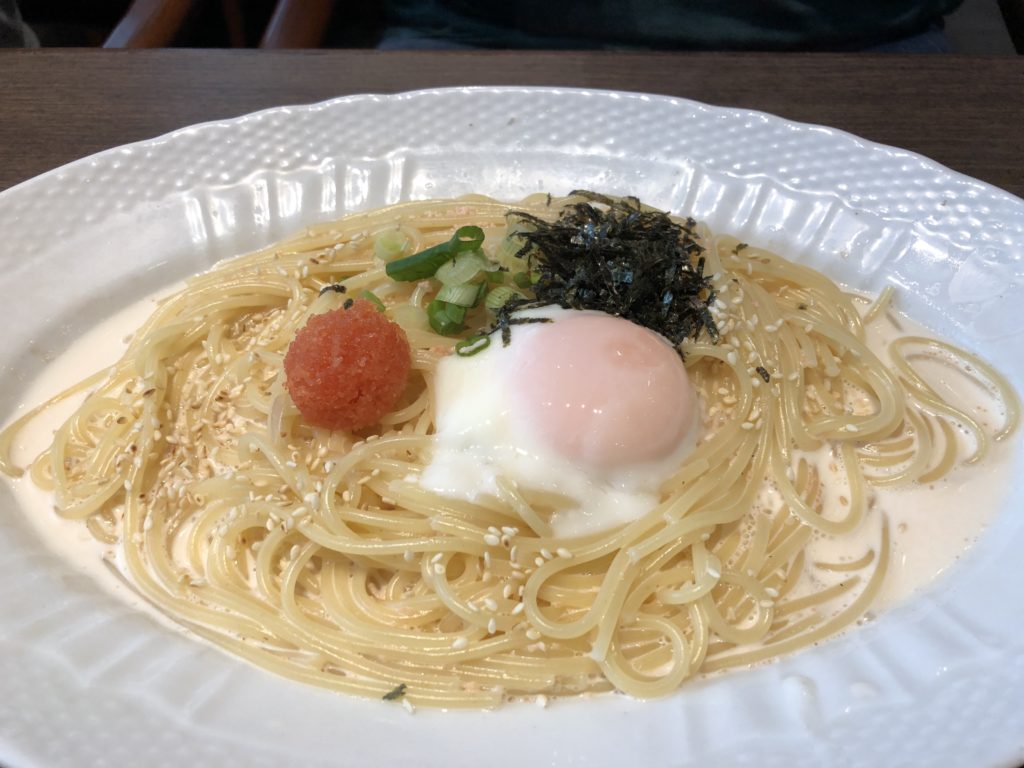 Highlights:
Multiple outlets
Very strong mentaiko flavour
Served with onsen egg
Hoshino Coffee is a Japanese chain with multiple outlets across the island. Many of us know Hoshino Coffee for its special hand-dripped coffee and beautiful pancakes. But not many know that they serve a delicious Mentaiko Carbonara. While the dish itself looks light, it actually packs a punch in the flavour department. Mix in the onsen egg that they cooked with love, and you get a thickened sauce that coats perfectly on the al dente pasta.
Highlights:
Extensive menu of food, drinks and desserts
Multiple outlets
Affordable
Maccha house is a maccha-themed restaurant that specializes in maccha-based drinks and desserts. Their food menu also does not disappoint. With Ramen, Bento, and Japanese spaghetti, there is something for everyone. Maccha House's take of a mentaiko pasta is their Mentaiko Carbonara Udon with Onsen Egg. Head down to one of Maccha House's branches to enjoy this bowl of udon in mentaiko-infused creamy based sauce, topped with bacon, parmesan cheese, an onsen egg!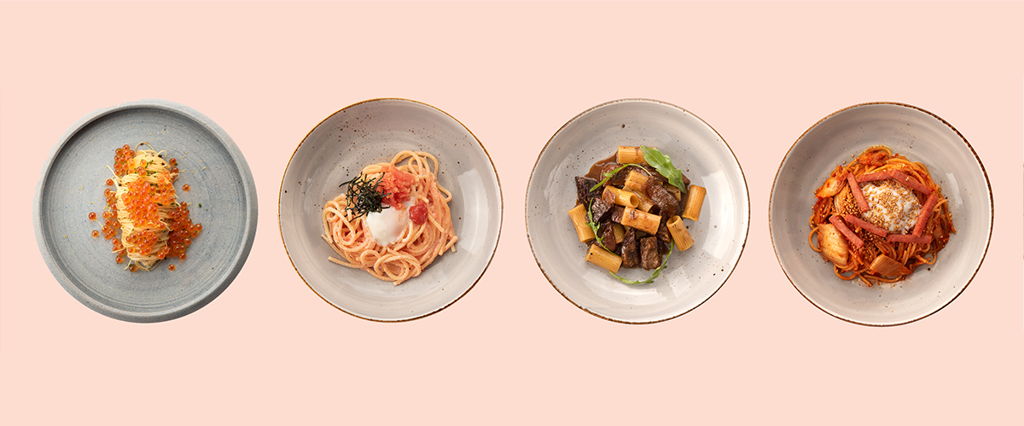 Highlights:
Extensive menu offerings
Fresh handmade pasta and pizza
Casual yet elegant ambiance
The name LINO comes from the word linen, which is used to cover pizza dough as it leavens – a traditional method that helps the dough naturally ferment without interference. Their food is rooted in this same philosophy of utilising classic cooking techniques that allow flavours to develop naturally and honestly, delivering an experience that warms the heart and touches the soul.
LINO Pizza & Pasta Bar specialises in fresh, handmade pizza, pasta, and small plates, and offer a unique beverage program focused on wine, craft beers, artisanal cocktails, digestifs, and coffee. LINO is your go-to Italian restaurant that provides a casual yet elegant dining experience with both indoor and alfresco seating.
If you love the typical mentaiko pasta, you will definitely love their version of it. Find in their menu a Mentaiko chitarra with soft boiled egg, cream, plum and seaweed. While this is a fan favourite, LINO Pizza & Pasta Bar also serves a wide variety of other food options.
| | |
| --- | --- |
| Address | 1 SCOTTS ROAD, SHAW CENTRE, #03-23/24, Singapore, 228208 |
| Contact Number | 89403873 |
| Business Hours | 12 PM – 3 PM, 6.30 PM – 8.30 PM, Daily |
Highlights:
Free delivery above $100
Premium ingredients
Freshly sourced ingredients
OosterBay had its humble beginnings as a seafood wholesaler. There was a recognition that there was a growing market and demand for good quality seafood at competitive prices. Hence, OosterBay was born to bringing you the highest quality seafood and sashimi at wholesale prices by cutting out the middle-men.
When the founders came up with the name 'OosterBay' they had a vision of an ecologically sustainable and environmentally pristine environment, whereby all kinds of seafood are available in abundance. At OosterBay the team hopes that you enjoy the seafood that they have sourced from all over the world and are able to bring to your doorstep.
The team at Oosterbay has recently added to their menu a mentaiko pasta dish in the form of a highly addictive dish of Uni on Angel-Hair Pasta with Mentaiko Sauce and Karasumi Shaves. While it is slightly pricey at $38 per serving, you will surely enjoy the decadance that the bowl of pasta would accord you!
So, if you are looking to treat yourself this weekend, keep Oosterbay in mind!
| | |
| --- | --- |
| Address | 7500A Beach Road, #B1-313, The Plaza, Singapore 199591 |
| Contact Number | 9838 8209 |
| Business Hours | Monday to Saturday: 9 AM – 6 PM |
Highlights:
Unique fusion food
Extensive menu
Fresh ingredients
If you love the fusion of foods, Chug Chug Tanjong Pagar is a great option for you. The team at Chug Chug is constantly experimenting and coming up with new dishes, keeping their menu fresh for customers. From the choice of our delicious food fare to their extensive selection of drinks, there will be something for everyone!
Opened in 2017, Chug Chug Tanjong Pagar serves Chinese-Western fusion where you can find some of our best creations such as the Fiery Mala Pasta, Fried Mushrooms with Curry Cream and Scallop Mentaiko Pasta! Their Scallop Mentaiko Pasta is a crowd favourite. Just search it up on google!
Featuring fresh scallops from USA, the creamy pasta is fragrant from the chef's addition of chives. The consistency of the cream is also perfect, and will not make you feel like it is overpowering.
For good vibes and good food, do check Chug Chug out!
| | |
| --- | --- |
| Address | 114 Tg Pagar Rd, Singapore 088529 |
| Contact Number | 6224 5113 |
| Business Hours | 5.30 PM – 10.30 PM, Daily |
Highlights:
Affordable
Cozy ambiance
Extensive menu
Ma Maison is a French for "my home". The restaurant is a great place to celebrate special moments with family and loved ones in a cozy home-like ambience. Having been in the business for 37 years now, Ma Maison has expanded its horizon and has over 25 branches across Japan and Singapore.
The founder of Ma Maison wanted to serve people with tasty wine and the fantastic taste of demi-glace sauce with western cuisine. He also wanted to do so at affordable and reasonable prices. Today, Maison Singapore offers some of the best Japanese and Western cuisine in Singapore, serving a tantalising collection of dishes that are suitable for family gatherings and large groups. From Ikasumi Curry Rice to Sizzling Hamburger its extensive menu is reflective of the restaurant's efforts to cater to every palate.
Their version of mentaiko pasta is a Mentaiko Spaghetti with Mushrooms, Onions, Clams, Baby Prawns, and of course, Mentaiko. The affordable plate costs just $16.80 and is packed with ingredients. True to its vision, Ma Maison Singapore offers affordable and delightful food in a cozy environment!
| | |
| --- | --- |
| Address | 200 Victoria Street # 02-51 Bugis Junction |
| Contact Number | 63384819 |
| Business Hours | 11.30 AM – 10.30 PM, Daily |
Highlights:
Reasonably priced
Unique flavours
Premium ingredients
Takeshi Noodle Bar is a new concept nestled within Hotel Soloha; a new boutique hotel that had opened just beside Hotel 1929 along Teck Lim Road, which is a street just slightly downwards from Keong Saik Road. This noodle bar focuses on serving up a modern take on Japanese ramen with the fusion of Western and other Asian elements.
At first glance of Takeshi Noodle Bar's menu, you would realize that the brand actually serves up quite a limited food menu. They have only three styles of Ramen, with each carrying a unique fusion element. The brand also offers a small menu of sides for you to choose from.
However, each menu item offered is done with superior quality and standard. Their Truffle Mentaiko Linguini is a crowd favorite! Topped with irresistible quality Aburi Salmon and Ikura, we are sure you would love this dish.
All in all, Takeshi Noodle Bar is a great place to head to for affordable, unique, and high quality food!
| | |
| --- | --- |
| Address | 12 Teck Lim Rd, Singapore 088387 |
| Contact Number | 9232 8457 |
| Business Hours | Wednesday to Monday: 12 PM – 3 PM, 5 PM – 10.30 PM |
If your stomach growled as many times as mine did when I was rounding up this list of Best Mentaiko Pasta Restaurants in Singapore, perhaps it is time to call up a few friends for some Mentaiko madness!
Related posts
Subscribe for newsletter
* You will receive the latest news and updates on Singapore's best trends!