31 Mattress Toppers in Singapore To Help You Get Quality Sleep [2022]
Emily Hopkins, 3 years ago
29 min

read
8955
What can be done to maintain a bed's level of comfort for continuous daily perfect rest? The answer is simple – having mattress toppers as a bed fixture can provide you with ease of sleep.
Say goodbye to bad sleep days!
After a whole day of hustling, a good rest is highly important to keep us highly refreshed and productive for the next day's work.
As we toss and turn on our mattresses, it will reach a point where our sleeping nest can degrade to uneven levels. It is definitely not ideal to sleep on compacted bumpy surfaces as it puts us at risk of developing back problems.
Our top 3 picks for the best mattresses toppers have been singled out based on comfort, versatility and the ability to offer you with an ultimate revitalizing sleep. We are delighted to feature these long-lasting mattress protectors, which have great health benefits, and are also extremely comfortable to sleep on.
Company
Position
Features
Link
Origin Mattress Topper

✔️Memory Foam
✔️Cooling gel beads
✔️Made and designed in Germany
✔️Highly durable
✔️Ergonomic contour support
✔️Removable cover
✔️From $159
Visit Site
Origin Sleeps Mattress Topper

✔️Hypoallergenic & machine washable
✔️Orthopedic design, anti-odor and anti bacterial
✔️Free delivery with10 year warranty
✔️30 day risk free trial period
✔️100% moneyback guarantee
✔️From $399
Visit Site
Luxe Collection Super Cooling

✔️100% cotton
✔️Soft, fluffy and comfortable
✔️4 corner elastic bands for easy fit
✔️Box quilted
✔️From $79.90
Visit Site
So, how does a mattress topper benefit you? A mattress topper is just like a mattress enhancer tool. You can simply use it to adjust the comfort levels of any old mattresses.
Reasons Why You Need a Mattress Topper
There are several different benefits of using a mattress topper. They include:
i. Offers extra comfort
A mattress topper can undoubtedly rejuvenate the comfort of your mattress and make it cozy again giving it a new lease of life. Besides some toppers aid to soothe body pains and aches by molding to your body shape and easing pressure for a more comfortable night.
ii. Increases the lifespan of your mattress
Mattress toppers will take some pressure off your mattress preventing it from quickly getting worn down.
iii. Keeps your mattress clean and fresh
Mattress toppers prevent dirt and dust from your mattress thus keeping it fresh and clean for longer. Some are entirely hypoallergenic thus ensuring a sneeze-free night. Additionally, they are easy to clean and much less time-consuming compared to cleaning your mattress since they are washable.
iv. Saves you money
A mattress topper gives your mattress a new lease of life and extra comfort. For this reason, you won't have to buy a new one soon since your mattress will feel brand new again.
v. Changes the feel of your mattress
If your mattress feels a bit too firm, a softer mattress topper will help change its feel. Also, if you need a little extra support for your mattress, a firm topper will provide this extra support.
vi. They're versatile
Contrary to mattresses, you can substitute mattress toppers or take them off to conform to your needs. You can remove them during the summer months when it's too warm and put them back during winter.
How to Take Care of Your Mattress Topper
The precise approach to cleaning a mattress topper depends on how dirty it is. If it's just the basic mattress topper cleaning which only needs to refresh and deodorize, a simple baking soda cleaning will be adequate. In case there's some spillage, you may need to use a gentle cleaning agent like an enzyme cleaner or white vinegar.
In most cases, a simple solution of water and white vinegar I an effective all-natural cleaner for a mattress topper. If there are stains, you may need an enzyme cleaner, dish soap, vinegar, and hydrogen peroxide for very tough stains. You can also use a gentle cleanser to eliminate odors and reduce the chances of permanent stains
How to Select a Mattress Topper?
There are many factors to consider before getting your own mattress topper. We will talk about 3 main considerations: Materials, Size, and Your Needs.
Type of Material
Before you decide to purchase a mattress topper, it is wise to note the four common types of materials available in the Singapore market. Each mattress topper material comes with its own advantages and disadvantages. As such, we recommend that you understand the various materials and deem which one best suits your preference for selection.
i) Cotton
This material provides a soft cozy feel and is machine washable. If you're down with allergies, cotton can help alleviate such skin challenges. Unfortunately, its sturdiness has issues while using this on a daily basis can wear this material out fast. Therefore, this is not ideal for durability wise.
ii) Memory Foam
Memory foam is indeed a highly viable material alternative. This material has the ability to adjust to your body curves. Simultaneously, it provides additional support and comfort. However, the only setback is that it tends to trap heat easily. Fortunately, there are still models in the market for a night of cool quality sleep.
iii) Latex
Latex mattress toppers are a good deterrent against nasty dust and bed parasites. Some of these toppers are known to last as long as 20 years! The flipside of this is that it can look rather discolored and aged with small tears around. If you're able to admire such aesthetic value, then this might be the right mattress topper for you! Besides, you can top it up on a latex mattress for maximum comfort and durability.
Read here for our list of latex mattresses recommended for you to buy if you are looking for latex options!
iv) Featherbed
If you're looking for a general cushy feel, the featherbed mattress topper provides that seamlessly. It is softer than cotton and is lightweight in nature. This material delivers very optimal heat regulation and keeps you cool when it hits high and humid temperatures. The downside of this is that featherbed toppers use feathers from birds such as geese. You may consider obtaining the animal-friendly ones that use stuffing sources via ethical non-cruel means.
Size
Finding your bed topper size should be easy since most mattresses use universal sizing. For those who have a hard time differentiating between the sizes, this sizing guide will be helpful.
| | | |
| --- | --- | --- |
| Sizes | Dimensions | Suitable for |
| Single | 190cm x 91cm | 1 child/ petite adult |
| Super Single | 190cm x 107cm | 1 adult |
| Queen | 190cm x 152cm | 2 adults |
| King | 190cm x 182cm | 2 adults + 1 child |
Your Needs
Are you looking for a durable topper? Or perhaps comfort is the key decider? All in all, it really depends on your needs and preferences. For instance, if you prioritize durability, you might opt for Memory Foam instead of Cotton Toppers. Cotton is known to wear out faster as compared to Memory Foam.
Or you prefer cleanliness over bad aesthetics? In this case, you can opt for the Latex mattress topper. It is effective against dust and parasites, but it gives out a very used feel.
Indeed, mattress toppers are certainly effective in maximizing our sleep comfort levels. To simplify your topper choosing process, we present you with a list of our top 10 best mattress topper picks in Singapore.
Highlights:
Cooling gel
Durable
Firm base
Having trouble sleeping? Don't worry, we have Origin's Contour® Ergonomic Memory Foam Mattress Topper. It is designed to allow free airflow within its open cell. The mattress topper is known to be the softest and coolest as compared to other mattress toppers in the market.
The mattress topper is infused with high cooling gel beads, making it comfortable with air flowing beneath while you sleep.
Secondly, it is made of high-quality foam and natural materials. This topper is long-lasting together with its removable cover, which makes cleaning easier.
Thirdly, the Contour Memory Foam is a highly durable material that returns to its original form when not in use. Its increased density allows you to keep your bed in shape and sleep on it too!
Lastly, this cloud-like topper relieves you of bodily discomfort and back pain by adapting to your body. If your partner tosses often, this Origin mattress topper minimizes partner motion disturbance and creates a firmer base for more comfort.
In addition, all products purchased on Origin Sleep will be entitled to free same-day delivery. Customers can either choose the express delivery option to have it delivered within the next 2 hours, or choose a time-slot of their preferences.
Get your mattress topper today ranging from just $159.00 to $249.00! Your purchase comes with a warranty that lasts 3 years. In addition, it will be a risk-free purchase that offers a 7 Day Free Return.
If you are interested in completing a set with their Origin mattress, do check out our Origin Mattress Review. We tried it and we love it!
| | |
| --- | --- |
| Address | Mactech Building 2 Kallang Pudding Road #02-04, S349307 |
| Contact Information | +65 6977 9637 |
| Business Hours | 11.00 am to 5.00 pm, Daily |
Highlights:
Superior quality
Easy to clean
Designed in Germany
30-day trial
Origin Sleeps is a brand that offers sleep accessories that are constantly evolving. Having gone through dozens of sleep trials, more than 10 different product tests and 100 density changes before making it to market, you can rest assured knowing that you will be getting the best quality out of their products.
Designed in Germany by a team of experts, the team is confident that their products will prove to be one of the best available in Singapore, matching even the best and highest priced brands in terms of features and function. Besides, the brand offers free delivery and a 30 days trial. If you are not satisfied with your purchase, the brand will take it back and offer you a full refund. Talk about confidence in their own products!
Origin Sleeps offers two types of mattress toppers: Sleeps Hybrid® Mattress Topper and Sleeps Artic Cool™ Mattress Topper. Sleeps Hybrid Mattress Topper allows you to experience a refreshing sleep again by transforming even the most tired mattress with their trademark foam and springs comfort. Featuring a Super Soft Artic Cool™ and a Carbon Soft™ Open Cell Memory Foam, you will be able to enjoy a cooling deep sleep with enhanced breathability. Furthermore, the mattress topper features a 3000 MicroSpring Layer which helps to isolate motions. If your partner moves about in his or her sleep, you will not be disturbed.
On the other hand, their Artic Cool™ Mattress Topper helps to induce deeper and more relaxing sleep with a trademark foam and cooling technology, giving you quality sleep to be recharged and ready for the new day! This mattress topper sports Artic Cool™ Gel Beads that help to maintain a cooling temperature. It also features a high-density support layer for better ergonomic back support.
Both mattress toppers feature a removable cover so that you can clean it easily. They are also designed with comfort in mind with anti-odour, anti-bacterial, and hypoallergenic properties.

| | |
| --- | --- |
| Address | MactechBuilding 2 Kallang Pudding Road #02-04, S349307 |
| Contact Information | +65 6977 9637 | enquiry@originsleeps.com |
| Business Hours | 11.00 am to 5.00 pm, daily |
Highlights:
Machine-washable
Lightweight
Cooling effect
Luxe Collection mattress cover has the best cooling effect for hot sleepers. It's ideal for the spells of hot weather in Singapore. Especially on humid days when the temperatures are unbearably hot, you are bound to sweat in the heat.
The Luxe mattress topper is perfect as you will sweat less since the mattress absorbs body heat. It is also made from breathable and safe materials, making it allergy-friendly to the skin.
Luxe cooling mattress topper is an excellent choice for those who have a hard time sleeping. These are often people who work for long hours and often deal with insomnia. With the cooling mechanism of this topper, you will be able to sleep in a comfortable environment.
This mattress topper is also very easy to wash due to its lightweight and the ability to be machine washable.
| | |
| --- | --- |
| Address | 4003 DEPOT LANE #01-89 SINGAPORE 109757 |
| Contact Information | +65 9816 1868 |
| Business Hours | 24 hours, Daily |
Highlights:
Affordable
Natural grassy fragrance
Very soft
This is Singapore's number one mattress topper crafted with the Japanese Lifestyle Tatami concept. Just like other tatami range of products, this mattress topper is handcrafted using authentic igusa rushes from Kumamoto. It comes with a low price tag but of very good quality.
It gives off a distinct grass-like fragrance that is naturally relaxing. This is similar to the benefits one gets from forest therapy.
During hot weather, the Tatami mattress topper tends to be very comfortable. It keeps the body cool, therefore, you may not need to turn on air conditioning during the warm nights.
Moreover, the tatami mattress topper also serves as an easy-to-clean, play, and tummy time mat for kids and babies. It is also very affordable and lasts a long time with proper care.
The Tatami shop offers lifetime after-sales services once a year. Clients can drop off their Tatami range of products at their East Coast Galleria Store and pick up after service.
| | |
| --- | --- |
| Address | 235 East Coast Road Singapore 428929 |
| Contact Information | +65 6336 6018 |
| Business Hours | 10 AM to 7 PM, Daily |
Highlights:
Wallet-friendly
Pressure relief
Therapeutic support
Sleepthetic Fitted Memory Foam Topper is the best mattress cover for quality sleep. At a wallet-friendly price, you get a mattress topper that adapts perfectly to the natural curves of your body!
Say goodbye to waking up feeling cramp as this topper relieves the pressure on the areas that bear the greater load, ensuring ideal comfort and relaxation.
This memory foam mattress topper relieves sore muscles and joints, provides ultimate comfort and support, reduces tossing and turning, removes aches and pains, resistant to dust mites, bed bugs, and allergens as well as provides therapeutic support and customized support.
Highlights:
Cooling technology
Great support
Thick and plush
The ErgoLush mattress topper offers support to your body. You wake up feeling less sore muscles and aching joint pains. It also prevents one part of your body, bearing all the weight. The pressure will, therefore, disperse in every part of your body.
With excellent support to your mattress, your back muscles will align to the knees, hips, spine, and neck. ErgoLush will, therefore, offer complete relaxation and a nice floatation feeling as you sleep.
The mattress topper is 2 inches thick, offering maximum support to your body. It also features air vents that ensure proper air circulation so that you will feel cool and comfortable in your sleep. In addition, it is made with gel-infused in the entire cushion that keeps you fresh as you sleep.
| | |
| --- | --- |
| Address | NA |
| Contact Information | hello@mattresstopper.sg |
| Business Hours | 24 hours, daily |
Highlights:
Washable
100% cotton
Very soft
The Isleep microfiber mattress Topper helps your mattress remain cleaner and very fresh, hence lasts longer. It's also effortless to use since you can hand wash or machine wash.
The mattress topper is made from 100% hypoallergenic cotton. It is extremely soft to touch and will provide you the maximum comfort. Besides, the topper also protects your mattress from dust and bacteria.
Available in multiple sizes, it does not matter if you have a single-size bed or queen-size bed. In addition, the mattress toppers are fitted with elastic bands that can stretch and mount easily to your mattress, making it easy to remove and put on.
| | |
| --- | --- |
| Address | NA |
| Contact Information | +65 6777 7667 |
| Business Hours | Monday – Friday: 10 AM to 6 PM |
Highlights:
Durable
Fits more mattresses
High-quality materials
Fynelinen mattress toppers consist of suitable materials that offer comfort and pleasure. It also has elements that breathable, trap less heat, ensuring you sleep in a cozy environment. It is filled with microfiber that gives it the ultimate soft and comfortable experience.
Moreover, Fynelinen toppers give your bed a whole new look comparable to a 5-star hotel feeling. You will be treated to softness, comfort, extended mattress life, and more support.
Made with a skirting style design that fits on most mattresses, the cotton cover is durable while offering maximum comfort.
| | |
| --- | --- |
| Address | NA |
| Contact Information | +65 6777 7667 |
| Business Hours | Monday – Friday: 10 AM to 6 PM |
Highlights:
Foldable design
Multi-purpose
Established brand
Seahorse is a brand that many Singaporeans are familiar with when we think about our bedding needs. Their mattress topper is one of their bestselling products. It is made of high-quality materials that make the pad soft and comfortable.
In addition, the mattress topper has a foldable design, that is convenient to carry and saves space. It can also be used for multiple purposes making it an economical and practical purchase. For example, it can be used on the bed or sofa to increase support and comfort.
Overall, the Sea Horse brand is an ideal choice for consumers looking for top-grade products with reasonable prices.
Highlights:
Breathable
Cooling technology
Anti-dustmite
King Koil's Micro-Gel Mattress Toppers are developed for exceptional comfort and support. Micro-Gel emulates the lightness and texture of natural down. This gives the mattress topper a soft silky touch.
It also has a superior thermal performance. Therefore, the mattress toppers are breathable and can keep cool and fresh when in contact with the skin and through the night. In addition, it is hypo-allergenic and treated with Ultrafresh. Therefore, it prohibits the growth of dust mite, mold, mildew, and bacteria.
Moreover, this micro-gel mattress topper is a great option for individuals who have spinal problems. It serves great support and conforms to the body shape of different individuals.
Highlights:
Made of natural organic latex
Eco-friendly
Washable
European Bedding carries a wide range of eco-friendly latex mattresses, ergonomic slatted bed bases, pillows as well as bedsheets. The brand takes pride in its natural organic latex mattress toppers that make a great difference to the comfort and support you will get for a good night's sleep.
Their Heveya® mattress toppers are made of 100% natural organic latex. This natural latex is tapped from organically-grown rubber trees free of pesticides and fertilizers and made without any springs, synthetic foams, or glue. It is encased in a removable and washable soft bamboo cover with organic cotton padding. The latex cores are also anti-allergy, dust mite- and mold-resistant. This means that you do not have to worry about hygiene and allergens.
With natural latex, you will get a mattress topper that is made for superior comfort and progressive support. This also allows your spine to be comforted in its natural alignment.
So if you are looking for the right mattress topper, head down to European Bedding's cozy showroom to test their products. They also have a 360-degree digital showroom that complements the physical shopping experience! Based on their years of experience and know-how, they are extremely confident they can pair you up with the correct mattress topper!
Address
32 Eng Hoon Street Singapore 169780
Contact Information
+65 9628 9610
Business Hours
Monday – Friday: 9 AM to 6 PM
Saturday – Sunday: 10 AM to 7 PM
Highlights:
IKEA Singapore is a brand that requires close to no introduction. However, it is quite surprising that not many know there are bedroom essentials, such as pillows, mattress toppers, and blankets.
This mattress topper comes with two types of comfort. There is a cushioning foam on one side and a cooling gel on the other. The memory foam cradles your head, neck, and shoulders to relieve pressure and tension. Also, it maintains an even temperature and has small holes in the core, so air can circulate and wick away moisture.
On the other hand, the gel layer gives a cool, soothing sleep surface. Both the memory foam and the gel layer are made of the same material but have different densities. This mattress topper is suitable for all sleeping preferences and is easy to keep clean and fresh.
Address
IKEA Alexandra: 317 Alexandra Rd, Singapore 159965
IKEA Tampines: 60 Tampines North Drive 2, Singapore 528764
Contact Information
+65 6786 6868
Business Hours
Sunday – Thursday: 10 AM to 10 PM
Friday – Saturday: 10 AM to 11 PM
Highlights:
Gel-infused foam
Durable
Memory foam
Sealy Posturepedic is yet another long-running manufacturer renowned worldwide. Founded in 1881, the company started fabricating their Posturepedic bedding range in the 1950s, which is specially made for individuals who have sleep problems due to poor posture.
The brand has collaborated with orthopedic surgeons to produce mattresses to help people get a good night's sleep and a mattress that supports them.
Their mattress topper is a 3-inch memory foam mattress topper that responds to your shape. It is infused with gel for conforming medium-firm support, added flexibility, and to promote less heat retention while you sleep.
This mattress topper is also extremely durable with proper care. It is built to last, so you can rest assured that you will get your money's worth!
Highlights:
100% cotton
High-quality materials
Durable
The Mediflow Cotton Classic Mattress Pad is expertly crafted using the best of materials. The top fabric is high-quality 100% cotton with 250 threads per inch, providing unparalleled comfort and durability.
Treated with Teflon finish to keep your mattress pad free from stains even after repeated washings. This classic pad is also updated with the latest technology stretch to fit skirts to fit any size mattress, even today's thick pillow-top mattresses. It is generously filled with top-quality bonded polyester fiberfill and custom quilted with the highest quality stitching for extra durability.
| | |
| --- | --- |
| Address | NA |
| Contact Information | See here |
| Business Hours | NA |
Highlights:
All natural latex
Durable
Breathable
SymFoni Mattress Toppers are made with All-Natural Latex. No synthetic latex or fillers were used in the manufacturing process of their mattress toppers. As such, you can be assured of a highly durable product that will not bottom out for a long time!
As it is a natural product, it is inherently breathable and allows air to move freely within the core. Also, because it responds to your weight and movements on the bed, it does not trap heat and provides a cool sleeping surface throughout the night. A much-needed feature in Singapore's eternal summer!
Combined with Top Cool fabric covers, SymFoni toppers improve the comfort level of your existing mattress!
| | |
| --- | --- |
| Address | 140 Paya Lebar Road #09-12 (S) 409015 |
| Contact Information | +65 6816 1885 |
| Business Hours | Monday – Saturday: 10 AM to 6 PM |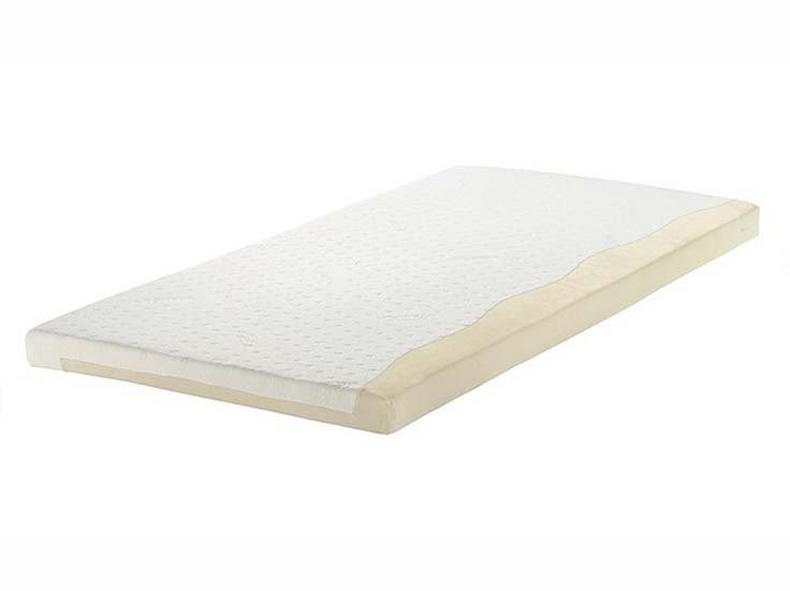 Highlights:
Allergen resistant
Personalized support
Double-sided design
Tempur's mattress toppers are backed by 25 years of legendary Tempur-Pedic innovation and features the same revolutionary TEMPUR® material found in their mattresses. Their proprietary formulation adapts to your body for personalized support.
Tempur's Mattress Topper 7 can be placed on top of any mattresses to provide extra comfort and give you a better night's sleep. This topper also sees a double-sided design. Thus, allowing you to sleep on either the smooth double jersey side or plush side.
The mattress topper is removable and washable. It is also dust-mite and allergen resistant, making it great for allergy sufferers out there!
Highlights:
Breathable
Multiple firm levels
Sanitized
Sofzsleep latex mattress toppers are easily the most immediate way to enjoy the benefits of a latex sleep surface without having to discard your current mattress. Sofzsleep's latex mattress topper offers a quality sleep solution by letting you enjoy the feelings and sensations of a latex mattress.
This topper comes with an inner cotton cover and a natural bamboo cover, with anti-bacterial and antifungal properties of superb breathability. Ideal for people with sensitive skin or allergies, the mattress toppers are treated with Swiss antimicrobial Sanitized® treatment. This prevents the development of molds, dust mites, and fungi that could result in spots and odors.
With it, you can alter mattress firmness without discarding your existing mattress. Sofzsleep's latex mattress toppers are available in Soft, Medium, Firm levels. In addition, these latex toppers are easy to layout and easy to store.
Highlights:
Durable
7 years warranty
Anti-dustmite
Dreampebble is a Singapore brand since 2010, with mattresses made in Thailand. They are a new generation of bedding that focuses on quality yet affordable mattresses to cater to customers' requirements today.
This great deal consists of a mattress topper and a mattress. The 2-inch natural latex mattress topper is well ventilated, with a breathable foam core. Furthermore, it is anti-dustmite and anti-bacterial. With your purchase, you can get a 7-year warranty.
In addition, the latex mattress topper by Dreampebble features a soft natural removable fabric covering made of Bamboo yarn. This means that you can easily remove and wash the cover, ensuring that hygiene will always be kept in check.
| | |
| --- | --- |
| Address | NA |
| Contact Information | +65 6631 8500 |
| Business Hours | Monday – Saturday: 10 AM to 6 PM |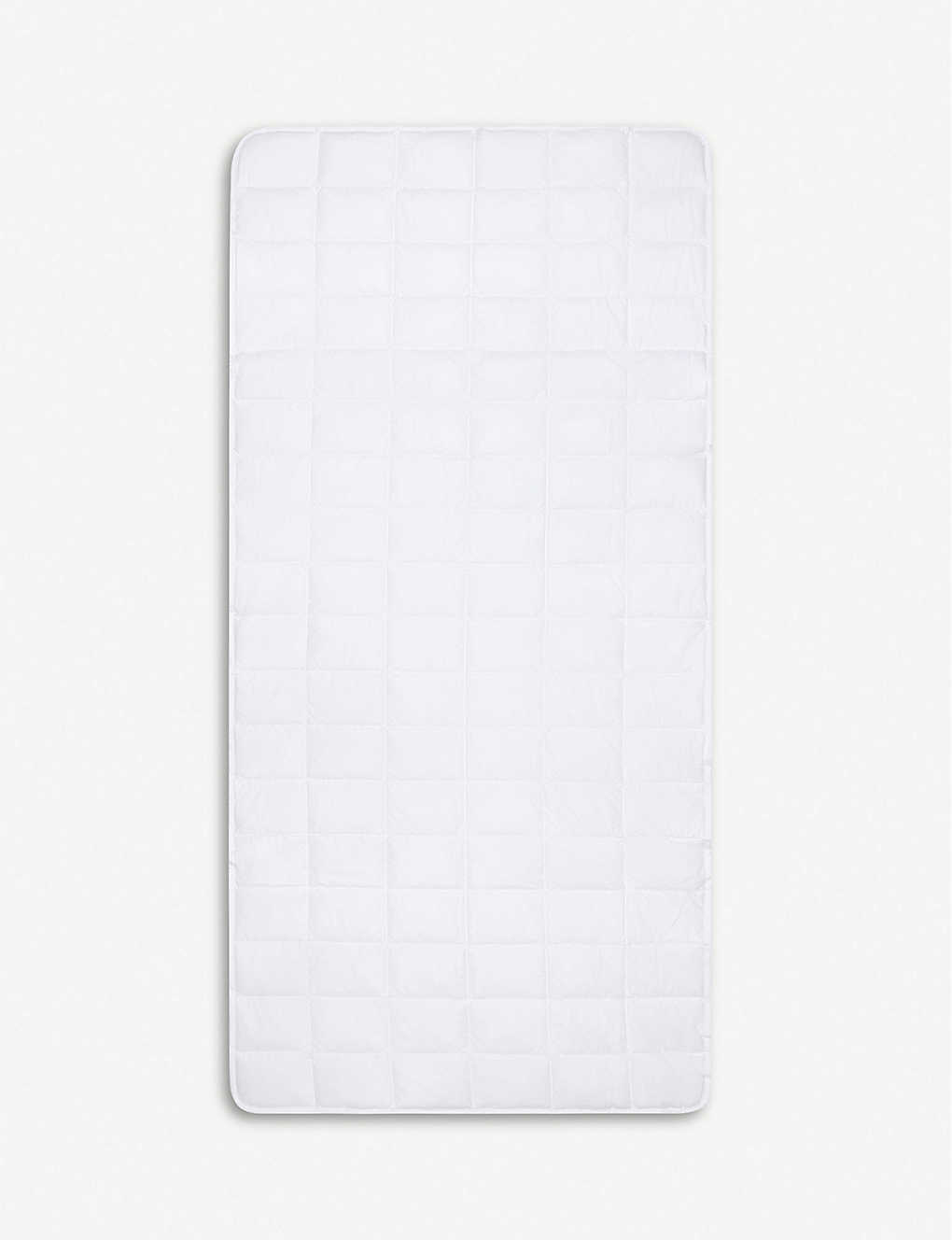 Highlights:
Affordable
100% cotton
Washable
The Morpheus 95°C mattress topper by Brinkhaus is made from soft cotton. Acting as an extra layer for your mattress, allowing you to get cozy and to find your comfy spot easily.
The cover and filling of this mattress topper are made of 100% cotton. Besides, the mattress topper is fully washable. So, you do not have to dread removing and replacing it after each wash.
At just below $150, this is one of the more affordable options out there, considering its high quality!
| | |
| --- | --- |
| Address | NA |
| Contact Information | +44 (0)207 160 6222 |
| Business Hours | NA |
Highlights:
Made in Japan
Special Airfiber technology
Used by luxury hotels
The Airweave Mattress Topper is firm and resilient to give you extra support, ease of movement, and improved body temperature regulation. Made in Japan, this mattress topper features breathable mesh covers, the firm supportive feel of airfiber®, proprietary technology, and material that makes up the core of Airweave's mattresses.
Through its unique interwoven design, air fiber helps you move easily and evenly distributes weight. This helps to better maintain your body's natural posture as compared to soft mattresses.
Luxury hotels like Fairmont Singapore are users of Airweave Mattress Toppers. Overall, it is a unique, breathable, permeable, supportive, and adaptable sleep surface that will help you to improve your sleep gradually!
| | |
| --- | --- |
| Address | NA |
| Contact Information | 1-800 407 1500 |
| Business Hours | NA |
Highlights:
Protected with mite guard
Machine-washable
Elastic design cover
Nile Valley's mattress toppers are used in some famous hotels. The brand's Classic Collection has been established for well over 27 years and is now readily available for you to purchase to use at home.
This Nile Valley mattress topper is a great option for those who love the luxurious feel of sleeping in a hotel. It features a hypoallergenic premium 100% Cotton fill for enhanced comfort and is treated with Anti-Dust Mite, Anti Bacteria, Anti Fungus treatments.
In addition, each mattress topper features a tight-weave Egyptian Cotton cover that helps eliminate mites and other allergens. The covers are also machine-washable, which makes it easy to keep clean and fresh!
Get it on Shopee here!
Highlights:
Bamboo charcoal material
Cooling gel particles
Great for those with aches and pains
ETOZ's memory foam mattress toppers are made from naturally anti-bacteria and humidity-regulating material and have been treated to be anti-dust mite and anti-fungal. The memory foam shapes your unique sleeping postures to comfortably support your back and spine for years to come. Therefore, it is the perfect choice for those who experience body aches and prefer good spinal support.
The bamboo charcoal material used in the construction of this mattress topper has a deodorizing ability and generates a range of positive health effects including tension, stress as well as anxiety relief for restful sleep. In addition, cooling gel particles on the mattress topper's surface help to dissipate heat, giving you a more cool and restful sleep.
The ETOZ Mattress Topper also comes with a removable and washable cover made of soft 100% bamboo cotton fiber!
Get it on Shopee here!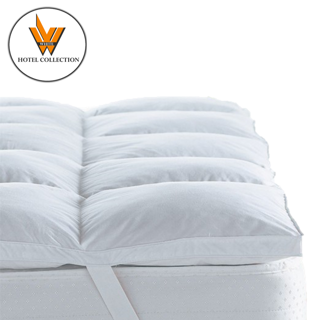 Highlights:
100% Egyptian Cotton
Cooling technology
Elastic design
The WHC Mattress Topper is a soft and fluffy mattress topper that fits mattresses up to 16″ deep. The outer surface of the mattress topper is made of 100% Egyptian Cotton. Meanwhile, the mattress topper insert is filled with Fine and Cooling Down Alternative fiber with 6-in-1 protection.
With a clean and white color, the mattress toppers are treated with, Anti Dust Mite, Anti Bacteria, Anti Fungus treatments. They are also machine-washable, so you do not have to worry about cleanliness. In addition, the mattress topper features four corners elastic design that covers your mattress securely and can be easily removed and put on.
Get it on Shopee here!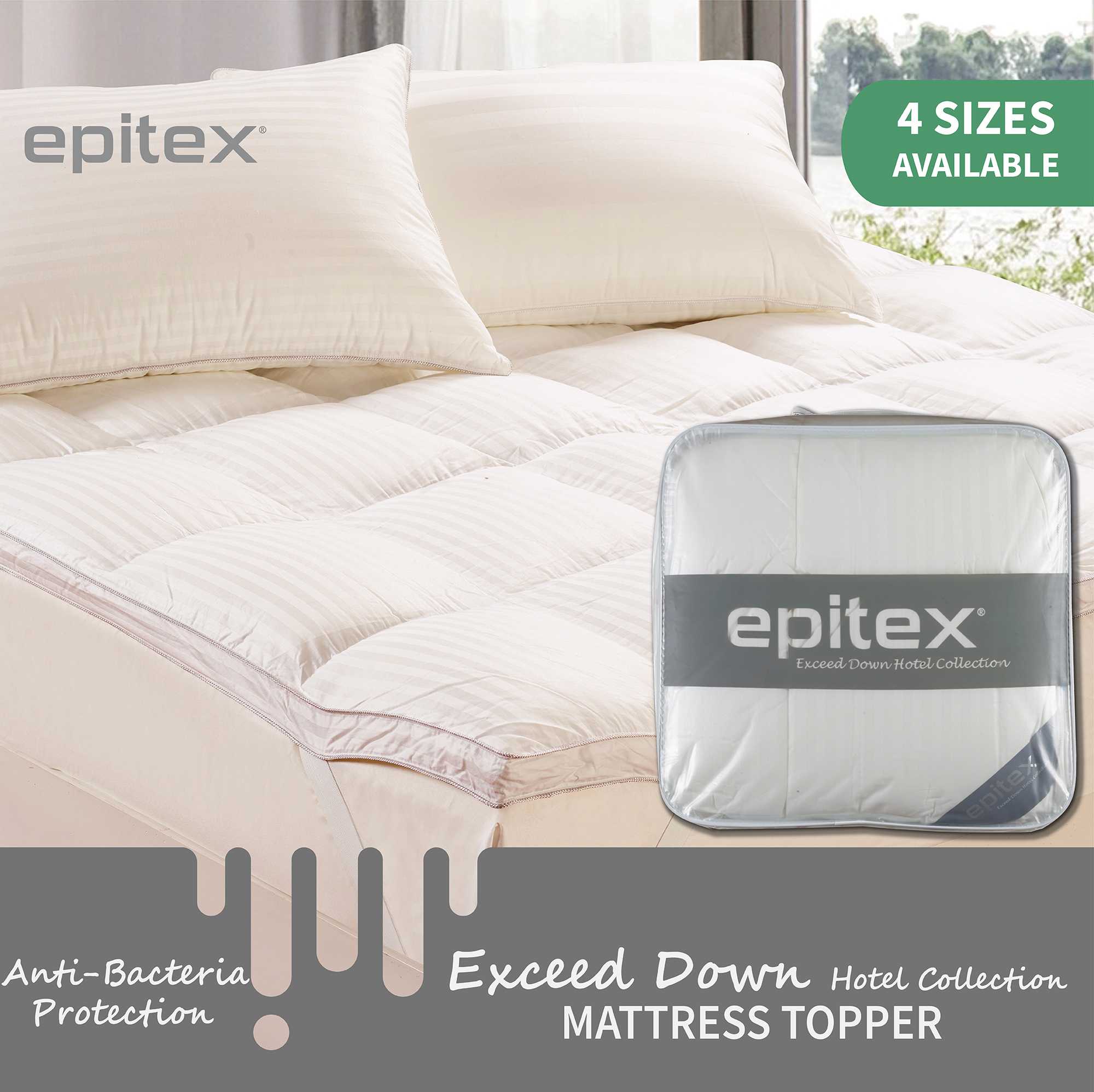 Highlights:
4 sizes available
Anti-bacteria
Hotel quality
With Epitex's mattress toppers, you are able to experience the luxury of a 5-star hotel at home! Their Exceed Down Hotel Collection is perfect for good air retaining abilities and heat preservation. Made from 100% cotton, your mattress topper will offer great protection while insuring efficient breathability.
Fully treated for antibacterial protection and effective in controlling dust mites and fungus growth, the mattress toppers are anti-dust mite, anti-bacterial, as well as anti-fungus. The mattress toppers are made of pure cotton and are machine washable for your convenience.
Available in four sizes, you will definitely be able to get the size that you need from Epitex.
Get it on Shopee here!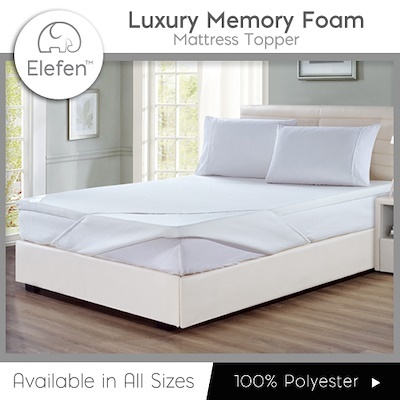 Highlights:
Available in all sizes
100% polyester
Memory foam
The mattress topper by Elefen is one that is able to provide maximum body comfort and support. It is made from 100% polyester memory foam that can improve your old and worn-out mattress in an instant.
With it, you will get to experience a comfortable rest. Moreover, it is extremely affordable and is available in all sizes. Elefen Mattress Topper is also very breathable, so you do not have to worry about waking up sweating in the middle of the night.
For a high-quality memory foam mattress that can help to improve your sleep quality, consider Elefen's mattress toppers!
Get it on Shopee here!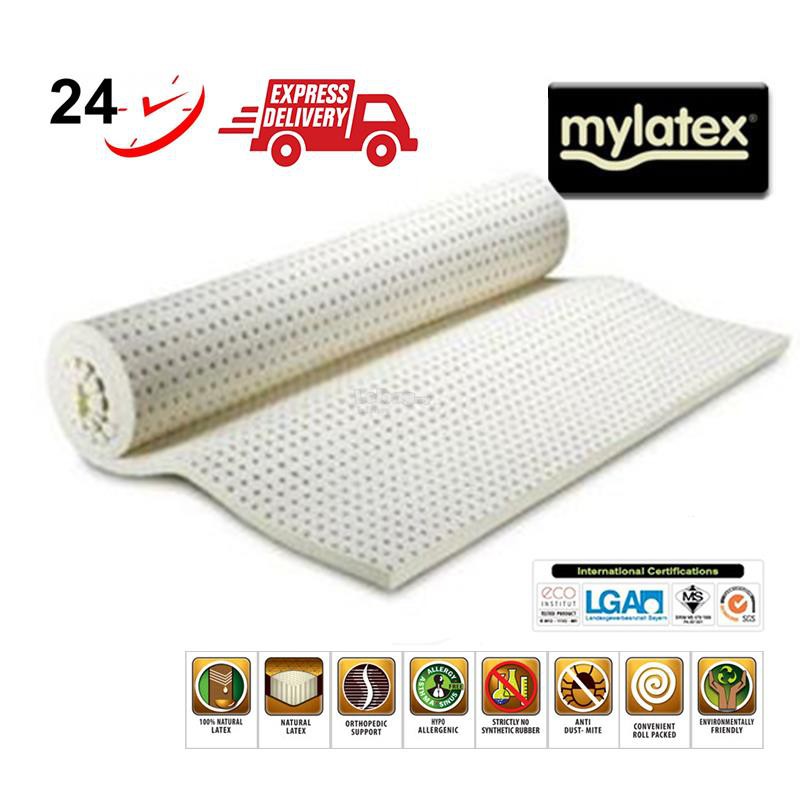 Highlights:
100% natural latex
Anti-dustmite
Eco-friendly
Mylatex Mattress Topper is a 100% natural pinhole latex topper that is environmentally friendly. It provides extra cushioning and additional pressure relief. While it ensures that your mattress underneath lasts longer, it offers you the needed comfort. In addition, the unique roll-up packaging of this mattress topper makes it easy to store and carry around.
Other features of Mylatex Mattress Topper include orthopedic support for your body, being hypo-allergenic as well as anti-dust mites. It is, therefore, suitable and highly recommended for those who suffer from different forms of allergies.
Get it on Shopee here!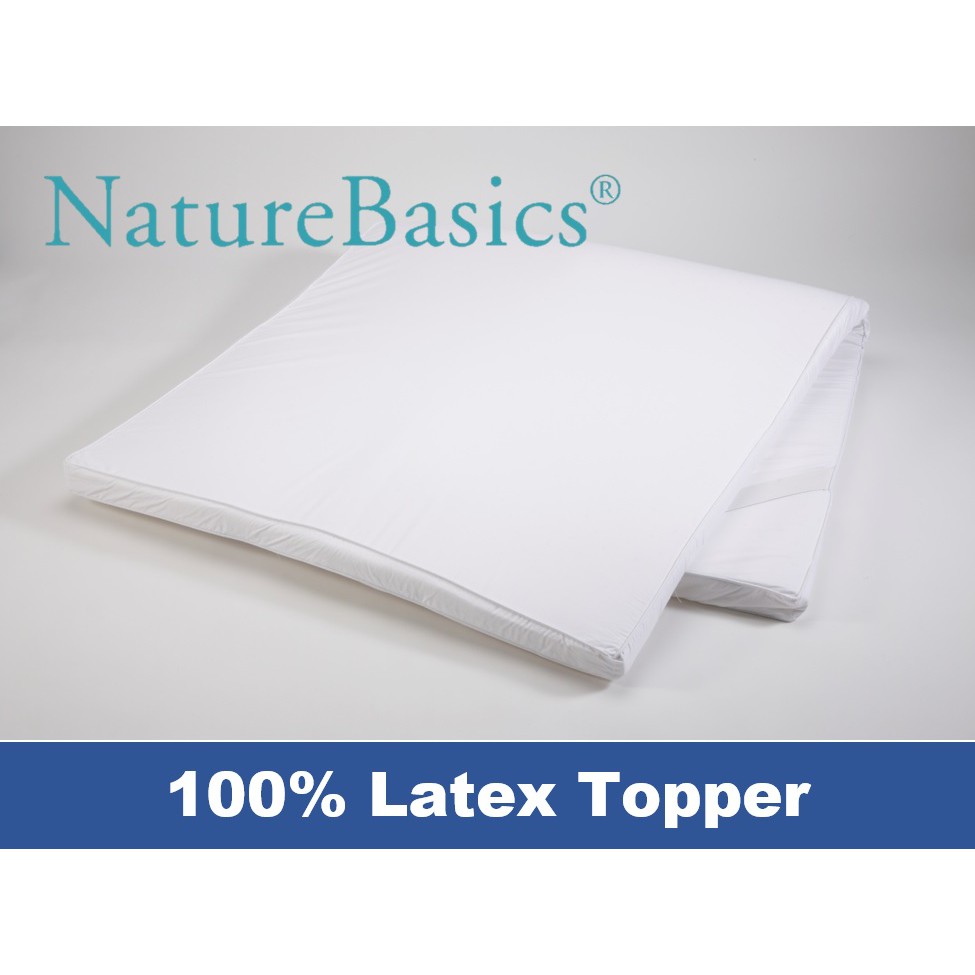 Highlights:
100% natural latex
Hypo-allergenic
High quality
This high-quality mattress topper by Nature Basics is equipped with elastic bands to keep the mattress topper securely over your bed. The topper is anti-dustmite, anti-bacterial, and anti-fungus. It is also odorless, which contributes to the overall clean and sleek feel.
The brand recommends the Nature Basics Latex Topper to people who feel that their current mattress is too soft. By placing this topper over your bed, it will give it a firmer and spongy feel. In addition, it provides superb body support for a good night's rest.
Made of 100% natural latex and pure cotton, you get a high-quality mattress topper that is definitely worth your money.
Get it on Shopee here!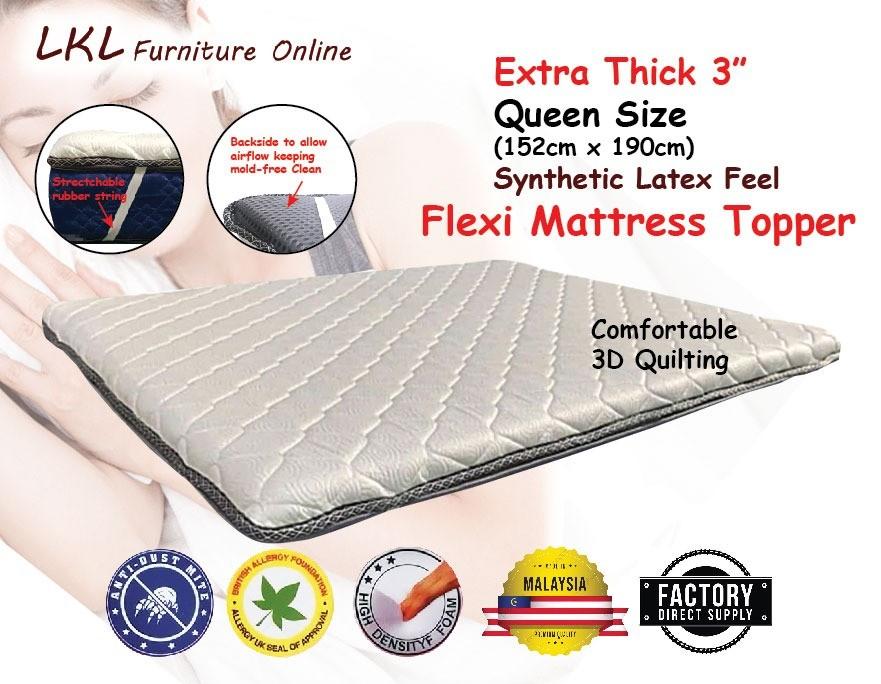 Highlights:
Anti-dustmite
High density foam
Anti-allergen
This Synthetic latex feel mattress is a 3″ mattress topper that soft and luxurious. It is made up of premium quality synthetic latex feel foam that feels superior and hotel-grade. With an advanced quilting design, this mattress topper sees a soft, comfortable, as well as breathable fabric.
The bottom of the mattress protector is made of a breathable mesh that keeps your bed cool and well-ventilated. It also works to keep mold and dust mites away from your mattress.
In addition, it comes with a stretchable rubber string that makes installation and removal easy.
Get it on Shopee here!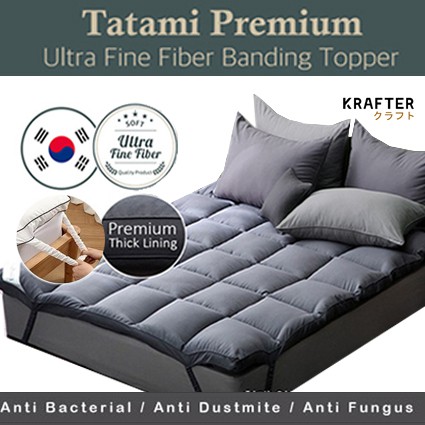 Highlights:
Premium and thick
Anti-dustmite
Made in Korea
This premium Tatami Mattress Topper is made in Korea and sees a premium and thick lining. With anti-bacterial, anti-dustmite, as well as anti-fungus properties, the mattress topper is plush, comfortable, and breathable.
In addition, the premium Tatami Mattress Topper is hypoallergenic. It is not only able to block dust mites, allergens, and bacteria, but also mildew and mold!
The lab-tested mattress topper is soft, foldable, and can be hand washed or dry washed, depending on your preference. Many of the brand's customers come back for repurchases. To experience sleeping in a cloud, consider this mattress topper!
Get it on Shopee here!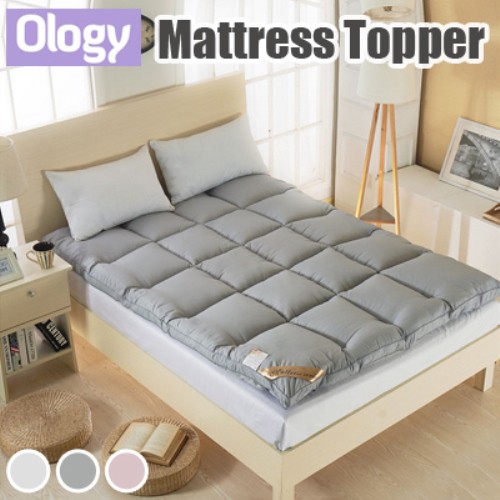 Highlights:
3 colors to choose from
Anti-noise
10 CM thickness
This 100% polyester mattress topper has a thickness of 10 CM. It is made of comfortable and breathable material. This ensures that you have a great night's sleep and prevents your mattress from overheating.
In addition, for light sleepers out there, you would be glad to know that this mattress topper is made of an anti-noise material that makes no noise during movement. Coupled with anti-bacterial and anti-dustmite properties, you can rest assured with your purchase.
Furthermore, not many mattress toppers offer color options. This topper is available in three colors of classic grey, white, or pink.
Get it on Shopee here!
Highlights:
Natural latex
Well-structured
Cooling surface
Having sleepless nights? Your mattress may be very hard or soft, which makes it very uncomfortable. The Herculean Mattress Topper is indeed the best fit for your sleeping troubles. Their mattress toppers are made of Natural latex which supplies you with body support while creating a non-sinking feeling.
The Herculean Mattress Topper is well-structured for maximum comfort. Besides, this mattress topper does not cause allergies and has a perfect balance of elasticity and stability. On top of that, the natural bamboo Latex keeps dust particles away while you sleep.
| | |
| --- | --- |
| Address | NA |
| Contact Information | hello@mattresstopper.sg |
| Business Hours | 24 hours, daily |
To Conclude
With a good sleep every night, you won't have to worry about being unproductive or having body aches that hinder your working day. As a result, these are our top picks of the best mattress toppers to help you secure quality rest.
I hope you know the importance of having quality rest now. To get a night of good sleep, you should definitely make sure you have the right bedding furniture. If you are interested, you can head over to our ultimate guide of mattresses for every need and budget and our list of comfortable pillows to get your needed sleep support.
Also, do you know that the air pollution around you also affects how well you sleep? We have a list of air purifiers that you can place in your room. Now, you don't have to worry about poor air quality.
Emily Hopkins
I'm an accomplished and detail-driven content writer with copious experience in producing compelling, engaging and flawless content for a variety of blogs and websites for several years.
Related posts
Subscribe for newsletter
* You will receive the latest news and updates on Singapore's best trends!
Trending Posts
May 30, 2023

What is Matcha? Matcha...

May 31, 2023

TLDR: In this article,...

May 31, 2023

TLDR: As an audio...