10 Best Mattress Protector For Your Comfort And Peace Of Mind
Joanne, 1 week ago
10 min

read
44
If you've just bought a mattress, you're probably still considering ways to safeguard your savings. How do you keep its breathability and warmth while keeping it safe from bed bugs, allergens, and liquids? What if you accidentally drop something on your mattress? Is it possible to clear a stain from your mattress by merely wiping it? How can I protect my new mattress? The answer to all your questions and worries is that you should invest in a mattress protector!
A mattress protector is an item of removable bedding that sits on top of, or encases, a mattress to protect it. Investing in a good mattress protector can save you lots of hassle and save you some money in the long run! So, without further ado, let us look at the best mattress protectors in Singapore for your comfort and peace of mind!
Highlights:
Machine washable
Hypoallergenic
Anti-odor, anti-bacterial
Made of natural cotton
Origin Sleeps is a brand that offers sleep accessories that are constantly evolving. Having gone through dozens of sleep trials, more than 10 different product tests and 100 density changes before making it to market, you can rest assured knowing that you will be getting the best quality out of their products.
Designed in Germany by a team of experts, the team is confident that their products will prove to be one of the best available in Singapore, matching even the best as well as highest priced brands in terms of features and function. Besides, the brand offers free delivery and a 30 days trial. If you are not satisfied with your purchase, the brand will take it back and offer you a full refund. Talk about confidence in their own products!
Origin Sleeps' mattress protector is known as the Origin's Artic Cool™ Mattress Protector. With it, you will feel protected as it is able to effectively prevent dirt, moisture, as well as other microorganisms from ruining your mattress.
Featuring a Tencel™ Fabric, you get a soft and luxurious feel coupled with an Artic Cool™ 300 Thread Count Layer which contributes to the protector's enhanced breathability. The Bio-Pure™ Layer offers complete protection against dirt, moisture, stains as well as microorganisms so you can sleep with peace of mind.
Designed with comfort in mind, the mattress protector is anti-odour, anti-bacterial, as well as hypoallergenic. Good news for allergy sufferers out there! For those who dread washing, you'd be glad to know that this mattress protector is machine washable as well as extremely easy to clean. All in all, this mattress protector by Origin Sleep definitely deserves the top spot as the best mattress protector in Singapore!
| | |
| --- | --- |
| Address | MactechBuilding 2 Kallang Pudding Road #02-04, S349307 |
| Contact Information | +65 6977 9637 | [email protected] |
| Business Hours | 11.00 am to 5.00 pm, daily |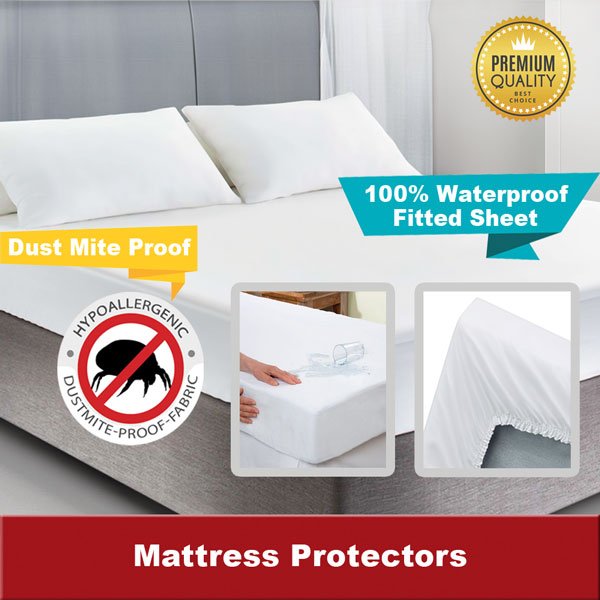 Highlights:
Noiseless
Protects Against Dust Mites And Allergy
Waterproof and breathable
Made of premium quality microfiber on the top surface and TPU coating on the underside, this premium mattress protector from Bedding SG is one of the top options for you to choose from. The waterproof mattress protector protects the mattress from fluid spills, urine as well as perspiration. It works by preventing fluid from seeping into the mattress. So, for those of you who have children who wet their bed, this is a perfect choice!
The fitted waterproof mattress protector is also a great way to protect against dust mites and allergies caused by dust mites. A TPU coating on the underside prevents dust mites from moving in and out of the mattress. Therefore, it serves to prevent dust mites from collecting onto the mattress.
In addition, unlike other plastic mattress protectors that make a lot of plastic crinkling sounds when you move, this mattress protector is silent and noiseless. The high-quality microfiber on the top surface contributes to the noiseless design. Great news for light sleepers out there!
| | |
| --- | --- |
| Address | 4003 Depot Lane #01-89 Singapore 109757 |
| Contact Information | +65 9816 1868 |
| Business Hours | NA |
Highlights:
Waterproof
Breathable fabric
Anti-allergen and dust mites
The Original Mattress protectors are ideal for situations such as when you want to protect your mattress from perspiration stains or from other bodily fluids, and incontinence. The backing is not only waterproof but also breathable. This allows heat as well as moisture to breathe through while blocking off stains, liquids, and others bacteria from the bed mattress.
In addition, this mattress protector is the preferred choice for allergy sufferers. It lets you sleep comfortably at night without the worry of runny eyes or stuffed noses, and resists the build-up of dust mites. The protector provides an impervious cover that keeps skin cells out of the mattress, and act as a barrier against allergens and dust mites accumulate.
The materials used are tested for any toxic substances and backed with test reports. Free from vinyl, PVC, Phthalates, fire retardants, as well as other toxic chemicals, you can sleep in peace with this knowledge!
| | |
| --- | --- |
| Address | Online-only store |
| Contact Information | +65 6631 8500 | [email protected] |
| Business Hours | Monday to Saturday: 10.00 am to 6.00 pm |
Highlights:
Anti-microbial treatment
Expand-A-Grip design
Easy to maintain
Simmons® Beautyrest® Mattress Protector Premier Luxe features a unique Expand-A-Grip® benefit that allows the mattress protector to conform firmly to the mattress surface and a proper fit up to 16″ mattress height.
In addition, it has anti-dust mite fibres to eliminate and prevent the growth of mildews and dust mites and adds an additional layer of breathable comfort to your mattress. The protector has also undergone an anti-microbial treatment that eliminates the entire colonies of bacteria and fungus.
With its unique Expand-A-Grip design, the mattress protector is able to fit nicely to the mattress surface without it slipping off. It can be stretched to 41cm in height to fit thick luxe mattresses. Made with 100% cotton, it is comfortable and is also easy to wash and maintain.
Highlights:
Highly absorbent
Durable
Anti-shrinkage
This Sealy Mattress Protector Pad has been developed through the study of hygienic sleep conditions. It will protect your high valuable mattress from liquid and dirt stains filled with single-hole high-quality fibres providing restful support.
Its fabric is specially treated with TEFLON™ as well as with MICROBAN® antibacterial bio-safe protection. Therefore, it is safe for use for your whole family. The mattress protector also sports a regular fit to resist shifting and shrinkage. So, you do not have to worry about buying a new mattress protector even after many washes! This is thanks to its strongly locked stitches that make sure the protector stays durable wash after wash.
For those of you who tend to perspire during sleep, you'd be glad to know that this mattress protector is highly absorbent for restful sleep!
| | |
| --- | --- |
| Address | 91 Tanglin Rd, #01-02, Singapore 247918 |
| Contact Information | +65 6235 3166 |
| Business Hours | 10.00 am to 9.00 pm, daily |
Highlights:
Affordable
Waterproof
Comfortable and soft
Etoz Waterproof Fitted Mattress Protector is a good choice because it is made of 100% cotton and is waterproof. It can shield the mattress from moisture, dirt, and spills, keeping it dry, clean, as well as stain-free. Its stretchable bands will ideally suit your mattress and provide instant relief the moment they are placed. Your nights will be absolutely worry-free thanks to the hypoallergenic properties of the mattress protector.
The mattress protector's lightweight and breathable material adds to your comfort so that you can achieve restful sleep every night.
In addition, this protector is very affordable, making it great for those who are looking for something that is a little more wallet-friendly! Caring for the protector is also rather simple, as it is machine washable.
Get yours here!
Highlights:
Waterproof
Noiseless design
Lightweight
Easy to wash
Perfecta Waterproof Protector is a high-quality protector made of luxury natural bamboo fibre and waterproof materials that will keep the night free of stains and moisture. Its all-around elastic would better suit your up to 15″ mattress.
The mattress protector is lightweight, making it easy to wash and store. In addition, its breathable and cool surface serves as a bacteria shield, preventing you from sweating even on hot and humid nights.
The best part? You don't have to deal with the annoying and disturbing plastic clinking noises that you get with cheaper mattress protectors out there. Soft and quiet, Perfecta's Waterproof Protector will help you get a perfect night of sleep!
Get yours here!
Highlights:
6-in-1 protection
Lightweight
Cooling sensation
Sleep soundly with the Nile Valley's 5 Star Hotel Egyptian Fitted Mattress Protector, which is made of cool 100% Egyptian cotton and will best match your mattress. Its good, light, as well as soft microfiber will provide you with a cooling sensation while you sleep. In addition, its anti-allergen properties will help you to sleep soundly. With this protector on your mattress, you can sleep peacefully without worrying about odours!
The Nile Valley Hotel Premium Fitted Mattress Protector also features a 6-in-1 protection to prevent bed bugs, allergens, dust mites, pet dander, odors, as well as water-based spills. Essentially, it protects your mattress from harm and helps to extend the life of your mattress for many years to come!
Fitting mattresses up to 16″ deep, this versatile mattress protector is definitely one to consider.
Get yours here!
Highlights:
Lightweight
Noiseless design
Two layers of protection
This waterproof mattress protector from Perfecta is designed with two layers of protection. However, it remains soft and comfortable and is able to protect the mattress from spills, dust mites, as well as allergens. The fitted mattress protector features a fully-lined elastic that fits mattresses that are up to 15 inches deep.
For those who dislike the feel of a mattress protector because of the added layer, you'd be glad to know that the Perfecta mattress protector will not change the feel of your mattress due to its breathable and thin fabric.
In addition, this protector is noiseless! You do not have to worry about the sounds of rustling and crinkling as you move about in your sleep. It is therefore ideal for families, young kids, as well as those with pets. Washing is also never a chore as it is light in weight.
Get yours here!
Highlights:
Machine washable
Anti-allergens
Breathable material
Keep your mattress fresh and new with WHC's 6-in-1 naturally breathable Mattress protector. The protector is manufactured with high-quality microfiber and woven tightly. It acts as an allergen barrier, increasing the lifespan of your mattress and keeping you safe from allergies.
In addition, the mattress is treated with Anti Fungus, Anti Bacterial, as well Anti Dust-Mite treatments. You never have to worry about pesky little creatures disturbing you in your sleep!
Light, soft, as well as comfortable, you will feel like every day is a holiday when you sleep in this hotel-grade mattress protector. The protector is also machine washable, so you don't have to worry about troublesome washing procedures or instructions!
Get yours here!
So, there you have it, the best mattress protectors that you can find on the market. Just pick any one of the above and you will be sure to achieve deep and restful sleep so that you can feel recharged and ready to own another day!
If you are looking to purchase more bedding essentials, check out our guide to the best pillows, mattresses, mattress toppers, as well as latex mattresses in Singapore here!
Related posts
Subscribe for newsletter
* You will receive the latest news and updates on Singapore's best trends!
Trending Posts
April 1, 2021

There is no denying...