9 Best Manicure Salons in Singapore [2022]
Emily Hopkins, 3 years ago
8 min

read
6065
After that perfect hairdo, eyelashes, and brow work, what remains is a little attention to your nails. Manicures come in different designs from creative, simple to specialized nail art. Do you need to have your nails impeccably done, cute and divine all the time? Of course, this is every woman's dream. For this fantasy to be filled, you'll have to choose among the best manicure salons one which suits your needs.
Several manicure salons in Singapore offer different personalised services. Most outstanding salons offer a variety of manicures such as acrylics, nail art, gel, and even pedicures.
Here is our list of the best nail manicure salons in Singapore.
Nail artistry is a huge manicure salon with big television that shows the latest movies as you get your nails done. Manicures are affordable from $15 while spa treatment and pedicures start from $30.
Nail artistry offers you innovative and trendy designs. With a team of professional and flexible manicurists, you get to enjoy any manicure. It provides hand-picked characters like pikachi and Tororo to print on your nails.
Other service highlights include:
A variety of patterns are AV such as watercolour, matte and geometric patterns are offered.
Friendly and professional staff.
Customized self-care kits are available at affordable prices.
Address: Multiple locations including Serangoon Gardens Estate, 2 Maju Avenue, Singapore 556680 and 27 East Coast Road, Singapore 428749
Contact Detail: +65 6386 2722 / +65 6966 1919
Email: nailartistry@gmail.com
Working Hours: Mon – Sun, 11AM – 9:00PM
Nail status offers you a variety of nail manicure. It available in ombre glitter, holographic, and chrome. They have the latest beauty trends in nail artistry. With a team of highly skilled manicurists, you get decorations such as gellyfit, Korean, and China Glaze using OPI. For those who love simplicity, there is a French manicure for you.
Established in 2004 as a single nail salon, Nail status has grown into a chain of nail salons that offer dashing nail work. The nail salon has won numerous awards for its outstanding work.
Pedicure services are also available from $88.
Other service highlights include:
Offers best organic foot spas.
Its nail works are classy and glam.
The nail salon provides various nail services such as classic nail, express nail, and spa treatments.
The hotel has the organic orange peel that uses Alpha hydroxyl acids, which leaves your feet very soft.
Address: Multiple locations- Far East plaza, Seletar Mall, and Wisteria Mall
Contact Detail: +65 6836 2005
Email: thenailstatus@yahoo.com
Working Hours: Mon – Sat, 11AM – 9.30PM | Sun & P.H, 11AM – 8PM
Nailgasm offers the best nail treatments. The staff is professional and very friendly to clients. The tools are sterilized thoroughly; you get quality service. The Nailgasm is known for its clinic hygiene standards. You will enjoy the safe products and highly fixed equipment and tools used at the salon.
The nail salon has a variety of 300 colours you can pick. You get to enjoy sugar bar, which features nail-toppings that leave your nails sparkling and stylish
Their manicure prices start from $28.
Other service highlights include:
Offers high-quality manicure services.
It has a team of friendly and professional staff.
Offers online bookings through its app or website.
Address: 1 Tanglin Rd, Orchard Rendezvous Hotel, Singapore 247905 | 138 Robinson Road, Suite 08-04, Singapore, SG, 068906
Email: hello@nailgasm.com
Contact: +65 8769 6177
Working Hours: Open daily from 9AM – 9PM
Nail County is one of Singapore's leading nail salons. It offers Korean nail art, nail repair and provides a range of pedicure and manicure services. At Nail County, you enjoy the best nail treatment in comfort.
With a vision of providing a fulfilling experience to all customers who visit the salon, Nail county offers quality nail service with outstanding results. The team of nail artists are familiar and have vast experience in nail service. With numerous awards such as best nail treatment and best nail art, be sure to get exemplary service from experts in the field.
Other service highlights include:
It offers various pedicure and manicure services ranging from a classic gel manicure and manicure plus, which many Singaporeans love.
It offers resin gel treatment services.
Ingrown nail treatments are available.
Address:9 Raffles Boulevard #02-20 Singapore 039596
Contact Detail: +65 6779 0014
Email: singapore@nailcounty.com
Working Hours: Mon – Sun, 11AM – 9PM
At Trimmings salon and spa, you get a whole package of feet and hands treatment. You get to enjoy sports grooming as well as a medical pedicure for your heels.
With over ten years of experience in the beauty industry, trimmings are highly skilled in the manicure industry. It has a passion for making a difference in the beauty industry by ensuring beauty is honest and straightforward. Located in a beautiful and serene environment, Trimmings is a perfect place for your manicure.
With a team of highly dedicated staff, you can be a regular for Pedi treatments.
Their manicure services start from $18.
Other service highlights include:
It offers services at an affordable rate.
Gift vouchers are available occasionally.
It has a team of warm and professional staff.
Address: 75B, Loewen Rd, Singapore 248852
Email: hi@trimmings.com.sg
Contact: +65 9710 6415
Working Hours: Mon, Fri & Sat 9AM- 6PM | Tue, Wed & Thurs 9AM – 8:30PM (Closed on Sundays and public holidays)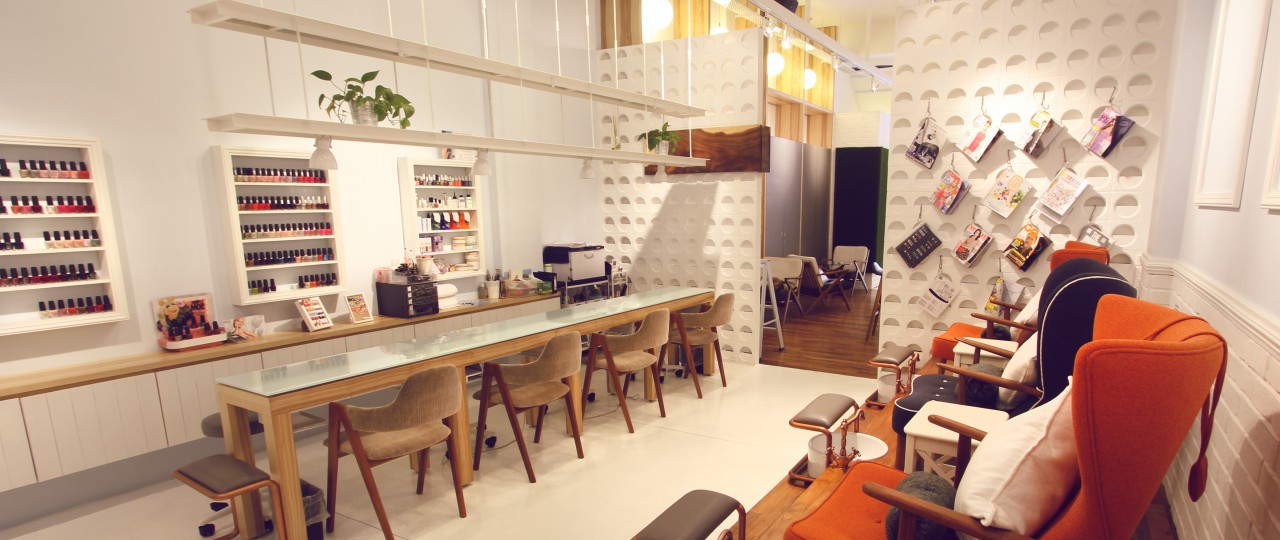 Manicurious is an award-winning manicure salon. It boasts of excellent manicure designs such as glossy, matte, elegant, to simple. For those who fancy pictorial designs, nail art is the perfect place.
With vintage-inspired chairs, you can sink comfortably into the cosy environment s you have your nails done. Its attentive staff will ensure you get a quality manicure.
With high-quality products, your gel nail lasts longer. It has a team of patients and professional staff. You enjoy complimentary tea as you get the perfect manicure.
Their manicure service starts at from $18.
Other service highlights include:
Their service is top-notch.
The ambiance is relaxing and comfortable for clients.
Offers quality services at affordable rates.
Address: 41 Beach Road, Singapore 189680
Contact Detail: +65 6333 9096
Email: info@manicurious.sg
Working Hours: Open daily from 11AM – 9PM
The urban home offers a unique manicure business model. Unlike other manicure salons, the urbane company makes your nails in your home. It provides high-quality pedicure and manicure at your doorstep. With eight years' experience in the industry, they offer quality manicure artistry.
To book an appointment, choose a service on their website or app, pick the nail colors you like then schedule a manicure date. Early booking in two hours is available. The skilled and professional nail artists use sanitized tools and also sterilize products for your manicure.
Other service highlights include:
It offers a variety of nail manicures such as French mini finish, nail art, and massages.
Offers affordable manicure services.
Address: Aperia Tower 1, 8 Kallang Avenue, # 06-03 Singapore 339509
Contact: +65 3159 4616
Email: help@urbancompany.com
Working Hours: Open Daily from 8.00AM – 8.00PM
With four years' experience in the manicure market, home nails offer you the perfect solution to your manicure needs. Home nails is located at the centre of Singapore; besides, it offers affordable rates. Their well trained and friendly team of nail artists who make a perfect nail work.
The manicure salon offers you various gel extensions such as 3D nail art, gel extension, and bridal gels. The designs are as perfect as you would wish them to be.
Other service highlights include:
Offers home visit nails on selected timings.
Provides free of charge repair on chipped nails after a week.
Home nail designs are available.
Address: #01-17, 2 Handy Road, Singapore 229236 (near Dhoby Ghaut MRT station)
Contact: +65 6333 4985
Email:homenails.sg@gmail.com
Working Hours: Mon – Sun, 11.30AM – 8.30PM
Nail M'pir is a perfect nail salon for the working population in Singapore. Strategically located at Tangs, you can have a quick nail treatment during work-breaks. With an affordable price starting from $ 15, you have your nails well done.
The nail manicure is perfectly customized to suit the need of the client. You can search for a fast dry topcoat if you have limited time. Those with a little time can also have a full manicure and angel gel.
Other service highlights of the manicure salon include:
Offers customized manicure service for clients.
Their rates are affordable.
Uses fair and free of toxin products.
Address: L4, Tangs at Tang Plaza, 310 Orchard Road, Singapore 238864
Email: bookings@thenailmpir.com
Contact: + 65 6732 9001
Working Hours: Mon – Sat, 10.30AM – 9.30PM | Sun, 11.00AM – 8.30PM
With the above list of the best manicure salons in Singapore, you can pick one that suits your budget. Most of the listed prices are non-discounted and regular prices. When booking online, you can find significant discounts when you purchase vouchers. Some vouchers can cover you and your friend.
Ensure that the manicure salons are accessible and also uses the right products that do not cause any allergic reactions. If you have a tight schedule or work from home, you can opt for manicure salons that offer home visits.
Emily Hopkins
I'm an accomplished and detail-driven content writer with copious experience in producing compelling, engaging and flawless content for a variety of blogs and websites for several years.
Related posts
Subscribe for newsletter
* You will receive the latest news and updates on Singapore's best trends!