20 Best Mala Steamboat & Hot Pot Places in Singapore [2022]
Joanne, 2 years ago
18 min

read
9808
Contrary to popular belief, Hai Di Lao is not the sole proprietor of Mala Hot Pot. Though the trend only started getting mainstream attention in recent years, the traditionally Sichuan cuisine traces back to the 19th and 20th century. Restaurants bearing these concepts have also been around for decades in our island nation. Gathered here is a list of the lesser-known Mala hotpot places in Singapore that are privy to the most devoted of steamboat fans.
Highlights
Free-flow handmade xiao long bao
Thirteen different soup bases to choose from
More than a hundred steamboat ingredients, including premium beef slices
If you're a fan of small pots, deeming them more hygienic and personal, you've got Guo Fu Hotpot Steamboat to thank. The restaurant introduced Singapore to the concept of individual hot pots and popularised it in 2005.

Dining options at Guo Fu Hotpot Steamboat include Set Meal, A La Carte and A La Carte Buffet, the latter of which is the bestseller. Diners enjoy over a hundred steamboat ingredients on an all-you-can-eat basis, including premium beef slices and free-flow handmade xiao long bao – a highly appreciated bonus for such an addictive item. Choose from an array of thirteen different soup bases, many of which are infused with herbs and attractive benefits (think "Male Vitality Soup"). Do note that soup base and drinks are not included in the A La Carte Buffet package and will incur additional costs.
| | |
| --- | --- |
| Address | 20 Cross St, #01-31 China Square Central, Singapore 048422 |
| Contact | +65 6557 0906 |
| Business Hours | 11.30 AM – 10.30 PM daily |
Highlights
Muslim-owned Sichuan restaurant that is certified Halal
Individual pots with dual soup bases
Comprehensive menu of cooked food
Ma La Hui Cui Guan is a 3-minute walk away from Masjid Sultan. It is a Muslim-owned Sichuan restaurant with a contemporary oriental dining experience. As such, it features an exclusive Halal menu that respects the dietary needs of its neighbourhood. Customers are entitled to an individual pot that contains up to two soup bases: the Sichuan spicy soup and the green chilli soup are crowd favourites.
In addition to hotpot, Ma La Hui Cui Guan has a comprehensive menu of cooked food that spotlights Sichuan cuisines. Get a taste of unique dishes such as Century Egg with Green Chilli and a variety of chicken noodles. There is also a range of Sichuan Duck Rice, which is braised through an authentic Sichuan method and caramelized with a special sauce.
| | |
| --- | --- |
| Address | 47 Arab St, Singapore 199744 |
| Contact | +65 6612 8325 |
| Business Hours | 11.30 AM – 9.30 PM |
Highlights
Locally-inspired soup bases, among which Laksa is favoured
Wide variety of seafood
Handmade steamboat ingredients
Apart from the Sichuan Spicy Soup Base, Hai Xian Lao specializes in locally-inspired soup bases, such as Tom Yum, Laksa and Sour Vegetable Pork Bone. Among them, Laksa stands out with its rich, distinct taste and creamy consistency. For something more premium, try the Prawn Soup Base, heavily infused with the briny flavours of fresh prawns. Alternatively, there is a Healthy Collagen Soup Base to coat your lips with an endearing stickiness that promises an extra beauty boost.
Indulge in a large selection of steamboat ingredients, which include a wide variety of seafood like Alaska King Crab Legs, Live Tiger Prawns and Cod Fish. There are also various handmade items, ranging from bouncy meatballs to generously-stuffed dumplings.
| | |
| --- | --- |
| Address | 8 Wilkie Road, Singapore 228095 |
| Contact | +65 6509 6194 |
| Business Hours | 11 AM – 5 AM daily |
Highlights
Chongqing hand-pulled noodles
Exotic food items such as sea urchin balls
Mala soup base made with over 25 herbal ingredients and slow-boiled for over three hours
Shang Pin Hot Pot doesn't skim on the soup bases: they are made with more than 25 herbal ingredients and slow-boiled for over three hours. Using quality chilli and chilli peppers, the Sichuan spicy soup base is tantalizing with a satisfying kick. Sample up to three soup bases in one sitting, and embark on a gastronomical journey with exotic items such as the beef tongue, sea urchin balls and bullfrog meat.
For something more filling, order the hand-pulled noodles, which are made in a spectacular fashion that rivals Hai Di Lao's performance. Otherwise, savour the sour spicy glass noodle, a Chongqing speciality. If you're new to this, overcome the initial stink to unlock your brand new addiction.
| | |
| --- | --- |
| Address | 6 Raffles Boulevard Marina Square #02-102, Singapore 039594 |
| Contact | +65 6238 7666 |
| Business Hours | 11.30 AM – 11.30 PM daily |
Highlights
Vegetarian Mushroom Pot for veggie lovers
Mid-range hotpot restaurant that is comparable with Hai Di Lao
Premium proteins such as Black Pork, Japanese Kurobuta Pork and Australian Marbled Beef
Rumour has it that Upin Hot Pot was established by a former Hai Di Lao employee, but it may just be a comparison drawn over their similarities in concept. Nonetheless, Upin Hot Pot is a mid-range restaurant that is not only a lot friendlier on the budget, but also the waiting time. Plus, if you visit the original Clarke Quay Central outlet, you get a picturesque view of the Singapore River to go with your meal.
In terms of food options, ingredients are ordered on an a la carte basis. A sumptuous range of proteins awaits, such as Black Pork, Japanese Kurobuta Pork and Australian Marbled Beef. Hotpot enthusiasts are no stranger to the soup bases, which include house-made tomato stock made of fresh, tangy tomatoes. There is a relatively rare Sichuan Boiled Fish Pot, as well as a Vegetarian Mushroom Pot for the veggie lovers.
Address
Clarke Quay Central: 6 Eu Tong Sen Street, #03-87 Singapore 059817
Orchard Gateway: #04-19 Orchard Gateway, 313@somerset, Singapore 238858
West Coast Plaza: 154 West Coast Rd, #01-02 Singapore 127371
Contact
Clarke Quay Central: +65 6221 5550
Orchard Gateway: +65 6288 5550
West Coast Plaza: +65 6258 5550
Business Hours
11 AM – 12 AM daily
Highlights
Mala hotpot that is certified Halal
Suitable for solo or small-group diners
Budget-friendly with generous portions
While the consensus is that steamboat is best enjoyed with company, there are still some who prefer dining alone. In that case, Shi Li Fang is highly commendable. With their vast collection of set meals, they cater to groups of all sizes – starting from one pax. These bundles typically include a meat dish, an assortment of vegetables, up to four soup bases, drinks and sauces.
On top of that, Shi Li Fang offers gratifying, properly spiced Mala soup bases. The ingredients are fresh and varied. Customers choose either a la carte or set meals, the latter of which offers up to 50% off items and come with free-flow drinks. Their reasonable prices and appropriate portions easily turn hotpot lovers into loyal customers.
Highlights
Pleasant and soothing dining environment
Signature Stewed Marinated Beef with Spicy Soup
Unique snacks such as fried mint leaves and lotus root stuffed with sticky rice
Located on the fringe of Singapore River, Tong Xin Ru Yi Traditional Hot Pot has a pleasant setting: the interior prominently features natural materials like wood and rattan, which are set against a palate of neutral shades and oriental ornaments. The soothing environment stands in contrast to the saturated colours and strong flavours of the food.
Seafood like crabs and mini lobsters swim in broths of blazing colours. The hotpot soup bases – the most sought-after being the Stewed Marinated Beef with Spicy Soup – signal the fiery challenge ahead at first sight. Gourmets can sit in comfort while they take their tolerance towards spiciness to the edge. Need a time out? Chew on some fried mint leaves to take a break and tame your tongue.
Address
6 Lor Telok, Singapore 049019
Contact
+65 6536 8058
Business Hours
11 AM – 11 PM (Mon – Wed, Fri)
11 AM – 10.30 PM (Thu)
12 PM – 11 PM (Sat – Sun)
Highlights
Soup bases are free of MSG
Broths that are slow-boiled for more than 10 hours
Inventive handmade food items and delectable desserts
Longqing Steamboat prides themselves on soup bases that are free of additives. The broths are slow-boiled for more than 10 hours to extract flavours from the herbs, bones and condiments used. In particular, the Mala and mushroom soup bases are the crowd-pleasers. The former possesses all qualities of a good Mala stock, while the latter uses premium mushrooms, cordyceps, and other herbs to achieve a luscious earthy taste.
Ingredients at Longqing Steamboat can be ordered a la carte or through set meals. There are some inventive handmade items, including a chunky Handmade Pork Balls and a prawn paste accented with crab roe. End your meal on a high note with delectable desserts, like a deep-fried taro ball that oozes with a sweet, gooey yam filling.
Address
18 Hongkong St, Singapore 059661
Contact
+65 6533 1618
Business Hours
6 PM – 11 PM (Tue & Sun)
12 PM – 2.30 PM, 6 PM – 11 PM (Wed – Sat)
Closed on Monday
Highlights
Certified Halal hotpot restaurant
BBQ option available
Manageable, aromatic Mala soup base
Another eatery where Muslim gourmets can safely declare their love for hotpots: Jinshang Yipin Hot Pot is certified Halal! Established by a Muslim revert from China, soup bases from the restaurant are all Muslim-friendly. The options include Tomato, Mushroom, Herb Chicken, Sour Vegetable and the signature Mala. Despite its scary appearance and a distinguished peppery aroma, the broth remains tasty and manageable.
Besides hotpot, Jinshang Yipin Hot Pot provides BBQ options to elevate your dining experience. Operating on an all-you-can-eat basis, customers can help themselves to an extensive spread of ingredients. Satiate your hunger with unlimited refills and enjoy the best of both worlds.
| | |
| --- | --- |
| Address | Eastpoint Mall, 3 Simei Street 6 #01-20 Singapore 528833 |
| Contact | +65 6909 7355 |
| Business Hours | 11 AM – 3 AM daily |
Highlights
Mala soup base imbued with fragrant red oil
Single or double set meals for solo or small-group diners
Family packages for large-group diners
Similar to Shi Li Fang, Shi Jian Hot Pot is friendly to small groups and solo diners. Customers can opt for single or double set meals, featuring meat, assorted vegetables, sauces and drinks. Do note that the soup has to be ordered separately. On the other hand, there are family packages starting from S$68 that are suitable for larger groups.
Shi Jian Hot Pot has four popular soup bases, including the signature Red Oil Mala. It incorporates a fragrant red oil for an extra flair on top of the original tang. Besides, there are healthier options like the collagen-rich Signature Pork Bone, Beauty Tomato and Healthy Mushroom. The broths go exceptionally well with the variety of steamboat ingredients.
Address
JCube: #02-19, 2 Jurong East Central 1, Singapore 609731
Suntec City Mall: #B1-146, 3 Temasek Blvd, Singapore 038983
Contact
JCube: +65 6909 6368
Suntec City Mall: +65 6909 8306
Business Hours
11.30 AM – 10.30 PM daily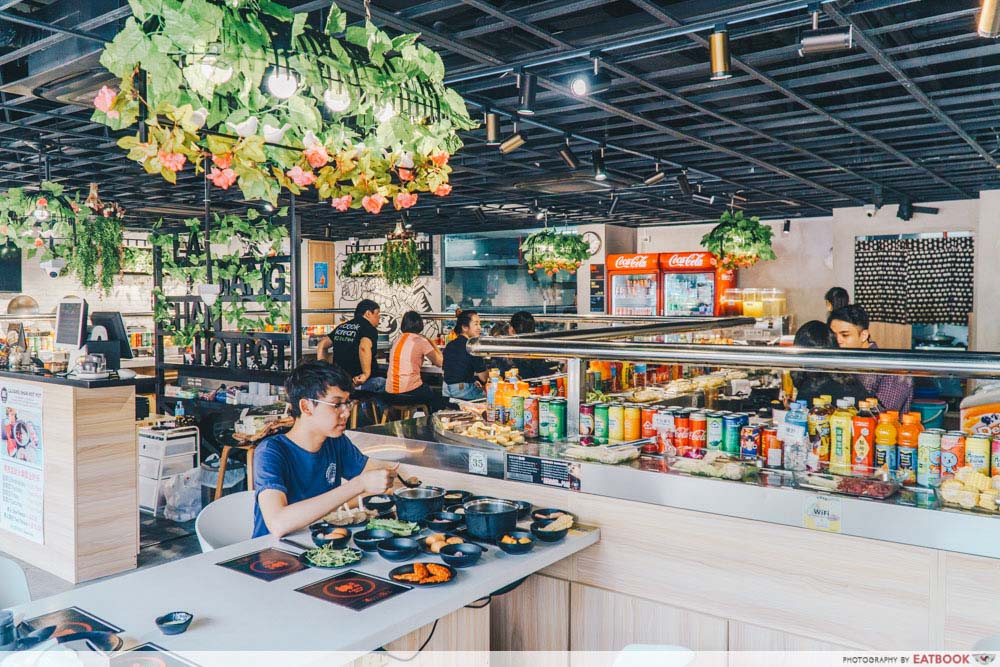 Highlights:
Conveyor belt experience
Individualized hot pots
Quality ingredients
La Jiang Shan Hotpot offeris a quality steamboat buffet in a uniquely fun manner. In similar fashion to a conveyor belt sushi joint, you will find the same conveyor belt experience at La Jiang Shan hotpot. Simplyy fish out items from the conveyor belt. You will never have to stand up to get your food.
If you have a soup base that only you in your friend group enjoy, you will be able to dine to your own preferences at La Jiang Shan Hotpot. As everyone gets their own individual pot, there is no need to walk on eggshells as you enjoy your personalized experience. Offering quality ingredients in a fun and convenient way, La Jiang Shan Hotpot comes in first on our list of best restaurants for steamboat buffets in Singapore.
The mala broth here is packed with a generous amount of dried chilli peppers, giving the soup that spicy and numbing sensation loved by mala fans around town. Other than mala soup bases, you can choose chicken broth soup base among others!
Address
35 Selegie Rd, #01-06 Parklane Shopping Mall, Singapore 188307
Contact
+65 6265 8995
Business Hours
Monday: 11 AM to 11 PM
Tuesday to Sunday: 11 AM to 6 PM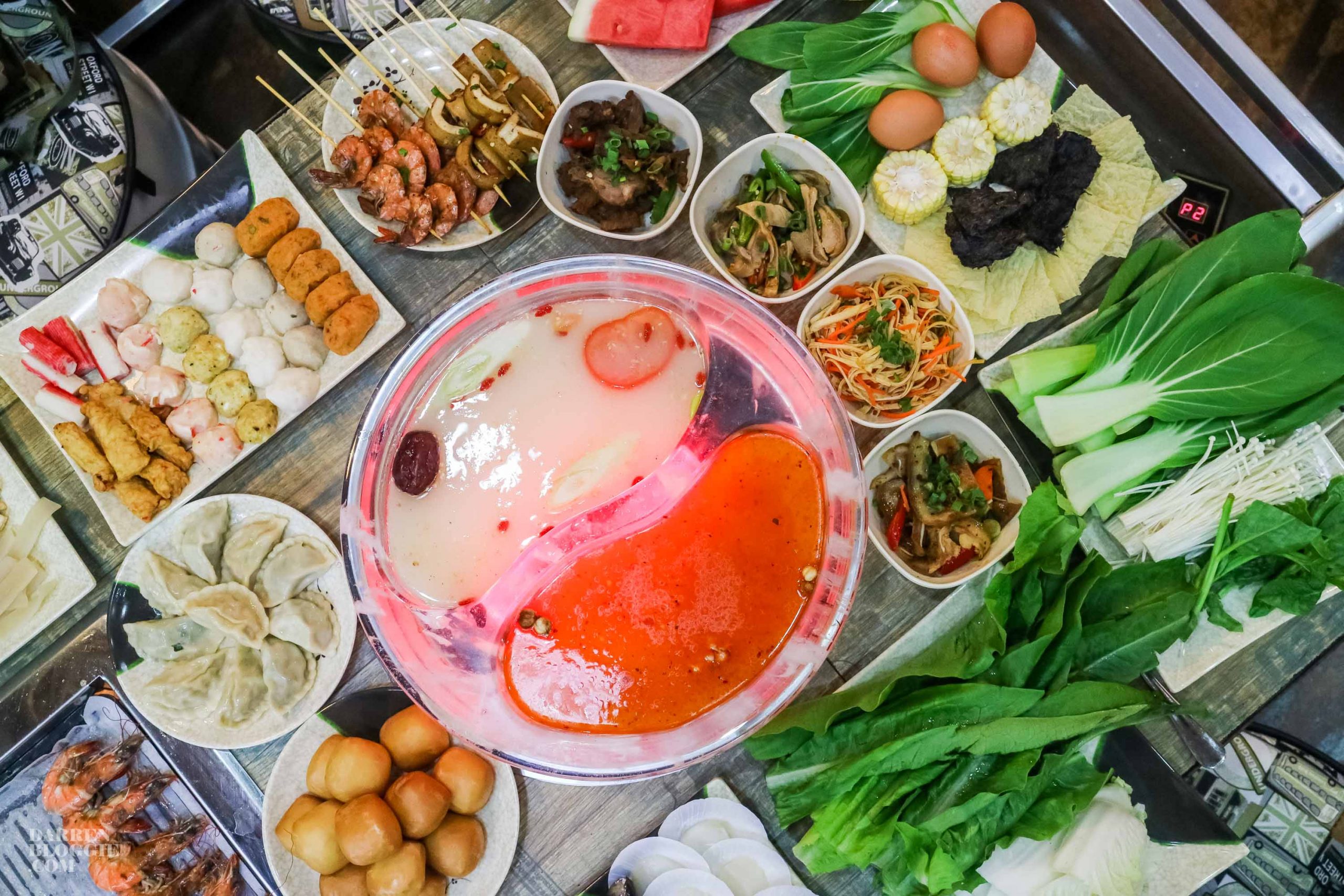 Highlights:
Wide variety of seafood and meat options
Premium items available
Teppanyaki available
With Hao Lai Wu, you will never have to be torn between steamboat and barbeque dining options ever again. With abundant seafood and meat options, you will be leaving Hao Lai Wu stuffed and satisfied.
For many steamboat buffets, the range of seafood always seems limited. This is not the case at Hao Lai Wu as the seafood range includes luxurious produce like crab claws, prawns and clams. The wide variety of marinated meats alongside the extensive seafood range will have you feasting like royalty. Furthermore, you can order a special oyster omelette cooked teppanyaki style at Hao Lai Wu. If you love seafood, we highly recommend Hao Lai Wu as your next steamboat buffet option.
Apart from their signature mala soup base, the brand offers other soup bases such as nourishing mushroom, in house special pork bone soup, Thai Tom yum, herbal and tangy tomato soup.
| | |
| --- | --- |
| Address | 8 Sago St, Singapore 059012 |
| Contact | +65 6732 0816 |
| Business Hours | 11 AM to 3 AM, Daily |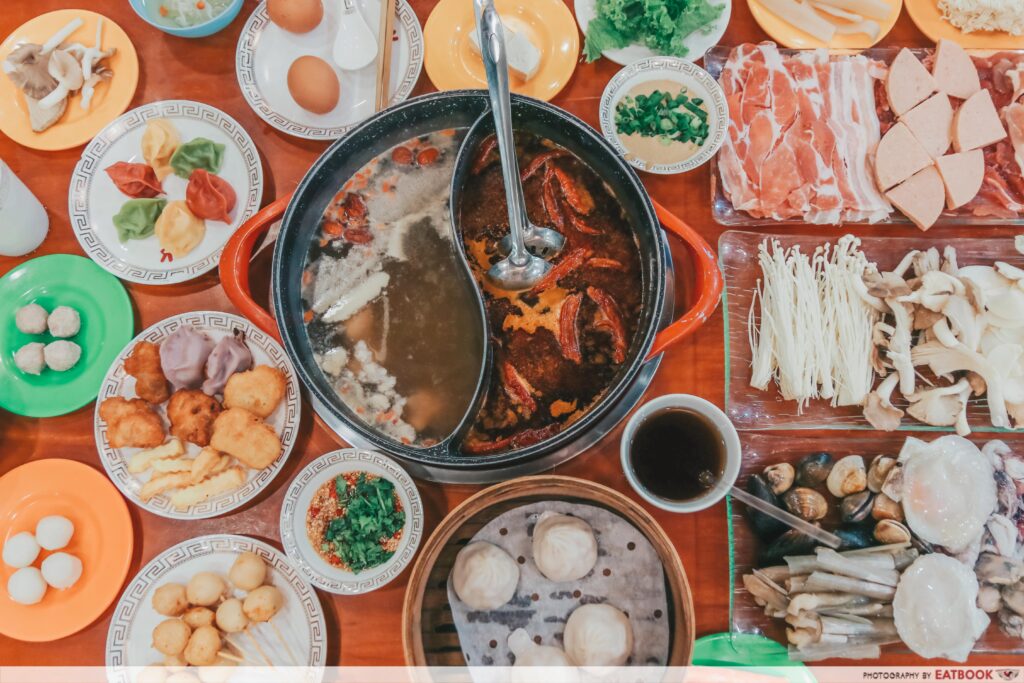 Highlights:
Free flow Xiao Long Bao
10 different soup bases
Conveyor belt style
Next on our list of the best restaurants for steamboat buffets in Singapore is another steamboat buffet restaurant with a free flow of Xiao Long Bao. Yi Qian Ling Yi Ye offers Xiao Long Bao and other dim sums as part of their cooked food range.
Yi Qian Ling Yi Ye has 10 different soup bases on the menu for you to choose from. They offer mala soup, collagen soup, mushroom soup, tomato soup, chicken soup, and others. They also embrace a conveyor belt style food delivery system, making for a fun and convenient buffet experience. Yi Qian Ling Yi Ye goes the extra mile and provides a dessert section for a complete meal.
There are classic dessert options like soft-serve ice cream as well as Chinese-styled desserts like red bean soup and white fungus soup. With quality ingredients and free flow Xiao Long Bao to boot, Yi Qian Ling Yi Ye should not be overlooked.
| | |
| --- | --- |
| Address | 930 Yishun Ave 2, Northpoint City South Wing, #B1-184, Singapore 769098 |
| Contact | +65 6988 3962 |
| Business Hours | 11 AM to 11 PM, Daily |
Highlights:
Children below 1m get to enter for free
Hotpot cum BBQ
Wide menu selection
Pot Addiction is an International Hotpot cum Korean BBQ Buffet Restaurant offering over 80 items on their buffet menu at affordable prices! At the restaurant, you can choose from 2 options of cooking style with tempting add ons such as a side of cheese and premium meat.
Enjoy a wide range of soup from Tonkotsu to Laksa base and of course, the reason why you are here and a popular favourite, Mala. You will also be able to enjoy a delicious spread of meat and vegetables. Their selection of sauces are also available for you to mix and match your favourite sauces to come up with your very own signature sauce.
In addition, the brand offers a cooked food menu that ranges from delicious Korean Fried Chicken, to Japchae (Korean Glass Noodles). Pot Addiction is truly an international buffet for all ages. For those with young children, you would be glad to know that children below 1m get to enter for free!
Highlights:
6 in 1 buffet
Affordable
Multiple location
Yi Zi Wei is a brand that offers a 6-in-1 buffet that comes with free-flow steamboat, barbecue, Korean army stew, lok lok, mala xiang guo as well as mala soup. The mala xiang guo and mala soup come with a fixed set of ingredients.
When you step into the restaurant you will be impressed by the wide variety of meats, vegetables, as well as ingredients that are available for your choosing. The restaurant also does not scrimp on their ingredients. You will find plump mussels, large prawns, and huge cuts of meats.
The selection of sauces and condiments are also extremely great. You can create your own sauce and come up with your very own signature sauce to go with your ingredients!
Address
1 Lorong 13 Geylang #01-01 Singapore, Singapore 388639
1, Sophia Road, Peace Centre, #02-01/02, Singapore 228149
Contact
+65 9097 3288
Business Hours
11 AM to 4 AM, Daily
Highlights:
Premium ingredients
Individual and large shared pots available
Wide variety of soup bases and dishes
Nestled in Chinatown Point, Taikoo Lane Hotpot boasts a mixture of individual pots and large shared pots. The new concept hotpot restaurant showcases the best of Sichuan and Cantonese hotpot broths and offerings. Some soup bases that the brand offers include Mala Soup, Chengdu Green Pepper Broth, Huadiao Collagen Soup, Nourishing Pork Bone Soup, and Spicy Pickled Baby Lobster Soup as well.
If you are an ultimate fan of Mala soup, this one by Taikoo Lane Hotpot is definitely worth the try because unlike most shops that use oil, this store uses traditional beef tallow. This results in a powerful broth with a strong kick.
For those who have friend who do not like mala soups, you will be glad that you can choose to have individual pots. No more compromising!
Along with your soup base, you can get to enjoy a wide variety of dishes such as Lobster Noodles, Magical Growing Mushrooms, Spicy Marinated Beef and Spanish Iberico Black Pork Collar.
| | |
| --- | --- |
| Address | 133 New Bridge Road B1-16 CHINATOWN POINT Singapore 059413 |
| Contact | +65 6970 0966 |
| Business Hours | 11 AM to 9 PM, daily |
Highlights:
Wide variety of food
Affordable
Comfortable environment
Xiao Cao Xiang Steamboat Buffet offers a 90-minute all-you-can-eat buffet, complete with a personal steamboat pot, as well as free-flow xiao long bao and drinks at $16.80+. The brand offers a wide variety of soup, with their signature broth being their Mala soup broth. It is fiery and spicy! If you are not able to handle your spice, Xiao Cao Xiang Steamboat buffet also offers nourishing soup bases such as herbal soup with Goji berries and dates.
The store also offers a great variety of meats, including Shangri-la Beef, Sliced Pork Belly, Sukiyaki-Style Sliced Beef Belly as well as Special Pickled Lamb. Their selection of seafood is also impressive with squid rings, prawns, clams and mussels!
| | |
| --- | --- |
| Address | 470 Lor 6 Toa Payoh Singapore 310470 |
| Contact number | +65 6273 7488 |
| Business hours | 11.30 AM to 9 PM, Daily |
Highlights:
Wide variety of dishes
Signature dishes available
Wide broth selection
Bangkok-hailing Thai-Chinese hotpot restaurant COCA Steamboat can offers mouth-watering and homemade specialties in their buffet menu.
Their version of a mala soup base is Merciless Mala, and is a crowd favourite, along with an exhaustive sumptuous selections of more than 65 ala-carte buffet menu items, savour from COCA House Specialities, Seasonal Seafood, Premium Meat Selection & Garden Vegetables which are bound to satisfy any hungry tummy.
If you are feeling fancy, opt for their COCA Premium Hotpot Kick where you will start the meal with a complimentary Welcome Drink of apéritif White Chardonnay or Red Shiraz to stimulate the appetite before the bountiful feast.
Other than Seasonal Lobsters, Scallops, Black Mussels, Flower Crabs, the brand also offers new additions such as Flower Clams and Snow Crab Stick to go along with hotpot staple ingredients. This is definitely an ultimate sumptuous 100 mins all-you-can-eat Hotpot spread that will leave you spoilt for choice!
Highlights:
Established for more than 20 years
Homemade soup
Wide variety of dishes
For those who are living around the Bugis area, you may be familiar with this hotpot buffet brand. Ting Yuan Hotpot Buffet has been situated in Bugis for more than 20 years. The brand offers its signature homemade soup that has no added preservatives as well as chemical additives. Some soup bases include their traditional authentic Sichuan Mala Soup as well as their signature Tomato and Fungus Mushroom Soup.
Their loyal and returning customers that they have amassed over the years often praise the brand for its great service, wide variety of food, as well as affordable price. The next time you are in town, be sure to give Ting Yuan Hotpot Buffet a try!
| | |
| --- | --- |
| Address | 22 Liang Seah Street Singapore 189043 |
| Contact | +65 6338 4755 |
| Business Hours | 11 AM to 11 PM, daily |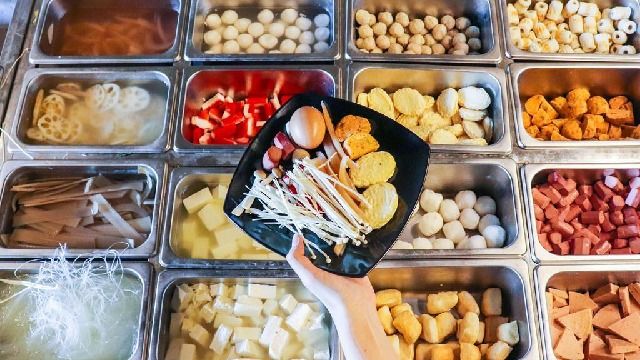 Highlights:
Great variety of food
Desserts and drinks free flow
Homemade laksa broth
King's Laksa Steamboat is made up of a husband and wife team committed to bringing their customers the Best Singaporean Steamboat Buffet experience. Their buffet menu includes items such as luncheon meat, prawn paste chicken, spring rolls, as well as an assortment of meat, seafood, as well as vegetables.
Despite their brand name, the brand offers other soup bases besides their signature laksa broth. Their Mala soup is also a rather popular option. In addition, the brand also offers soup bases such as Chicken Soup and Herbal Soup.
Judging from the number of good reviews from customers, you definitely do not want to give this stall a miss! Be sure to book a table to avoid disappointment!
| | |
| --- | --- |
| Address | 17 Teck Chye Terrace Singapore 545724 |
| Contact | +65 6287 8010 |
| Business Hours | 11.30 AM to 11 PM, Daily |
Venture beyond the popular choices and try these outlets that may help cut your bills and queuing time in half. After these demanding challenges for your tastebuds, calm your senses down with some exquisite desserts.
Related posts
Subscribe for newsletter
* You will receive the latest news and updates on Singapore's best trends!
Trending Posts
May 30, 2023

What is Matcha? Matcha...

May 31, 2023

TLDR: In this article,...

May 31, 2023

TLDR: As an audio...