13 Best Magicians in Singapore You Should Definitely Try Out [2023]
Joanne, 3 years ago
14 min

read
4978
Magicians are almost synonymous to a classic kids birthday party. As kids, many of us looked forward to birthday parties, but more so, if we knew that a magician would be performing. Even as adults, many of us would still try to figure out the card tricks performed by the magician. We also remain intrigued by the tricks and performances that we see at events.
Clearly, whether it's an intimate birthday party for your child with just a few guests or a corporate event such as your company's yearly gala dinner, magicians and magic acts are great ways to entertain. So if you are planning for a birthday party or a company event, read on to learn more about the Best Magicians in Singapore with outstanding shows that both children and adults can enjoy!
Highlights:
Specializes in kids' magic shows and close-up magic shows
Combination of comedy and magic tricks
Over a decade of experience
Derek Magic is a one-stop events hosting company that provides party hosts as well as event hosts at competitive rates. For over a decade, Derek has been passionately entertaining audiences from across Singapore. He is the honorary secretary of the Singapore Association of Magicians as well as a committee member in the International Brotherhood of Magicians Ring 115. Derek specializes in 2 types of shows: kids' magic shows and close-up magic shows. His impressive portfolio also includes performing for corporate companies, government events, and even royalty abroad. In addition, he has been featured in the Istana, Marina Bay Sands, and the F1 Grandprix Singapore.
In addition, the company offers a wide range of magic-related acts including Social Distancing Magic Show, Virtual Magic Show, Kids' Magic Show, Online Magic Workshop, Close-up Magic Show, and Magic Workshop. As a result of the current pandemic situation, The Social Distancing Magic Show, Virtual Magic Show, and Online Magic Workshop are perfect options!
If you are looking for something else on top of magic-related acts, you would be glad that Derek Magic also provides services such as Bouncy Castle Rental, Mascots, Live Food Stations, Balloon Sculpting, Face Painting, and Game Hosting, among many others!
In addition, Derek Magic offers monthly promotions for magic packages to suit your specific needs. So be sure to check him out when planning for your child's birthday party!
Highlights:
Roving Magic
Stage Magic Performances
Variety of Corporate Entertainment Options (Including Photography / Videography)
Experience Magic specializes in providing quality fringe activities and magic entertainment to corporate parties, privat events, weddings, as well as large scale events and festivals. With more than10 years of commercial experience, the company is know for their signature blend of comedy mixed with mind blowing magic. Their magicians are one of the most popular entertainers amazing fortune 500 companies and clients from all over the world.
What will your audience see?
Award Winning Sleight of Hand Performance
Mind Reading Demonstration
Hilarious Comedy Routines
Dangerous Stunts
Are you looking for something different, unforgettable, impressive and have no idea what to go for? Experience Magic is the perfect entertainment for
Weddings or Anniversaries
Private Parties
Restaurants
Corporate Engagements
| | |
| --- | --- |
| Address | – |
| Contact Number | 9846 9815 |
| Business Hours | Monday to Friday 10 AM – 6 PM |
Highlights:
Multi-award winning kids magician
15 years of local and international experience
Performed in more than 5000 live shows
Markson became a full time magician when he was 18 years old and since then he has performed in more than 5000 live shows. He has performed in countries such as Singapore, Malaysia, Indonesia, Thailand, Taiwan, China, India and even the Maldives.
Markson's 30-minute kids magic show is filled with fast-paced music, flashy costumes, high technology props, live birds appearances, animatronics, special effects, as well as a series of Markson's award winning magic routines. Furthermore, a special birds encounter session will be included at the end of the performance. Through it, guests will get to meet these beautiful birds & parrots up close for a photo opportunity.
In addition to the kids magic show, other services that Markson provides include Balloon Twisting, Face/Arm Painting, Glitter Tattoo, Caricature, Games Hosting, Bouncy Castle Rental, and Event Photography. Above all, with over 500 five star reviews on his Facebook page, you can rest assured that your child's upcoming birthday parties or events are in good hands.
| | |
| --- | --- |
| Address | 520 Miltonia Close, 768122 |
| Contact Number | 9369 4164 |
| Business Hours | 24 hours, daily |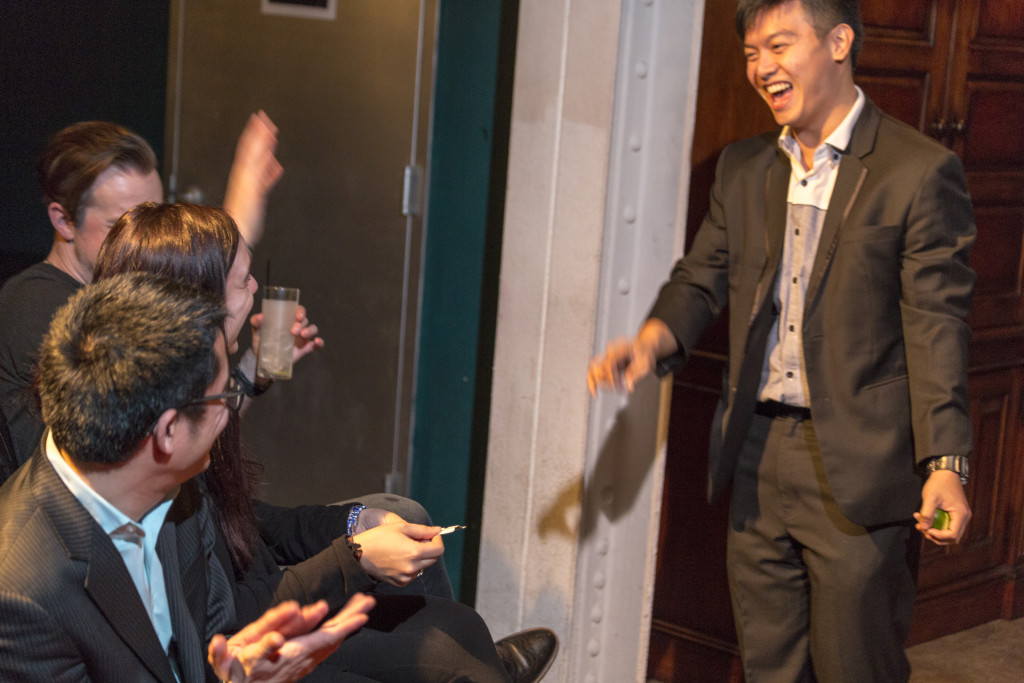 Highlights:
Magic acts tailored to your needs
Seasoned radio, television and theatre performer
Performed for renowned series, shows and channels
Recognized as part of a new generation of expert magic performers, Ming Da is the youngest Singaporean magician to have ever headlined in the Close-up Gallery at The Magic Castle in Hollywood. The Close-up Gallery is internationally recognized as the preeminent establishment for the world's greatest magicians. He has performed in venues such as The Wonderground in Las Vegas, Chicago Magic Lounge, and famed establishments and festivals in Europe, Australia, and Asia.
In addition, Ming Da specializes in corporate events, weddings, private parties, tradeshows, and pickpocket magic. For those who prefer to enjoy magic from the comfort of your own home, he also offers live-streamed entertainment where he is able to interact with you and your guests in real-time. Unlike most magicians with a standard set of acts, Ming Da uniquely tailors his performance to your venue, audience, and preferences.
Ming Da Magic is great for any kind of cocktail party, hospitality suite, or any social event. So, if you are looking for an act for your next corporate or marketing event, keep Ming Da in mind because Ming Da will meticulously research your materials to develop and refine individualized magic entertainment that represents your mission and objectives.
| | |
| --- | --- |
| Address | – |
| Contact Number | 81860854 |
| Business Hours | – |
Highlights:
Highly interactive kids magic show
Customized shows
Free cake cutting hosting
One look at Jellybean Party's colourful and interactive website and you will know that your kids will love their shows. Certainly, with magicians who are professionals with years of experience, and interactive kids magic shows that are specially designed to entertain children to keep them engaged, amazed and laughing throughout, your kids and their friends will have an amazing time. They have performed for small crowds of less than 10, to larger crowds with 1000 people.
The main entertainment of Jellybean Party includes Kids Magic Shows, Games with Prizes, Mascot Programmes, Stage Fitness Party, Juggling Shows, Corporate Stage / Stand Up Magic Show, Storytelling, Kids Pool Party, NERF Party, and Bouncy Castle Rental.
Although their shows are recommended for kids above the age of 4, the company customizes their magic shows to different age groups and preferences so you can rest assured that your child and his/her friends will not be bored!
If you want to learn the tips and tricks of the magic shows, Jellybean Party also organizes workshops for its clients! As a result, you and your kids can learn magic, balloon sculpting, juggling, and slime-making, among many others!
| | |
| --- | --- |
| Address | 300 Tiong Bahru Road |
| Contact Number | 9230 5911 |
| Business Hours | Monday to Friday 10 AM – 6 PM |
Highlights:
Variety of party packages
Good for family carnivals, corporate event, kids parties
Online workshops, DIY kits and virtual magic shows available
Established in 2011, E Magical Moment is a Singapore based events company that specializes in providing party entertainment for kids' parties. The team at E Magical Moment team consists of experienced and professional party entertainers who pride themselves in providing the best party entertainment experience.
E Magical Moment offers a wide variety of party packages with a whole host of activities. For example, magic shows, balloon workshops, games with prizes, magic workshops, caricature, face painting, sand art activity, glitter tattoo, and bouncy castle rental. In their interactive and engaging Close-up Roving Magic Performance, the magician would move around and also show magic tricks to your guests, up close. As a result, you and your guests can witness the magic closely happening right in front of you.
On top of that, due to the current pandemic situation, E Magical Moment offers virtual magic shows to ensure audiences remain entertained even while they are online.
| | |
| --- | --- |
| Address | Anson Rd, Singapore 079903 |
| Contact Number | 8235 1615 |
Highlights:
Virtual magic shows
Stage magic show
Interactive roving magic
Based in Singapore, Magicians of Singapore touts itself as the "next generation of magic". They perform for all age groups and aims to keep you and your guests entertained at your special event. The group performs Interactive Roving Magic, which includes close-up magic performed for small groups. This is great for Cocktail Receptions, Weddings, and Networking Events. In addition, Magicians of Singapore performs magic on stage, for 100 to 500 guests. Stage magic is great for Dinner and Dance, Stage Performances, and Family Events.
As a result of the recent pandemic, Magicians of Singapore added Virtual Magic Shows to their portfolio. Because their shows are filmed in Meta Illusions' Studio, they are of amazing production quality. These shows are also great for Family Gatherings, Business Events, Networking Events, Awards Ceremony, and Community Events.
So, if you are looking for state of the art magic acts, check Magician of Singapore out for your next event!
| | |
| --- | --- |
| Address | 158 Kallang Way #03-606 Singapore 349245 |
| Contact Number | 97459753 |
| Business Hours | – |
Highlights:
Close-up roving magic
Interactive stage magic
Roving digital magic
With over 20 years of experience, Jack Seet has collaborated with many big names across different industries, like fashion / creative director Daniel Boey, and Pat Law, founder of GOODSTUPH Singapore.
His performance offerings range from intimate close up magic to interactive stage magic, as well as roving digital magic with a modern blend of magic and technology. Jack is able to make things fall off that iPad screen into your hands, and objects from the real world melt into the digital!
His magic performances are ideal for corporate D&Ds, Weddings, Cocktail Receptions, Networking Events, Gala Dinners, Family Day Events and more!
Jack also offers multiple customizable options for corporate clients, where he will bring your brand or product to the forefront. Sit back knowing your event is in good hands, and watch Jack amaze his audiences with his inimitable mix of magic, humour and finesse.
| | |
| --- | --- |
| Address | 158 Kallang Way #03-606 Singapore 349245 |
| Contact Number | 9066 5546 |
| Business Hours | Contact them for more info |
Highlights:
100% money back guarantee
Live animal magic show
Magician and illusionist
Performing in over 5000 shows since 2001, Joe Yu is an award-winning magician in Singapore. They specialize in stage magic, close up magic, children magic, family day magic, balloon sculpting and dove act. In addition, The Magic of Joe Yu prides itself in being the first and original creator of live animals magic and illusion show in Singapore.
In their children's magic show, you would be able to witness a high energy magic show that includes hilarious audience participation, sophisticated and high-tech magic tricks, silly slap-stick comedy magic, animal balloons, bubbles and lots of special effects.
They also offer acts that are suitable for Cocktail parties, banquets and hospitality suites or television appearances. Joe Yu's show has been seen by many local & international celebrities, as well as countless audiences around the world. So be sure to add this to your list for your next event!
| | |
| --- | --- |
| Address | 64 Marine Drive #10-134, Marine Drive Gardens Singapore 440064 |
| Contact Number | 9769 5857 |
| Business Hours | 24 hours, daily |
Highlights:
Worry-free, affordable packages catering to small parties from 5 to 50 kids!
Mileage (experiences) of more than a thousand shows since the start of his entertainment career
Highly interactive as the Birthday child can be the star the of the show; waving wands and doing magic with their own hands!
Looking for an all-rounder magician in Singapore? Spearheaded by Magician "Donovan" who oversees a dedicated team of passionate entertainers – these guys literally parties full-time, so you know your magical party is in good, "white-gloved" hands. Their magic shows are super popular as the fun involves every child and parents alike! There's lots of audience interaction, as well as making sure that the birthday child feels special by being the star of the show!
What we love about Party Heart is their dedication to parties – every child's birthday is made to feel extra special, no wonder they have plenty of repeat clients. Wholesomely, they do sometimes get to see the same kids growing up over the years! Prices for the party packages are reasonable, and they're able to cater a small get-together from as little as 5 kids to a whopping jamboree of up to 50 kids! Party Heart can wholly handle the party's entertainment (e.g. Magic Shows, Balloon Sculpting, Face Painting, Interactive Games Hosting, Piñata, and more) making this a no-hassle, reliable and convenient all-in-one entertainment service!
| | |
| --- | --- |
| Address | Contact |
| Contact Number | 97368494 | Email: enquiry@partyheart.com.sg |
| Business Hours | By appointment only |
Highlights:
One-stop party solutions
Worked with top corporate clients like PayPal and Facebook
Customizable events
Mr Bottle is a contemporary magician and leading entertainer specializing in magic show for kids at birthday parties. A psychologist by training, Mr Bottle's magic shows are seen by more than 100,000 children, making his Birthday Magic Show the most booked entertainment in the company. Mr Bottle's magic shows are also themed: there are Halloween Magic Shows and Christmas Magic Shows. You may also customize your own theme! Additionally, Mr Bottle's Kids Party also offers a wide range of event services and this includes some signature magic shows. Kids can participate actively in the birthday magic shows while the adults watching will be amazed with the magic.
In addition to magic shows, Mr Bottle also provides other services such as games hosting, balloon sculpting, science shows, caricature, and storytelling. Therefore, for a one-stop party solutions, check out Mr Bottle's Kids Party!
| | |
| --- | --- |
| Address | 59 Ubi Avenue 1 #05-10 Singapore 408938 |
| Contact Number | 6515 5921 / 97397503 |
| Business Hours | Monday to Friday 9 AM – 6 PM |
Highlights:
Specializes in close up magic
More than a decade of experience
Customized magic acts
Tommy Kian is a professional full-time magician based in Singapore who has been performing his magical acts for the past 14 years. Specialising in close up magic, Tommy Kian's performances will put a smile on your guests' faces, whether they are nine years old or ninety years old!
Do a quick check online and you will find numerous positive testimonials that many clients have of Tommy Kian. Many of them praised Tommy for his passion for magic, which absolutely shines through in his magic acts.
In addition, Tommy Kian has vast experience performing for big, medium or small scaled events. He has put up his magical acts at birthday parties, corporate events, and other large-scale events. Whatever your party size, he will provide top-notch services with an excellent experience for you and your guests! So, what are you waiting for? Reward your event guests with colorful yet memorable moments with the mystical magic acts of Tommy Kian!
| | |
| --- | --- |
| Address | 143 Serangoon North Ave 1, #11-341, Singapore 550143 |
| Contact Number | 9877 9943 | starsofevents@gmail.com | Instagram |
| Business Hours | Monday to Friday 10 AM – 6 PM |
Highlights:
Performer for any event
Wide range of packages to choose from
Professional and dedicated team
Having performed magic on Mediacorp TV and for thousands of children, Magic Man Hong Wei has found the best combination of magic and comedy to engage magic for children's birthday parties, kids' birthday parties, company events, roadshows or any other event requiring magic.
​Magic Man Hong Wei Also has a team of dedicated face painters and balloon artists with the same aspiration. They are passionate about bringing joy through magic! From weddings and corporate events to private parties and trade shows, MagicMan Hong Wei will provide the best magic show, balloon sculpting, emcee, and cosplaying experience that you can find.
Magic Man Hong Wei offers a wide range of packages that come at a variety of rates. So, regardless of your budget, they will have something for you that is suitable for your event!
| | |
| --- | --- |
| Address | Blk 173 Lorong 1 Toa Payoh Singapore 310173 |
| Contact Number | 96413170 | hongwei1996@live.com.sg |
| Business Hours | Monday to Friday 10 AM – 6 PM |
Planning and hosting a party can be a stressful and daunting process. But with these Best Magicians in Singapore, your party-planning journey will be simplified and stress-free!
If you are looking to host a party soon, check out our round up of the Best 11 Photo Booth Rental Services in Singapore to keep the memories of your party alive!
Related posts
Subscribe for newsletter
* You will receive the latest news and updates on Singapore's best trends!