13 Best Macaron Places in Singapore Just For Your Sweet Cravings [2022]
Zoya, 3 years ago
13 min

read
13899
Ah, macarons—delightful treats that are crispy on the outside and chewy on the inside. The French pastry is a combination of 2 airy meringue cookies perfectly glued together with a soft, tasty filling. Traditionally, the classic French macaron is a humble cookie with a vanilla buttercream filling. These days, however, we can find macarons in a variety of flavours, shapes, and colours. A treat for both the eyes and the tastebuds, it is no wonder they took the dessert world by storm—and Singapore is no exception.
We all know someone who has tried their hands at making this delicate dessert. With a reputation for being difficult to make, it is no surprise that most of those who try were failed to recreate the perfect macaron. Just do a quick search of 'failed macarons' on the internet! Lucky for us here in Singapore, we can safely leave the macaron-making to the pros! These Best Macaron Places in Singapore would easily satisfy that sweet tooth of yours!
Highlight:
Freshly baked daily
Fast Delivery
High-Quality Ingredients
Durian Flavor is a must-try here
The Durian Bakery aims to serve you with the best quality pastries using their best quality ingredients. They freshly bake their cakes daily. Besides, they collaborate with Durian Delivery in getting their durian supply for their pastries.
Other than macarons, there is a wide variety of cakes available. They have best-sellers such as their Black Forest Dark Cherry with Mao Shan Wang core and Mao Shan Wang Durian Mille Crepe Cake. Besides selling cakes, The Durian Bakery offer other pastries such as Cream Puffs, Mousse, Mochis, and more.
With free delivery within 4 hours for each purchase above $50, you don't have to worry about long cake waiting time.
Contact
admin@thedurianbakery.com.sg | 65 8875 1069 (Whatsapp)
Opening Hours
Mondays to Sunday (including PH)
10 am to 9 pm
(Last Order at 7 pm)

Official Pages
Website | Facebook | Instagram
Highlights:
Inspired by the French-Japanese baking technique
Catered to Singaporean market with macarons that are light and not too sweet
Island-wide delivery on Qoo10, Shopee, Grab, Deliveroo, Foodpanda, and on their own online platform shop.abp.sg
AnnaBella Patisserie, a Halal-Certified Japanese-French inspired bakery, began in 2014. Its founder, Annabella, had a bite of a macaron from Laduree, Paris, and was enchanted by its flavours.
Since then, she had travelled to top bakeries around the world to learn to create high-quality macarons. Now, the bakery specializes in making macarons that are light in taste and not overpoweringly sweet to cater to the tastebuds of locals.
The hand-crafted macaron comes with Classic flavours such as Vanilla and Chocolate. They also have Premium and Artisan flavours such as Crème Brulee and Lychee Martini. With up to 30 flavours available, you will certainly find one that you love.
Working out of a central kitchen at Bukit Batok, the bakery serves close to 500 orders daily. It also supplies hotels, cafés, restaurants, and runs pop-up stores at shopping mall atriums islandwide. Besides, AnnaBella Patisserie offers delivery options on Qoo10, Shopee, Grab, Deliveroo, Foodpanda, and their own online platform. Be sure to check out their website!
Contact
8823 8808
Opening Hours
Mondays to Saturdays
8 AM – 6 PM Daily
Address
20 Bukit Batok Cres, #11-02 Enterprise Centre | ABP Central Kitchen, Singapore 658080
Highlights:
Uniquely Asian flavours not found in other countries
Catered to local tastebuds
Giant macaron cakes and macaron shell bits
The journey of Macarons Sg began in 2013 when founder Kevin Teo was unsatisfied with the macarons that were available in Singapore at the time.
Therefore, they began experimenting with uniquely Asian flavours such as Asian Honey Mango, Chinese Lychee, and Chinese White Peach.
Today, the Halal-certified bakery offers 28 flavours of macarons. They range from classic flavours like French Vanilla to Asian flavours like Ondeh Ondeh.
Moreover, the adventurous dessert-lover could indulge in more exotic flavours such as Chilli Chocolate and Jamaican Blue Mountain Coffee. Besides, they also offer 5-inch diameter giant macaron cakes and macaron shell bits.
Island-wide delivery is available on their website for you to satisfy some last-minute dessert cravings.
Contact
9855 1531
Opening Hours
Mondays to Fridays
10 AM – 7 PM
Address
210 Syed Alwi Road Singapore 207743
Highlights:
Unique flavour selection
Signature Salted Egg Yolk Curry flavour
Big macaron cakes
The M Plot Macarons Cafe has been in the industry for about 2 years, and they take pride in themselves as a cafe that deals with Taste. Locally owned, they specialize in brunches, beverages, and desserts.
In 2018, they won the Asia Food Innovation Award and were recognized as the Best Confectionery Winner when they entered the competition with their Signature Macarons Taste of Asia. The M Plot Cafe is also known for its creative flavours that blend cultures in macarons and desserts.
They offer a wide variety of handcrafted macarons. Apart from classic flavours, they also have unique flavours such as the Salted Egg Yolk's Curry Macarons. This is popular among salted egg lovers. Also, they have Big Macarons such as Raspberry Rose Lychee, Chocolate Hazelnut Praline, and the Black Forest, which are well-liked by their customers.
Besides selling Macarons, they also have Dessert Pastries such as Chocolate Caramel Croissant, Almond Croissant, and Cakes. As for brunches selection, they have options like House-Made Crunchy Granola, Organic Eggs Benedict, Croissant Sandwich, Eggs on Toast, and Dutch Baby Pancakes.
Contact
6223 1986
Opening Hours
Monday – Sunday: 9 AM – 8 PM
Tuesday: Closed
Friday & Saturday : 9 AM – 9 PM
Address
9 King Albert Park, #01-05, Singapore 598332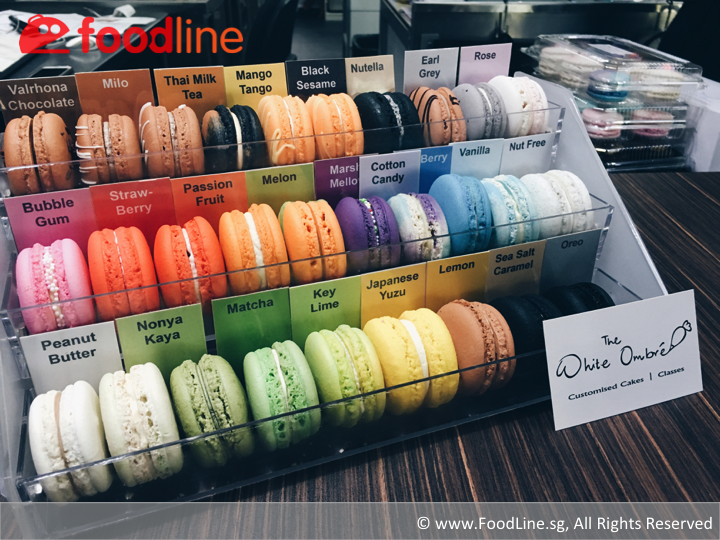 Highlights:
Local flavours such as Milo and Kaya
Customized macaron classes for all ages
Island-wide delivery
Located at the heart of Toa Payoh, The White Ombre is a humble bakery that offers signature confections such as cakes and pastries. They also conduct classes and workshops for those who want to try their hands at creating their own desserts. Their French macarons are a signature dessert on their menu. Along with flavours like Japanese Yuzu, Matcha, and Mocha, more kid-friendly flavours such as Milo, Kaya, Peanut Butter, and Cotton Candy are also offered! The White Ombre is certainly a perfect place for the family for a relaxing weekend.
For those looking to design customized cupcakes for events and parties, The White Ombre provides macaron printing services where you can print images or logos directly onto their delectable macarons!
Contact
6254 6434
Opening Hours
Tuesday to Sunday
10 AM – 7 PM
Address
206 Toa Payoh N, #01-1209, Singapore 310206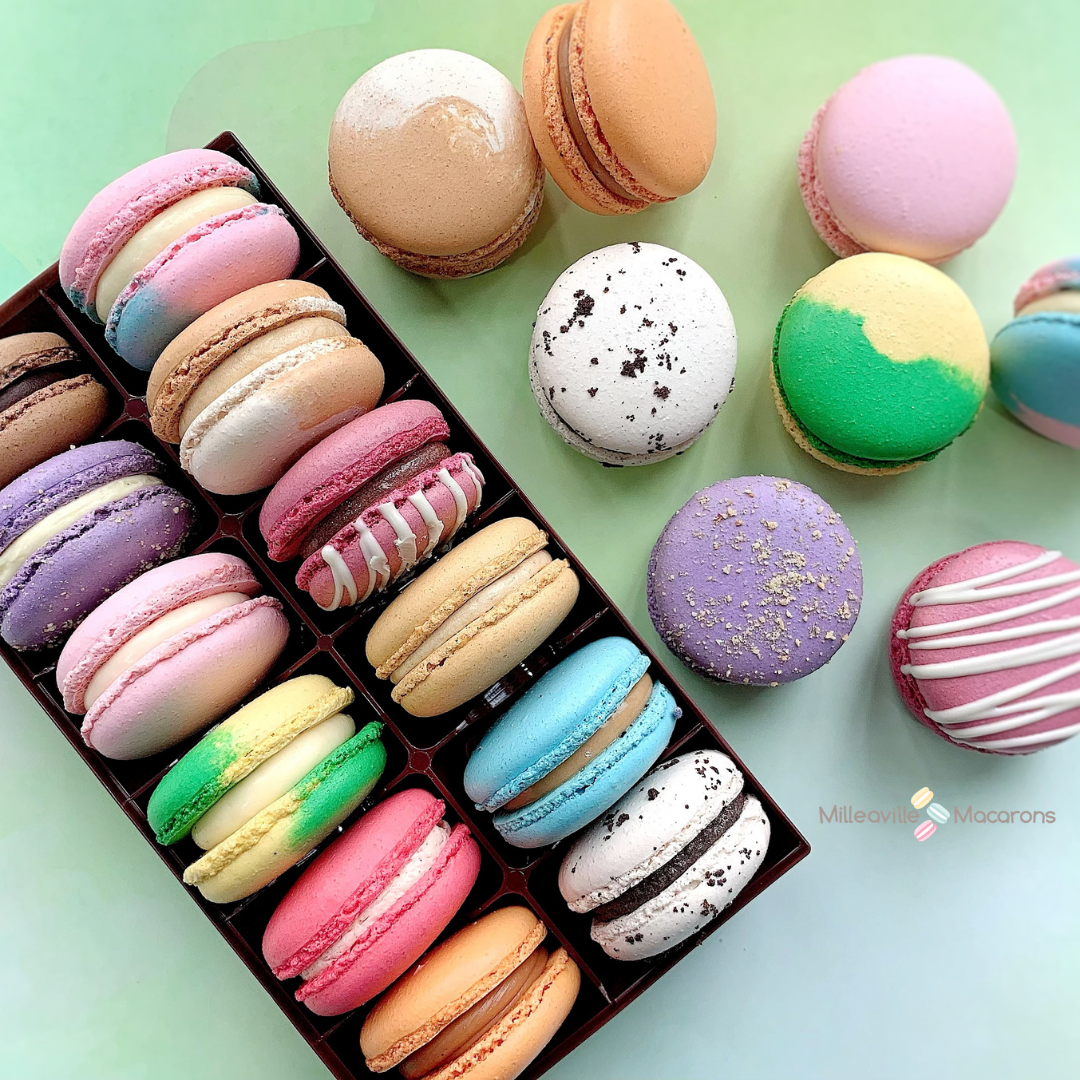 Highlights:
Customized macarons
Not too sweet
Wholesale macarons for parties and events
Owners of Milleaville Macarons spent a year researching and developing the perfect way to make a macaron.
They started as home bakers and subsequently worked towards having their own kitchen shop. The owners insist on using only the best qualities of ingredients.
Milleaville Macarons offers an array of flavours for their macarons. They also do customizable monogram macarons and macaron towers for parties and events!
The brand offers to deliver as well as an in-store purchase. Currently, they are offering 10% off their round regular macarons for walk-in purchases. So what are you waiting for? Head down today!
Contact
9050 5780
Opening Hours
Monday to Saturday
10 AM – 7 PM
Address
51 Lor 6 Toa Payoh, #01-84, Singapore 310051
Highlights:
Signature Very Dark Chocolate flavour delicately adorned with gold leaf
Macarons are made with finest-grade cacao
Unique flavour combinations
Most people may have heard of The Dark Gallery for their chocolates, but not many know that they craft artisanal macarons alongside a wide array of desserts. The company chooses to specialize in 10 flavours to ensure the quality of every macaron that they produce.
Some flavours include Strawberry Lime, Rose Tea, and Earl Grey Chocolate. Interestingly, each macaron is a unique combination of two flavours. Be sure to try The Dark Gallery's macarons the next time you head down to get their chocolates!
Contact
6255 0368
Opening Hours
Monday to Sunday
11 AM – 9.30 PM Daily
Address
#01-K5, Millenia Walk, 9 Raffles Boulevard, Singapore 039596
Highlights:
Local flavours such as Kopi Butter, Kaya, and Orh Nee (Yam)
Unique flavours such as Green Tea Cherry and Lychee Rose
Conveniently situated around the town
Opened in 2012, Patisserie G has multiple branches that are all conveniently located around town. Artisanal desserts are the main highlight of the café, and its founder, Gwen Lim, aims to provide Singapore with her vision to make French food and pastry using high-quality ingredients.
Without a doubt, the café's macarons live up to her vision. With a variety of choices available, there is a suitable flavour for everyone. So, if you are passing by Millenia Walk or the Downtown Gallery area, give Patisserie G a try!
Contact
6222 0390
Opening Hours
Monday to Friday
10 AM – 6 PM
Address
Multiple locations See Website
Highlights:
Nostalgic flavours such as Liu Sha Bao, Ang Ku Kueh, White Rabbit Candy, and Kopi Toast
Fillings are made completely in-house
Macarons are made-to-order so freshness is guaranteed
Dedicated to disrupting the status-quo, Jaded Macarons is a true-blue Singaporean brand that aims to redefine what a macaron is. Intriguing flavours such as Ang Ku Kueh, Kaya Butter Toast, Kopi Gao, Liu Sha Bao, and White Rabbit Candy are available. Even though Jaded Macarons only operates online, but they offer free island-wide delivery.
Their macarons are made-to-order, so freshness is guaranteed! You should order 2 days in advance to avoid disappointment! In the meantime, we are looking forward to more new and innovative flavours from the team!
Contact
Not Applicable
Opening Hours
Monday to Friday
9 AM – 7 PM
Address
Online Store
Highlights:
Tea-infused macarons
Affordably-priced
A repertoire of 68 tea salons across 19 countries
We are all familiar with TWG Tea. The homegrown local brand needs no introduction has since gone international. Making its mark in the culinary world, it has 68 tea salons across 19 countries.
If you love TWG Tea's tea blends, wait till you try their tea-infused macarons! Unique tea blends are infused into both the ganache fillings as well as the macaron shells. Pair some macarons with their signature tea selection, and you are sure to have a delightful afternoon tea.
Highlights:
Singaporean flavours such as Chendol, Milo Dinosaur, Kopi O Gao, and Chilli Padi infused-macaron
Handmade macarons made with all-natural flavourings
Customized character macarons
Tucked away in Upper Serangoon is Bonheur Patisserie, a local store best-known for its handmade macarons.
The brand believes in using all-natural flavourings for all macarons. Lim Wei Xian, Bonheur Patisseries' founder, and head pastry chef is a two-time Pastry Chef of the Year finalist at the World Gourmet Summit Awards of Excellence.
Besides, they also specialize in creating adorable character macarons. These will certainly put a smile on your face. Tell them your favourite cartoon character, and they would turn it into macaron that is too cute to be eaten!
Contact
9221 6636
Opening Hours
Monday to Friday
12 PM – 6 PM
Address
767 Upper Serangoon Road, Spazio@Kovan, #B1-04 Singapore 534635
Highlights:
Classic flavours along with innovative flavours
Authentic Parisian pastry
Well-known chef
Chef Chiak is the head chef behind Chiak Pâtisserie. His journey started at Antoinette, where he built up his foundation in pastry and baking.
During his time in Paris, Chef Chiak's exposure to the enchanting Parisian pastry scene has bestowed on him an extensive understanding and appreciation for French desserts. He is greatly inspired by the remarkable standards of both the French chefs and pastries alike.
Therefore, with Chiak Pâtisserie, he hopes to bring a part of France to the corners of the globe by creating desserts that will captivate and mesmerize, one delicious bite at a time. They aim to let people experience the magnificence of French desserts without travelling halfway around the world.
In terms of its macarons, you can expect a myriad of flavours! Some are classic pairings that have been savoured for decades, while others inspire curiosity as they are unfamiliar and yet delightful to the palate. Some flavours they have are Vanilla Raspberry, Intense Matcha, Salted Butter Caramel, as well as Lemon Verbena Strawberry.
However, they operate online, so there is no physical outlet. You can choose to have your orders delivered to you or self-collect at their address in Woodlands.
Contact
9819 6877
Opening Hours
Monday to Sunday
11 AM – 8 PM Daily
Address
308 Woodlands Ave 1, S730308, Singapore 730308 (For Self-Collection)
Highlights:
Wide variety of flavours
Able to learn how to make macarons
Recipe card and guidance provided
Ti Yan Academy is a cooking school that will provide you with all the essential basics you need to master French Cuisine such as French onion soup, Beef bourguignon, Chicken "cordon bleu" as well as macarons!
With step-by-step explanations, tips, as well as guides given by professional chefs. Now, cooking will become a piece of cake. From the online classes, you will also learn all the technical skills and know-how. These will make you an accomplished cook.
For Valentine's Day, Ti Yan Academy has a special recipe that mashes together everybody's favourite French pasty recipes Macarons and Sea Salted Caramel Sauce. The adorable macarons are shaped like love hearts and will make the perfect gift for not just Valentine's Day but birthdays or anniversaries.
As a bonus, the recipes for the macarons and the sauce are easily accessible through a convenient QR code that you can find in the box that the macarons are packed in. You can use it to try to reproduce these delightful desserts in a romantic cooking session with your loved one!
If you are too lazy to create macarons from scratch, fret not. Ti Yan Academy offers their macarons for sale. Moreover, they have macarons that are shaped like a number 8 on top of those that are heart-shaped. They have flavours that include Ruby Red Fruits, Dark Chocolate, Mandarin Velvet, Vanilla Velvet, as well as Salted Caramel.
Check them out for adorable macarons in a variety of shapes and flavours!
| | |
| --- | --- |
| Contact | https://tiyan-academy.com/contact/ |
| Opening Hours | Not Applicable |
| Address | NA |
To Sum It Up
Certainly, the best Macaron places in Singapore that we have round-up for you will undoubtedly satisfy your sweet tooth. Whether you are craving for a classic macaron, one with a local twist, or something more adventurous, we got all settled for you!
If you are on a dessert hunt, you can check out our round-up of the basque burnt cheesecakes, cupcakes stores, and brownie places in Singapore. Likewise, to save you from travelling out, we have a list of cake delivery services and ice cream delivery for you to indulge at home.
To complete your dessert cravings, you will need a cup of beverage. Whether it is tea, honey, or coffee, we have got you covered. Here you can find out more from our list of Tea brands, Manuka Honey, and local honey brands to pair your Macarons with.
As an alternative to sugar, you can add drops of honey into your coffee to boost your energy for the day. Read more on our article on the list of instant coffees we have right here in Singapore for your caffeine needs.
Zoya
Queen of Obscure References and occasional writer. When not exercising my thumbs on Instagram, you can find me looking for good author bios on Google.
Related posts
Subscribe for newsletter
* You will receive the latest news and updates on Singapore's best trends!