7 Best Long-lasting Lip Products in Singapore [2022]
Sarah, 3 years ago
6 min

read
5039
COVID-19 is no reason for you not to wear a lippie if you want to. Now read this list to look through 2020's best pick of long-lasting lip products to wear under your mask in Singapore.
16 hour wear
Precision applicator
Weightless, naked feeling throughout the day
Drying overtime
Rather difficult to erase; make sure to use an oil-based remover
If you haven't seen Daily Vanity's review on this product, it's title alone tells you everything you need to know: not even frying oil from KFC can budge this liquid lipstick. Check out their video below
Source: Maybelline SuperStay Matte Ink Liquid Lipstick review: Fried chicken SHOWDOWN! | WORTH A SHOT
Not only is this product smudge-proof, but the wide shade range also appeals to the hearts of the nudie lip-lovers as well as the 'wild childs' who love their dark blue-reds, purples and browns. This ink-like formula is perfect for mask wearers who want to brighten up their complexion with a lippie. Hands down one of the best long-lasting lip products to wear under your mask in Singapore!

It is important to note that with every liquid lip, it contains ingredients that remove moisture in order for it to attain that long-wearing matte finish.

Therefore, to ensure your liquid lip doesn't crumble, make sure to exfoliate your lip (with a DIY sugar scrub) and then moisturise it liberally (Vaseline Lip Therapy works wonders).
Get yours today at the nearest WATSON in-store or online for $15.90, or on Shopee.
Makeup made with love, not animals = VEGAN
Wide shade range
Gloss-like application
Comfortable to touch-up and layer
This high-pigment, long-lasting lip colours your world with an effortless swipe of their magic wand. The Everlasting Liquid Lipstick thin applicator draws on your lip with precision and control just like a brush. The creamy liquid lipstick formula glides over akin to a gloss but ultimately settles down to a complete matte finish. And to top it all off, this liquid lip is packed with all-natural moisturizers, including vitamin E and sunflower seed wax.
Get it here at SEPHORA online or in-store for $29.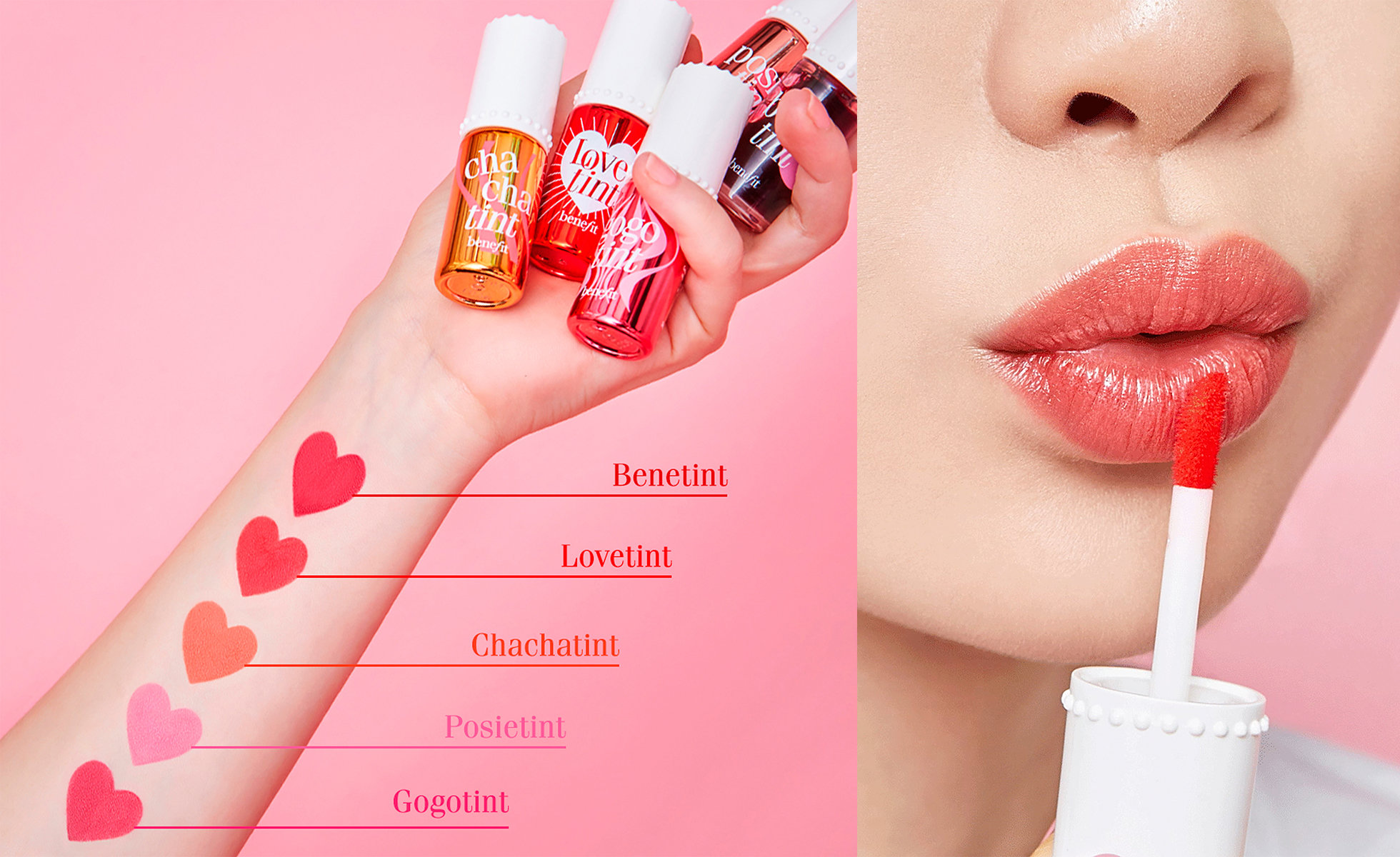 Comes in multiple shades
High staying power
Thin yet pigmented and lightweight
Comfort guaranteed
Some of us don't want a full-on lipstick under our mask but still need a little colour. Benefit's line of LIP & CHEEK stain offers a wide range of tints to bring some warmth to our complexion. The wonderful thing about tints are their versatility all over the face: from our lips, cheeks and even eyes. A liquid lipstick is sure to settle into our lip lines over some time but a tint's oil-based formula moisturises instead. And unline other tints, Benetint stays on all day so don't be afraid of its dark colour in the bottle, with a little dabbing the colour settles beautifully on wherever you put it. Truly one of the best not drying and long-lasting lip products to wear under your mask in Singapore.
For $31, grab it on SEPHORA online or in store today.
Cute and small packaging
Colours that will suit all skin tones
Comfortable
Moisturising
REVLON's NEW KISS collection of matte lip inks promises the amalgamation of diffused colour and comfort. The lip formula comes in shades of multitudinous corals, roses, pinks, browns that give our naked lip a pop of high-octane colour. Your lips will definitely feel moisturised throughout the day as it contains a faultless blend of milk thistle lipolami, cotton seed oil and coconut oil.
For a humble price of $19.90, get yours today at WATSONS online or in-store and on Shopee.
5. The original purveyors of the 'lip-bitten' look – 3CE Velvet Lip Tint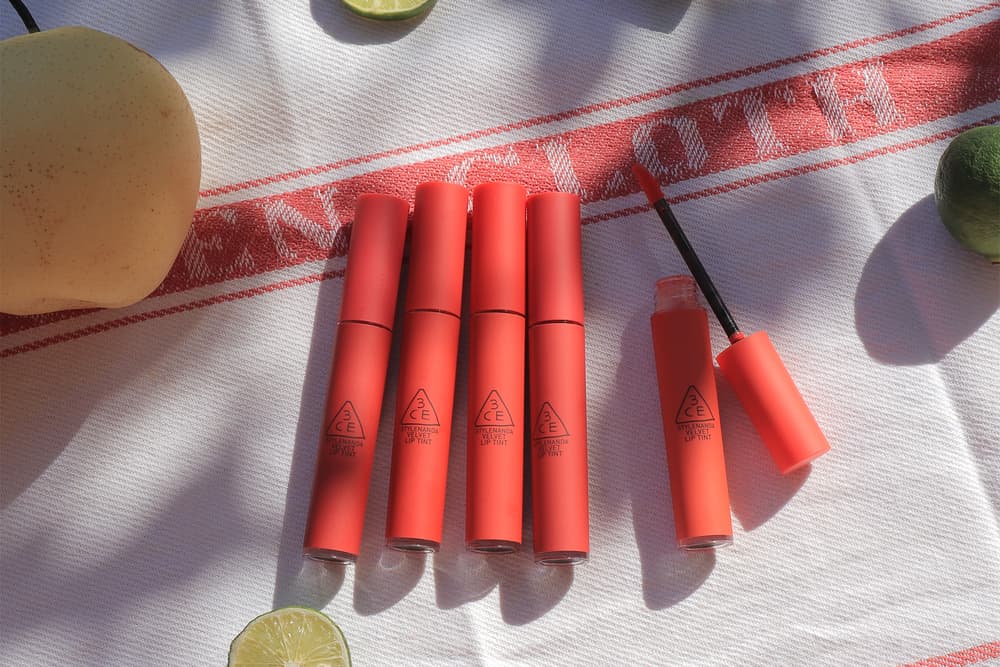 Matte finish
18-hour wear
Oil-based and highly moisturising
Rose Fragrance and extract
3CE's Velvet Lip Tint is an oil-based lip tint that like its name, gives a velvety soft finish to the driest of lips. Thus, don't be put off when your lips are first encased by the layer of oil (a mix of Helianthus Anuus Seed, Calendula Flower and Rosa Caninca Fruit Oil), it's meant to do that! Once your lips absorb the texture or if you dab it in with your ring finger, the pigments gently melt, giving a dewy sensation and an eventual supple matte dry down.
For $24, get this lippie at SEPHORA online and in-store or on Shopee.
A painter's shade range
Transfer-proof
Creamy application
Complete matte finish
Whilst SEPHORA is known to carry all kinds of makeup brands and products, their own products are not that well-known. HOWEVER, this lip stain is one hidden gem that a makeup lover should always have in their bag. Don't let the name Cream fool you, this cream does not come off. As compared to the its predecessors on this list, this lippie is indeed quite drying.
What puts it on this list is its transfer-resistance and the eye-opening shade range. Who knew lilac lips were even possible? If you ever want to wear a blue lip but afraid to wear it out, all the more to wear it under your mask! There's never a better time to experiment with your creativity.
Interested in metallic colours? Take a looksie here.
Check out what this lip collection has to offer here on Sephora online or in-store at $20 a pop.
High-coverage
High-shine
Longwear
As compared to the other items on this list, YSL's Cream Lip Stain is more about the bougie-ness more so than the value-for-money. This lippie promises a 10-hour wear with impeccable comfort to make your lips and yourself feel beautiful. The packaging is obviously gorgeous and you can even opt in to have it engraved with a monogram of your initials at a nearby YSL store. All in all, a superb lip product that is perfect to round off our list of the best long-lasting lip products to wear under your mask in Singapore!
Get yours today here at $52 at TANGS or at your nearest YSL store.
Ready for some new shades? Check out YSL's MILK TEA LIP COLLECTION 2020 line here.
What are you waiting for? Mask or no mask, every day is a good time to wear lipstick. Stay safe everybody!
Check out our other related articles:
Written by: Sarah Suprat
Related posts
Subscribe for newsletter
* You will receive the latest news and updates on Singapore's best trends!