11 Best Christmas Log Cakes in Singapore [2022]
Joanne, 3 years ago
7 min

read
8582
Over the years, log cakes have become almost a staple at every Christmas celebration. The traditional Yule log cake is a rolled, filled sponge cake, frosted with chocolate buttercream to look like tree bark and with icing and other edible decorations. In Singapore, you can find timeless classics like a chocolate log cake, as well as unique and new creations that are innovated by pastry chefs all over the world.
Today, we explore the 10 Best Christmas Log Cakes in Singapore, for you to pick that perfect log cake for your festive celebrations with your friends, family, and loved ones!
Highlights:
Chocolate sponge
Silky mousse
Affordable
Spread joy and cheer with Marriot Tang Plaza Hotel's signature Chocolate Fudge Log Cake! With a soft and pillowy chocolate sponge and silky mousse wrapped in a layer of luscious chocolate frosting, this 500-gram cake will definitely be a crowd-pleaser at your dinner party.
Be sure to reserve 5 working days prior to collection date via by calling or sending them an email. You can reach them at 6831 4708 or SingaporeMarriott.Festive@marriotthotels.com.
Price: 28.80 SGD
Where to buy: Here
2. Emicakes: Christmas Log Cake
Highlights:
Wide variety of flavours
Classic and modern flavours
Comes with free cooler bag
Emicakes Christmas log cakes come in 5 different flavours that you can choose from: Chocolate Delight, Truffle Sparkle, Choc Caramel Dazzle, Choc Nougat Surprise, as well as D24 Dreams. In case you are confused about how each flavour differs from one another, here is a breakdown of the different choices that Emicakes offers:
Chocolate Delight: Melt-in-your-mouth chocolate mousse rolled in chocolate chiffon. There is even an eggless version for you to choose from.
Truffle Sparkle: Their best-selling dark chocolate mousse with dark chocolate bits in chocolate chiffon.
Choc Caramel Dazzle: Daim chocolate bar chunks in luscious chocolate mousse between chocolate chiffon.
Choc Nougat Surprise: Crunchy nougat chunks in chocolate filling.
D24 Dreams: Their signature Premium D24 Durian filling rolled in a soft and fluffy vanilla chiffon.
You can choose between regular or large size, depending on how many guests you are expecting! Be sure to check out the link below for collection information and other details.
Price: 24.90 SGD to 88 SGD
Where to buy: Here
3. Swensens: Sticky Chewy Christmas Log Cake
Highlights:
Coated in chocolate ganache
Mini size
Packed with dry ice
If you are looking for a mini sized log cake for your celebration this Christmas, Swensens has got you covered. Their mini Sticky Chewy Chocolate ice cream log cake is 350 grams of goodness coated in chocolate ganache!
Reviews left online mentioned that their cakes are always perfectly packed and frozen cold when delivered to maintain their quality and freshness. At just $17.82, this cake is definitely worth a try!
Price: 17.82 SGD
Where to buy: Here
Highlights:
Made with chef's secret recipe
Large enough for 8 to 10 people
Baked using Executive Chef Chua Yew Hock's secret recipe, this Chocolate Banana Log Cake by Holiday Inn Singapore has been a favourite with diners of Atrium Restaurant for years during Christmas! For the first time, the team at Holiday Inn are bringing the cake out of their restaurant to homes so that everyone can have a slice of this classic favourite anytime they want.
This cake is large enough for 8 to 10 people, so you and your guests do not have to fight over that last piece of cake!
Price: 74.80 SGD
Where to buy: Here
Highlights:
Flowers to go with your cakes!
Same-day cake delivery
You might know Ferns N Petals for their beautiful array of flowers, but did you know they do awesome cakes too? They offer 9 delicious varieties of log cakes, starting from the usual Chocolate Sponge, Chocolate Hazelnut, and Black Forest suspects, to ones with a local spin like their Ondeh Ondeh, Yam, and even Mao Shan Wang log cakes.

So why not kill the two proverbial birds with one delivery this Christmas, and get your log cakes alongside those Poinsettias with Ferns N Petals!
Price: 49 SGD to 149 SGD
Where to buy: Here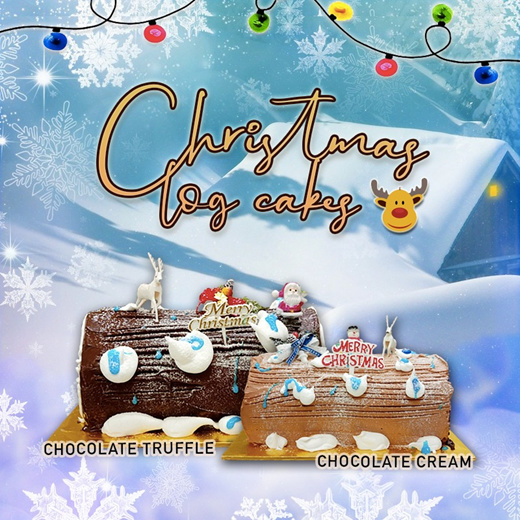 Highlights:
Wide variety of flavours
Different sizes available
Snack n Cakes' offers 4 different flavours of log cakes for you to choose from. You can choose among Chocolate Cream, Chocolate Truffle, Fresh Mango, as well as Mao Shan Wang Durian. You can also choose between a 700 gram or a 1.2 kilogram cake. With various yummy flavours and sizes to choose from, there is surely one that fits your party needs and your taste preferences!
Price: 24.80 SGD to 68.80 SGD
Where to buy: Here
7. Gin Thye: Orange Peel Chocolate Christmas Log Cake
Highlights:
Different sizes to choose from
Adorably decorated
Gin Thye's Christmas log cakes are decorated with a variety of different frosting types and other toppings. The orange peel chocolate log cake comes with 4 mini Christmas deco, making it the perfect treat for a Christmas party. You can choose between a 600 gram option or a 1.2 kilogram option.
Price: 25.90 SGD to 45.90 SGD
Where to buy: Here
Highlights:
Pure durian puree
Rich and creamy
This durian log cake by Four Seasons is made of 100% pure durian puree encased in pillowy soft sponge cake. The cake is rich and creamy and is the perfect companion for your Christmas dinner this year. Made with the ever-popular Mao Shan Wang durian, this cake will definitely be a favourite among your guests. To be safe, order an extra portion so everyone gets to try it!
Price: 83.20 SGD
Where to buy: Here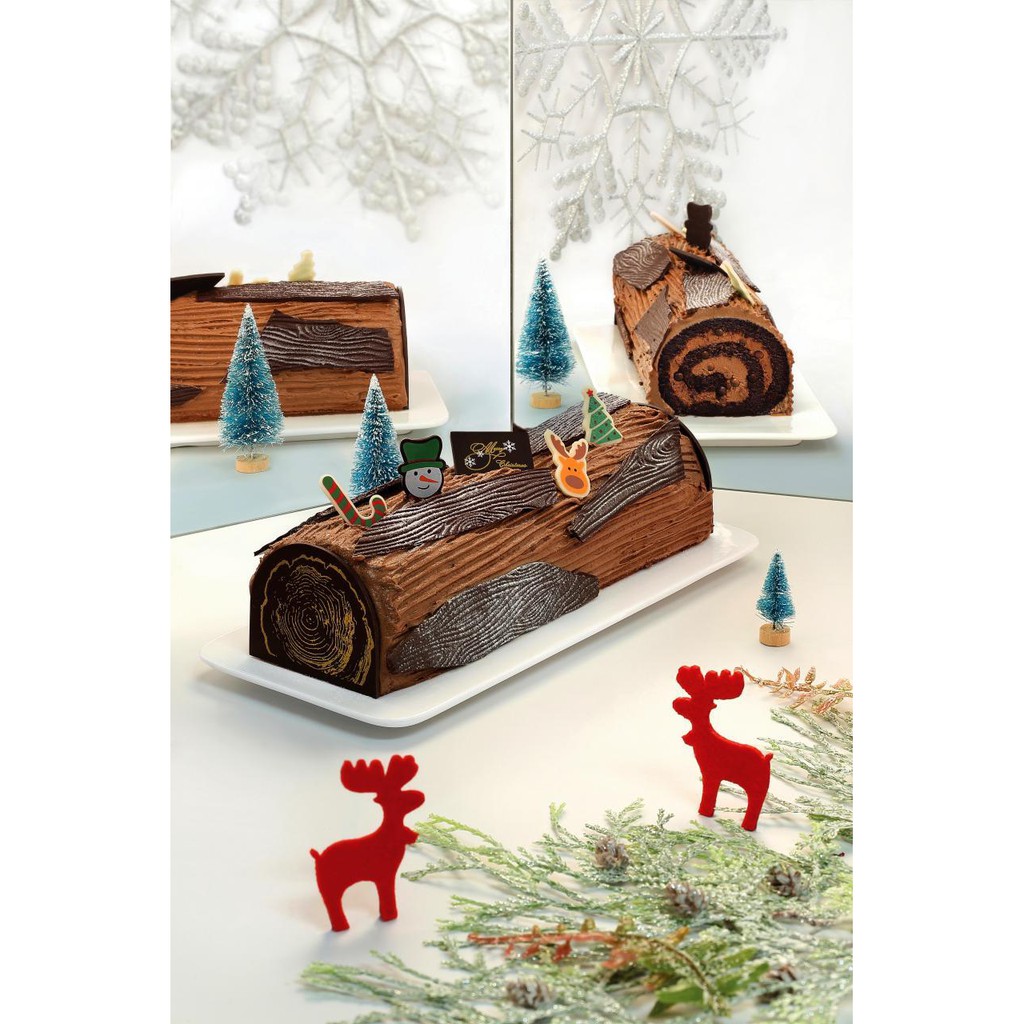 Highlights:
Halal option
Rich and premium chocolate flavours
Montreux Patisserie is a Halal Certified Confectionary Company. This log cake by Montreux Patisserie is made of chocolate buttercream, ariaga dark chocolate cream, rich chocolate sponge, as well as dark chocolate crunchy pearls. With every bite, you get to enjoy the soft texture of the cake along with the crispy pearls that are in between layer of the cake. The chocolate used in this cake is also of good quality and extremely rich!
Price: 60 SGD
Where to buy: Here
10. Cat & the Fiddle: Raspberry Chocolate Log Cake
Highlights:
Halal option
Classic flavour with a twist
Rated 'Best cake shops in Singapore' Time Out Singapore
Cat & the Fiddle is rated by Time Out Singapore as the Best Cake Shop in Singapore. This year, they are offering a Raspberry Chocolate Log Cake. Resembling the timeless classic but with a twist, this roulade creation is made with velvety chocolate cheese that is filled with hazelnut crisps and a tart raspberry mousse center. This creamy treat promises to offer a uniquely indulgent experience like no other and is made using the finest local and imported ingredients from France, Japan, Australia, U.S.A, Germany, and Italy. It is also a great Halal option for your Muslim guests!
Price: 49.90 SGD
Where to buy: Here
11. Annabella Patisserie: It's Christmas Time Chocolate Log Cake
Highlights:
Halal option
Adorably decorated
Free Christmas tag and knife
Annabella Patisserie's version of a chocolate log cake sees a soft chocolate cake frosted with whipped chocolate ganache and covered with rich dark chocolate ganache.
Adorably decorated with 2 reindeer macarons, 2 green pistachio macarons, as well as 2 red raspberry macarons, your guests will want to snap pictures of it before you cut the cake!
With every purchase of this cake, you will always receive a free Christmas tag as well as a knife!
Price: 59.90 SGD
Where to buy: Here
Whether you prefer a classic chocolate log cake or one that has a creative local spin to it, there will definitely be something you like on this list! Be sure to order your cakes fast to avoid any disappointment! Your Christmas celebration will not be complete without the quintessential log cake!
If you are in need of some last-minute shopping for Christmas decorations or ornaments, check out our guide to the best shops for Christmas trees and decorations here!
Related posts
Subscribe for newsletter
* You will receive the latest news and updates on Singapore's best trends!