10 Best Laptop Stands in Singapore [2022]
Emily Hopkins, 2 years ago
13 min

read
6458
Many of you have probably visited a doctor's office due to health issues that arise from using and staring at a laptop screen for too long. What some of us do for a living involves spending hours working on our laptops. However, not all hope is lost. Laptop stands are here to help avert these health problems. This tool was invented to reduce strains, both physical and visual when working. It also assists in providing height support when using your laptop.
There are many laptop-stand brands in the market. However, not all of them have been similarly built. Over the past decades, experts have come up with better innovations and user-friendly designs to help people who frequently use their laptops. The first products introduced in the market were bulky and cumbersome. However, most laptop stands today are quite lightweight and manageable, consequently making them portable.
Their designs make them easily transportable together with your laptop hence you can use them anywhere and anytime you want to. Here are the best 10 laptops stands in Singapore with paramount and convenient features.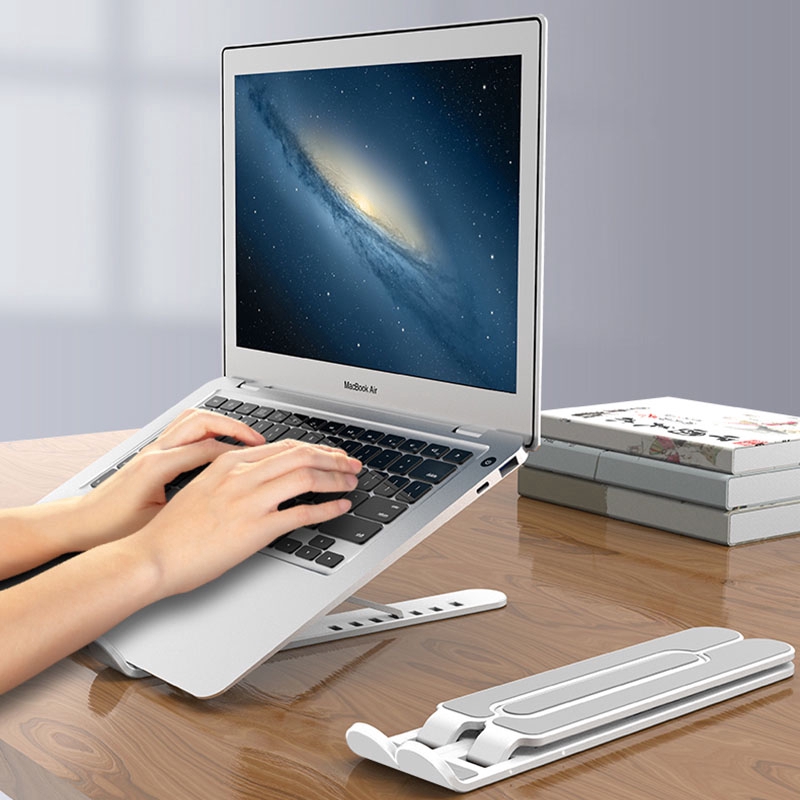 Are you looking for a suitable and convenient laptop stand to use while working? The Foldable and adjustable support base non-slip laptop stand is what you need. This laptop stand is made from plastic and aluminium alloy material making it light to carry around. Additionally, its aluminium material helps in the conduction of heat from your device therefore preventing your laptop from overheating while working. The stand comes in three colours, that is, pink, white, and black. It is most suitable for laptops and tablets ranging between 11-17 inches in size.
Other outstanding features include:
It is foldable and adjustable. It can effortlessly be packed for easy transportation.
The ability to adjust its height enables a user to attain comfortability when working.
You won't have to strain hence evading the health problems mentioned above.
Has a hollow bottom for heat dissipation that's generated by your laptop.
Comes with a non-slip silicone bottom to help your laptop stay in place while working.
The product is yet another amazing laptop stand that you can easily buy from Singapore. It is easily adjustable and manageable making it appropriate if you want comfortability when working on your laptop or tablet. It comes in two different colours, that is black and white. The laptop stand is made of plastic and its design is aesthetically pleasing to the eyes. The plastic material makes it non-corrosive and it does not fade easily.
Other outstanding features include:
The stand rotates 3600 and it is equipped with a mobile phone holder.
Bottom rotating table that easily rotates in case you need to showcase something to a group.
Mobile phone holder well stationed at the bottom to allow easy placement and visibility.
It has a hollow cavity that helps in the dispersion of heat preventing overheating while in use.
Its height can be adjustable to your preferred length.
Being 14 inches long, it can be adjusted up to 7.1 inches depending on your preference.
Portable, easy to fold, and pack. Hence you can carry it anywhere, use it at home or the office.
Are you looking for a laptop holder to help solve your posture problems? The above stand will definitely help do the trick. The 7 height laptop holder is designed in a way that helps you acquire comfort and eliminate any straining when working. The device holder is designed to carry laptops, iPad, and tablets ranging between 7-17.7 inches in size. The stand is made of an aluminum alloy which works very well in the dispersion of heat. The tool comes in different colours and you can freely choose the most aesthetically pleasing to you.
Other outstanding features include.
These laptop stands are easily adjustable and portable.
You can carry it around for use wherever you want, whether traveling, at home, or in the office.
Adjustable height to your length of comfort which helps attain good posture when working.
The material and hollow cavity of the stand helps to dissipate heat keeping your laptop cool.
The design includes a non-slip silicone cushion bottom that firmly holds your devices in place.
It is stable and can, therefore, stands anywhere firm without losing balance
The stand can carry a load of up to 40kgs without breaking.
Vert durable and can serve you for a very long time.
4. NEXSTAND™ K7 Lite – Foldable Portable Laptop Stand
If you are looking for a classy foldable portable laptop holder, this is it. Most laptop users often cower over their laptops when working and this causes issues such as a stiff neck, headaches, annoying back pain, shoulder pains, and overall body discomfort. With this stand, get ready to say goodbye to such problems. The laptop holder is well compatible with laptops and tablets that are 11.6 inches long and above. The product is made of glass fibres reinforced with nylon hence very strong and attractive to the eye. It is adjustable which will assist you to attain good posture and maximum productivity by raising your laptop screen to your suitable eye level. You won't have to bend your neck or back when using this tool.
Other outstanding features include:
It is adjustable and foldable allowing easy packaging and portability when moving around
The material used is durable and very strong. It can hold up to 9kgs load without breaking.
The design displays adequate comfort and ease when working.
Has laptop grips installed on the stand to prevent it from sliding when working.
Its standing feet are made of rubber hence ensuring that it is stable.
Has rubber feet which inhibit any wobbling of the device by providing an outstanding balance.
The height of the holder is adjustable.
It is made of strong carbon which creates room for increased cooling of your personal computer when working.
This laptop holder is what you need if you want to get rid of the strains you face after working on your laptop such as eye strain, backaches, or stiffness along the neck. The laptop stand is very efficient, collapsible, and easy to carry around. It is conveniently compatible with all sizes of the device you are using. Whether it's a laptop, iPad, or a tablet, the laptop stand can hold these devices comfortably while you are working.
It can easily be elevated to your preferred eye level hence enabling you to attain a more correct and cosy posture. The stand is light in weight and can be pasted at the back of your laptop making it invisible when carrying around your laptop. Has rubber band surfaces installed at the bottom and top of the stand to ensure that your laptop does not slide and to prevent any scratches on the device.
Other outstanding features include:
It is durable and made of Pu glass fibres making it very strong.
It can carry a maximum weight of 8.2kgs; capable of serving you for a very long time.
When under use, the stand remains sturdy and there is no worry of any wobble at all.
Its design is safe for users. The edges are safe and protect you from being accidentally scratched.
It is adjustable, portable and easily foldable; to carry with your laptop wherever you go.
It is compatible, fits well into your device and takes up very little space.
The stand is very easy to adjust when you want to attain a more suitable posture.
It can be elevated up to a height of 3 inches to reduce neck and overall body fatigue.
This laptop stand can work for you if you are looking for something that you can use both indoors and outdoors. Its design is unique and very appealing to the eye. It resembles a classy mini table with adjustable legs. It is slim in thickness and very fashionable. The design makes it very convenient to use anywhere, be it on your bed, sofa, lawn, desk, or carpet. Its table shape design makes it functional in other areas. When not using it as a laptop stand, you can use it as a flower rack, colour palette, or a mini desk. Moreover, it is usable by both adults and children.
Other outstanding features include:
The laptop stand is made of an aluminium alloy and can be rotated to 360degrees.
The material helps to dissipate excess heat from the laptop.
The top base is 20 inches wide creating more space for your laptop, writing material, or breakfast in bed.
The table top height can be adjusted by pressing a button on the spring hinge to adjust the feet.
Its smart design makes it easy to adjust the height to the most suitable position for users.
The foldable legs make it versatile and effortlessly portable; suitable for indoor and outdoor use.
The laptop stand is equipped with two USB fans that cause a cooling effect on your device.
The fans provide strong airflow hence dissipating heat from the bottom of your laptop.
The stand comes with strong ABS joints that enable a secure, stable, and even surface to place your personal computer and other items.
The adjustable laptop table is a perfect portable workstation to use anywhere, whether indoors or outdoors. This laptop stand will offer you a good experience as its smart design allows you to adjust its height and its angle. The laptop stand is manufactured in a way that is attractive to the eye and comes in three colours, that is black, rose, and blue. It is made of an aluminium alloy. This makes it very strong and long-lasting.
Another key advantage of the above laptop stand is that it is multifunctional and can also be used as a piece of general commercial furniture. Although it was designed to be used specifically as a computer desk, its design and wide table top make it multifunctional and convenient for other purposes such as a book tray, writing desk, or breakfast in bed kind of table. While other laptop holders dissipate heat through the help of their hollow design and material, this one comes with a dual cooling fan effective to do the job.
Other outstanding features include:
Has a dual cooling fan to enhance cooling.
It comes with flexible ABS joints that auto-lock and adjust easily.
It has two non-slip legs that are guaranteed to ensure enough stability.
Very sturdy to hold your laptop while working or when other items are placed on it
It also comes with a mouse holder well stationed to allow easy placement and use.
Do you prefer a portable laptop stand that's easy to carry around with you in Singapore? This laptop stand is for you. The laptop holder measures 26cm X 22.5cm X 14.5cm and comes in 3 shades to choose from. These include silver, black, and dark grey. The stand is made of high-quality aluminium material and silicon pads that prevent unstable movement when working. What's great about this laptop stand is that it does not take up a lot of space and it is very flexible hence you can carry it with you anywhere you go. You can raise or lower your laptop top to an eye-level that is more comfortable and neck friendly. It helps you attain a posture that prevents neck and eye strain.
Other outstanding features include:
The stand is equipped with non-slip silicone pads at the top surface to prevent your laptop from sliding and keep it sturdy when working.
Hollow design to allow sufficient airflow to and from your laptop to establish a cooling effect.
Together with the aluminium panel, it's designed to protect your laptop from overheating.
These laptop stands are adjustable to offer the user comfortable viewing.
The stand is compatible with laptops ranging from 10 inches to 17 inches in size.
It can carry laptops weighing up to 3.5kgs in weight.
Occupies minimal space and provide a bottom space to place your keyboard when working.
This aluminium laptop holder is another amazing stand you can buy from Singapore. It is adjustable, versatile, and easily manageable. Its unique features are guaranteed to offer you a good working experience by averting any neck stiffness, eye strain, and fatigue caused by poor posture. Moreover, its design is very classy and users have affirmed to feel comfortable when using it. What's great about this laptop stand is that it can be taken anywhere. It is lightweight and can be effortlessly ferried anywhere. It is equipped with safety silicon grip pads which are non-slippery and provide safety for your device from sliding. This also protects it from scratches when fitting the unit in. These laptop stands are crafted and designed in such a way that they provide optimal temperatures when working on your laptop. It does this by ensuring that there is efficient airflow and ventilation underneath its surface.
Other outstanding features include:
These laptop stands are compatible, lightweight & foldable; you can bring it anywhere with you.
Its versatility makes traveling with it easy. And who doesn't want that?
Its smart design comprises 5 angle adjustments to help you attain perfect posture while working.
You can easily adjust your laptop to the perfect height & attain a perfect comfortable position.
The laptop stand comes with very wide compatibility.
It can support laptops, iPad, and tablets ranging between 11 inches to 15.6 inches.
The above laptop stand is very efficient and of high quality, if you are looking for something you can carry around comfortably. This ergonomic laptop stands are fully adjustable which makes typing very effortless. Plus, get ready to say goodbye to poor posture and wrist stains once you purchase it. The laptop holder measures 16x4x4cm/6.30×1.57×1.57inch and is made of quality aluminium alloy material. It is also adjustable depending on your most comfortable angle. This enables you to avoid poor posture hence minimize cases of eye, neck, and back strain.
Other outstanding features include:
The laptop has wide compatibility. It can support devices ranging from 12 inches to 17 inches.
It is lightweight and makes it easy to pack when travelling or when you want to go to the office.
The stand is designed in a way that offers enough ventilation and airflow to keep your device at optimal temperatures when working.
Another amazing feature of the stand is its ability to adjust from 12 to 35 degrees.
The above best 10 laptop stands are available in Singapore. Getting yourself a laptop stand will change your experience when working on your laptop. There is so much you can get out of using good laptop stands. You will bid goodbye to the strains and the fatigue that comes from hunching over your laptop screen. Laptop stands are one of the best things you can invest in especially if you often use your laptop for long hours. Moreover, it is guaranteed to boost your productivity.
Emily Hopkins
I'm an accomplished and detail-driven content writer with copious experience in producing compelling, engaging and flawless content for a variety of blogs and websites for several years.
Related posts
Subscribe for newsletter
* You will receive the latest news and updates on Singapore's best trends!