10 Best Kitchen Renovation Services in Singapore
Gee, 2 months ago
1
8 min

read
151
There's a lot to think about when it comes to renovating a kitchen. From aesthetic considerations to practical ones, a lot of proper planning has to be done prior to the job which can result in a real headache. In light of this, kitchen renovation services help make the process a lot easier on their clients. However, renovating your kitchen is a big-ticket investment. As a result, it's critical to choose a reputable renovation company that suits your needs and budget.
This is why we have curated this list of the 10 best kitchen renovation services in Singapore so that you'll know at a glance which service is the perfect one for you.
First on our list is the highly popular and positively reviewed CASA Interior Design. Having done a total of over 1,500 projects across offices and homes, CASA Interior Design is our top pick for kitchen renovation services in Singapore.
The team at CASA Interior Design understands every project has to be personalised and catered towards the client's needs. Furthermore, they also emphasise heavily on delivering excellent customer service. A kitchen renovation can be a stressful affair which is why CASA Interior Design prioritises providing a worry-free experience. In addition to excellent customer service, they also create customised renovation plans at affordable prices. These plans can be applied across residential, commercial and office landscapes. With their track record of satisfied clients and multiple accolades, we highly recommend CASA Interior Design for all your kitchen renovation needs.
Highlights
Excellent Customer Service
Affordable
Personalised Projects
Track Record of Success
Multiple Awards (Top 100 SME, Top 20 Home and Decoration Awards, Asia's Leading Brand)
For more information, visit their website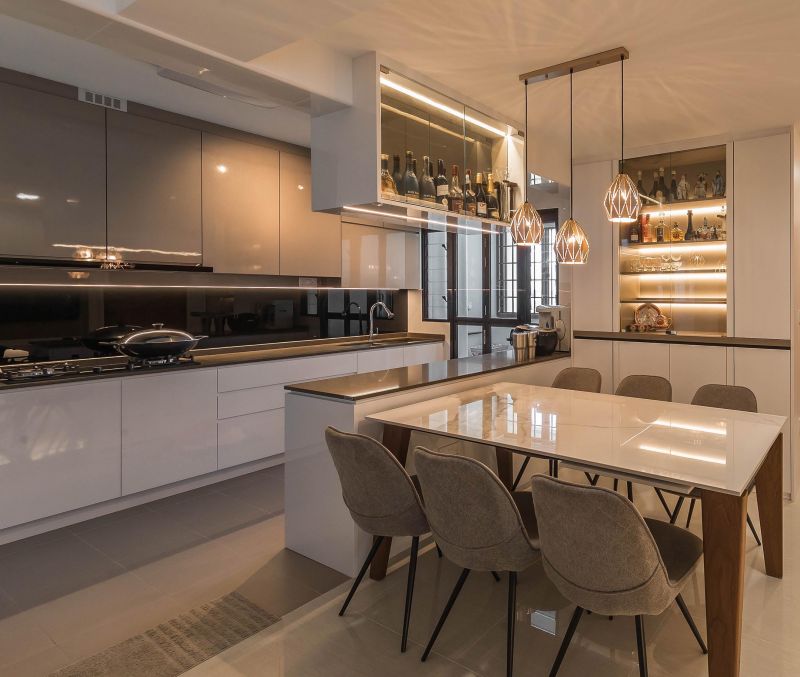 Established in 1997, Ciseern has over 20 years of experience in the renovation scene. Their whole brand is founded on the premise of trust and credibility, giving you peace of mind as you embark on your kitchen renovation project.
As mentioned earlier, a kitchen renovation is a big-ticket purchase that is sure to cause some level of unease. Ciseern's goal, as part of delivering a high-quality experience, is ensuring that their clients can kick back and rest easy throughout the whole project. They even offer a full deposit money-back guarantee scheme through AVA Insurance to further their attempts at providing a worry-free experience. In establishing a trusted brand, Ciseern is able to offer Turnkey Projects where the renovation job is left entirely to the Ciseern team. This means that after establishing administrative details like the budget and schedule, their clients are able to have a completely hands-off renovation experience. If you're looking for a reputable renovation service committed to building trust with their clients, look no further than Ciseern.
Highlights
Trusted Renovation Service
Turnkey Projects
Deposit Money-Back Guarantee with AVA Insurance
Multiple Awards (Singapore Prestige Brand Award)
For more information, visit their website
Up next is Unimax Creative. For greater clarity, the team at Unimax Creative has a transparent work process where every aspect of the renovation job can be discussed. Hands down one of the best kitchen renovation services in Singapore!
Apart from offering a highly personalised experience, they also deliver a highly comprehensive one. When deciding to remodel your kitchen, their experienced staff will walk you through popular modern designs and guide you along. Unimax Creative also understands the importance of balancing function with aesthetics. A lot of time is spent in the kitchen and while practicality is important, the aesthetic appearance of one's kitchen should not be overlooked. The team is committed to paying meticulous attention to detail in order to deliver the highest quality renovation job possible.
Highlights
Highly Personalised Experience
Good Guidance
Meticulous Attention to Detail
For more information, visit their website
Jaystone Renovation Contractor aims to bring you high-quality renovation works at affordable prices. When choosing to engage in Jaystone's services, you'll be offered competitive prices through direct contractor pricing.
Jaystone Renovation Contractor is able to offer low prices as they hire their own workers. As a direct contractor, you will not incur additional middleman fees when using their services. Furthermore, by hiring their own workers, Jaystone Renovation Contractor has full control over workmanship quality and is able to effectively conduct quality checks. Their 6-step process beginning with a consultation and ending with customer service and care. Through this process, Jaystone Renovation Contractor will be with you every step of the way. By offering an affordable, comprehensive and high-quality renovation service, Jaystone Renovation Contractor is a great service to employ for your kitchen renovation project.
Highlights
Direct Contraction
Highly Competitive Pricing
6-Step Work Process for Customer Satisfaction
For more information, visit their website
Project Guru sets out to be a one-stop solution for all things interior design related. As a firm that specialises in interior design consultation and renovation, designing and renovating your kitchen is sure to be highly convenient.
The team at Project Guru works tirelessly to offer personalised kitchen designs that are aesthetically pleasing yet highly functional. With their customer-oriented processes of consultation, design proposal, project management and project handover, Project Guru will be with you throughout. By accompanying you through the process, they also ensure that your specific requirements are always met. Through their highly flexible services, Project Guru is able to accommodate any budget to make your dream kitchen possible.
Highlights
One-Stop Solution for Interior Design
Customer-Oriented
Highly Flexible and Meticulous
For more information, visit their website
The unique thing about JS Carpentry is their use of custom carpentry. As a result, your customised dream kitchen can be made a reality through JS Carpentry.
JS Carpentry uses custom carpentry that is made in-house which will save you a lot of additional costs. Another huge plus about custom carpentry is, of course, the ability to customise it. Whether it be unique kitchen cabinets or storage platforms, JS Carpentry can do it all. With the vast range of materials and finishes used, you'll be able to get your dream carpentry here. Along with providing custom carpentry, they also provide full renovation services as well. For those who do not need an interior designer, JS Carpentry is definitely a great choice for kitchen renovations. Definitely one of the best kitchen renovation services in Singapore!
Highlights
Customised Carpentry Work
Full Renovation Services
For more information, visit their website
The team behind Thom Signature understands the importance of interior design for modern kitchens in Singapore today. Their team is determined to have your kitchen be space-efficient, functional and aesthetic all in one sweet package.
Thom Signature features innovative designs and superior quality finishing for guaranteed project satisfaction. Not only do they offer highly personalised projects, but they also offer highly competitive prices to make kitchen renovation services accessible to all. With years of experience under their belt, Thom Signature works ethically, competently and meticulously in order to make your dream kitchen a reality. Whether you live in an HDB, Condominium or Landed Property, Thom Signature is an excellent firm to employ for your kitchen renovation needs.
Highlights
Innovative and Superior Quality
Personalised Projects at Affordable Prices
Ethical Business Operations
For more information, visit their website
Home Reno is an affordable, reliable and professional home renovation service. With transparent pricing and no third-party costs, Home Reno makes kitchen renovation accessible and stress-free.
Home Reno offers the best renovation service in a straightforward manner. The team aims to provide you with an honest service by guaranteeing that no marketing gimmicks are being used. Apart from operating ethically, Home Reno offers a wide range of services like painting, carpentry, plumbing and lighting to name a few. By offering complete renovation, restoration, installation and repair services, your kitchen renovation dreams are achievable with Home Reno.
Highlights
No Hidden Costs
Affordable Pricing
Wide Range of Services
For more information, visit their website
If you're thinking about renovating your kitchen along with other rooms, 3D innovations is definitely the pick for you. With multiple tailored packages, you can rest assured that you'll find the most bang for your buck renovation service here.
Through their package promotions, you'll be offered a comprehensive renovation job along with significant cost savings. Furthermore, they provide in-house carpentry service so that you can save your money. Having their own workshop also allows them to better manage quality control. 3D Innovations also promises transparency in pricing, meaning that there are no hidden costs. For those looking to renovate more than just their kitchen, 3D Innovations is an excellent renovation service to consult.
Highlights
Highly Competitive Pricing
No Hidden Costs
Package Deals for Cost Savings
For more information, visit their website
Cheong Cheng started way back in 1978 as a carpentry firm. Since then, they have expanded their services to include interior design and renovation as well.
Although Cheong Cheng is a small company, they pride themselves on building the right attitude and skillsets. By keeping things small, they are able to foster a great training environment and equip their staff with the latest market practices. Also, Cheong Cheng is able to conduct their renovation services across HDBs, Condominiums and Commercial venues. Furthermore, they offer a wide range of services like electrical work, plumbing and maintenance. In addition, you'll be able to take a virtual tour on their website to check out what Cheong Cheng is capable of.
Highlights
Wide range of services
Small team of dedicated individuals
For more information, visit their website
Conducting a renovation of your kitchen seems like a large task and a real headache. While it certainly is a big decision, these 10 best kitchen renovation services in Singapore are here to ease that burden. With their help, the renovation project will be a breeze and your dream kitchen will be here before you know it!
Check out our other related articles:
Related posts
Subscribe for newsletter
* You will receive the latest news and updates on Singapore's best trends!
Trending Posts