10 Best Kids Activities in Singapore [2022]
megha, 2 years ago
10 min

read
3831
Wondering if there is a destination that makes kids forget about looking into phone and iPad screens? A place that could make for a wholesome family holiday? Well, Singapore offers oodles of kid's activities! No matter what kind of family you are – food-lovers, adventure-enthusiasts, or animal-obsessed, there is something for everyone in Singapore.
You can enjoy quality time with your toddlers at exciting themed parks and adventurous Zoos. Also, their informative museums and extravagant outdoor game arenas will not fail to amaze you. Moreover, they have an island with cable car rides, adventure parks, virtual experience zones, and the works! If you're a first-timer in this Lion city and aren't sure where to start, here's your comprehensive guide.
Looking for an ideal family-escape? Take your kids on a fun expedition through our fascinating list of 10 kids' activities in Singapore!
1. Sentosa Island
Sentosa Island is where every globetrotter lives their dreams. It embodies beautiful attractions that can be accessed through various routes. Cars, cable cars, busses, the famous train 'Sentosa Express' to name a few. It is a shame to miss visiting this adventurous island located off the coast of Singapore. Their beautiful beaches, large aquariums, crazy water parks, and the globally-popular Madame Tussauds Wax Museum are must-visits!
You definitely need more than just a day to completely consume this exhilarating island. Don't miss out on traveling internally by cable car. Sometimes, you could be surprised with a lunch meal being served to you in the sky! Your kids are sure to get obsessed with Sentosa in all its glory!
Highlights:
The Merlion lit with 16,000 lights
37-meter high tower giving you a panoramic view of the entire city
4D Adventureland
Royal Albatross Sunset Sail
Skyline Luge – A thrilling experience where your kid's vehicle moves based on gravity and momentum
| | |
| --- | --- |
| Timings | 9 am onwards |
| Address | 8 Sentosa Gateway, Sentosa Island, Singapore 098269 |
| Tickets | SGD 48 – SGD 185 |
2. Universal Studios Singapore (USS)
Who cares about missing out on Disneyland when the 'Universal Studios' embrace you with its grand presence!? With over 6 unique zones and a plethora of rides, this place is a whole galaxy of kid's activities residing n Sentosa Island. Its vast landscape involves fairytale castles, Jurassic World, Madagascar, Transformers, and Hollywood – all coming to life.
This wonderland is the ultimate destination for families with kids. Besides, you can expect entertaining activities for adults like theatres, live events, showstoppers, and a lot more! If you're not a fan of being sun-tanned, immerse yourself in 4D adventure shows indoors!
Highlights:
Rollercoaster and other thrill-inducing rides
Meet & greet cartoon mascots and favorite movie characters
Dining, and shopping options available
| | |
| --- | --- |
| Timings | 10:00 AM – 7:00 PM | Fri-Sat: 10AM-10PM |
| Address | 8 Sentosa Gateway, Sentosa Island, Singapore 098269 |
| Tickets | SGD $53 |
3. Singapore Zoo
Crowning at the top on 50 Best Zoo's in the world, Singapore Zoo is a paradise for animal lovers. Stretching across 70-acres of land, you might want to launch your holiday with the kids from this fascinating world. Being a tourist hot-spot, this humongous Zoo houses a vast variety of animals. Zebras, giraffes, polar bears, penguins, lions, tigers, and many other local animals like Komodo dragons live like a big happy family in there. In fact, they are geographically placed to simplify the tourist journey. Although, having a map on you will save a lot of your time.
You will witness an extensive landscape holding 3600 mammals, birds, and reptiles. In retrospect, the enclosures are thoughtfully-designed and allow tourists to enjoy panoramic views. Above all, you can get personal a few animals like feeding them or posing with them.
Highlights:
Kid-friendly Zoo with lockers, baby changing rooms, strollers, and wagons for rent,
Visit exotic animals
A playground and a water play area
| | |
| --- | --- |
| Timings | 8:00 AM – 6:00 PM |
| Address | Mandai Lake Road, Singapore |
| Tickets | SGD37 for adults, SGD25 for children aged 3 to 12, SGD17 for senior citizens aged 60 and above. |
4. SEA Aquarium
Is your child a water baby? Or does your family love everything about the deep blue seas? If yes, Singapore's SEA Aquarium is a divine universe you all can easily immerse in. Beautifully mimicking the ocean floor, this submissive experience encompasses a vacation to the blue world underground. With 100,000 marine species co-existing in that space, the South East Asia Aquarium boasts of diverse ecology. Whether you get fascinated by guitarfish, hammerhead, nurse sharks, manta rays, bottlenose dolphins or octopi, they indulge you thoroughly.
Besdies, some education about underwater conservation doesn't hurt for thekids whilist having the time of their lives! Above all, the tunnel walk-throughs at the aquarium lets you enjoy a gorgeous view of stingrays and sharks. Similarly, the they have art and craft sessions to keep your kids occupied at the Open Ocean Habitat.
Highlights:
Over 1000 marine spieces with 50 different habitats
Peak into Open Ocean Tank and touch starfish
Get to hold a giant ython if you're lucky!
| | |
| --- | --- |
| Timings | Wed-Thurs: 10AM-6PM | Fri-Tues: 10AM-7PM |
| Address | 8 Sentosa Gateway, Sentosa Island, Singapore 098269 |
| Tickets | $29 |
5. Singapore Night Safari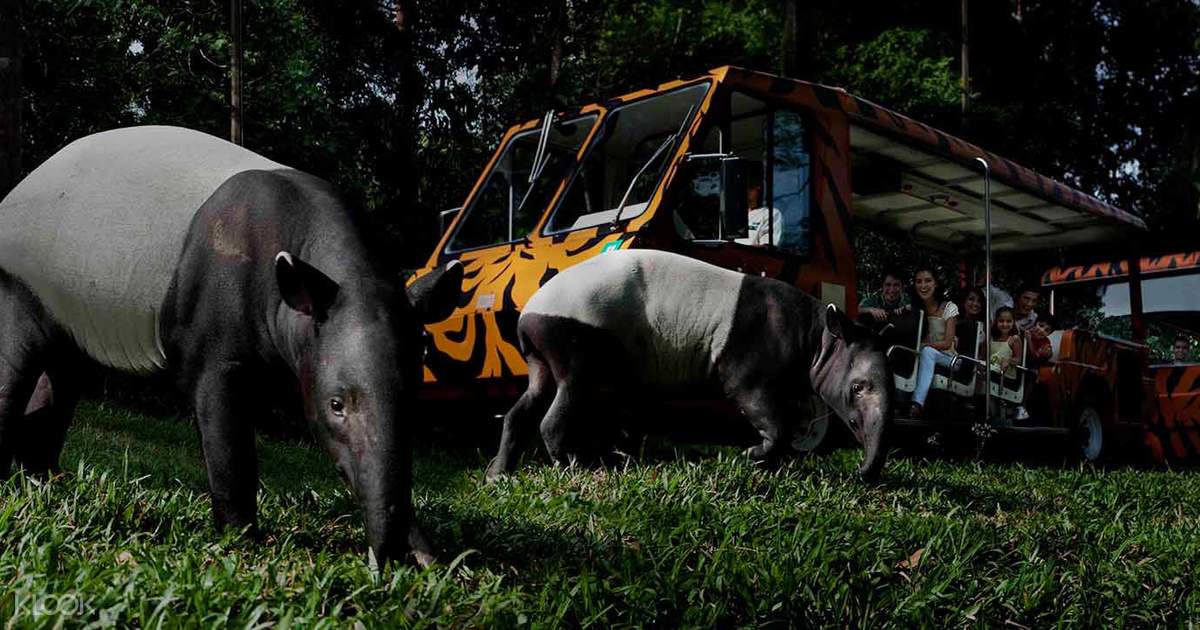 When we say that Singapore has distinguished attractions, we mean they are leveled up like no other! Singapore Night Safari is the world's first nocturnal zoo, making it a thrilling and unique experience for kids! How many times do you get to witness the fascinating behavior of endanger animals in the jungle after dusk? Furthermore, get up-close-and-personal to exotic animals, and get entertained by a classic tribal performance in this exceptional safari?
You and your children can explore the world of 2,500 wild animals in the dark amidst 120 nocturnal species that kids can spot during the safari. The coolest part you ask? You can tour this exotic assembly of animals on a tram ride! Don't forget to make reservations in advance for this one. Alternatively, you can opt for a walking trail.

Highlight:
Creatures of the night show
Tram adventure through seven different regions – like the savannah, rainforest, and desert
Interactive biology lesson for kids
Check out the River Safari next door
| | |
| --- | --- |
| Timings | Admissions slots – 7:15pm, 8:15pm, 9:15pm, 10:15pm, 11:15pm. Booking counter slot – 5:30 pm – 11 pm |
| Address | The Night Safari is located next to the Singapore Zoo |
| Tickets | SGD40-50 for children aged 3 to 12 and SGD60-70 for adults for any 2-park admissions |
6. Wild Wild Wet
Life is always better on the poolside with kids, don't you agree? You can splash your way through water slides, lazy rivers, and thrill-inducing rides. With almost 10 acres of adventure-driving options, Wild Wild Wet features 6 different giant slides and 4 different entertainment zones.
So whether you plan to lay back on a raft to rejuvenate or spend a whole day in the bounties, you've found your aqua-friendly destination. Be rest assured on the protection front as they carry strict procedures for safety. For this, they provide life jackets, floats, and baby water carriers for emergencies too.
Highlights:
For an adrenaline rush, try the Torpedo – An 18-metre-high slide that keeps you going at 70km/hour
Whirling water slides and play area for kid's activities
Grab a bite a the shopping mall next door
Very affordable
Timings
Mon-Fri: 1PM-7PM & Sat-Sun: 10AM-7PM
Address
Walking distance from Pasir Ris MRT station
Tickets
Adults (13 years+) SGD32
Child (3-12 years)/ Senior Citizen (55 years +): SGD24
Toddler (below 3 years): Free
Family Package (2 adults and 2 children): SGD 102
7. Canopy Park At Jewel Changi Airport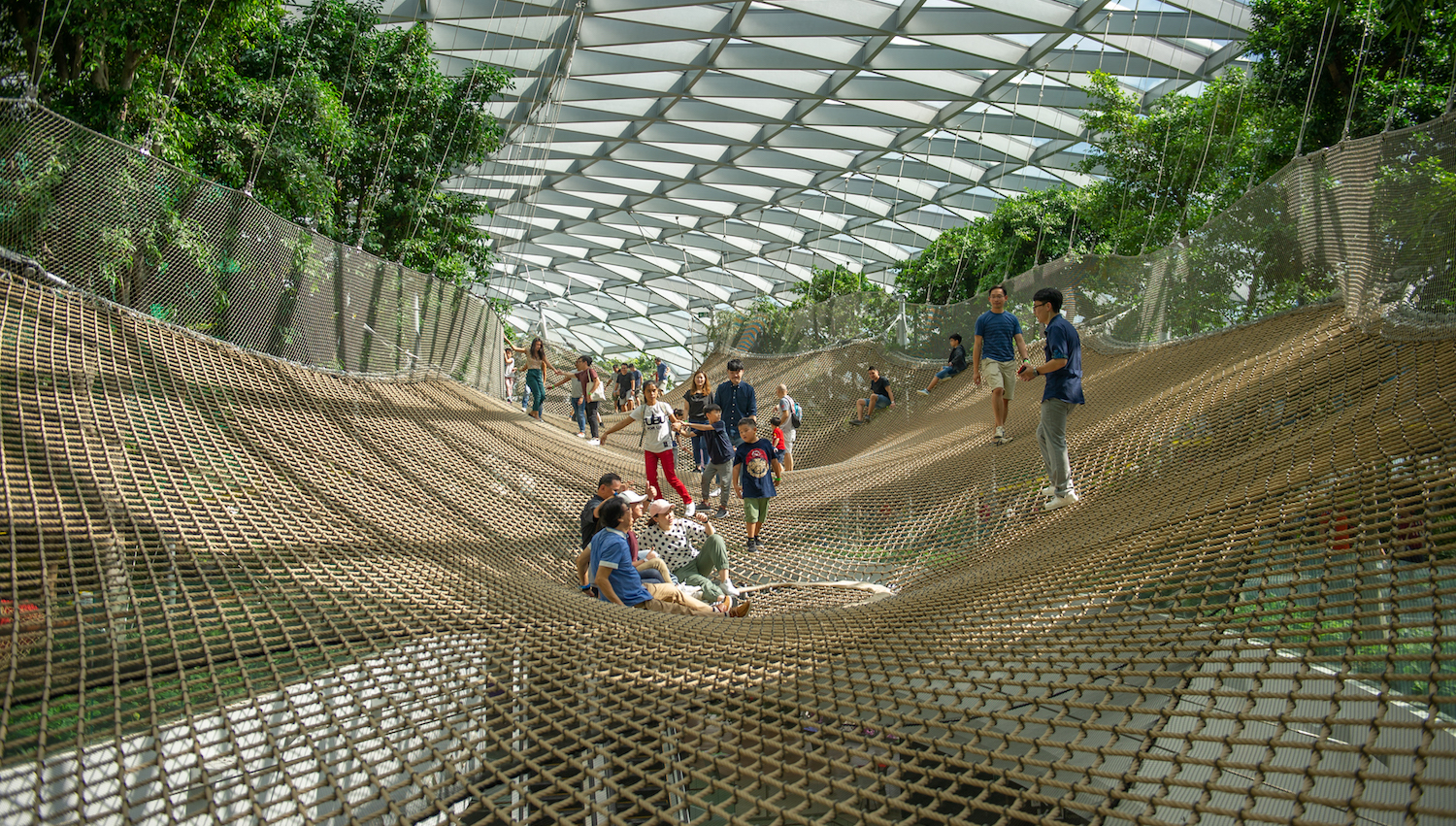 For all those people who think airports are stressful haven't been to Singapore's Jewel Changi Airport. Unconventionally, this airport has a plethora of kid's activities starting with Canopy Parks indoor wonderland. Kids can figure bounce on nets, unfold mirror mazes and glide down art sculptures (Yes, you read that right!).
The quest for fun doesn't end there. Among the usual shopping and foodgasm options, you choose to go to a glass bridge and admire the stunning views from there. What views, you ask? The true highlights are the seven unique, creative, and attractive gardens. Want a genius idea? Take the kids here right before a flight so that they slumber through the flight back. Thus giving you some much-needed me-time.
Highlights:
Dinner under the stars
Free drink and robotic servers
Complimentary slides
Timings
Mon – Thu: 10:00AM – 10:00PM
Fri – Sun, Eve & PH: 10:00AM – 11:00PM
Address
From the airport, walk-out from the Arrival Hall and you'll see the entrance. From downtown Singapore, take the MRT to Changi Airport Station.
Tickets
$4.50 for residents, SGD5 for standard entries
8. Museum & Singapore Science Centre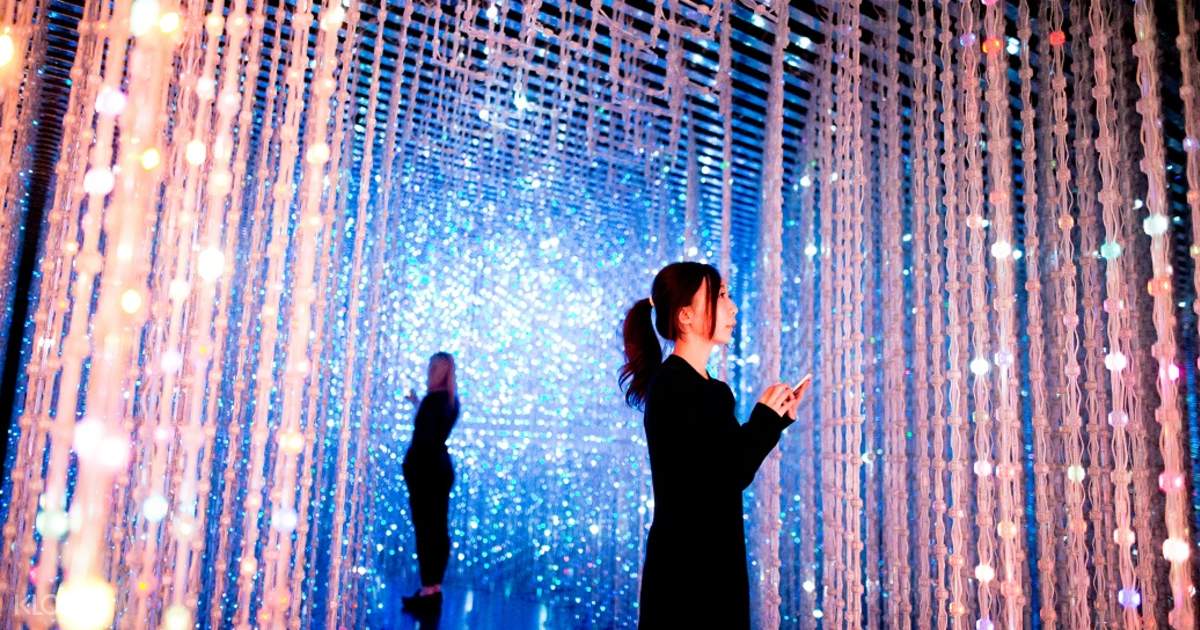 ArtScience Museum & National Gallery
They say 'Real museums are a place where time transforms into space'. Well, in Singapore's case, museums are time transforming into a cultural journey of innovation in technology, interactive games, and incredible art. The ArtsScience Museum offers distinct Future World exhibitions that are very engaging for toddlers and pre-teens, making for ideal kid's activities. They display life-size interactive screens that turn your crayon drawings into animals.
Singapore Science Centre
One of the most enchanting museums for kids is the Singapore Science Centre. They have a plethora of discovery rooms and shows, he Tornado being the most popular among the kids. The National Gallery is another captivating museum that is great for kid's acivities in Singapore. Supplementary to lovely tours for children, they showcase art masterclasses and storytelling sessions for families.
Highlights:
If luck allows, you could witness baby chickens hatch eggs spontaneously.
Education, fun and technology combined for explicit experiences.
Timings
10 am – 7 pm
Address
ArtScience Museum – Marina Sands Bay
Singapore Science Center – 15 Science Centre Road, Singapore 609081
National Gallery – 1 St Andrew's Rd, Singapore 178957
Tickets
SGD12 for adults and SGD8 for kids 3 years and above
9. Kidzania
KidZania is the perfect blend of entertainment and education for kids and it takes this concept to a whole new level. It is a made-up but functional city run by kids themselves. Get ready to let your children let loose, get creative, and play the role of any real-life character they want to be! They have the liberty to be a pilot, a scientist, the police, a chef, a doctor, firefighter, or even a DJ!
KidZania went a step ahead of its time and invented its own currency and banking system,. Thus taking kid's role-play to a whole new universe for everything feels real! The take-away for these kid's activities are that children of all ages learn about how adult society and its economy really work. As a result, evoking a feeling of who they might want to be when they grow up!
Highlights:
Edutainment infused with inspiration and real-world knowledge.
Environments like aviation academies, art galleries, building climbing and various other kid's activities available.
Timings
10:00 AM – 6:00 PM
Address
31 Beach View, #01-01/02, Singapore 098008
Tickets
Toddler (aged 2 years +): Free (access to designated toddler areas only)
Child (between 3 and 17 years): SGD 62
Adult (between 18 and 59 years): SGD 25
Senior citizen (60 years +): SGD 24
10. Trick Eye Museum
Topping the list of the coolest kid's activity in Singapore undoubtedly the Trick Eye Museum. They invert your world with optical illusions that are intriguing for kids as well as adults. They exhibit extraordinary art pieces using 2D, 3D, and 4D art to allure visitors unlike any other. From fighting dragons to entering enchanted castles, and onboarding adventures, hey do it all under the same roof.
This brew architecture and art flawlessly using AR technology to transport visitors to a whole different world. You can keep posing all day while pretending to ride on a unicorn or skydive, making it the quintessential kid's activity. As a result, giving a platform to your child's imagination with unique visual delights.
Highlights:
'Please Touch' policy for kids – so you don't have to worry if they get handsy
Perfect coordination of lights, sounds, and other effects
Interactive, fun, and perfect for photography (Creating memories)
| | |
| --- | --- |
| Timings | Daily: 10AM-9PM |
| Address | Waterfront@Resorts World Sentosa 26 Sentosa Gateway #01-43-44, Singapore 098138 |
| Tickets | $17 onward |
Related posts
Subscribe for newsletter
* You will receive the latest news and updates on Singapore's best trends!