10 Best Keyboards in Singapore [2022]
Bryan, 3 years ago
9 min

read
11800
If you're a PC gamer, you know that having a good keyboard can increase your gaming performance. For those who type a lot for work, the right keyboard can make your typing process feel a lot more fluid. With so many different models and technical specifications to consider, scanning through all the possible mechanical keyboard options is sure to give you a headache. Our list of the 10 best mechanical keyboards to buy online in Singapore is here to help make the process a lot easier for you. Whether you're in the market for a gaming keyboard or one to use for work, this list will point in the right direction.
The Keychron K2 Mechanical Wireless Keyboard comes in first place on our list. With a bunch of convenient features stuffed into it, this keyboard checks all the boxes for a keyboard that's best for work.
An important feature of the Keychron K2 is that it is compatible with both Mac and Windows, increasing its range of applications. This keyboard is also fully wireless and is able to connect with 3 different devices via Bluetooth. If wireless isn't your thing, fret not as the Keychron K2 is able to function as a wired keyboard through USB Type-C connection. If work has you typing in low lighting conditions, the RGB backlit keys will ensure that your productivity isn't affected. Furthermore, with a 4000mAh battery, the Keychron K2 is able to log an impressive 72 hours of typing. To top things off, a promise of a 50 million keystroke lifespan ensures that you'll be able to use the Keychron K2 for a very long time. All these factors combined is what makes this model deserving to top the best keyboards in Singapore list.
Up next is a gaming keyboard so good that it is used by many professional around the world. The Logitech G PRO X is customisable, compact and designed for gamers.
For gamers, Logitech understands that there isn't a one size fits all solution for your gaming set up. That is why the Logitech G PRO X's keyboard switches come in 3 different varieties and can be easily swapped around for the tactile and audible response that you desire. Because it is so compact, it is highly portable and can easily fit into your bag. There's also no need to worry about cable management as the micro-USB cable is easily detachable. In addition, for those who love to play with lighting configurations, the Logitech G Pro X has approximately 16.8 million different colours for you to customise with. With all these features, your peak performance is just around the corner.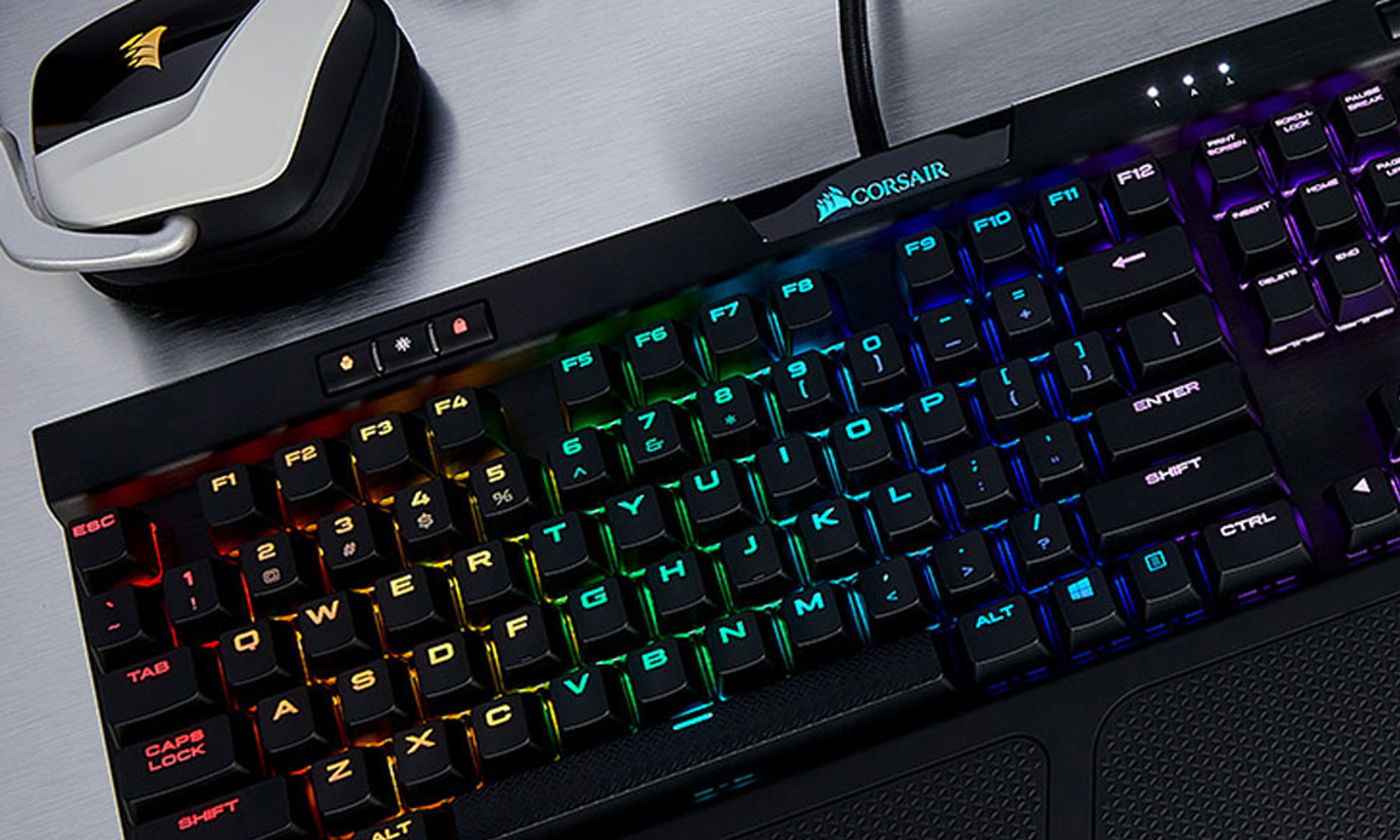 Next on the list is another high-performance gaming keyboard in the K70 RGB MK.2 from Corsair. With an emphasis on customisability and programmability, this is keyboard takes performance to a whole new level.
With 7 different customisable Cherry MX keys to choose from, you'll no longer have to settle for default keys. Durability is extremely important for a gaming laptop which is why the RGB MK.2 is built using an aluminium frame to support long hours of gameplay. To increase convenience, the keyboard allows you to store 3 different profiles at once. This means it is easy to toggle between your favourite macros and lighting profiles. The keyboard also comes with a detachable palm rest for an added customisable experience. These options will make your gaming experience more convenient, comfortable and fun all at once. Overall, this keyboard is truly one of the best keyboards in Singapore.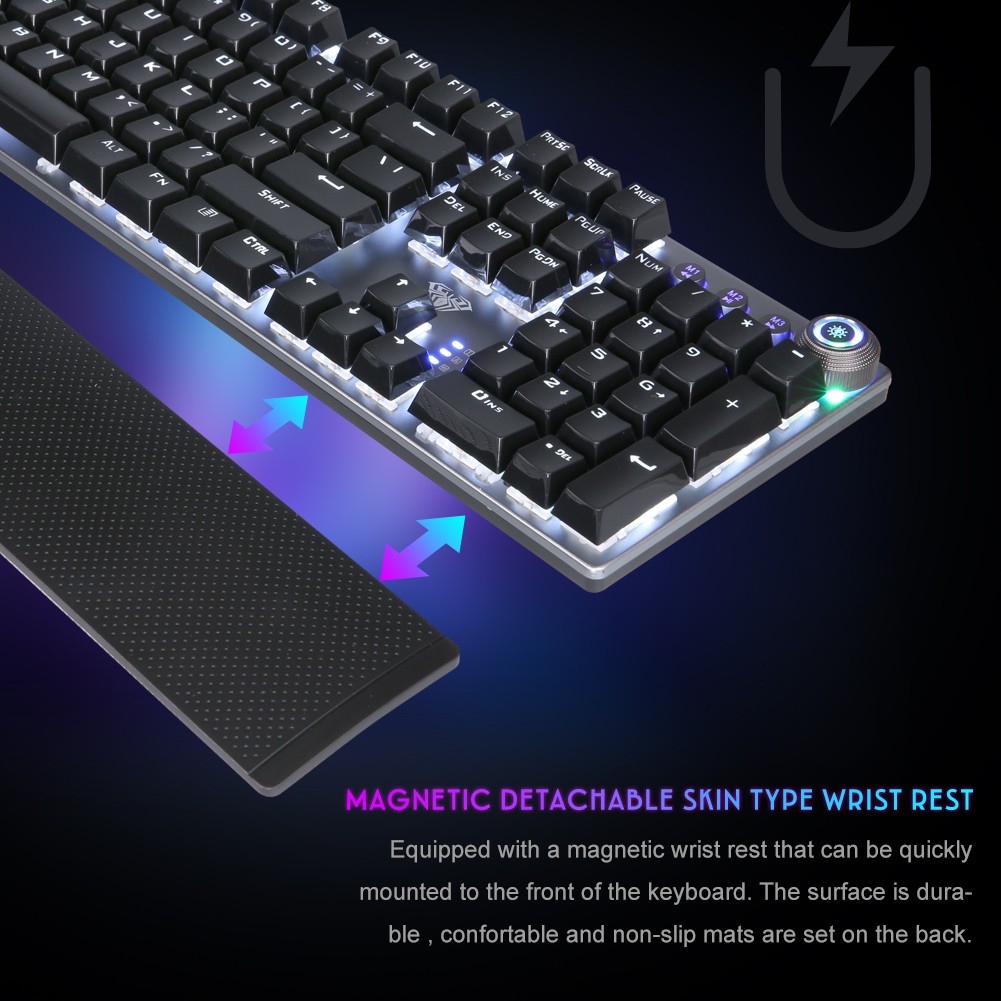 Up next is an affordable mechanical keyboard packed with impressive functions. Though it is advertised as a gaming keyboard, you'll soon see that the high level of convenience it brings makes it a great option for work as well.
A great plus point for this keyboard is its dedicated media functions. On the keyboard itself, you'll be able to skip, go to previous, mute, as well as play and pause your music with 4 assigned buttons. Furthermore, there is a knob on the top right that allows you to control media volume. These dedicated media functions can also be used to save your keyboard lighting effects and the knob can be used to adjust the brightness of these lights. Just like other gaming keyboards, the switches are customisable to your preferences. The F2058/F2088 is also built durable with its metal aluminium top. With such convenient functions at your fingertips, this affordable keyboard from AULA can serve both gaming and working needs and is among the best keyboards in Singapore.
The Razer BlackWidow is another keyboard designed especially for gamers. It serves as a less expensive gaming option that is dedicated to giving you the best gaming experience possible at the price.
The BlackWidow comes with the trademark Razer Green Mechanical Switch that gives solid tactile feedback and click sound. Furthermore, these keys have sidewalls to improve stability and also double up as protection from dust and liquids. They also boast an impressive 80 million keystroke lifespan, offering you long-term usage. An additional function for gamers is the Razer Hypershift. Any key can be assigned as a Hypershirt key and a long press will unlock its secondary function. As an added versatility on top of your macros, you'll have even more options for keyboard configurations. With the ability to save up to 5 profile configurations, gaming has never been more convenient.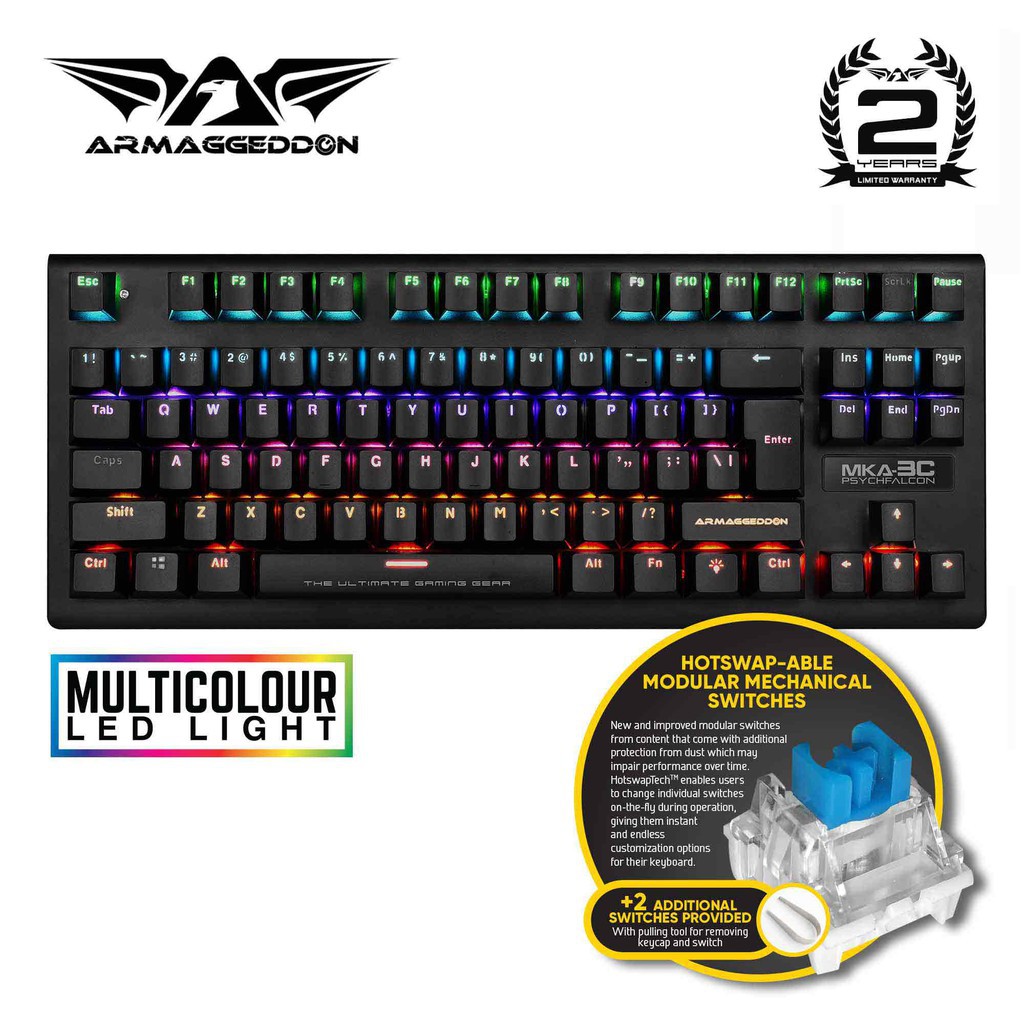 The Armaggeddon MKA-3C is great for those who desire a quality mechanical keyboard that is affordable. Coming with customisable functions and durability, this is a great budget option that can be used for gaming or work.
Like other gaming keyboards, the keys on the MKA-3C are swappable. Built to last, this keyboard has a long-lasting 50 million keystroke lifespan. Also, the blue switches have satisfying tactile feedback, making this a good keyboard for work or play. Additionally, the colour profile of the backlight keyboard is easily adjustable to your liking. Knowing that there's almost nothing worse than faded keys, the keycaps for the MKA-3C have a lifetime fade proof warranty. A great option for gaming and work, the Armaggeddon MKA-3C caters to both audiences and those in-between as well. This is truly one of the most affordable and overall best keyboards in Singapore.
Next on our list, we have the very premium Logitech G915. With its dedicated lightspeed technology, gaming is smoother than it has ever been.
With lightspeed wireless technology, the G915 will free you from annoying cable management issues. Reported to have a 1ms response rate, this technology will ensure that wireless gaming is as smooth as possible. The keyboard also allows you to connect with Bluetooth and the two wireless options can be easily toggled between with the push of a button. With 30 hours of battery life in a charge, gaming doesn't have to stop. Furthermore, the option to customise your keys and lighting effects together with its other features makes the G915 a luxurious and highly functioning and one of the best gaming keyboards in Singapore.
The Tecware Phantom 87 SE RGB is an affordable and durable keyboard on the market. With features designed for high levels of user convenience, this keyboard is reliable and simple to use.
In whatever environment we are in, our keyboards become dusty over time. The 87 SE RGB combats this by using Outemu dustproof switches to ensure that dust stays out of our keys. Additionally, the keys are easily customisable and replaced. This keyboard also boasts a lifespan of 50 million keystrokes, ensuring that you'll be able to use it for a long time. Additionally, coming with a braided USB cable makes untangling your wires a problem of the past. These features that improve quality of life make the 87 SE RGB from Tecware a great budget option for gaming and working.
Sleek and high performing, the HyperX HK-KB1SS2 is next. Designed for gamers, this keyboard features high customizability along with durability and portability.
If you're someone who would like to bring their keyboard on the go, the compact design of this HyperX keyboard makes it highly portable. To make things easier, it has a detachable cable that is braided for easy cable management. The frame of the HyperX Hk-KB1SS2 is made of steel for added durability and stability. Not only is its frame durable, but the keys themselves are also durable as well with a lifespan of 70 million keypresses. If you're a gamer looking for a customisable, durable and portable mechanical keyboard, be sure to check this keyboard out.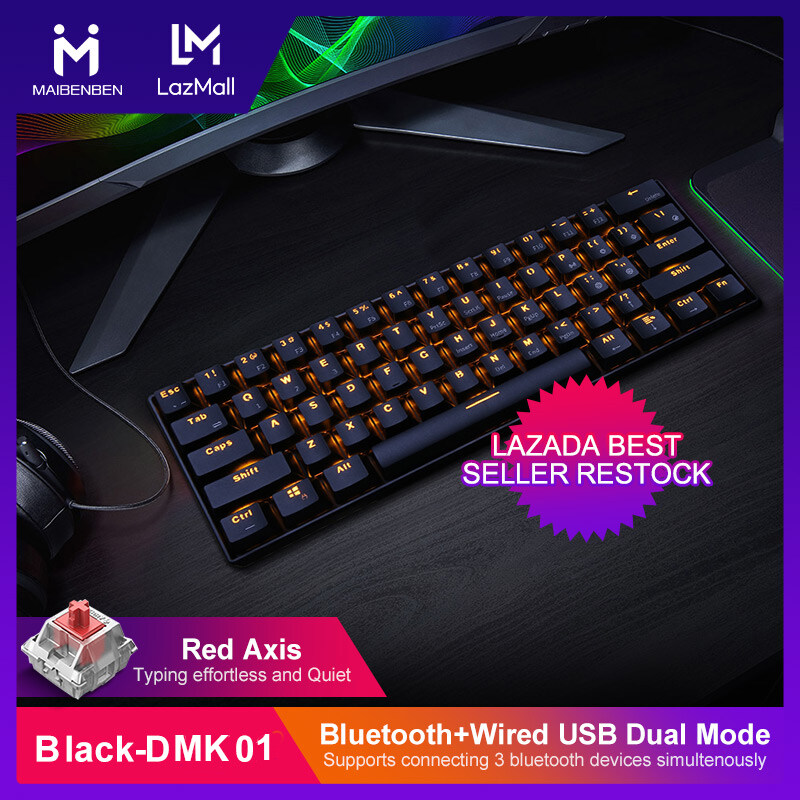 The DMK01 comes next on our list with its compact build and wireless features. If you're looking for a wireless keyboard that is compact and can switch to wired mode, this is the keyboard for you.
Through the DMK01's wireless functions, you'll be able to simultaneously connect to 3 different devices. This keyboard can also double up as a wired keyboard. You can also switch between wireless and wired mode through the keyboard functions. Although this keyboard is highly functional and user friendly, it suffers from shorter battery life. With an 800mAh battery, the DMK01 is able to run for 10 hours before needing another charge. If you're able to overlook the relatively shorter battery life, the DMK01 is an excellent affordable option and is the perfect model to round off our list of best keyboards in Singapore.
Having a good keyboard can improve your quality of life more than you might realise. With our list of the top 10 mechanical keyboards that you can buy online, the keyboard that meets all your needs is only a few clicks away.
Related Topics: Best 7 Standing Desks to Buy in Singapore
Best 7 gaming monitors to start your e-sports career
Related posts
Subscribe for newsletter
* You will receive the latest news and updates on Singapore's best trends!