8 Best Jewellery Stores in Singapore For All Your Jewellery Needs [2022]
Zoya, 3 years ago
7 min

read
1884
Whether you are about to attend an event or it is just a casual day at work, your look is incomplete without a special piece of gem. The jewellery to a woman is like a cape to a superhero. Hence, a woman is incomplete without a piece of ornament. The beautiful pieces of jewellery enhance the beauty of a woman and glorify it with its sparkle and charm.
Lucky for us, Singapore has never disappointed in terms of the creation of beautiful gem pieces. So whether they are everyday gems, exceptional sparkling jewellery, or any other accessories, Singapore is worthy of producing them locally. Here we discuss the best local jewellery stores in Singapore. Get ready to be amazed by their creativity and designs! We are sure you don't want to miss them out!
Caratell has been one of the top 10 local jewelry stores in Singapore for almost five consecutive years. The business was started with a small home-based gem crafting by a couple and is now one of the most renowned jewelry stores in the town. Caratell also has the privilege of winning the golden crown as being Singapore's best luxury jewelry brand. Moreover, the awards of best jewelry designers are in its pocket as well.
The dedication and hard work of the craftsmen producing the most exquisite pieces out of the gemstones is what makes them unique and fashionable. Their aim to be innovative in their creations and designs lifts them in their business.
Attending multiple jewelry events and exhibitions have led them to be diverse in their production. The caratell is not only famous for producing feminine and wedding jewelry but has stepped ahead in formulating bolder creations.
Another fantastic jewelry store in Singapore is dedicated to producing fine jewel items with colorful gemstones. The brand creates delicate and feminine designs for its customers and is a house of colorful jewelry items. If you want something to go along with your dress color theme, then madly gem is the place you should be going to.
The craftsmen are specialized in crafting customize designs, suiting your personality and tastes. You can even wish for any design with them, and they try to fulfill your wish as much as they can. They aim to bring sparkle and joy in the woman's life through their beautiful gem pieces. And work with full dedication for the cause.
Madly gem is the store where customization is more prior to standardization. Lastly, the store is one of the best gemstone stores in Singapore.
Eclat by Oui is one of the finest jewelry stores in Singapore. Formulating handcrafting diamond simulants into elegant pieces of ornaments is what their craftsmen are specialized for. The different variety of stones resembles actual diamonds and is extremely soothing to the eye. The finishing and polishing of the jewelry are also subtle enough to compliment any woman.
Their beautiful designs are eye-catching and feminine and are suitable for formal and informal purposes and even everyday use. You should definitely visit them if you are in Singapore and get your hands on some fantastic jewels.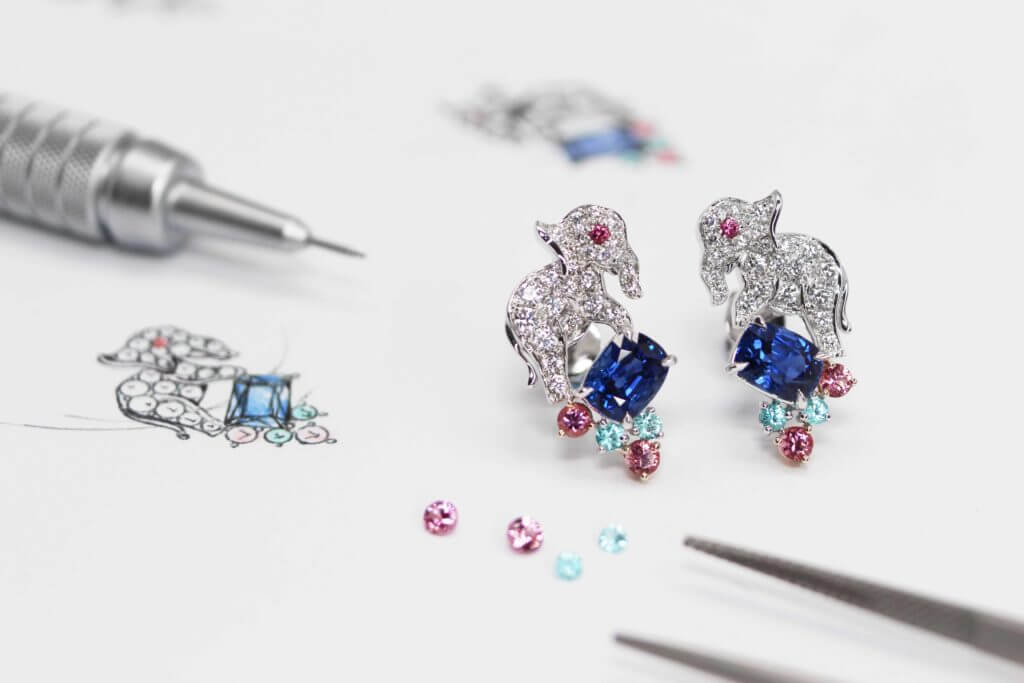 Run by the young entrepreneurs, this jewelry brand is a bespoke jewelry brand in Singapore. They are specialized in customizing the designs and gemstones into beautiful pieces of jewelry at reasonable prices.
This local jewelry brand of Singapore has grown to a significant level through the passion of its designers. Cheryl, being a woman and educated in gems philosophy, put her heart in her work. She creates designs in a way to compliment a woman's personality by maintaining the natural beauty of the gemstones.
Customization at GIOIA solely focuses on the comfort level of the customer and preferred material. Cheryl, through her experience and knowledge, guides her customers in the best way. Everything is discussed thoroughly for the best outcomes of the expectations from choosing the color, design, shape, and material.
You should be visiting this store if you are too fussy regarding your picks as this the place you wish to have your jewelry made.
The jewelry brand Michael Trio has been in the business of jewelry crafting since their forefathers. And the brand is successful in fulfilling their family's legacy. The journey began with crafting precious ornaments for sultans and royals and is still going on. For 40 years, this family has been serving their audience with love and devotion by their skills and designs.
Therefore, their jewelry has a touch of royal and is perfect for all-purpose. The craftsmen design fine, beautiful, and feminine designs to fit the personality of a wearer. They offer remarkable rates with a significant variety of designs as they make their jewelry without involving any third party.
Their range of wedding bands and casual rings is something to must consider while selecting the options. The necklace and bracelet line is classy in itself as well. Therefore, do consider paying a visit to them while in a hunt of beautiful jewelry.
Another award-winning jewelry that have roots in Singapore. State property is a label of art and creativity. This is the jewelry store in Singapore that focuses on nature and craft their designs with a traditional look. They try to shape and finish the metal in the most delicate and feminine way.
Their jewelry collection is vast, unique, and is perfect for the people who crave style and quality. State property has made its recognition all over the globe with their great enthusiasm and dedication. Their skills and designs are the centers of attention in many jewelry contests and shows.
State property is a local brand with high international recognition. Therefore being in Singapore, you should never miss visiting their store for some fantastic jewelry collection to look for.
This local jewelry store has a wide range of collections to choose from. Their motive is to let women shine and sparkle with their beauty through their items. Their pieces are beautifully crafted and polished with the most exquisite details.
The range of delicate jewelry at reasonable prices is what they offer their customers. Being popular among their audience, SK jewelers are worth the visit. From necklaces to rings, their collection is perfect to suit every occasion.
If you're looking for a one-shop stop for all of your jewellery needs, then Poh Heng awaits your arrival. They're a jewellery store that curates a selection of different types of elegant ornaments. They add a modern twist to traditional Chinese designs to create some stunning designs. With so many collections to choose from, you're sure to find the perfect design you are looking for.
If you are looking for ornaments that are more on the traditional side, then you might want to check out their Auspicious Gift category. With designs like the Golden Axe Pendant, Prosperity Coin Pendant, Lotus Pendant and many more, these designs represent good fortune and look equally good. They even feature a collection of Chinese Zodiac Pendants, so you can buy one for yourself or gift it to your loved ones.
Poh Heng also provides personalised pieces where you can write your name or age. And if you're wondering about the materials, then you have plenty of choices there too. Choose from options like Yellow Rose, Rose Gold, Black Gold, Platinum, etc. And don't forget to check out their rings category if you're looking for that special ring.
This ends off our list of the best local jewelry stores in Singapore! Singapore is best in designing and crafting beautiful jewelry pieces. Therefore these stores deserve appreciation from its local audience for their dedication and decorative art.
Zoya
Queen of Obscure References and occasional writer. When not exercising my thumbs on Instagram, you can find me looking for good author bios on Google.
Related posts
Subscribe for newsletter
* You will receive the latest news and updates on Singapore's best trends!