9 Best Japanese Restaurants in Singapore that You Must Try [2021]
megha, 3 months ago
8 min

read
398
If there is a cultural set of human beings that take their food very seriously, it is the Japanese! Thankfully, Singapore is privileged to be bejewelled with the most authentic Japanese restaurants. To summarize, Singapore has it all. Ranging from the small joints, right up to the Japanese restaurants run by globally renowned chefs.
Singapore has got you covered with a flavoursome range of mouth-watering sushi and smokin' hot yakitori. Consequently, you will find a heartfelt bowl of ramen in the blink of an eye. So, get your chopsticks on and get ready to go on a delectable journey to Japan!
In the spirit of pure indulgence, here are the Best 9 Japanese Restaurants in Singapore that will pamper your eyes and taste buds, both.
1. Waku Ghin – Michelin Star Restaurant
Waku Ghin is crowned as one of the most Exotic restaurants in Singapore. Evidently, it has very smoothly made its debut on Asia's 50 Best Restaurants. Thus, this Japanese restaurant comes with great prestige. In other words, it might be extravagant for your pocket but is sure to hit the spot on your palate.
Waku Ghin is run by the internationally acclaimed Celebrity Chef Tetsuya Wakuda. Moreover, it occupies 10,000 square feet of majestic space Marina Bay Sands. Consequently, its premium magnificence serves a lavish 10-course meal to only 25 customers at a time. In other words, if you don't mind splurging $400 on a meal, your experience will be worth the investment at least once-in-a-lifetime!
Highlight:
Signature dish: Marinated Botan Shrimp with Sea Urchin and Oscietra Caviar
The dessert spread: Generally served in the dining area overlooking the gorgeous skyline of Marina Bay Sands.
Address
The Shoppes Atrium 2, Marina Bay Sands #02-02 (via escalator opposite Artbox Level 2), 10 Bayfront Avenue Singapore
Contact Details
+65 6688 8507
Business Hours
6:00pm
8:30pm
2. Shinji by Kanesaka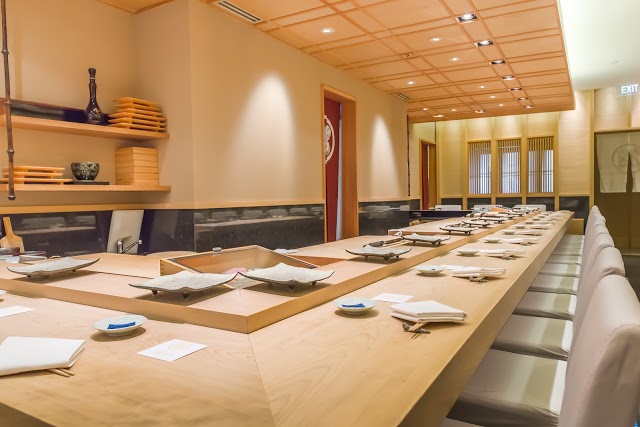 Shinji by Kanesaka is one of the most enticing restaurants in Singapore (Not just Japanese). Moreover, they endeavour an impeccable range of Edomae sushi and traditional Japanese dishes. As a result, the wholesome spreads are beautifully plated. The highlight is they have a regional Japanese team of chefs cook up all the magic.
Shinji is celebrated for its lunch-time sets of attractive Setsugetsuka Sushi Courses ($75). In fact, serve 9-15 pieces of delights that melt in your mouth. To sum it up, their food oozes with authenticity. Especially, the Otoro is not to be missed!
Highlight:
The chef's Omakase Special is something your palate deserves ($300)
Enthralling ambience
Sit back and allow the amazing chefs to cast its spell on your experience
Address
Carlton Hotel, 76 Bras Basah Rd, Singapore 189558, & The St. Regis, 29 Tanglin Rd, Singapore 247911
Contact Details
+65 6338 6131 / +65 6884 8239
Business Hours
12pm–3pm and 6pm–10.30pm
Closed on Sundays
3. Sushi Mitsuya
Head Chef Ryosuke Harada at Sushi Mitsuya is on a known mission of spreading the word of Sushi, one Omakase meal at a time! In fact, he is popular for his sheer vigour and meticulous culinary efforts. Furthermore, he manages to present an inviting array of assorted Osaka-style Oshizushi (Pressed Sushi). Overall, he lays a plethora of sumptuous offerings at Sushi Mitsuya.
Additionally, they freshly fly-in most of their produce from Japan. As a result, the only possible road to heaven in this Japanese restaurant is its Omakase menu. To sum it up, they showcase some fine signature innovations. Hence, they range from sets costing $130 up to $300.
Highlight:
Must try: Time-sensitive stewed tuna tendon, fish liver pate, and creamy servings of Uni
Especially curated pairings through an exclusive list of Sakes
Craft brews like Sumikawa and Mitobe for food pairings
Address
60 Tras St, Singapore 078999
Contact Details
+65 6438 2608
Business Hours
12pm–3pm and 6pm–11pm
Closed on Sundays
4. Yoshi
Did you know the basement of your city's shopping mall houses an award-winning chef's creations? Well, Singapore's Forum shopping mall has been hiding a gem called Yoshi. Indeed, it is run by Chef Yoshiyuki Kashiwabara. After all, he is the same man who spent several years personally catering to Japanese ambassadors in Singapore and San Francisco. Most importantly, he is well-renowned for possessing intimate crafting skills.
Although, you will be amused by their fresh seasonal produce that comes from Tokyo's Toyosu market. Therefore, giving you a classic Kyoto fine-dine experience. Moreover, this Japanese restaurant lets you eat with your eyes first. Above all, their gorgeously platted dishes are sure to take your breath away.
Highlight:
Dig into the Umami explosion with the Sakura Ebi Don ($58)
Alternately, enjoy any one of three themed menus ($158 – $188)
Enjoy various meat options
Address
#B1-39, Forum The Shopping Mall, 583 Orchard Rd, Singapore 238884
Contact Details
+65 8188 0900
Business Hours
12pm–2pm
7pm–10pm
5. Shiraishi
Shiraishi located at the Ritz-Carlton is one of the classic superheroes of Singapore's Japanese restaurant heritage. Subsequently, it is the avant-garde of Edomae-sushi special lunch sets. Moreover, it is pocket-friendly. For instance, $50 for eight kinds of Sushi and $130 for a full Sushi course.
In addition, the full platter is served alongside seasonal dishes. Also, they are flown down from Tokyo's Tsukiji Fish market every week. To sum it up, they let you devour the Tuna soup and assorted Sashimi portions.
Highlights:
Must try: The Futomaki and fried Tempura set ($40)
Drool-worthy platters
Address
The Ritz-Carlton Millenia Singapore
Contact Details
+65 6338 3788
Business Hours
12pm–2.30pm
6pm–10.30pm
6. Fat Cow
If you're a devoted meat-lover, then Fat Cow will throw a party in your mouth! It is a luxurious Japanese Steakhouse in Singapore. Subsequently, they serve bespoke meats with a deep inclination towards Japanese Wagyu beef. In brief, Fat Cow is popular for its exquisite range of raw, cold, and hot appetizers. Simultaneously, you can expect can embellished Omakase experience they offer.
Truly, Fat Cow is a gourmet rollercoaster for those who want to awaken their inner carnivore. Meanwhile, they import Beef from Japan's finest farms houses. Thus, don't miss out on the Wagyu char-grilled Sumibiyaki-style cooked the shabu-shabu way ($98). Also, the Sukiyaki ($98) is a great pick among other scrumptious dishes. Likewise, Donburis cannot get more epicurean-friendly. Hint: 21 days dry-aged Nagasaki A5 Wagyu ($148). Consequently, it is served with the triple goodness of caviar, uni, and foie gras.
Highlight:
Interiors have a modern-contemporary take on the time-honoured Japanese steakhouses
Wooden elements constructed beautifully around the lounge bar and dining area
Design is adapted from the Japanese "Wabi-Sabi" concept
Address
Camden Medical Centre #01-01/02, 1 Orchard Boulevard, Singapore 248649
Contact Details
+65 6735 0308
Business Hours
11.30am–3pm
5.30pm–10.30pm
7. Ki Sho
Ki Sho resides miles away from the chaos that Orchard Road embarks. However, it is a provincial palace-like architecture carrying a quaint Japanese restaurant along Scotts Road. Chef Hamamoto – formerly from Waku Ghin at Marina Bay Sands. Truly making dinning a glorious and elevated experience.
Besides, Ki-Sho boasts of procuring and presenting the season's best in many of their Omakase menus ($150). Hokkaido Uni, Caviar, and seasonal vegetables blanketed with refreshing dashi jelly. In conclusion, it portrays some immensely tantalizing and exquisite creations.
Highlight:
Interiors are equipped with a jazzy and sleek Sake room
Eye-pleasing dining rooms in the upper deck
A Kappo-style Sushi bar
Address
29 Scotts Rd, Singapore 228224
Contact Details
+65 6733 5251
Business Hours
Mon-Fri 12pm – 2.30pm and 6pm–10.30pm
Sat 6pm–10.30pm
Closed on Sundays
8. Mikuni
The Japanese translation of Mikuni suggests 'Three kingdoms'. That is quite a suitable name for this massive 150-seater Japanese restaurant in Singapore. Meanwhile, their Sushi platters will naturally allure your taste buds. After all, its extensive menu is categorized and headed by a troupe of 3 veteran chefs. Of course, these culinary stars are hell-bent on reinventing traditional Japanese flavours. Therefore, the dawn you with a global and wholesome experience.
Above all, their Teppanyaki counter showcases the redefining of craftsmanship with seasonal seafood. Similarly, the Sushi & Sashimi station showcases the Chef's hand-picked and curated Jou Sashimi. To illustrate, it is a selection of four seasonal sashimi The Robatayaki section explores pork belly, King Prawn, and some mouth-watering vegan dishes right from the charcoal grill!
Highlight:
Mikuni Summer Menu ($230) displays seven luscious Sashimi courses
Vast variety of juicy grilled meats
Address
Level 3, Fairmont Singapore, 80 Bras Basah Road, Singapore 189560
Contact Details
+65 6431 6156
Business Hours
Mon-Tues & Thurs-Sat
12pm–2.30pm
6pm–10.30pm
Closed on Wednesdays & Sunday.s
In short, Singapore's Japanese restaurants' culture is strong and flavoursome. It will never fail to excite all your senses!
9. Sushi Airways
Crowned as one of the 'Top 5 Instagrammable restaurants in Singapore', Sushi Airways showcases a unique gastronomic experience. It's not only Singapore's only aeroplane-theme restaurant but also a full-fledged Sushi bar and Japanese restaurant. Musing its design from the classic Douglas DC-3 airplane, the culinary excellence it provides should make it slip to the top of your bucket list. You could easily stroll down from Haji Lane, right in the middle of the bohemian and vibrant Arab Street/Kampong Glam zone of Bugis.
Designed like a legitimate flight manual, their extensive menu also involves a selection of sake and whiskey. Don't miss out on their Omakase Shimasu: Grilled Lobster with Uni Sauce, Shake Harasu (Ocean Salmon Belly), $9 & Nama Hotate (Raw scallop), $11. Moreover, get ready to be swooped by their elegant presentation. In case you want to grab a quick bite amidst your shopping haul at Haji lane, opt for their reasonable lunch sets priced at $26. Shake Harasu is priced at $10, and Nama Hotate is priced at $12.
After all, who doesn't want to take a flight that satiates your cravings in the middle of a global pandemic!?
Highlight:
Indulge in fresh Sashimi that is imported multiple times a week
Enjoy their exclusive Lunch sets, one of which includes soft shell crab salad- with fruits, Unagi Don – with egg and crunchy crumbs alongside Coffee Pudding – which their customers preferred.
| | |
| --- | --- |
| Address | 20a Baghdad St, Singapore 199659 |
| Contact Details | +65 6291 1151 |
| Business Hours | All days of the week: 11:45am–2:30pm, 5:45–9:45pm |
Read other related articles: Best 10 Japanese Omakase Restaurants in Singapore, 5 Best Sushi Delivery in Singapore
Related posts