10 Best Ironing Boards to Buy in Singapore [2022]
Warren, 3 years ago
8 min

read
7458
Anyone who regularly needs to iron their clothes can tell you how important having the right ironing board is. The ability to properly lay your clothes flat on a surface as you do your ironing is a luxury people who are constantly ironing can't do without. When choosing an ironing board, there are a variety of factors to look out for. These include stability, weight, height, and size. Choosing an ironing board is not just a matter of playing eenie-meenie-minie-moe. There is a lot of thought that goes into it and the selection process can be exhausting. That is where we come in. In this informative review, we provide you with a list of the 10 best ironing boards in Singapore. So sit back and relax, we've got you covered.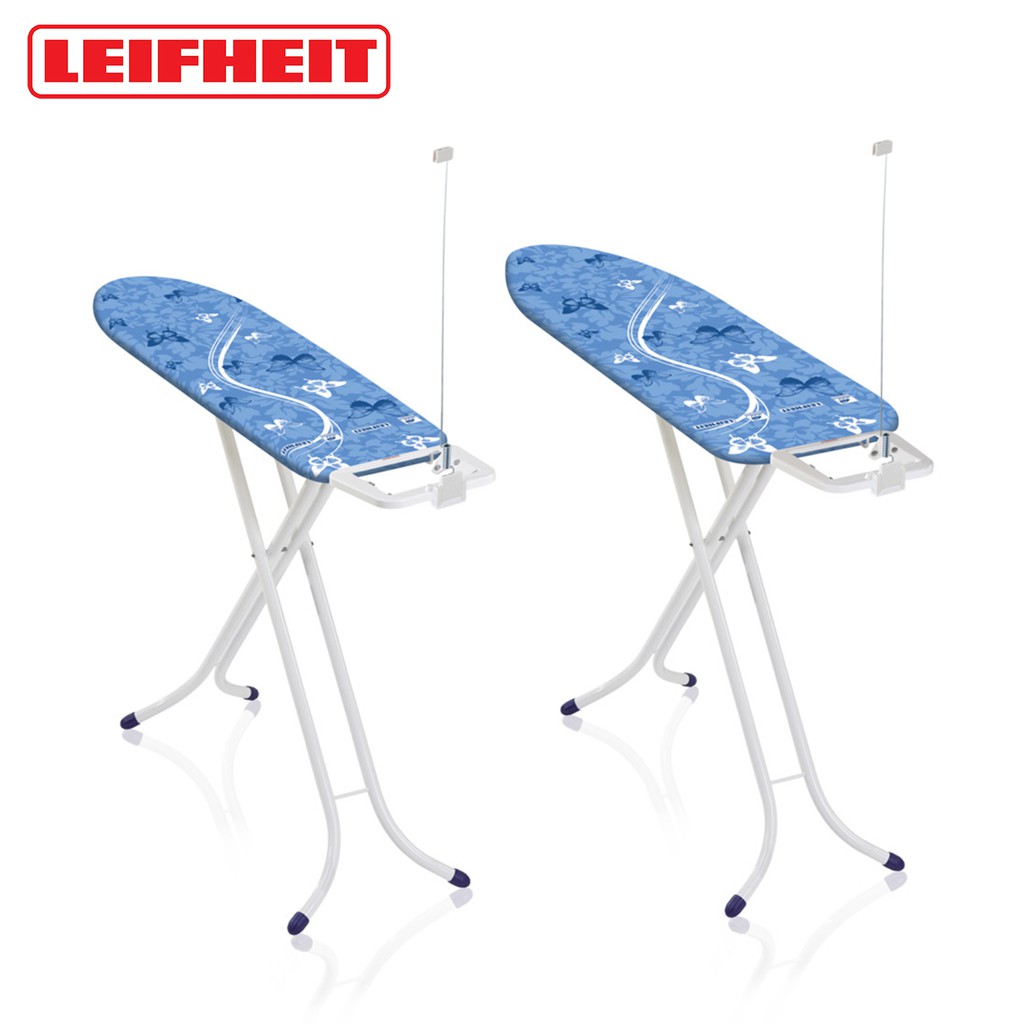 Fully equipped with thermo-reflect technology, the Leifheit Airboard Compact Ironing Board lets you do your ironing faster and more efficiently. It also allows you to iron both sides of your clothes at once. Weighing in at a meager 3.2 kilograms and measuring 110cm by 30cm, this board is light enough to carry from room to room.
It is still very sturdy though and can withstand the weight of heavier fabrics and irons. Another thing you will love about the Leifheit AirBoard Compact is the clever shape that makes it easy to iron blouses and shirts.
High Points
Light and portable
Enables faster ironing
Compatible with both standard and steam irons
Comes with a 1-year warranty
If you have a little one and are looking for something child-friendly, the Brabantia Size B Ironing Board is just up your alley. It not only has a child lock but it also features a steam iron rest that farther ensures your child is unable to reach hot iron surfaces. Another thing you will love about this ironing board is that it is adjustable to 7 varying heights from 69cm to 96cm.
Due to its foam layer and cotton cover, this Brabantia ironing board is very durable. Coupled with its 10-year warranty, this is a quality that makes it a great option for those Singaporeans who don't like shopping regularly!
High Points
10-year warranty
Adjustable height
Has a child lock and iron rest
When it comes to household items, HomeBuddy is one of the most popular brands in Singapore. As such, it is not a surprise that Singaporeans rate the HomeBuddy ironing board very favorably. It comes with a heat reflective cover that ensures that your clothes are ironed faster. Overall, it is truly one of the best ironing boards in Singapore!
It measures 90 by 30cm; enough space to iron out even your bigger clothing articles. It also features adjustable heights and an iron tray. Ultimately, customers love it because it has all the features you require yet is worth almost half as much as other ironing boards. For inquiries, contact HomeBuddy via their Facebook Page.
High Points
Heat reflective cover
Adjustable heights
Good value for money
Only left-handed people know the pain of trying to use products meant for right-handed people. In a world full of right-handed ironing boards, the Gimi Iron Board Prestige is a breath of fresh air. This steel board has a reversible standing bow that easily transforms it from a right-handed board to a left-handed one. Thus, for left-handers, this board is one of the best ironing boards in Singapore.
It also offers a good amount of ironing space (122 by 38cm) and incorporates a padded cotton board cover, cord holder and clothes rack. For inquiries, contact Gimi through their Website Contact Page.
High Points
Comes with convenient cord holder
High-quality build
Can be used by both left-handed and right-handed people
Singaporeans looking for an ironing board that is heat resistant should look into the Amark Premium T-Leg one. Its perforated polypropylene-based board not only makes it have a high heat resistance but also allows for the proper venting of heat and steam.
On the other hand, its 7 adjustable positions make it comfortable to use for people of a variety of heights. Another convenient feature of this ironing board is its safety lock that keeps it sturdy even when something bumps into it. This stability is further enhanced by its T-leg design.
Other useful features include anti-slip caps and a smooth worktop. This ironing board is available from Ang Lee Seng Pte Ltd. You can make inquiries on their Facebook Page.
High Points
Heat resistant
Has a safety lock
Has sturdy legs
Adjustable height positions
From its color to its sleek design, it is evident that the HOUZE Premium ironing board was made for the modern home. It is 110 cm long and 33 cm wide, providing enough space to iron large pieces of fabric. This however doesn't affect its ability to be folded in and stored away.
One unique feature of this ironing board is its curved feet. This simple design alteration not only looks good but also significantly increases stability. For more about this product, visit the HOUZE Facebook Page.
High Points
Sleek and modern-looking
Increased stability due to curved feet
Foldable and portable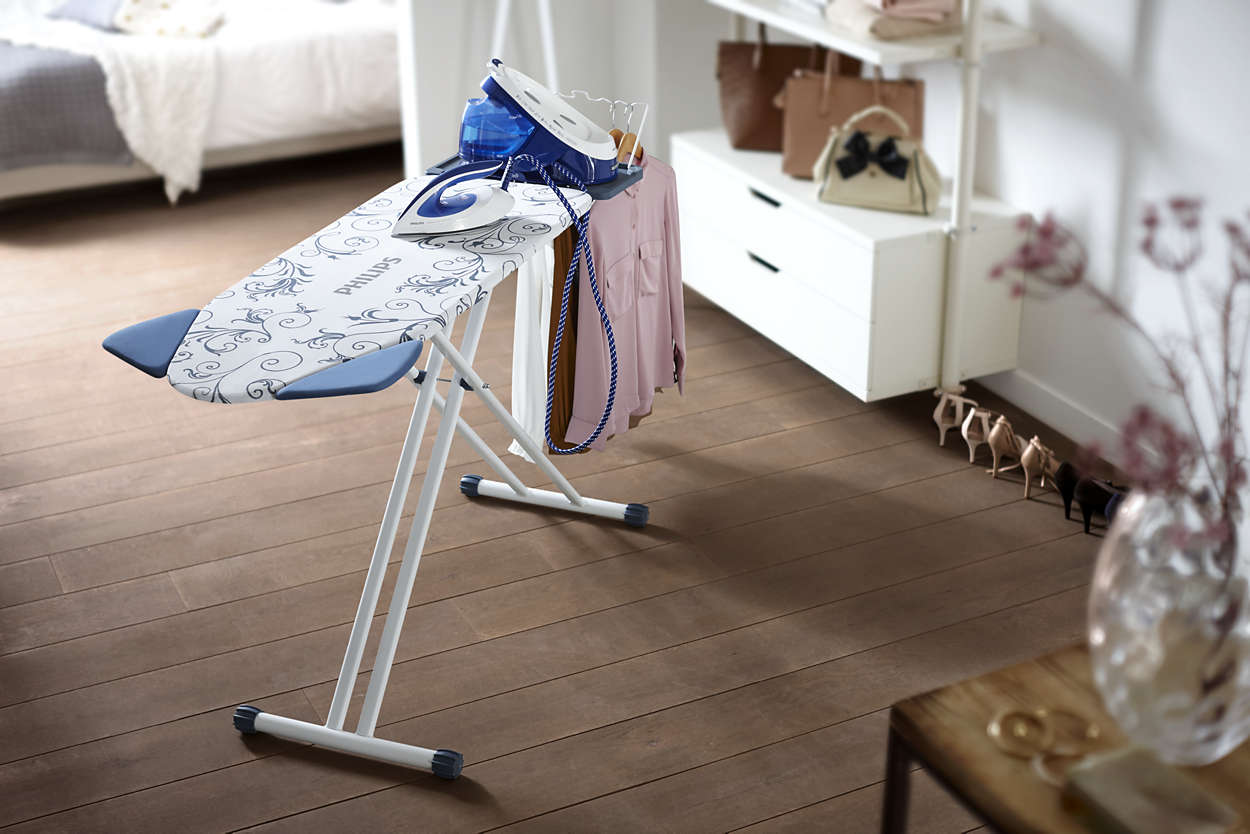 Our review would never be complete without at least one product from the Phillips brand. Known for manufacturing some of the best and most durable irons, their ironing boards are super high-quality too, and one of the best ironing boards in Singapore hands down! The Philips GC240 is the perfect example. With its incorporated hanging rail, you can comfortably hang your freshly ironed shirts.
Another amazing feature of the Philips GC240 is its huge 120 by 45 cm size that allows you to spread out even larger clothes with ease. Moreover, the incorporated shoulder wings make it easier to iron shirts and blouses. Built for use with steam generators, the Philips GC240 has a convenient XL tray.
Other amazing features include 6 adjustable positions, protective anti-slip caps, and 4 protective layers. While this ironing board is quite pricy, it is packed with features that will make ironing significantly easier for you. For inquiries, contact Philips Singapore through their Facebook Page.
High Points
Has hanging rail
Huge enough to withstand a variety of fabrics
Has child lock and durable legs
The board has 4 layers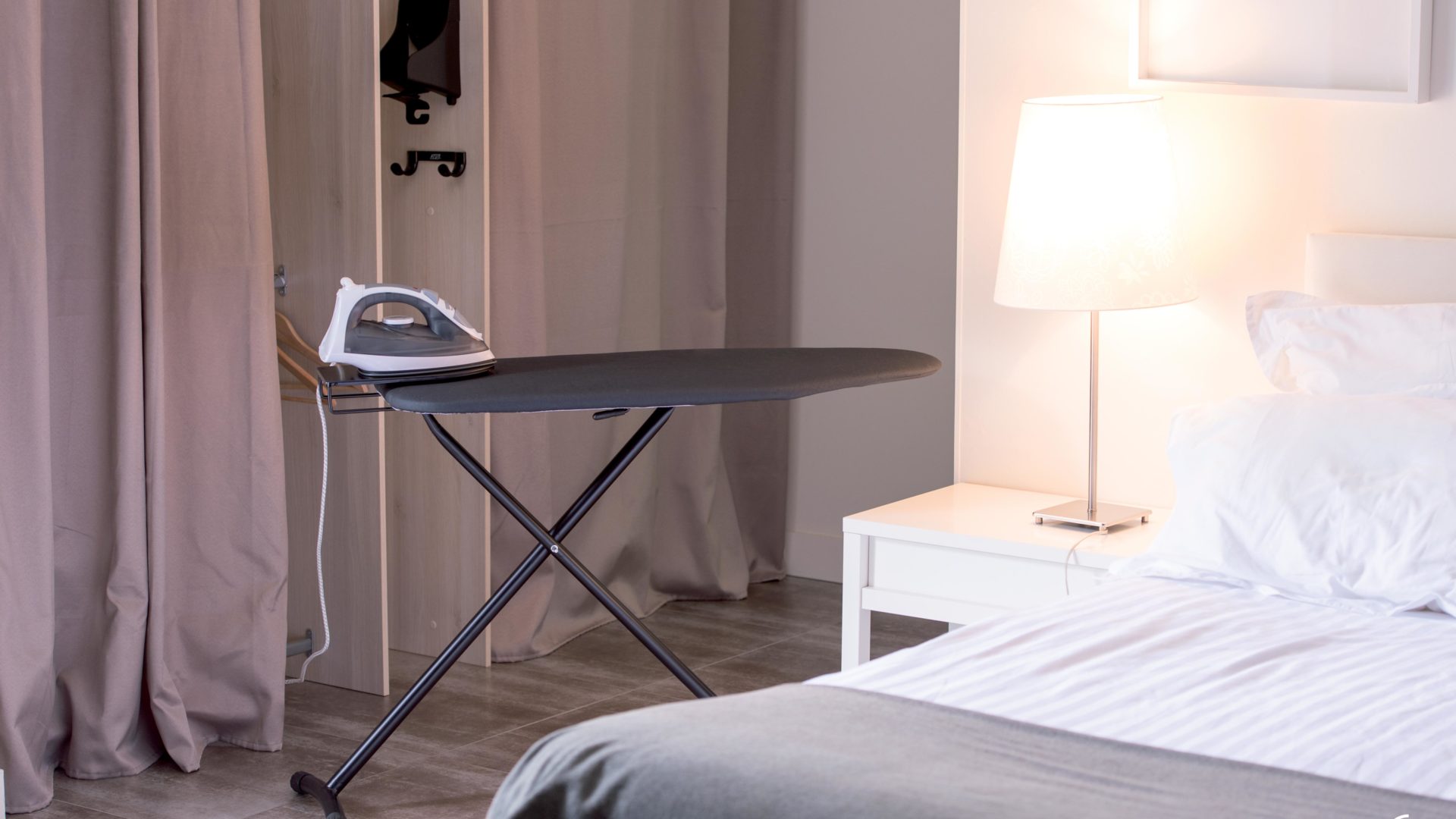 While the JVD Prestige doesn't have any of the bells and whistles present in its counterparts, it is very cheap and has the basic things you would look for in an ironing board. This sleek black ironing board features adjustable heights and T-legs that enhance stability.
This ironing board is made of aluminized material that is stain-resistant; a great quality to have in a full homestead. You will also love that it is foldable and has secure-grip caps. For more about this and other products, contact JVD through the number (65) 6214 8550 or email address jvdasia@singnet.com.sg.
High Points
Stain and scorch resistant
Adjustable heights
Sturdy and durable
If you are looking for something that you can simply hang up on a wall when you're done, the SOL HOME Premium Iron Board is your best bet. It folds and stores away easily. It also withstands temperatures of up to 200 degrees.
Due to its 5 height adjustments of between 76 and 85 cm, anyone in the family can use it regardless of their height. You will also love that it comes with a removable cover for ease of washing.
High Points
Withstands high temperatures
Adjustable height
Easy to fold and store out of the way
The Leifheit Ironing Board is particularly suited to those who love the Leifheit brand but can't afford the more expensive options. This ironing board is cheaper than the Airboard but still manages to incorporate some impressive features.
It comes with a fixed iron tray and adjustable heights of between 75 and 88cm. With dimensions of 120 by 38cm, this ironing board provides sufficient ironing space while still maintaining its ability to fold away. To order or inquire about this ironing board, visit the Leifheit Singapore Website or call them at 62896515.
High Points
Height adjustable
Cheaper than other Leifheit ironing boards
Light yet sturdy
As we said before, a lot goes into choosing an ironing board. However, with some effort, you can get what is best for you. Just make sure to not simply choose the highest rated product but go with the one that best suits your needs; that is better equipped to satisfy your highest priorities.
As much as this review has the best ironing boards in Singapore, only you know what's best for you!
Related posts
Subscribe for newsletter
* You will receive the latest news and updates on Singapore's best trends!