10 Reasons why you should get an Instant Pot
, 3 years ago
6 min

read
3585
The term Instant Pot has become synonymous with simplicity and convenience in the modern kitchen. With an ever-growing community of 2.7 million followers on Facebook and an average of 4.6 stars (73,013 ratings) for its most popular product on Amazon, Instant Pot has attracted much attention in Singapore and globally over the last few years.
If you are wondering what's the hype all about, read on to find out!
How is an Instant Pot Different from a Standard Pressure Cooker?
The key differences lie in technology, usability, and ease of control. We may remember hearing from our parents how they or their friends had an incident with old pressure cookers that would often explode or cause injury due to unrestrained pressure. Instant Pot is designed with excellent safety mechanisms that prevent such issues. 
According to Instant Brands Inc., their trademark Instant Pot enables users to easily cook "ribs, soups, beans, rice, poultry, yogurt, desserts and more" using just one device. Now think of the standard pressure cooker, is all of this possible? That's what we thought…
Why Should I Purchase Instant Pot?
As Singaporeans, we lead a fast-paced life riddled with intricate facets of work, family life, and personal well-being. Amidst all this chaos, often the first choice is to either opt for a nearby hawker centre or get food delivered. The current COVID-19 pandemic has strained these options to a large extent.
While you may argue that once the CB restrictions are more relaxed, things will go back to normal, the fact remains that eating outside food always can cause a host of issues including obesity, and heart diseases.
When thinking of cooking at home, the idea seems like a hassle because of the process involved and the time it would take. Cue in *fanfare* the Instant Pot! Not only does this petite appliance guarantee up to 7 times faster rate of cooking, but it also promises you a whole galaxy of mouth-watering recipes.
1) Multi-Purpose
The Instant Pot renders itself as a 7-in-1 appliance that can replace your pressure cooker, rice cooker, slow cooker, sauté pan, steamer, food warmer, and yoghurt maker. Imagine being relieved of the duty of hoarding appliances, and preventing the hassle of repairing or replacing each when something goes wrong.
We all love to have more space in the kitchen, and with the one-appliance army Instant Pot, look no further! This is why you should get an instant pot in Singapore.
2) Variety of recipes
With its multi-functional capabilities, Instant Pot as the sous-chef instantly turns you into Chef-de cuisine with a whole pot of recipes *wink wink*
You will find over 1000 recipes on their official website: https://recipes.instantpot.com/
As Instant Pot is a Canadian brand, its official recipes are largely catered towards Western cuisine. However, by using their filter function you can choose the type of meal, the type of cuisine, and diets such as dairy-free, vegan, etc. Check out some of their Chinese dishes below: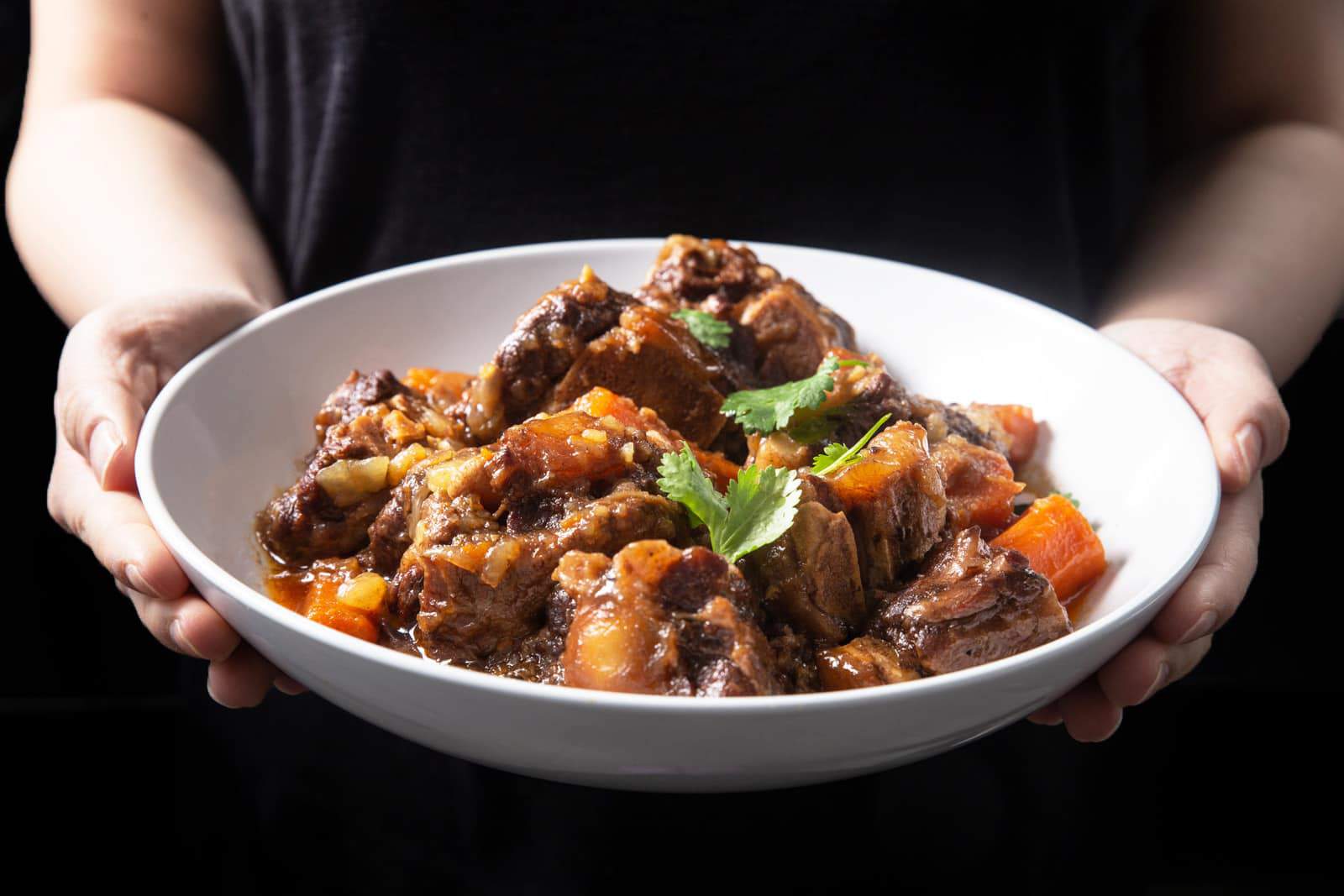 3) Value for money
With its series Duo 7-in-1 Electric Pressure Cooker priced at $469 on Lazada, surely the appliance does not come cheap. But based on its multi-functionality and performance, this is quite a reasonable price. In addition to the pre-programmed options available and the quality food that can be cooked, all we can say is:
4) Performance
The Instant Pot helps you speed up the cooking process from 2-7 times depending on the recipe. For example, you can cook beef ribs in 25-30 minutes, while pot roast takes 30-40 minutes, a whole chicken takes around 6 minutes per 500g, and frozen whole fish takes just about 7-10 minutes.
If this is not instant cooking, we don't know what is!
5) Convenience
The convenience factor of the Instant Pot includes its compact design that can easily fit into any kitchen, and also its ease of use. One major aspect is the ability to cook frozen meat of fish instantly due to the high pressure of the pot. This is why you should get an instant pot in Singapore.
If you were not convinced already, the convenience factor is also true for directly using chickpeas, beans or lentils…without the need to pre-soak!
6) Simplicity
The design of the Instant Pot was curated keeping in mind user-friendliness. By choosing from its 14 pre-programmed options, you can just put all the ingredients into the pot, and tend to other activities while the cooking is done for you.
Once the program is finished, the Instant Pot beeps as if to say "Dinner's ready!"
7) Designed for Keeping Food Warm
Forget the need to constantly re-heat food when you have the Instant Pot complete with its 24-hour timer, which gives you the option of delayed cooking. Another feature is the automatic keep-warm button that allows you to store the food safely in the pot for up to 10 hours, and serve it fresh and warm after. This is why you should get an instant pot in Singapore.
8) Batch Cooking Made Easier
The large capacity of the appliance that can hold 5.7 liter or more depending on the model is the optimum size to allow for batch cooking and meal preparation. To prevent burning the food, you just need to become accustomed to adding an appropriate amount of liquid at the start. This further allows getting ready multiple portions with just one program.
9) Eco-Friendly Technology
Another plus point for the Instant Pot in the eyes of the environmentally-conscious consumer is its efficiency that facilitates energy savings of up to 70% compared to existing methods such as cooking on the stove or using an oven. Let's save the planet one recipe at a time!
10) Easy Washing and Cleaning up
The stainless-steel composition of the pot enables easy washing. Add to that the cooker's lid that helps prevent stove splatter, and keeps cleaning to a minimum. All in all, a blessing to have in your kitchen!
Bonus: Channel the Inner Star Wars Fan in You
If all the above-mentioned reasons do not convince you, consider the chance to spice up your kitchen with Star Wars-themed Instant Pots available from Williams Sonoma. This is sure to entice your family members to try their hands at cooking too! Just remember to read the safety guidelines, and follow the instructions. This is why you should get an instant pot in Singapore.
Our final verdict for the Instant Pot is a rating of 4.5 stars owning to its features of multi-functionality, simplicity, and convenience. One con of the item is the steam release valve, which some customers find a little difficult to use. This is because the valve needs to be reset from "venting position to sealed position" each time before beginning to pressure cook. Another aspect to keep in mind is the stainless steel factor, which makes it easy to burn the food if an adequate amount of liquid is not used.
However, overall the features of the product overweigh these two cons. We believe you will not regret purchasing the Instant Pot, and you can thank us later when you realize this was the best decision you ever made!
Related posts
Subscribe for newsletter
* You will receive the latest news and updates on Singapore's best trends!