10 Best Instant Noodles to Buy in Singapore [2022]
Bryan, 3 years ago
6 min

read
10648
Instant noodles are the ultimate form of comfort food. Perfect for any time of the day, instant noodles never fail to put a smile on our faces. Convenient and delicious, instant noodles are found in households everywhere. With this love for instant noodles, there is also a desire to explore new flavours and varieties when restocking our supplies. However, with so many different varieties found online and in supermarkets, deciding on a new flavour becomes a troubling task.
This is why we have compiled this list of the top 10 best instant noodles to buy in Singapore so that the next time you restock, you'll know which are the go-to instant noodles to try.
Nong Shim has become a popular brand with its aesthetic packaging and delicious flavours. A fan favourite for many of those in Singapore, we just had to list the Nong Shim Spicy mushroom flavour as number 1 on our list.
The noodles provided by Nong Shim are thicker and have a stronger chew than most other instant noodles out there. For those who love that al dente texture to their noodles, you have to try this brand on instant noodles. The spicy mushroom flavour features spicy and salty flavours, making it a great option for those to love a little bit of spice in their food. Pairing firm noodles with the spicy and salty soup make for an excellent combination and a must-try instant noodle.
Bursting onto the instant noodle scene is Tseng Noodles, giving us a taste of Taiwan through their scallion with Sichuan pepper. These noodles have become overwhelmingly popular and for good reason. If you have yet to give them a try, jump on the hype train and you'll be shocked at how delicious this instant noodle is.
The thick 'ban mian' like noodles give the dish a firm bite. The oil given has been extracted from the red onions in Yunlin before being added to Sichuan chilli peppers. This sauce has been voted as the best in Taiwan's 2016 noodle awards. Not only is it delicious, but this instant noodle is also free from artificial preservatives, making it a healthier alternative. If you love dry noodles with a spicy kick, give the award-winning Tseng Noodles Scallion with Sichuan Pepper a try.
There's no way we can discuss instant noodles in Singapore without bringing up the Indomie Mi Goreng flavour. Prided on affordability and flavour, these dry noodles are a good choice to add to your instant noodle stash.
Apart from being delicious, Indomie Mi Goreng is also a halal instant noodle option. Mi Goreng means fried noodles and that's what this instant noodle taste like. These noodles blanketed in an amazing seasoning will leave your mouth watering and wanting more immediately. Whether you love Mi Goreng or not, Indomie Mi Goreng is an affordable must try instant noodle in Singapore.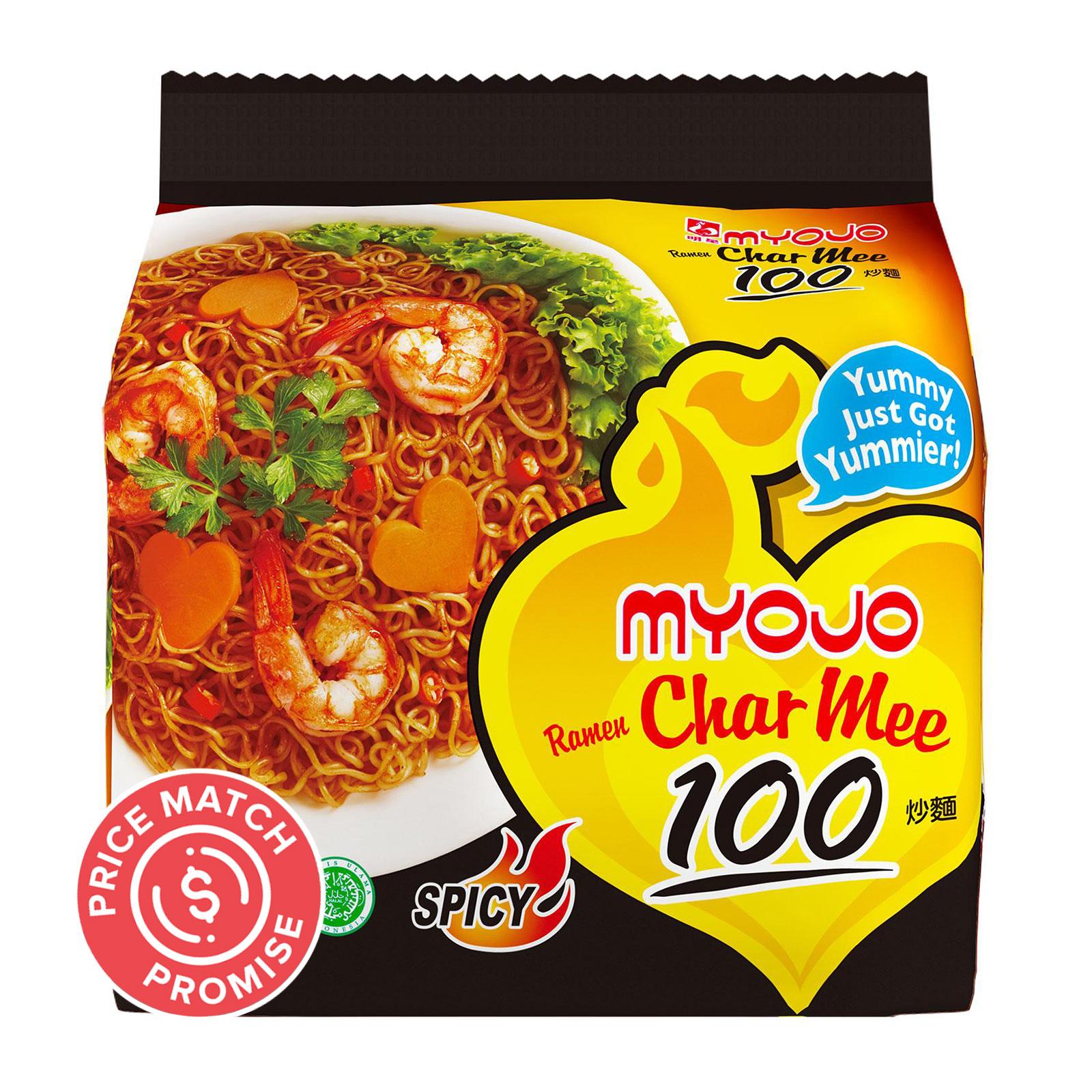 A hot favourite amongst army boys, the Myojo Ramen Char Mee is another delectable dry noodle option. Just like the Indomie Mi Goreng, this instant noodle is affordable, halal-certified and definitely worth a try.
Simple and easy, the Myojo Ramen Char Mee is great for a quick meal. Because it is so simple, this allows for a lot of creativity and customisation when preparing the instant noodle. The seasoning also brings an added element of spiciness to the instant noodle, making it highly palatable for many in Singapore.
If you love Takoyaki, the Nissin UFO Osaka Takoyaki flavoured instant noodle is a must-try for you. It might seem strange to combine the flavours of Takoyaki with noodles, but we guarantee that you'll come around to it when you give it a taste.
The seasoning provided is infused with oyster, bonito and Takoyaki flavourings, ensuring that the noodles are full of flavour. Nissin even goes the extra mile by providing a packet of seaweed powder as well as Japanese mayo. With these 2 added ingredients, the UFO Osaka Takoyaki instant noodle is a well-rounded dish with sweet, salty and creamy elements.
Currently one of the most popular instant noodles in Singapore, Hai Chi Jia introduces us to a new world of sour and spicy instant noodles.
The first thing you'll realise when you open the packaging is the wide variety of sauce and seasoning packets. After adding all of these and mixing well, you will find yourself with a delicious bowl of glass noodles with a complex flavour profile. Spicy and sour with a note of vinegar, the smell of these noodles is enough to make your mouth water. For those who love a good depth of flavours and can handle spicy food, we highly recommend the Hai Chi Jia Suan La Fen.
If you're looking for an instant noodle that has a light broth, we recommend the Tom Yum Shrimp Instant Noodles from MAMA. With a fully-bodied Tom Yum flavour, this instant noodle is sure to satisfy Tom Yum lovers out there.
Although the broth is light, it is surprisingly rich in Tom Yum flavour. This makes for a uniquely refreshing eating experience that many in Singapore will fall in love with. Spicy with light citrus notes, this instant noodle from MAMA is a homerun and definitely worth a try.
If you abstain from instant noodles due to their synthetic meat, this instant noodle from TTL will change your perspective. With real meat chunks paired with Chinese wine, instant noodles have never tasted this real.
Instead of dried up synthetic meat, this instant noodle comes with large chunks of marinated chicken meat. With a dash of Chinese wine, TTL has raised the bar for premium instant noodles. If you love Chinese-inspired cooking and want it quick, the TTL Chinese Wine Chicken Instant Noodles is the perfect choice for you.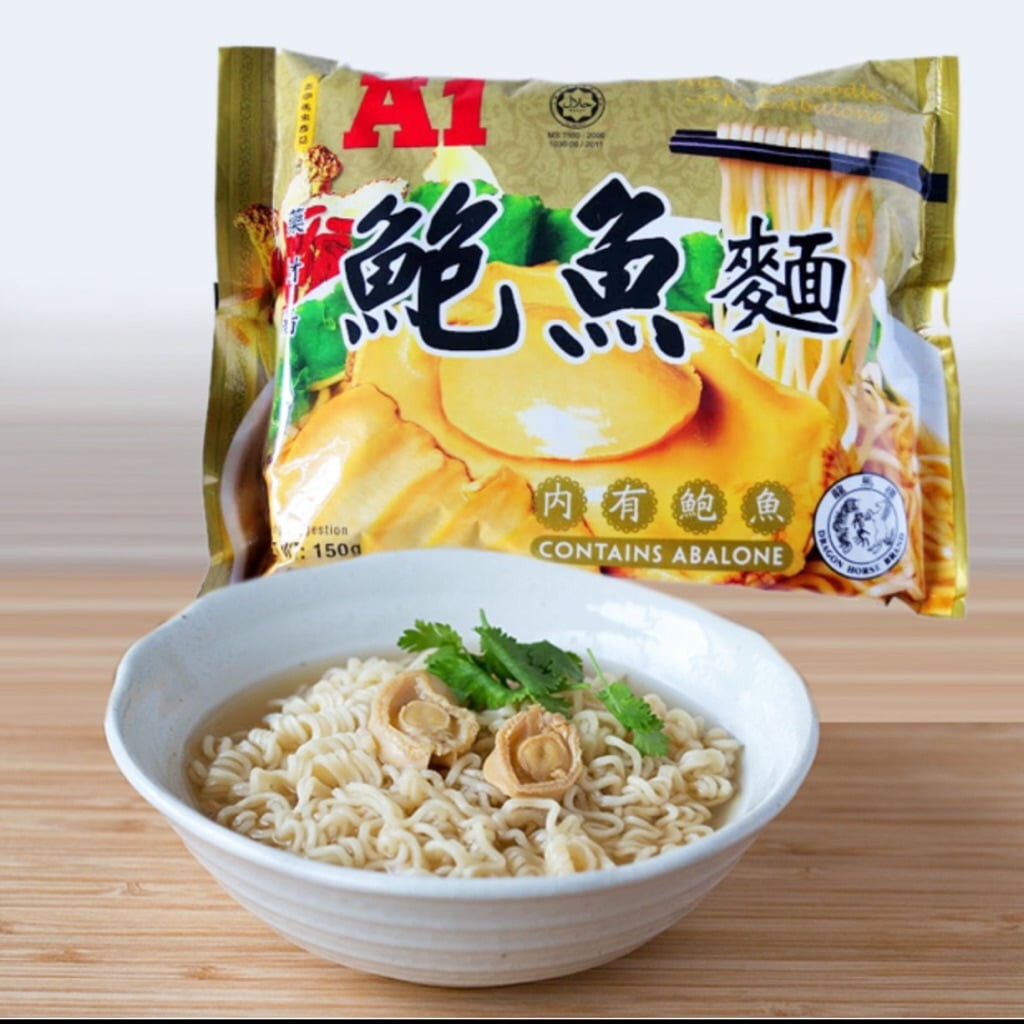 We're on a roll with premium instant noodles. This instant noodle features perhaps the most premium of ingredients and is sure to send you to food paradise.
The thing that stands out the most for this instant noodle is, of course, the real abalone. Their presence in an instant noodle package feels out of place yet makes so much sense. The broth is of the herbal variety which pairs amazingly well with the abalone. If you're in the market for premium instant noodles and love abalone, the A1 Abalone Noodle is a must-have in your pantry.
For many Singaporeans, scallions are the perfect garnish for noodles. That is why rounding out or list is Kiki Scallion Noodles with its specially blended scallion sauce.
Apart from the unique scallion sauce, the noodles in the packet are handmade and sun-dried, giving you the authentic taste and texture of Taiwanese noodles. This product has been so well received that they perpetually fly off the shelves and quickly become sold out. Be quick and grab yourself a packet of Kiki Scallion Noodles to see what the hype has been about.
Perfect for any time of the day, instant noodles are an essential part of any kitchen pantry. With our list of the 10 best instant noodles that you can find in Singapore, it's a perfect opportunity to add some diversity to your instant noodle supplies.
Written by: Tan Yi Bryan
Related posts
Subscribe for newsletter
* You will receive the latest news and updates on Singapore's best trends!