5 Best Hand Sanitizers in Singapore. Super easy to carry too! [2022]
Gee, 3 years ago
6 min

read
4282
During the Covid-19 pandemic, maintaining the cleanliness of our hands is of the utmost priority to avoid the spread of germs. Commonly touched-surfaces like door handles, faucets, lift buttons and shopping cart handles carry millions of potentially harmful microbes that can make you ill. So, how do we know which are the best hand sanitizers in Singapore? Here are a few points for you to consider.
Alcohol content
Alcohol is the most important active ingredient in hand sanitizers. Thus, a good hand sanitizer should have between 60 – 90 percent to effectively kill germs. Look out for ethyl alcohol, isopropanol or ethanol alcohol in the list of ingredients. Don't bother buying a product that contains less than 60% alcohol as they are ineffective.
Form
Hand sanitizers come in various forms – for example, in the form of gels, liquids, foam, and even creams. Choosing one is mainly a case of personal preference. For instance, if you are looking for a bottle that you can keep in your carry-on handbag or in your pocket, a gel-based sanitizer may be more practical to avoid spillage.
Scent
Dermatologists usually recommend getting unscented formulations as countless studies have proven that scents in hand sanitizers could cause adverse skin reactions. Thus, if you have sensitive skin, or if you are looking to protect young children or the elderly (who have thinner and possibly more sensitive skin), you may want to choose an unscented formulation.
Taking into consideration all the above criteria, here are our recommendations of the 5 best hand sanitizers you can buy in Singapore.
Dettol is a trusted brand of antiseptic cleaning supplies and disinfectants invented in 1876 and produced by the UK company Reckitt Benckiser. To this day, it remains a top-trusted protector of health worldwide.
Dettol's Instant Hand Sanitizer is both effective and reliable. In other words, it is safe enough to be used on the skin but is also powerful enough to kill 99.99% germs. Just 2 drops of this sanitizer goes a long way towards your protection and is a great hygiene solution for families and individuals on the go.

In addition, users rate this hand sanitizer highly because of its light and pleasant scent. They like its neat and practical packaging that does not leak, and that fits conveniently into pockets and purses. This is truly one of the best hand sanitizers in Singapore.
Dettol Instant Hand Sanitizer costs S$1.65 on Shoppee. Click here to buy.
Purell offers an impressive range of hand sanitizers in the market to suit their customers' preferences. From pocket-friendly small bottles to larger pump versions, Purell has thought of it all.

Applied properly, Purell's Advanced Aloe Instant Hand Sanitizer contains 70% ethyl alcohol to attack germs in under 15 seconds; with no water or towels needed, leaving you with cleaner hands. In addition, users have mentioned that after application, their palms felt moisturised and hydrated. This is definitely a plus in Singapore's hot and humid weather.
On the whole, this hand sanitizer will definitely keep you and your family clean, safe, and moisturized!
Purell's Advanced Aloe Instant Hand Sanitizer (354ml) costs S$18.50 on Shopee. Click here to buy.
Through the centuries, the Lifebuoy brand has been a champion of health and hygiene. To this day, it retains its reputation as a trusted and best-selling worldwide leader that brings better health and hygiene to billions.

The new Lifebuoy Hand Sanitizer Total 10 kills 99.99% of bacteria on your hands. It is a popular disinfectant while travelling, or for people on the go. It dries quickly, is non-sticky, and contains moisturizers and Vitamin E to protect the delicate hands of children and adults alike. Above all, its unique formula helps to boost the agents that give your hands the immunity against germs for up to 10 hours.

To top it all off, this product ranks highly in terms of its moisturizing ability. Its high ethyl alcohol content keeps users safe against harmful germs for long periods of time. Users also like its concentration, whereby just a drop is enough to cover your hands, making this one of the best value-for-money and hardworking hand sanitizers in Singapore.

Lifebuoy Immunity Boosting Hand Sanitizer costs S$2.65 for a 50ml bottle. Click here to buy it.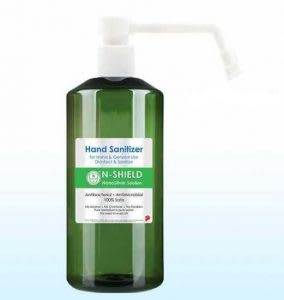 Nanosilver hand sanitizers are perhaps a more unusual type of hand sanitizer, which some of us may not have even heard of. However, silver has been used in the treatment of medical ailments for centuries. This is due to its innate antibacterial and antifungal properties.

N-Shield Nanosilver's hand sanitizer contains just 2 ingredients – 100% natural nanosilver solution and pure water. It contains zero chemicals or parabens and is 99.99% effective against harmful bacteria such as Bacillus and pathogens.

In addition, this hand sanitizer is so gentle and safe that you can even spray it on your face if someone sneezed beside you, or if you wish to freshen up. It will not sting your eyes! Even if a small amount gets into the mouth, it is harmless – making this product ideal for use on newborns and young children. This is also a great product for persons with sensitive skin or who are prone to allergies.

Apart from its use as a hand and body sanitizer, this product can be used on general surfaces. It is non-toxic and is perfectly safe to use to disinfect toys or cutlery. It can even be used to pre-sanitize and treat face masks before wearing, or for spraying on toilet seats before use. Just spray and leave it to dry. You do not even need to wipe off the liquid, hence minimizing the risk of spread-contamination across a surface.

On the whole, users rate this product highly for its safety and versatility. This is one of the best hand sanitizers in Singapore.

N-shield Nanosilver Hand Sanitizer costs S$14.90 for a 250ml bottle. Purchase here.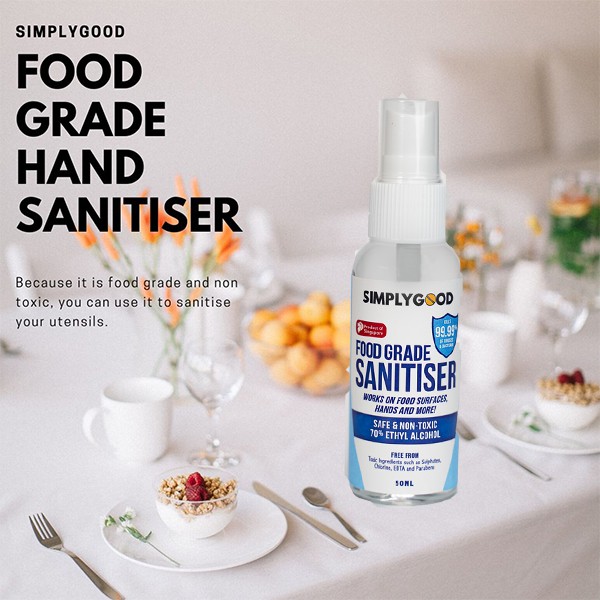 SimplyGood is a made-in-Singapore consumer brand and is created by the UglyGood team.

The SimplyGood Food Grade Hand Sanitizer is one of the newest hand sanitizers to be introduced to the Singapore market, and it was launched to coincide with the Covid-19 outbreak in Singapore.

Formulated to sanitize and kill 99.99% of bacteria and viruses, this versatile cleaner works on both hands and food-contact surfaces such as utensils, cutting boards, dining tables. It can also be used to disinfect general surfaces in offices and homes.

At the same time, it is a skin-friendly PH7 and is safe and non-toxic for even sensitive skin. As a food-grade product, it is absent of sulfates, chlorine, EDTA, or parabens.

On the whole, although a relatively new product, it has great reviews from users praising its light, pleasant aroma, and eco-friendliness. Users especially like its non-stickiness and clean feel after application.

SimplyGood Food Grade Hand Sanitizer Refill (1L) costs S$23.50. Click here to buy.

We hope that we have provided you with a good choice of hand sanitizers. Apart from keeping your hands clean, remember the other golden rules of cleanliness – avoid touching your face and maintain safe distancing at all times. Most of all, stay healthy through regular exercise and by eating a balanced diet daily. We wish all you continued great health.


Related posts
Subscribe for newsletter
* You will receive the latest news and updates on Singapore's best trends!