30 Best Affordable Halal Restaurants and Cafes in Singapore [2022]
Joanne, 3 years ago
30 min

read
16411
If you are a non-Muslim who is unsure of where to take your Muslim friends out for dinner, or you are a Muslim and tired of dining at the same place day by day, this article is perfect for you. As Singaporeans, the one fact that we are proud of in our small country is the diversity of culture living harmoniously. More than that, we also take pride and boast a great variety of Halal-certified cuisine and food options. In this article, we've rounded up some of the best Halal restaurants and cafes you can find in Singapore at cheap prices.
Highlights:
Wide variety of dishes
Affordable
Hotpot and BBQ available
Starting off our list of the best Halal-certified restaurants and cafes is no one other than Captain Kim! It is quite rare to find KBBQ restaurants that are Halal-Certified in Singapore. But, your search can now come to a halt as we bring you one of our favourite KBBQ spots in Singapore! Long gone are the days when you will have to make the difficult decision between choosing to have BBQ or hotpot, as at Captain Kim, you can have it all! Enjoy both their KBBQ and Army Stew Hotpot at an affordable price of $16.90 (Lunch)/$26.90 (Dinner) on weekdays, and $26.90 (Lunch)/$27.90 (Dinner) on weekends.
If you are someone who enjoys variety in their buffets, then say no more. Captain Kim Koran is here to spoil with all of the delicacies that they offer. With more than 60-varieties of the highest quality of meats, we're sure that you'll be planning different ways to conquer this buffet. Furthermore, did we mention that you get to enjoy a free flow of drinks?
Address
NTUC Income Tampines Junction – 300 Tampines Avenue 5 #01-06 Singapore 529653
Contact Information
+65 6260 4247
Business Hours
Monday to Friday: 11.30 AM to 3.30 PM, 5.30 PM to 10 PM
Saturday to Sunday: 11.30 AM to 10.30 PM
For further details, check their Facebook or Instagram
Highlights:
Fusion food
Noodle and grill dishes
Popular desserts and bakes available
Alongside Esplanade mall, Noosh Noodle Bar and Grill is one of the few Halal-certified restaurants on the boardwalk. This restaurant is a fusion restaurant, so expect a cuisine blending with modern and traditional flavours. If you plan to go here, remember this. Every time you quote Ashley Chan KL name, the brand ambassador of Noosh. They give you 10% off your total bill. This is his gratitude to you and to celebrate his collaboration with the eatery.
You can order from 20, and more attractive noodle and grill dishes serve to you by the creative chefs. Moreover, you will love a dessert after each meal from their Halal-certified bakery. Only to name a few, you can enjoy their Coconut Mango Rice, Noosh Choco Cake, Durian Cake, and Ondeh-Ondeh Cake. That's not all. You'll find your favourite noodles here at Noosh. This includes Beef Rendang Penne, Smoked Duck Lemak Chili Padi Pasta, Chicken Floss Ramen Crackers and a lot more!
Address
8 Raffles Avenue #01-13B Esplanade Mall Singapore 039802
Contact Information
+65 6327 9396
Business Hours
Tuesday to Sunday: 12 PM to 10 PM
Friday: 3 PM to 10 PM
For more info visit their Facebook
The makers of The Great Mischief are The Black Hole group. They are the experts who bring you Afterwit, Santap and Working Title. To know more about their location, the restaurant sits beside The Great Madras. One of the picturesque and classy hotels on the outskirts of Serangoon. It's really hard to describe the vibes on the Great Mischief, but you'll know what I'm talking about once you get here.
The Black Hole Group is known for serving unique and fine flavours in their eateries. So, this time, The Great Mischief presents Catalan-inspired Tapas. Their menu includes 20 different arrays of Tapas. To top it all, they offer mocktails to wash a satisfactory heavy meal. To give you a tip before you go here, order a little bit of everything so all your friends can taste each tasty delight.
Address
28 Madras Street Singapore 208422
Contact Information
+65 9392 2762
Business Hours
Monday to Thursday: 6 PM to 10.30 PM
Friday: 6 PM to 2 AM
Saturday: 12 PM to 2 AM
Sunday: 12 PM to 6 PM
For more info, visit their Instagram or Facebook
First things first, how do you even pronounce Omoomodon? Is it pronounced the way it is spelled or "Omoo-mo-don? But actually, you'll notice its signboard once you get here a bit more stylized and with bold font. You'll figure that the correct way to pronounce it is "Omo-omo-don." "Omo" is Korean slang, which means "Oh my."
On the other hand, the word "Don " is a Bowl in Japanese. Put it together, and you have "OH MY DON." This makes sense since the place is a Korean-Japanese restaurant inspired by Japanese donburi.
Dining at Omoomodon starts with self-service. You have an option to customize your meal, just like how you want it. You can combine many possibilities at Omoomodon. From your bowl of rice, a bowl of ramen, and a steak plate, you can choose whatever blend you feel at that time.
| | |
| --- | --- |
| Address | 1 Vista Exchange Green, #02-14/15, The Star Vista, Singapore 138617 |
| Contact Information | +65 6694 3111 |
| Business Hours | 11.30 AM to 9 PM, daily |
Highlights:
Long history of 96 years
Fluffy rice and soft chicken
Signature crispy puff brean
They say Islamic Restaurant is the father of all Halal restaurants in Singapore. Islamic Restaurant has been operating for nearly 96 years. A bit of history, they are the first-ever restaurant to serve Briyani in Singapore. And the eatery is set up way back the 19th century. The restaurant is now in the hands of a third-generation family owner Kalil A. Wahab, 59. The décor is how you expect it to be—a century-old Briyani shop.
Some guest considers their Briyani Rice as their best friends because of how delicious it is. Through their years of service, they mastered the art of cooking a Briyani. The chef cooks the rice to perfection, and the chicken is so soft it melts in your mouth. And if you are hungry, be sure to order some crispy puff bread, which you can only find in this restaurant.
| | |
| --- | --- |
| Address | 745 North Bridge Road, Singapore 198713 |
| Contact Information | +65 6298 7563 |
| Business Hours | Monday to Sunday: 10 AM to 10 PM |
For further details, check their Facebook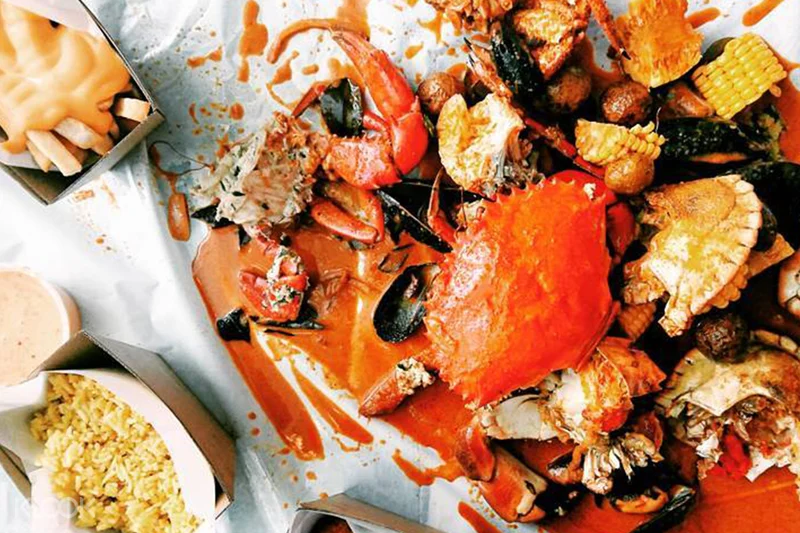 Highlights:
Lunch promotion available
Wide variety of seafood buckets
Great choice of side dishes
Cajun On Wheels is one of Singapore's leading Halal-certified family-friendly seafood restaurants that features classic seafood buckets and authentic Asian charcoal grilled crab, squid, seabass, grouper, prawns, crayfish, and more.
For the seafood loves out there, Cajun On Wheels sends you to the seafood paradise! Also, one way to describe this place is, it is a high-end food court. If you want to opt a little further for lunch today, might as well end up at Cajun on Wheels. They have a lunch promotion, but only for weekdays. Ocean Boxes price start from $9.50.
No matter how big is your group of friends or family, there are varieties of seafood buckets and platters on the menu. Of course, don't forget to order their best seller Salted Egg Yolk. It's a pretty good side dish. With the chilli padi, and curry leaves, there's no wonder why everyone orders this. So, what are you waiting for? Call some of your friends and order a whole mess of seafood, and start digging in!
| | |
| --- | --- |
| Address | 68 Orchard Road #03-92 Plaza Singapore 238839 |
| Contact Information | +65 6341 9665 |
| Business Hours | Monday to Sunday: 11 AM to 10 PM |
For further details, check their Facebook and Instagram.
Highlights:
Coszy atmosphere
Cakes and pastries
Catering and delivery available
All things delicious is a Halal-certified bakery offering comforting foods. Since 2013, All Things Delicious has grown from a home kitchen into one of Singapore's most prominent bakeries, with a bustling flagship store and restaurant in Arab Street and a popular food delivery service.
Over the years, it gained a reputation for its cakes. Plus, it is also becoming a popular choice for anyone looking for a cozy atmosphere. So, if you're meeting up with a friend, All Things Delicious is the right place to kill time. Once you step in, you will feel a sense of warmth and comfort immediately!
If you are craving for cakes and pastries, head here. What guest loves about All Things Delicious is, their wholesome pastries and cake are just too simple. Their menu is open to all ages. For afternoons, you can score some Scones over some Iced Latte. To further enhance the dining experience, get yourself a good book and unwind! A great addition to our list of the best Halal restaurants and cafes. All things delicious indeed!
Address
462 Crawford Lane #01-61 Singapore 190462
Contact Information
+65 6396 0820
Business Hours
Monday to Thursday: 8 AM to 5 PM
Friday to Saturday: 8 AM to 6 PM
For further details, check their Facebook or Instagram
Highlights:
Charcoal-grilled burgers
Wide range of mocktails
Dutch-inspired cuisine
If you find yourself around Haji Lane looking for great Halal restaurants, do check out I am… cafe. They serve Dutch-inspired cuisine. To tell you about their back story, Jam Ignite ventures Amsterdam's streets and fell in love immediately. He could not leave the experience behind. So, Jam Ignite brought the culture of Dutch and decided to set up a café in Singapore. Every dish you can order has a touch of European influence, so enjoy!
If you are fond of burgers, I am… cafe offers the best in town! From their charcoal-grilled juicy beef burger, satay burger to Dutch fries, and a range of mocktails, you will end up full and satisfied. It's getting a little colder this season, so why not order their taste-kicking coffee and tea! If you are still not convinced to go here and dine, this restaurant was awarded by TripAdvisor Certificate of excellence!
| | |
| --- | --- |
| Address | 674 North Bridge Road #01-01 Singapore 188804 |
| Contact Information | +65 6295 5509 |
| Business Hours | Monday to Sunday: 11.30 AM to 10 PM |
Highlights:
Healthy and all-natural food
Fresh ingredients
Wide selection of vegetables
Do you know that there is a particular spot in Singapore that serves healthy Hawaiian poke bowls? A Poke Theory is where you can dine over some healthy and all-natural foods. The café is free seating so that you can place your order at the bar at the entrance. The interior design of the Halal café is bright and minimalistic. Indeed, a perfect spot to take Instagram snaps.
Since raw fish is the main ingredient, using fresh ingredients is crucial for a good poke bowl. Poke Theory has this down on lock, preparing their ingredients in small batches to ensure optimum freshness when served.
A Poke Theory's vegetable selection is also quite enticing. They offer cherry tomatoes and flying fish roe. And also, the co-owner of Poke Theory recommends their Honey pineapple. The sweet, tangy flavours of pineapples bring the richness of the fish.
At Poke Theory, the poke bowls taste as amazing as they look. One reason why poke bowls have become so popular is due to their aesthetic appeal and the ones you'll find a Poke Theory definitely check this box. Colourful, healthy and delicious, these poke bowls are definitely worth the try.
Furthermore, apart from serving amazing food, Poke Theory makes environmentally conscious decisions as well. In an attempt to reduce food wastage, unused parts of their pineapples, cucumbers and kale are made into juices every single day. If you have an event coming up, you can also consider calling on Poke Theory's catering services!
For further details, check out their Facebook and Instagram
Highlights:
Friendly and helpful staff
Affordable food
Wide variety of traditional Southeast Asian food
If you want to explore the traditional flavours of Southeast Asia then you should visit this joint without giving it a second thought. This establishment serves some of the best authentic Indonesian dishes that will leave your heart and soul warm and comfortable. The complexity of the infinite combination of spices create the most unique and complex of dishes and this establishment brings it all to you.
They are considered one of the leading, if not the best, restaurants to get excellent Halal Indonesian cuisine in Singapore. Their extensive menu includes famous Javanese dishes, such as Nasi Tumpeng, which is arguably one of the most iconic Indonesian dishes. Customizable and can be ordered in party sizes, this restaurant is perfect for any important occasion. Their chefs make use of authentic spices and cook up their own cooking pastes from scratch. Indochili truly takes pride in their dishes and this is exactly why they make our list of 'Best Halal Restaurants in Singapore to check out'.
In addition, the prices in this establishment are extremely cheap with their prices usually starting from $8 onwards. It also adds to the experience that the staff here are friendly and helpful!
Highlights:
Beautiful atmosphere
Local delights
Brunch specials available
Fancy dining in a place surrounded by palm trees and flowers? You can have exactly that kind of gastronomic experience while indulging in delicious meals at Halia!
Halia – Malay for ginger – is located in the one-hectare Ginger Garden of the Singapore Botanic Gardens where over 250 species of gingers with their stunning foliage and colourful flowers thrive. The construction of Halia was carried out simultaneously with the development of the Ginger Garden in the year 2000. Careful consideration was given to the special park setting, such that architecture conformed to the contours of the land, the dignity of mature trees and the preservation of heritage.
In 2001, the Halia was officially opened. The result is an unobtrusive dining room with full-height glass windows, beckoning the greenery indoors, and allowing guests to dine in the Garden whilst still comfortably ensconced in cool surroundings.
The restaurant is famous for local favourites such as Hainanese chicken rice, fried kway teow, seafood sambal fried rice, and Singapore Laksa. Additionally, their weekend brunch specials are also a hit. Just add $8 to have access to free-flow freshly brewed coffee and tea. On the whole, Halia is hands down one of the best Halal restaurants in Singapore.
Address
1 Cluny Road, Ginger Garden Singapore Botanic Garden, Singapore 259569
Contact Information
+65 8444 1148
Business Hours
Monday to Friday: 9 AM to 9 PM
Saturday to Sunday: 10 AM to 9 PM
Highlights:
First Halal rooftop resto-bar in the world
Wide variety of tapas
Unique non-alcoholic cocktails
It's time to take a detour away from Halal restaurants and retire at the bar for this one! Wanderlost Lounge is the first-ever Halal rooftop resto-bar in the world. They serve sumptuous sharing tapas such as mentaiko scallop with caviar, creamy mussels, squids, siracha snapper, cajun prawns, and many more. 
Additionally, their all-day bites and pizzas are also a crowd's favorite. They also serve unique cocktail drinks that are inspired by fairytale storybooks. All the drinks in Wanderlost are inspired by the books you grew up reading. From Charlie and The Chocolate Factory to The Little Prince, you will find these stories retold as unique non-alcoholic cocktails.
In addition, the drinks are meticulously concocted using robust mixology techniques with your wellness being our key priority. Hence, the bar only uses healthy products such as natural distillates, hydrosols, tinctures, extracts, fruits, spices, herbs, kombucha as well as many others in order to create full-bodied mocktails while providing health benefits.
Aside from the resto and bar, you can also rent their lounge for corporate functions or parties. If you need an extra sizzle for your next event, they also offer offsite non-alcohol live stations and pop up bars. Once in a while, they offer mixology workshops and beverage and bar consultancy too!
| | |
| --- | --- |
| Address | Realty Centre, 15 Enggor Street #12-01 12th floor, Singapore 079716 |
| Contact Information | +65 6909 7701 |
| Business Hours | 5.30 PM to 11 PM, daily |
Highlights:
Affordable Japanese food
Homely and humble setting
Option to add cheese
Here is a little bit of backstory of Gyunion. The minimalistic place is the product of 3 good friends whose aim is to provide quality Halal Japanese food for the Muslim community in Singapore. Japanese food is pricey, but at Gyunion, you will get Japanese dishes that melt in your mouth at a very cheap price.
You will find Gyunion inside Sunshine Plaza. Because it is a humble Japanese eatery with very few tables in it, this place may not be ideal for big groups. However, you should still definitely visit this place as the food comes at very affordable prices. Their don, ramen and soba all come at nett prices!
Hungry folks who work around the area are lucky enough to eat here. For just $7.90, you can get yourself a tasty meal of savory beef slices and sweet caramelized onions. If you feel like eating cheese today, opt for Gyu Don with cheese for only $9.90!
| | |
| --- | --- |
| Address | 91 Bencoolen Street, #01-23, Sunshine Plaza, Singapore 189652 |
| Contact Information | NA |
| Business Hours | Monday to Friday: 12 PM to 5 PM |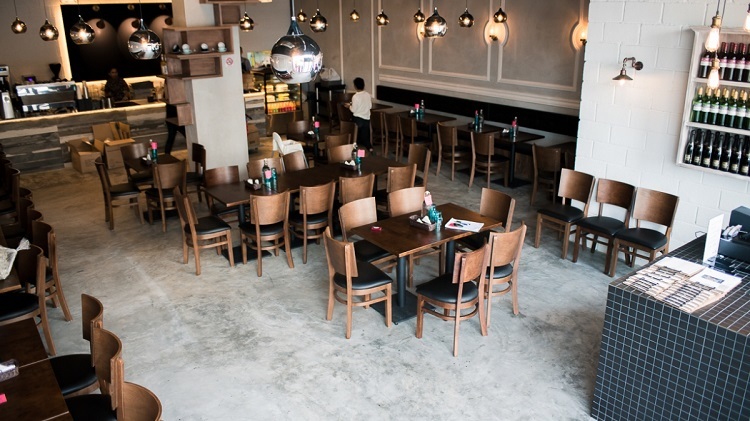 Highlights:
Cozy ambiance
Specialty coffee
Wide variety of western food
Royz Et Vous is a restaurant cafe started on 15th of July 2014, known for its cozy ambience that provides awesome Halal food, beverage, and good music with great company.
Famous for their Specialty coffee brunch all day, Royz et Vous started as a small outlet but has now grown to be one of the most sought-after café in the CBD. They have gained a lot of loyal customers from the Malay-Muslim community working in the area.
This restaurant is truly the perfect place for a romantic date or a casual brunch with friends. Try their nachos served with guacamole and sour cream for a great starter, followed by their signature prawns and clam pasta, and finally indulge in their brazen strip loin served with mashed potatoes, salad, and in-house dressing.
Through the years, Royz Et Vous remains dedicated to serve you quality coffee beans from different parts of the world and high-quality Halal food to satisfy to your experience. Overall, you are guaranteed to have a great dining experience as this restaurant is truly one of the best Halal restaurants in Singapore.
Address
#01, 137 Telok Ayer St, 01, Singapore 068602
Contact Information
+65 6293 0270
Business Hours
Monday to Friday: 11 AM to 4 PM, 5 PM to 10 PM
Saturday to Sunday: 12 PM to 4 PM, 5 PM to 10 PM
Highlights:
Extensive menu
Affordable prices
Great ambiance
With an extensive menu full of delicious flavours, Saltwater is an establishment that has something for everyone. From complex flavour combinations to soothing dishes that gently awaken your palate and appetite. From their popular Australian wagyu beef to their laska and their chicken rice, every item in their menu deserves an extensive review in their own right.
In addition, the their prices are highly affordable. They also often have regular and or special offers and promotions. So, be sure to follow the social media accounts of this restaurant so that you will not miss out on great offers!
Many customers also left reviews mentioning the ambiance you get here. With a cosy and comfortable environment, this establishment is known to be perfect for both, comfortable family dinners and romantic dates. Furthermore, the staff here are very friendly and patient!
| | |
| --- | --- |
| Address | 1 Netheravon Rd, Level 1Village Hotel Changi, Singapore 508502. |
| Contact Information | +65 67532167 |
| Business Hours | 11.30 AM to 10 PM, Daily |
Highlights:
Quality meats
Healthy cooking methods
Bento meals available
Strategically located on Level 2 of Wheelock Place along Orchard Road and outside the ERP zone, Pistachio is the perfect place for you to reminisce, bond, and create wonderful memories with family and friends over a sumptuous meal. Pistachio Grill serves only the most delicate cut of meats that are of 100% premium quality, nutritious, and healthy.
All the items on their menu are curated to bring you not just a plate full of nutrients, but a cultural experience. Savour popular dishes from various parts of the Middle East that have fascinating history of invention. Some example of the items you can find on their menu consists of popular Middle Eastern dishes, and includes Chef's Specials such as the Tomahawk beef steak, baked sea bass, whole lamb shoulder, grain-fed Angus beef rib, and tabouleh.
Additionally, Pistachio Grill recently launched its bento meals that start from $12.80. With such affordable options, Pistachio Grill is definitely one that you should not miss out on!
| | |
| --- | --- |
| Address | 501 Orchard Rd, #02-04/05 Wheelock Place, Singapore 238880 |
| Contact Information | +65 6262 6400 |
| Business Hours | 11.30 AM to 9 PM, daily |
Highlights:
Wide variety
Affordable prices
Fusion style of cooking
Serving over a dozen sambals, The Paggung tops the list of Halal restaurants for having the longest menu. This establishment specialises in Kampong cuisine and brings to you the sensational flavours of Southeast Asia with desserts that do not hesitate to experiment a bit with western styles and flavours.
The Malay delicacies served here are prepared with great care using high-quality ingredients and every dish in their massive spread deserves to be enjoyed individually to the fullest.
In addition, the prices at this establishment are extremely reasonable and affordable. The fact is that they serve simply marvellous meals at unbelievable prices and that makes this establishment perfect for a celebratory event or a simple fun lunch with friends. Youth and student-friendly, this joint definitely deserves a visit and perhaps if you do visit them you might turn into a patron yourself.
| | |
| --- | --- |
| Address | 11Kaki Bukit Rd 4, Bartley Biz Hub, Singapore 417806 |
| Contact Information | +65 8753 1500 |
| Business Hours | Tuesday to Sunday: 8 AM to 11 PM |
Highlights:
Halal Mexican food
Assorted tacos, burritos and quesadillas
Craving for some tacos and burritos? You don't often find Halal-certified Mexican restaurants in Singapore. Here is Afterwit to the rescue, bringing the Mexican culture through their décors, food, and music. Afterwit was inspired by an afterthought of pairing Mexican-influenced fare with an indie cafe experience.
With an Indie café-setting, this taqueria serves delicious tacos and locally flavored burritos such as biryani and butter chicken. Their quesadillas and house churros are also a hit. Make sure to also try their Agua de Jamaica mocktail, a popular sweet and tart Mexican drink.
With a wide variety of Halal Mexican options, Afterwit has established itself as a cult favourite among those with a penchant for spicy flavours, or looking for a sweet spot to chill out or do work.
| | |
| --- | --- |
| Address | 778 North Bridge Road Singapore 198746 |
| Contact Information | +65 6299 3508 |
| Business Hours | 12 PM to 10 PM, daily |
Highlights:
Authentic Turkish cuisine
Established since 1999
High-quality ingredients
Sofra Turkish Cafe and restaurant has been serving authentic Turkish cuisine since 1999. The Turkish word "sofra" after translation means a table prepared or set for eating a meal. It is an excellent venue to celebrate reunions, birthdays, and other special occasions.
Their extensive menu includes kebabs in their best forms, kofte Turkish pizza called "pide" amongst many others. Also, don't forget to order baklava and kunefe while you are there! Sofra also offers weekly specials that start from $10++.
The team at Sofra Turkish Cafe and Restaurant carefully selects their ingredients and prepare them in an exquisite atmosphere where they get their taste not only from Sofra's traditional cooking but also from loving hearts of the chefs. You will have peace with your stomach here in Sofra just as well!
In addition, you can find quality Turkish products for your home or office in Sofra Turkish Cafe and Restaurant. They offer a variety of products including a couple of types of cheese, tea, jam, sweets, olives, oils, and. Visit them and discover these delicate gems.
Address
#02 Shaw Tower 100 Beach Road 42/44 Shaw Leisure Gallery, Singapore 189702
Contact Information
+65 6291 1433
Business Hours
Monday to Friday: 11.30 PM to 10 PM
Saturday to Sunday: 10 AM to 10 PM
Highlights:
Headed by well-known international chefs
Delivery services available
Convenient location
The Dimsum Place serves traditional Cantonese dishes, soups, and authentic hand-made dim sum. Aside from the usual steamed and fried dim sum items, their noodles and porridges are also popular.
Guided by renowned international chefs, The Dimsum Place is always brainstorming new dishes to cater to a wide range of taste buds. Whether you choose to dine in at the Chinese dim sum restaurant or decide to opt for a dim sum delivery, you are guaranteed to get a flavourful and pleasant dining experience when you dine with The Dim Sum Place!
One of the most popular menu items among their loyal customers is their garlic onsen egg fried rice and their crystal shrimp dumplings. So be sure to check it out when you visit the restaurant the next time!
It is hard to miss this place as it is a beautiful corner shophouse with bright orange and white colour scheme. Definitely do not miss this place as it is truly one of the best Halal restaurants in Singapore to check out!
Address
791 North Bridge Road Singapore 198759
Contact Information
+65 6655 8787
Business Hours
Monday to Friday: 11 AM to 3 PM, 5.30 PM to 11 PM
Saturday: 11 AM to 2 AM
Sunday: 11 AM to 11 PM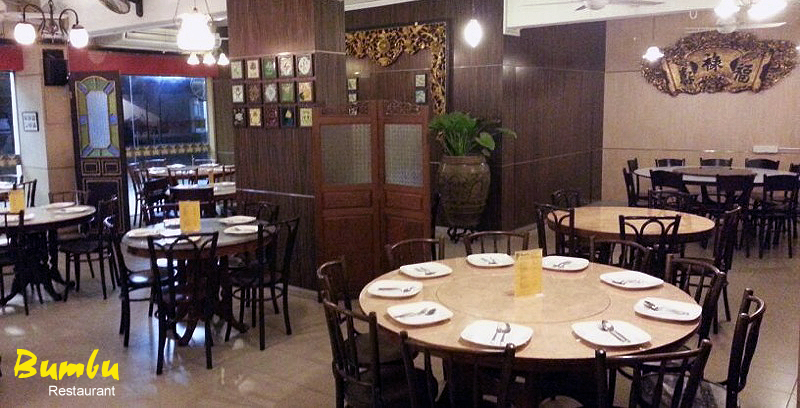 Highlights:
Antique-themed restaurant
Authentic Thai-Indonesian food
Affordable prices
Craving for some Halal Thai, Peranakan, and Indonesian food? Well, now you can have all three amazing cuisines under the same roof! Before we get into the food, we must make mention that Bumbu has the most unique decors of all the Halal restaurants on our list. This antique-themed restaurant takes pride in its décor that celebrates the vintage and beauty of the past. You can take some Instagram-worthy shots when you visit the restaurant!
Bumbu offers a wide selection of all-time favourites that will surely satisfy your taste buds. If you are into exploring quaint places, Bumbu is the right place for you. Some dishes that are very popular among its customers include Garlic Fried Fish, Tahu Telor, Olive Fried Rice, as well as Stir-Fried Squid in Black Sauce.
| | |
| --- | --- |
| Address | 44 Kandahar St, Singapore 198897 |
| Contact Information | +65 6392 8628 |
| Business Hours | 11 AM to 3 PM, 6 PM to 10 PM, daily |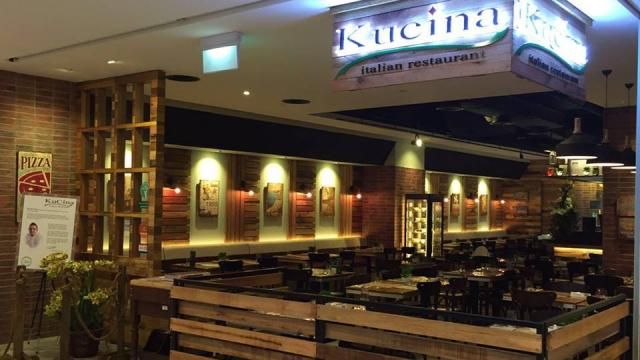 Highlights:
Singapore's first authentic Italian Halal restaurants
High-quality food
Wide variety of menu items
Kucina Italian Restaurant is Singapore's first authentic Italian Halal restaurant that's 100% Muslim-owned. Located at KINEX at Tanjong Katong, the Italian Restaurant is helmed by Chef Gero, who's had 25 years of experience in Italian cooking in prestigious restaurants like Da Paolo and the Garibaldi Group.
Kucina, which means kitchen in Italian. The restaurant aims to provide authentic and high-quality Italian food to its customers, both Muslims and non-muslims alike. Customers can enjoy delicious Italian dishes such as gnocchi, which are melt-in-the-mouth potato dumplings in salmon sauce.
The restaurant's menu also features starters such as Bruschetta Pomodoro and Bruschetta Salmone, mains like pastas and pizzas.
The prices of the food served at Kucina are also extremely affordable, ranging is from $4 to $23. After enjoying your main course, do not forget to order some of their mouth-watering desserts like tortino (chocolate lava cake), tiramisu nutella, pannacotta, as well as chocolate orange cheesecake!
So, for quality and authentic Italian food, be sure to check Kucina Italian Restaurant out!
| | |
| --- | --- |
| Address | 11 Tanjong Katong Rd, #B1-09/10, KINEX 437157 |
| Contact Information | +65 6493 2154 |
| Business Hours | 11.30 AM to 10 PM, daily |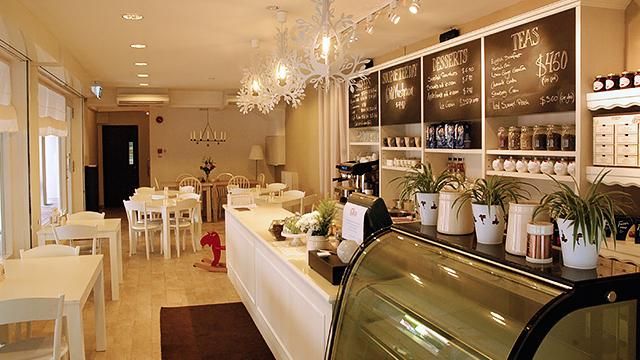 Highlights:
Authentic Swedish food
Wide variety of menu items
Affordable prices
If you are a fan of the Swedish meatballs from IKEA, you have to check out Fika Swedish Café and Bistro that is located on Beach Road. The bistro serves up authentic Swedish food such as Pickled Herring Plate as well as Pannbiff, which are Swedish home-made beef patties.
For more conventional options, you can try their range of pasta that includes their popular Fishermen Pasta which sees white fish, mussels, prawns, and squid served along with linguine pasta. Their Swedish meatball dish is a must-try if you like IKEA's meatballs! Fika Swedish Café and Bistro also serves up traditional Swedish desserts such as Kladdkaka, or Swedish brownies!
Fika takes pride in using only the finest and freshest ingredients to create their dishes that will fill your belly and warm your heart. In addition, the humble eatery also does islandwide deliveries!
| | |
| --- | --- |
| Address | 257 Beach Rd, Singapore 19953 |
| Contact Information | +65 6396 9096 |
| Business Hours | 11 AM to 10 PM, daily |
Highlights:
Iconic British food
Creative cuisine with bold experimentation
Signature Fish and Chips
The Mad Sailors is a restaurant at Haji Lane that serves up iconic British food. From starters to afters, their small plates embody queer experimentation. For seafood lovers, The Mad Sailors serves Grilled Whole Barramundi, Garlic Prawns, Octopus, as well as Mussels and Clams. If you prefer red meat, the brand also serves up Lam Ribs as well as Steak.
The most iconic dish is probably their signature Fish and Chips which features Fresh Atlantic Cod, Fingerling Potato, Tartar Sauce, Mushy Peas as well as a side of Salad. End your meal with a traditional British dessert: choose among Chocolate Torte, Carrot Cake, or Eton Mess.
From starters to afters, it is clear that The Mad Sailors' small plates can help in creating the perfect occasion for friends and family to share new flavours and feelings that each dish evokes.
Address
24 Haji Ln, Singapore 189217
Contact Information
+65 8768 0465
Business Hours
Monday to Thursday: 11 AM to 10 PM,
Friday: 11 AM to 11 PM
Saturday: 10 AM to 11 PM
Sunday: 10 AM to 10 PM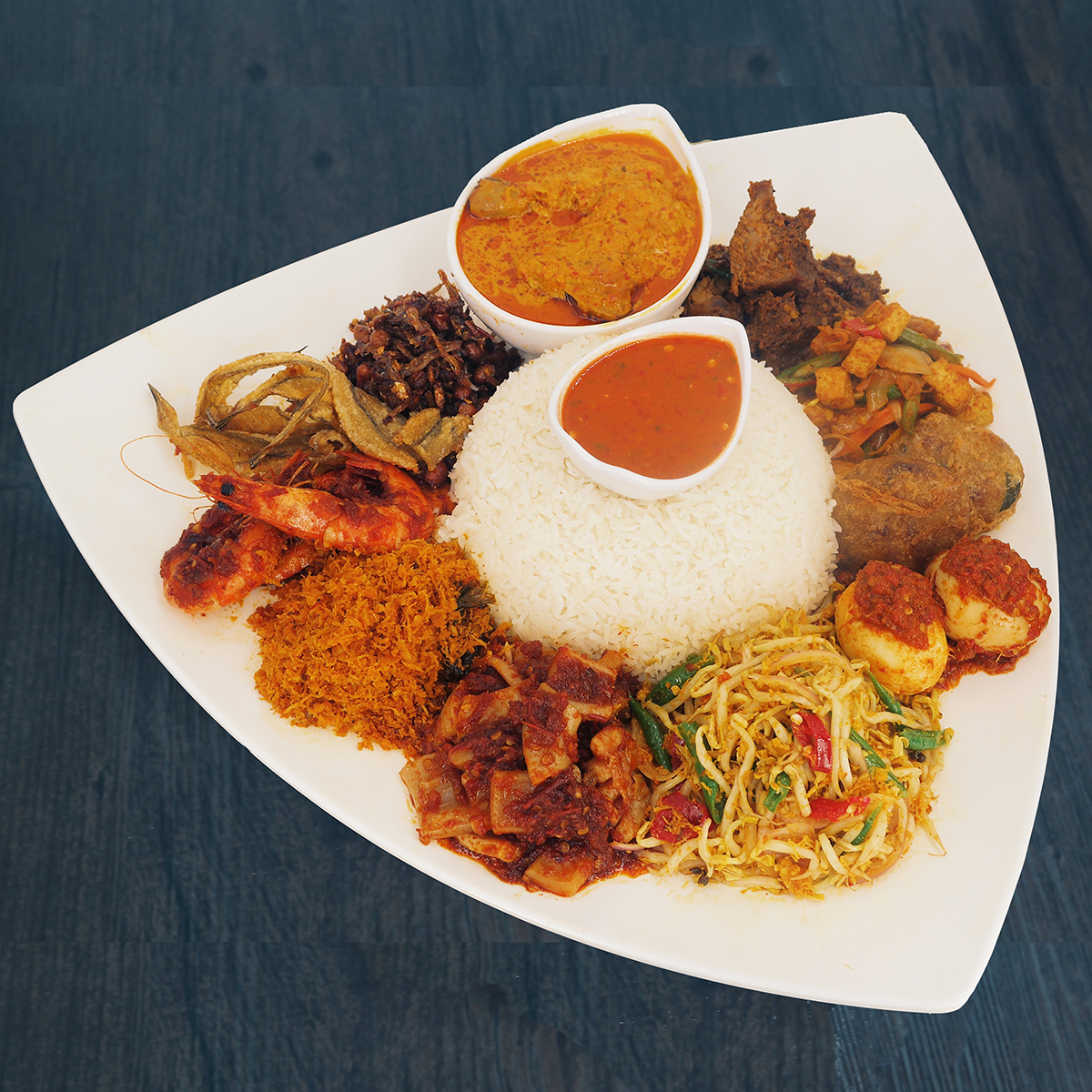 Highlights:
Humble eatery with affordable prices
Handmade pastes
Quality ingredients
My Spice Affair is an eatery that strives to provide quality Halal foods for everyone. The eatery had its beginnings as a street Warong hawker serving Nasi Padang in the 1970s along Jalan Kayu and Seletar.
At My Spice Affair, the team strives to provide you with the best service experience and food with good quality. Their authentic Malacca recipes are prepared using self-made pastes from a wide variety of spices and they only serve dishes made with quality ingredients.
For years, their recipes have been developed and improved but the traditional authentic taste of the Malay cuisine is very much maintained, My Spice Affair serves Nasi Padang by day and transforms to Nasi Ambeng Cafe by night from 5 PM to 8.30 PM.
Some of the popular dishes served by My Spice Affair includes Beef Rendang, Steamed Rice, Sambal Goreng, Grated Coconut, Begedil, Sambal Prawns, Chicken Lemak Chilli Padi, Salted Fish, Egg Belado, Mixed vegetable, Sambal Belacan, Sambal Cuttlefish, as well as Sambal Ikan Bilis & Peanuts.
| | |
| --- | --- |
| Address | 12 Kallang Ave, Aperia #02-11. S339511 |
| Contact Information | +65 8424 2182 |
| Business Hours | Sunday to Friday: 10 AM to 9 PM |
Highlights:
Amazing hotpots
5 different soup bases
Barbeque grill add-on available
Up next is the Halal-certified Jin Shang Yi Pin Buffet Hot Pot. Located in Eastpoint mall, Easties looking for a convenient hotpot buffet near them should definitely check this joint out.
Each of the 5 different soup bases at Jin Shang Yi Pin is brewed using a mix of herbs and spices for good flavour. If you are craving some barbeque while having a hotpot, Jin Shang Yi Pin comes through for you by offering a barbeque grill add-on.
With a large variety of meats, vegetables, and other hotpot goodies, your favourite hotpot ingredients can definitely be found here. With free-flow of desserts and drinks, you will be eating to your heart's content at Jin Shang Yi Pin. All in all, one of the best restaurants for Halal steamboat buffets in Singapore!
| | |
| --- | --- |
| Address | 3 Simei Street 6 #01-20 EASTPOINT MALL, 528833 |
| Contact Information | +65 6909 7355 |
| Business Hours | 11 AM to 4 PM, 5 PM to 10 PM, Daily |
Highlights:
Wide variety of food
Affordable price
Cozy atmosphere
The Flame Café is an establishment that offers a wide variety of food. From pizzas where you can choose your own toppings, to baked oysters and their highly raved steamboat, your stomach will thank you for a visit here. In addition, there are plenty of vegetable and meat options ready for you to cook them yourself.
The portions that are served by The Flame Café are also extremely generous. Even so, the prices are very affordable and reasonable. In addition to the great quality of food and reasonable prices, it also helps that the staff at The Flame Café are friendly and helpful. The cozy and warm atmosphere of the café also adds on to the overall experience of the restaurant!
All in all, the experience at The Flame Café is one with great food, great atmosphere, and great prices! It is definitely worth it if you're looking for affordable Halal restaurants!
| | |
| --- | --- |
| Address | The Flame Cafe, 73 Upper Paya Lebar Road, Centro Bianco Building, Level 1, Singapore 534818 |
| Contact Information | +65 8201 8373 |
| Business Hours | Tuesday to Sunday: 11 AM to 10 PM |
Highlights:
Malay-Western fusion food
Wide selection of dishes
Premium ingredients
Located along 71 Bussorah Street, one of the oldest heritage areas, The Malayan Council is a restaurant where the west meets Malaya.
The restaurant offers a variety of Malay dishes bearing Western influences such as Lemak Chili Padi, Asam Pedas, Soup Tulang, and Masak Merah. Combining the restaurant's traditional recipes with high-end ingredients such as King Prawns, Scallops, Soft Shell Crabs as well as Angus Rib-eye, the result is an exquisite selection of dishes.
The restaurant not only serves up great lunch and dinner options. It also serves up decent desserts that are rather popular among its customers. Some examples include Putu Piring Cake and Onde Onde Cake which are crowd favourites.
For a great dining experience that is complete with desserts and cakes, be sure to check The Malayan Council out!
| | |
| --- | --- |
| Address | 71 Bussorah Street, Singapore 199484 & 22 Dunlop Street, Singapore 209350 |
| Contact Information | +65 9002 4414 |
| Business Hours | 11.30 AM to 11 PM, Daily |
Highlights:
Authentic Thai cuisine
Affordable prices
Vegetarian options available
Blue Jasmine rounds off our list of the best Halal restaurants and cafes in Singapore! This 100-seater establishment brings you authentic and extremely delicious Thai cuisine that will bring you back to the streets of Thailand. The restaurant ambiance is comfortably casual and their prices are affordable and student-friendly.
If you are looking for vegetarian Thai food options, then Blue Jasmine is where you should look. They have a vegetarian-friendly menu with various vegetarian delicacies including stir-fried seasonal vegetables and vegetable fried rice. In addition, all their ingredients are fresh and high quality and their flavours are top-notch!
Some of their star dishes include their signature jasmine rice and Tom yum and their mango sticky rice or their coconut ice cream that are both great options for you to end your meal with. Order all of them and you will still not burst your budget because of their wallet-friendly prices!
| | |
| --- | --- |
| Address | 10 Carter Park Station Road Level 5, Park Hotel, Garter Park, Singapore 217564 |
| Contact Information | +65 6824 8851 |
| Business Hours | 11.30 AM to 3 PM, Daily |
---
Are you still looking for affordable Halal-certified restaurants and Café in Singapore? Look no further as we listed it for you. Now you've no excuse to plead not knowing the great Halal restaurants and cafes for your next meal. If you have something in mind and think fits this list, we'd be happy if you comment below! Cheers!
Related posts
Subscribe for newsletter
* You will receive the latest news and updates on Singapore's best trends!