30 Best Halal-Certified Restaurants in Singapore [2022]
Joanne, 3 years ago
14 min

read
15136
Read on for our ultimate guide to the best Halal restaurants in Singapore – most of them offer delivery and takeaway too!
What is "Halal" and why do I see this certificate or logo openly displayed in front of restaurants?
For those who may not know, "Halal" means "lawful," or allowed in Arabic whilst "Haram" indicates foods that are "unlawful," or not allowed. You might often see the former often and you might often hear the latter on the periphery, mentioned by Muslim individuals. This certificate guarantees that all of the menus offered are suitable for Muslim consumers and their dietary restrictions.
Is it the same as posting a No Pork, No Lard, No Alcohol sign?
No. It's not. Whilst pork, alcohol and lard are considered unlawful for Muslims to consume. There might be other ingredients that may not be allowed. Here are some examples of foods that are considered haram according to the Syariah law:
Alcohol
Poisonous or harmful plants
Carcasses or meat from animals that were not slaughtered correctly in the Islamic tradition
Dogs or any part of a dog
Pigs or any part of a pig
The significance of a Halal Certification is that officials from MUIS (Singapore's Muslim Association) have done comprehensive research on all the inventories being sold to ensure that all foods are safe to consume according to religious standards.
However, it is up to the discretion and conscience of Muslim consumers themselves to discern what they choose to eat. Thus, there are those who might be willing to eat at a non-Halal certified restaurant like a dessert or salad place that sells only vegetarian dishes and many more.

To educate yourself on what Halal might mean, read the link here.
So, if you are intending to bring some Muslim friends for a meal, check out our list of the best 30 Halal restaurants in Singapore as of 2020.
N O R T H
1. Citrus by the Pool
Yes, you guessed it. It's a literal café by the pool since it's located in Woodlands Swimming Complex. This restaurant is perfect after you've had a nice swim with your friends and family. Fill your tummy with their Western-centered dishes of a wide range of pasta, burgers (the Big Boss for the big carnivores), drinks, and desserts.
2. Fusion Spoon at Woodlands
Only recently certified halal on May 2019, this restaurant serves a wide range of western food like their scrumptious egg benedict, agio olio to a bingsu. Each for under $10. This garden-themed café serves as a beautiful backdrop for all kinds of guests without putting a hole in your pocket.
3. Rasa Istimewa Waterfront Restaurant
Placed on top of a jetty, the establishment offers you a special experience that you can't always get in Singapore. This restaurant serves Chinese-Malay fusion cuisine from Szechuan Hot&Sour soup, Sambal Ikan Pari (Stingray) to Babat (Beef Tripe) Satay to a local favourite, BBQ Crab!
E A S T
4. Mukshidonna
In Korean, Mukshidonna translates to Eat(Muk), Rest(Shi), Pay(Don), Leave(Na) which is what most customers tend to do in a delicious restaurant. Korean food lovers out there would recognize the menu just by looking at this picture, from a mile away. Yes, its budae jjigae or army stew, a rich red spicy broth full of whatever ingredients that you can find, or what is sold to you. In this case, they have rice and fish cakes, different meat soup bases and other savoury toppings.
5. Penny University
If you love breakfast foods, this café is perfect for you as they bring artisanal coffee to the East Coast. A mecca for cult coffee-lovers, this place will not disappoint when you pair their espressos with their Turkish Eggs or their Moroccan Baked Eggs or their cured meat sandwiches. The list goes on and on…
6. Badoque Café
For a taste of fusion cuisine, of Mediterranean, Asian, Western, this menu is for you. A particular favourite of mine is their grilled octopus starter – their Chili Chuka, which is great for anyone who wants to try octopus.
7. FlavourFlings
FlavourFlings claims that they are the first purveyors of the salted egg croissant phenomenon and honestly, I am not surprised because the croissant is that good. I live in the West and I travel all the way for this goodie. However, that's not all they offer. They have Raclette Cheese dishes with Chicken Cutlets or cheeseburgers. Wanting to try out odd combinations? Try their Milo and Chicken Pops with sambal belacan mayonnaise! Flavour flings is sure to offer you an experience worthy of their name. Hands down one of the best Halal restaurants in Singapore!
C E N T R A L
8. The Halia
In my opinion, this restaurant has the most beautiful view and landscape on this list. The prices are steep at this establishment but it has one of the highest quality Halal-certified dishes served here in Singapore. If you're planning a romantic date night at somewhere fancy, you should consider the Halia!
9. The Dim Sum Place
If you're ever curious about Tim Ho Wan offers, try out a halal dim sum at this restaurant. Their Ten Wonders or Angelica Medicinal duck is definitely something you have to order because it's rather difficult to find halal-certified duck dishes here in Singapore. From their Siew Mais to their salted egg custard buns to all types of baos and dumplings, you might just want to order everything just for a taste so make sure to bring a friend along!
Used to be called the Atap Bar, this rooftop bar is the only halal-certified one you can find in Singapore. If you want a unique dinner experience, this is the place you should consider! Indeed one of the best Halal restaurants in our list in terms of beautiful ambiance.
11. Fika Swedish Café and Restaurant
Fika Swedish Bistro holds a special place in my heart as they offer such beautiful and simple dishes, all in a cosy and bright environment. IKEA meatball lovers will enjoy Fika as they offer a more substantial and a better-quality version of a classic dish. Their desserts are also something to look forward to such as their crepes and their salted caramel waffle.
12. Positano Risto
This restaurant is famous for its handmade and innovative pasta. Their truffle and mushroom risotto is amazing for those who crave the umami taste that isn't Japanese cuisine. Visit Positano Risto to try a taste of Positano, a town in Italy here in Singapore.
13. Carousel Buffet
Free-flow seafood galore! However, do note it's not that cheap to visit this hotel's buffet. For a visit that's sure to fill your stomach with delicious foods of all cuisines, Carousel is the restaurant you should consider. Definitely one of the best Halal buffet restaurants in Singapore!
14. Chix Hot Chicken
American Food mavens will be sure to know what Nashville Hot Chicken is. Well, lucky for us, we don't have to travel all the way to the States to have a taste of this scrumptious dish. Founded by our local superstar, Taufik Batisah, this restaurant is out there to impress with their mouthwatering fried chicken, on its own, in a burger, or on top of waffles. Chix also offers mind-blowing milkshakes that taste like melted ice cream and many more.
15. The Malayan Council
The Malayan Council is famous for their Ondeh-ondeh cakes and their Beef Ribs Roti Kirai. TMC offers an upgrade to traditional flavours as they have genius ideas to put Kobe beef on mac and cheese and changing the classic Chili Crab to Chili Lobster. TMC is the perfect place to bring your makciks and pakciks who aren't adventurous as they can have a taste of café food without going out of their comfort zone.
16. FatPapas
Burgers are a classic establishment of American Cuisine. A halal version of the famous FatBoys, this place offers huge stacks of meat in between burger buns and fries that perfectly complement them. If you have carnivore friends, Fat Papas is the best place in Singapore for them to try.
17. Noosh Noodle Bar and Grill
From their website,
NOOSH showcases specially crafted contemporary fusion menu that goes beyond regular dining, challenging boundaries with food concoction and exciting senses, all while maintaining unique traditions.
Every time I visit Noosh I am impressed and every single time I visit I get their Cempedak or Durian Crème Brulee which is really the best version of desserts that use these local fruits. At Noosh, you must seriously try their Noosh style Tiger Prawns which you might just want to order multiple plates of. Truly a fan of Noosh, and definitely one of the best Halal restaurants in Singapore in my books!
Black Hole Group
Note: STACK, Santap, and the Great Mischief (by the Black Hole Group) has closed indefinitely
18. Afterwit Mexican Taquiera
There aren't many Mexican taquerias in Singapore, let alone being Halal certified. So, if you want some amazing halal tacos, this is the place for you. With tacos, burritos and nachos, their dishes are sure to blow your wits away.
19. The Mad Sailors British Kitchen
Just from the name of this place, you already know what they're going to serve and it's so tasty. Their fish and chips here put many other halal fish places (ahem, Long Johns) to shame.
20. (Working Title) Burger Bar
There are tons of halal burger places in Singapore especially in the Central area but this place should definitely be on the top few you have to try. More than just burgers, this establishment has THE tater tots. The best part they put TRUFFLE on them. They even put these potato bites of heaven in their burgers.
21. Tipo Pasta Bar
Delicious pasta, period. 'nuff said.
W E S T
22. Isuramuya Japanese Restaurant
If you love Japanese food and unfortunately you live in the West region, you might think that you might be missing out but luckily, Isuramuya is here for you. Their spicy miso ramen is one of the best ramens I have tried here in Singapore and that says a lot. I usually order Takoyaki too and it works with any order you make here. This restaurant also offers a small selection of Japanese groceries so if you want to make some of these dishes at home, you might be able to do so too!
23. Brio (Jurong Point)
Brio is a diamond in the rough in the West region – truly one of the best Halal restaurants in Singapore. This café has amazing mains that stand out amongst halal restaurants in Jurong Point. Their 36-hour Ragu Tagliatelle and Seafood cataplana linguini (above) is one of the few you should try if you ever visit the restaurant.
24. Lynn's Cakes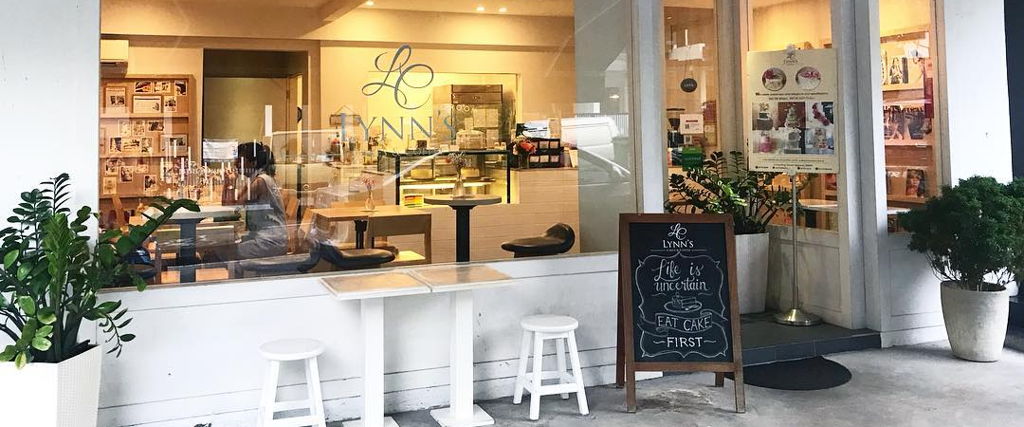 Serving a range of desserts, Lynn's speciality here is their tall slices of cakes that taste as decadent as they look. Lynn's cakes are famous during special events but if you're in the area, stop by their café for slices of cakes, other desserts and coffee. The café has a beautiful ambience that you can just chill out alone or with your friends.
25. Time For Thai
When it's Time for Thai food, it's time for thai food. Located near Beauty World, this restaurant is sure to keep sate your spicy and sour cravings.
26. Sora Boru
The dons at Sora Boru are surprisingly delicious despite you might think you know how it tastes. If you're wanting a quick Japanese meal at Jurong East, Sora Boru is perfect for you.
27. Hanok
Conveniently located next to Sora Boru, this restaurant offers delicious halal Korean food. The price here is quite steep but for their rolled omelettes and their potato pancakes, it's definitely worth the penny. One of the best and yummiest Halal restaurants in Singapore hands down!
C H A I N E S T A B L I S H M E N T S
28. Royz Et Vous
This is another spot that is sentimental to me as they offer wonderful Western dishes that has never disappointed. Many Muslim couples must have heard of this place as it's often full of them. REV is certified halal and certified romantic, so make sure to drop by with your loved one for a wonderful dinner.
29. Hanssik (previously Daessiksin) Korean BBQ Buffet
Whilst Seoul Garden has been the main purveyor of halal K-BBQ for a long time now, Hanssik (which was used to be Daessiksin before some of the stores decided to register for Halal certification) is definitely rising up to the ranks. Mostly located in the West, this KBBQ! Spot offers fewer varieties compared to Seoul Garden but the cheaper price point and simpler flavours keep customers coming, especially growing secondary school students who need the nutrition.
30. Fatty Bom Bom
The recommendations on this list of the best Halal restaurants in Singapore are definitely on the pricier side of things. So, I've decided to end off with a classic: Western food that you can find at food courts or at hawker centres you can find under your block. Before cafes, if you want Western food – fries and burgers, pasta, chicken steaks – you'd have to go to McDonald's or other fast food places OR you could just get them at the hawker centres where everyone in the family could eat whatever they wanted.
Fatty Bom Bom is just that, but their servings are even better. You get so much in one serving sometimes I do double-takes to my receipt because I just can't believe how much I'm getting for what I paid for.
Fatty Bom Bom has multiple stores here on our island so you might just recognize them. All their locations are certified halal and it's Muslim owned so you definitely can enjoy without worry whenever you find them.
Phew, that was a long list to write but do note there are tons more halal establishments here in Singapore – restaurants, hawker stalls, home-based businesses, and bakeries. It's all a matter of research and exploration. The ones that we've listed here are those that we have personally tried and tested, to give our readers the most genuine recommendations. The list is non-exhaustive so make sure to leave a comment on other Halal Establishments you'd like to be on our next list!
Hope our list of the Best Halal restaurants in Singapore was of help to you.
Happy food hunting to our Muslim friends!
Related posts
Subscribe for newsletter
* You will receive the latest news and updates on Singapore's best trends!