20 Best Halal Buffets With Classy Ambience in Singapore [2022]
Zoya, 3 years ago
16 min

read
11061
Nothing is more wonderful than being out in public and exploring our amazing local food places. A buffet is a perfect reward for our tummy for surviving this depressing Circuit Breaker. Thus, take out your stretchiest outfits and pick one of the options in our list of the best Halal buffets in Singapore.
Buffet with varieties
If you're someone who enjoys variety in their buffets, then say no more. Captain Kim Koran is here to spoil with all of the delicacies that they offer. With more than 60-varieties of the highest quality of meats, we're sure that you'll be planning different ways to conquer this buffet. And we absolutely can't forget to mention their drinks are free-flowing, right?
Perfect for Korean Lovers
We've all seen those scenes in K-Dramas where everyone enjoys the grilled barbeque and hotpot. Now, you can enjoy great Korean food with friends and family.
Affordability
We kept the best for the last. Captain Kim Korean is really affordable, so you won't even put a dent in your pocket. Definitely one of the best halal buffets in Singapore.
Superb customer service
As soon as you walk through the door, you are good as kings and queens of the day. They will address you by your name and address all your needs. Additionally, they are very swift in topping up your drinks and clearing your plates. Such meticulous attention to detail makes this place one of our favourite buffet spots. In fact, if you celebrate birthdays with them, they will sing and perform just for you!
Diversity
Above all, Carousel is one of the best established international halal buffet restaurants in Singapore. It offers a delectable choice of food. Besides a cold seafood counter, there are Chinese, Japanese, Indian, and Mediterranean stations. You name it and they have it!
Seafood paradise
Sucker for seafood? This is heaven for you. In fact, why bother competing with others for premium crabs, oysters, mussels, prawns and salmons. There is enough seafood for everyone here! Likewise, it is a sin to skip their super fresh sashimi. Head down to their Japanese counter, and you will taste the finest cuts of salmon, tuna and swordfish ever.
Special foods for special occasions
There are always new surprises at Aquamarine. For every special occasion, their chefs will always keep it fresh by adding something new to the table. Be sure to check this place out on your next public holiday for their latest offers!
Local's favourite
Firstly, this vibrant restaurant is an elegant spot to enjoy Mediterranean and Asian flavours with your loved ones. Customers' favourites such as the Slow Braised Lamb Shank and Crayfish Nyonya Laksa will make you fall in love at first bite.
Competitive price
Also, they charge super affordable prices for an extensive spread.
Ideal for functions
Similarly, its private dining room is great for any private functions. Surrounded by both nature and modern architecture, you are promised the best dining experience ever.
Competitive price and service
This is easily one of my favourites since my school days. They guarantee unlimited sumptuous meals at the most affordable price. In fact, this place is perfect for huge group celebrations. You MUST try their signature marinated Korean meat and tom-yum soup that will leave you addicted.
Versatility
Besides, they have a wide selection of choices. There are marinated meat, seafood, sushi, cooked food, cheese dips, and desserts that will leave you craving for more.
Fun cooking time
Likewise, each table comes with a grill and steamboat of your choice. Also, this brand has kept up with the times with its well ventilated, 2-in-1 proprietary smokeless grill system. In other words, we won't like BBQ after eating!
Versatility
Their tantalizing, all ready-to-eat collection of dishes guaranteed to satisfy different taste buds. Regardless of casual dining or group dining, customers are always in love with the different stations they built. There are sushi, cold dish, seafood, and finger food. My favourite would be Hot Entrée station, where they serve the best Chilli Crab and Cereal Prawn in town!
Mongolian BBQ corner
Simply choose your meat, vegetables, and sauces, which the talented chef will prepare for you. You will be amazed by how swift and precise their chefs are in creating this wonderful dish.
Magnificent cold seafood station
Calling out all cold seafood dish lovers. This restaurant has one of the widest ranges of cold seafood choices in Singapore, will treat you like a seafood king. Also, you get to enjoy unlimited access to juicy, fresh and sweet attractive choices of seafood dishes such as your favourite clams, crayfish, mussels, oysters, clams, prawns and more!
Iconic chilli crab
Their signature chilli crab is to die for. The fleshy and succulent meat of crab's legs will surely make you come back for more. Coupled with their yummy chilli sauce and deep-fried mantou, this will be a night you will never forget.
Beautiful desserts
In fact, what are buffets without a dessert station? You will be spoilt with choices such as their chilled durian pudding and Portuguese egg tart.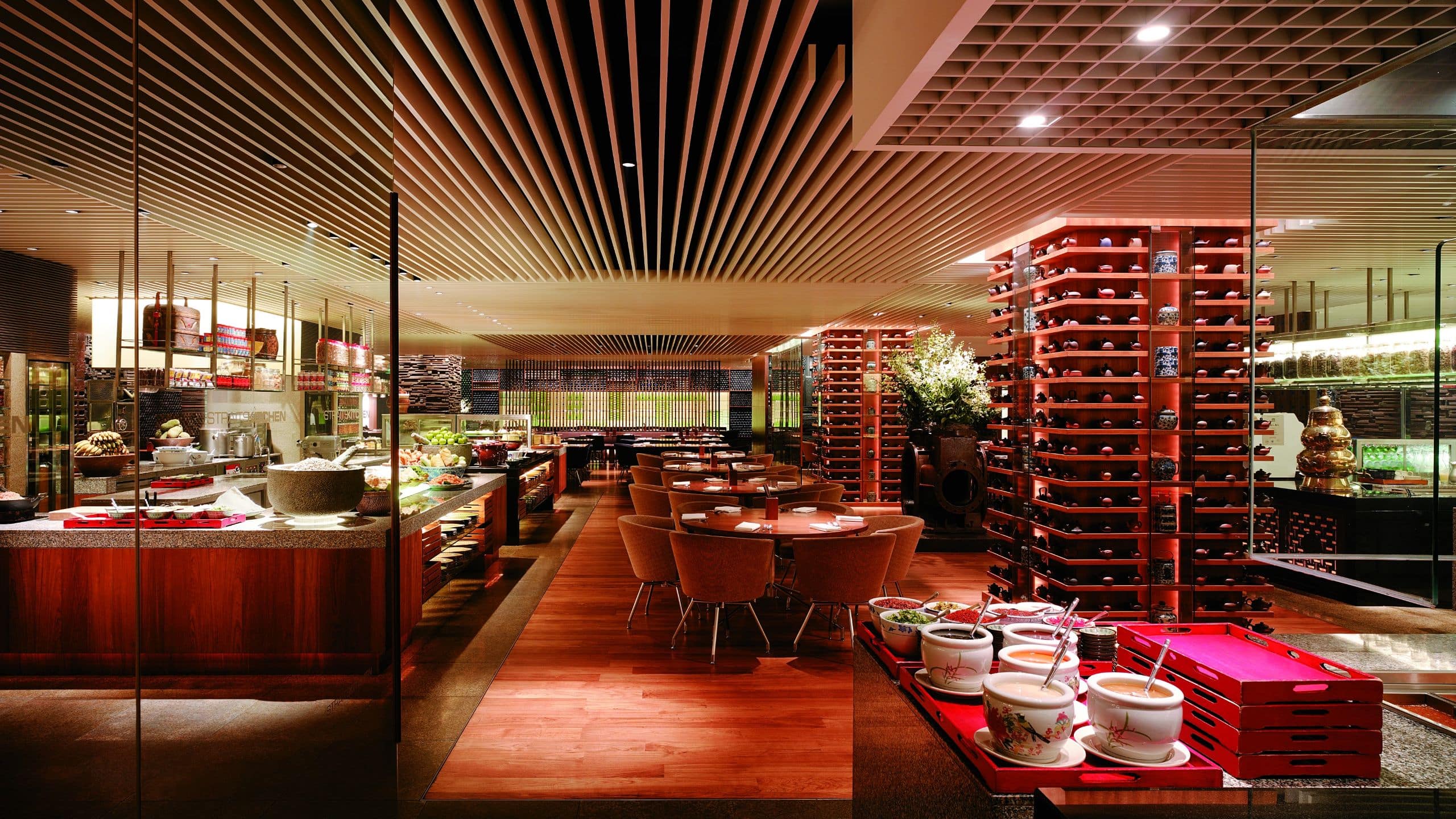 Best local hawker food
First time in Singapore? This is a destination you must visit to experience Singaporean's taste. Firstly, this hotel restaurant's posh and classy look offers you the chance to enjoy the best street foods in a high-class and relaxing environment. Likewise, their must-try dishes include their iconic Hainanese chicken rice, beef rendang, laksa, satay, roti prata nasi goreng, tandoori chicken and many more.
Lively theatre kitchens
What stands out about this restaurant would be its theatre kitchens. That is to say, you must witness check out their talented chefs hard at work behind the counters, just like at actual hawker centres!
Relaxing Atmosphere
If you are looking to have a good time, you should book a visit to the Flame Cafe. They have everything covered, from their friendly servers to food quality. You're in for a great time, especially if you're here for lunch.
Decent Prices
The prices are extremely reasonable, and the portions are also rather generous, so you need to make sure that your stomach is empty before you decide to take on this buffet.
Great food options
From the pizzas where you can choose your own topics, to the baked oysters to even the highly raved steamboat, your stomach will thank you for a visit here. There are plenty of vegetable and meat options ready for you to cook yourself. We highly recommend trying out their salty egg dip, it's delicious.
The traditional taste of Indonesia
If you want to explore the traditional flavours of southeast Asia then you should visit this joint without giving it a second thought. This establishment serves some of the best authentic Indonesian dishes that will leave your heart and soul warm and comfortable. The complexity of the infinite combination of spices create the most unique and complex of dishes and this establishment brings it all to you.
Affordable prices
The prices in this establishment are extremely cheap with their prices usually starting from $8 onwards. From their Gado Gado to their extremely popular Nasi tumpeng, you can indulge in their menu freely without thinking much about the damage it might do to your budget. If you want a joint perfect for a nice evening with your family or a fun night out with friends, do give them a visit.
Highly praised services
The staff here is said to be very friendly and attentive, the people here are always happy and excited to be of service to you and the ambience of the establishment turns your experience in this joint a perfect place to enjoy a relaxing evening.
Versatile Menu
If you are a patron of this establishment, there is one thing which you definitely can't stop talking about. The extensive menu has mouth-watering delicacies from the cuisines like Indian and Thai. The flavours found in their menu will take you on a journey across South and Southeast Asia leaving your taste buds ecstatic and asking for more.
Hundreds of positive reviews
There are hundreds of well earned positive reviews and every customer leaves this establishment with satisfied smiles. From their wildly popular chilli crab to their Naans and their rendang, not one dish from this establishment has ever received any bad review, their flavours are simply award-winning and beyond any comparison what so ever.
Extensive Menu
With an extensive menu full of delicious flavours, this establishment has something for everyone. From complex flavour combinations to soothing dishes that gently awaken your palate and appetite. From their popular Australian wagyu beef to their laska and their chicken rice, every item in their menu deserves an extensive review in their own right.
Affordable prices
Their prices are highly affordable and in some cases criminally cheap and with regular and or special offers this establishment is a must-visit. Leaving such great food at such great prices should be a criminal offence after all!
Great Ambience
The patrons of this establishment also go to great lengths to praise the ambience you get here. With a cosy and comfortable environment, this establishment is known to be perfect for both, comfortable family dinners and romantic dates. The staff here is very friendly and patient, and there is almost nothing about which one can complain. Perhaps that is why negative reviews are almost non-existent when we talk about this joint.
Amazing Hotpots: This establishment is known for their hotpots and they take it seriously. They have some of the best Sichuan broths and soups in town. And they have almost perfected the Mala flavours which are clearly evident in their food which is extremely sensational. The balance of powerful spices and fresh herbs and ingredients that their chefs achieve in every dish is simply marvellous and one must taste their offerings themselves to understand this mastery of flavours.
Great prices: The prices offered in this establishment are extremely affordable and they are a perfect choice if you are planning a nice family dinner or a friend's night out. The ambience and services they provide further make them an easy pick and one can simply not ignore the charm this establishment has to offer.
Best of ingredients: From the best of seafood to the best of marinated meats, this establishment only chooses the freshest ingredients and the quality of these ingredients is always ensured. Their chefs use these ingredients with the utmost care and prepare the most delectable of dishes with a mastery rarely seen. Their herbal chicken and other signature dishes regularly receive great reviews and are a must-try if you ever give them a visit.
Great for special occasions and celebrations
Known for its extremely comfortable ambience and great service, this establishment is the best location for organising your birthday parties and other special celebratory events. They provide a great extensive menu of dishes with the best flavours made with the best of ingredients. With their affordable prices, this establishment should be your first choice for organising a nice fun and relaxing family event.
Taste of tradition
With traditional Balinese decor, this establishment serves some of the best traditional Indonesian dishes. From their beef tendon rendang to their fresh seafood, this establishment is sure to leave you satisfied and happy with the delicate flavours of Indonesia. Their prawns and their Gadoh Gadoh are extremely popular, and patrons also recommend that you try their ice cream. You should visit them and enjoy one of the best meals of your life.
Variety like no other
Serving over a dozen sambals, this restaurant probably has one of the longest menus. This establishment specialises in Kampong cuisine to bring you the sensational flavours of southeast Asia that are infused with western styles and flavours. The Malay delicacies served here are prepared with high-quality ingredients. Likewise, every dish in their massive spread deserves to be enjoyed to the fullest.
Killer prices
The food in this joint is cheap and affordable. The fact that they serve marvellous meals at low prices makes this establishment perfect for a celebratory event or a simple lunch with friends. This place is youth and student-friendly that definitely deserves your visit.
Extremely popular
With several loyal patrons and hundreds of positive reviews, this establishment is popular and rightfully so. With its affordable and charming ambience, this establishment is a good place to visit. Their staff is praised for being friendly, patient, and have good customer service.
Extensive choices available
Dishes from Indian to Indonesian cuisines are available and all of their preparations are simply stunning and massively flavoursome. They use the freshest of ingredients in their menu and the seafood preparations they make are extremely popular, their chilli crab and fish head curry, for example, are wildly popular and their Indian curries receive a lot of love from their customers as well.
Great Hotpots
Known for their great marinated meats and fresh seafood offerings this establishment specialises in hotpots that simply wins over the heart of every customer who eats here. Their BBQ offerings are equally popular and highly recommend as well and with the best quality ingredients being served with great care, that is not surprising at all.
Great prices
You can simply forget about your budget and indulge to your heart's content in this establishment as they offer perhaps the cheapest of prices in town. They offer a killer deal of $19.90/pax with a free flow of soft drinks so if you are a student looking for a cheap yet filling lunch why look any further! From homemade chilli sauces to western dishes this establishment has something for everyone so do give them a visit.
Elegant yet casual
This 100-seater establishment brings you an elegant and refined dining experience. With their authentic and extremely delicious Thai cuisine, there is little scope for complaints when you visit them. Besides, the ambience is comfy, and their prices are affordable and student-friendly. What's not to love about this joint?
Vegetarian dishes available
Although their star dishes are non-vegetarian, they do have various vegetarian delicacies. There are delicacies such as stir-fried seasonal vegetables and vegetable fried rice. Moreover, they only use fresh, high-quality ingredients. So, this is the perfect joint for a vegetarian lover to relax and enjoy some good food.
Affordable prices
The prices they offer are pocket-friendly and affordable. So, if you are looking to enjoy some lunch with your friends, this is the perfect joint for you. Visit them and enjoy their signature jasmine rice and Tom yum and end the meal with their mango sticky rice or their coconut ice cream and you will still not pay a penny beyond your budget!
Highly Praised by critics and customers
Serving all you can eat buffets at affordable prices with great service, this establishment is loved by many. With lots of positive reviews and loyal patrons, this establishment is one that is hard to beat.
Great variety
Their menu is extensive and intricate. From their Nasi Padang to their Sambal Kangkong, the customer is served with almost fourteen delicacies within minutes of being seated. Rice, curries, bread, desserts, and more.
Cheap prices and excellent service
This is an establishment that offers all-you-can-eat buffets without queuing. Furthermore, all dishes are served at your table. Besides, with their casual ambience, you can eat till you drop. Lunch starts from $17.90 per person, with dinners going up to $28.50 per person. This is the best joint to enjoy a relaxing and fun evening with your friends.
The taste of Japan
From their Tonkatsu broth to top-quality Wagyu meats, this establishment brings you Japanese comfort food at great prices. The ingredients are prepared with much skills and care, which are guaranteed to be the best you can get. Besides, their sushi rolls and BBQ are a must-try.
Affordable prices and charming ambience
The ambience in this establishment is casual and friendly. Their attentive staff will ensure that you have a great dining experience. Highly recommended for groups and celebratory dinners, this establishment can host birthday parties or reunions. Their prices are affordable overall.
Great variety
From their succulent meats and BBQ buffet options to their all you can eat hotpot buffet options, this establishment has a wide variety of menu. You can rest assured that your cravings will be satisfied, and you are sure to return for more.
Wrapping Up
Here is our list of the best Halal buffets in Singapore. What are some of your favourite halal favourites that we might have missed out on? Besides, you can check out more food options from our recommendations of the Halal Restaurants and Halal-certified restaurants.
If you are lazy to leave the comfort of your home, you can grab some lunch or dinner with our list of Halal food delivery. Furthermore, other than your regular Halal Food, you can try out other cuisines from our list of Indonesian restaurants and Peranakan food places.
Zoya
Queen of Obscure References and occasional writer. When not exercising my thumbs on Instagram, you can find me looking for good author bios on Google.
Related posts
Subscribe for newsletter
* You will receive the latest news and updates on Singapore's best trends!
Trending Posts
May 30, 2023

What is Matcha? Matcha...

May 31, 2023

TLDR: As an audio...

May 31, 2023

TLDR: In this article,...