10 Best Get Well Soon Hampers in Singapore For Your Loved Ones [2022]
Joanne, 3 years ago
9 min

read
7827
In Singapore, it is a common practice for gift-givers to wish sick patients a speedy recovery by sending a wellness hamper to their loved ones. Generally, a get well soon hamper comes in the form of a box or a gift basket. They typically include health-boosting treats and revitalizing tonics that are wrapped aesthetically. Be it a box or a basket, your loved ones will definitely feel a lot better after receiving a get well soon hamper from you!
So, if you know someone who is feeling down, ill, or having a hard time, lift their spirits while nourishing their mind, body and soul with this range of get well soon hampers that we have gathered for you. With the amazing items packed neatly in a gift hamper, your loved ones will be back on their feet in no time!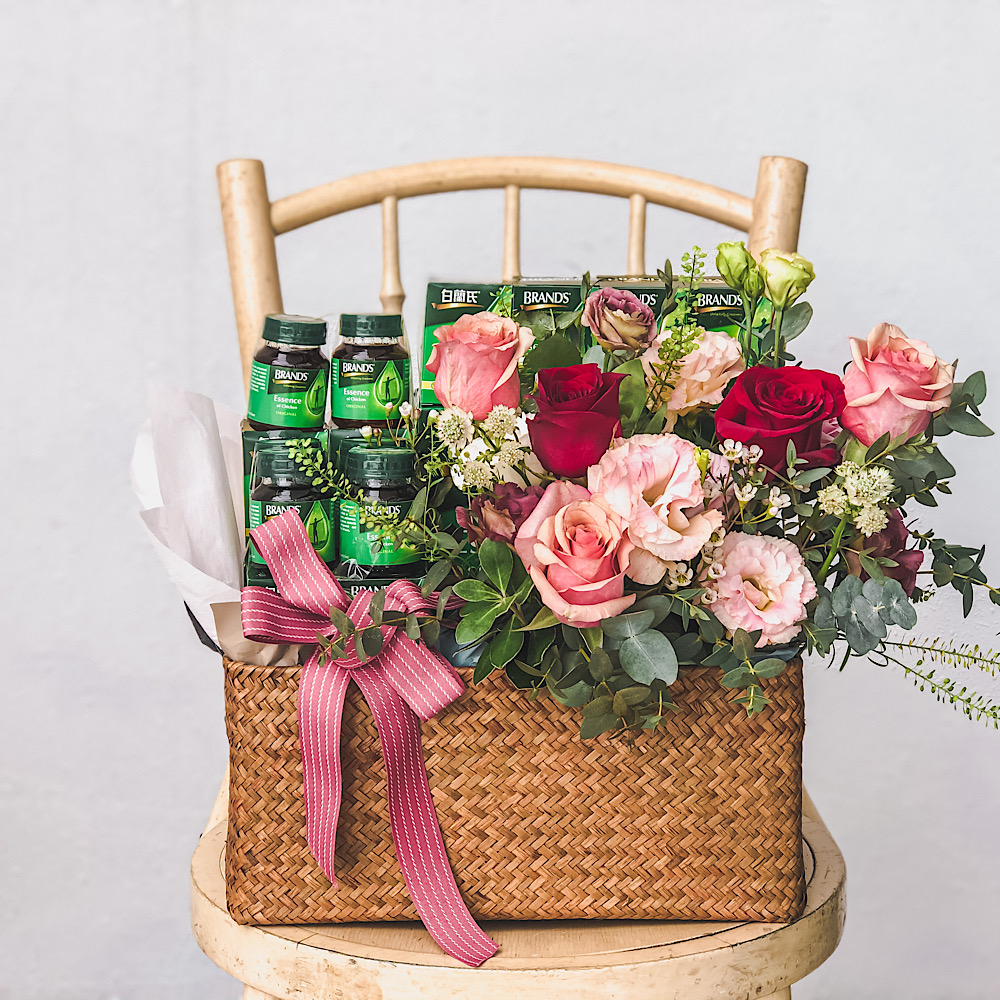 Highlights:
Includes Essence of Chicken
Rustic design
Customizable hamper
The Interior Collections' Get Well Soon Hamper features a unique and rustic design that looks great in any environment, making it a perfect gift to send your well-wishes and care to your loved ones. This beautiful arrangement consists of fresh gerberas, roses, alstroemeria as well as fillers. The best part? This hamper includes nourishing bottles of Essence of Chicken for your loved one to nurse himself or herself back to health!
If you are looking for a brand that allows you to make alterations, modifications, or customizations to their hampers, you would be glad to know that at The Interior Collections, they pride themselves on the flexibility of their products. Customised orders are easy to arrange with them, just drop us a message!
You can choose from a range of delivery timings, and include adorable messages to the hamper receiver! So, get your creative juices flowing and start crafting a message now!
You can order here!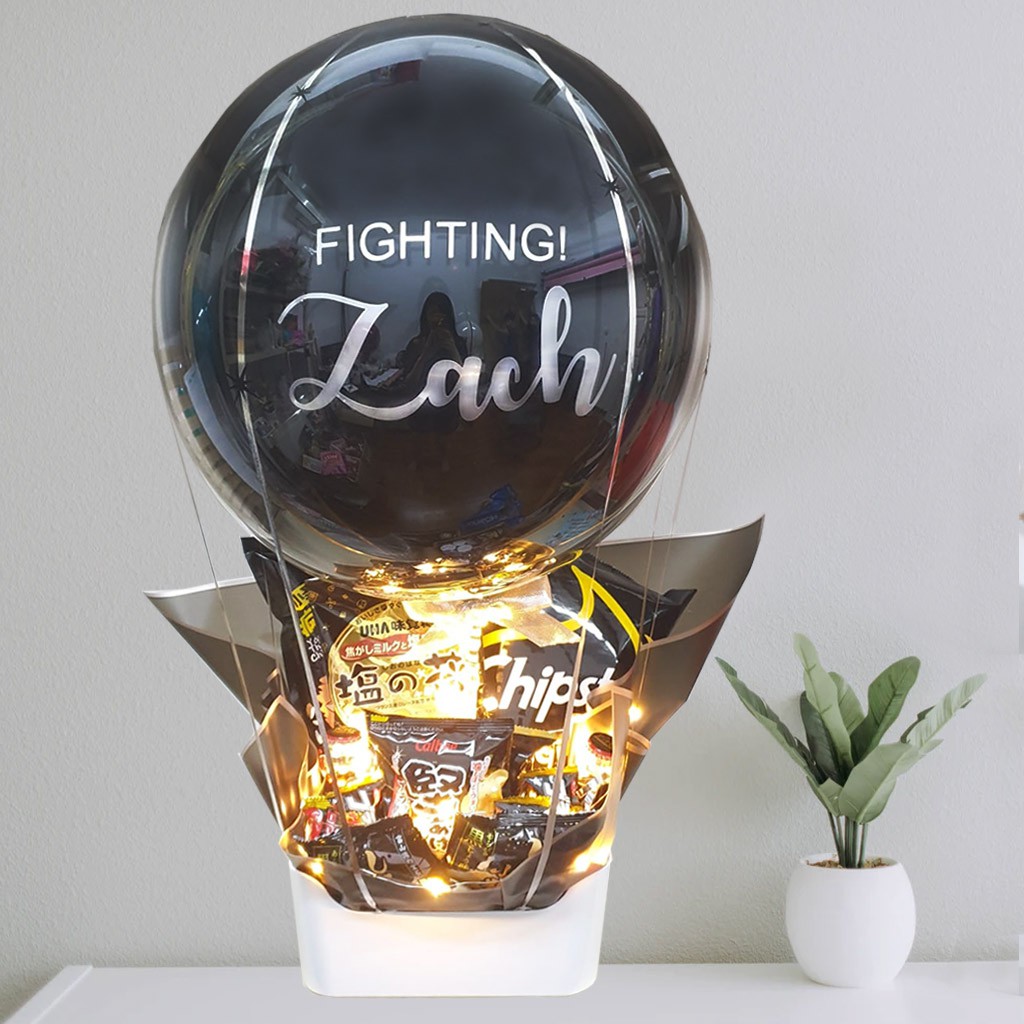 Highlights:
Able to expedite last minute orders
Highly customizable
Unique design
Party Wholesale's Hot Air Balloon Hamper is a great option for those who are looking for a customizable hamper. In the hamper, you will find a customized black message on the balloon, 10 different snacks placed in a white hamper box, a 3-meter yellow fairy light that will be wrapped around the snacks in the hamper box, as well as black ribbons that will be used to secure the balloon to the hamper. Just reading it, you can imagine how adorable the hamper will look!
If you require an urgent get well soon hamper to be sent to your loved one, Party Wholesale has got you covered. Just drop them a message on their page or at +65 8282 8107 and they will expedite your order. Do note, however, that for last minute same-day delivery, delivery charge might be slightly more expensive as they need to outsource to external logistics.
You can order here!
Highlights:
Highly customizable
Affordable
Easy to carry around
Easily customizable for any occasion, Hello Baby's Get Well Soon Basket is a great option for you. The gift basket measure 19 cm by 10 cm and features an adorable 10cm Teddy Bear Grass Doll and 3 forever roses.
The forever roses are made of foam materials and hence will be in bloom forever. So, your loved one can keep this thoughtful memento forever! You can even choose the color that you want the roses to come in! Worried that your loved one is unable to lug around a gift hamper while they are ill? Fret not! The basket comes with a carrier for convenience and ease of carrying!
The team at Hello Baby will also make sure that your gift basket looks aesthetically pleasing by varying the designs of the ornaments and selecting them based on which ones suit the combination the best.
You can order here!
Highlights:
Many healthy snacks
Able to customize
Chinese characters can be printed on the balloon
Another one of Party Wholesale's Hamper made the list. This time, it is their Healthy Organic Hamper. In the hamper, you will find 5 organic healthy snacks that can help to get your loved one back on his or her feet in no time.
The 5 organic snacks are La Tourangelle, 100% Organic Extra Virgin Olive Oil (500ml), Yogi Tea, Stress Relief, Honey Lavender, Caffeine Free, 16 Tea Bags (29g), Legnano Italian Bella Di Cerignola Olives – Organic (190g), SeaSnax, Organic Premium Roasted Seaweek Snack, Original (15g), as well as Stoneridge Orchards, Organic Blueberries (113g).
If your gift receiver is only able to read Chinese characters, you would be glad to know that Party Wholesale will be able to personalize Chinese characters on your balloon!
You can order here!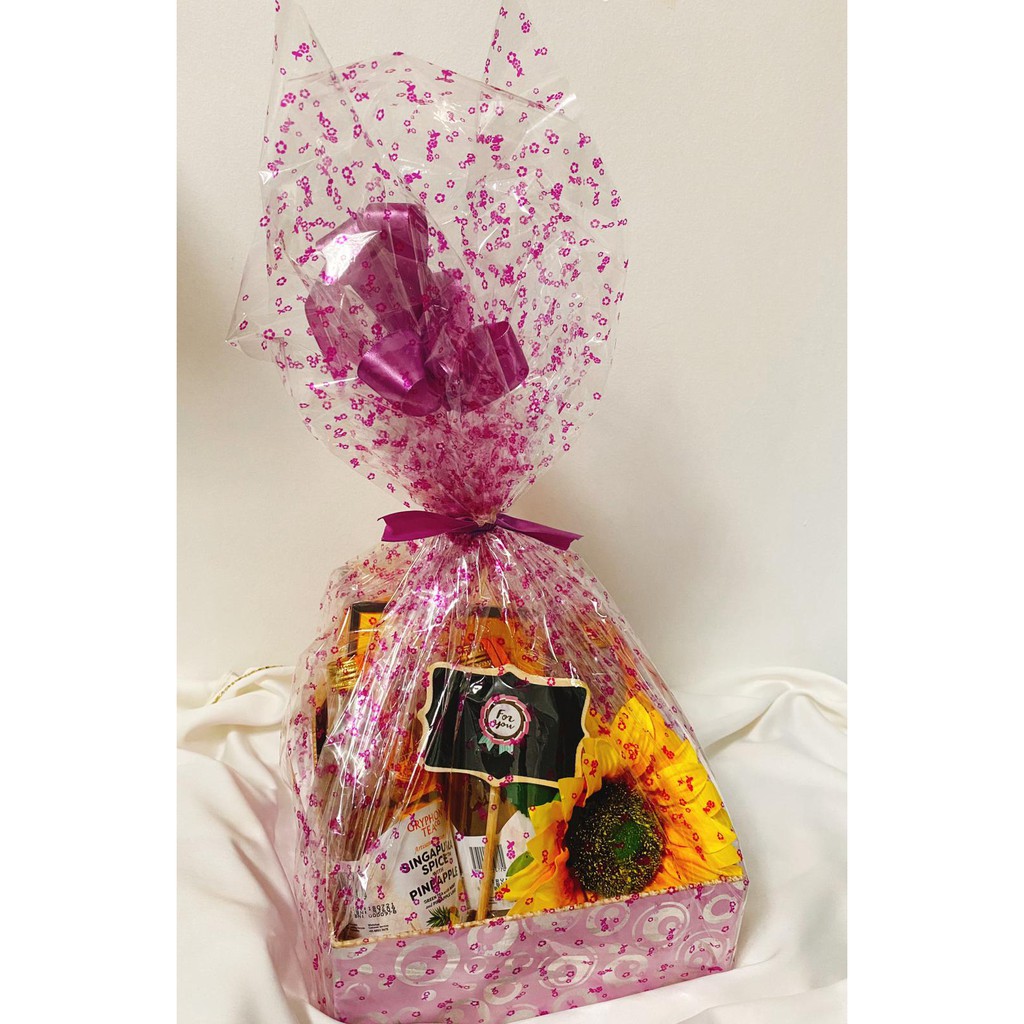 Highlights:
Many add-ons available
Affordable
Exciting flavored drinks
Here's another one for tea lovers out there! This unique and affordable option is a great gift idea for any occasion, including a, get well soon hamper! In this gift hamper, you can choose 4 (single / mix) from their 6 exciting flavors of Cold Brewed Sparkling Teas. The flavors include Special Edition – Singapura Spice with Pineapple, Earl Grey Lavender with Strawberry, Pearl of the Orient with Lychee, Osmanthus Sencha with Passionfruit as well as Chamomile Dream with Apple Tomatino with Orange!
If that is still not enough to get you drooling, you can add on items like Artisan Selection Tea Boxes, Artisanal Gourmet Kaya, or Herbal Tisane.
With prices beginning from just $38.80, this gift hamper is definitely a great option for all!
You can order here!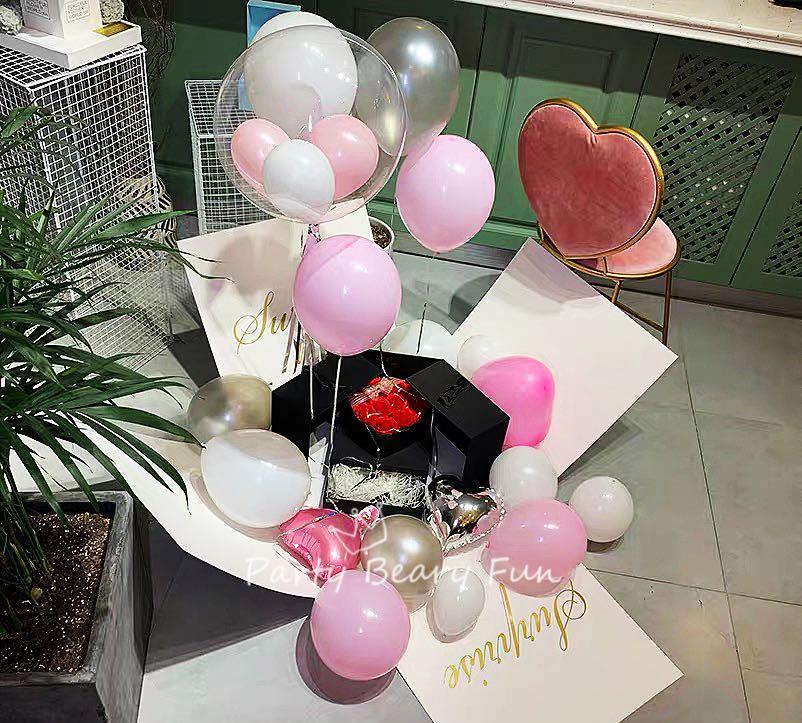 Highlights:
Highly customizable
Many optional add-ons
Unique selections of items
This unique surprise box is originally designed to surprise people for their birthdays, anniversaries, or graduations. However, we feel that they will make a good get well soon gift too!
A standard surprise box includes a Surprise Box with Ribbon, multiple helium balloons with customizable messages, heart or star foils, as well as more message cards! You can choose the color that you want your surprise box to come in.
Optional add-ons are also offered, including a Blinking Fairy light, an "I love you" LED light, flowers, photos, as well as a stuffed animal. You can even have the stuffed animal record a message that you would like to tell your loved one!
This gift hamper by Party Beary Fun definitely tops the list if we are talking about the element of surprise!
You can order here!
Highlights:
Healthy option
Affordable
Customizable messages
For a sweet (literally) get well soon gift option, consider Honey Spree's Multi Floral Honey. Gift your loved ones a healthy dose of multi-floral honey for a quick boost of energy! The honey jars come with customizable messages printed on the cover, meaning you can drop your friend an encouraging message for him or her to get well soon!
Besides, honey is known for a myriad of health benefits like soothing sore throats, curing coughs as well as suppressing coughs! Your loved one can simply use the honey in their tea, coffee, toast, pancakes, salad dressing, smoothies, oatmeal, and so much more!
This item from Honey Spree is definitely a practical and great gift idea!
You can order here!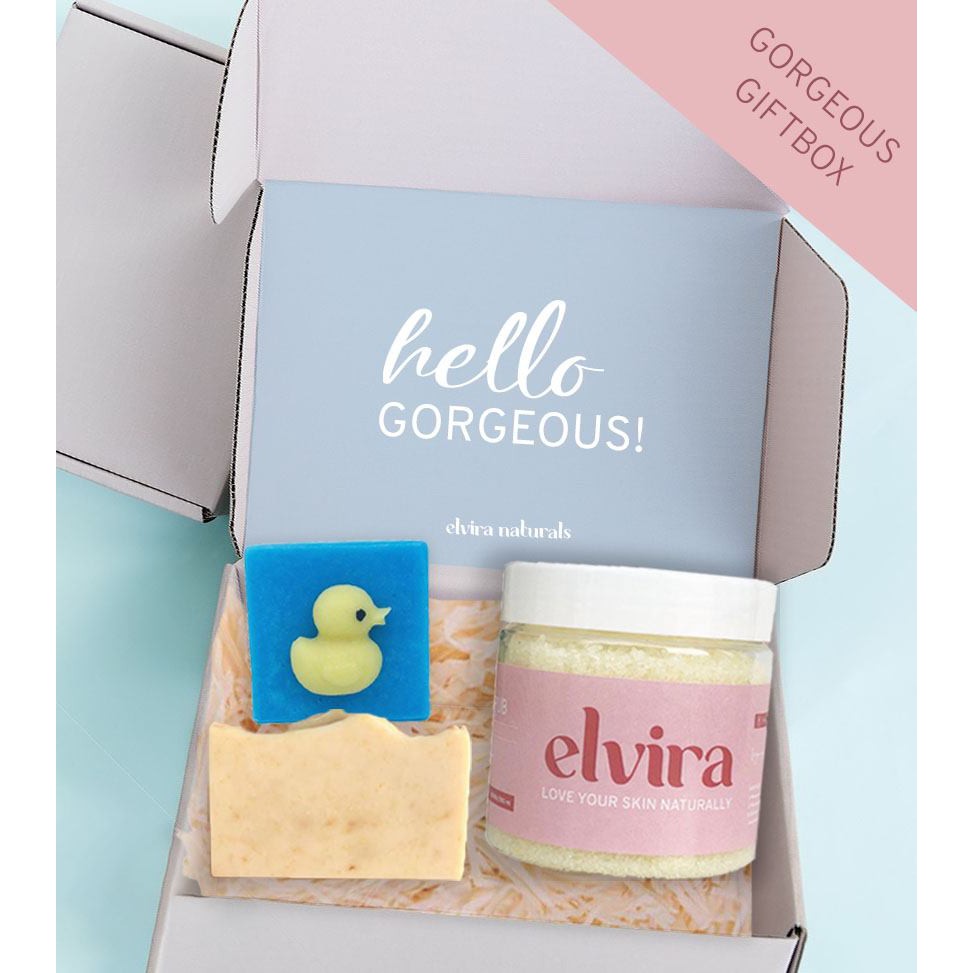 Highlights:
Customizable messages
Simple design
Handmade products
This gift box is perfect for anyone looking for a special get well soon gift set, complete with a matching gift box. With its gorgeous design and cute colors, this box is sure to brighten anyone's day!
In addition, Elvera Natural's products are all handmade in their studio with only the finest ingredients. Some products featured in the hamper include a Chamomile Bar Soap, a Duck Lemon Soap, as well as a Body Scrub.
While the generic message printed on this gift box is "Hello Gorgeous", you are able to customize personal messages on the gift box as well!
You can order here!
Highlights:
Filled with healthy snacks
Simple design
Customizable options
Create Co Group's Premium Get Well Soon Hamper is a great way for you to show your loved one that you are thinking of him or her and wishing him or her a speedy recovery! The simple and minimalistic hamper includes a Dried & Preserved Flower Bouquet, 6 bottles of Chicken Essence, Lavender Tea, Almond Nuts, Dried Cranberries, Chicken Herbal Soup, as well as a Lavender Scented Pounch.
In addition to these healthy snacks, you can choose to leave a thoughtful message to your gift receiver! If you prefer to further customize the options of nuts, tea, or other snack options, simply drop Create Co Group a message and they will get it done for you!

You can order here!
Highlights:
Modern and sleek packaging
Able to choose the types of tea
Affordable pricing
If the person that you are giving the get well soon hamper to is a lover of tea, this last option is for you! Tisane's Get Well Soon Gift Box comes neatly packed in a simple gift box. You can even choose the colour of the box that you want!
In it, you will find greeting cards, 2 varieties of tea flowers or tea leaves, as well as 2 mini wood mugs. For tea connoisseurs out there, you can even choose the type of tea that you would like to gift. Choose from Lavender, Rose Bud, Purple Roselle, Amaranth Globe, Forget Me Not, Baby Chrysanthemum, Chamomile, Lemongrass, as well as Blue Pea Flower.
For just under $30, this is a great option for those who are looking for an affordable option.
You can order here!
Get well soon hampers are a great way for you to put a smile on the face of someone who is ill, feeling down, or is having a hard time. So why not order one for your loved one today? With the hampers that are featured in this article, you can lift the spirits of someone you love!
If you are looking for other gifts such as fruit baskets to give to your friends or family, check out our article on the best fruit baskets in Singapore here!
Related posts
Subscribe for newsletter
* You will receive the latest news and updates on Singapore's best trends!