16 Best Furniture Stores To Score Cheap Buys in Singapore [2022]
Joanne, 3 years ago
17 min

read
32699
The hard truth is, shopping for affordable and stylish furniture in Singapore can feel like an endless struggle – comparing prices, sourcing for inspiration, and even reading the return policies. After saving up your hard-earned cash for that deposit, the teething pains of renovations, or even the years of waiting for that queue number, the last thing we wish for furniture shopping to be is another tiresome process. Well, fret not! We've done some research for you to ease those burdens, so you're one step closer to building your dream home. Whether you're a minimalist looking to spark joy, or one of eclectic, even eccentric taste, we complied a list of the 16 best furniture stores for affordable furniture in Singapore.
Highlights:
Affordable furniture
Wide range of products
100-day return policy
With an extensive range of furniture that boasts low starting prices, FortyTwo is one of the best e-stores to shop for conventional furniture. On top of their affordable prices, the furniture store offers a price match guarantee. The company offers the lowest price matching – which denotes if you find another furniture company selling the exact item but at a lower price, FortyTwo will refund you the price difference; terms and conditions apply.
Established in 2007, the company is more than just a regular furniture store that provides commendable customer service. They offer home decorations and essentials such as bed sets, lightings, mirrors, hand sanitizer, and laundry accessories, alongside kitchen and dining ware. Therefore, shoppers will be able to find something that piques their interest. You can also shop worry-free as they offer a 100-day return policy for purchased furniture from their E-store.
Moreover, the company will host regular clearance sales, labeling jaw-dropping offers on their furniture. Customers can check in with them regularly to clinch superb deals for your home. Overall, truly deserving of topping our list of the best stores to buy cheap furniture in Singapore.
Highlights:
Wide range of products
Customizable furniture
Self-collection available
Installment Payments
Comfort Design Furniture illustrates a good range of furniture which even consist of shelves, racks and customizable sofas. Notably, the company itself is most renowned for its designer furniture replicas.
Shoppers are often very much impressed by the extensive array of beautiful furniture made available in their stores. Comfort Design is also known for building customized furniture based on the requirements of individual clients. Consumers get to pick from two alternatives; to view products via their online shopping platform, or make a trip down to their physical showroom to get an actual feel of all the furniture that is displayed neatly across three spacious levels.
Customers who have made purchases from Comfort Design can opt for delivery of the furniture directly to their residences. A self-collection option is also available at their main office in Eunos.
Highlights:
Affordable furniture
Wide range of modern furniture
Integrated application available
An online furniture store that specializes in lifestyle and designer-inspired furniture products, HipVan allows consumers to shop on a limited budget at their dedicated local home decor website, in which its catalog encompasses everything homeowners would need. The wide range of modern and contemporary furniture that comes in quaint colors and designs is generous and sells quickly – shoppers can find pastel-hued sofas, plush lounge chairs, concrete dining tables, and accessories to decorate their home with style. HipVan also introduced an app so clients can shop to their content; anytime and anywhere.
If you are hopeful for an industrial modern-chic interior as an appropriate dream home setup, HipVan is definitely the place for you to consider. One of the best online stores in Singapore to buy cheap furniture hands down!
Highlights:
Over two decades of experience
Excellent craftsmanship
Affordable prices
Choice Furniture is a home-grown furniture store that offers quality furniture at reasonable prices. Starting off as a small and humble furniture shop in the heartlands over 2 decades ago, they have grown tremendously over the years, and have accumulated a customer base in the thousands.
Their success story owes to their dedication to craft. They are passionate in what they do and truly care for their customers. They want to provide their customers with top-notch quality furniture of excellent craftsmanship, at a price that won't break the bank. From intricately-woven rattan chairs to exquisitely-crafted rosewood sofas, Choice Furniture has them all, and they will deliver it right to your doorstep safely and securely.
Highlights:
Affordable prices
Designer furniture
Business with a good cause
The Reject Shop is the first in Singapore to offer a wide variety of lifestyle and seasonal merchandise such as home decorations with a special focus on basic home furniture that are surplus clearance and factory rejects with some minor cosmetic damages.
As the first concept store that offers designer furniture in Singapore at extremely affordable prices, The Reject Shop takes in furniture from stock clearances or those with minor factory defects (that are usually barely noticeable!). Thus, they are able to sell them at a really low and reasonable price. You really are getting a bang out of your buck with The Reject Shop! Keep in mind that this does not mean that their products are of low quality. In fact, it is the opposite of that!
Another thing we love about The Reject Shop is its commitment to giving back to the community. They are dedicated to giving away home furniture to vulnerable members of the Singaporean community. Truly a company we can get behind! So, if you are looking to redecorate your home, do drop by The Reject Shop today! The furniture stores of the people!
Highlights:
Bespoke furniture
High-quality
Backed by award-winning designers
Someone looking for design-forward furniture to spice up your homes? Those superlatives come to mind when thinking of Black & Walnut. Their tagline of "where ordinary furniture just won't do" says it all. If you're looking for bespoke, quality-designed, premium, and unique furniture pieces that won't break the bank, Black & Walnut is the place to hit up.
Their products strike a delicate balance between bold and classic, with emphasie on the texture of their pieces. You have to check out their lighting selections, if you're looking for something with an X-factor to centre your room around.
Often collaborating with award-winning designers to come up with trendy and unique furniture at an affordable price bracket, Black & Walnut is dedicated to proving to its customers that luxury and class does not have to come at a ridiculously high price.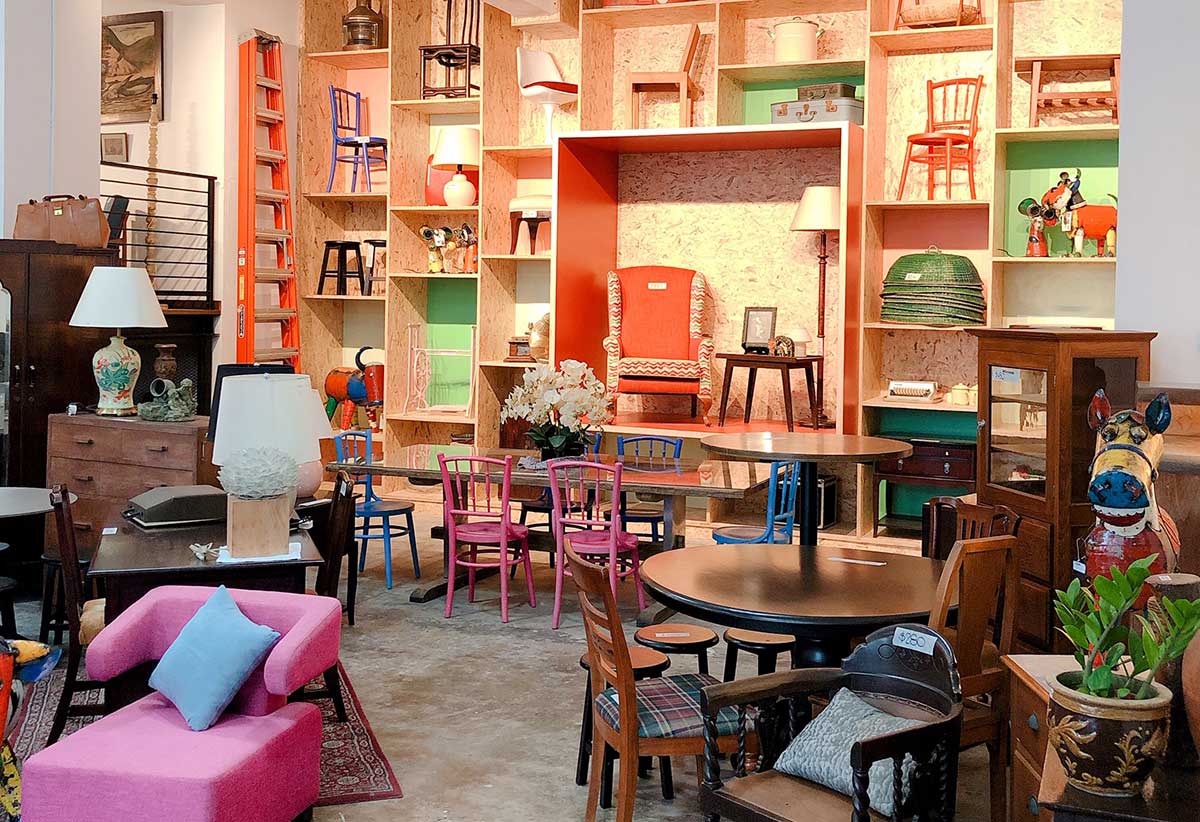 Highlights:
Secondhand furniture
Wide budget options
Large style options
If homeowners are searching for furniture with a slight character and its own history, Hock Siong & Co is a treasure trove of secondhand home furniture. In addition, there are also plenty of home accessories to rifle through in the physical shop. The business is started by a family of Karang guni traders who ultimately agreed to create a furniture business out of what they have consolidated.The prices of the product greatly depend on what patrons choose, but in general, it will certainly be cheaper than purchasing something that is similar but brand new.
The displayed goods are neatly and compactly packed into three units, which cover a variety of styles, ranging from vintage rosewood to mid-century to the downright opulent. Typically, the products are hand-me-downs from show flats and hotels, furniture shops that have their business ceased etc. A gentle reminder to bring out the bargaining skills in you as the customer service staff will be pleased to reduce prices based on your kind request. That can also serve as your daily dosage of retail therapy. Certainly the most Singaporean of Singapore furniture stores you can find today.
Highlights:
Sustainable and high-quality furniture
Stories behind every piece
Free delivery with a minimum total order of $500
If you are into earth tones, greys, Scandinavian feels, and natural wood, Grey and Sanders will be right up your alley. This furniture store has a lot of curated pieces of furniture that will match your style, whatever it may be!
The brand firmly believes that life is too short for boring furniture. With their bold and well-crafted furniture, your home will be at its best to welcome all your guests! Because each of their furniture is special, they claim it has a story behind it. Every process is detailed – from wood bending, finishing, and joinery, they devote their utmost effort into it.
If you want sustainable and high-quality furniture for your home, contact them now. They offer free delivery for orders over $500! Get the latest updates and promotional discounts via their Instagram page.
Highlights:
Affordable furniture
Comprehensive showroom
Wide range of designs
One of the most known furniture stores in Singapore, and quite possibly the world, IKEA is another brand that is no stranger to all of us. This Swedish megastore is a sure mention when anyone talks about furniture shopping. Most of us enjoy walking around IKEA's showrooms and pretending to live in one of those beautifully set up bedrooms that are up on display.
However, if you refuse to brace the crowds to go furniture shopping, use IKEA's online furniture store. What's more, you can have them delivered to you as early as in 2 days' time. Otherwise, you can opt for their store pick-up option if you already planned on going for their Swedish meatballs anyway.
In addition, you will definitely be spoilt for choice at IKEA Singapore. See something that you like from IKEA but can't decide on which color or design to get it in? With their affordable prices, you can easily choose to buy one item in multiple designs. This way, you do not have to make the difficult decision of choosing which design you want for your home! What's more, with multiple outlets, your shopping needs can be easily met at IKEA Singapore!
Highlights:
Wide range of furniture
High-quality workmanship
Large style options
Nook and Cranny offers a wide range of furniture, from contemporary to vintage pieces. It is the place to go if you have yet to decide on the theme that you'd like to go for. From essential furniture like sofas to home accessories like coasters, Nook and Cranny is definitely one of the best furniture stores in Singapore.
The brand believes that our homes are a reflection of who we are. They celebrate the fact that each of us is unique and desires to dress our homes in different styles. With these beliefs in mind, Nook and Cranny aspires to provide furniture and home accessories selections that bring out that individuality in each of us. The team loves selecting rugs, lamps, paintings, as well as photo frames that they would be proud to share with their loved ones. At the same time, they endeavor to deliver value to their customers through the convenience of online furniture shopping.
The website also features useful mood boards that are themed differently which you can draw inspiration for your home. To touch and feel the workmanship of their furniture, visit any one of their 2 showrooms!
Highlights:
International brand
Sustainable furniture
Delivery or self pick up available
With over 100 stores and franchise partners in 11 countries, Crate & Barrel is an international destination for contemporary and modern furniture, housewares as well as décor.
In addition, Crate & Barrel merchants collaborate with more than 100 artists and designers from around the world. From the U.S. to Thailand and countries in between, they curate inspired design to provide exclusive products in every category!
As one of America's favorite furniture brands, Crate & Barrel has slowly found its way into the local Singaporean market. If you have been to town recently, chances are you couldn't resist entering Crate and Barrel's physical store. You would be happy to know that this brand that carries curated and sustainable furniture has an online store too.
All of their furniture can be found online, from coffee tables to accent tables. After you place your orders online you can choose to pick them up at their store at no charge or opt for them to deliver the items right to your doorstep.
Highlights:
Eco-friendly pieces
Curated furniture
Vintage items
Journey East is where you will find curated art deco and Asian vintage furniture sourced from Cambodia, Vietnam, Indonesia, and Malaysia. Since each furniture piece is either reclaimed or built from recyclable wood, eco-friendly consumers will find this online furniture store a godsend.
The brand is known for curating well-designed, functional, and unique furniture pieces in Singapore for over twenty years. The team at Journey East has an obsession for designer, vintage, retro, upcycled, as well recycled objects.
Do note, however, that the prices from this store are a tad pricier as compared to other furniture stores in Singapore. If curated pieces are of interest to you, be sure to take a virtual tour of their showroom or just head down there to view these unique pieces of furniture.
Highlights:
Fully online
Affordable pieces
Wide range of styles
Castlery is another of the online furniture stores in Singapore which looks to reinvent how furniture retail works. The team designs and produces furniture with great aesthetics at a competitive price point, without compromising on quality. By cutting out the middleman and keeping their inventory lean, they can keep their costs down and extend the savings to you.
If you gravitate towards contemporary furniture, Castlery is right up your alley. The brand specializes in Scandinavian, modern, and industrial style furniture and uses quality materials for their hardy furniture.
For the more artistically-inclined consumer, Castlery carries statement pieces that are collaboratively designed by renowned designers from around the world. You may just lay your hands on an exclusive designer collection.
Castlery's website features a virtual showroom as well so you can make measurements and buy the perfect fit for your home.
Highlights:
High quality furniture
Award-winning designs
Sustainable products
Established in 1977, King Living is an Australian furniture label that features award-winning designed furniture. Using the best materials and technology, the store offers furniture that is luxurious but practical at the same time. The brand even features their patented technology like the Postureflex Seating System and steel frames in their sofas and furniture.
Since it was established King Living has set the benchmark for Australian furniture. Driven by an unwavering commitment to timeless design, King pieces embrace the authentic Australian lifestyle. Collaborations with leading Australian designers continue to break new ground, pushing the boundaries of what furniture can achieve.
In addition, King Living chooses recyclable materials and designs to reduce carbon footprint. Every King design is built to last a lifetime. So, you can be sure of the quality that you will be getting with King Living!
Highlights:
Affordable furniture
Transparent pricing
Wide range of furniture options
Furniture SG is a brand that prides itself in offering convenience to consumers to shop at the leisure of their home 24/7. Here, you can choose from a variety of products to meet your needs. Whether you are looking for a TV cabinet, kitchen cabinet, dining sets, wardrobes, office tables, reclining sofas, bed frames or mattresses, Furniture SG has got you covered.
In addition, to make sure that their customers are always satisfied with their purchase experience, the team at Furniture SG is always increasing and diversifying their stocks. They also have a transparent price structure with no hidden costs or fees so that clients know exactly what they are getting and for how much!
Also, if you are hoping to get your furniture delivered, you would be glad to know that Furniture SG offers free delivery with no minimum spend required!
Highlights:
Affordable Furniture
Featured in Korean Netflix series
Wide range of products – Shop by Series
Free delivery & assembly for orders above $1000
Option to self-collect
Aiming to bring affordable, trendy yet functional and compact furniture well-fitted for Singapore homes with limited space, Born In Colour started initially to address a market gap in the industry. By understanding the level of commitment when it comes to shopping for furniture, Born In Colour has stocked an array of diverse furniture ideal for small spaces.
They now expanded their range beyond their well-received Korean furniture designs, they now carry in popular styles of Scandinavian, Contemporary, Kinfolk, Minimalism, Mid-Century and Rattan, allowing customers to not only shop by room, but by Series too. Beyond local, their furniture was also featured in the Netflix series Start-Up and Crash Landing On You. As Born In Colour is gaining more traction as a Lifestyle Shop, they also offer bed & linen, mattresses, kitchen appliances, and lighting. Lastly, Born In Colour takes a rather personal approach and often communicate with their customers free and easily via WhatsApp, Instagram and Facebook messages about their products or their year-long promotions!
Conclusion
Just as significant as renovation works done to your home – the right furnishing pieces will be able to illustrate the theme of your home ideally, regardless of the style of design while still kept at a low budget.
Do share with your friends who are embarking on their home renovation journey, on the 16 best furniture stores recommendations that have been provided in this article. Hopefully, it will spark some inspiration on their end! Happy Shopping!
To furnish your home beautifully and functionally, do check out our other related articles:
Related posts
Subscribe for newsletter
* You will receive the latest news and updates on Singapore's best trends!