28 Best Funeral Services in Singapore [2022]
Joanne, 3 years ago
20 min

read
6933
Funerals are the toughest of occasions to plan and organize. This is especially so as many are often pressured to plan a funeral perfectly, amid the process of grieving over the irreversible loss of their loved ones. Hence, when it comes to saying goodbye to those near and dear to us, it is better to source the help of a professional funeral service that can help alleviate your burden in the hour of grief. We have compiled a list of the best Funeral Services in Singapore that will take care of everything for you. These companies will ensure that you have the time and peace of mind to deal with your loss. Rest assured that the services listed below have been compiled after a thorough analysis of various parameters.
Highlights:
Affordable prices
Direct Cremation service
Rites and rituals
To honour the life of your departed loved ones, Funeral Solutions is committed to working hard to cater to all of your funeral service requirements, to create a memorable service that your loved ones deserve.
Led by 3rd generation funeral director, Nicky Teo, you need not worry about anything related to the funeral process. Their professional team understands the difference between all sorts of funeral customs. Moreover, they understand that no one funeral service is the same. They will dedicate time to learning about your specific preferences, if any, and take all those preferences in consideration to create the service that your loved ones would want. With over 12 years of experience in the service, rest assured that you are in good hands. From concerns about clothing, location of ashes, casket, to the place of the wake, Funeral Solutions is the best funeral service in Singapore that will provide you with all the answers you need.
Location: Block 38 Sin Ming Drive #01-523 Singapore 575712
Contact: 1800 800 1818
Highlights:
24/7 Service
Renting Parlous and Hearse
Catering Services
Established in the year 2009, Holy Land Casket has come a long way in supporting you to properly grief your loved ones.
Holy Land Casket offers you all the essential funeral services you many need: doctor certification, embalming, memorial services, catering, and descendant care. Moreover, you can contact them for assistance on urns, sea burial, relocation of niche, ash collection, and more.
Above all, Holy Land Casket lets guests express their gratitude through writing. You can also get pictures and videos from the ceremony. After thorough research, we have found Holy Land Casket worthy of taking the top spot in our list of best funeral services in Singapore.
Location: No.24 Sin Ming Lane, Midview City, #07-104, Singapore 573970
Contact: +65 81275655
Highlights:
Exhumation & Remains Relocation
Curated Caskets
Wake Setup
Through their state of the art services developed over the generations, Direct Funeral offers you both services and support to handle the grief of your loved one's departure.
Additionally, they provide you with several packages based on your religion or custom. Direct Funeral delivers you curated caskets, wake setups, hearses, religious services, and more. Moreover, you can get fully air-conditioned rooms for your guests along with all the necessary facilities.
All of these facilities are available at a very affordable price. The prices may vary based on the packages.
Location: 127 Lavender St, Singapore 338735
Contact: +65 6555 1115
Highlights:
Specialty embalmer
Huge number of casket choices
Trinity Casket is one of the approved companies for handling funerals and mortuary affairs. The services offered by them can be tailored according to your need and budget.
Some of the indispensable elements of the packages offered by Trinity casket are casket, embalming, transportation cost, ash collection, etc.
Moreover, you will be attended by their operation managers to discuss your requirements before the funeral process. They will handle everything from the wake, time of the funeral, catering, cremation time, etc. Overall, they are a reputable service and truly one of the best funeral services in Singapore.
Location: Blk 38, Sin Ming Drive. #01-527/531, Singapore 575712
Contact: +65 6451 4496
Highlights:
Services that cater to all religions
Direct creation funeral package
Spacious parlor halls
Known for their spacious funeral parlor halls, An Lok Funeral Services guarantees to provide you with affordable services. The word affordable here suggests that you will not be misled into paying for something that is not required.
They serve their customers with complete compassion and dignity. Moreover, they possess comprehensive knowledge of different traditions, customs, and religions. While answering your questions and understanding your concerns, they make sure that you say goodbye to your loved ones with an absolute peace of mind.
Location: 38 Sin Ming Dr, Singapore 575712
Contact: +65 9477 7774
Highlights:
One-stop funeral services
Premium wake setup and hearse
Responsive team and free funeral consultation
Nirvana Singapore is a one-stop funeral company that takes care of everything, from paperwork to memorial services. They provide a range of premium funeral services, including free funeral consultation, embalmment, funeral setup, online obituary, and more. With transparent pricing that is discussed with you up-front, you'll be assured that there are no hidden costs.
Their funeral package includes hassle-free, respectful services. They also provide an elegant wake setup that makes the last moments with your loved ones more special.
Nirvana Singapore's columbarium niches are elegant and well-maintained, highly recognized as the Final Rest Place for the departed loved ones. Definitely consider them for a respectful, worry-free send off for your loved ones.
Location: 950 Old Choa Chu Kang Road, Singapore 699816
Contact: +65 9238 6601
Highlights:
Food catering
Flower decor
Air-conditioned halls
Funeral ceremonies and rituals vary based on religions. Harmony Funeral Care takes care of every little detail about this. When you are with Harmony, you are in good hands.
They offer you various funeral packages based on your religion and customs. Moreover, these packages include everything so that you don't miss out on anything that is required. You can also get various things added to the funeral like floral decoration, photo, and videography of the ceremony, etc.
Location: 38 Sin Ming Drive #01-523 Sin Ming Industrial Estate Singapore 575712
Contact: +65 9489 2424
Highlights:
Wake proceedings
Pet burial
Funeral for children
Known for their systematic process, The Life Celebrant takes care of everything from the time of death. Moreover, they also offer you emotional support throughout the whole process.
Their service packages include picking up the deceased person from the hospital, followed by a discussion with the family. An experienced director will guide you through the process while also asking for your preferences. You can let them know about the type of wake and rituals to be carried out, and you are done. Rest assured that The Life Celebrant is one of the best funeral services available in Singapore.
Location: Blk 89 Geylang Bahru Industrial Estate, #01-2738, Singapore 339697
Contact: +65 6684 8488
Highlights:
Mercedes Premier Limo Hearse
Memorial setup
Professional service team
Apart from having all the other features in their packages, Serenity Casket also offers you a Mercedes Premier Limo Hearse. This makes the last journey of the deceased a bit elegant and distinctive.
Moreover, the funeral packages that they provide are Christian, Free Thinker, Straight case, and even customized funerals. You get various types of services in these like memorial setup, casket, floral arrangement, embalming, and even repatriation if required. In addition to this, the best thing is that you can call them for help 24×7.
Location: 89 Geylang Bahru, #01-2736, Singapore 339697
Contact: +65 9618 6689
Highlights:
Trusted company
Religious supplies
Huge number of parlours and halls
Casket Fairprice has been a trusted funeral service provider since 1993. The list of their services contains everything from funeral parlours to casket services. So, now you don't need to go to different places for different services.
The packages offered by Casket Fairprice caters to all religious groups, including Buddhists, Catholics, Freethinkers, Sokas, Taoists, Roman Catholics, etc. They are a prestigious association that has a transparent pricing policy. Moreover, they keep track of every detail so that you can have peace of mind that your needs are met. Trust that they are definitely one of the best funeral services in Singapore.
Location: Blk 37 Sin Ming Drive, #01-571, Singapore 575711
Contact: +65 6455 9909
Highlights:
24/7 embalming service
Tentages supply
Limousine Hearse available
This Singapore Indian Casket is a team of local Indians in Singapore that are proficient in handling the final rituals of Hindu culture. Moreover, they take complete care of dignity while handling the sacred rituals.
Some of the popular packages offered by them are Basic, Classic 1, Classic 2, Lotus, Premium, and others. Moreover, they offer a plethora of services through these packages like 24 hours of embalming services, several casket choices, food catering, floral arrangements, and even Repatriation Services.
Location: Northpoint Bizhub, 2 Yishun Industrial Street 1, #02-09, Singapore 768159
Contact: +65 6100 5515
Highlights:
Number of packages
Funeral guides
Post funeral services
Reliant Funeral Services have a large systematic order of dealing with things that are hard for the grieving person to handle. They follow a planned process of gathering information related to the type of funeral, deceased last wishes, and many other factors to deliver you the best services.
Their funeral packages are the same as the others that include Freethinker, Buddhist, Soka, Roman Catholic, etc. Along with these, they also offer post-funeral services like Gong Teck and Exhumation. You can also avail of their repatriation services if required.
Location: Block 88, Geylang Bahru #01-2720, Singapore 339696
Contact: +65 9006 963
Highlights:
Overseas packages
Grave maintenance for 6 months
Professional and certified staff
Jasa Budi Muslim Casket Services specialize in Muslim funeral services. The unique thing about them is that they are not only available in Singapore but also in various other nations.
Their state of the art services includes Hearse Van for commute, certified staff for thorough bathing of the deceased, and bus transport for family members. Moreover, they also provide ceramic name signboards for the deceased, free drinks for the family, and maintenance of the grave for six months. Overall, they are indeed one of the best funeral services in Singapore.
Location: 271 Pasir Ris Street 21, #04-464, Singapore 510271
Contact: +65 9657 4198, +65 9693 5885
Highlights:
Transparent pricing
Perform Multiple Funeral Types
Perform post-funeral services as well
Just like the name, the Entrust Funeral Services are very transparent in their pricing and packages. Besides, if you have any doubts or queries regarding the funeral practices or beliefs, you can call and consult them anytime without paying any fee.
Entrust Funeral Services also help with all kinds of funeral services like Chinese, Taoist, Buddhist, etc., in addition to sea and tree burial. They also offer post-funeral services like 100-day post-funeral ceremony, ancestral tablet prayers, Gong Teck Ceremony, among others.
Knowing that your loved ones will get a funeral they deserve by option for services of Entrust Funeral Team, can allow you to achieve that closure in a much better way.
Location: 6 Yishun Industrial Street 1 Northview Bizhub #08-02 Singapore
Contact: +65 6681 5757
Highlights:
Experienced team
Reasonable pricing
Christian Burials
Resting Place Pte Ltd has one of the most experienced teams behind its quality services in Singapore. All the parts of funerals like registration, transportation, certification, floral arrangement, burial, caskets, and coffins are delivered professionally.
However, they perform funeral services only for Christian rituals. You can contact them for a variety of caskets, to complete the burial ceremony arrangements. Besides, their sea burial, tombstone works, and repatriation services are also commendable. Overall, they are one of the best funeral services in Singapore.
Location: Block 4 Toa Payoh Industrial Park, #01-1337 Lorong 8, Singapore 319056
Contact: (65) 6533 1787
Highlights:
Pre-funeral planning and will-writing
24/7 service
Professional advisors
When unfortunate things happen, it is entirely natural for someone to lose track of things to do. Singapore Casket Co Pte Ltd is one of the best funeral services in Singapore that can handle every kind of service you could possibly need.
This is another funeral service in Singapore that provides all the pre-funeral, funeral, and post-funeral services. With their professional staff, they take complete care of funeral parlour halls, pre-funeral planning, transportation, casket, etc. Moreover, they also assist in post-funeral affairs like dealing with banks, insurance companies, lawyers, and more. Hence, it is a one-stop solution for you.
Location: 131 Lavender Street, Singapore 338737
Contact: +65 6293 4388
Another trustworthy funeral services provider in Singapore, the Gallant Garden, offers many services in one place. However, they are best known for their variety of funeral packages, as they provide all kinds of services, like Christian, Catholic, Religious, Taoist, Buddhist, Soka, Chinese, and even non-religious funerals.
One may also opt for their services since they are among the very few who offer free burials and sea burials. Besides, for any reason, if the family requires it, they can perform exhumation as well. Gallant Garden also lends a helping hand to those seeking death claims, will writing, insurance, and even cemetery maintenance and cleaning services.
Location: #300, Mandai Rd, Singapore 779393
Contact: +65 6677 5520
New Journey is a professional funeral service that was founded on the main goal of supporting low-income families who struggle to pay for their loved one's funeral proceeding. They accept donations from members of the public to help out those in need.
Besides simply being an admirable company, their expertise does not fall short. They provide a wide variety of funeral services and can arrange for you a suitable funeral according to your religion. Thus, whether you are looking to honour your loved ones through a Buddhist, Taoist, Christian, Hindu, or even a non-religious funeral ceremony, New Journey has got you covered. Trust that you and your loved ones are in good hands if you choose New Journey.
Contact: +65 8922 5227 | +65 8922 6169
Highlights:
Non-religious funeral services
Funeral pre-planning services
Casket Services
The loss of our loved ones is severe for all of us. It may also make you unaware of everything for some time. But, you can depend on Singapore Funeral Group for taking care of everything with ease.
They possess the power and resources to manage everything related to your loved ones' funeral. Additionally, no matter which culture or religion you are, we excel at taking care of pre-planning, casket services, and more with absolute dignity. Moreover, the rates of our funeral packages vary based on the number of days and the required customs. We hold no hidden charges.
Location: Block 38, Sin Ming Drive #01-523 Singapore 575712
Contact: +65 6817 4288
Highlights:
Experienced Staff
Total price transparency
Flexible payments
It is a bit difficult to deal with the death of your loved ones. So, Funeral Services Singapore takes full responsibility for everything to help you manage things well in a tough time.
We serve people of all religions, cultures, and traditions with complete dignity and respect. Our professional associate's care for every little thing related to preparing the body, handling the guests, etc. Moreover, there is no bar on timing. You can call us 24×7 for all the services you need.
Location: Blk 4028 Ang Mo Kio Ind Park 1 #01-219 Singapore 569639
Contact: +65 8265 0301
Highlights:
Trusted brand
Personalized service
Multiple financing options
With the team of professionals experienced in managing every type of funeral, the Best Funeral Singapore delivers premium quality funeral services.
Their comprehensive list of packages includes everything from picking the deceased person from the medical centre to the final rituals with dignity. Moreover, their list of packages includes Buddhist, Taoist, Catholic, Christain, etc.
The operations directors of Best Funeral Singapore guide you throughout the process while taking into account everything that needs to be done as per your religion or custom.
Contact: +65 3129 2418
Highlights:
Number of funeral packages
Affordable prices
Gong Crew and live band
Were you looking for a professional team to handle the funeral of your loved ones? Look no further because After Life Funeral Service providers are here to handle everything for you.
They offer you everything from obtaining a certificate of death, preparing the body for the funeral, and sending it to the wake. Their set of services undertake every process with respect. Moreover, the family members and friends of the deceased are treated with sympathy. You can also contact them for booking a niche, urn, or live band.
Location: 11 Tuas South Link 1, Unit 04-22, Singapore 636901
Contact: +65 6920-0018, +65 8388-5460
Highlights:
Affordable prices
Customizable funeral services
Specialists in local customs
Singapore Funeral Directors is all about compassion. They are extremely dedicated to providing the best and most respectful service for your loved ones. Whatever your budget or preferences, they will do their best to accommodate your requests so that your loved ones get the commemoration that they deserve. They are extremely admirable in their commitment to serving the community, and will never turn away a family who has a difficult affording a funeral service.
Another reason why Singapore Funeral Directors is truly one of the best funeral services in Singapore is due to their expertise and knowledge in local customs and the different types of funeral rites and practices. From Buddhist, Taoist, Christian, to Catholic services, they are extremely well-versed in all of them. Thus, if you put your trust in Singapore Funeral Directors, they are sure to not let you down. Hands down one of the most dependable funeral services in Singapore!
Contact: +65 9339 3136
City Funeral Singapore is helmed by Alverna Cher, the first funeral director in Singapore to provide holistic CARE planning, which includes will writing, LPA, and also funeral and pre-planning a funeral. A trailblazer in her field, she believes in making the funeral planning process as seamless as possible for the bereaved family.
If you're interested in learning more about City Funeral as well as Alverna's expertise, together with #SPH, #MoneyFM893, and #intender, she has an 'Introduction to Will Management' sharing on 28 August 2020, from 12 pm to 1 pm. You may register at this link to secure your place today!
Location: 88 Geylang Bahru #01-2720, Singapore 339696
Contact: +65 9889 2744
Highlights:
Established since 1990
Customizable funeral services
Showroom available for advanced planning
With more than 30 years of experience, Singapore Funeral Services is one of the pioneers in the funeral services industry of Singapore and has been here for generations of families in times of sorrow and bereavement.
The brand offers a wide range of services and are known to be transparent with all of their pricing and packages. Packages they offer include those for Buddhists, Taoists, Catholics/Christians, Soka, as well as for Freethinkers.
Some services that they provide include prayer services, grief counselling, final arrangements, as well as advanced planning. For their advanced planning services, they even have a showroom for guests to have a discussion.
Singapore Funeral Services is available for you 24 hours 7 days a week through their hotline and when you use their services, you can be assured that you will be greeted with warm and kind services.
Location: 988 Toa Payoh North 07-05 Singapore 319002
Contact: +65 1800 800 8888 / +65 6841 4666
Highlights:
Affordable prices
Caring staff
Wide range of services
Funeral Packages for all religions
Divine Funeral is the choice of One-Stop Funeral Undertaker Service Provider in Singapore with more than 20 Years of experience. The company is founded on the core values of being transparent, coupled with affordable pricing and focusing on personalised and reliable services.
They offer a range of personalized services to suit your family's wishes and requirements. With more than 20 years of experience, Divine Funeral Services provides a suite of undertaker services to assist their clients in arranging for the afterlife arrangements of their departed loved ones. You can count on them to help you plan a personal, lasting tribute to your loved ones.
In addition, their caring and experienced professionals are here to support you through this difficult time to carefully guide you through the many decisions that must be made during this challenging time.
Location: 2 Ang Mo Kio Street 64, #02-1B Econ Industrial Building, 569084
Contact: +65 8617 5629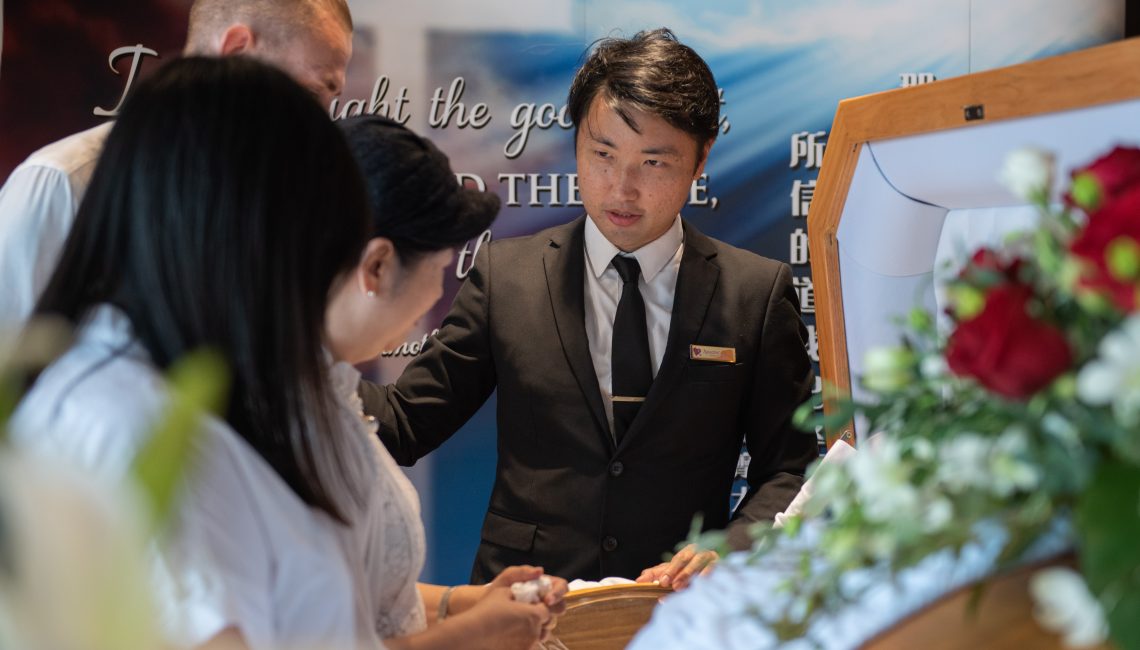 Highlights:
Responsive
Personalized service and support
24/7 toll-free line
At Amazing Grace Bereavement Care, their mission is to assist funeral homes in creating meaningful funerals that help families and friends celebrate and honour the lives of those they love.
The team at Amazing Grace Bereavement Care believes that a funeral is an important part of grieving, and often the first step in the healing process. They are committed to assisting the bereaved in creating a memorable, meaningful, and dignified funeral to help your family honour the life of your loved one.
Amazing Grace Bereavement Care does this by providing quality services and products to help ease the burden and stress that grieving families experience during this time. With their personalized service and support, you can leave the logistics and arrangements to them, and let your mind be at ease.
In addition, because they provide a whole host of services, they understand your need to consider all available options. The team is known to be patient in terms of fully explaining all available options and taking the time to answer all of your questions.
Location: Blk 4 Toa Payoh Industrial Park, Singapore 319056
Contact: +65 6842 2166
Highlights:
24 hours, 7 days a week
Expert team
Personalized service and support
All Saints Funerals is a company that provides funeral services. They hope to help every grieving family find peace and comfort in God during this difficult time. Their team of compassionate staff cares for one another like family. And on top of that, the team is made up of experienced funeral directors who are committed to serving and guiding you with unparalleled quality bereavement solutions in the hope of easing your burden and stress.
In addition, All Saints Funerals provides personalized service and support. This means that you can leave all logistical and funeral arrangements in the good hands of their team with peace of mind, knowing that your loved one will be taken care of with dignity and grace.
With a wide range of services and funeral packages including you do not have to worry that they will not be able to cater to your needs and preferences. The sheer amount of positive testimonials that you can find on their site is a testament to their great services.
More importantly, All Saints Funerals is often praised for its quick response. Upon receiving a call on the death of your loved one, the All Saints team commits to being there with you and your family within an hour, day or night. They are ready to serve 24 hours, 7 days a week.
Location: Blk 4 Toa Payoh Industrial Park, Singapore 319056
Contact: +65 6396 7117
It is undoubtedly hard to say your last goodbyes, but the departed souls must get a deserving farewell. Therefore, you must use the services of one of these funeral service providers to ensure that your loved one receives the right honour and that you have adequate time to heal yourself and take care of the rest of the family.
Related posts
Subscribe for newsletter
* You will receive the latest news and updates on Singapore's best trends!