20 Best Fruit Baskets in Singapore [2022]
sheann, 3 years ago
18 min

read
19374
Perhaps you need to visit someone at the hospital, or wish someone good health. Perhaps you wish to pamper your loved one with a lovely surprise. Still, it might be said that buying fruit baskets is a way of paying attention to one's health, particularly if the person eating them didn't shop for them.
Being given a fruit basket by someone else can provide a lot of benefit simply because it roots the recipient in an emotional community where he or she feels appreciated. But even when people buy their own fruit baskets, there is still something special about these gifts that speaks to our innate need for nurturance and connection with others.
Either way, a fruit basket is one of the most practical ways to impart your thoughts, because no gift is better than an edible one. Whether you are scouting for auspiciously priced, traditional fruit baskets or the revamped, modernized versions, this list covers it all. Take a look at the best fruit baskets in Singapore!
Highlights
5 Star Google Reviews
Insta-worthy, quality fruit bouquets and baskets
Next day delivery and customization available. For same-day delivery, please call to check
Rainbowly offers a variety of Fruit Arrangement Gift options since 2013 and were the first in Singapore to offer Artisan Fresh Fruit Flower Basket and Bouquets arrangements. They have adapted and improved on their designs through the years to provide fresh and delicious fruit arrangements that are handcrafted to impress.
Prices range from S$79 for their Signature Fruit Flower Bouquets to full-fledged Festive Fruit Baskets. With an incredible selection of unique fruit gifts available you are sure to find a healthy and delicious treat for your loved ones. They make shopping online ridiculously convenient with island-wide fruit basket delivery in Singapore. Place your order today, and track your gift hamper or fruit basket at a click.
Each purchase comes with a complimentary gift card and is charged a flat rate of S$20 per address for delivery.
Address
11 Sin Ming Road, Thomson V Two Singapore 575629
Contact number
+65 9327 8201
Business hours
Monday to Friday: 10.00 am to 6.00 pm
Saturday to Sunday: 9.00 am to 12.00 pm
Highlights
Get S$5 gift voucher by subscribing to their newsletter
Same day and weekend deliveries available
International delivery available
Noel Gifts is your one-stop destination for premium flowers, hampers and gifts. The brand has more than four decades' worth of expertise in the industry. As the only public listed flower and gift supplier in Southeast Asia, they deliver to international destinations as well. Don't let the pandemic deter you from gifting your loved ones in Indonesia, Malaysia, Hong Kong, Vietnam, Australia and the United Arab Emirates.
Your preferred fruit basket is only one click away with the company's streamlined online ordering process. You may also contact them for more personalized designs. The system is supported by the largest delivery fleet in Singapore, with same day and weekend deliveries to handle the most spontaneous of requests.
The carefully curated fruit baskets range from S$60 to S$180. There are also vegetable bouquets and baskets for those kitchen-bound friends with an appreciation for fresh produce. The most luxurious option comes with a leatherette bag filled with exotic flowers and seasonal fruits.
Address
21 Ubi Road 1 #03-01 Singapore 408734
Contact number
+65 6299 1133
Business hours
Monday to Friday: 8.30 am to 6.00 pm
Saturday: 8.30 am to 2.00 pm
Closed on Sunday
Highlights
Same day delivery available
International delivery available
Incorporated in 2007, Humming Flowers & Gifts has more than a decade's experience in handling the most intricate of gifting needs. The company is also well-versed in local gifting customs.
Choose from a collection of 900 flowers and gifts ideas, each attached with a greeting card for a personal touch. Prices range from S$55 to S$200. The baskets are adorned with fresh flowers to convey a cheerful and positive message.
Have a friend who is a health advocate or a gym enthusiast? Opt for Nature's Boost, which features superfood, such as avocado, and other organic snacks. On the other hand, Treasure of Freshness with its variety of fruits, elegant blooms, and a humidifier in an ornate chest is perfect for mothers.
Address
21 Ubi Road 1 #03-01 Singapore 408734
Contact number
+65 6844 2222
Business hours
Monday to Friday: 8.30 am to 6.00 pm
Saturday: 9.00 am to 2.00 pm
Closed on Sunday
Highlights
Minimalist designs
Fruit basket consists of the autumn harvest
10% off first purchase with promo code WELCOME10
Btw.sg caters to the Instagram generation with a selection of photogenic hampers. Gone are the tacky, flamboyant ribbons – these gift baskets come in soft, pastel hues and minimalistic packaging. The fruits are primarily autumn harvests, from which the collection took inspiration. Btw.sg encourages their customers to pair the fruits with warm pancakes drizzled in maple syrup for a heartwarming fall-themed picnic.
Prices for the hampers range from S$60 to S$200. The delivery charges a flat rate of S$10.70 per location. If specific delivery times are required, arrange early to avoid disappointment.
| | |
| --- | --- |
| Address | 21 Ubi Road 1 #03-01 Singapore 408734 |
| Contact number | N.A |
| Business hours | N.A |
Highlights
Open 24 hours daily
Multiple delivery options
Extensive fruit basket catalogue
Little Flower is a no-frills florist with affordable gifts and efficient delivery. They are attuned to the varying needs of their customers and have an extensive fruit basket catalogue of up to 32 designs. Prices range from S$55 to S$249.90, with items such as bird's nest, supplement drinks, snacks and crackers.
The florist has multiple delivery options to suit your needs. For more urgent orders, you could choose Super Express or Quick Delivery, which deliver within one hour and three hours respectively. For the midnight, clock-strikes-12 type of surprises, Late Night Delivery will aid you by delivering after 10 PM. Meanwhile, showcase your romantic side and have your loved ones wake up to some lovely sight with Early Morning delivery.
| | |
| --- | --- |
| Address | 25 Jln Chegar, Singapore 578483 |
| Contact number | +65 6503 9750 |
| Business hours | Open 24 hours daily |
Highlights
34 designs to choose from
Special care is taken to prevent damage during delivery
Food items included are nutritious and healthy
Simply Hamper offers a vast array of fruit hampers, serving as health boosters for the recipient. The packages are complemented with organic snacks, essences, fruit juices, crisps and more. Prices ranging from S$75 to S$135; each order comes with a quality gift card in which one could write heartfelt messages.
The brand operates with commendable attention to detail. Special care is taken to ensure that the fruits remain in their peak conditions when delivered. Fresh produce is sourced for the made-on-demand hampers. They are put together in a pleasant, inviting manner to relay the buyer's thoughtfulness.
Address
63 Ubi Ave 1, #05-02, Singapore 408937
Contact number
+65 6443 3011
Business hours
Monday to Friday: 9.00 am to 6.00 pm
Saturday: 9.00 am to 2.00 pm
Closed on Sunday
Highlights
Same day delivery available
Rustic designs
Good value-for-money
Far East Flora has a knack for imbuing their fruit baskets with a rustic flair. Prices range from S$49.90 to upwards of S$140, depending on whether more valuable supplements are included. For instance, at S$149.90, Vibrant Wellness packs in Kinohimitsu Bird's Nest, Brand's Berry Essence and Eu Yan Sang Essence of Chicken with Wolfberry Red Date Extract.
Orders are processed and delivered on the same day. Delivery is chargeable at a flat rate of S$7 before GST. It may also vary for specific locations, such as airports and army camps.
| | |
| --- | --- |
| Address | 565 Thomson Rd, Singapore 298184 |
| Contact number | +65 6251 2323 |
| Business hours | 9.00 am to 9.00 pm, daily |
Highlights
Free same-day delivery
Large range of fruit basket designs
Sizing options for fruit hampers
Established in 2007, Angel Florist is an award-winning florist with a loyal customer base. The brand bagged Singapore Prestige Brand Award 16 in recognition of their success. They encompass a multitude of products, including flower bouquets, condolences wreath, birthday cakes and table arrangements. Apart from individual purchases, Angel Florist also accepts corporate orders.
For fruit baskets, prices range from S$60+ to S$270+. Each design also comes with various sizing options. Place an order on the website and be automatically entitled to free same-day delivery.
Address
Admirax, 8 Admiralty St #05-16 Singapore 757438
Contact number
+65 6908 1788
Business hours
Monday to Friday: 9.00 am to 6.00 pm
Saturday: 9.00 am to 1.00 pm
Closed on Sunday
Highlights
Halal hampers for Muslim friends
Fruit baskets embellished with colourful blooms
Prices range from S$68 to S$268
Singapore Florist is a popular outlet located in the JTC Defu Industrial Estate. Besides fruit baskets, there are many different types of gifts and hampers available at Singapore Florist. In particular, you can purchase Halal hampers in celebration of a special occasion for a Muslim friend.
In general, the fruit baskets are embellished with colourful blooms and bundled with food items, which include crackers, tonic and fruit juices. At the highest end of the price range, a Wellness Hamper, costing S$268, comes with Halal and vegetarian herbal tonics, half a dozen bird's nest and even a bottle of Benedictine D.O.M. Alternatively, get the basic variety from as low as S$68.
| | |
| --- | --- |
| Address | JTC Defu Industrial Estate, 1 Defu Lane 10, Singapore 539183 |
| Contact number | +65 6345 2847 |
| Business hours | 8.00 am to 5.00 pm, daily |
Highlights
24-hour delivery available daily
50% money-back guarantee for late delivery
A comprehensive catalogue of ready designs to choose from
XpressFlower.com can be spotted all around our little island nation. The chain boasts a total of 20 outlets, conveniently located at various malls for accessibility. You can as easily browse their comprehensive catalogue of fruit baskets on their user-friendly website.
Apart from fresh fruits, the hampers come with items such as chicken essence, honey, fruit juices and even champagnes. Some are decorated with flowers or put together in endearing and reusable picnic baskets. Prices range from S$70 to S$270.
XpressFlower.com provides free next-day delivery, as well as 24-hour same-day delivery for urgent orders. In addition, there is a 50% money-back guarantee if they fail to deliver on time. Feel free to contact for custom fruit baskets or special delivery arrangements – the florist would be happy to accommodate.
Highlights:
Same day, 2 hour delivery
Free delivery for orders above $60
High quality
Fruit Delivery Singapore has the widest variety of fruits available for delivery. From apples and pears, berries and grapes, melons and veggies, citrus fruits to tropical fruits. Name it; they have it.
As veterans in the industry, the brand has stringently high standards and quality. They mean it when they say that no bad fruit gets past them. They promised that every fruit is in top condition! However, if by any chance you feel that your choice of fruit is spoilt, flavourless, or in bad shape, they will replace it!
Fruit Delivery Singapore works with the best farmers worldwide. Their fruits are only picked when riped, allowing optimal time for flavor to develop. Therefore, you can be sure that in your fruit basket, you are getting the best fruits from the farm.
| | |
| --- | --- |
| Address | 19 Lorong 12 Singapore 398999 |
| Contact number | +65 8750 5740 |
| Business hours | 10.00 am to 10.00 pm, daily |
Highlights:
Offers local and imported fruits
Fruit party packages available
Free delivery for orders above $100
Freshly Picked is a brand that offers freshly picked fruits that are only sourced from the best farms. They are committed to serving customers as a one-stop hassle-free shopping experience so that they can purchase fresh fruits with peace of mind. They deliver fresh fruit hampers that can be customized for your loved ones.
What makes Freshly Picked stand out from the other delivery services is their community of "Belly Happy," a private group on Facebook, that updates their patrons on available fresh produce available for delivery.
Freshly Picked offers both local and imported fruits, including durians, pineapples, Packham pears, plums, and passionfruits. Aside from home delivery, their services include fruit party and fruit delivery for corporate firms.
Address
253 Serangoon Central Drive #01-239 Singapore 550253
Contact number
+65 9855 6672
Business hours
Tuesday to Friday: 9.00 am to 7.00 pm
Saturday to Sunday: 8.30 am to 7.00 pm
Highlights:
More than 20 years of experience
Customized hampers available
Japanese premium fruits
Free delivery for orders above $200
Momo Bud is a family business and has been around for almost 20 years. Curating on the best and freshness premium seasonal fruits for a customized hamper is one of their signature services. They have a wide variety of fruits that are available for you to choose from.
Apart from the typical fruits that are offered by most brands, Momo Bud is a brand that is also known for carrying Japanese premium fruits such as crown muskmelon, mandarin, yellow and white peaches, cherries, champagne, and black grapes and many more.
So, if you are looking for fruit hampers that contain rare and premium fruits, Momo Bud may be your best bet!
Address
138 Robinson Road Oxley Tower Singapore 068906
Contact number
+65 9834 8923
Business hours
Monday to Friday: 2.00 pm to 9.00 pm
Saturday: 12.00 pm to 5.00 pm
Highlights:
Free delivery for orders above $80
Customizable fruit boxes
Supplies to many clients across Singapore
E Fresh Fruit is a well-established and well-known Singapore fruit wholesale dealer of tropical fresh fruits. The brand was founded since the 1970s and thus has a vast experience in the business. They specialize in the supply assorted pack fruits, cut fruit and fruit baskets for Homes, Offices and Markets across Singapore. Their clients in Singapore include supermarkets, restaurants, food courts, offices, schools and community centers.
If you scrolled through their website and did not find what you were looking for, E Fresh Fruit provides customized arrangements and assortments of the fruits of your choice. Reach out to them and they will give you a personalized quotation based on your needs!
Address
Blk 165 Bukit Merah Central #01-3675 Singapore 150165
Contact number
+65 6778 3071 | efreshfruit@gmail.com
Business hours
Monday to Friday: 9.00 am to 6.00 pm
Saturday: 9.00 pm to 4.00 pm
Highlights:
Rare fruits that are difficult to find
Subscription boxes available
Customized packages available
If a specific fruit that you are looking for happens to be one that is not readily available at major supermarkets across Singapore, then perhaps you might want to check out FruitWerkz. The brand carries fruits that are often unavailable at larger supermarkets such as Jujube, Duku Langsat, Chiku, Yellow Pitahaya as well as Yellow Passionfruit.
In addition, if you are looking to stock your office pantry with fresh fruits, you would be glad to know that other than delivering to residential areas, FruitWerkz also offers delivery to offices.
You may even have a package of fruits customized to your liking. Prices are extremely affordable and start from just $35. Just contact them and they will get it done for you!
Address
49 Sims Pl, #01-137, Singapore 380049
Contact number
info@fruitwerkz.com
Business hours
Monday to Saturday: 8.00 am to 7.00 pm
Sunday: 8.00 pm to 4.00 pm
Highlights:
Free delivery for orders above $80
Air-flown fruits from Australia
High-quality fruits
Owned and managed by a bunch of Singaporeans living in Australia, Finest Harvest promises a top-quality product that is full in flavor as they are picked near the peak of ripeness instead of being harvested prematurely.
The brand partners directly with the Australian farmers, so that they can guarantee thefreshness of their produce. Their top-selling farm fresh fruit is Australian White Peach which is full of flavour, sweet and chin-dripping juicy.
All of the fruits offered by the brand are air-flown to Singapore from Australian farms that guarantee freshness at its best. So, if you are looking for high-quality fruits in your fruit basket, keep Finest Harvest in mind!
| | |
| --- | --- |
| Address | 183 Pavilion Cir, Singapore 658212 |
| Contact number | +65 9363 4175 |
| Business hours | N.A |
Highlights:
Mystery fruit boxes available
Monthly subscription boxes
Low delivery fees
Zenxin Organic Food Singapore is the leading organic fresh produce supplier in Singapore. They have a wholesale store at Pasir Panjang Wholesale Centre, which provides a one-stop organic grocery shopping experience to the public.
At Zenxin Organic Food, you will be pleasantly surprised by their wide selection of organic and healthy foods and the helpful and friendly staff.
The brand offers a Zenxin Organic fresh hamper which sports an attractive basket filled with fresh certified organic seasonal fruit. Order a Zenxin Organic fresh hamper for your friends and loved ones for special occasions or to wish them better health!
| | |
| --- | --- |
| Address | 14 Pasir Panjang #01-25, Wholesale Centre, Singapore 110014 |
| Contact number | +65 6778 7369 |
| Business hours | 8.00 am to 6.00 pm, daily |
Highlights:
Organic products
Fruits sourced from all over the world
Subscription boxes available
If you prefer to handpick the fruits as well as decorate the gift basket on your own, Avo & Co is a great option for you. They provide all the materials you need, a basket, and fruits! What better way to show your sincerity than to design your own fruit basket?
Avo and Co is a subscription-based food box that delivers a variety of fresh organic food that are currently in-season, to your doorstep every week. Each box you receive every week will be something different than the last, bringing the wow factor in every box you get.
The brand has been sourcing most of its produce from Europe, Australia, Malaysia, and some organic items locally in Singapore. They will offer a full refund if the product didn't meet your standards.
| | |
| --- | --- |
| Address | 1557 Keppel Road #02-11A Singapore 089066 |
| Contact number | +65 9387 8067 |
| Business hours | 7.00 am to 11.00 pm, daily |
Highlights:
Wide range of products
Customizable hampers
Multiple payment methods
Gift Hampers Singapore is Singapore's premium online shop for gift hampers. With innovative and sleek items geared towards Hari Raya, Mid-Autumn Festival, Christmas, Chinese New Year and everything in between, their gifts are perfect for any occasion.
Their experienced team has spent years arranging the perfect gift sets, ensuring that each one contains a variety of treats and essentials. As a result, they put together a spectacular blend of gifts for corporate events, grand openings, baby showers, and simply for occasions where you want to express gratitude.
Whether you are looking for gourmet, lifestyle, or fruit hampers, Gift Hampers Singapore has got you covered. With its wide range of products and several payment methods, it is loved by many. The prices for gift hampers start at $85 and they offer free delivery.
Most of their hampers are medium-sized and can be customized by adding a note or some flowers. We also love that this service supports multiple payment methods such as PayPal and credit cards.
Address
21 Ubi Road 1 #03-01, Singapore 408724
Contact number
+65 6280 2212 | hello@gifthampers.com.sg
Business hours
Monday to Friday: 9.00 am to 6.00 pm
Saturday: 9.00 am to 2.00 pm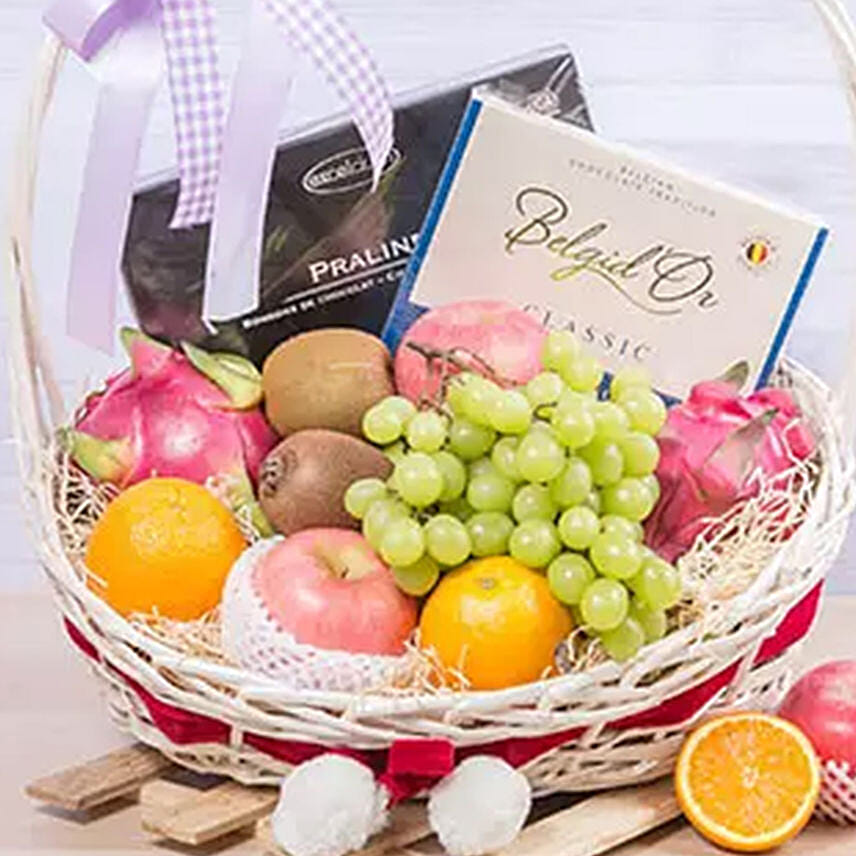 Highlights:
International brand
Wide variety of gift options
Affordable options
Having pioneered the concept of social expression through flowers and gifts in India, Ferns N Petals has become a name synonymous with love, emotions and celebrations. Started with a single store in 1994 in Delhi, by the enterprising Mr Vikaas Gutgutia, the brand today boasts of 300+ outlets in 93 cities in India and delivers across 70+ countries worldwide: Singapore included.
The team is committed to offer reliable and professional services to all of their customers. They comprise individuals who have worked at the company for years, bringing years of experience to the table to curate every bouquet and gift basket with utmost care and love.
In addition, the brand offers a broad range of gifts for different occasions like Anniversaries, Birthdays, Mother's Day, Valentine's Day, and Christmas. Simply search "Fruit" on their webpage and you will see a myriad of different fruit basket options for you to choose from. Why not top up your fruit basket with a bouquet of flowers as well? It will definitely put a smile on the face of your loved one!
| | |
| --- | --- |
| Address | 9 Tagore LN, #02-29, Singapore 787472 |
| Contact number | +65 9727 9363 | support@fnp.sg |
| Business hours | 8.00 am to 8.00 pm, daily |
In need of corporate gift options? Check out these corporate gift suppliers that will gladly take your bulk orders!
Related posts
Subscribe for newsletter
* You will receive the latest news and updates on Singapore's best trends!