Best 10 Freezers to Buy in Singapore
Bryan, 6 months ago
7 min

read
357
Many times, we find ourselves with a full freezer. Our refrigerator simply doesn't have enough storage space for all the things we would like to freeze. As a result, storing our food becomes a headache when we have to meticulously decide what to keep and what to remove. In light of this issue, we have curated a list of the 10 best freezers that you can buy in Singapore. With a dedicated freezer, you can lay your frozen storage concerns to rest.
First on our list is the highly-rated PowerPac 100L Chest Freezer. Designed with many different technical functions, the PowerPac 100L Chest Freezer is the go-to pick for chest freezers.
The freezer operates using a thick frozen foam design for the purposes of high-efficiency freezing. Not only is the freezing process efficient, but it is also customisable as the PowerPac 100L Chest Freezer comes with adjustable temperature control. Furthermore, this freezer is CFC free and energy-saving, making it a great eco-friendly choice. The addition of a built-in drainage hole at the base of the freezer will also allow for easy drainage. On top of all these, the freezer's temperature is manually adjustable and able to transform into a chiller when needed. Compact, efficient and environmentally friendly, the PowerPac 100L Chest Freezer ticks all the checkboxes for a great freezer and deserves to top the list of best freezers in Singapore.
Coming in the running up position is the Farfalla 120L Upright Freezer. This freezer is a great choice for those who prefer to save space lengthwise while still having abundant freezer space.
With 4 transparent drawers, the Farfalla 120L upright freezer offers you multiple options in storing your frozen products. This will definitely come in handy for you to separate your frozen items into different categories. Installed with a mechanical temperature control function, the freezer will regular its temperature automatically. Speaking of temperature, the Farfalla 120L Upright Freezer is able to drop temperatures to -18 degrees. With this in mind, you'll be able to rest easy knowing that your frozen goods remain solidly frozen.
Next up is the Butterfly BCF-110AS Chest Freezer. This freezer has a storage capacity of 110L, giving you ample space to store your frozen goods.
This chest freezer has mechanical temperature control as well as an analogue adjustable thermostat. This feature will allow you to control the freezer's temperature manually. The added benefit of this feature is that it allows you to transform your freezer into a chiller as well. If you're looking for a dual function chest freezer, the Butterfly BCF-110AS chest freezer is a great option.
The Tecno 100L Upright Chest Freezer TCF138R is an excellent chest freezer for those who prioritise convenience. Incorporating multiple functions that are designed for convenient usage, storing and maintaining your frozen goods will come easy with this freezer.
The Tecno features fast freezing for heavy-duty usage. It also possesses a front control dial for easy temperature regulation. To make draining the freezer easier on you, the drainage hole is strategically placed at the front of the freezer. This means that you'll be able the drain your freezer without having to remove everything to lift it. This freezer also comes equipped with a lock and key should you have to place the freezer outside. Built with your convenience in mind, the Tecno TCF138R is a great choice for your future freezer, and indeed is a top contender in the competition of best freezers in Singapore.
If you're in the market for a more compact freezer, the Farfalla FUFGA 80 is the perfect freezer for you. Being small, this freezer can fit in your dormitory, room, kitchen or wherever else you might want it.
Though it is compact, the Farfalla FUFGA80 offers you 3 shelving units for your frozen goods. This is perfect for separating your ice, ice cream, frozen food and anything else that you might want. Not only is the product small, but it is also more importantly slim. At 48.6cm in width, you'll be able to fit this freezer among your other furniture with ease. Looking for a personal freezer? Look no further as the Farfalla FUFGA80 is an excellent choice.
Up next is another freezer built for user convenience. The Midea MCF129W Chest Freezer is easy to operate and will have you falling in love with its efficiency.
Traumatised by the disruptive loud noises that freezers tend to make? Lay your worries to rest as the Midea MCF129W operates efficiently and quietly. With a 99L capacity, this freezer can store whatever frozen goods you require. As an added convenience, this freezer comes equipped with rollers for easy moving. This means no more heavy lifting will be required of you. Temperature is mechanically controlled which makes using this freezer a fuss-free experience. It also comes with an adjustable thermostat, allowing you to convert it into a chiller whenever you want. The freezer also gives you the option of locking it if required. Incredibly convenient and non-disruptive, the Midea MCF129W is a great freezer option and definitely one of the best freezers in Singapore.
For those who are on the lookout for even more freezer space, we recommend the PowerPac PPFZ250. With a whopping 250L capacity, this freezer is the ultimate bang for you buck when it comes to storage space.
When having so much storage space, the last thing we would want is to have all our goods damaged. This isn't a problem with the PowerPac PPFZ250 which uses an inflammable refrigerant to ensure safety is maintained well. The freezer also comes with an internal light installed which is a great convenience. Other convenient features include a locking function as well as built-in wheels for easy movement. All in all, the PowerPac PPFZ250 is a great option for those looking for large storage capacity.
The Minstral MFC131A Chest Freezer was built to last. Not only is this freezer durable, it also is extremely user friendly.
The Mistral MFC131A comes with Zintec coated anti-rust, acclimatising it to our humid tropical climate. With this feature, there's no longer any need to worry about rust contaminating your frozen goods. With 131L of storage capacity, there is abundant space for your frozen products. Furthermore, this freezer has lift-out drawers that make storing and compartmentalising your items so much easier. Customisability is also a given with the inclusion of an adjustable thermostat that allows you to control the temperature with ease. With durability and user-friendly functions, the Mistral MFC131A could be the freezer you were looking for.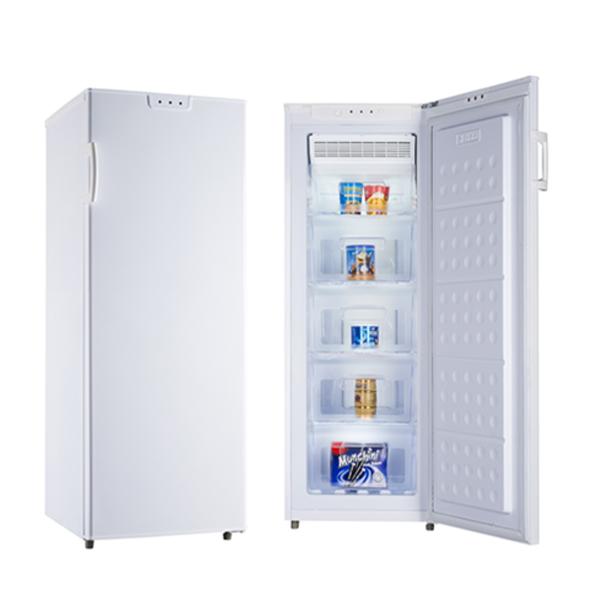 Require even more vertical freezer space? The Butterfly 190L Upright Freezer gives you exactly that. Presenting you with multiple storage components and efficient features, this is a great option for those looking for a large vertical freezer.
With 1 flip board and 5 drawers, this freezer can accommodate all your compartment related needs. This freezer from Butterfly also features frost-free technology, making it, even more, user friendly by preventing frost build-up. In addition, fast freezing ensures that your items freeze quickly and stay frozen. The freezer's temperature is managed mechanically for your convenience as well. If you need a freezer with lots of vertical space, the Butterfly 190L Upright Freezer is here for you.
The final freezer on our list is a collaboration between PowerPac and Snowsea. The BD158 has a 158L capacity and comes equipped with many user-friendly functions.
With a fast freezing function, you can rest assured that your goods will the frozen in a quick and efficient manner. The BD158A is also an eco-friendly option as it is energy-saving and CFC-free. The presence of adjustable temperature control means you'll easily be able to convert this freezer into a chiller. If you're looking for a dual functioning freezer with a larger capacity, the BD158 has got you covered. This model deserves to round off our list of best freezers in Singapore.
It's definitely a frustrating experience when you open your freezer only to find that it has no more space for your new items. With our list of the top 10 freezers that you can purchase in Singapore, say hello to simpler times as you'll never have to worry about freezer storage space ever again.
Related posts
Subscribe for newsletter
* You will receive the latest news and updates on Singapore's best trends!
Trending Posts