15 Best Foot Reflexology Places in Singapore [2022]
Joanne, 3 years ago
14 min

read
4680
After working so hard through an entire week, we ought to give ourselves a pat on the back. Or, perhaps reward ourselves with a good foot massage, to relax, slow down and most importantly, recuperate. Many of us are no stranger to the numerous, alluded benefits of a foot massage, which includes improving your overall blood circulation, relieving body pains, alleviating water retention and reducing stress and tension. Now, if you've set your mind on pampering yourself with a good foot massage, your next question would probably be – where? We've listed down some options below.
Image credit: Han Dynasty
Highlights:
Rejuvenating experience in an oriental setting
Award-winning services
Various services offered including foot reflexology, Swedish and Thai massage
With several awards under its belt, I can be confident that you'll leave the session feeling relaxed and well-taken care of by the skilled hands at Han Dynasty. Established in 2012, the place offers a tranquil and cosy environment for you to take a mental break from the hustle and bustle of your busy life. Pamper yourself with a foot reflexology session, or one of its Oriental / Swedish / Thai full-body massage in its comfortable private rooms. Feel like taking a longer break? Spend an unlimited period of me-time in its dry sauna for just $35 a day!
If you're interested in checking this place out, you'd be delighted to know that they're offering a series of promotions for now, including a body & foot massage for senior citizens (60 years old and above) at $38 nett from Mon-Fri, and ladies exclusive promotion on Tuesdays at just $70 nett for an invigorating 90 mins body massage.
Address
3 outlets at Balestier, Alexandra Village & Thomson
Contact Information
+65 6265 6366
Business Hours
10.00 am to 12.00 am for Thomson and Balestier
10.00 am to 10.30 pm for Alexandra Village
Image credit: Healing Hands
Highlights:
Rave reviews from many satisfied customers
Massage combos are differentiated by your objective eg. to relax, regenerate or restore
Schedule an appointment online so you can plan your time ahead
Healing Hands is well-loved by its frequent customers for their skills and professionalism of its masseurs. Its most popular resident masseuse, Mona, has such highly coveted services that her services are offered at a different set of prices from the rest. Mona's massages employ Swedish style and acupressure techniques for all her sessions, so do give this a shot for an effective session that's likely to leave you feeling relieved of your tension and pains.
Address
2 outlets at Toa Payoh and Tampines
Contact Information
+65 67837858
Business Hours
Monday to Friday: 11.00 am to 10.00 pm
Saturday to Sunday: 11.00 am to 8.00 pm
Image credit: Precious Foot Reflexology
Highlights:
Affordable rates in a modest, comfortable setting
Add-on services such as gua sha and foot herbal soak are available
iPads available for you to literally Netflix and Chill during your massage
With a 30 mins foot massage setting you back by an affordable amount of $28, this might be your best spend for the week if you're suffering from aching feet and a tired body from your hectic schedule. With 3 outlets located conveniently in the heartlands, it would be no surprise that the massage joint has got its fair share of returning, regular customers.
While waiting patiently for the masseurs to work their magic in kneading your pains away, Precious Foot Reflexology also offers you the option of using their iPads too so you can enjoy your favourite shows! How convenient and thoughtful is that? If you'd like to consider other treatments apart from a massage, gua sha, cupping and foot herbal soaks are available for top-ups as well.
| | |
| --- | --- |
| Address | 3 outlets at Clementi, Toa Payoh and Jurong |
| Contact Information | +65 8363 4703 |
| Business Hours | 10.00 am to 10.00 pm, daily |
Image credit: Natureland
Highlights:
Relaxing enclave offering you a zen and cosy environment
Skilled, professional therapists
Promotion for foot reflexology includes a complimentary herbal foot bath
A well-known brand here in Singapore, Natureland has several outlets across the island. It has a "Premium Outlet" at Marina Bay Sands, which offers other spa selections such as body scrubs and facial treatments, apart from its signatures services such as foot reflexology and body massage. With several awards under its belt for many years running now, many of its customers appreciate the professional skills of its masseurs, as well as the clean and rejuvenating ambience of the place.
If you're keen to enjoy a massage in the comfort of your own place, or within the confines of the hotel room you're paying for during a staycation, Natureland offers massage on-demand services as well. All you need to do is to make an appointment through its hotline or online booking form, and a licensed professional therapist will make his/her way to your location. Now, just sit back and enjoy!
| | |
| --- | --- |
| Address | 8 outlets at Marina Bay Sands, Robertson Walk, Holland Village, CHIJMES, Valley Point, East Coast, Orchard Liat Towers and Orchard Point |
| Contact Information | See here |
| Business Hours | 10.00 am to 10.00 pm, daily |
5. Ancient Therapy
Image credit: Ancient Therapy
Highlights:
Traditional massage and kneading techniques
No-frills services at a great value
Short durations available (20 min for foot and 15 min for body) if you're in a rush
Reasonably priced, Ancient Therapy is a massage place of choice for office goers who are looking for a quick fix to their aches and pain. Got some time to spare during lunch? Pop by inside for a speedy remediation to those aching feet or back! What better way to recharge during lunch, and to get back to work on top of your game. This no-frills place is extremely valuable for money as a 20 min foot reflexology would only cost you $20.
Address
2 outlets at Telok Ayer and Bukit Timah
Contact Information
+65 6223 3873
Business Hours
Monday to Friday: 10.00 am to 9.00 pm
Saturday to Sunday: 10.00 am to 10.30 pm
Image credit: Kenko Wellness
Highlights:
Signature foot reflexology aims to unblock your body meridian points
3-in-1 therapy targets the foot, hands and shoulders using its KENKO signature pressure point massage technique
Acupressure head massage available if you're looking to target and alleviate headaches and migraines
Established in 1991 and running for more than 27 years now, Kenko Wellness is one of those brands we have at least seen or heard of. Its signature foot reflexology aims to help its customers unblock its body meridian points, as well as to improve blood circulation, detoxify your body and revitalize your organs.
If you feel the tension banding around your head region instead, go for its acupressure head massage which targets the temples, neck and shoulder pressure points, as they are the areas that often tense up when one is stressed. A foot reflexology session starts at $59 for a 40 mins session, and a head massage at $42 for a 20 mins session.
| | |
| --- | --- |
| Address | 6 outlets at Marina Square 2 and 3, 313 Somerset, Paragon, South Bridge, Tanglin Shopping Centre and Vivocity |
| Contact Information | See here |
| Business Hours | 11.00 am to 8.00 pm, daily |
Image credit: Ashi Foot Reflexology
Highlights:
Affordable packages at $50 for 40 mins foot and 20 mins shoulder massage
Clean and comfortable convenient locations in various heartland areas
Add-ons available to include essential oils for enhancing the experience
Ashi Foot Reflexology specializes in providing just 2 types of services – its authentic and traditional foot reflexology and body massage. With 10 outlets spanning across the heartland areas, accessing its services would definitely be convenient, especially if you have bought a package and are religiously ensuring that you are using the sessions. To boost your experience, do consider the option of adding 100% essential oils in your treatment.
| | |
| --- | --- |
| Address | 10 outlets located across Central, East and North areas |
| Contact Information | See here |
| Business Hours | See here |
Image credit: Tang Dynasty
Highlights:
Individual treatment rooms are equipped with a private en-suite bathroom
Luscious, oriental-style environment to relax your senses
Free wifi and entertainment system in the foot reflexology Relaxation Lounge
The therapists at Tang Dynasty offer oriental massage treatments, where firm and hard strokes are applied to work away the knots and tension in your body. Rejuvenate your tired mind and feet with a foot reflexology treatment in its Relaxation Lounge, where you can enjoy complimentary wifi and entertainment. Its Tang Foot Bliss Special is going at a promotion of $50 for 60 mins (usual price: $60). If you are looking for a body massage instead, Tang Dynasty is offering a promotion as well for 60 mins at $60 (usual price: $80). Ba guan and gua sha treatments are also available as add-ons or standalone services.
| | |
| --- | --- |
| Address | 2 outlets located at Kampong Glam and Bukit Timah |
| Contact Information | +65 6894 6466 |
| Business Hours | 10.00 am to 10.30 pm, daily |
Image credit: NING Foot and Back Spa
Highlights:
A bright and rejuvenating environment that enlivens your mood
Wind down with a therapeutic massage in its comfortable massage chairs
Shiatsu massage available for deeper healing using acupuncture techniques
Before COVID-19 set in, Ning Foot and Back Spa had aspired to be the ideal go-to place for transit passengers looking to recharge and refresh. Now that we can't travel, many Singaporeans have taken to exploring the lengths and all that our highly favoured Jewel has to offer. After walking so much, take comfort in knowing that you've got Ning Foot and Back Spa to fall back on to take care of those tired feet!
Relish in a therapeutic foot massage that aims to release the tension in your feet and restore a sense of well-being. Immerse yourself in a deeper sense of relaxation by adding on its essential oils-infused cream in your treatment, or add on a back and shoulder massage to your foot treatment as well.
| | |
| --- | --- |
| Address | 2 outlets located at Kampong Glam and Bukit Timah |
| Contact Information | +65 6886 6466 |
| Business Hours | 10.00 am to 10.00 pm, daily |
Image credit: King Footworks
Highlights:
No-frills, affordable services
Knead away the tension in your feet for just $30 for 40 mins
Skilled masseurs with more than 5 years of experience on average
If you're popping by one of the many popular food joints in the Kovan heartlands (think the original Nakhon Kitchen outlet, Lola's Café, Punggol Nasi Lemak etc) and are wondering what else there is to do in the area, you may want to consider going for a quick foot massage at King Footworks! With 2 outlets located within the same vicinity, there is a higher chance of scoring an available slot if you plan to do a walk-in during the weekend.
For an affordable rate of $30 for 40 mins of foot massage, or $25 for a 20 mins shoulder and back massage, look forward to a relaxed body and mind after a session with its skilled masseurs. You'd be able to find a brief bio of its therapists on its website, and be delighted to know that all of them have more than 5 years of experience, with the most experienced standing at 13 years!
| | |
| --- | --- |
| Address | 205 Hougang Street 21, Heartland Kovan, Singapore 530205 |
| Contact Information | +65 6844 9822 |
| Business Hours | 10.00 am to 10.00 pm, daily |
Image credit: Healing Hands Foot Reflexology
Highlights:
Award winning massage place
More than two decades of experience
Affordable prices
The team at Healing Hands Foot Reflexology believes that effective massage can alleviate pain and help prevent future strain. Their foot reflexology techniques use correct pressure and are applied to areas on the feet that correspond to various parts of the body.
Armed with more than 20 years of experience in reflexology, Healing Hands Foot Reflexology has gained recognition from World Health Organization and was awarded the Crystal Medal at International World Conference for Instruction and Propagation in 2000. Additionally, the centre was selected and featured in Simply Her magazine as one of the top 10 masseurs in Singapore.
The brand offers affordable options for foot massage, with a 40-minute foot massage costing just $28. If you require a longer massage, their 60-minute foot massage will cost you $40.
Address
476 Tampines Street 44, #01-185, Singapore 520476
Contact Information
+65 6783 7858
Business Hours
Monday to Friday: 11.00 am to 10.00 pm
Saturday to Sunday: 11.00 am to 8.00 pm
Image credit: Feet Haven Reflexology
Highlights:
Wide range of options to choose from
Affordable prices
Award-winning centre
Feet Haven Reflexology is a hidden gem where you can find tranquillity and solitude. Away from the bustling cities and located in quaint, indie spots of Singapore, this boutique feet reflex brand is popular amongst Singaporeans, tourists, as well as expatriates looking for relaxation and rejuvenation.
The flagship store, Feet Haven Katong, established in 2011, is nestled along the same stretch as popular brands like Bikram Katong Yoga and Brotzeil Restaurant in a culturally diverse and interesting Katong. The area maintains a personal and rustic touch despite the nation's robust urbanization.
The award-winning foot reflexology place offers foot massages that start from just $38. They also have a wide range of options for you to choose from. You can opt for a short 30-minute massage or indulge in a 90-minute massage to pamper yourself!
| | |
| --- | --- |
| Address | #01-01, 136 East Coast Road Singapore 428821 |
| Contact Information | +65 6344 7311 |
| Business Hours | 10.00 am to 10.00 pm, daily |
Image credit: Absolute Massage
Highlights:
Affordable prices
Calming environment
Professional therapists
Absolute Massage is located at the heart of Pasir Ris in Downtown East. The massage centre offers to relax and healing massage and reflexology services in a tranquil environment with professional massage therapists at the most affordable prices.
The team at this professional massage place is always ready to listen to your sickness, weakness caused by muscular tension or blockage energy due to your daily routine. The team also aims to provide quality massage services in a cosy and relax environment at an affordable price for the surrounding neighbourhood.
Their professional massage therapists will focus proper techniques on special zones of your foot such that the aliments afflicting you can be eased. At Absolute Massage, you can choose among a 30 minute, 60 minute or 90-minute massage. A 30-minute massage costs just $26!
So, treat yourself today with this affordable foot reflexology place!
| | |
| --- | --- |
| Address | 1 Pasir Ris Close, Downtown East @ E!Avenue #02-313, Singapore 519599. |
| Contact Information | +65 6214 9551 |
| Business Hours | 11.00 am to 10.30 pm, daily |
Image credit: Precious Foot Reflexology
Highlights:
Reasonable pricing
Many durations to choose from
Convenient location
At Precious Foot Reflexology, the team prides itself on providing a comfortable environment for their customers. Conveniently located at multiple outlets islandwide that are close to MRT stations, you can easily pop into one of their stores for a quick and fuss-free massage.
In addition, Precious Foot Reflexology uses only the best organic essential oils and creams. They hope to nurture your senses and tune your health into its homeostasis. With a modern methodology and a soothing nature-inspired environment, sit back, relax and slip into nirvana at Precious Foot Reflexology!
You can choose to have a 30 minute, 45 minutes, 60 minutes, 90 minutes, or 120-minute massage. Prices range from $28 to $75, which is reasonably priced as compared to many other foot reflexology places in Singapore!
The best part is that this foot reflexology place has iPads available for you to catch up with your favourite shows!
| | |
| --- | --- |
| Address | 177 Toa Payoh Central, #01-134, Singapore 310177 |
| Contact Information | +65 6354 1911 |
| Business Hours | 10.00 am to 10.00 pm, daily |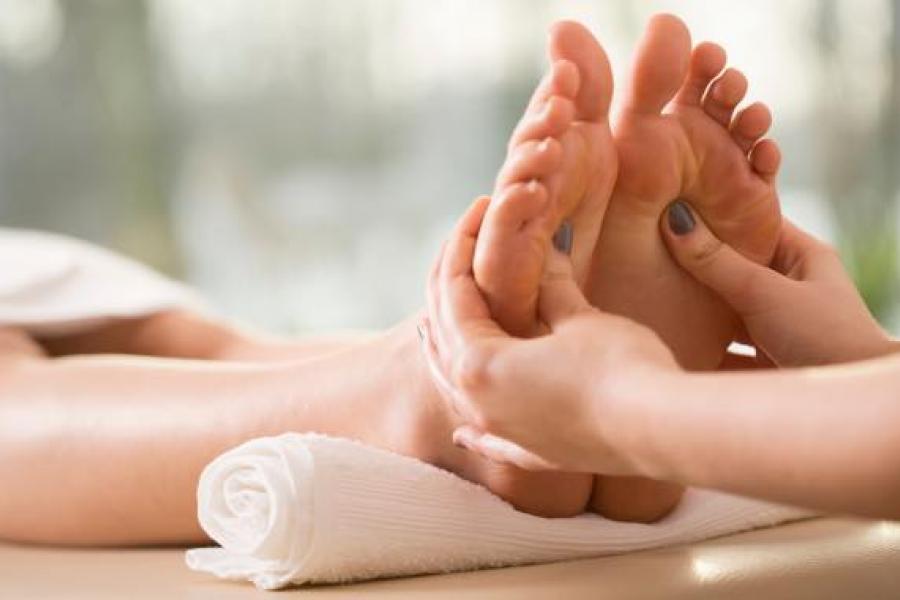 Image credit: Xpress Foot Wellness
Highlights:
Senior citizen promotion
High quality massage
Excellent customer service
Xpress Foot Wellness is aimed to provide quality massage and a relaxing experience for their customers. Because customer satisfaction is their top priority, you can rest assured that you will be treated to a relaxing and indulgent massage here at Xpress Foot Wellness.
In addition to foot reflexology, the brand provides body massage, neck, shoulder as well as back massage. The brand also has a special promotion for senior citizens where older folks can enjoy a cheaper massage as compared to other customers. So, bring your parents to Xpress Foot Wellness and treat them to a day of pampering today!
| | |
| --- | --- |
| Address | Multiple outlets: See here |
| Contact Information | See here |
| Business Hours | 10.30 am to 9.30 pm, daily |
Since it will be a long while before we can get to travel to Thailand for affordable foot massage, we have to make do with what we have here in Singapore. Luckily for us, we have many great options of foot reflexology places in Singapore. Some of the best are listed right here on this list! So, rest your tired legs and have a wonderful weekend by making an appointment at any of the foot reflexology places mentioned in this article!
If you are looking for more ways to pamper yourself, check out our article for the best home massage services in Singapore here!
Related posts
Subscribe for newsletter
* You will receive the latest news and updates on Singapore's best trends!