22 Best Finance Blogs & Websites in Singapore [2022]
Joanne, 3 years ago
14 min

read
7011
Everyone loves their finances and likes to manage wealth more effectively. But a simple man may find it difficult to understand the fancy terms related to finances and loans to manage his expenses. That's where finance blogs come into play. Finance bloggers are written by financial experts usually based upon their experience about savings and wealth management. The best thing about a finance blog is that it is written in easy vocabulary making it understandable.
So, if you are finding it difficult to manage your wealth and assets, why not read some finance blogs according to your situation. Now you might think that there are thousands of finance blogs online. But don't worry, as we have shortlisted the best finance blogs you should follow in 2021.
Importance of Finance Blogs
Finance blogs make your wealth management task quite easier. When you read the latest financial situations and things coming up in the near future, you can get things ready before time. Furthermore, you can also manage your resources effectively if facing any problem. Finance bloggers share their experience that can be used to shape up your wealth resources for effective use.
Many blogs related to finance and monetary situations are available on the internet. However, to make your task easier, we have shortlisted the best 21 finance blogs in 2021.
Content
Investment advice
Mutual Funds
Finance management
Posting Frequency: Daily updates
The Motley Fool is the top finance blog on our list. The history of this blog site is as old as 1993 when two brothers started this finance company to provide financial insight to people. Now its reach is over many countries around the globe including Singapore.
You can compare different stocks, track their growth, and also decide to invest in the stocks. Similarly, the blog also advises you to manage your mutual/annual funds to increase them. Finance management is the basic purpose that attracts people to these blogs. The Motley Fool takes care of this problem too. Also, you can get a lot of advisors who help you to manage the resources through their writings.
Content
Financial Security
Personal Finances
Investment-related matters
Posting Frequency: 1 post/week
Brian Halim is a young financial blogger whose story can be an inspiration for many young individuals. He writes weekly finance blogs for young and aged people that includes the content to manage personal finances.
Finance blogs of Halim also emphasize on the importance of financial securities and motivate the individuals to invest the funds in something useful despite having a secure job. His blogs also constitute his personal stories related to success. Brain Halim started blogging back in 2011 and has written about 650 blogs till now helping individuals about their finances. If you are a young motivated individual, then do follow these blogs by Brian Halim.
Content
Investment in stock markets
Current financial scenarios
International markets
Posting Frequency: Daily updates
The Fifth Person was established by 5 finance experts who are not only known for their expertise in the market but also for their writing abilities. The finance blogs are focused on stock markets, financial scenarios, debt ratios, and also on international markets.
The main purpose of the founders is to instill the basic financial knowledge in the minds of the reader. Moreover, they want you to lead a happy life by increasing your finances. You can follow the guidelines provided in the daily blogs to invest your finances in suitable stocks or funds. Thus, do follow their finance blogs to increase your knowledge regarding a wider financial viewpoint.
Content
Reducing expenses
Increasing the savings
Insurance information
CPF Hacks
Posting Frequency: 1 post/10 days
Many Singaporeans involved in finances might have heard the name of SG Budget Babe. That is because she has won many awards due to her writings involving the 'Top 60 Budget Blogs' and 'Top 75 Singapore Investment Blogs'. Her blog has since grown to over 10 million reads and Dawn continues to inspire many others through her personal journey.
Dawn is famously known for her ability to simplify complicated financial concepts into easily understood messages for the masses. In her blog, Budget Babe, she provides tips on how to reduce expenses, maximize savings, CPF hacks, invest for greater gains, and more. If you want to know about personal finance, insurance, and how to build a financially secure life, SG Budget Babe is a must-read.

Content
Savings
Investment scenarios
Property future
Monetary policies
Posting Frequency: Posts every two days
If you are new in finance, then you must read the digital blogs of Dollars and Sense. The digital publisher is focusing on improving the financial status of the country and aims Singapore to be a financially stable place for the investors. For this purpose, it is helping and motivating the local investors to come forward.
Dollars and Sense are also educating potential investors through fun to read content enhancing their knowledge. Thus if you are a newbie and unaware of technical jargon, then read the e-blogs of Dollars and Sense to enhance your knowledge.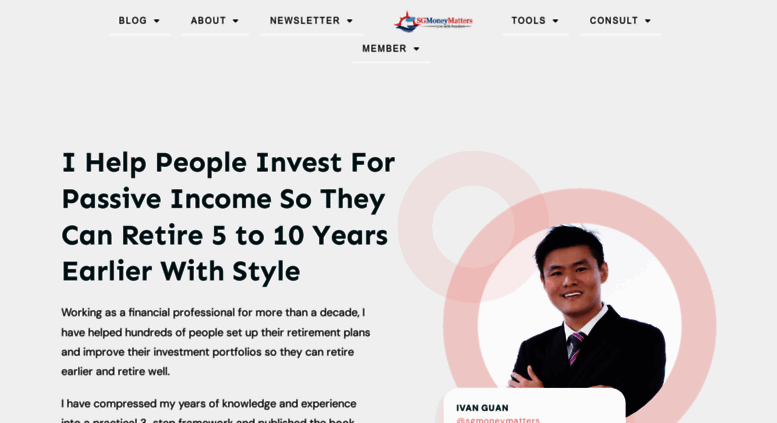 Content
Financial Freedom
Money-saving
Early Retirement Strategies
Investments Ideas
Posting Frequency: 1 post/10 days
Money matters and so does your dreams of living a wealthy and comfortable life. Who doesn't want financial freedom especially after retirement? SG Money Matters is one of the leading finance blogs that will help you with managing your finances in a better way. You will get knowledgeable insights into the stock market and investment plans. In addition, investing money in the right places and early retirement strategies will surely help you gain financial freedom.
The finance blogs have one core task that is to enhance your finances. The finance blogs motivate you to save your existing money and to enhance the income sources to achieve your goals.
Content
Career climbing
Saving for independence
Investment
Not repeating her mistakes
Posting Frequency: Weekly posts (Sometimes 2 posts/2 weeks)
Finance mechanics as the name indicates is a blogging website developed by a mechanical engineer turned programmer. She shares her financial experience and motivates people to save money to achieve their life goals.
In addition to motivation, she also shares the way that helped her for a career transition. Furthermore, her blogs also discuss her mistakes that gave her financial setbacks. Thus, the finance mechanic suggests you save big to achieve big. Do follow her blogs to get an instant inspirational boost.
Content
Investment Tips
Financial Insights
Investing for Passive Income
Financial Trends and Growth
Posting Frequency: 2/3 posts/Month
Who else can guide you better about growing your finances and investments other than an experienced player in the field? Yes, this finance blog is run by an experienced and successful investor. It gives knowledgable insights to its readers concerning the finance world, investment opportunities, and growth tips to generate passive income. Unlike other finance blogs discussing frugality, blogs from this individual are rather thorough and well-researched which gives an aim to the reader.
If you are looking for some good investment tips and to generate passive income, do give these blogs a read. In addition, it will help you invest in the right places at the right time to improve your financial status with multiple income streams.
Content
Long term investment plans
Money-saving
Investment at the right time
Virtual currency
Posting Frequency: 4 post/month
As the name indicates, the blogs are more focused on long term investment rather than a quick increase in your finances. The author has clear cut plans that help you invest in the right places according to current world scenarios.
The blogs also focus on the importance of virtual currency, and other latest money earning options. If you want to invest your finances for long-term benefits, then go through the blogs of 10-year targets.
Content
Investment in stocks
Monthly Stock Reports
Financial Freedom
Posting Frequency: 1-2 Posts/Month
We have shortlisted yet another amazing finance blog website for you to follow in 2020. This inspiring lady has gained financial freedom by generating passive income through various income streams. The hands-on experience of the financial world is depicted in the monthly stock reports posted on the blog. The investment tips, suggestions, and stock reports of Singapore and US give the readers a broader perspective of the financial world.
Furthermore, you can improve your credentials and knowledge of the stock markets to invest in the well-performing stocks. Give her blogs a good read and you will know it is worth your time.
Content
Investment
Credit cards
Other banking problems
Savings
Posting Frequency: 1 post/week
If you have certain fears regarding the loss of your finances or facing difficulty in meeting financial needs, then Just start investing offers you many solutions.
Going through their blogs, you will find posts regarding best credit card investments, stock investment, and other banking solutions. Furthermore, Just start investing offers other blogs that involve ways other than stocks to enhance your finances such as mutual funds, retirement funds, educational funds, etc. If you are a new person in this complex finance market, then do go through their blogs before taking a final decision.
Content
Educational funds
Career building
Independence
Salary increase for teachers
Posting Frequency: 1 post/week
We have shortlisted Educator FI for the ones who are connected with any educational institute. Either you are a student or a teacher, Educator FI has a lot to offer for you.
The author has written finance blogs for students to build their career and money saving techniques as a student. In addition to this, Educator FI has certain blogs to help students with educational funds and student loans. Even if you are a teacher or at any post in the educational institute, the blog site has certain ways to increase your salary and its effective usage.
Content
Student loans
Effective insurance policies
Book reviews
Retirement policies
Posting Frequency: 1 post/month
We could not understand the name of the finance blogging site when first read. But when we saw the posting frequency, we got why they are calling themselves a tortoise.
If you are pressured due to enhanced financial expenditures and could not save for the future of your kids, then do give a read to these blogs. Low posting frequency but high-quality content is the reason for the success of this blogging site. The blogs will certainly help you with effective insurance policies, and book reviews that will increase your knowledge regarding this monetary world.
Content
Bank loans
Side income
International markets
Mutual funds and lifestyle
Posting Frequency: Daily posting
Many Singaporeans are weak in financial terms and jargon but don't worry as Seedly provides a solution. Seedly might be known for its finance tracking application in Singapore but have you ever given a read to its articles?
Seedly has blogs covering a wide range of topics from financial investments to side income. Even if Seedly blogs are able to provide you an insight if you are thinking of investing in international markets. You can also search about improved lifestyle and mutual funds by reading these blogs. Thus, Singapore has a lot to offer for investment. You just have to choose the right institute and time.
Content
Posts for saving freaks
Investment in stocks
Smart finance management
Cheap and quality lifestyle
Posting Frequency: 2 posts/week
The blogs on this page are not only about the stock exchange but cover a wide range of topics. The author is a cautious spender while his parents used to spend freely. End results were fewer savings and a decrease in the life-standard.
For instance, he shares his parental experience in the blogs to inspire the readers, preventing them from making the same mistakes. The readers can find about smart finance management, getting quality life in limited spending, and also the best-grossing stocks of the year in these posts.
Content
Managing and growing finances
Investing in useful resources
Long term market trends
Technical analysis of stocks
Posting Frequency: 2 posts/week
Investor Moats is another great finance blog you should follow in 2020. The downfall in the financial situation of 2020 has alerted everyone and they are looking for ways to increase the income. People are investing finances in useful resources to increase them but some of them fail due to lack of knowledge. Investor Moats and its articles can assist you in investing in the right places in this pandemic situation.
Content
Personal finance issues
Investment in Singaporean resources
Funds management
Reliable business sources
Posting Frequency: 1 posts/10 days
Got Money, Got Honey is a sort of personal finance blog system that consists of stories from the author's life. In addition, if you are facing any personal finance issues, try reading out the blogs that guide you to invest in useful resources. Furthermore, they also facilitate you in fund management leading to a happy life.
Content
Savings
Living a dream life
Personal funds management
Posting Frequency: 1 posts/week
If you want to live a dream life and save for your future, do read the blogs by Jeraldine Phneah. Not only are these blogs motivating for the students but they also instill a spirit of saving in the adults. These blogs help you to develop a plan that will lead to the accomplishment of your dream things.
Content
Income on stocks
Mutual funds
Shares
Economic trends
Posting Frequency: 2 posts/weekend
The financial horse was established with the goal of helping the investors to find the best for them. This purpose is accomplished by its blogs. You can find blogs on stocks, mutual funds, and shares. If you want to know about the latest economic trend try giving a look at their blogs again as they often discuss current world financial scenarios.
Content
Company's analysis
Stock market situation
When to invest?
Investment quantity
Posting Frequency: 2 posts/week
The next blog in our list is Singapore IPOs. A blog dedicated to the analysis of the financial situation of current companies listed on SGX. You can go through the blogs to determine the situation of different companies and when to invest in them. Similarly, the bloggers also suggest the investment quantity invest in particular stocks for maximum profit.
Content
Retirement plans
Investment strategies
Personal finance
Will writing
CPF guide
Posting Frequency: 4 posts/month
The next blog that we would like to introduce to this list is Smart Wealth. Smart Wealth is a blog that aims to provide value upfront by covering a multitude of personal finance topics so that you can remain educated and informed. The team at Smart Wealth goes further by ensuring all their content is properly referenced with data and research. Most importantly, you do not have to worry about the accuracy and validity of information on this blog. Smart Wealth forms their opinions based on objectivity so ultimately, you can make your own decisions!
Content
Investment strategies
Trading
Stocks
Money and finance
The final blog that we would like to introduce in this list is PyInvesting. Passionate about technology and finance, Ivan, the founder of PyInvesting, sought out to teach others the strategies and methods they could adopt to become financially independent. The blog will teach you how to achieve your financial goals by building passive income, as well as shed light on investment strategies and methods of trading that can help you to grow your wealth.
So, whether you are a beginner trader or a seasoned trader, PyInvesting will have many useful tools and resources for you on your journey to financial independence!
Posting Frequency: 2 posts/month
So, the world of finance can be a rough ride for an amateur. A wrong decision can result in the loss of all your savings and finances. Whereas a good decision could help you achieve your dream lifestyle. Finance blogs are specially dedicated to helping you make the correct decision according to your plans and finances. So go through our shortlisted finance blogs and analyze your current situation to shortlist one. Follow the guidelines and welcome to a well managed financial life.
Related Topics: Best 10 Singapore Parenting Blogs Parents Should Follow
Best 40 Lifestyle Bloggers You Should Follow in 2020
Best 30 Singapore Food Bloggers to Follow in 2020
Related posts
Subscribe for newsletter
* You will receive the latest news and updates on Singapore's best trends!