20 Best Fashion Influencers To Follow for Unlimited Style Inspiration [2022]
Gee, 3 years ago
12 min

read
4130
Everyone is a fashionista and loves to look beautiful. In this era of Facebook and Instagram, things have changed up. There is a transition in almost every walk of life including fashion. Since the advent of internet technology and social media applications, people now look for fashion bloggers or the influencing personalities that influence them to pick the latest fashion trend. This has been in contrast to conventional times when fashion magazines and catalogues were the only sources of knowledge. Today, thousands of fashion bloggers post on Instagram and other social media platforms regarding different fashion trends. Thus, here is our list of the best fashion bloggers you should follow in Singapore without further ado.
1. Christabel Chua
Content
General Asian fashion
Fashion products
Travel content
Instagram ID: Christabel Chua
Christabel Chua tops our list of the best fashion bloggers to follow in Singapore for many reasons. Firstly she comes from Singapore and understands the needs of the Singaporean or Asian fashion freaks. She graduated from Australia and has worked with 'The Smart Local' in Singapore.
Her posts seemed to be inspired by the LA fashion industry that is known for trends and innovations. She herself is girly and preppy making her the perfect fashion blogger to follow. Her girl next door attitude is making her quite popular amongst the Singaporeans and other fashion freaks around the globe. Currently residing in the make-up capital of the world, Seoul, Christabel Chua uploads content that inspires all nationalities. She more seems to be a friend motivating the viewers in her videos despite her celebrity status. Thus do follow Chistrabel Chua and her quality content.
2. Andrea Chong
Content
Casual fashion
Sophisticated fashion
Cheap and quality fashion products
Instagram ID: Andrea Chong
Another fashion blogger originally belonging to Singapore. Andrea Chong is a lively woman who believes that beauty and fashion are for everyone despite their financial status. Her posts are mostly inspired by expensive fashion magazines that are not accessible to all.
She posts inspirational content prioritizing the confidence overlooks and fashion products to look beautiful. She was awarded the fashion icon of the year in 2015 at Singapore social media awards function. You will find every fashion content on her Instagram account ranging from the casual fashion posts to sophisticated fashion posts. She has been a role model to many and following her will bring a positivity inside you that will urge you to enhance your lifestyle. Hands down one of the best fashion bloggers in Singapore to follow, and a personal favourite of mine!
3. Lisa Gachet
Content
DIY makeup
Latest fashion tricks
Quality fashion products for skin type
Instagram ID: Lisa Gachet
Lisa Gachet is a fashion blogger who belongs to Persia. She just started her fashion blogging career a few years back but most of you would be aware of her name. Also, she runs a small company making limited budget clothes for all people out there. She believes in equality and fashion for all.
When you go through her Instagram profile, all you will see is colors and positivity about life. And a good fashion blogger always spreads positivity. Following Lisa Gachet will not only give you an insight about different fashion trends but also bring a sense of positivity in your personality.
4. Viola Tan
Content
Innovative clothing
Makeup tricks
Depicting different cultures
Store posts (Love Bonito)
Instagram ID: Viola Tan
You might have heard the brand 'Love Bonito'. But ever wondered who are the brains behind such an exquisite brand? Viola Tan is one of the brains that is carrying the legacy of the brand through her wonderful thought process. Along with running the brand, the gorgeous lady has another responsibility of educating people about lifestyle and fashion trends.
When you go through her Instagram wall, you will see that the lady is no less than an artist. Trendy fashion posts and talking about a standard lifestyle, Viola Tan thinks that everyone is capable of looking beautiful. In fact, many people take her name when they are talking about innovative fashion trends in Singapore. Do follow her and get the latest updates about clothing, fashion, and lifestyle.
5. Wendy Nguyen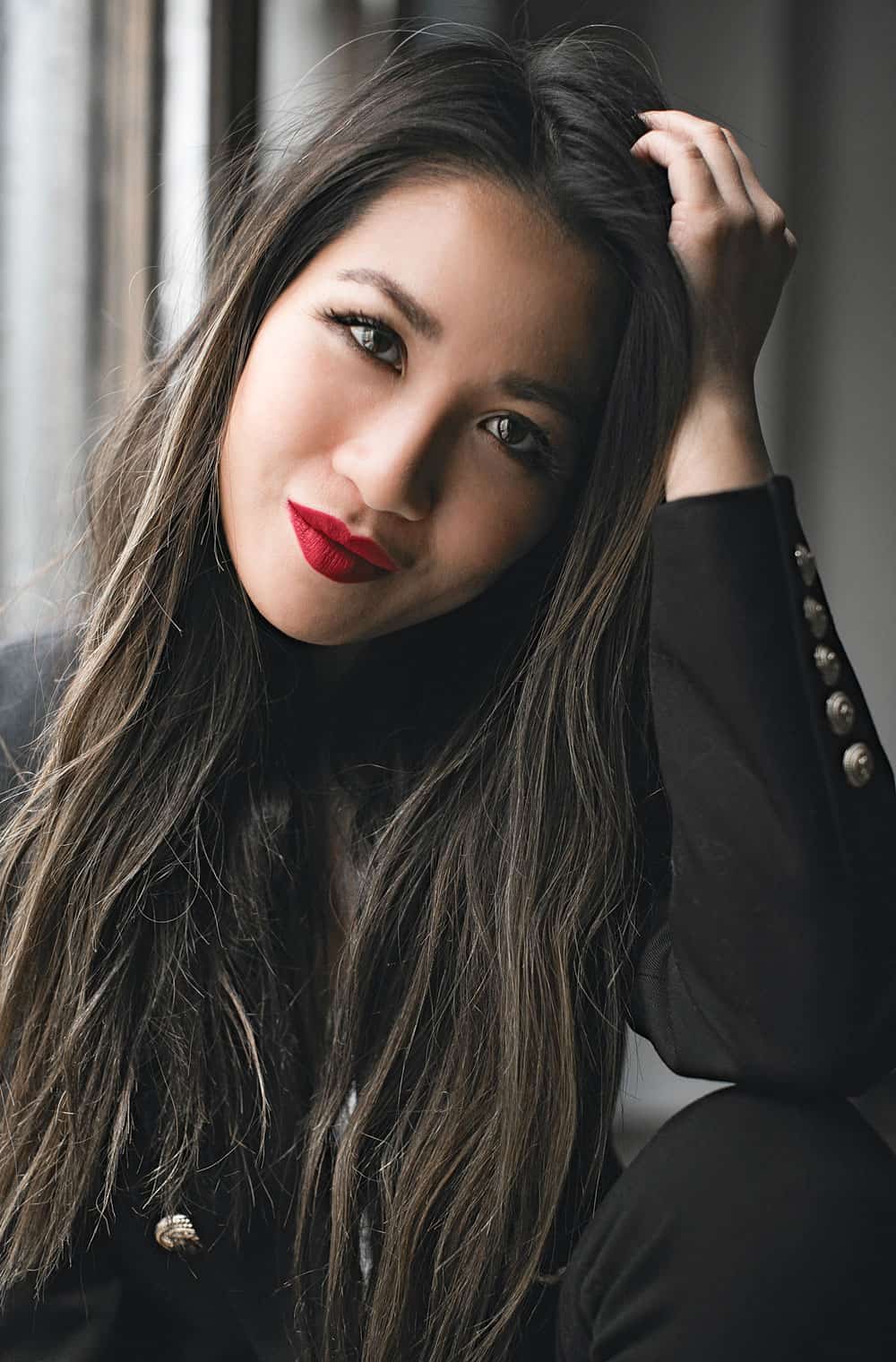 Content
Relating fashion to music, art, and culture
Inspiration about life
Supporting orphans and foster children
Item reviews
Instagram ID: Wendy Nguyen
Wendy is often regarded as a fashion blogger with a golden heart. A lady who not only connects people to fashion but also knows how to connect fashion to culture, art, and music. People love her lifestyle and the way she took up the challenges in her life to where she is standing. Singaporeans also respect Wendy and take motivation from her struggle.
From being a foster kid to a law graduate, fashion blogger, and helping foster children, Wendy Nguyen is indeed a great influencer. Talking about the fashion blogging page of hers on Instagram, you will see posts regarding different cultures and promoting the beauty of different colors. This not only increases the mutual respect for different cultures but also depicts the purity within the lady. Thus, we would suggest you follow Wendy Nguyen and adopt her ways of life even when living in Singapore. Truly one of the best fashion bloggers to follow in Singapore today!
6. Tami Reed
Content
The fashion of Hollywood and other countries
Equality of races
Motherhood
Fitness
Instagram ID: Tami Reed
Singaporeans are already a huge fan of this lady because of her fascinating personality and aura. This lady along with being an entrepreneur is a great inspiration for all the mothers out there who want to adopt a fitter and healthy lifestyle. Already Tami Reed is a big name around the globe and her fashion posts including the element of humor, wit, and equality are helping her getting more fame.
Going through her Instagram wall will make you feel that you are going through the wall of an old friend who is conversing with you during the whole time. You will smile and laugh along with getting an insight into the latest fashion trends. A major proportion of her followers are Singaporeans and if you are not following Tami yet, go and follow to get the latest insight about fashion and lifestyles.
7. Velda Tan
Content
Latest trends
Fashion for elegance
Lifestyle
Importance of family life
Instagram ID: Velda Tan
Our top 20 list would have been incomplete if we would have left out this elegant lady. Velda Tan at 7th number in our charts to follow as a fashion blogger. Her fashion blogging is unique and to be honest one of the best in the country.
She generally talks about everything through her Instagram posts. You will see a post regarding the importance of family life or motherhood, but the lady is presenting herself in a way that you could extract a lot about the latest fashion trends from her looks. She always emphasizes that fashion is not to make you beautiful but fashion is merely a tool to increase the elegance of her personality. Go and follow this elegant lady to get the latest updates about fashion, beauty, and elegance.
8. Nellie Lim
Content
Luxury fashion
Fashion around the world
Lifestyle
Luxury accessories
Instagram ID: Nellie Lim
Nellie Lim is a go-to fashion influencer if you are a brand-oriented person. Where all other fashion bloggers post about regular fashion trends, Nillie is a lady who talks about luxury fashion trends. She herself is a traveler who travels around the world exploring fashion and styles of different countries.
You will feel yourself in those countries when going through her post. Furthermore, she also motivates you to feel good and her luxury brand accessories reviews are considered to be the most authentic ones. Love Nellie and indeed one of the best Singapore fashion bloggers!
9. Willabelle Ong
Content
Mixed color and texture fashion
Designer label
Mixed up with high street style
Luxury accessories
Instagram ID: Willabelle Ong
Willabelle is another fashion blogger that insists on the usage of mixed high street style and luxury accessories for bringing innovation in your attire and sense of dressing. She has been posting different fashion related stuff on her Instagram page including the reviews of accessories by some famous brands.
If you are a DIOR fan, you will find reviews of a lot of fashion accessories introduced by DIOR on her page. But she believes that beauty is within the eye of the viewer and luxury accessories might bring an essence of luxury lifestyle but can never replicate beauty.
10. Ashley Bei
Content
Casual fashion
Blended color dresses
Soothing
Travel and lifestyle
Instagram ID: Ashely Bei
If you are looking for a fashion influencer who focuses lively and emphasizes a colorful lifestyle, Ashley Bei is one to follow. Her posts are mostly about the travel lifestyle and fashion trends in different countries.
In addition to this, she also promotes daily day casual fashion for simple women and girls. Ashley Bei is also a great supporter of comfort overlooks. Her posts are mostly inspired by the bigger brands but she also supports the medium level and small fashion brands in some of her posts.
11. Rachel Wong
Content
Personal fashion
Simplicity
Relaxing
Makeup tutorials
Instagram ID: Rachel Wong
If you pursue fashion in your free time, then you should follow Rachel Wong. A great personality along with her aesthetic looks, Rachel is definitely one of the most followed fashion bloggers by the Singaporeans.
Going through her Instagram wall, you will realize that she promotes calm and peace in life and emphasizes the importance of mental and physical health. She realizes the importance of simplicity and preaches the same through her posts. Moreover, she also teaches the young girls to use different makeup accessories to look gorgeous on a simple office day or a fancy party night.
12. Elaine Jasmine
Content
Fashion according to mood
Floral and colorful clothing
Simple and Casual clothing
Physical fitness
Instagram ID: Elaine Jasmine
Physical fitness is key to health and good looks. Elaine Jasmine is a fashion blogger who not only tells the followers about different ins and outs but also tells different ways to keep yourself fit.
Fashion bloggers are themselves sort of influencers and Elaine uploads different posts while exercising, jogging, stretching, etc. to influence her followers. Moreover, she uploads stuff about simple fashion, casual clothing, and the importance of colors in life. Thus, do follow her if you are looking for some lively content on your feed.
13. Eunice Annabel
Content
Highly incline towards brands
Expensive hotels
Expensive clothing and fashion brands
Travel and fashion around the world
Instagram ID: Eunice Annabel
If you are influenced by a luxurious lifestyle and love wearing branded clothes and makeup, only then follow Eunice Annabel. She started as a fashion blogger but also entered acting so her content is mostly based on her hi-fi lifestyle.
Traveling and displaying fashion trends of other countries also constitutes a major part of her content. You can find highly attractive beachwear from her content. So, if you can afford brands and a luxurious lifestyle, the best fashion blogger to follow is Eunice Annabel.
14. Francesca Tan
Content
Tomboy looks
Feminism
Simple and easy fashion
Low volume clothing
Instagram ID: Francesca Tan
Some Singaporeans have that slight inclination towards tomboy looks and prefer to wear fewer volume clothes. For people with these preferences, Francesca Tan is a must-follow fashion blogger. Moreover, she promotes simple and easy to adopt fashion in her posts and is greatly liked by Singaporeans. Do go through her Instagram wall and follow her to give her a try.
15. Tanesha Awasthi
Content
Confidence boosting
Clothing for chubby people
Motherhood
Family life
Instagram ID: Tanesha Awasthi
For all you curvy females out there, your body type is the best and don't give an ear to all those body shamers. Tanesha Awasthi is a fashion blogger from South-East Asian origin and is blogging to instill confidence in chubby females.
Awasthi's posts are not only telling about different brands, fashion, and clothing but also empower the women who are body shamed. She prioritizes comfort over style. IF you are looking for an inspiring and empowering influencer to follow, Tanesha is exactly that!
16. Chriselle Lim
Content
Product reviews
Equality of color, race, etc.
Motherhood
Instagram ID: Chriselle Lim
A fashion blogger who equally prioritizes the elimination of racism and motherhood. Chriselle Lim is an inspiration for many and you should also follow her content that is unique and targets all walks of life including fashion.
17. Rachel Su En
Content
Wardrobe styles
Sophisticated and elegant fashion
Traveling
Branded products
Instagram ID: Rachel Su En
If you are looking for an elegant and sophisticated fashion blogger who is cool and vibrant as well, then Rachel Su En is a must-follow blogger. Her posts are related to wardrobe styling, personal care, and hygiene, travelling, and branded products. She suggests wardrobe styles according to body type and their colour according to the complexion.
18. Diana Horsfall
Content
Different fashion weeks
Eastern style of fashion
Asian fashion
Sunglasses
Instagram ID: Diana Horsefall

Diana Horsefall is editor in chief of a famous fashion blogger magazine. That depicts the importance of this personality in the fashion industry. She is also a part of different fashion shows occurring around the globe. Asian and Eastern fashion styles are her favourite, and her posts also focus on stylish sunglasses according to facial textures.
19. Rozz
Content
Skincare
Traveling
Eye makeup
Motivational
Instagram ID: Rozz
Rozz is a DJ, traveller, and fashion blogger. Her Instagram wall is full of motivational quotes, skincare routines, and different types of makeup. She also travels around the globe capturing the beauty of the world and fashion around the countries. If you want to improve your mental strength along with visual appearance, do follow the Instagram page of Rozz.
20. Danielle Bernstein
Content
Wardrobe focused
Low volume clothing
Swimsuits
Instagram ID: Danielle Bernstein
The final fashion blogger on our list is Danielle Bernstein. A wardrobe focused blogger who focuses on swimwear and low volume clothing. She believes in the comfort of the body and soul rather than superficial things. But one thing's for sure, that she has a great clothing and fashion sense and can be a great influencer.
Everybody wants to follow the latest fashion trends but sometimes, you cannot make choices for your body type, complexion, and latest trends. That's when fashion bloggers come into play. They choose the best for you according to the trends and influence you by their posts. We have shortlisted the best fashion bloggers to follow in Singapore. Go through their Instagram walls and shortlist the ones according to your fashion taste and preference.
Related topics: Best 30 Singapore Food Bloggers to Follow in 2020
Best 40 Lifestyle Bloggers You Should Follow in 2020
Best 10 Singapore Parenting Blogs Parents Should Follow
Related posts
Subscribe for newsletter
* You will receive the latest news and updates on Singapore's best trends!