16 Best Electric Bikes in Singapore [2022]
Emily Hopkins, 2 years ago
17 min

read
10054
Car in Singapore are known to be crazily expensive, to say the least. Squeezing up against other commuters in public transport especially in peak hours could just ruin your day sometimes. Fret not, there is a solution called electric bicycles or e-bikes and they have been popular as of late in Singapore.
Electric bikes are clean, quiet and affordable. They can be ridden on roads and bike paths (which is impossible for pedal-only bikes) so you can ride to work or school. You'll never have to wait for the bus in the rain again! Electric bicycles are charged simply by plugging them into an outlet which means no batteries, no gas stations or oil changes required!
There are a few factors you should consider when choosing an electric bike. You'll want to find one with a powerful motor because they are not all the same. If you're looking for something that can climb upslope easily, make sure you buy one with a good battery and motor. There are also different types of frames depending on what type of ride you're looking for. Make sure to get a bike that has a long-lasting battery if it's your only mode of transportation since charging it can be expensive.
E-bikes could provide you with the convenience you need and do not require much effort in pedaling since they are power-assisted. To help you decide on the best e-bike for you, here is our list of the best e-bikes you can buy in Singapore today!
Scorpion Electric Bike

Best Overall Electric Bikes

Why Scorpion E-Bike?
✔️ Prices from $1,099
✔️ Range of 60km
✔️ IPX4 Water Resistant
✔️ Modern and Sleek Design
✔️ Foldable Electric Bike
✔️ Powerful Motor
Visit Shop
Venom 2+ E-Bicycle

Most Affordable Electric Bike

Why Venom 2+?
✔️ Prices from $999
✔️ Maximum Range of 75km
✔️ Seat Suspension Built-in
✔️ Fast Battery Charge Time
✔️ Slick Aesthetics

Visit Shop
Mobot Dynamic MINI 16 Electric Bicycle

Good Overall Choice

Why Mobot Dynamic Mini?
✔️ Prices from $1,299
✔️ Maximum Range of 50km
✔️ Removable Battery
✔️ Cruising at 25km/h

Visit Shop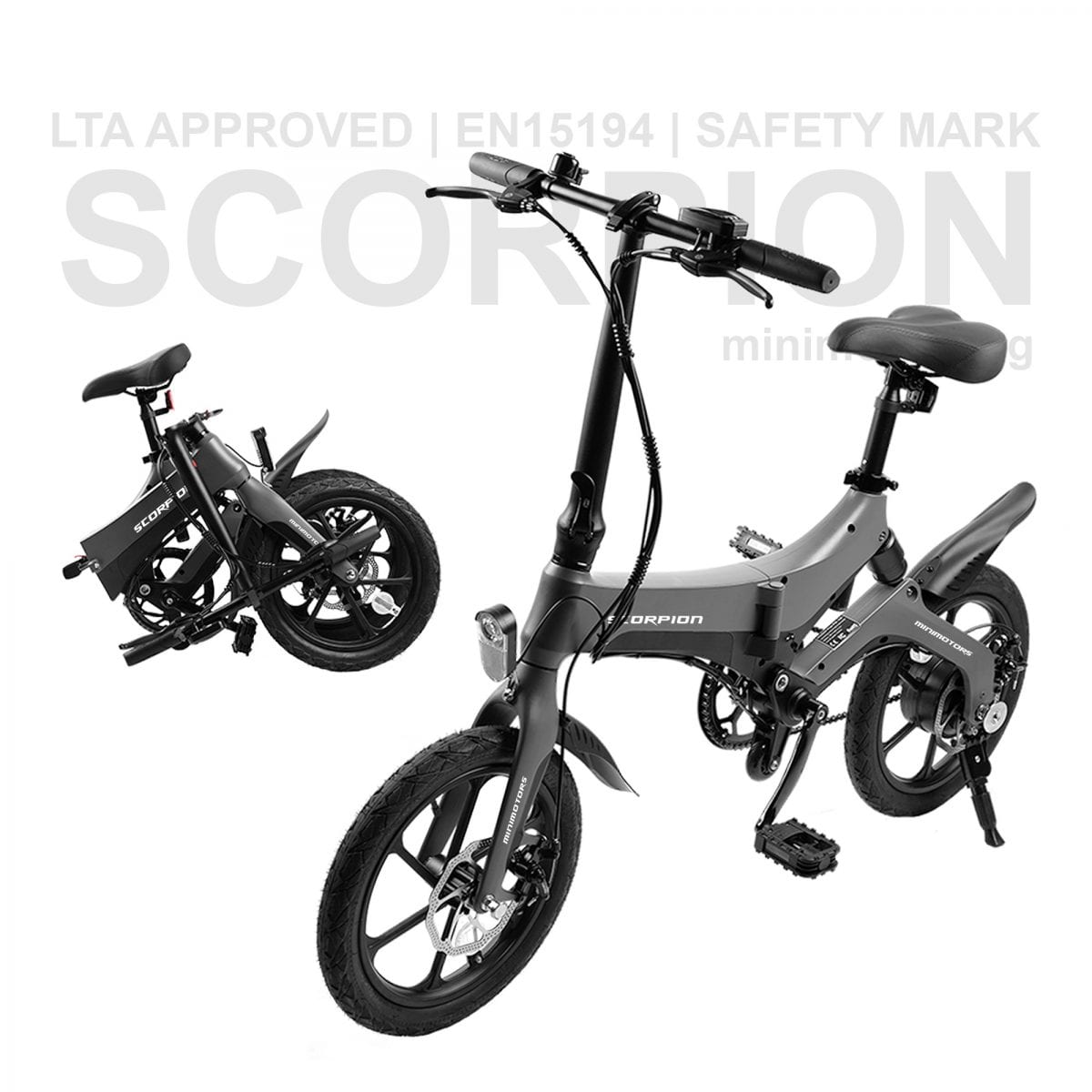 The Scorpion electric bike is Singapore's best-selling electric bicycle for a reason. Just by the looks of it, its modern metallic design is already a plus point. Its streamlined-design magnesium alloy frame with rear hydraulic suspension provides for the most comfortable ride on an electric bicycle. Its lithium battery offers a range of 60km and could also be replaced and charged quickly. It operates on a 250W gear motor which makes it strong enough to climb a slope.
To top it off, the Scorpion could be folded and unfolded hassle-free and allows for bringing onto public transport. It has a magnetic lock and a trolley wheel to add to the convenience of moving it around when folded. Did I also forget to mention its IPX4 water-resistant body allows the riders to ride it in light rain?
Pros
Cons
? Comfortable ride
? Foldable
? Quick charge for battery
? Modern design
? Powerful motor
? Great quality for its price
? Water-resistant
? Could not trolley backwards when folded
Recommendation: The Scorpion is a quality electric bicycle that is multi-purpose and worth more than its price. Everyday users ranging from office workers to delivery riders to electric bicycle fanatics could use it as it allows for more than the standard flat terrain and is a good investment for a quality electronic bicycle. Definitely worth every bang of your buck.
Price: S$1099
MiniMotors Venom 2+ E-Bicycle is perfect for long-distance cycling, with a maximum range of 75km. It also has a 36V 7.5Ah battery that can be charged up in just 5 hours. It has a great slick look to it and is slim for its range capacity. Furthermore, it has multiple add on options and built-in ones such as an LCD display to show battery status, brake lights, and seat suspension for maximum comfort.
Pros
Cons
? High maximum range of 75km
? Seat suspension for more comfort
? Maximum load of 100kg
? Fast battery charge time
? Great slick aesthetics
? Not fold-able
Recommendation: The Venom 2+ is the most value-for-money in this list because, for just $999, it covers a great distance, could carry the decent load, and also has great built-ins and could allow for add-ons. This electric bicycle could be great for anyone who wants to go a long distance smoothly, either for a leisure ride or a quick commute to work.
Price: S$999
Mobot Electric Bike is foldable easily and could be brought up to public buses and MRTs as it fits within the allowed dimensions. This Mobot model is an LTA-approved e-bike. Mobot is also offering free registration with LTA along with a free number plate with each purchase.
Being engineered in France, it offers a solid build which allows loads of up to 125kg, which great for deliveries. Powered by an 8Ah battery, it has a maximum range of approximately 50km. Its battery is removable and you could attach a separate battery pack if you need more range.
Its 16-inch pneumatic tyres allow for a smooth cruising experience at 25km/h, without needing much effort from the user.
Pros
Cons
? Maximum range of 50km
? High maximum load of 125kg
? Foldable to bring on public transport
? Small wheels, so have to watch out for potholes to prevent damage
Recommendation: The Mobot Dynamic Mini 16 is suitable for delivery riders simply because of its compact size and ability to carry the load while cruising without much effort. This would allow for delivery riders to work longer shifts without being exhausted. Also, the fact that the battery could be removed and replaced is a great bonus if one needs to go an extra distance.
Price: S$1299
Veeike F7 is one of the best electric bikes especially for food delivery services and other related errands. It can also be used for commuting purposes due to its weight. The bike has a maximum speed of 25km/hr making it very fast. It is easily foldable making it easily transportable via other means such as public transport. It can also be stored around as it occupies less space when folded. The bike can effortlessly be altered from electric to a normal mountain bike and vise-versa.
It has a battery capacity of 36V 7.5 Ah/15Ah/22.5Ah which is easily removable and can be charged within 2-3 hours. It can cover a distance of up to 60km/120km/180km depending on the battery. The bicycle has a 20inch Taiwan Kenda Brand Pneumatic wheel which ensures you have a smooth ride no matter where you are riding.
Price: S$1,188
Pros
Cons
?The high maximum range of up to 180km
? A hybrid bike that can be easily converted to a mountain bike.
? Fast battery charge
? Comfortable ride
? Foldable.

? Magnetic buckle and rear bracket elastic bands are sold separately.
This has a classic bicycle design, nothing too fancy. It does, however, does its job and offers a max load of 120kg and could go up for 50km per charge. Its large tyres mean less pedalling and more cruising, this is awesome for riding long and flat grounds.
Pros
Cons
? Nice Classic look
? Rear RackBig tyres for cruising
? Simple to use
?Not fold-able
?Thin tyres
Recommendations: Similar to the Tornado AQUA, housewives would appreciate the Zebra Electric Bike model 3 because of its simplicity and functionality when it comes to riding to the nearby mall. Working adults and students could both use it as well for a casual commute option to work or school.
Price: S$1080
The Tornado AQUA Electric Bicycle is great for a beginner electric bicycle because of its simplicity and user-friendliness. It does not have complicated gear settings and is a single-gear bicycle with 5 electric speeds. Just set it to the speed you want and you could ride it just like a regular bicycle.
This bicycle provides great comfort for your ride as the body is built with an aircraft-grade 6061 alloy that is designed to guide your body to a comfortable position. With its removable Li-ion battery, you can enjoy up to 50km of range. This makes it a versatile and great overall electric bicycle for universal use.
Pros
Cons
? Smooth & comfortable ride
? Single gear & easy-to-use
? Maximum range of 50km
? Only has one gear
? Not foldable for bringing into bus/MRT
Recommendation: This bicycle is good for any beginner who is getting the first electric bicycle. It provides good general use for travelling from point A to B, without the need for going onto public transport. For example, housewives who want to go to the supermarket could make use of the rear rack to put groceries. It could be also used by students who live nearby their school and want to get to class swiftly.
Price : S$1499
Venom 2 Electric bike is one of the best electric bikes that are LTA approved in Singapore. The cheap yet affordable bicycle features a 36V-6Ah detachable battery. So you can be sure of its riding range. The average charging time for this bike is 5 hours.
Venom 2 electric bike has a complete package for your daily routines, sporting adventures, and more. It is one of the best electric bikes for your riding style, flexibility, and height. Its large LCD display meter makes it a perfect electric bike when breezing through the hood.
Venom 2 electric bike is lightweight but capable of carrying weight up to 100kg. Its light battery separates with the 18.2kg Venom electric bike making it easy to carry even when on rough terrain. It is the best electric bike you can rely on metros or trains.
The Venom 2 electric bike offers smart engineering, especially when it comes to its design. It provides a sensor technology to assist riders on the go. Besides, the bike is foldable, meaning you can easily pack it into your car and bring it over to your favourite beach. The powerful braking system is something you won't compromise with this bike. It is also worth noting that the venom 2 electric bike is suitable for both males and females seeking to take riding to another level.
Pros
Cons
? Safe and comfortable riding
? Wide tube tyres
?Lightweight
?Affordable
?Powerful motor
Recommendations: The venom 2 electric bike is an ideal solution requiring minimal effort to going on. It is also constructed of high-quality materials, so you can be sure of its longevity.
Price: $888
The Jimove MC Electric Bike is a perfect choice for every riding enthusiast. The folding electric bike features a 36V li-ion detachable battery. It takes about 10-12 hours to charge completely.
This electric bike is capable of covering the 100 to 120 km range when fully charged. Its average speed is 25km/hr. The 20kg electric bike also offers both a front headlight and brake light to ensure optimal comfort when driving. Its waterproof battery prevents bicycle corrosion brought about by rain; so you can be sure of the durability. Its 5 assisted power model makes it a slope champion that enables users to achieve their riding dream no matter the occasion. Besides, it is completely comfortable.
Pros
Cons
? Removable cushion to allow more storage
? Allows comfortable ride
?Allows weight up to 120kgs
?Excellent pneumatic tyres

? Its folding mechanism might seem uncomfortable for some users.
Recommendations: The Jimove electric bike is perfectly made for you. The bike folds into a compact package so you can store it easily in your workplace without any fuss.
Price: $1399
The E6 Carbon Fibre electric bike is one of the lightest electric bicycles in Singapore. The 14kg bike is equipped with high-quality tires and a 36V battery. It has a Toray T800 carbon frame to enhance the bike's stability and uniqueness.
It comes with a Shimano sora R3000 9 speed control system to allow users safe and excellent riding. The feature also offers effective shifting and smooth-riding during an operation. Its 250w cassette velocity type motor is nothing but just short of excellence. This improves the bike's motor power ratio as compared to others in this list. You can also be sure of riding mileage and riding speed.
The lithium-ion battery comes with perfect smart protection technology. The removable battery can allow riders to cover up to 80km when in full charge. The battery ensures excellent performance even during dirty roads.
Pros
Cons
? Smooth riding
? Suitable for both males and females
?Strong battery system
?Foldable
?Great quality for its price
?Max weight up to 120kg
Recommendations: It is a suitable bike that ensures excellent riding no matter how difficult the road condition. It is easy to fold.
Price: $2880
Eco-Drive electric bike is a 200w brushless motor-bicycle manufactured with a comfortable rear seat, sturdy spokes, and an excellent key ignition. It is the best solution for those tight on budget. Constructed with an aluminum alloy frame, the Eco-Drive electric bike comes with a 36V 8Ah li-ion detachable battery. Its average charging time is 4-6 hours. Expect Jimove LC electric bike to cover up to 50km.
The 20kg electric bike is lightweight and the front-rear seat is really good, so you can move around with it to your working place. It also supports weight up to 120kg. The bike offers effective functionality, an unfoldable body, and a reliable ride all the time. Its ergonomic design is also noteworthy.
Pros
Cons
? Comfortable riding
?Excellent braking system
?Chainguard protection
?Affordable
? Limited speed
Recommendations: It is one of the best electric bicycles providing good value for your money. With its multiple features, it is worth saying that the Eco-Drive electric bike delivers.
Price: $980
Rogi is an outstanding and time-proven electric bike popular with most Singaporeans. Engineered with high-quality aluminum materials, expect Rogi to stay longer.
Rogi 16 electric bike features an outstanding design that allows you 71x36x63 folding with ease. The 19.7kg bike features a 36V 7.5Ah detachable battery, 4-5 hours to charge fully. Rogi is capable of covering up to 50km distance. The bike offers an integrated perfect front, large LCD display, and dual disk brakes. It is also one of the top choices for those looking for a six-gear adjustable speed electric bicycle.
Pros
Cons
? Excellent riding
?Adjustable handlebar height
?Easy to fold
?Excellent tires
? Limited speed
Recommendations: Rogi is one of the most anticipated electric bicycles best suitable for petite riders.
Price: $1050
Kudu Electric Bike is an excellent choice for any riding occasion. Whether you are looking for a foldable electric bike or a perfect mountain bike that is worth your price range, the Kudu Electric bike has got you covered. The 20″ wheels e-bike is one of the favourite bicycles with a key lock. It comes with a 36V 10Ah li-ion detachable battery. The average charging time for this bike ranges between 5-6 hours and covers up to 60km.
Kudu electric bike features an ergonomic vintage design. Its construction involves durable frames and handles made of superior aluminum materials. The rear drum brakes, front calliper, and contemporary step-through frames are combinations of features that make this bike a real season winner. Plus, it is easy to dissemble when storing. The Kudu Electric Bike weighs 19.5kg. Expect it to hold a maximum weight of 120kg.
Pros
Cons
? Ergonomic design
?An excellent LCD display panel
?Adjustable height
?Dual brakes
? Limited speed
Recommendations: The Kudu Electric Bike is best suitable for food delivery users with restricted agility.
Price: $1069
If you are starting down the path of riding and would like to gain some experience, then the Mido e-bike bike is a perfect solution for you. The ergonomic one-piece frame design makes it foldable so you can easily carry it around.
The bike features a 36V 8.7Ah Samsung battery, which takes an average time of 5-6 hours to complete charging. It is capable of covering up to 70km. Mido E-bike Pab comes with a 125mm rear seat suspension to boost comfort. It's also fitted with an excellent LCD display suitable for both beginners and professionals.
Pros
Cons
? Powerful detachable battery
?Excellent design
?Comfortable seat suspension
?Lightweight
? Low battery capacity
Recommendations: Mido e-bike Pab hosts various multiple features beyond its experience and value for money. What a sustainable option that is pleasingly functional for long-distance rides!
Price: $1299
Apollo smart 1s electric bike does exactly as its signature statement says; smart yet friendly features from installation to the overall mechanism.
The bike features a computerized control system, where you can watch the speed, mileage, trip, meter, and battery life. Interestingly, this bike turns off automatically when there is no activity. This will save you energy.
Apollo smart 1s electric bike comes with a brushless electric motor, allowing users to switch their preferred modes. For safety purposes, the bike features an electric braking system. With this bike, you get the chance to enjoy your adventure. Besides, it's utterly versatile and beautiful.
Pros
Cons
? Front and rear lights
?Excellent hand grips
?Lightweight
?Strong and durable
?Detachable battery
? Plenty of gears may confuse some riders.
Recommendations: An excellent choice for city hauling without breaking a sweat.
Price: $3599
Tempo v3 is one of the top-performance electric bikes in Singapore. The bicycle features an ergonomic design and comes with a high-density seat to ensure comfortability during a ride regardless of the long-distance cover.
The front and rear suspension, excellent dual braking, and powerful electric motor are combinations of features that make this bike a top choice.
Pros
Cons
? Comfortable riding
?Easy to conquer hills and slopes
? It may seem difficult to balance, especially for tall people when because of its small structure.
Recommendations: Best suitable hills and slopes riding.
Price: $688
Xiaomi QiCycle Smart Mountain Bike features an ergonomic design which allows users to connect their smartphone while watching your progress records. Further, the bicycle enables you to connect to the digital world by downloading its app, which allows an accurate location system.
To ensure safety, the bike comes with a dual-disk braking system for a safe riding experience. It is designed with high-quality materials, meaning it can withstand harsh conditions without any fuss. It is also a foldable bicycle, so it can easily fit into your car trunk.
Pros
Cons
? Smart app features
?Comfortable to ride on hills and slopes
?Automated motor system
?Durable battery
? It lacks mudguards and kickstands.
?Limited speed
Recommendations: Since it can keep records of distance covered and calories burnt this bike is the best package for fitness enthusiasts.
Price: $1001
Electric bicycles are fast becoming popular, and there is good reason for that. They're fun to ride, their prices have been dropping steadily (with the cheapest versions starting as low at S$300), and they're a great way to get around town without having to look out for traffic jams or sweat in the hot sun.
The Government has also given its nod of approval with schemes such as the Active Mobility Program which aims at encouraging people to use bicycles and other electric vehicles like segways instead of cars to reduce air pollution. While a handful of companies currently rent electric bikes in Singapore, many others are looking into this space including giants like Grab even Uber!
There are a number of things to consider before buying an electric bicycle in Singapore. Be it for food delivery, for fun, or as a commute to work, there are so many options out there and you could definitely find one that suits your needs. Our list of the the best electric bikes in Singapore will enable you select an ideal machine that best suits your needs.
Related Topic: 10 Best Gaming Chairs in Singapore in 2020
Emily Hopkins
I'm an accomplished and detail-driven content writer with copious experience in producing compelling, engaging and flawless content for a variety of blogs and websites for several years.
Related posts
Subscribe for newsletter
* You will receive the latest news and updates on Singapore's best trends!