11 Best Duvets in Singapore To Keep You Cozy [2022]
stella, 2 years ago
13 min

read
8604
Firstly, If you are looking to improve the comfort as well as the cosiness of your sleep, consider getting a duvet! So, today, we will look at the best duvets to buy in Singapore to earn you a deep and restful sleep!
The word duvet derives from the French word "duvet,". It is essentially a large bag made of fabric that is sewn together and packed with down or other soft materials. As the top layer of bedding, it also keeps you comfortable as you sleep. For those who are confused, a duvet is also often referred to as a comforter (especially in the United States). Typically, it is covered by a duvet cover, which is also often removable.
Duvets are sold separately from duvet covers or coverlets and are also intended to be used as an insert. That means you can mix and match them with other bedding instead of having to commit to a whole package as you can with a comforter. Duvets are usually warm enough that you don't need to use extra sheets as well as covers if you don't want to.
To sum up, we have made a list of the top 3 choices, for the best duvets in Singapore and they are selected based on affordability, feel, and quality.
Highlights:
Machine washable
Hypoallergenic
Anti-odor, anti-bacterial
Made of natural cotton
Origin Sleeps is a brand that offers sleep accessories that are constantly evolving. Having gone through dozens of sleep trials, more than 10 different product tests and 100 density changes before making it to market, you can rest assured knowing that you will be getting the best quality out of their products.
Designed in Germany by a team of experts, the team is confident that their products will prove to be one of the best available in Singapore, matching even the best as well as highest priced brands in terms of features and function. Besides, the brand offers free delivery and a 30 days trial. So, if you are not satisfied with your purchase, the brand will take it back and offer you a full refund. Talk about confidence in their own products!
Origin Sleep's duvet is a popular item that is often sold out as customers love it so much! It's the Origin Sleeps Hybrid® Duvet that's got Singapore snoring. Extra fluffy, super-insulated, easy to clean as well as comfy as a cloud, you might actually need to set a second or third alarm if you want to wake up on time!
Featuring an Arctic Cool™ technology to support cooling Sleep, the duvet also sports and Origin-Refresh Fibre which enhances the breathability of the duvet so that you will feel comfortable. Designed with comfort in mind, the duvet is anti-odour, anti-bacterial, as well as hypoallergenic. Good news for allergy sufferers out there! For those who dread washing, you'd be glad to know that this duvet is machine washable as well as extremely easy to clean. All in all, this duvet by Origin Sleep definitely deserves the top spot as the best duvet in Singapore!
Address
MactechBuilding 2 Kallang Pudding Road #02-04, S349307
Contact Information
+65 6977 9637 | enquiry@originsleeps.com
Business Hours
Monday – Sunday
11:00 AM – 5:00 PM
Highlight:
Fill power of 150gsm which is perfect for tropical weather
Ultra silky bamboo fill
The incredibly soft bamboo shell
Super breathable
Naturally hypoallergenic and antibacterial
High durability
Sustainable and eco-friendly
Being able to provide quality sheets is one thing but Bedtribe's believe in affordability and sustainability as well, thus, by cutting out any middleman, they are able to provide the same high-quality bedding sheets and duvets at 2-3 times lesser than what other brands are selling
Filled with generous ultra-fine, silk-like bamboo fibre filling that does not cluster together, Bedtribe's summer bamboo duvet effectively regulates temperature. Combined with their signature iced bamboo fabric for the shell (bamboo is actually 3 degrees lower in temperature than other fabrics), you can now be able to replicate the luxury hotel experience in your own bedroom. We also highly recommend you to check out Bedtribe's Iced Bamboo Sheets great reviews – a stellar 4.9/5 out of more than a hundred reviews, making it one of the top bedding companies to trust in Singapore.
Coupon Code: Use promo code "BESTINSINGAPORE" for 10% off of all Bedtribe's products!
| | |
| --- | --- |
| Address | 100 Eunos Ave 7, #04-01, Singapore 409572 |
| Contact Information | +65 8893 3915 |
Highlights:
Skin-friendly
Multiple weight options
Affordable price
Oak & Sand is a brand that crafts bedding essentials for both online retail and on-the-ground hotel supplies. The sheer volume, alongside their online-only retail model, allows them to operate with low overheads, thereby passing substantial savings directly to you!
So, for a blissful night of snuggling in bed, this premium duvet by Oak & Sand should not be missed out on. The 350g duvet is suitable for air-conditioned rooms as well as cold rainy nights in Singapore. If you sleep in a non-airconditioned room but don't feel hot easily, you can still go ahead with the 350g option.
However, if you're someone who is afraid of heat or sweats easily, the 200g option will be a better choice. The duvet also regulates heat well due to its generous silk-like fibre filling. These fills do not cluster together unlike other duvets, allowing heat to dissipate evenly.
Each Oak & Sand premium duvet is generously filled to the brim and has a smooth texture as well as fibres that are ultra-fine. Therefore, this provides extreme softness when being squeezed. So, try it out for yourself and you will not regret it, we promise!
For those of you who have sensitive skin or allergies, this 100% cotton duvet is hypoallergenic as well as skin-friendly!
| | |
| --- | --- |
| Address | Oxley Bizhub, 69 ubi road 1, #06-27, Singapore 408731 |
| Contact Information | hello@oakandsand.com |
| Business Hours | 24 hours, daily |
Highlights:
Great Thermal Regulation
100% TENCEL™ Lyocell fibres
Toxin free certification
Weavve's duvet features 100% TENCEL™ Lyocell fibres in the duvet exterior and filling giving the duvet an extremely luxurious feel. The high but authentic 350 thread count fabric remains breathable whilst preventing leaks of the filling, resulting in higher durability without sacrificing comfort.
The use of advanced TENCEL™ Lyocell fibres provides great thermal regulation for maximum comfort and rest. The Lyocell material used lets you sleep cool and dry on hot nights, and warm and snug under air conditioning, quickly dissipating excess heat for a cooling sensation. It's even lighter than other duvets with a fill power of 250gsm.
Weavve's Lyocell Duvet is designed and tested to stay safe and fresh for longer. Treated with Advanced Microbial Control technology, this eliminates bacteria, mould and fungi that cause odour, discoloration and degradation of the duvet (tested to be effective up to 50 washes). With a STANDARD 100 by OEKO-TEX® certification, rest assured that the duvet is toxin-free and hypoallergenic, making it safe for everyone, including babies and those with sensitive skin.
| | |
| --- | --- |
| Contact Information | hello@weavvehome.com |
Highlights:
Easy to care for
Global Organic Textile Standard (GOTS) certified
Breathable fabric
Produced in Germany using only the highest quality organic cotton and bamboo lyocell fibre, this Heveya® organic duvet is designed for sustainability, healthy sleep, as well as the ultimate luxurious night's rest. All Heveya® products also use only GOTS-certified organic cotton fabric and this duvet is no exception. The Global Organic Textile Standard (GOTS) certificate is awarded only to organic fabrics that meet strict criteria for chemical levels throughout the entire production cycle: that's all the way from soil to cotton plant to finished fabric.
Firstly, this soft organic duvet is breathable and doesn't retain too much heat, perfect for Singapore weather. Aside from keeping you dry as well as comfortable, the fact that the duvet wicks away moisture from perspiration ensures that it doesn't become an easy breeding ground for dust mites and mould as well.
Regular washing is also definitely crucial to keeping the bed allergen-free. For this duvet, simply toss it into the washing machine and wash it up to 60°C. No dry-cleaning necessary!
Address
32 Eng Hoon St, Singapore 169780
Contact Information
+65 9628 9610
Business Hours
Monday – Friday:
9:00 AM – 6:00 PM
Saturday – Sunday:
10:00 AM – 7:00 PM
Highlights:
High-quality thread count
Hypoallergenic
Breathable fabric
FortyTwo is the largest homegrown e-furniture site in Singapore. With over 20,000 items across furniture and accessories including sofa sets, bed frames, mattresses, as well as rugs, FortyTwo is your go-to platform for all things furniture and more!
So, this duvet from FortyTwo is one of our top picks. Enjoy the smooth softness of their Bedding Day Cotton Sateen Collection. Besides, nothing feels as good as laying back on our silky and lustrous cotton sateen bed linen. The cotton woven in sateen weave makes it smooth and soft. It is cooling, durable, and wrinkle-resistant. Natural cotton also makes it suitable for sensitive skin. This is one of the best quality cotton fabrics that drape beautifully, making it a bedding favourite. So, indulge yourself in this restful and cosy bedding ensemble to comfort your body after a long day's work.
The main advantages of cotton fabric are durability, softness, comfort, hypoallergenic, as well as moisture control. Cotton fabrics have a soft texture as well as great breathability. In the hot season, it allows the body to breathe, in cold weather, on the contrary, keeps you warm.
Address
NA
Contact Information
+65 6777 7667
Business Hours
Monday to Friday
10:00 AM to 6:00 PM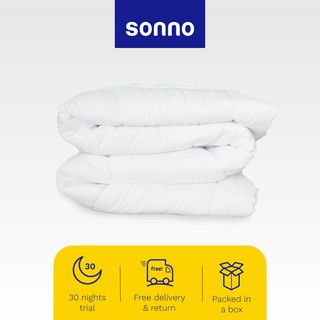 Highlights:
Easy to wash
Perfect for humid weathers
Sanitized and treated
The Sonno Duvet is a duvet that is known to keep you cosy, always. It is made of 100% Hollow Conjugated Polyester Fibers carded and has an outer layer made of 100% Polyester Fabric. The duvet is bleached white and treated with Sanitized Actifresh® anti-microbial, anti-bacteria solutions to International Standard. Therefore, you never have to worry about safety or hygiene with your purchase. Sleepers with sensitive skin or allergies can also rest assured, it's dermatologically tested and prevents the growth of bacteria, dust mite and fungus
Your Sonno Duvet will also bring you a whole new level of fluffy comfort: the lightweight Sonno duvet insert is just perfect, a delightful summer cover! Therefore, if you are always complaining about Singapore's perpetual summer heat, this Sonno Duvet would be perfect for you.
Light, fresh as well as weightless, this duvet insert is more than just soft. It's also easy to machine-wash for a quick refresh and stays in place with four corner ties for year-round comfort.
Get yours here!
Address
16 RAFFLES QUAY
33-03
HONG LEONG BUILDING
SINGAPORE (048581)
Contact Information
+65 3138 6081
Business Hours
Monday – Friday
10:00 AM – 10:00 PM
Highlights:
Minimalist design
Made from real duck feathers
Lightweight and warm
Thin and compact, the Grey Down Thin Duvet from MUJI is made from real duck feathers. For duck lovers, you don't have to worry too much. This duvet is made using free-range, humanely raised grey duck feathers! Their strong and warm feathers are ideal for duvets, and the lightweight outer layer fabric is used to create a light as well as a compact comforter.
For those who are easily annoyed by the duvets moving around through the night, this MUJI duvet is great for you. It has fabric strips that are sewn in the corners and sides to help secure the duvet with its cover. As the cover comes with ties on the insides for you to attach them to the duvet, it prevents the duvet from shifting, holding them in place all night.
Available in Single, Queen, and King Size, this white duvet sports a minimalist design that will amp up the aesthetics of any modern room.
Get yours here!
Address
2 Orchard Turn, #B4-16 ION ORCHARD Above Orchard MRT Station, Singapore 238801
Contact
+65 6346 4123
Business Hours
Monday – Friday
8:30 AM – 5:30 PM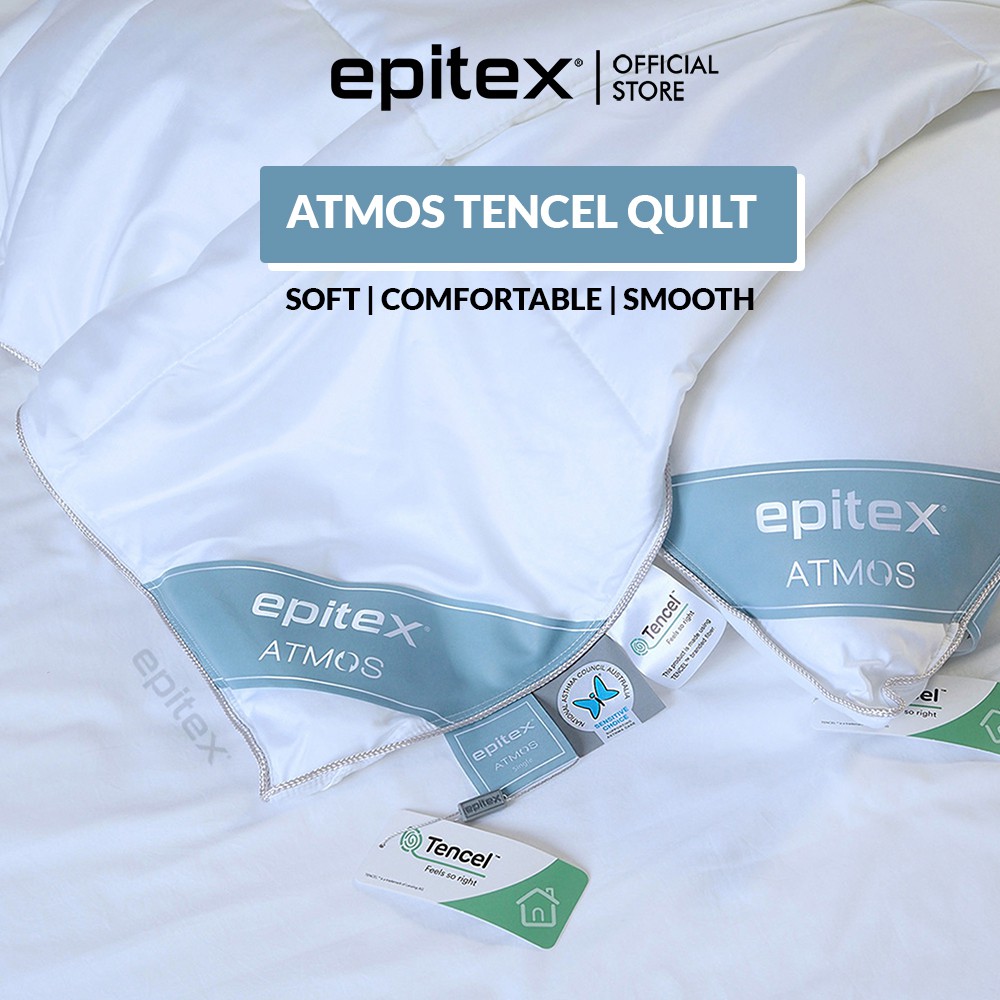 Highlights:
Moisture management
Thermal regulation
Great for those with sensitive skin
Epitex ATMOS Air Regulating Duvet has exceptional properties through moisture management. Derived from a natural material, the microscopic fibrils of cellulosic fibres are structured to regulate the absorption and release of moisture. This contributes to fabric breathability and thermal regulation.
Tencel branded fibre is naturally soft to the touch and offers long-lasting comfort even for sensitive skin. The fibre is naturally adapted to moisture control making it unfavourable for bacteria growth.
With enhanced breathability, moisture management, as well as long-lasting softness, this duvet from Epitex is definitely worth investing in. It is also reasonably priced below $200, which is considerably low as compared to other premium duvets out there!
Get yours here!
Address
241 Pandan Loop 02-02
Singapore 128426
Contact
+65 6873 0279
Highlights:
Eco-friendly
Maximum moisture absorption
Soft to the touch
EASVEN quality bedding range is manufactured from eco-friendly as well as sustainable TENCEL™ fabrics. In the brand's initial research, they experimented with different materials in search of the best quality and feel. TENCEL™ fabric is soft to the touch as well as allows for maximum moisture absorption. So, this helps to keep you dry and cool.
In addition, the Cloud Hug Duvet is super soft and perfect for you all year round. This duvet combines TENCEL™ branded Lyocell with Polyester. It is also known for its sustainability, TENCEL™ branded Lyocell is 100% botanic origin eco-friendly fibre.
This impressive fibre is highly breathable as well as temperature-regulating. So, it allows you to stay cool in summer and warm throughout winter. The fabric is both lightweight and strong, ensuring a superior experience with minimal caring. A luxuriously soft hand-feel, with an enduring superb sheen and natural breathability, you'd get to experience the best of both worlds.
Get yours here!
| | |
| --- | --- |
| Address | 73 Ubi Road 1, OxleyBizHub 1, #06-64, Singapore 408733 |
| Contact | 88268972 |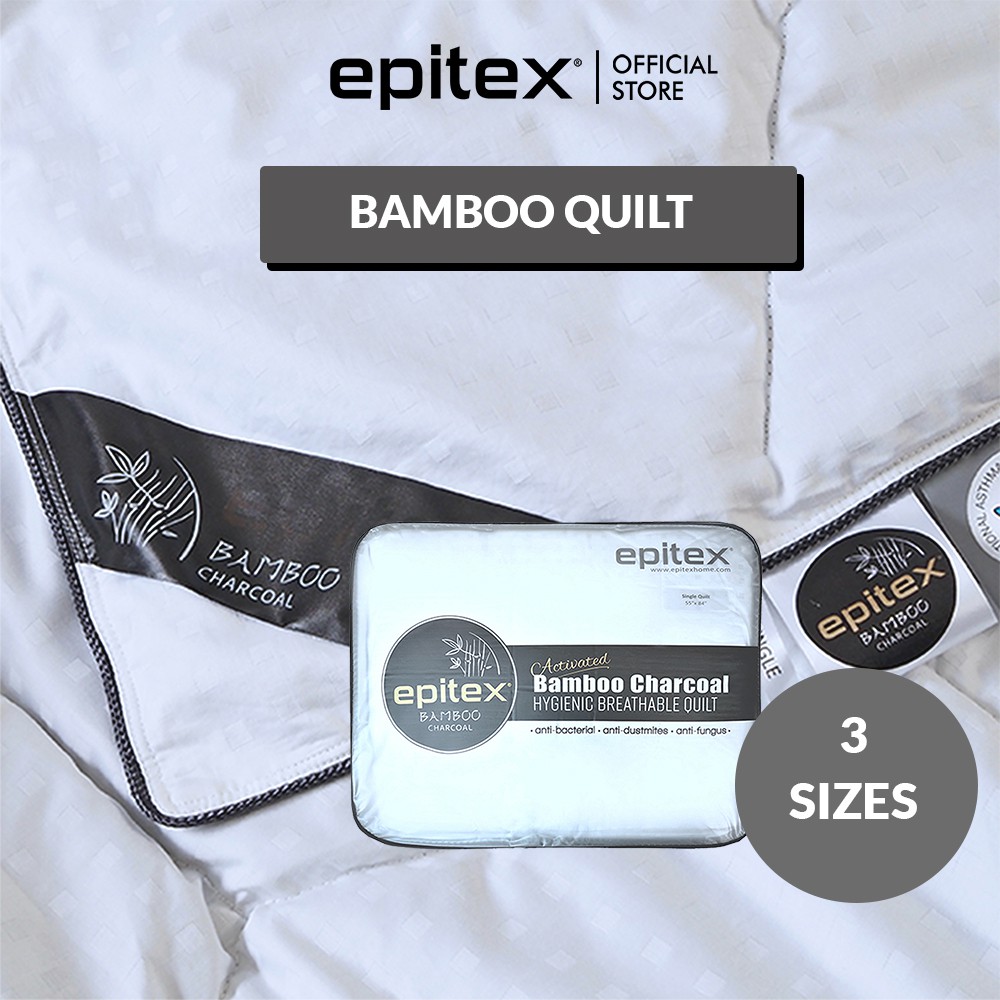 Highlights:
Deodorises & Wicks Moisture
Naturally Breathable
100% Cotton Cover
We have to end this guide with yet another duvet from Epitex. This Premium Activated Bamboo Charcoal Quilt provides you with the combined benefits of comfort and hygiene. In addition, it gives you restful sleep throughout the night. The activated bamboo charcoal fibre is an environmentally functional material that also features excellent absorption properties.
As you sleep, the duvet is able to releases negative ions, which is said to be great for your health. It is also hypo-allergenic, which is great for those with allergies. The 100% cotton cover of the duvet is also naturally breathable which is great for those who feel hot in their sleep.
Get yours here!
Address
241 Pandan Loop 02-02
Singapore 128426
Contact
+65 6873 0279
So, there you have it, the best duvets that you can find on the market. Just pick any one of the above and you will be sure to achieve deep and restful sleep so that you can feel recharged and ready to own another day!
If you are looking to purchase more bedding essentials, check out our guide to the best pillows, mattresses, mattress toppers, as well as latex mattresses in Singapore here!
Related posts
Subscribe for newsletter
* You will receive the latest news and updates on Singapore's best trends!