10 Best Types of Durians in Singapore [2021]
Bryan, 3 years ago
6 min

read
12720
Revered as the king of all fruit, durians are one of the most unique fruits in Singapore. Opinions on the durian are always divided as people either love or hate them. Whether you're a durian fanatic or someone who just wants to try a taste, our ultimate durian review is here to offer a comprehensive list of the 10 best tasting durians that you can find in Singapore for you to make an informed choice.
1. Mao Shan Wang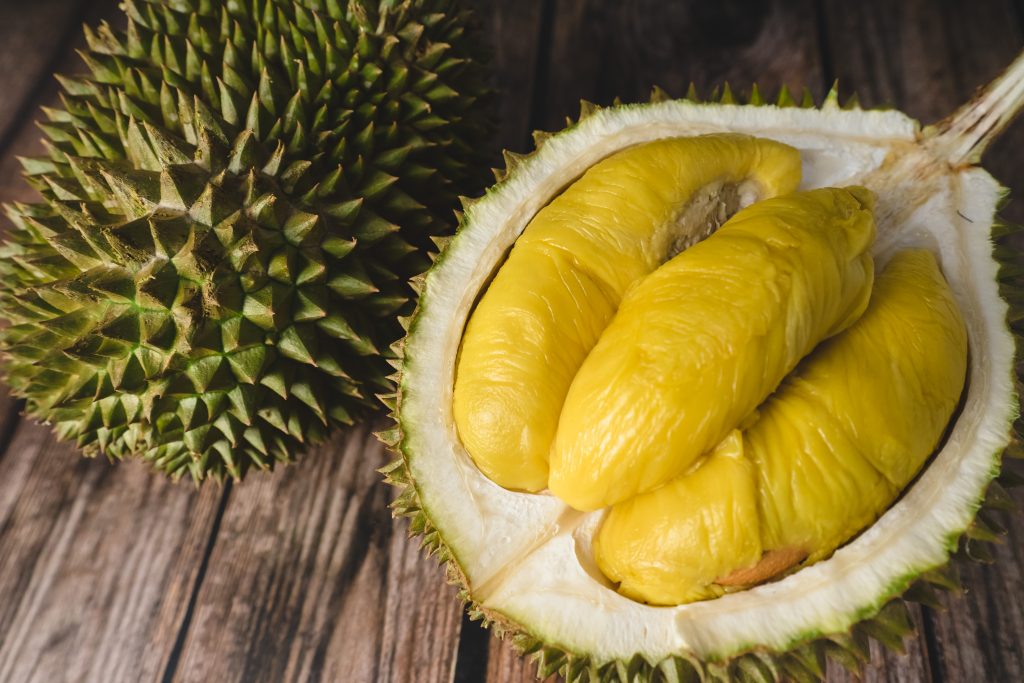 Coming in first place is the coveted Mao Shan Wang durian. While there are many other durian varieties out there, the Mao Shan Wang durian remains the most popular durian option in Singapore.
Not only is the durian's flesh incredibly creamy, it also brings with it a flavour of complexity. The Mao Shan Wang durian's flesh has an unusual combination of both bitter and sweet flavours, resulting in a unique taste that many go crazy for. Being the most popular and sought after, their price range is on the higher end ranging between $15-$25/kg.
2. Black Thorn Durian
Up next comes a durian that can even outprice the Mao Shan Wang. Coming in at $30/kg, the Black Thorn durian brings with it an intense flavour profile with a custardy flesh.
Described as an intermingling of sweet and bitter flavours, the creamy flesh of the Black Thorn gives the durian a luxurious taste. Compared to the other durians, the Black Thorn is relatively new to the market but has already been making waves as people have started comparing it to the Mao Shan Wang.
3. D24 Durian
Another hot favourite in Singapore is the D24 durian. Identifiable through its pale-yellow flesh, the D24 has a rich and creamy flavour.
Compared to the Mao Shang Wang, it has a less pronounced flavour with a subtle hint of bitterness, making a less overwhelming option which is great for those looking for their first durian eating experience. D24 is also considerably cheaper than the Mao Shang Wang ranging between $10-$15/kg.
4. Hong Xia/Red Prawn Durian
Easily identifiable through its bright orange flesh, the Hong Xia durian is next on our list. Being on the sweeter side of things, this durian is the perfect choice for those who love strong sweet flavours.
The Hong Xia has a strong smell, making it not the best choice for those looking for their first durian. A great plus point is that the Hong Xia has smaller seeds, meaning that there is more delectable flesh for you to feast on. Ranging between $9-$17/kg, this uniquely coloured durian is definitely worth a try.
5. D13 Durian
The D13 durian is a less pungent durian that is popular among households. The flesh of this durian is sweet and less fibrous compared to other durians.
Since it is less pungent and has a sweet flavour, it is a great option for those new to the durian scene. With prices ranging from $9-$15/kg, we recommend this durian to those interested in giving durians a try.
6. XO Durian
As you could probably tell from its name, the XO durian features an alcoholic taste to its flesh. The XO durian is a type of D24 durian with an alcoholic element in its flavour profile.
Due to an extended period of fermentation, the XO durian has an alcoholic side to its flavours that many durian lovers crave. Due to this alcoholic taste, the XO durian is less palatable than the D24 and would not be advised for a virgin durian experience. Coming in at $12-18/kg, the XO durian is a great choice for fans of fermented products.
7. Jin Feng/Golden Phoenix Durian
Next on our list is the pale-yellow coloured Jing Feng durian. The durian features smaller seeds and a strong complex taste.
The flesh of this durian is dry and thick with a mild alcohol flavour that envelops your taste buds. The Jing Feng durian is relatively more uncommon, resulting in a slightly higher price tag between $16-$20/kg. For those wanting to break away from the mould and give a new durian a try, the Jing Feng durian is a great option.
8. D101 Durian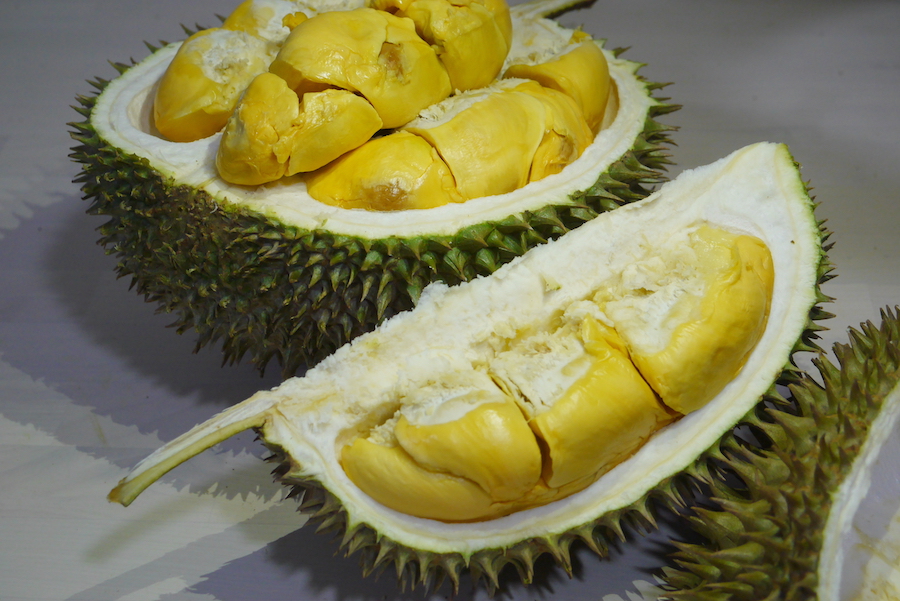 The D101 durian has a distinct bright yellow hue to its flesh. With layers of sweet and bitter flavours, the D101 offers an interesting eating experience.
Due to lesser fibres present, eating the D101 is akin to having a thick creamy custard. With floral elements to its flesh, the D101 is a fun durian to eat with its multiple flavour profiles. Priced between $9-$11/kg, it is one of the more affordable options.
9. Black Pearl Durian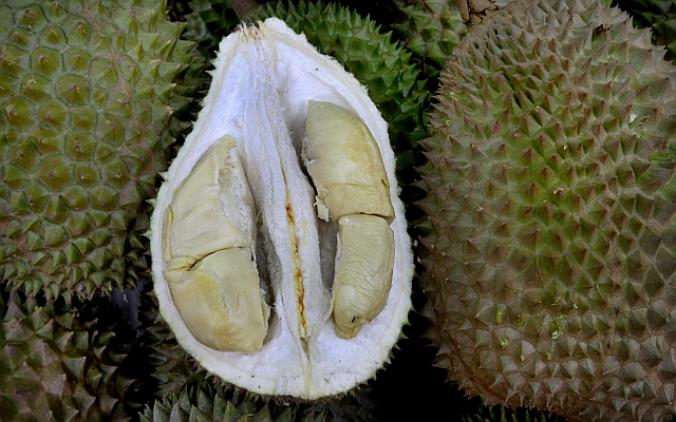 With a royal sounding name, the Black Pearl durian comes next. As its name eludes, the Black Pearl is one of the rarer durians out on the market.
It also has small pearl like seed with a flesh has a milky texture that is slightly bitter in taste. With prices between $12-$17/kg, those who appreciate the taste of bitterness should give the Black Pearl durian a try.
10. Tekka/Green Bamboo Durian
Rounding out our list is the complex tasting Tekka durian. The Tekka durian has one of the most intriguing flavours among durians on the market.
With a flesh that tastes sweet, bitter and citrusy all at the same time, the Tekka durian offers a unique tasting experience. Priced between $14-16/kg, the Tekka durian is a great choice for those seeking a unique combination of flavours.
Now that you know about the 10 best tasting durian you can get in Singapore, where you're getting them is equally important as what you're getting. With that in mind, allow us to introduce where you can get the freshest durian in Singapore.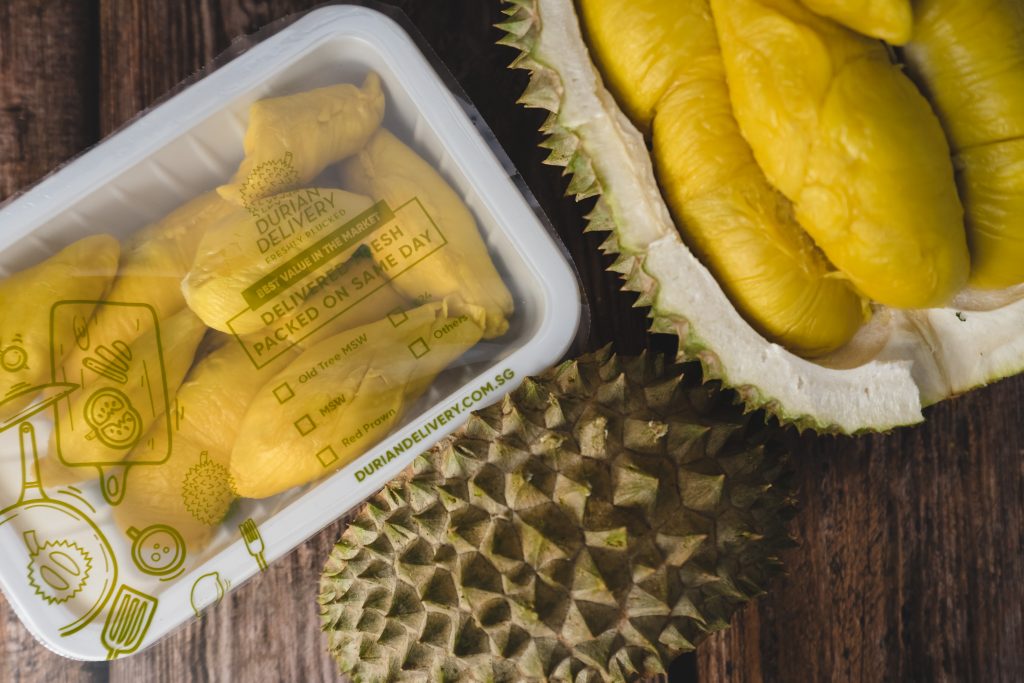 Best Durian Seller: Durian Delivery
Durian Delivery is an online durian delivery service that guarantees only the freshest of durians is shipped out to you. Durian is a sensitive fruit and its quality begins to dip once it has been plucked. The team behind Durian Delivery understand this which is why they guarantee that the durian you ordered is delivered within 6-12 hours of being plucked. If you're into durian desserts, Durian Delivery also delivers durian purees and durian puffs to sate your sweet tooth.
Doubling down on their freshness guarantee, Durian Delivery is the only store in Singapore that offers replacement if you have received bad durians. Offering the freshest durian at affordable prices through their efficient 60-minute delivery, Durian Delivery is the king of all durian sellers in Singapore. Vouched by thousands, visit Durian Delivery's website and pick up the freshest durian possible.
Related Topic: Top 10 Fruit Delivery Services in Singapore
Written by: Tan Yi Bryan
Related posts
Subscribe for newsletter
* You will receive the latest news and updates on Singapore's best trends!